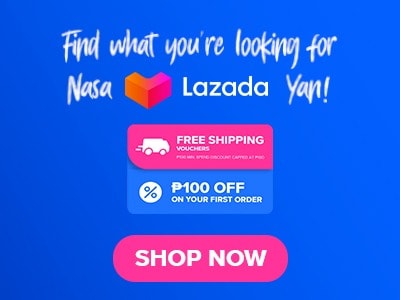 Tapsi ni Vivian is a Filipino restaurant chain in the Philippines that serves a wide selection of reasonably priced and delicious Filipino comfort foods. Some of their most famous dishes are there, tapsilog, sisig, bistek Tagalog, pancit, lechon kawali, and adobo. Additionally, the Tapsi ni Vivian menu offers a number of combo meals that feature various Filipino entrees and side dishes. They frequently include garlic fried rice and sunny side up eggs with their dishes, giving their customers a taste of what a typical Filipino breakfast is about.
Below, you'll find the updated list of Tapsi ni Vivian menu prices.
Menu Items
Price (PHP)
First Package
Package A
350
Package B
350
Package C
350

Second Package

Package A
390
Package B
390
Package C
390
Package D
390

Third Package

Package A
440
Package B
440
Package C
440

Fourth Package

Package A
550
Package B
550
Package C
550
Kiddie Packages
Set A
130
Set B
165
Set C
185
About Tapsi ni Vivian
Tapsi ni Vivian is a Filipino restaurant chain that has multiple branches in the Philippines, particularly in the Metro Manila area. While the menus at the various Tapsi ni Vivian locations vary slightly, they all offer Filipino comfort food like a variety of Tapsilog dishes, Sisig, Pancit, and other Filipino staple dishes. They are renowned for their reasonable costs, prompt service, and welcoming atmosphere. Many Filipinos who want a delicious and filling email at a fair price now frequent Tapsi ni Vivian.
Package A
This food package from the Tapsi ni Vivian menu provides a good selection of dishes with various tastes and textures. The breaded fish filet and Singaporean noodles offer some seafood and spicy options, while the beef burgundy and chicken teriyaki are good choices for meat. Simple but versatile steam rice serves as a side dish, and tropical fruits with syrup and ice tea offer a cool and sweet way to end the meal.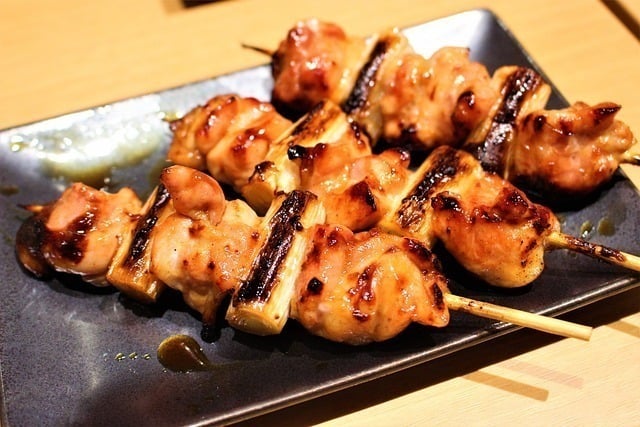 Overall, this package appears to be a complete and filling meal that was made to fill the stomachs of several people. This package is perfect for guests who come in groups and would rather get a packaged meal than order a la carte.
Package B
In general, this food package provides a good variety of dishes with various tastes and textures. A sweet and savory Filipino dish called roll pork hamonado is well-liked on many occasions. Many people also adore the comforting flavor of the cream chicken with mushrooms that is included in this package. The beef teriyaki with vegetable sidings is a classic Japanese dish that would provide a nice contrast to the other dishes that are part of this package as well.
The fresh lumpiang ubod with egg wrapper is a refreshing and healthy option that is perfect for those who want a lighter meal. The steamed rice is a staple dish that pairs well with all of the main dishes that are included in this package, and the slices of fresh fruits and red ice tea provide a refreshing and sweet ending to the guests' meal.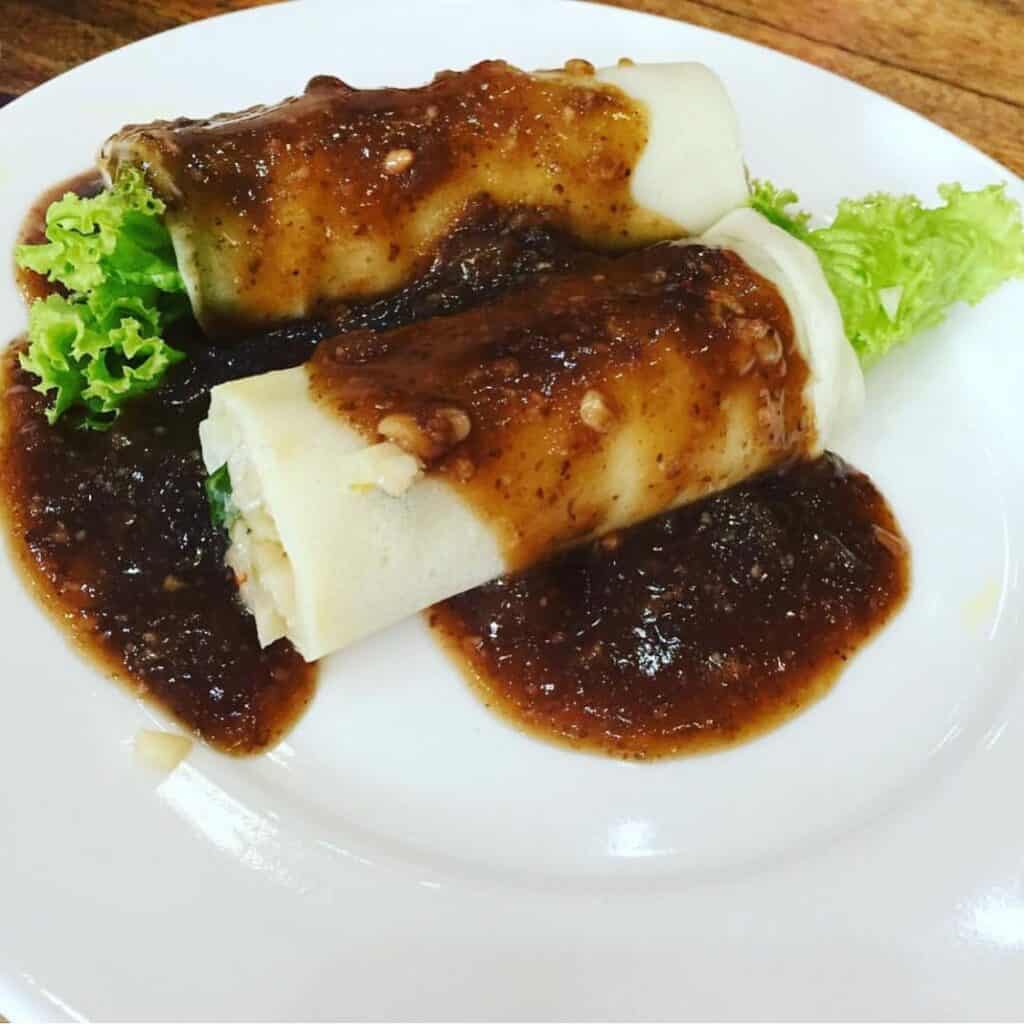 Overall, this package menu of Tapsi ni Vivian seems like a well-rounded and satisfying meal for a large number of guests that want to come to Tapsi ni Vivian restaurant in groups.
Package C
This food package provides a nice variety of meat dishes with various tastes and textures. On special occasions, many people enjoy the crispy and flavorful Filipino dish, lechon kawali. The classic and calming dish of roasted beef with mushroom sauce is also loved by most of the locals. For guests who enjoy strong flavors, the chicken buffalo is a spicy and tangy option.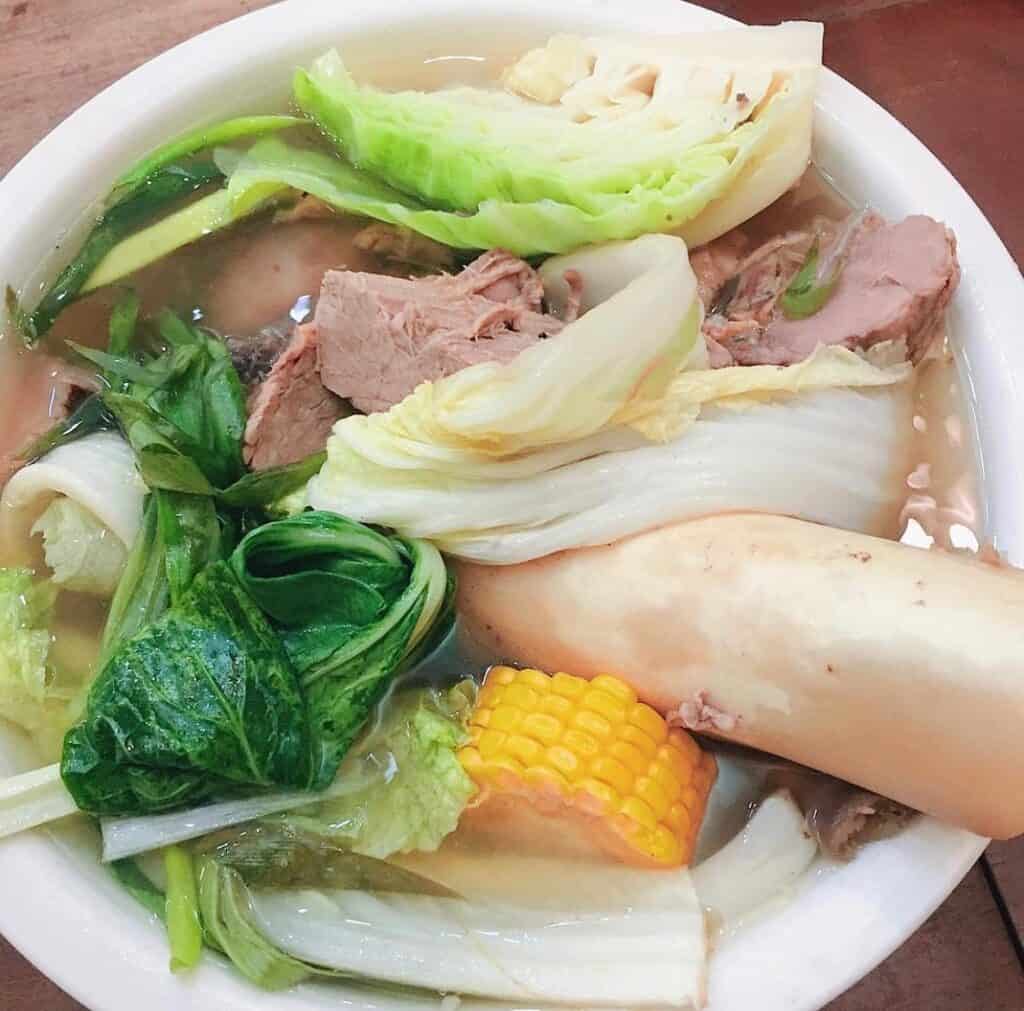 The pasta Italiano spaghetti provides a hearty and filling option for those who want a carb-loaded dish. Steamed rice is a simple and versatile side dish that pairs well with all of the main dishes. The red tea offers a cool and sweet drink option, while the buko pandan is a dessert that is both refreshing and sweet and would complete your meal. All things considered, this food package appears to be a filling and well-rounded meal for a group of people with a blend of traditional and bold flavors.
Kiddie Packages
This kiddie package provides kids with simple and traditional meals. The meaty spaghetti offers a filling and well-known alternative, while the fried chicken is a common dish that many children enjoy. Kids can choose the juice as a sweet and energizing beverage after their meal and can use the marshmallow sticks as a dessert because they are tasty and are an entertaining treat for kids.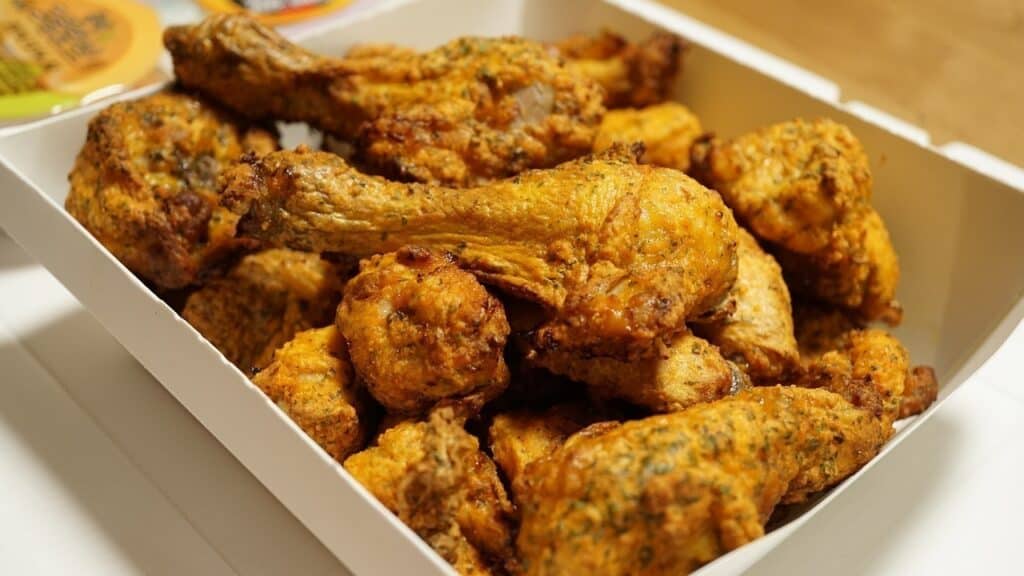 Overall, it is almost certain that kids will find this meal package to be super satisfying and enjoyable.
Party Packages
The party package offers a wide variety of dishes with different flavors and textures. The beef kare-kare is a savory, creamy Filipino dish that is popular for special occasions, and the chicken inasal is a flavorful and juicy grilled chicken dish that is a crowd-pleaser. These are only two of the many dishes that are part of this luxurious and affordable package.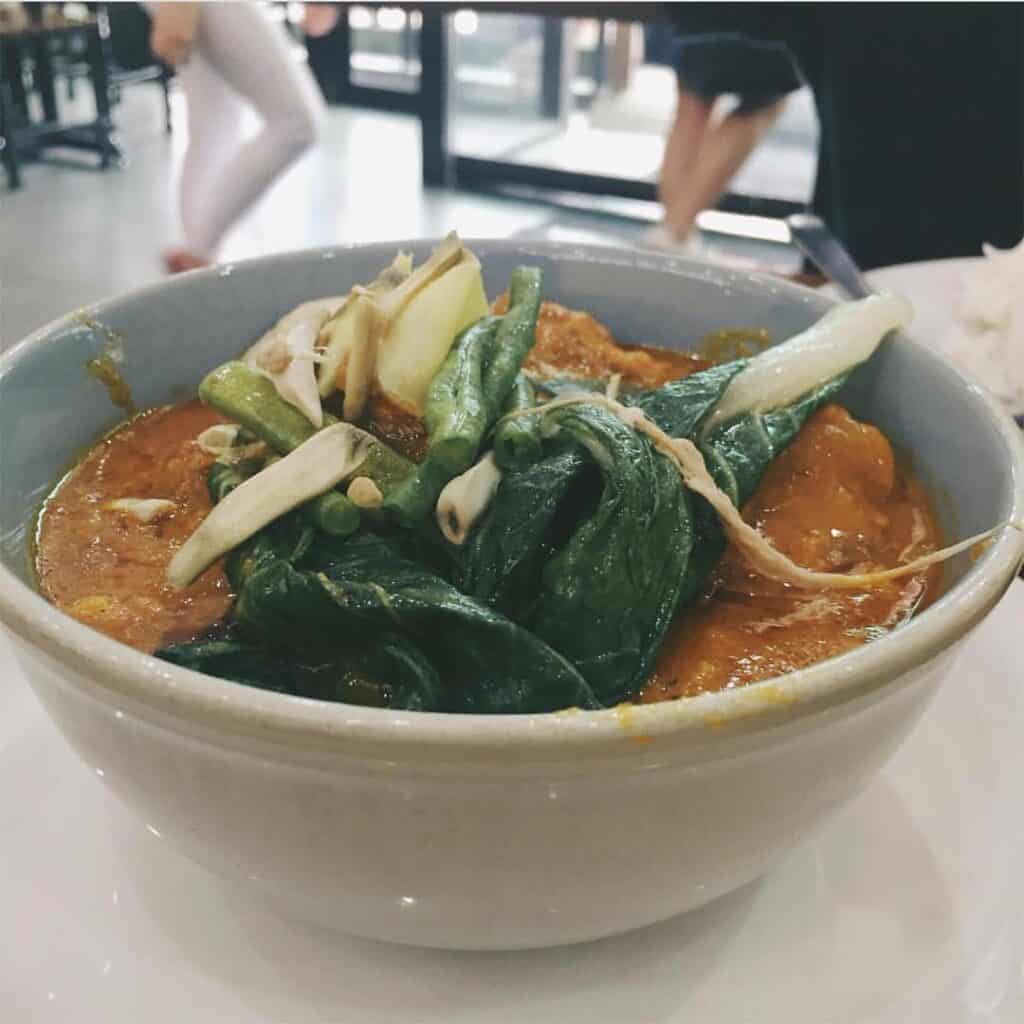 Overall, it is a party package that seems satisfying and can offer a well-rounded meal for a group of people with the mix of classic and bold Filipino flavors that this package offers. Additionally, customers can also avail themselves of additional services if they opt for a party package.
Tapsi ni Vivian also offers these additional party package services, such as balloon setting, balloon twister, clowns and magicians, bubble and fog machines, face painter, ice cream cart, and a chocolate fountain.
Tapsi ni Vivian Menu Delivery
There are many ways that you can order the packages that are offered in Tapsi ni Vivian restaurant. The simplest way is to download a delivery application that is affiliated with Tapsi ni Vivian or simply go to their social media pages and look for their contact numbers. You can also send them a message on their social media page to directly talk to a staff member regarding your order.
Tapsi ni Vivian Social Media Pages
Follow Tapsihan ni Vivian on social media to stay updated on their latest breakfast specials and promotions. Connect with other food lovers and satisfy your cravings for delicious Filipino breakfast dishes. Don't miss out and follow them through the links provided below.
Facebook: https://www.facebook.com/TapsiNiVivian
Instagram: https://www.instagram.com/tapsinivivian1984/
Twitter: https://twitter.com/tapsinivivian
Email: [email protected]
Conclusion
Tapsi ni Vivian menu is well-known and loved in the Philippines, particularly in the Metro Manila area. The various tapsilog dishes, which feature flavorful beef tapa, garlic fried rice, and eggs, are popular because they are inexpensive and tasty. Customers also value the relaxed and cozy atmosphere of their restaurant locations, which frequently have a homey feel to them. They also typically provide quick and effective service, making them a great choice for a quick meal or takeout. Tapsi ni Vivian has already earned a solid reputation and a loyal customer base for their delicacies and affordable Filipino comfort food.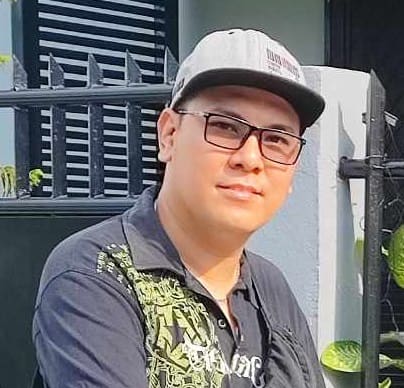 Hi! I'm Nivek Strife, the person who made MenuPH. I'm the one who added most of the popular menus you see on this website, and I really hope you enjoy them! Feel free to check them all out.
Growing up, I was surrounded by lots of tasty foods, like the classic Adobo and the sweet Leche Flan. That love for the many flavors of the Philippines is what got me excited about adding to MenuPH. When I learned how to make websites, I saw the need for a place to show off all the amazing Filipino dishes, and that's how MenuPH started.
MenuPH isn't just a website; it's like a fun journey into food. I've teamed up with famous chefs and found great places all over the Philippines to bring you a bunch of menus that show off the best of Filipino cuisine. Whether you're into the usual dishes or new twists, MenuPH is here to guide you through the rich world of Filipino flavors.
With MenuPH, my aim is to help local businesses, talk about good food choices, and make a group of friends who love food. No matter if you like fancy restaurants or street food, MenuPH has something for you. Come join me on this food adventure as we find great places, taste real flavors, and enjoy the unique food traditions that make the Philippines awesome.