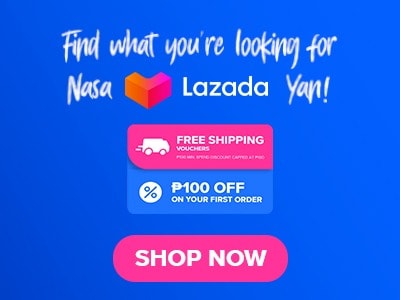 Are you out and all of a sudden find yourself craving some Filipino food, especially adobo but you're looking for a good quality version of adobo that will satisfy your craving? Or are you a balikbayan or you're having your vacation here in the country and wanted to try the popular adobo of the Philippines? (Which can be classified as a Philippines national dish) no worries I got you, I know a place where you could enjoy Filipino dishes, especially adobo at a very affordable price, and of course, when it comes to tasting their adobo is one of the best that you can find on our market these days. Ever heard about Adobo Connection? I know they are pretty familiar since they have a lot of locations, especially inside our malls here in the country. Let us get to know the Adobo Connection menu. We will talk about this popular Filipino restaurant that serves the best-tasting adobo.
Below, you'll find the updated list of the Adobo Connection menu prices.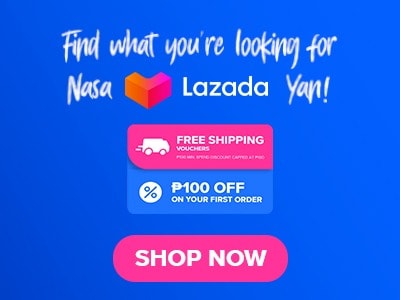 Menu Items
Price (PHP)

Adobo

Chicken and pork adobo regular
112
Chicken and pork adobo unli rice
172
Chicken classic regular
112
Chicken classic unli rice
172
Spicy beef regular
112
Spicy beef unli rice
172
Garlic liempo regular
112
Liempo sa gata regular
112

Budget

Inadobong litchon manok unli rice
112
Adobo flakes
99
Shanghai rolls
79
Veggie kare kare
69
Krispy kare kare
169
Beef kare kare
169

Fish

Garlic bangus
119
Bangus belly sinigang
119

Dessert

Halo halo
79
Leche flan
59

Drinks

Pepsi
50
Mountain dew
50
7up
50
Mug rootbeer
50
Bottled water
30
About Adobo Connection
Their first store was opened in 2010 in Makati. This restaurant became popular because we all know that Filipinos love adobo and wherever Filipinos the moment we smell that vinegary sweet aroma it will always remind us of home that's their specialty that's the reason why this restaurant became one of the fastest growing restaurants in the country. Their locations usually are in major malls that's why we can find them easily. Their menu prices are also affordable so everyone will get the chance to try their special adobo and other dishes mainly Filipino favorites and hone-grown meals. Jerome Uy and Meredith Ngo (husband and wife) are the owners of adobo connection. They already have a lot of branches nationwide and keep on striving their best to offer Customers the best Filipino meals that they can find in The market this day.
Adobo Connection Menu Best Seller
Here is the list of their best sellers in adobo connection.
Classic Pork Sisig – This classic Filipino favorite is so good you'll forget it is made with pork's face. This Adobo Connection menu is so good you'll end up liking it even if it's your first time tasting it. The crunchy pork face combined with other ingredients is a bomb. Favorite among Filipinos and really good with rice and also with beer. This dish is really popular in the country. Adobo connections version of classic pork sisig is one of the best that you can find in the market these days. A must-try for those who still missing to munch on this one.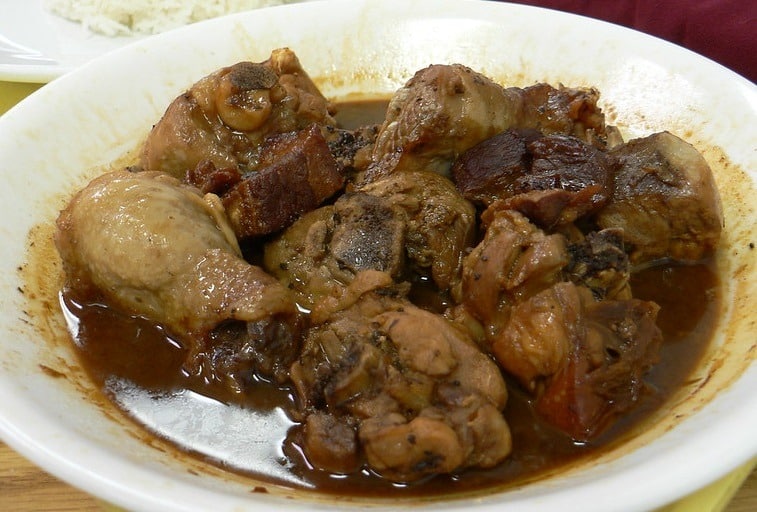 Chicken and Pork Adobo – Adobo connections version of Philippines national dish. This Adobo Connection menu will give you the satisfaction that you're looking for and craving when it comes to adobo. Very flavorful and savory. The combination of chicken meat and adobo is just right. This flagship dish is one of the best adobo versions that you can find in the market these days. A little sweet and sour taste with the best aroma from soy sauce and bay leaves. A dish where you can always feel at home wherever you are.
Krispy Kare Kare – Their version of crispy kare kare is an innovative move to give our beloved kare kare a new way to enjoy. Fresh vegetables, crispy meat, and peanutty sauce, and it's perfect. Having these will satisfy your Filipino food cravings for sure. Adobo Connection crispy kare kare is so good it'll be your favorite version and for sure you'll come back for more.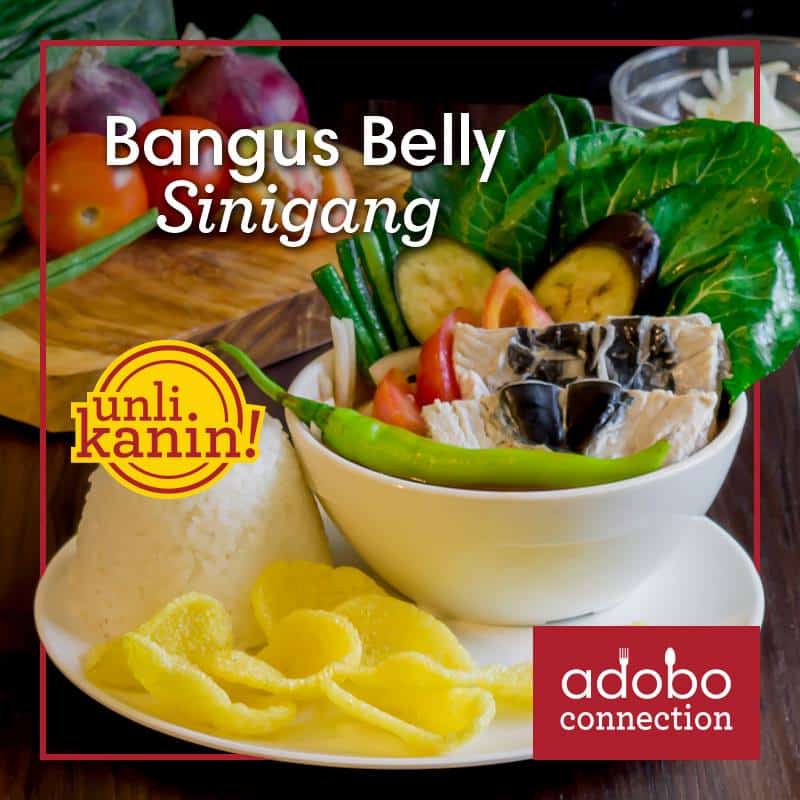 Bangus Belly Sinigang – Their version of sinigang is special since they use bangus belly which we all know best for sinigang and everyone's favorite. Fresh vegetables and bangus belly (milkfish belly) in a very flavorful broth that everyone will enjoy. Their version is fresh and soury because of the fresh tamarind that they use on their sinigang, a traditional way of cooking this goodness of a broth. Recommended Adobo Connection menu if you want a lighter dish and don't want to order meat.
Leche Flan – A Filipino favorite dessert made extra creamy and special with their version. Enjoy their thick Leche flan after devouring your favorite Filipino dishes and that's heaven. Their Leche flan is one of their best desserts to offer and is also affordable.
Halo-Halo – When it comes to halo-halo what we think of first is the Philippines and yes they have their version of halo-halo. In fairness to this restaurant, their halo-halo is really good and they have loads of sweetened goods on it. What made their halo-halo special is the finest ingredients that they use to create this. Everything is fresh and they make sure that the quality of the desserts that they offer is top grade. One of my favorite thing to order at their restaurant.
Adobo Connection Menu Delivery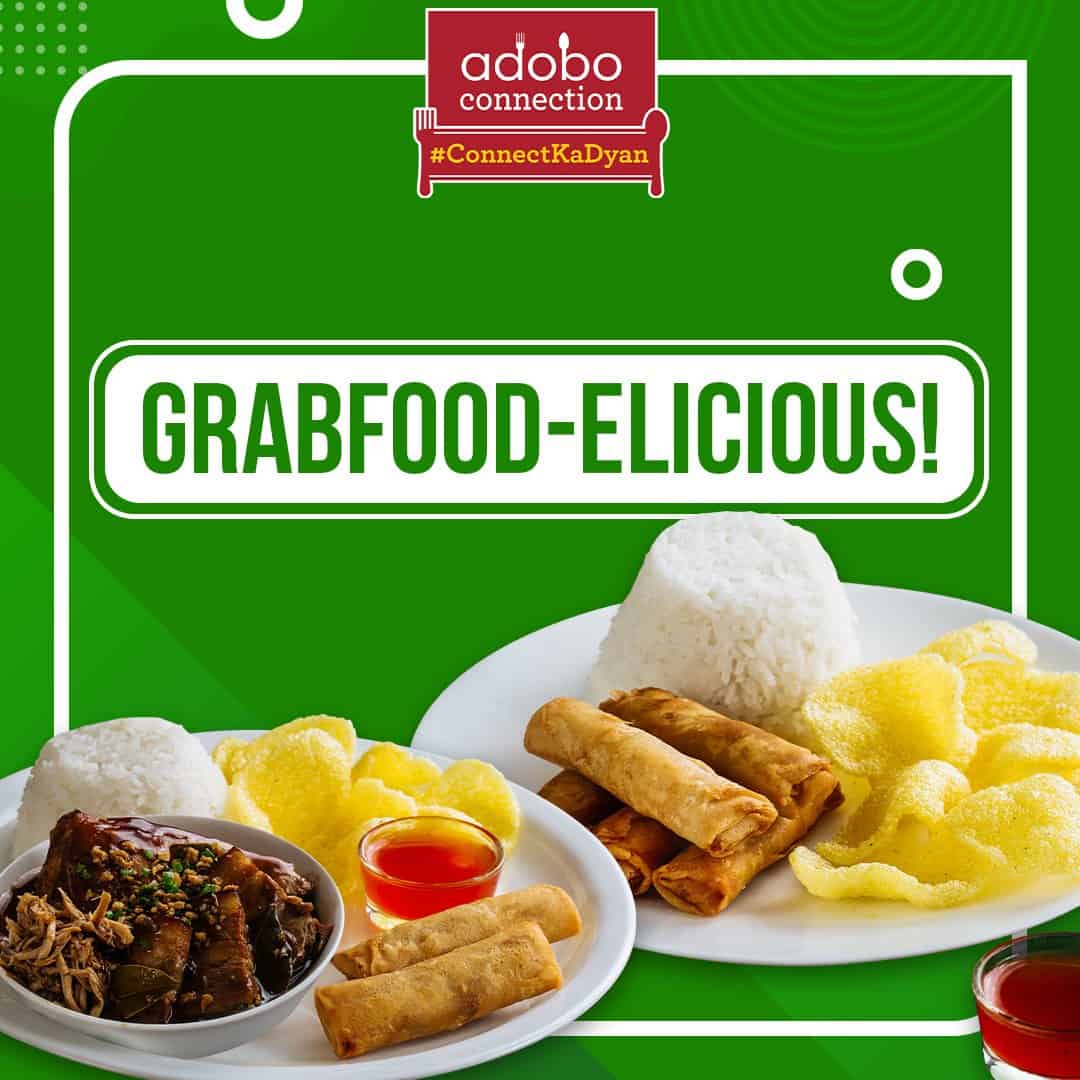 If you're craving your favorite Adobo Connection food menu, all you have to do is check their branch phone number on the web or you can try ordering thru third-party delivery services like Food Panda and Grab Foods or other delivery services that you may find in the market or available in your area. Please take note that delivery orders vary depending on your location.
FAQs
What is Adobo Connection?
Adobo Connection is a casual restaurant that is serving our country's national food adobo as their flagship dish.
Who owns Adobo Connection?
Adobo Connection's owners are husband and wife Jerome Uy and Meredith Ngo.
How to reach Adobo Connection Philippine Staff?
To reach their customer service you should call their hotline at 0917-5121212 or message them on their Facebook, or Instagram page at the following:
Facebook: https://facebook.com/adobocon/
Instagram: https://www.instagram.com/adobocon/
Conclusion
If you are craving the best adobo that you find in the market as well as Filipino foods, this restaurant is the best place to be. The Adobo Connection menu was consistently good. Their restaurant is well maintained and the people are awesome. Crews are hospitable, we don't have to wait a long time for our orders. The place is simple but comfortable. Best place to go for anyone that wanted to try adobo. Highly recommended!