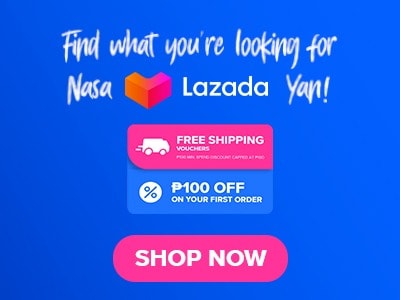 There's a surge of Korean samgyupsal restaurants popping up all over the country, but I've stumbled upon something that'll surely catch your eye. Ever heard of Mr. Korea? Some of you may be familiar, but for those who don't have an idea, this article is your guide. Mr. Korea boasts a menu featuring 14 different types of meats, making it a must-try.
Today, we're diving into the world of Mr. Korea, exploring their menu, the variety of meat options they offer, and of course, the prices. Excited about our topic for today? If yes, let's get started!
Menu Items
Price (PHP)

Unlimited Bbq

Unli Premium Pork & Beef, Unli Hot Pot, Unli Drinks (Lunch Rate)
549
Unli Premium Pork & Beef, Unli Hot Pot, Unli Drinks (Dinner Rate)
589
Children 3ft And Below
FREE
Children Below 4ft
Half price

Beverages

Pepsi Regular
80
Pepsi Max
80
7 Up
80
Mountain Dew
80
Mirinda
80
Bottled Water
50
Soju Original
280
Soju Classic
280
Soju Fresh
280
Soju Grapefruit
280
Soju Peach
280
Soju Blueberry
280
Makgeoli Rice Wine
320
San Miguel Pale Pilsen
100
San Miguel Light
100
About Mr. Korea
Mr. Korea is a Korean BBQ restaurant that comes from the team that brought us Jin Joo Korean Grill. Mr. Korea is just new to the Market, started in July of 2019 with its first branch in the Market Market. However, a lot of customers already recognize this restaurant since they are serving quality meats at a very affordable price, and because of that they now have branches across the Metro. Aside from delicious and affordable meals that you can get at Mr. Korea this place is also cozy, warm, and customer-friendly.
Place is Instagramable too perfect for your daily food post. Mr. Korea offers a total of 14 kinds of meats pork and beef that will surely satisfy your cravings for Korean BBQ. They also have a Korean hot pot that you can enjoy simply by adding a minimal amount to your unlimited Korean BBQ package.
Mr. Korea Menu Items Review
Here are the items that you will enjoy upon trying Mr. Korea's unlimited Korean BBQ offerings.
Beef
Beef options Mr. Korea has 7 items to enjoy for your unlimited package. Their beef is really flavorful and tender to be quite fair. On this menu, you will find beef enoki roll which is a thin slice of beef that is wrapped around an enoki mushroom. They also have beef bulgogi on their options, this is a thin slice of beef marinated in garlic sauce, sesame, and sweet soy, this one tastes amazing and customer's favorite.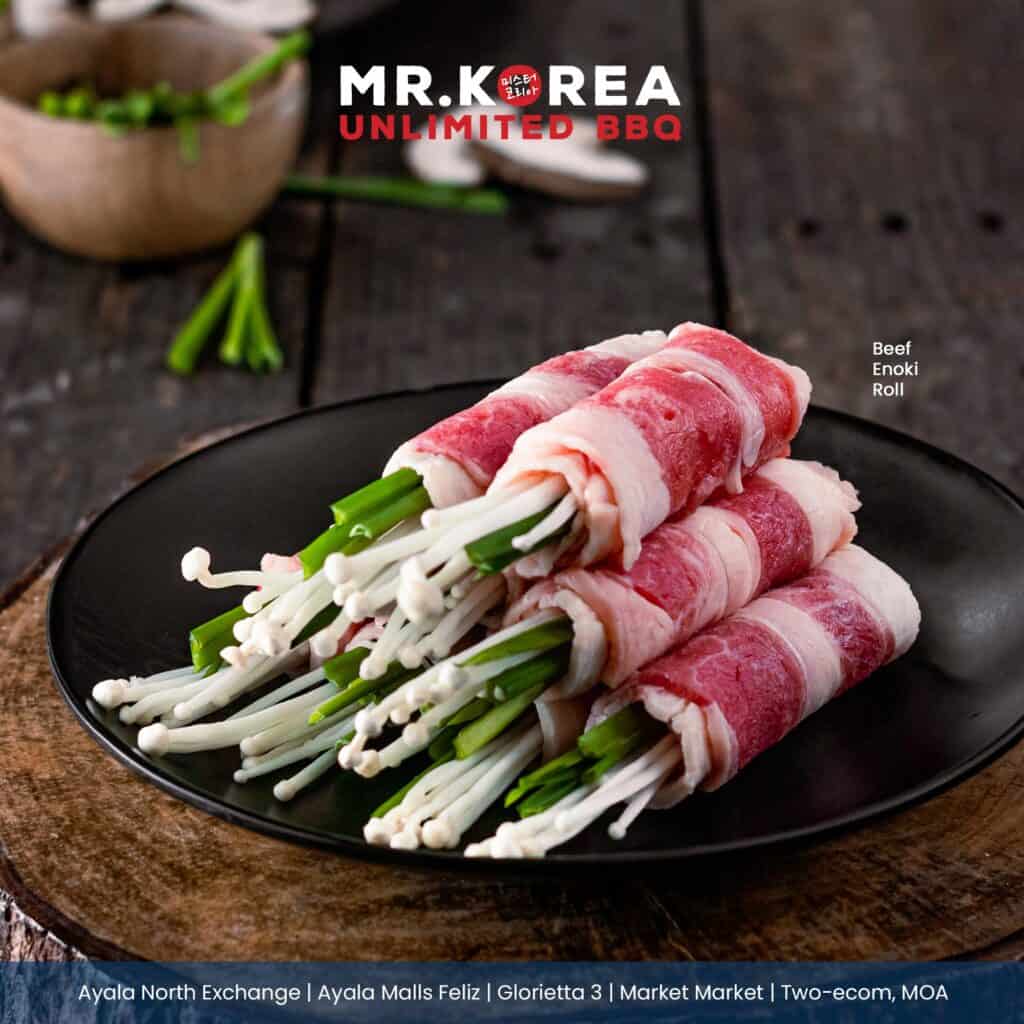 They also have Woosamgyup. Woosamgyup is a thick slice of beef without any marinade just plain. Dry Rub Woosamgyup is another great choice for their beef items. This one is just like woosamgyup the only difference is that their Dry Rub Woosamgyup is seasoned with dry ingredients to make it more flavorful.
If you're looking for something spicy you can try their Korean Chili Pepper Woosamgyup, this one also tastes amazing and is not too spicy but has a little kick. Other items on their beef choices are their Yangnyeom Woosamgyup and Szechuan Woosamgyup.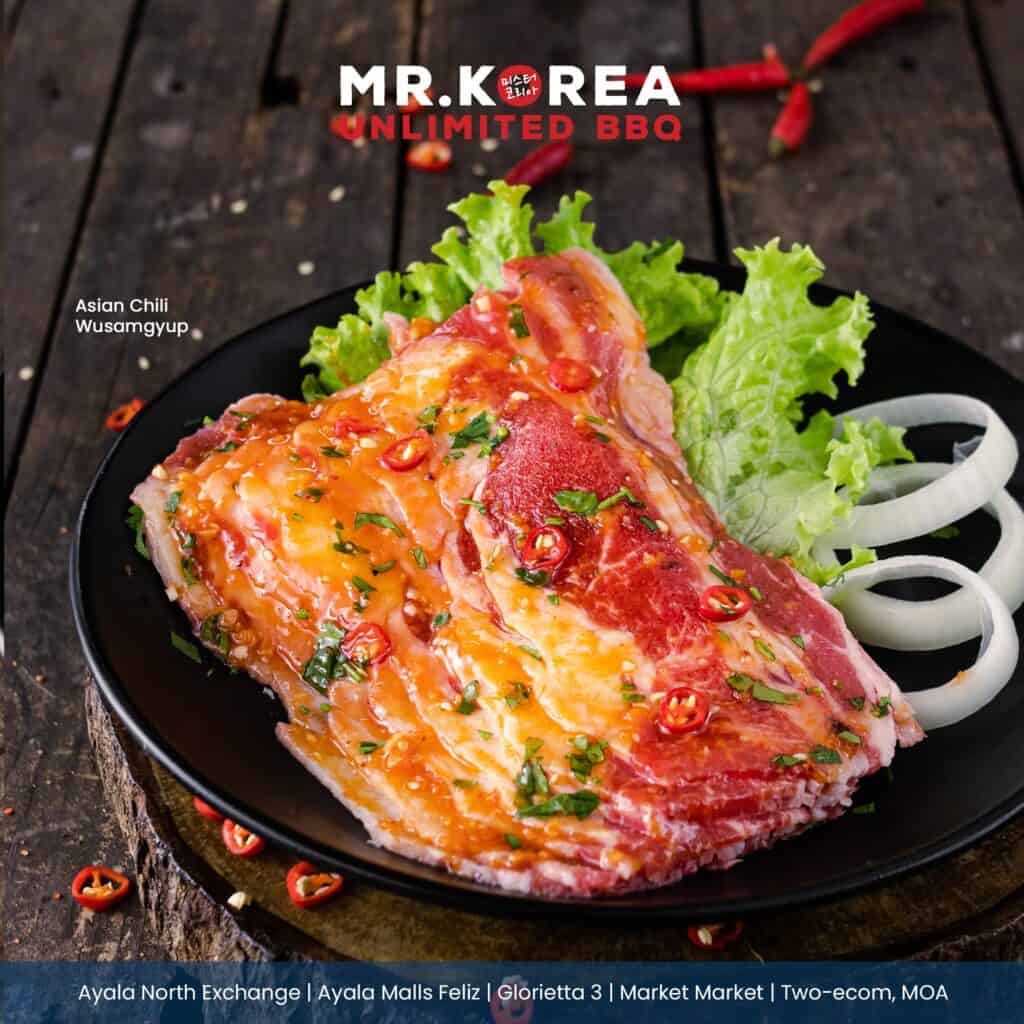 Pork
Pork options Mr. Korea has a lot of variety. This one is included in your unlimited Korean BBQ package. Pork options consist of jeyuk bokkeum which is a pork shoulder that is marinated in gochujang sauce. They also have dry rub samgyupsal which is a pork slice that is seasoned with dry spices.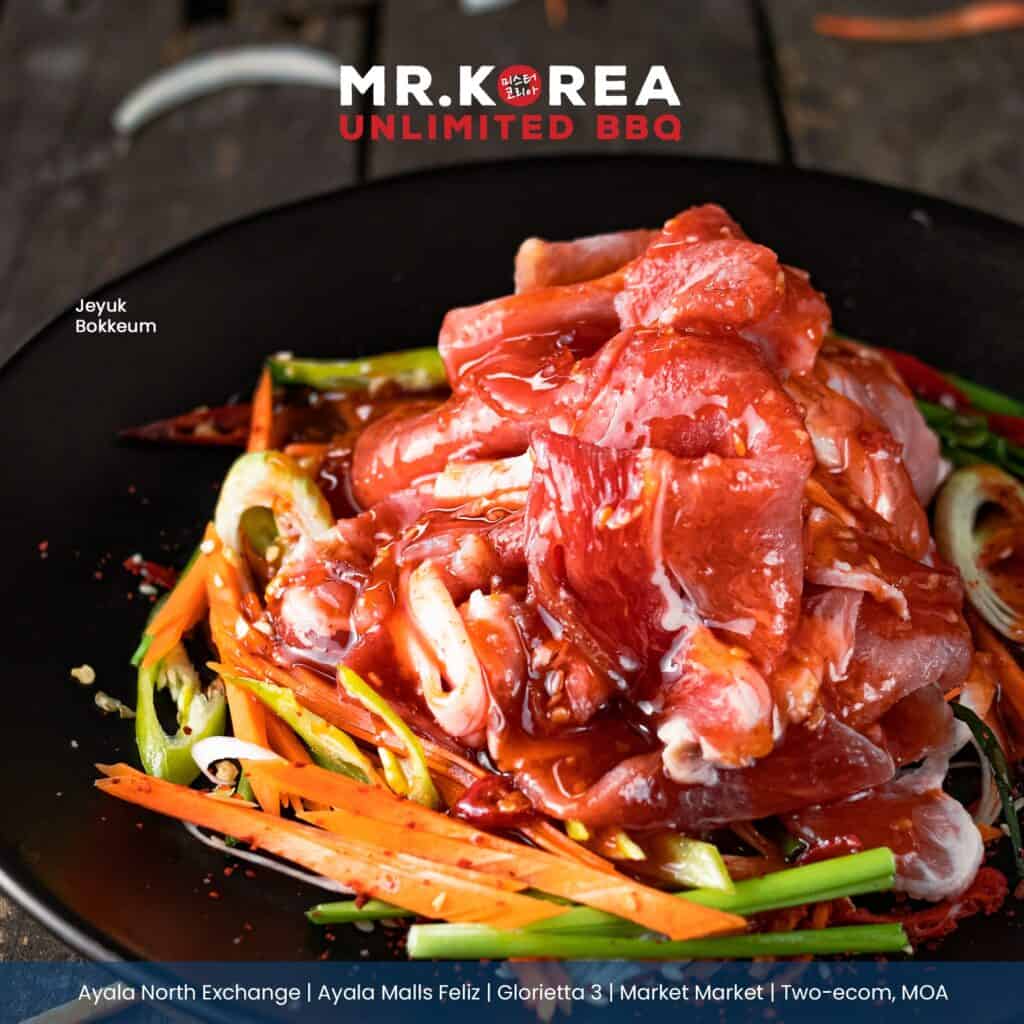 Other than that they also have samgyupsal this one is classic and usually plain pork belly. Yangnyeom Samgyupsal can also be seen in this menu this one is pork slices that are marinated in spicy and sticky yangnyeom sauce. This one is not that spicy or maybe just for my taste.
Other variations of their meats are Szechuan Samgyupsal and Korean Chili Pepper Samgyupsal. They also have Pork Teriyaki Enoki Roll, this one is thin slices of teriyaki flavored pork that is wrapped around the Enoki mushroom. Pork items are really good especially the jeyuk bokkeum if you love spicy food.
Hot Pot
The hot pot of Mr. Korea is not included in their unlimited Korean BBQ menu package. If you want to try their hotpot you have to add a minimum of PHP 50. Their hotpot includes ramyun noodles, assorted balls, unlimited vegetables, and fish cake. It's really worth the price because it's cheap to upgrade your package with hot pot since you will get the chance to enjoy more than just Korean BBQ.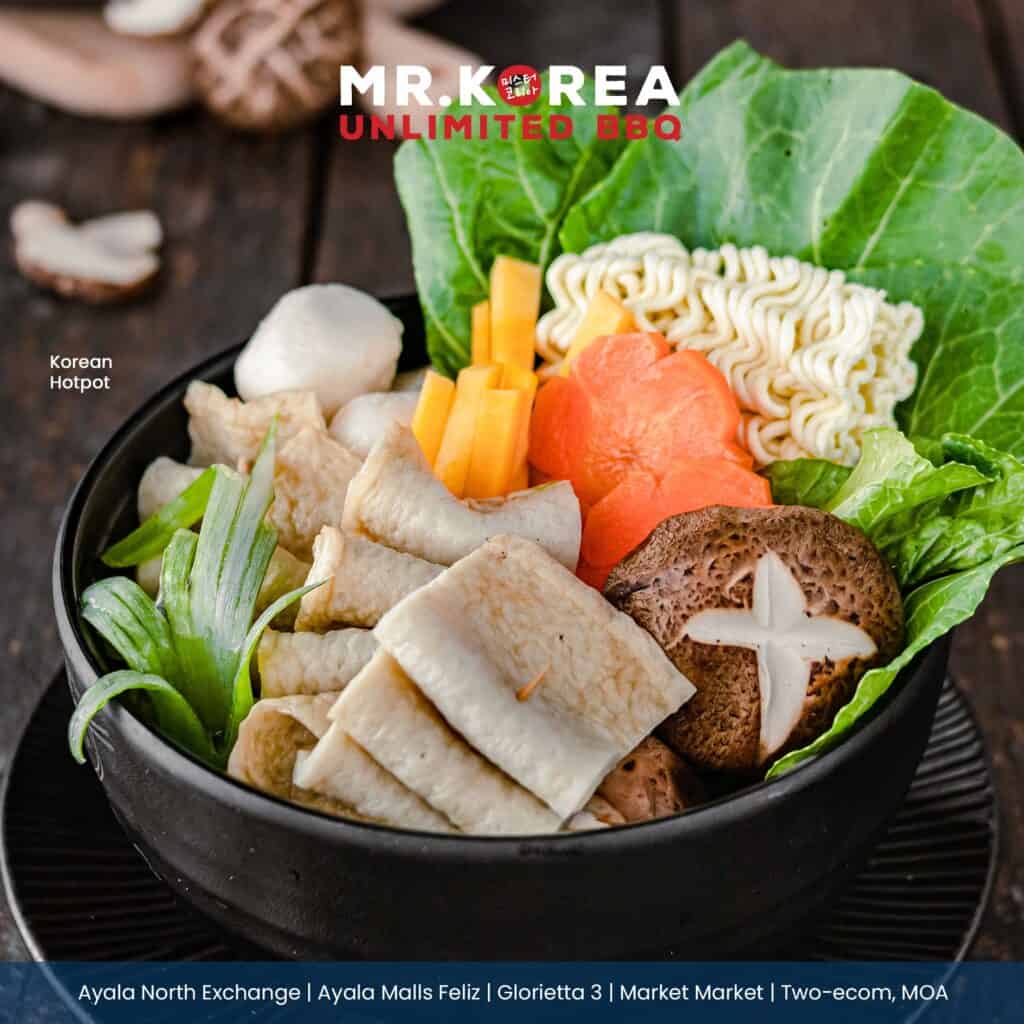 Drinks
Mr. Korea's unlimited Korean BBQ includes drinks on their package. They have 4 juices to choose from in this package which is great. However, if you want other drinks it is available on their menu such as soju and soda you have to pay on top of your bill. Options are Pepsi regular and Max, 7up, Mountain Dew, Mirinda, and bottled water. They also have different flavors of soju. They have soju original, soju classic, soju fresh, soju grapefruit, peach, and blueberry. If you're looking for beer they also have local beer like San Miguel Light and Pilsen.
Mr. Korea Menu Delivery
Mr. Korea doesn't offer delivery service but nothing to worry about, if you're craving Mr. Korea's food items you can still order them through another platform. Ordering your favorite Mr. Korea food items is made possible simply by using third-party delivery services like Foodpanda.
Social Media Pages
Get ready to feast on the most mouthwatering Korean BBQ in the Philippines at Mr. Korea! Follow their social media pages today to stay updated on the latest promos, discounts, and exciting news. You'll also get to see drool-worthy photos of their delicious food.
Facebook: https://www.facebook.com/mrkoreamnl
Instagram: https://www.instagram.com/mrkoreamnl
TikTok: https://www.tiktok.com/@mrkoreamnl
FAQs
What are Mr. Korea's business hours?
Mr. Korea is open from 11 am until 10 pm but other branch that is located inside the shopping mall is closing as early as 9 pm.
How many branches does Mr. Korea have?
This fast food have branches in Pasig, and 2 in Makati, Taguig, and Pasay. A total of 5 branches are located mostly in the Metro. 
Does Mr. Korea have a social media page?
Yes. Mr. Korea does have social media accounts.
Mr. Korea is this place halal-certified?
No. Mr. Korea is a non-halal-certified restaurant that serves alcoholic beverages and meat-based products which is haram with Muslim customers.
Does Mr. Korea have a parking space for customers? Is it free parking or not?
Yes. Actually, some of their branches do have parking space that is free of charge however other locations especially locations at the mall don't have their own parking.
Conclusion
This place is honestly one of the best that I tried so far, they have lean meats that consist of meat and fats it's really good. Their kimchi also tastes authentic just like what I tried in Korea way back. The Mr. Korea menu has a lot of choices from beef to pork plus their hot pot is amazingly good, the broth tastes fantastic whether it's spicy or not. One thing that I noticed is that their crews are very accommodating and nice, it's like you don't have to call them, the moment that they notice that your table doesn't have food they will approach you very fast and ask you if you want or need anything. The place looks great, it's not that fancy just simple but their restaurant is clean and comfortable. Drinks are good as well. Overall experience was great and highly recommendable for everyone who loves Korean BBQ.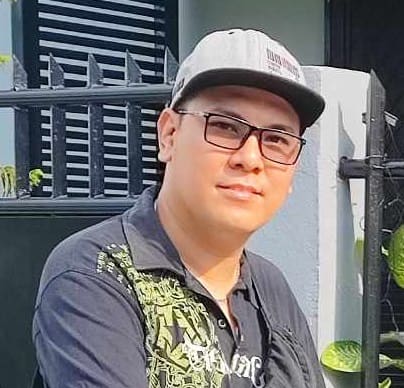 Hi! I'm Nivek Strife, the person who made MenuPH. I'm the one who added most of the popular menus you see on this website, and I really hope you enjoy them! Feel free to check them all out.
Growing up, I was surrounded by lots of tasty foods, like the classic Adobo and the sweet Leche Flan. That love for the many flavors of the Philippines is what got me excited about adding to MenuPH. When I learned how to make websites, I saw the need for a place to show off all the amazing Filipino dishes, and that's how MenuPH started.
MenuPH isn't just a website; it's like a fun journey into food. I've teamed up with famous chefs and found great places all over the Philippines to bring you a bunch of menus that show off the best of Filipino cuisine. Whether you're into the usual dishes or new twists, MenuPH is here to guide you through the rich world of Filipino flavors.
With MenuPH, my aim is to help local businesses, talk about good food choices, and make a group of friends who love food. No matter if you like fancy restaurants or street food, MenuPH has something for you. Come join me on this food adventure as we find great places, taste real flavors, and enjoy the unique food traditions that make the Philippines awesome.