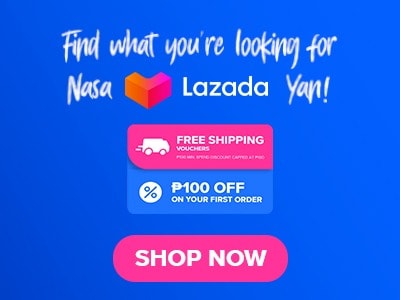 Ever wonder where you can find a place where you can enjoy your favorite steaks and at the same time drink (moderately) to celebrate big or small events? I found a place for you. In this restaurant, you can now enjoy your favorite slices of meat and they also offer a variety of choices of liquor. This place is perfect for friends' dinner nights out and surprisingly the price of their steaks is not that expensive just reasonable. Curious already about what restaurant I am talking about. Have you heard about Raging Bull Chophouse & Bar? If not read this article and let's get to know this interesting bar. Let's take a look at what are the Raging Bull Chophouse & Bar Menu, their best sellers, and of course the price. Let's start!
Below, you'll find the updated list of Raging Bull Chophouse & Bar menu prices.
Menu Items
Price (PHP)

Salads

Raging bull salad
410
Burrata
475
Cobb salad
470
Caesar salad
410

Soups

Mushroom cappuccino
400
Caramelized onion soup
350
Mussel and seafood chowder
510
Shellfish bisque
475

Appetizers

Tuna nicoise
475
Bone marrow
850
Maryland crab cake
550

Raw

Freshly imported oysters (per piece)
345

Tenderloin

Cape grim grass fed tasmania 200g
1975
Black onyx Australia's new england tablelands 210g
2250
IS24 grain fed Queensland 250g
2750
Wagyu jacks creek. New southwales 250g
2950

Ribeye

IS24 grain fed Queensland 350g
3420
Stockyard gold Queensland 350g
3750
Darling downs wagyu 350g
4250

Striploin

John stone 49 days dry aged grass fed rathmore ireland 350g
3500
Black onyx cross breed Australia New England 350g
3700

On the bone

Tomahawk wagyu margarette river 1100g
10500
Tomahawk wagyu jacks creek 1100g
9850
Westholm prime rib chop west of Australia 1100g
8500
T-bone wagyu jacks creek 1100g
7500

Josper

Grilled lamb chop Colorado USA 350g
2850
Limousine pork chop 350g
2500
Herb brined slow roasted free range chicken
895
Wagyu burger 200g
780
Josper grilled whole boston lobster 600g
3250

Mains

48hrs slow cooked beef short ribs
1250
Grilled Atlantic salmon fillet 220g
1075
Grilled black cod fillet 220g
2150
Mushroom risotto
735

Sides

Cherry tomato salad, shallot, parsley and black pepper
210
Dirty rice with bacon and spring onion
210
Double fried fries, bacon bits and black pepper
250
Creamed spinach, nutmeg and Parmesan
260
Potato gratin with gruvese
235
Sauteed shimeji, button mushroom, garlic and rosemary
260
Buttery leek, mashed potatoes
295
Macaroni cheese, toasted lemon and herb bread crumbs
400
Grilled austrias Victoria farm asparagus, brown hazelnut butter
495
Glazed heritage carrots with orange
400

Bar chow

Crispy spicy squid
400
Cheeky beef croquettes
450
Mini scotch eggs
400
John's salpicao with soya and chili
540
Hand beaten grass feed beef on toast
450
Wagyu beef slides
430
Truffle fries with parmesan
220

Desserts

Candy floss pavlova
345
New York raspberry cheesecake
345
Caramelized lemon tart
345
Classic vanilla creme brûlée
345
Chocolate delice with salted popcorn ice cream
345
Milk chocolate and peanut butter ice cream bar
345
Cheese board
950
Selection of homemade ice cream
120

Cocktail

Mama mia
500
Thyme for mule
500
Dry of the dead
500
Forbidden fruit
500

House barrel aged

Boulvardier
500
Martinez
500
El matador
500
Whiskey "bull" sour
500
Cowboy old fashioned
500
Uncle Sam's julep
500
Dirty blue blazer
500
Bonifacio penicillin
500

American whiskey

Kentucky
300
Maker's mark
300
Wild turkey
350
Wild turkey rye
300
Jim beam
350
Jim beam black label
350
Bulleit
300
Evan williams
350
Evan williams extra aged
300
Buffalo trace
350
Xnob creek
400
Rittenhouse rye
550
Woodford reserve
650
Michters straight rye
500
Michters sour mash
500
Michters straight burbon
500
Michters 10 years straight burbon
900
Michters 10 years straight rye
1100
Jack daniels
300
Jack daniels gentleman black
350
Jack daniels single barrel
350
Hudson baby burbon
1000
Hudson manhatan rye
1000
Koval white rye
500
Koval bourbon
500
Koval four grains
500
Koval oat
500
Koval millet
500
Whistle pig straight rye 10 yrs
1000

Scotch whiskey

Chivas regal 12 yrs
350
Monkey shoulder
400
Dewars 18 yrs
500
Johnny walker black label
300
Johnny walker blue label
1000
Johnny walker king George V
2000
Glenfiddich 12yrs
400
Glenfiddich 18yrs
700
Glenfiddich 21yrs
1500
Glenrothes vintage reserve
600
Glenrothes 2001
700
Balvenie 12yrs
800
Macallan 12yrs
700
Macallan 15yrs
1200
Macallan 18yrs
2500
Singleton 12yrs
400
Singleton 15yrs
600
Singleton 18yrs
1000
Ileach
400
Bowmore 12yrs
450
Laphroalg 10yrs
500
Bruichladdich
700
Lagavulin 16yrs
800
Jura 10yrs
400
Talisker 10yrs
650
Auchentoshan three wood
550
Auchentoshan 12yrs
500
Glenmorangie original 10yrs
400
Deanston 12yrs
600
Oban 14yrs
700

Taiwanese whiskey

Kavalan port cask finnish
450
Kavalan original
550

Gin, Genever

Boodles
350
Whitley nell
400
Citadelle
400
Martin miller's
400
Hendricks
450
Tanqueray
450
Roku
450
Crows
500
Koval
500
Gvine floraison
500
Gvine nouaison
500
Del profesor madame
500
Four pillars rare dry
500
Four pillars navy strength
600
Botanist
600
Nordes
600
Monkey 47
750
Plymouth
500
City of london
450

Rhum Cachaca

Havanna club
400
Barcelo
300
Bacardi
400
Dictafor
500
Matusalem
500
Zacapa
600
Plantation
300
Plantation original dark
300
Very old captain
300
Don papa
350
Pyrat
400
Diplomatico
400
Mount gay
450
El dorado
600
Rhum
St.james agricole
400
Cachaca
Sagatiba pura
350
Leblon
500
Novo fogo barrel aged
500

Tequila, Mezcal

1800 reposado
300
Jose cuervo traditional
300
Jose cuervo reserva dela familia
900
Ocho blanco
400
Ocho reposado
500
Don julio blanco
650
Don julio añejo
800
Patron blanco
400
Patron añejo
600
Patron platinum
2000
Los siete misterios doba yej
400
Los siete misterios espadin
550

Vodka

Absolut
400
Greygoose
350
Belvedere
350
Tito's
400
Ketle one
400
Zubrowka
450

Beer

Engkanto lager
300
Engkanto pale
300
Engkanto ipa
300
Engkanto blonde ale
300
Barbar dark ale
400
About Raging Bull Chophouse & Bar
Raging bull chophouse and bar is a cozy place that serves steaks and liquor, they also serve lunch and desserts for those nonalcoholic customers. The design of the restaurant is inspired by a retro theme (1960ish) and designed by Avroko Hospitality Group. This is the first restaurant that they designed in the country so they made it inviting and gave it its own identity. They offer whiskey, cocktails, tequila, brandy, wine, and many more on their bar.
When it comes to food steak is their main dish to offer and the good thing is unlike other steakhouses that you can find in the country these days their steaks are not overpriced, just reasonable so anyone can enjoy the delicious goodness of their steaks without breaking a bank. They are not the typical steakhouse, as their dinners will enjoy choosing from their large selection of aged beef that suits their preference as well as other items like seafood and other comfort foods. Their main dining room can occupy 92 guests at a time. They also have a semi-private dining room for intimate gatherings that can occupy eight guests only.
Raging Bull Chophouse & Bar Lunch Set Menu
Raging Bull Chophouse & Bar lunch set menu is available from 11:30 in the morning until 2:30 in the afternoon so you can have three hours to go to their restaurant if you're planning on having lunch at the Raging Bull. For their lunch set, they offer two options, one is two courses and a three-course set.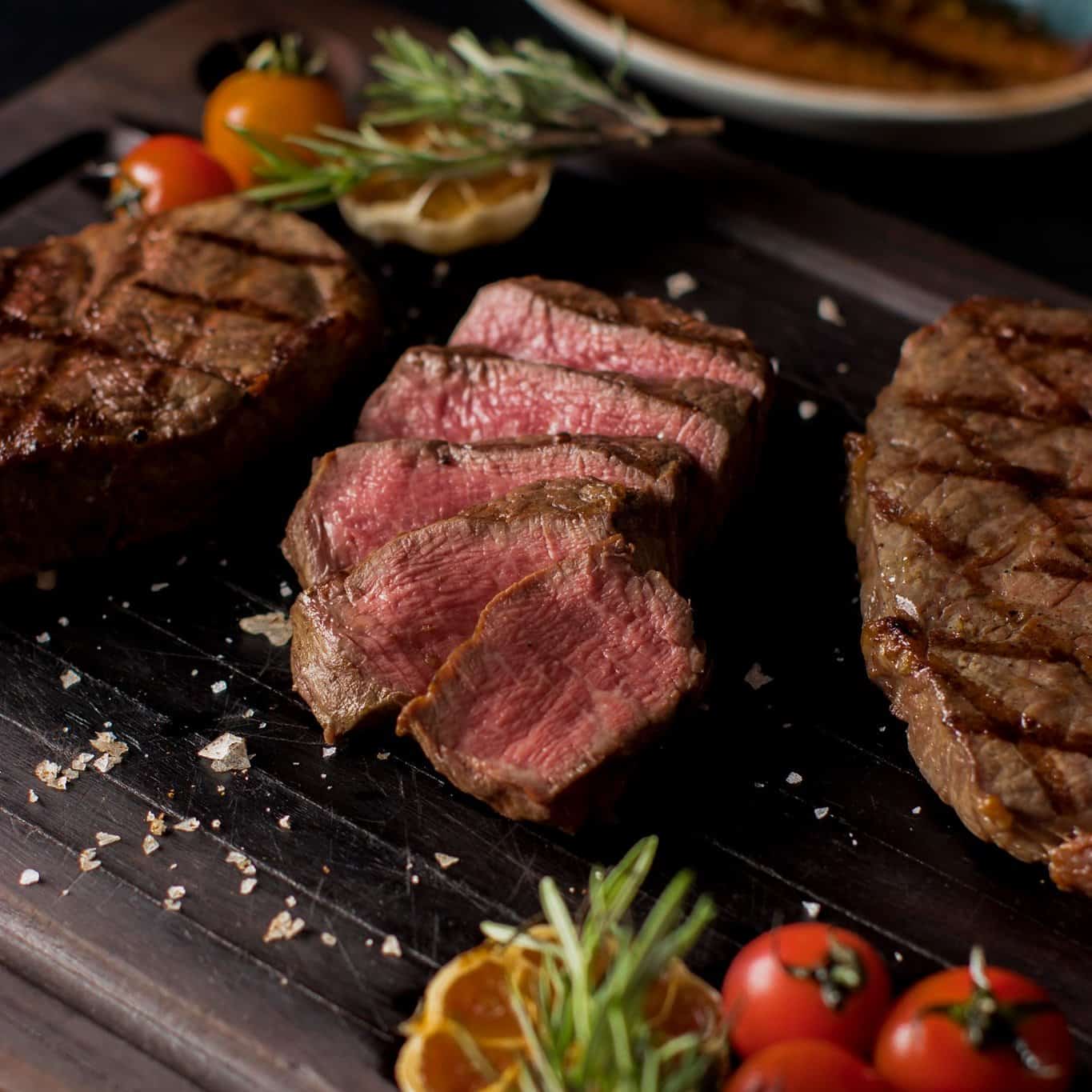 Dishes that are available for their lunch set menu are usually those you can see on their ala carte menu (served in single portions) and often change weekly so guests have more variety to choose from. They also have this upgrade to steak option if you feel like eating steak for lunch but are still not prepared for a big slab of meat yet which means they will change and upgrade your meal course to steak but you have to pay an extra for this. The lunch set also comes with a refreshing dessert which is pretty awesome. (I highly recommend Fresh mango and meringue crumbles for the dessert)
For reservations, you may contact 820-0888 or visit www.ragingbullchophouse-fort.com or like their Facebook page for more information about their latest lunch set menu.
Raging Bull Chophouse & Bar Mains
Raging Bull Chophouse & Bar main menu is usually gorgeous steaks. Premium cuts from grass-fed cows for a more exquisite flavor and goodness. One of their best mains is The Chopping block. Three types of gorgeous steaks are served on a wooden slab. Steaks consist of Tenderloin all the way from Tasmania Australia a place known for cultivating premium grass-fed cows.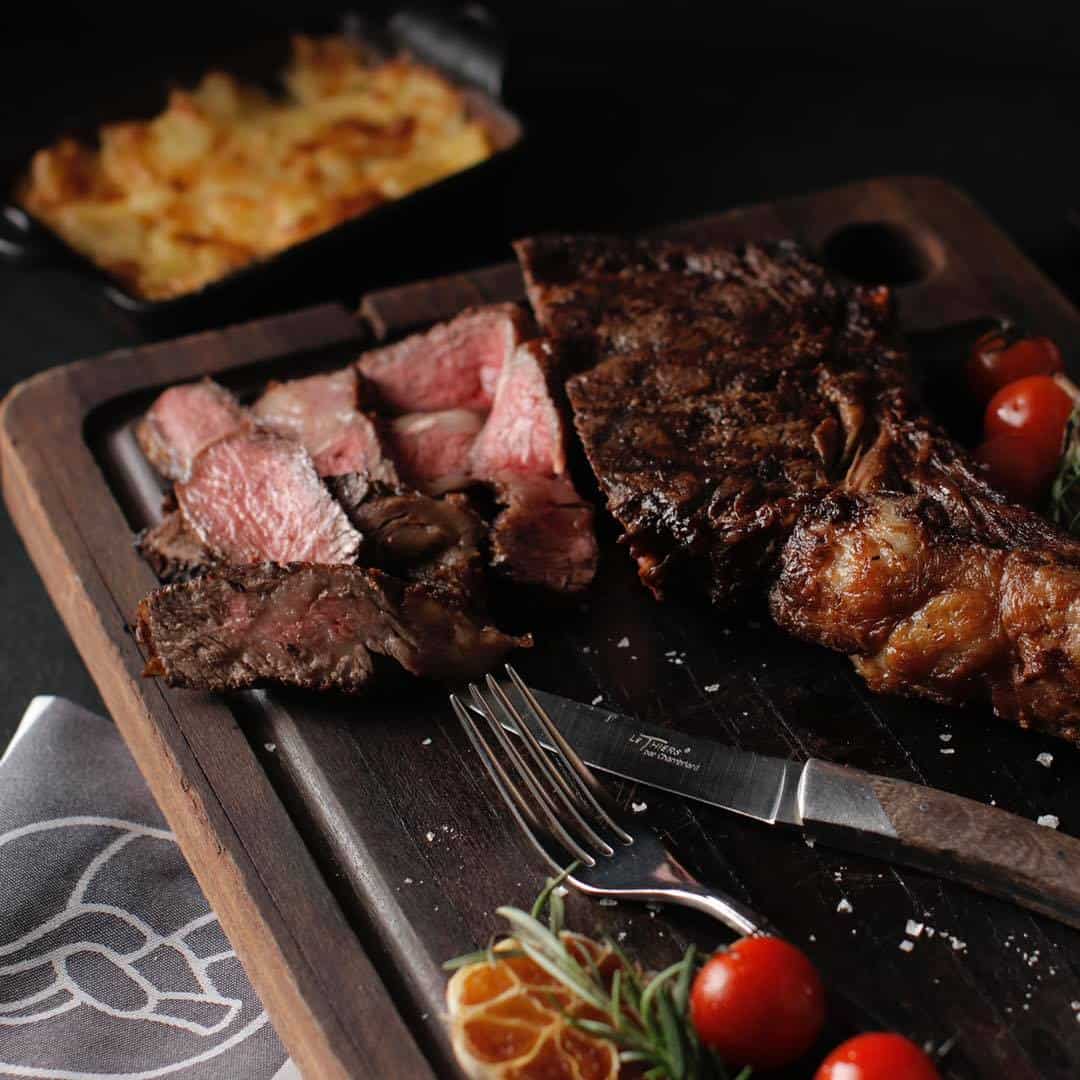 Scotch fillet which is kinda new to me, well to all of us but so good and soft for sure this cut will be popular in the future. This masterpiece of a steak is from Queensland Australia. The last cut that completes their most popular mains is the ribeye also from Queensland Australia. Steaks are served with sauces of your choice but you can enjoy the natural flavor of the beef even without the sauce.
Best Soup
Caramelized onion soup is based on meat stock and onion and Lobster Bisque soup, which is a soup based on crustacean broth are Raging Bull Chophouse & Bar the best soup menu for you to try. I only have one word for their soup and it's exceptional. The caramelized onion soup is really good paired with steak as well as the lobster bisque soup. Their soups are not just popular because of their appearance but because of their taste. A great way to start your course meal in the most wholesome way. Almost every customer remembers the goodness of these soups in fact the soups together with their steak is the dish that usually impresses them with all raging bull reviews. This soup has French origin and definitely delicious.
Raging Bull Chophouse Menu Delivery
Upon checking and thorough research, unfortunately, we cannot order their steaks and other goodness for now but the great news is their burgers and other sweets which are so good are available through online orders. To order you can go to ragingbullburgers-fort.com or if this is too complicated for you, you can try ordering thru third-party delivery services like Food Panda and Grab Foods. They also have curve-side pick-up if you're on the way but don't have time to drop by the restaurant. 
Conclusion
A great place to go and enjoy their delicious foods with your family and friends. A fine-casual dining experience with a very welcoming atmosphere and service ensures that you'll feel at home. Staffs are super accommodating, they are knowledgeable, polite, and really cool. You can actually make friends with their crews. Amazing dining experience. The place is nice and actually well-maintained, clean comfortable, and cozy environment. When it comes to food it is delicious, great food it became my new favorite instantly. A place to go if you love meat. Though their price is a bit high it is worth it but hey they are one of the most affordable nowadays. The Raging Bull Chophouse & Bar menu is highly recommended for meat lovers and for those who love to just chill and enjoy the moment.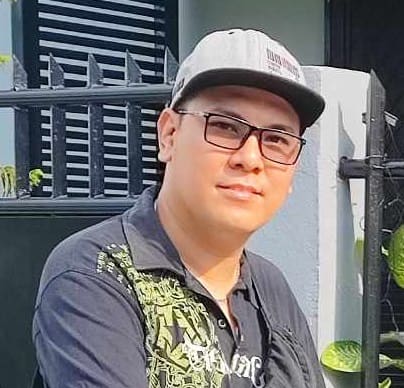 Hi! I'm Nivek Strife, the person who made MenuPH. I'm the one who added most of the popular menus you see on this website, and I really hope you enjoy them! Feel free to check them all out.
Growing up, I was surrounded by lots of tasty foods, like the classic Adobo and the sweet Leche Flan. That love for the many flavors of the Philippines is what got me excited about adding to MenuPH. When I learned how to make websites, I saw the need for a place to show off all the amazing Filipino dishes, and that's how MenuPH started.
MenuPH isn't just a website; it's like a fun journey into food. I've teamed up with famous chefs and found great places all over the Philippines to bring you a bunch of menus that show off the best of Filipino cuisine. Whether you're into the usual dishes or new twists, MenuPH is here to guide you through the rich world of Filipino flavors.
With MenuPH, my aim is to help local businesses, talk about good food choices, and make a group of friends who love food. No matter if you like fancy restaurants or street food, MenuPH has something for you. Come join me on this food adventure as we find great places, taste real flavors, and enjoy the unique food traditions that make the Philippines awesome.