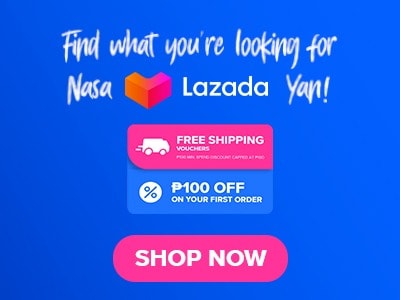 Halo Halo is one of the most popular desserts or refreshments here in the Philippines. And since our country has a tropical climate, halo-halo became popular throughout the years not only for locals but also with foreign nationals that are visiting our country. There are a lot of restaurants that offer halo-halo and even street vendors, especially in summer but I found a place where you can get your favorite dessert anytime. The Bebang Halo Halo menu offers not just halo-halo but also other refreshing cold drinks that everyone will surely enjoy. Let's dive deeper into their menu prices and other information about them. Let's begin!
Below, you'll find the updated list of Bebang Halo Halo menu prices.
Menu Items
Price (PHP)

Halo-Halo

Halo-Halo special 16oz
128
Halo-Halo presidential 16oz
168
Halokay Ube 16oz
158
Melon 16oz
158
Buko Pandan 16oz
158
Mango Graham Caramel 16oz
148
Mango Classic 16oz
128
Choco Mallows 16oz
108
Cookie Crumble 16oz
108
Icy Coffee 16oz
108
Mais con Hielo 16oz
108
About Bebang Halo Halo
This establishment is located in Mandaluyong City. Each serving of bebang halo-halo has 16 oz of goodness and not to be biased but I believe that their halo-halo is one of the best that you can find in the market. They have a lot of different flavors to offer and everything is really good. This local business is building a great reputation when it comes to our country's favorite dessert. Mae Salumbines who is a former Overseas Filipino Worker (OFW) in Dubai is the person behind their delicious products.
They also offer halo-halo with shaved edible gold which is kinda new to us. And to be honest, at first, I am hesitant about it but after tasting it, I was convinced that their halo-halo is the best. They also became famous on TikTok a social media platform and that's the reason why a lot of online orders are coming. The good thing is they can deliver to other parts of Manila, they deliver their products frozen and in good quality by putting their products in an insulated box full of ice.
Bebang Halo Halo Menu Special
Bebang Halo Halo Special is another flavor option of their varieties of halo-halo. It is made with a combination of sweetened banana cinnamon, nata de coco, pandan jelly, creamy frozen milk, corn kernels, sago, leche flan, ube halaya, rice crispies, and frozen milk. This halo-halo is very creamier and sweet but not too much. You can have their halo-halo special for as low as 138 PHP only. This actually reminds me of my childhood, and when it comes to the taste is delicious.
Halo Halo Presidential
As special as its name, this Bebang Halo halo menu comes with a medley of pandan jelly, sago, ube halaya, nata de coco, corn kernels, sweetened banana with cinnamon, special macapuno, langka, frozen milk then topped with their delicious and creamy leche flan and rice crispies. That's almost every ingredient in the halo-halo that you can think of, for me this one taste much more like our classic halo-halo and you can get this one for as low as 168php. Truly a great and refreshing treat that you can enjoy especially in the summertime. 
Halokay Ube
What is your thoughts when you heard Halukay Ube? It's not the song okay but their Halukay Ube is made with Ube flavored frozen milk that is really kinda special already since the shaved ice already has flavor on it. Then it comes with more ube halaya, pandan jelly, nata de coco, corn kernels, sago, special macapuno, sweetened langka, banana cinnamon then topped with leche flan, and rice crispies. You can have this for only 158php and I highly recommend this one for those who loves ube just like me.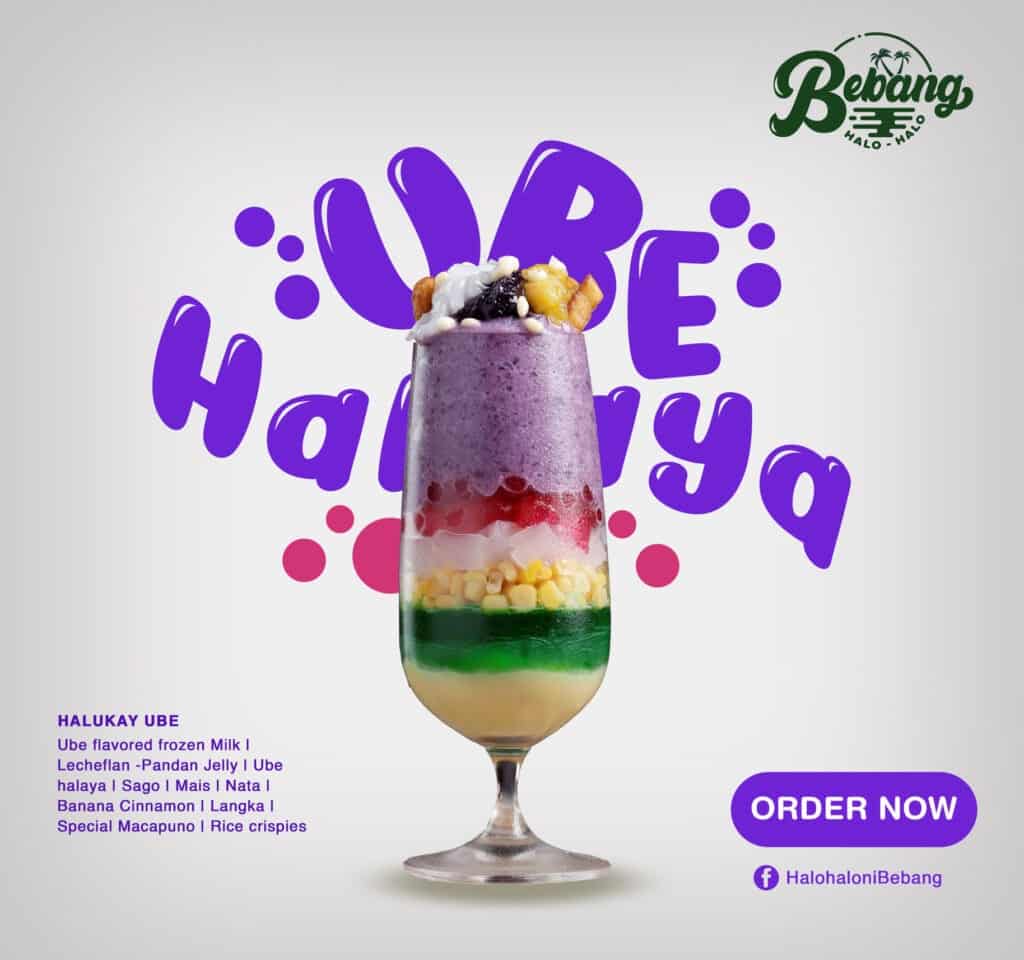 Bebang Halo Halo Melon Menu
Aside from halo-halo melon drinks are also popular in our country, especially during the summer season. Their melon drink is made with Melon Flavored Frozen Milk, pandan jelly, creamy and delicious Lecheflan, Ube Halaya, nata de coco, corn kernels, Sago, sweetened Banana Cinnamon, special macapuno, sweetened Langka, Rice Crispies. This one cost 158 PHP only.
Mango Graham Caramel
This delicious treat is actually my favorite since this is the first one that I tried on their menu, and I am a person who will stick with the first item that I fell in love with. So basically, their Mango Graham Caramel is made with Frozen milk, caramel syrup, pandan jelly, fresh and really sweet mango, crushed graham crackers, and leche flan at the bottom of each serving. This will only cost you 148 PHP and I can assure you that this one is so good it could be your new favorite.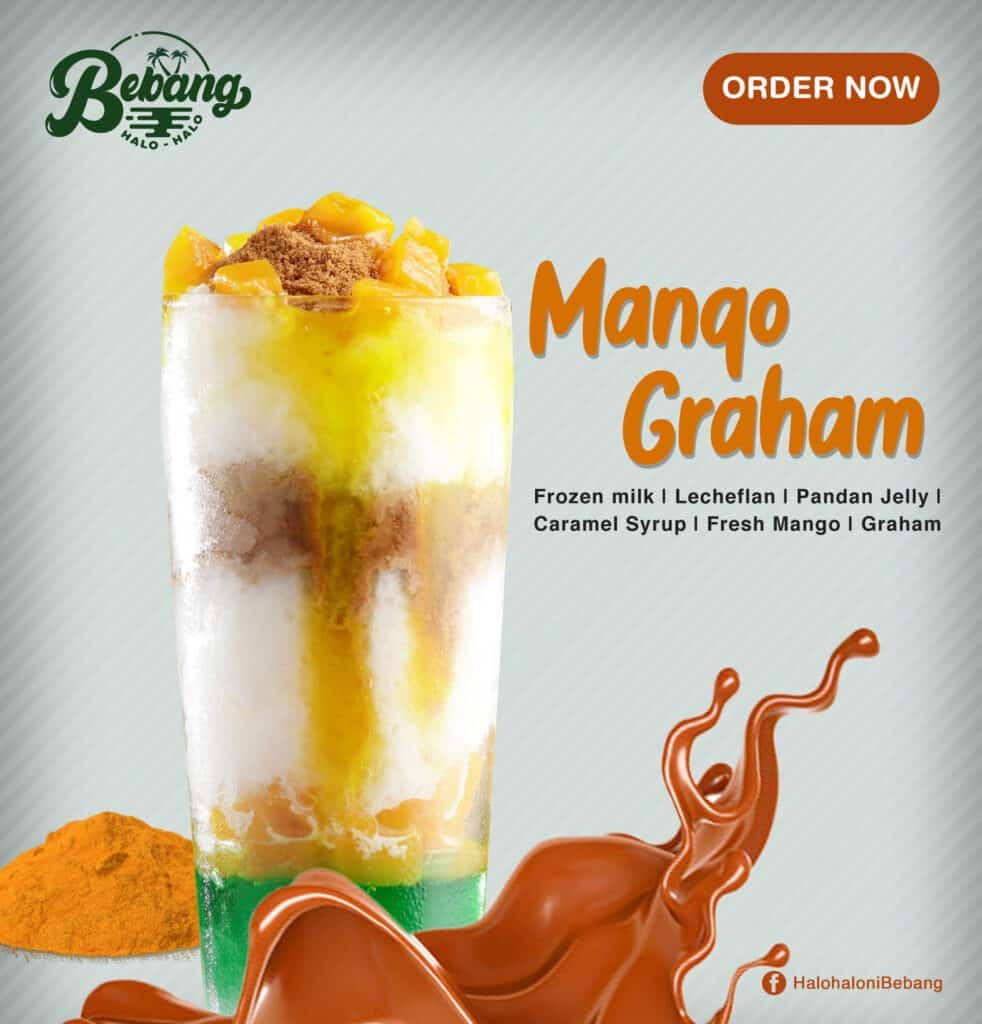 Mango Classic
This special cold dessert is made with Frozen Milk, their delectable leche flan that I think should be sold separately because it is really good, Tapioca pearls, pandan jelly, mango syrup, and of course, fresh mango. This one is 128 PHP only. And if you're going to ask me for the taste it is delicious. I can recommend this if you want your drink to be more mangoey. I still haven't changed my mind, mango graham caramel is for me the best but this one is also good.
Bebang Halo Halo Choco Mallows Menu
Chocolate lovers this is for you. Their choco mallows are made with a good amount of Chocolate flavored frozen milk, crushed oreo cookies, tapioca pearls, mini mallows, vanilla jelly, and chocolate syrup. This will only cost you 148 PHP only. I like the taste of this one it has just the right amount of sweetness and chocolate flavor that is really good for your critical taste buds.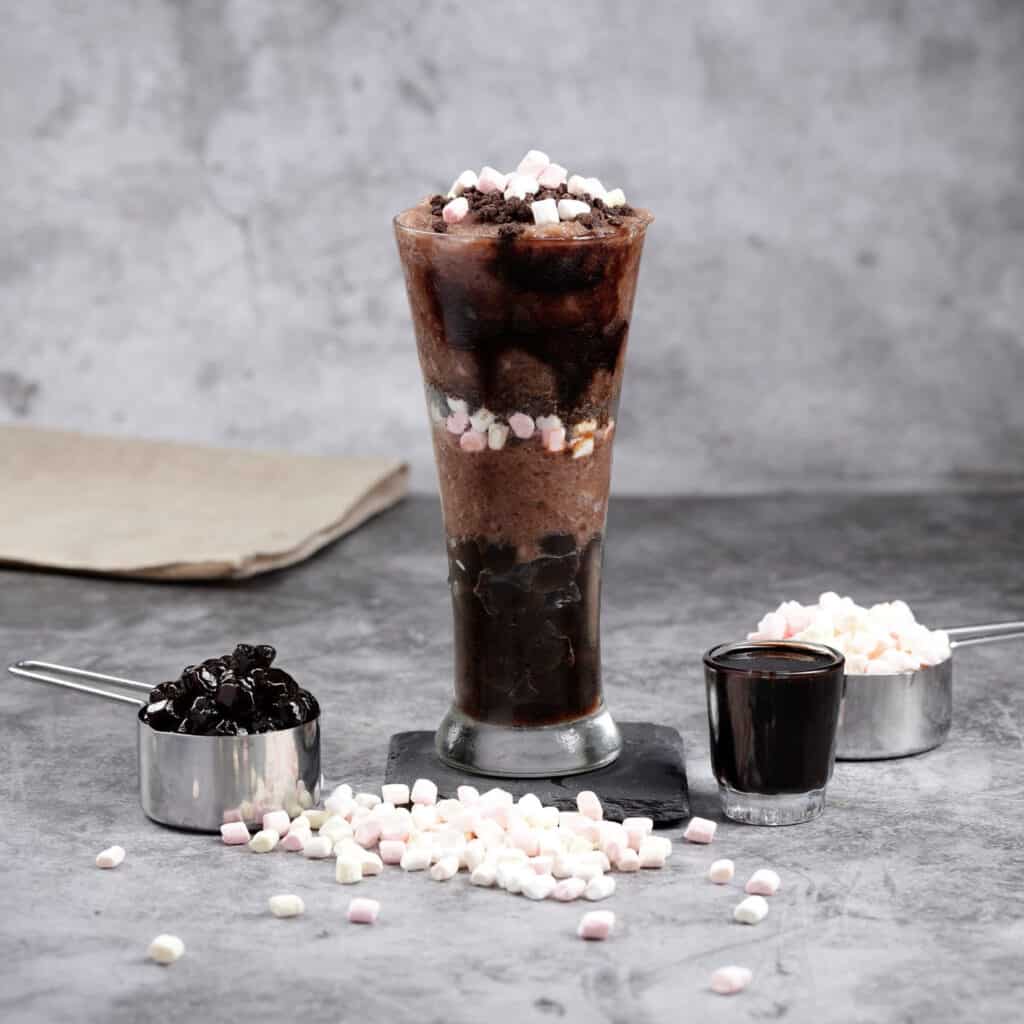 Cookie Crumble
Aside from halo-halo, The Bebang Halo Halo menu also offers different flavors of frozen desserts to satisfy your cravings. Their Cookie Crumble is made with Tapioca pearls, crushed oreo cookies, vanilla jelly, chocolate syrup, and frozen milk. Their Cookie Crumble cost 148 PHP only.
Icy Coffee
If you want something, not halo-halo and you're a coffee lover, maybe this is the right choice for you. Icy Coffee is made with Tapioca pearls, vanilla jelly, crushed oreo cookies, coffee syrup, and Frozen Milk. This will only cost you 128php. When it comes to the taste this wholesome treat is delicious and really good.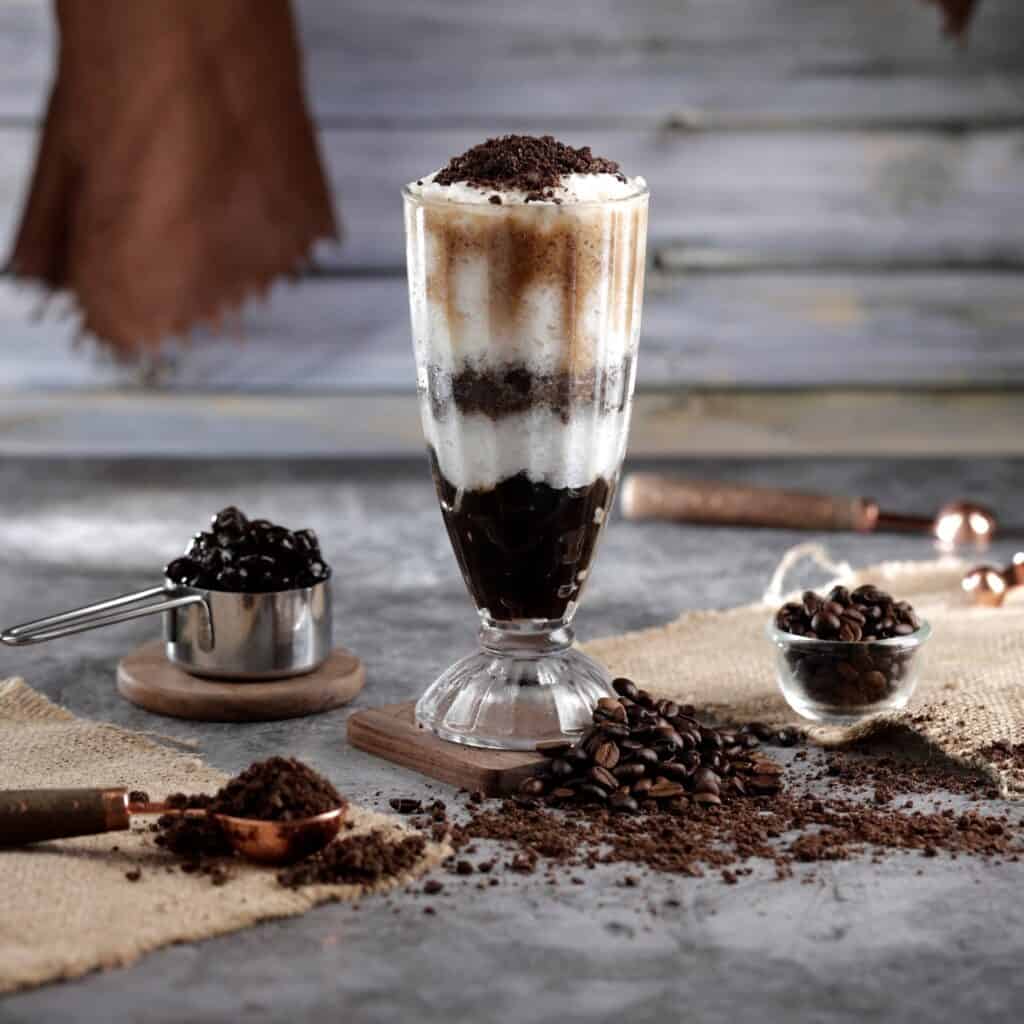 Mais Con Yelo
This is another popular cold dessert in our country. Very simple yet delicious. Bebang Halo Halo version of Mais con Yelo is made with creamy and delicious Leche flan, pandan jelly, corn kernels, and frozen milk. You can get their Mais con Yelo for as low as 118 PHP only. It's creamy and the corn really compliments the milk and the sweetness of this treat.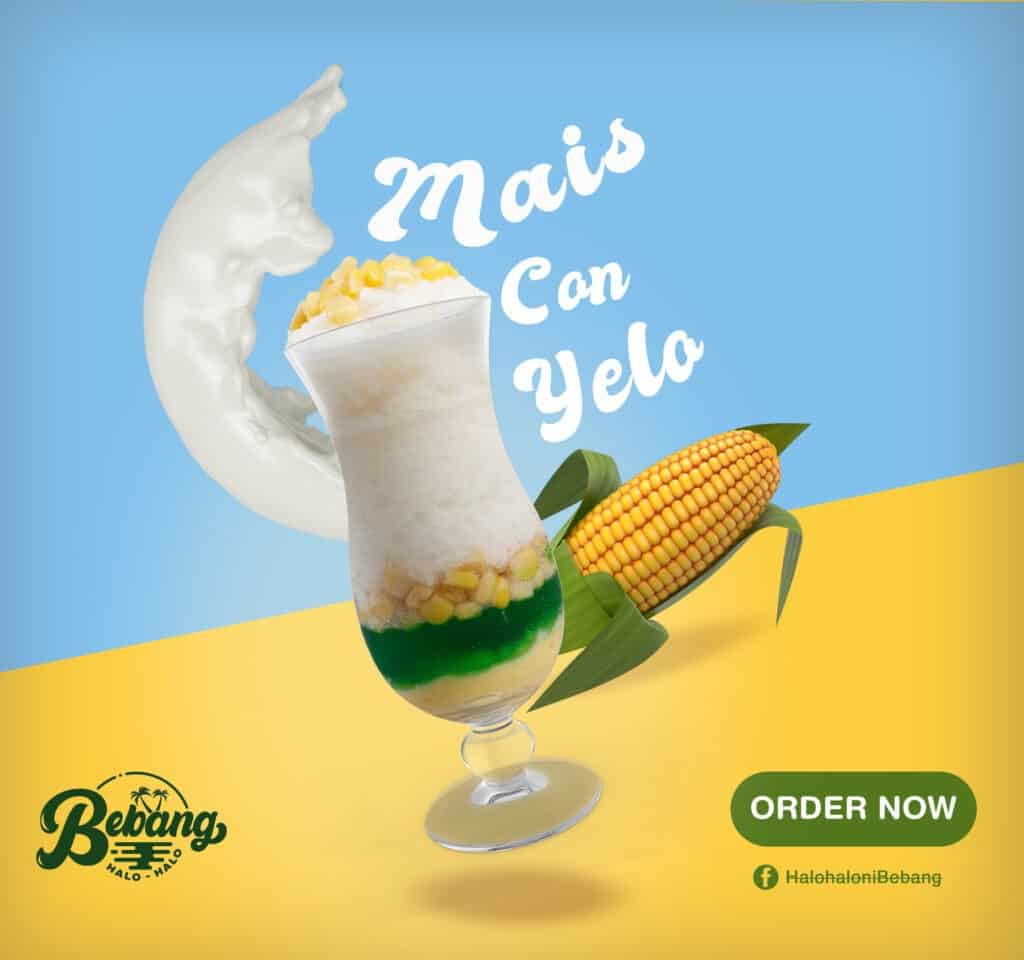 Bebang Halo Halo Menu Delivery
If you are craving your favorite Bebang Halo Halo products, no worries since you can order their products thru GrabFood and Food Panda. Or you can message them on their Facebook page for your orders. Please just take note that Bebang Halo Halo is only available in areas near their location to ensure the quality of the service that they offer.
Social Media Pages
Bebang Halo Halo has social media pages for its customers to be updated on their latest trends and discounts. Here is the list of their social media pages that you can follow or like.
Facebook: https://www.facebook.com/BebangHaloHalo/
Instagram: https://www.instagram.com/bebang.halohalo/
Tiktok: https://www.tiktok.com/@bebang.halohalo
Conclusion
The Bebang Halo Halo is the best halo-halo in town. Yes, you heard me right! Their halo-halo is the best for me. Their menu has different kinds of halo-halo that you will surely love. This halo-halo place is slowly but surely building its name throughout the years by providing quality and delicious products for its customers. The service is good, to be honest even their delivery. Their halo-halo is very creamy and tasty and maybe that is the reason why their customers keep on coming back. The crews are really friendly as well, I will highly recommend this halo-halo shop to everyone who wants to try a different approach to halo-halo, our country's favorite cold dessert.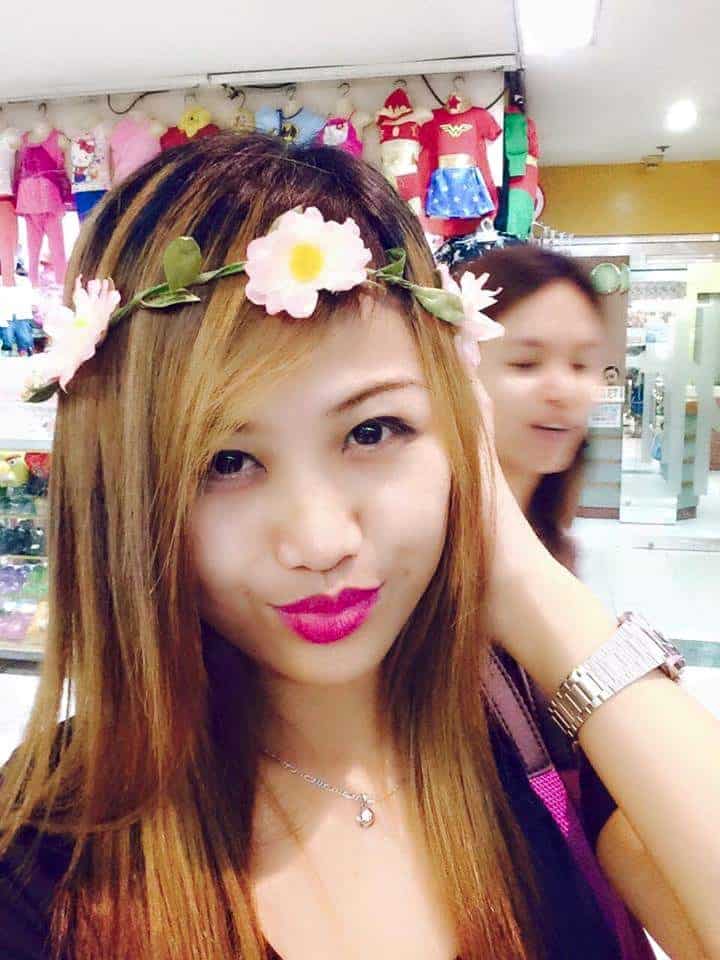 Hello! I'm Shaoyeu Cassandra, a mom who spends most of my time at home, and when I'm not busy, I enjoy writing blogs. I live in Cavite, and I really love talking about the menus of different restaurants.
So, I decided to share my thoughts on the menus of some fast-food places. I'm hoping my take on them can be like a helpful guide for you to decide what tasty treat to go for next. I hope you discover something you really enjoy! Thanks for stopping by!