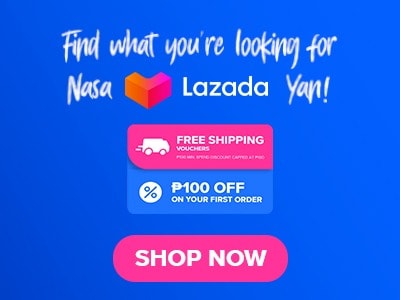 Looking for a place to relax while having a sip off a delicious bottle of premium bubble tea and milk tea? Then Milksha is one of the best places to visit! Milksha's menu is all about offering a delightful and diverse selection of premium bubble teas and milk teas made with high-quality ingredients that range from their signature fresh taro milk to classic milk teas and innovative fruit teas. And above all, Milksha prides itself on using fresh milk, carefully sourced tea leaves, and natural toppings to create delicious and refreshing beverages.
Below, you'll find the updated list of Milksha menu prices.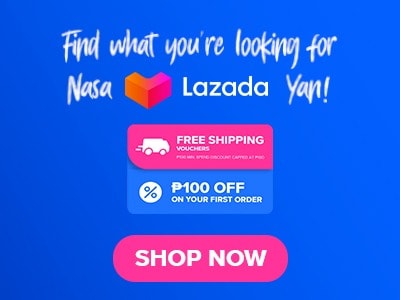 Menu Items
Prices

Drinks

Honey Pearl Black Tea Latte Regular
120
Honey Pearl Black Tea Latte Large
155
Signature Taro Regular
135
Signature Taro Large
155
Valrhona Chocolate Regular
150
Valrhona Chocolate Large
170
Wintermelon Lemon Regular
110
Wintermelon Lemon Large
130
Black Tea Latte with Pudding Regular
120
Black Tea Latte with Pudding Large
140

Add-ons

Pearls
30
Pudding
30
About Milksha
Milksha, also known as Milkshop, is a popular Taiwanese bubble tea brand that has gained widespread popularity due to its high-quality and flavorful beverages. Milksha's first branch was established in 2004 in Taiwan and has gradually become the popular place that it is today. One of the standout features of Milksha's drinks is their signature fresh taro milk which is made with real taro that has become a favorite among Milksha fans. Apart from the taro milk, Milksha also offers a diverse menu that includes a wide range of bubble teas, milk teas, fruit teas, and other specialty beverages.
Honey Pearl Black Tea Latte Menu
Milksha's Honey Pearl Black Tea Latte menu is a delicious fusion of the finest black tea, luscious milk, and sweet honey, all combined with the irresistible chewiness of pearls. The aromatic black tea creates a strong and flavorful base, while the creamy milk adds a velvety smoothness that balances the overall taste. The addition of honey provides a natural sweetness, complementing the tea's bitterness perfectly while its highlight is the honey pearls, which enhance the overall flavor of the drink. Together, these elements create a perfect blend of flavors and a memorable experience that keeps customers coming back for more.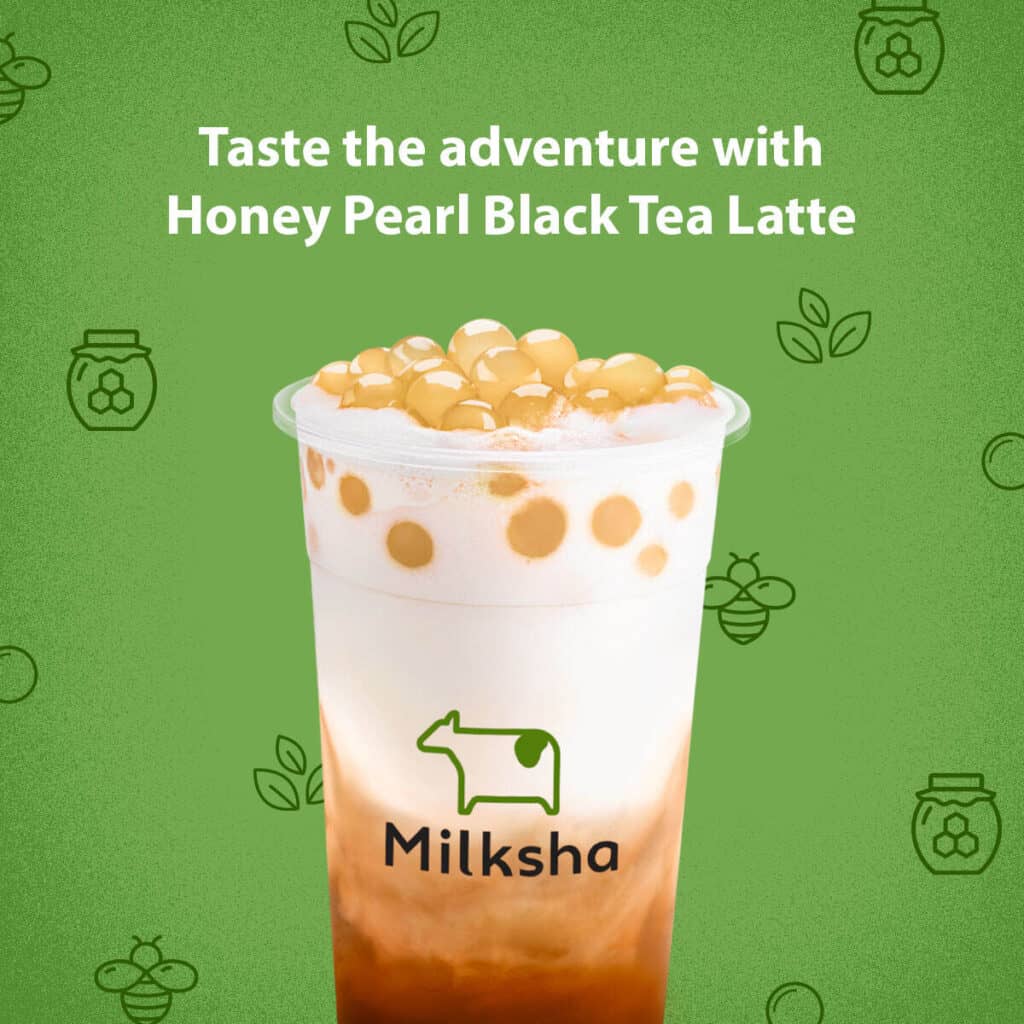 Signature Taro Menu
Their Signature Taro menu is a pleasing and irresistible beverage that showcases the delightful flavors of taro root. It is made with premium taro puree, fresh milk, and a touch of sweetness which offers a smooth and creamy texture that pleases the palate. The natural purple hue of the taro adds a visual appeal to the drink which makes it more enticing to the eyes of most customers.
The taro's distinct nutty and slightly sweet taste shines through, creating a unique and unforgettable flavor profile. It can be served with or without chewy pearls depending on the customer's preference making it a favorite among taro lovers and a must-try for those that are looking for a unique and satisfying beverage experience.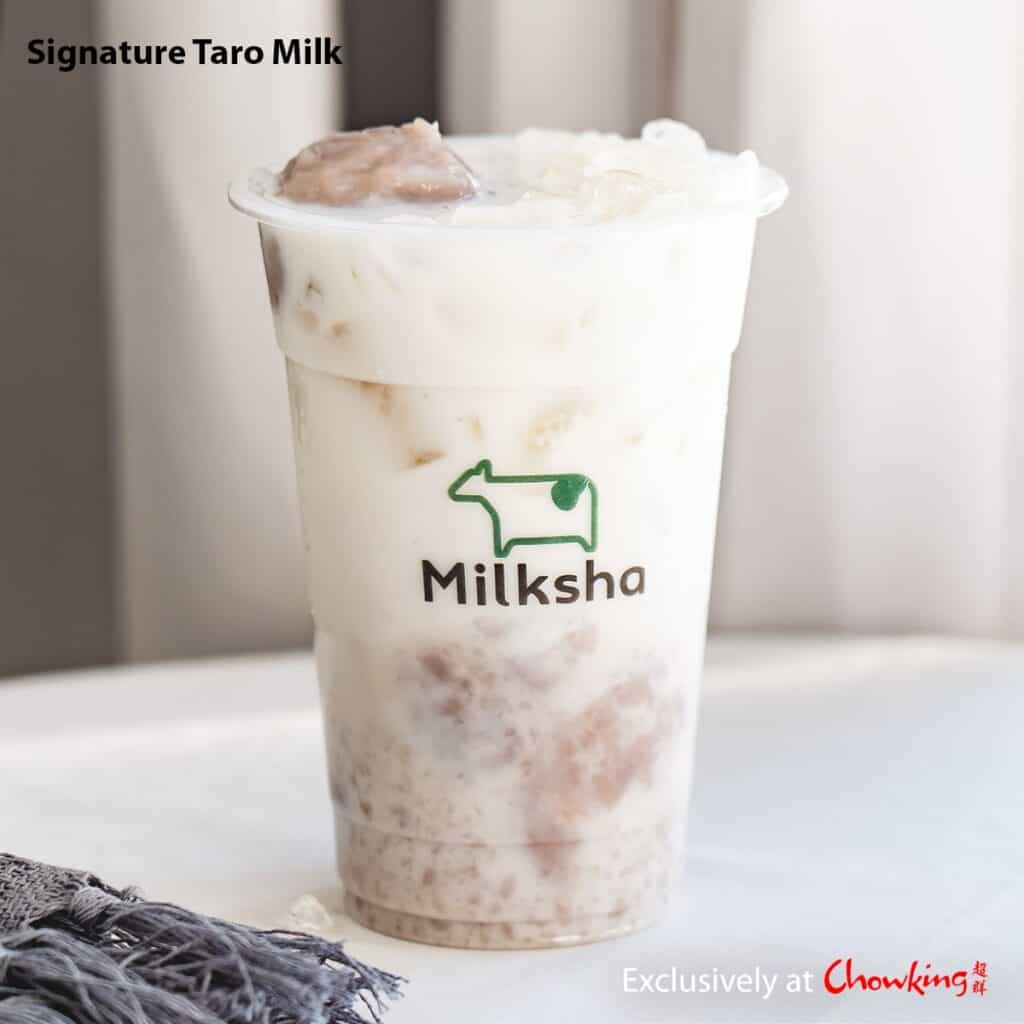 Valrhona Chocolate Menu
This menu is a grand and luxurious treat that is perfect for many chocolate lovers. This beverage features the finest Valrhona chocolate which is best known for its rich and intense flavor. This drink delivers a velvety smooth and decadent taste experience with a perfect balance of premium chocolate, fresh milk, and just the right amount of sweetness.
The Valrhona chocolate lends a deep, dark chocolate flavor with hints of fruity and nutty notes, making it an exceptional treat for anyone with a sweet tooth. It can either be served hot or cold to provide customers with an enjoyable and chocolatey treat that will satisfy cravings with every sip.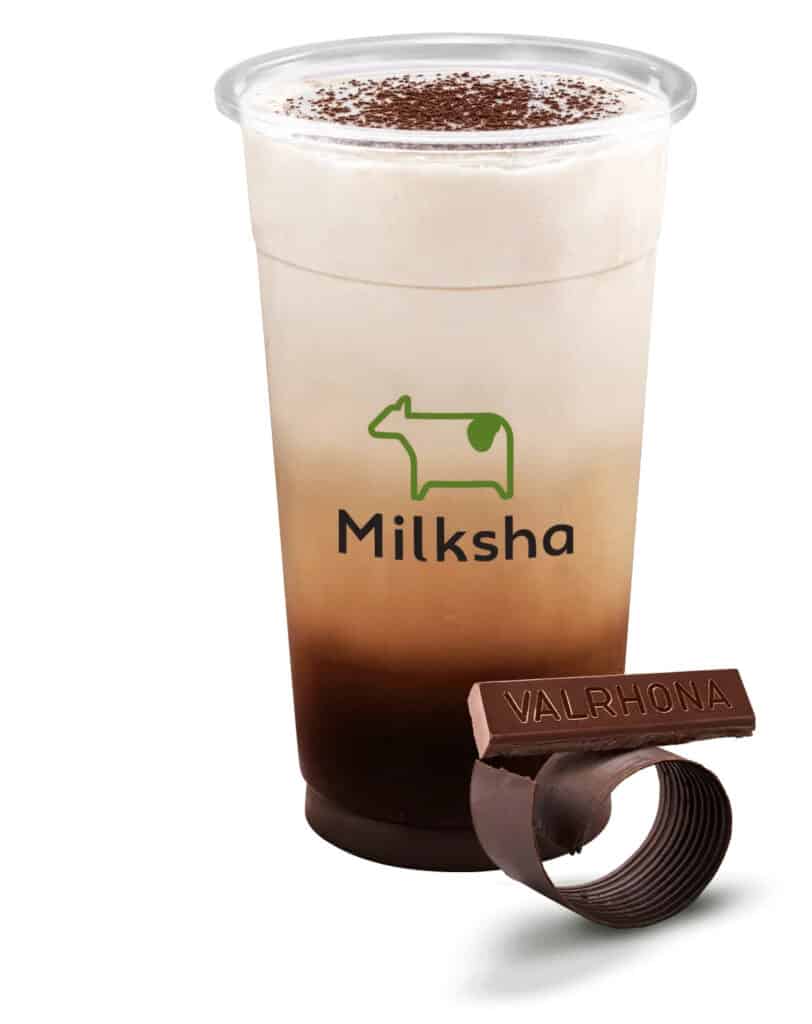 Wintermelon Lemon Menu
Milksha's Wintermelon Lemon drink menu is a refreshing and unique beverage that perfectly combines the subtle sweetness of wintermelon with the zesty tanginess of lemon. This beverage is created with premium wintermelon syrup, fresh lemon juice, and high-quality milk, creating a well-balanced and thirst-quenching drink.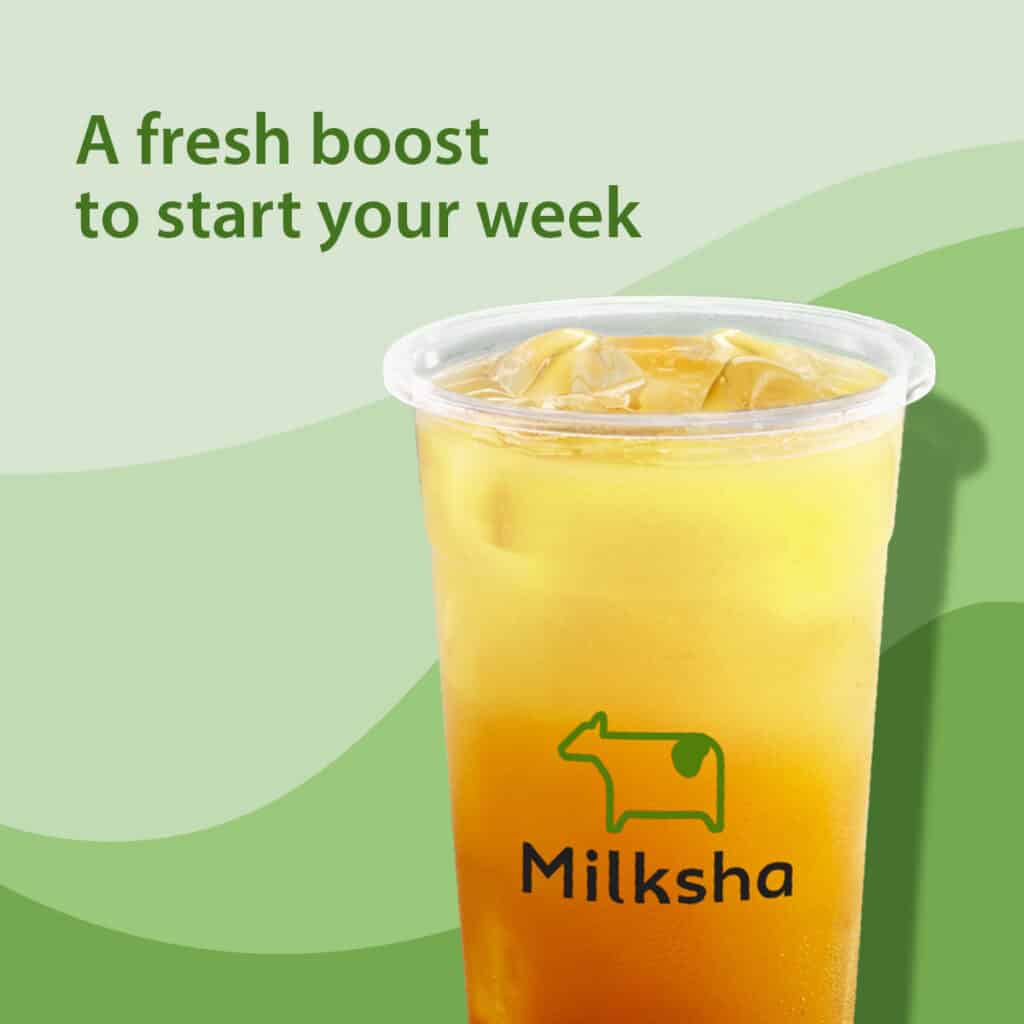 The wintermelon's natural mellow flavor complements the refreshing citrusy notes of lemon, resulting in a soothing and revitalizing taste. Its light and refreshing profile make it an ideal treat for any occasion, leaving a pleasant and memorable taste on your palate.
Black Tea Latte with Pudding Menu
Milksha's Black Tea Latte with Pudding is a delicious and enjoyable fusion of smooth and creamy black tea latte combined with the delightful chewiness of soft pudding. This beverage is created using premium black tea leaves, perfectly brewed to extract a rich and robust flavor. The addition of soft and sweet pudding brings a delightful twist, adding a unique and enjoyable texture to every sip, while the contrast of the creamy latte with the tender pudding creates a delightful flavor experience that will surely satisfy your cravings for both tea and dessert.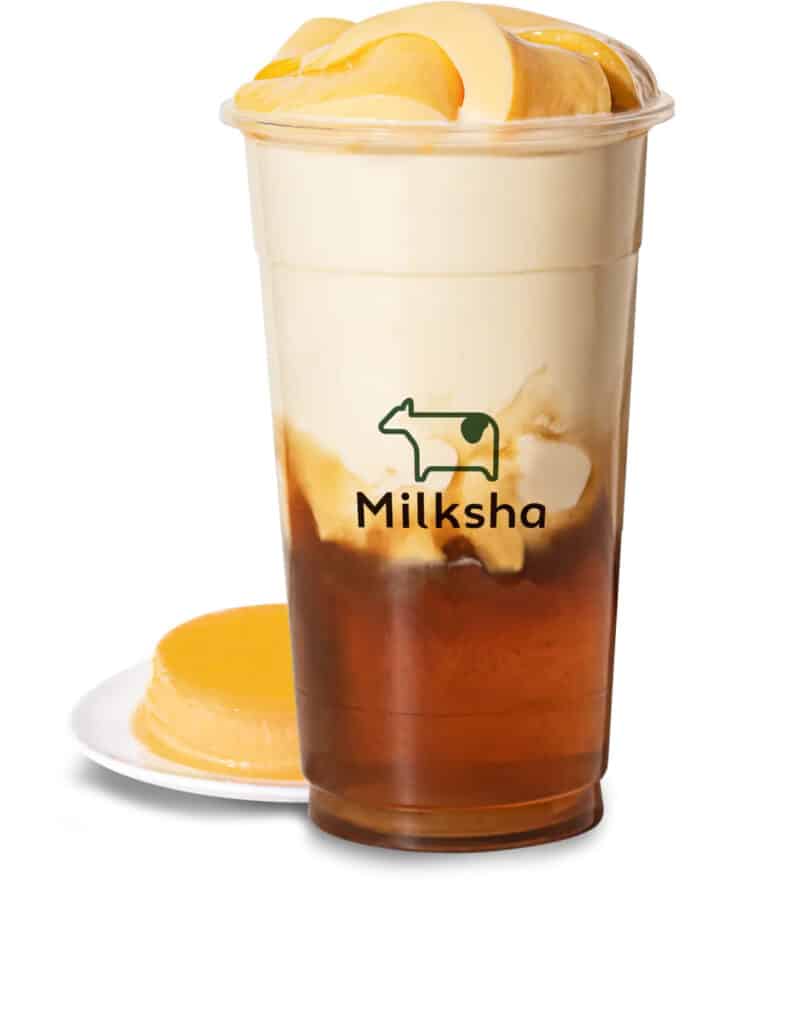 Add-on Toppings
This add-on to the Milksha menu offers an enjoyable and thrilling way to personalize and enhance your favorite beverages. These toppings are carefully selected to complement Milksha's signature drinks, allowing you to create a customized and unique flavor experience.
Customers can choose from a variety of toppings, including boba pearls, honey pearls, herbal jelly, pudding, and grass jelly, to add a burst of texture and sweetness to their drink. Through this menu, customers can easily enhance the flavors of their favorite drinks for a whole new level of satisfaction.
Milksha Menu Delivery
Milksha has a cool menu that you can easily find and explore online. Plus, you can order using your phone, laptop, or computer through services like FoodPanda and GrabFood. It's super convenient and makes getting your Milksha treats a breeze!
Social Media Pages
Follow their pages to experience a visual treat that captures the essence of our heavenly milkshakes. Join the Milksha community and let your taste buds dance with joy as you scroll through their feed, showcasing a kaleidoscope of flavors and colors.
Facebook: https://www.facebook.com/MilkshaPH/
Instagram: https://www.instagram.com/milkshaph
TikTok: https://www.tiktok.com/@milkshaph
Website: https://www.milksha.ph/faqs
FAQs
What types of milk-based beverages does Milksha offer?
Milksha offers a variety of milk-based beverages such as fresh milk and brown sugar milk.
Does Milksha offer customization for sweetness levels and toppings?
Yes, Milksha gives their customers the option to freely customize the sweetness levels and toppings of their drinks.
Are there any dairy-free options available at Milksha?
Yes, they offer dairy-free options for customers who prefer non-dairy beverages.
Does Milksha serve hot drinks, or are they all cold beverages?
Yes, both hot and cold beverages are available to cater the different preferences of its customers. 
Does Milksha offer loyalty programs or rewards for frequent customers?
Milksha does provide a loyalty program to reward their customers, especially their regulars.
Conclusion
It offers both locals and tourists a wide variety of delicious beverages that are proven to be flavorful and of high quality. Milksha is also committed to using fresh milk, premium tea leaves, and natural ingredients in their beverages menu which sets them apart from the other bubble tea providers in the Philippines. Overall, Milksha is a popular bubble tea brand in the Philippines that offers customers a delightful and refreshing bubble tea experience in a casual and comfortable atmosphere.