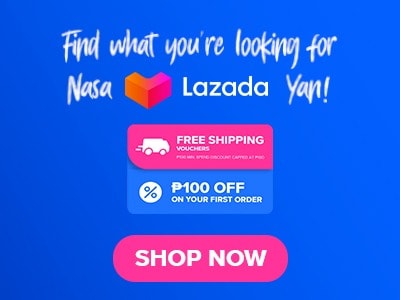 Mang Inasal will always be at the top of our minds when it comes to authentic Filipino cuisine. Known for its iconic "unlimited rice" and distinct taste of marinated chicken made out of local herbs and spices. This fast-food restaurant primarily sells quick-serving dishes such as Chicken Inasal, Bangus Sisig, Halo-Halo, Palabok, and the newest added on the list – Pork BBQ. The variations in the Mang Inasal menu give great pleasure and comfort to every Filipino. Definitely offer meals that are worth returning for.
Whether you want to eat alone, are just craving, or want to treat the whole family and barkada, Mang Inasal has a lot of choices that you will surely enjoy. Let's find out what Mang Inasal has to offer!
Below, you'll find the updated list of Mang Inasal menu prices.
Menu Items
Price (PHP)

Chicken Inasal

Chicken inasal regular solo
88
Chicken inasal regular with drink
104
Paa large (pm1) 1 rice
105
Paa large (pm1) unli rice
120
Pecho large (pm2) 1 rice
121
Pecho large (pm2) unli rice
136

Pork BBQ

1 stick pork bbq solo
50
1 stick pork bbq with drink
65
2 sticks pork bbq solo
86
2 sticks pork bbq with drink
99

Sisig

Pork sisig solo
85
Pork sisig with drink
99
Bangus sisig solo
99
Bangus sisig with drink
114

Todo Solb Meal (TSM)

Paa large solo
129
Paa large with drink
144
Pecho large solo
145
Pecho large with drink
160

Halo Halo

Pinoy halohalo small
56
Pinoy halohalo regular
76
Pinoy halohalo small add on for every meal
50
Crema de leche halohalo small
65
Crema de leche halohalo regular
85
Crema de leche halohalo small add on for every meal
60
Buko pandan halohalo small
65
Buko pandan halohalo regular
85
Buko pandan halohalo small add on for every meal
60

Family Size

6 pc chicken inasal regular
399
8 pc chicken inasal regular
499
Chicken inasal 2 pc paa large
180
Chicken inasal 2 pc spicy paa large
186
Chicken inasal 4 pc paa large
355
Chicken inasal 4 pc spicy paa large
365
Chicken inasal 2 pc pecho large
205
Chicken inasal 2 pc spicy pecho large
211
Chicken inasal 4 pc pecho large
400
Chicken inasal 4 pc spicy pecho large
415
Pork bbq 4 sticks
129
Por bbq 10 sticks
329
Palabok
199
Pork sisig
309
Bangus sisig
349

Palabok ATBP

Palabok ala carte
59
Palanok with drink
65
Pinoy halohalo (small) + palabok combo
99
Leche flan
29

Drinks

Iced red gulaman small 12oz
36
Iced red gulaman medium 16oz
46
Iced red gulaman drink upsize 16oz
12
Softdrinks small 12oz
36
Softdrinks medium 16oz
46
Softdrinks drink upsize 16oz
12
Iced tea small 12oz
36
Iced tea medium 16oz
46
Iced tea drink upsize 16oz
12
About Mang Inasal
Every famous fast-food chain is born from a story of motivation, risk-taking, and strategizing. It was how Edgar "Injap" Sia began and founded the company at the age of twenty-six. Mang Inasal (Hiligaynon word) or "Mr. Barbecue" started in Iloilo City, located in Western Visayas Region in the Philippines established the first store at a rented space in Robinson's Mall Carpark, back in December 2003. The support of his family is the start that changed his life forever.
The success of Mang Inasal never stops there, in 2005 the stability of the company led to its opening for franchising. Different branches started within Visayas and Mindanao before they expanded throughout Luzon. The restaurant's excellence garnered several awards from the 19th Annual National Consumers Awards in 2008 – "Outstanding Fast Growing Local Food Company", the 2010 Dangal ng Bayan Awards, the "Most Outstanding Quick Service Restaurant, and Most Outstanding Chicken Inasal restaurant", and the "Outstanding Filipino Franchise Award" from 2015 Franchise Excellence Awards. The hard work really pays off.
In 2016, Jollibee Food Corporation (JFC), the largest food service company in the Philippines acquired a 100% share of Mang Inasal.
Mang Inasal is a fast-food-style restaurant you can see almost everywhere now in the Philippines. The company's success in capturing the hearts of Filipino is what makes the chain grow strong with over 450 stores nationwide.
Today, Mang Inasal is the leading Pinoy brand grilled food restaurant in the country, famous for its nuot-sarap chicken, unlimited rice, and of course, chicken oil.
Mang Inasal Menu Best Seller
We gather the most relevant information thru research and interviews for the compilation of their best-selling items. Here is the list of their menu best sellers.
Paa with Rice – Paa with rice or pm1 is one of the most favorite and famous dishes on the Mang Inasal menu. This is the thigh and leg part of the chicken where usually ordered with drinks and unlimited rice.
Pecho with Rice – Pecho or pm2 is also included in their best-selling items. Pecho is a chicken quarter part where the wing and breast are included. It usually comes with a drink and unlimited rice as well.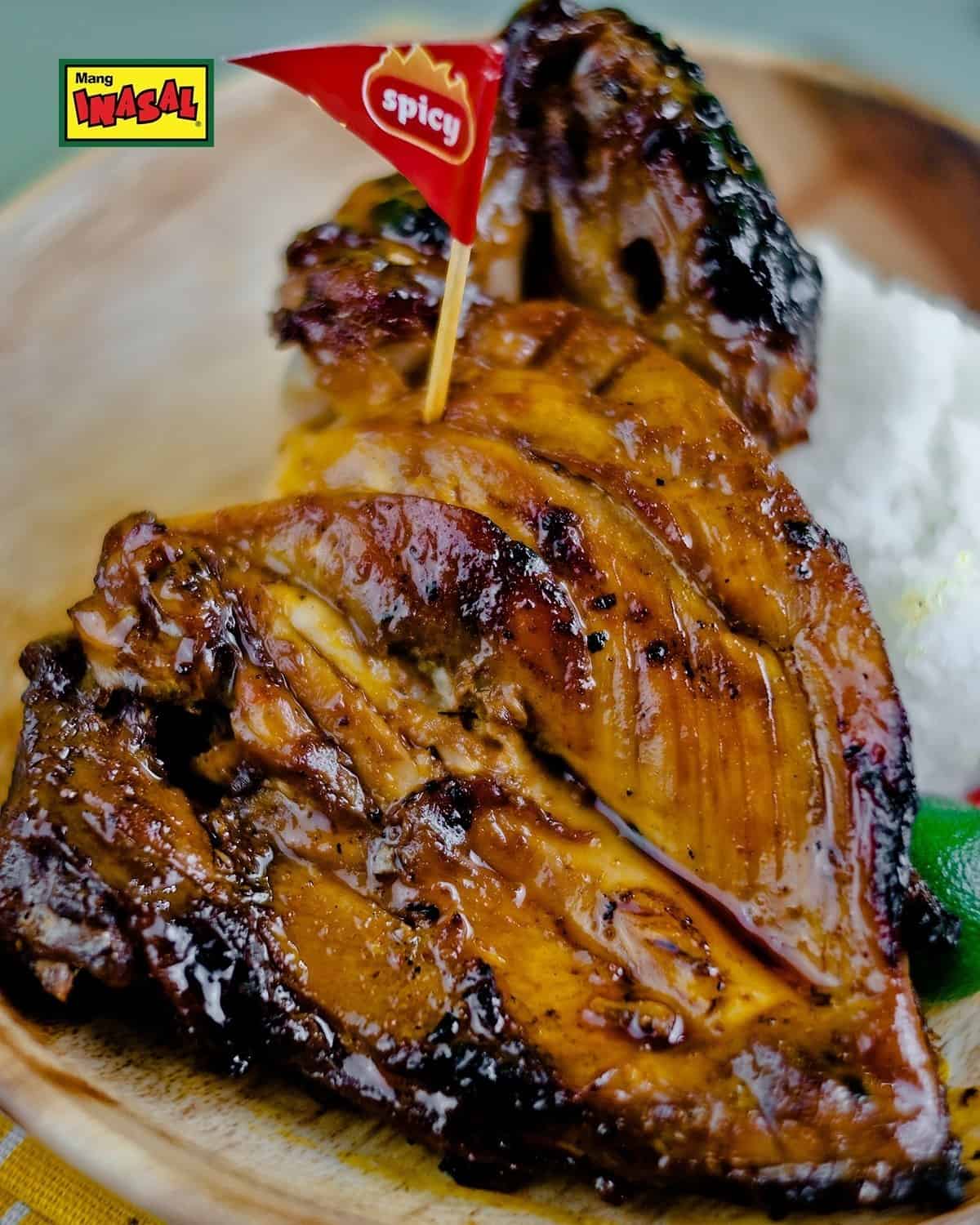 Photo Credit: Mang Inasal FB Page
Lumpiang Togue – This version of lumpia is also included in Mang Inasal's best sellers. Unlike the popular Lumpiang shanghai, lumpiang togue is stuffed with vegetables inside like togue or bean sprouts, Baguio beans, carrots, and some ground meat inside. They serve this with a special dipping sauce as well.
Chorizo Inasal – Aside from chicken inasal could also be chorizo and that's also included in Mang Inasals best sellers. Made with special chorizo in a barbecue stick and served with rice and dipping sauce. You can order this regularly or with unlimited rice.
Chicken Inasal
Chicken inasal is a dish where chicken mostly leg parts are grilled but before grilling it is marinated with soy sauce and a lot of ingredients to enhance the flavor of the chicken just as garlic and pepper. Mang Inasal's version of chicken inasal menu is one of the most favorite items to order on their list, they specialize in doing it, and as you may notice they even named their restaurant based on it.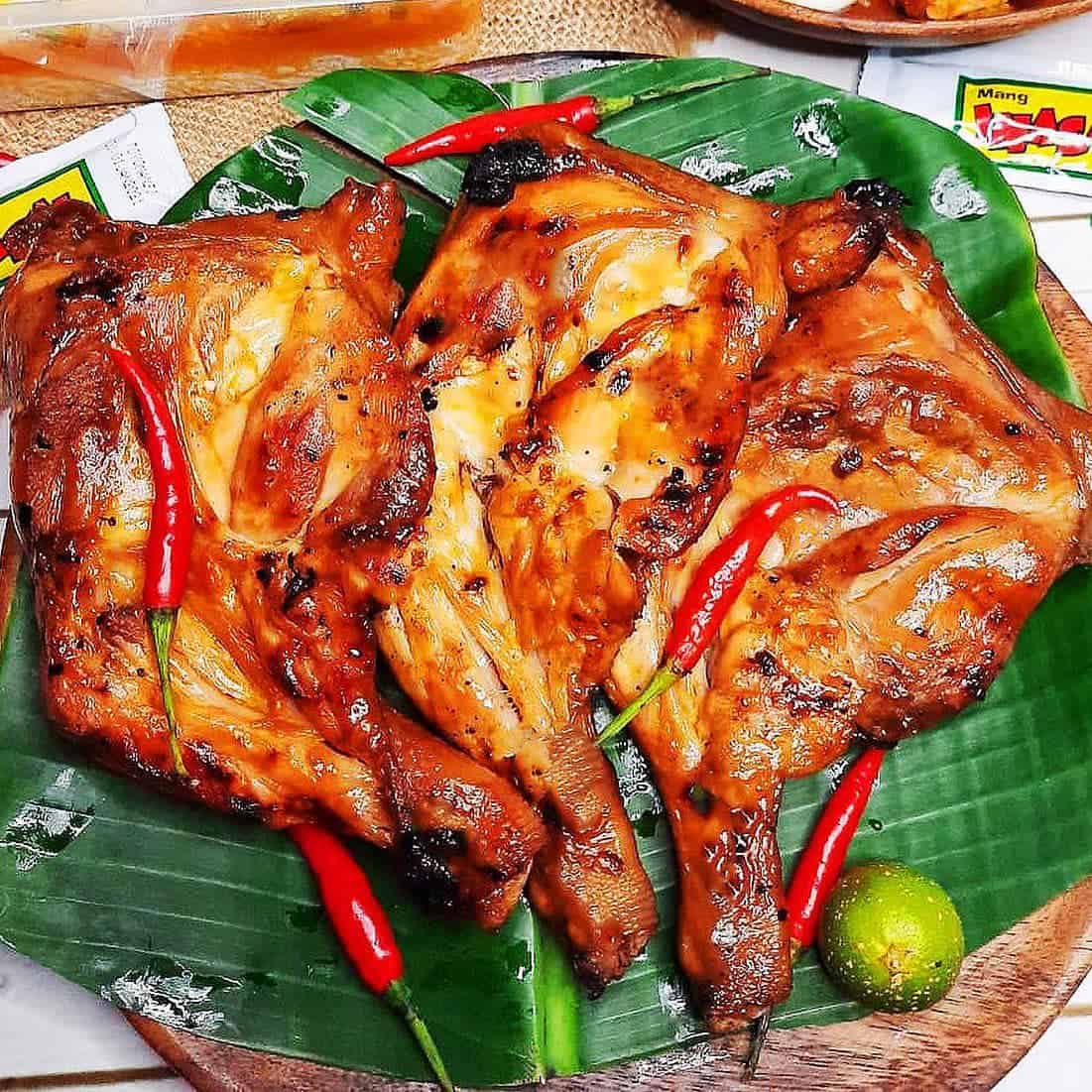 Photo Credit: Mang Inasal FB Page
Their chicken inasal has that mild taste where I can taste a slight sweetness on the outer part of the chicken. I am thinking that maybe the marinade was already caramelized and that made their chicken really delicious. The meat of their chicken inasal is tender and is not dry it is cooked just perfectly without burning the chicken. Their chicken inasal is really good with rice with a bit of chicken oil and oh the dipping sauce with the combination of calamansi, soy sauce, and chili is just perfect. They have other options for their inasal that I list down below.
Todo Solb Paa Large – Which is basically a combination of mang inasal's favorites like chicken inasal large, half serving of palabok, and soup. you can try their unlimited rice as well. And It also has a spicy version.
Todo Solb Pecho Large – This is also of their chicken inasal options, just like the previous item this is a combination of mang inasal's favorites like chicken inasal large, half serving of palabok, and soup. you can try their unlimited rice as well. And It also has a spicy version.
Fiesta Meal – This fiesta meal consists of marinated chicken quarters served with 3 cups of rice, 3 chicken oil sachets l, 3 toyomansi sachets, and soup and is only available for delivery.
Mang Inasal Halo Halo Menu
Halo Halo is a very popular Filipino dessert. And mang inasal's version of halo halo is just outstanding. Mang inasal has 2 versions of this popular dessert.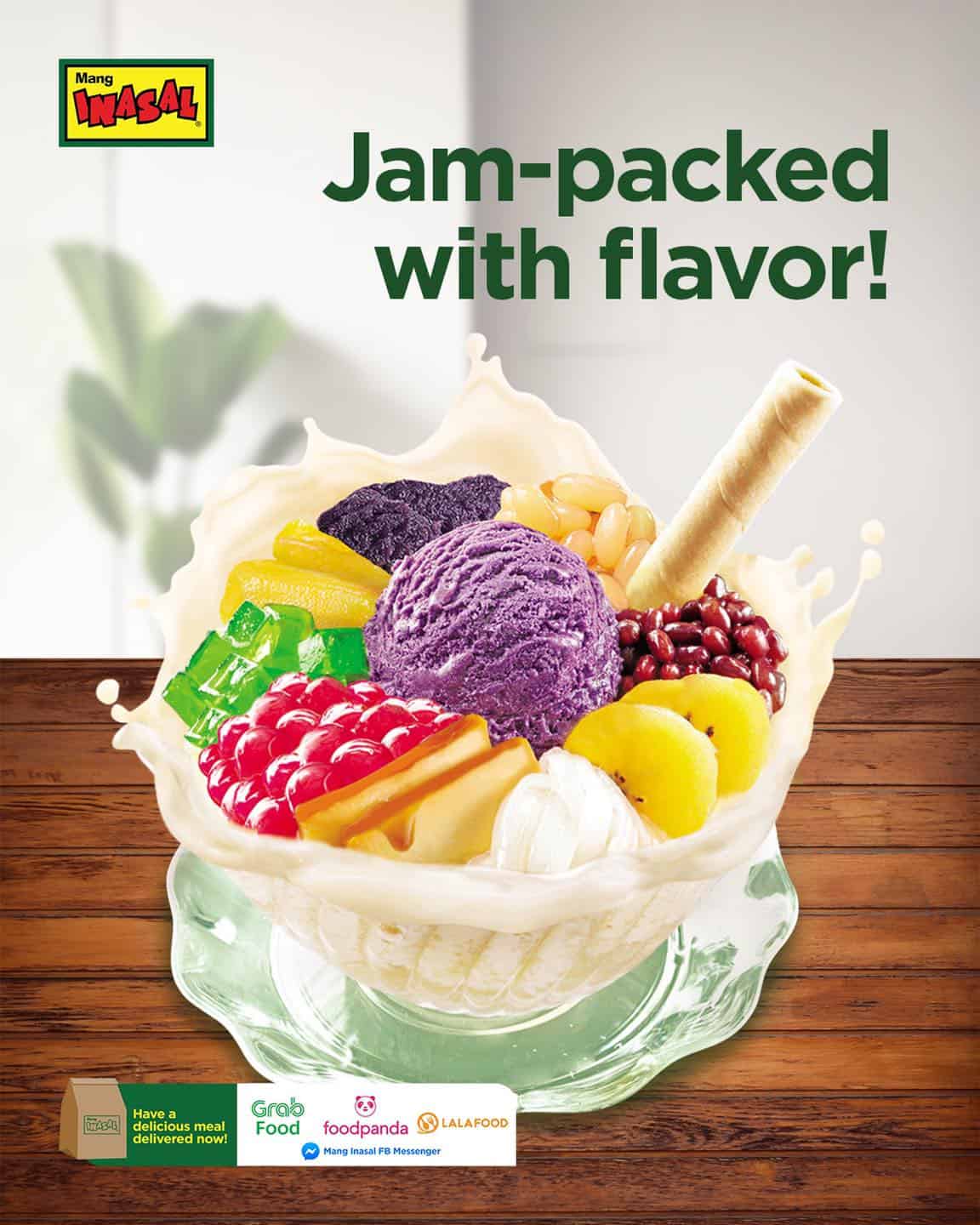 Photo Credit: Mang Inasal FB Page
Extra Creamy Halo Halo – is made with shaved ice with a lot of milk. It also has red sago pearls, ube halaya or processed sweetened purple yam, yellow and red beans, green pandan jelly, sweetened banana, sweetened beans, jackfruit, leche flan, and ube ice cream. It also has barquillos on top. Aside from their extra creamy halo halo they also have another option to offer which is their crema de leche halo halo.
Crema de Leche Halo Halo – This is basically a mixture of shaved ice with a lot of milk, sweetened banana, and leche flan on top.
Their halo halo is perfect especially in hot weather when everyone is looking for something cold to eat. The combinations of flavors on their halo halo are just right and do not overpower each flavor.
Mang Inasal Menu Palabok
Palabok is also one of the most famous pancit versions here in our country. Mang inasal's version of palabok has that bright orange sauce because of the anato seeds that they used to give color to the oil. The sauce is made with ground pork and shrimp also the stock used in cooking their palabok could be shrimp or pork broth. It has a savory, rich, and slightly salty sauce flavor. Then topped with egg, chicharron, and tinapa bits with calamansi on the side.
The Mang Inasal palabok menu will surely give us a non dry pancit experience that is rich with pork and shrimp flavors that makes their palabok irresistible and mouth-watering. Squeeze the calamansi make sure that you remove the seeds please and the flavor burst starts. Aside from the solo palabok order you can also try palabok family size which is good for 4-5 persons. It has the same taste but is great for sharing.
Mang Inasal Menu Pork BBQ
This is also one of the most famous dishes that Filipino cuisine. The Mang Inasal version of the pork barbecue menu is made with pork slices that they marinated in a barbecue sauce that is sweet and then skewered in abamboo sticks. a little salty, sweet, and with a little bit of spiciness that's what it tastes like if you're gonna ask me. This Filipino-style pork barbecue meat is mouthwatering, delicious, and seriously addictive, and im not being exaggerated here.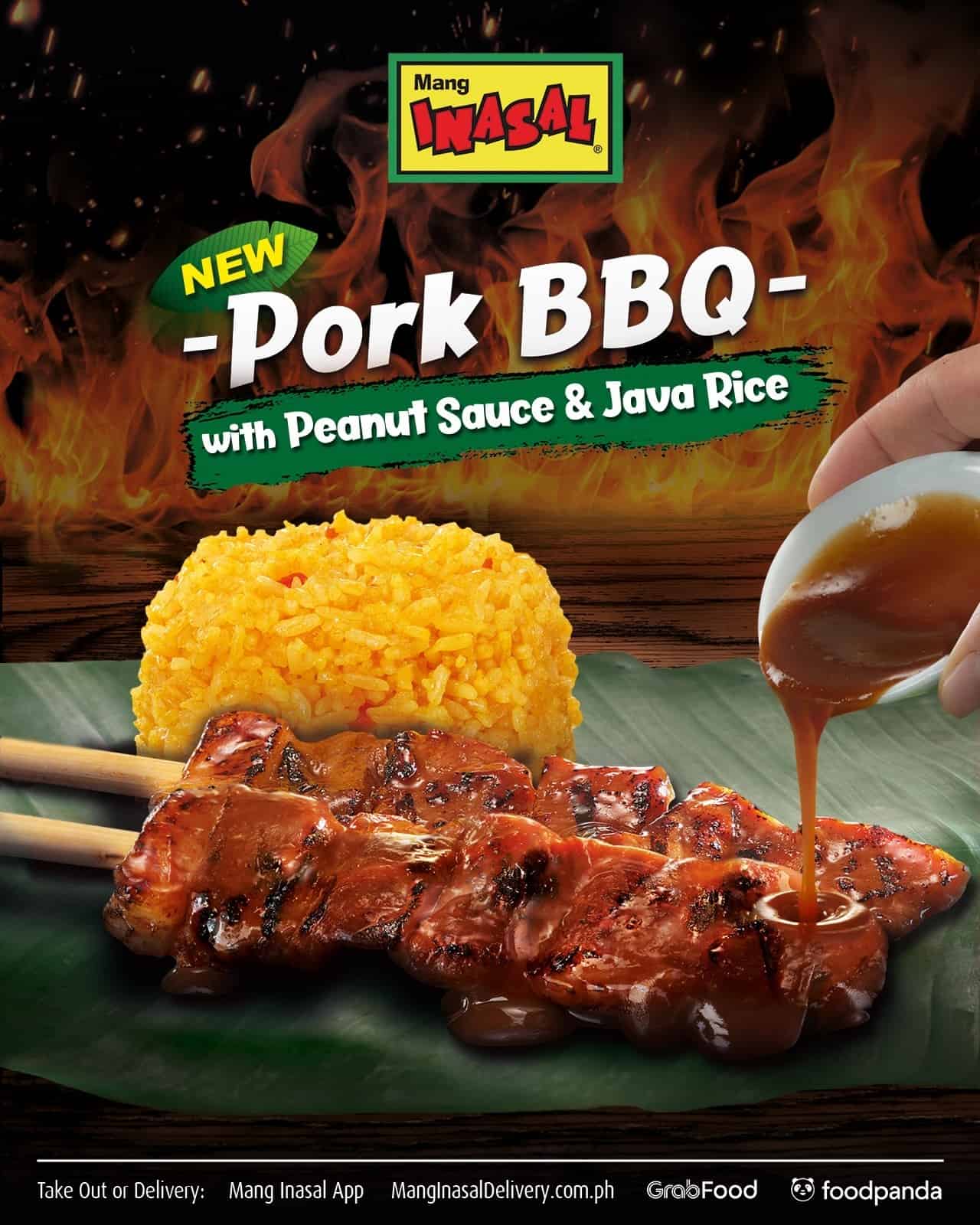 Photo Credit: Mang Inasal FB Page
Their pork barbecue slightly resembles adobo in appearance just imagine adobo that is skewered but when it comes to the taste it's sweeter because of sugar, unlike adobo which is garlicky and salty. The sweet and delicious taste of their pork barbecue along with the tenderness of the pork meat is simply irresistible. Goes really well with their dipping sauce and rice and extra rice is no surprise at all, Mang Inasal truly catches the taste of many Filipinos. Pork barbecue can be ordered solo meal or 4 sticks and 10 sticks, which are great for sharing.
Mang Inasal Menu Liempo
Mang inasal's version of liempo is made with pork belly marinated in soy sauce and spices and cut horizontally before grilling. This liempo is a great option especially if you're not a fan of chicken. Their liempo taste very smoky a bit sweet and salty, and the meat is tender although it has a huge lot of fats. Mang inasal's liempo is served with rice and dipping sauce, I personally like this more than the inasal since I'm, not a solid Chicken fan. Also, this is great for takeaways for pulutan or beer matches later.
Sisig
Sisig is also one of the most popular dishes in the Philippines, originated in Pampanga Philippines, and made with porks ears and liver this dish has been a household favorite ever since, and even in other country Sisig becomes a favorite. And since sisig is a very popular Mang Inasal menu that is as good as the original version. Made with pork's body parts im not quite sure which part of pork their sisig is made but im quite sure this is not just pig ears.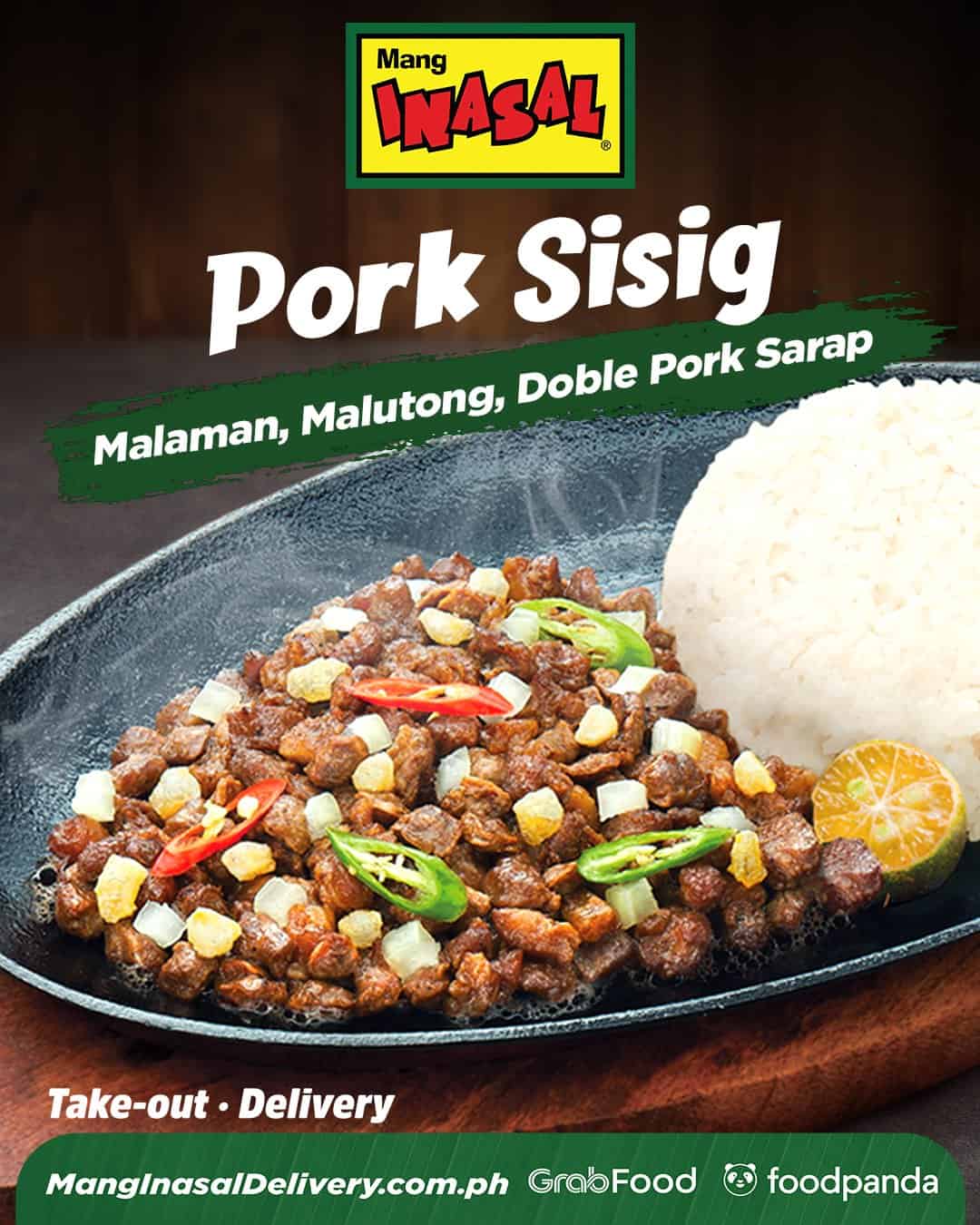 Photo Credit: Mang Inasal FB Page
Perfect with or without calamansi and really goes well with rice. Mang Inasal's sisig has already captivated the meticulous taste of Filipinos plus this is quite affordable so it's no surprise that this is included in their best-selling items. Sisig could be ordered pork sisig solo or pork sisig with drinks. If you want a healthier version of sisig you can also try bangus sisig solo or bangus sisig with drinks.
Empanada
Empanada is a Filipino favorite merienda type pastry with a delicious filling inside that is usually potatoes, raisins, and ground chicken. This menu of Mang Inasal is really good and delicious. Personally, I like the idea of serving empanadas along with their mouth-watering palabok. You can buy their empanada per piece or packs of 3 or packs of 6. Mang Inasal also offers empanada combo meals for you to enjoy it with other Mang Inasal dishes. Mang inasal's empanada is available in Metro Manila and other selected provinces nationwide and is also available for delivery and take-outs.
Group Sizes
As a response to the needs of Mang Inasal's home-based patrons, they have added family-sized meals to their menu, which can be conveniently ordered for delivery or takeaway. This menu from the Mang Inasal offers four group meal options, including the palabok, which is ideal for 4-5 servings, and the 4 pieces chicken inasal paa large. Additionally, customers can choose from the 3 pieces chicken inasal petcho part or the 10 sticks of pork barbecue.
How does Mang Inasal Satisfy its Customers?
Growing up, Filipinos enjoyed having a barbecue as a party appetizer or an all-time favorite street food snack and sometimes served as a main meal with another Filipino dish like Palabok. When the Mang Inasal menu offered the best fusion of traditional Filipino spices in marinated Chicken and Pork, it already won the hearts of its many customers. Filipinos have grown to love the "nuot-sarap" – flavored pack and tempting grilled to perfection Chicken Inasal and Pork BBQ.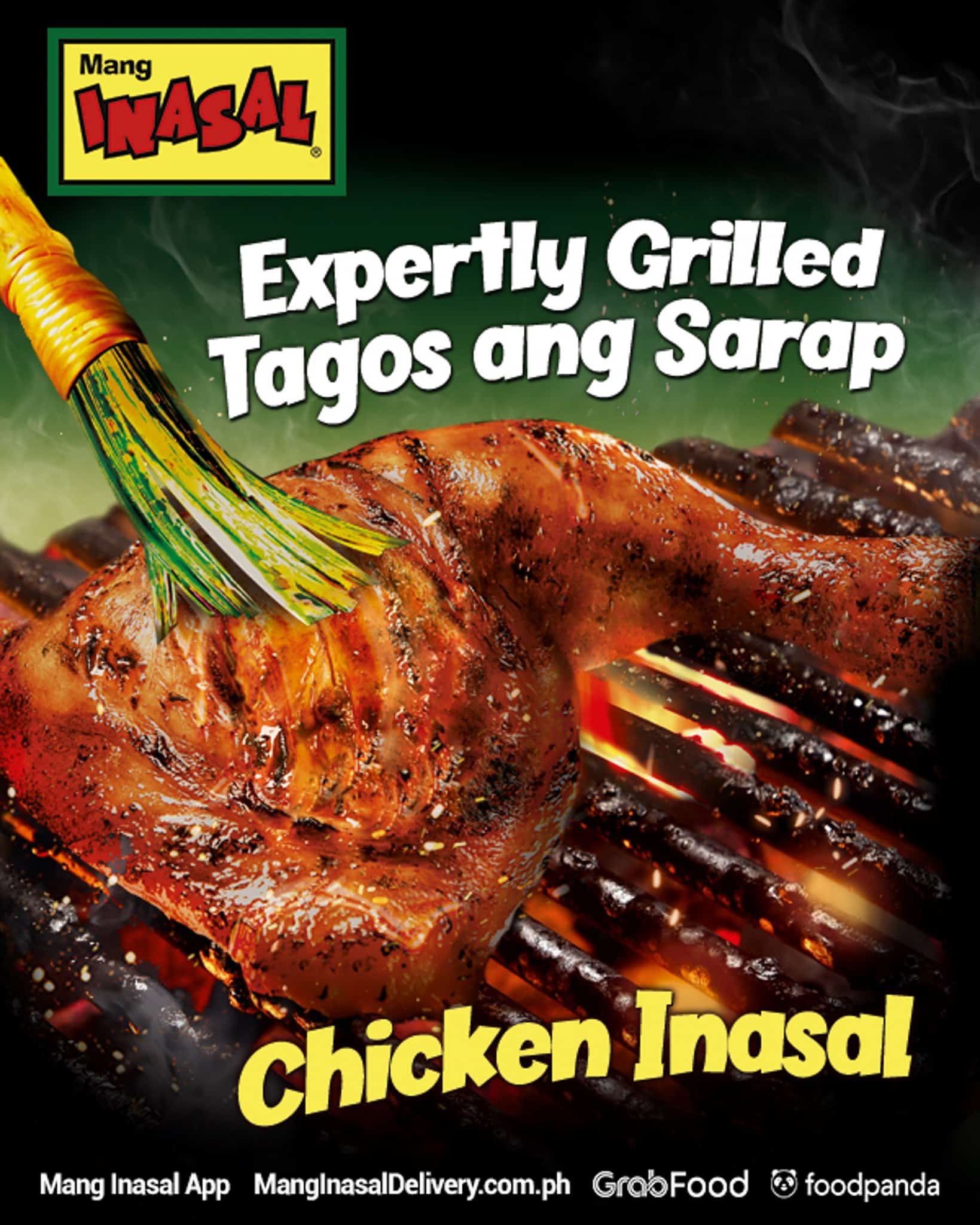 While the Philippines belongs to an Asian country, nothing beats the launching of the "unlimited rice" menu in a dine-in and quick-serving restaurant. Any Filipino customer will grab the chance of having the most important dish in a Filipino household at a budget-friendly price.
Filipinos are accustomed to dining in a group or with family members, meals may seem over budget. Therefore, Mang Inasal put some effort to plan and match and mix some meals to keep a possible promotional deal affordable for a big group of customers.
With this satisfying food quality and service, Mang Inasal serves its mission as a quote "To serve great tasting food, bringing the joy of eating to everyone".
Mang Inasal Menu Delivery
Are you craving a Mang Inasal menu like Chicken Inasal? Or want to grab a few sticks of Pork BBQ or even Bangus Sisig? Mang Inasal makes it easier for you. On the official website of Mang Inasal (https://www.manginasal.com/), you may order now online. It will require you to register an account before you can proceed to order. Having an account, will be more convenient for you to order anytime. You also need to give your full address to find the nearest store for you.
They also have now the Mang Inasal app downloadable from Google Playstore and App Store which is more convenient for you, open your phone tap the app, and with just a few clicks you will taste the goodness of every Mang Inasal meal.
If you are within NCR, you may also check thru FoodPanda and Grab Food Delivery App the available Mang Inasal branch near your location. Using this app sometimes gives you a discount or other special promos. If you are in the province, check for some rider groups who buy and deliver food to your doorstep. There are so many ways now to order it even if we cannot go out you can still enjoy the delicious menu of Mang Inasal.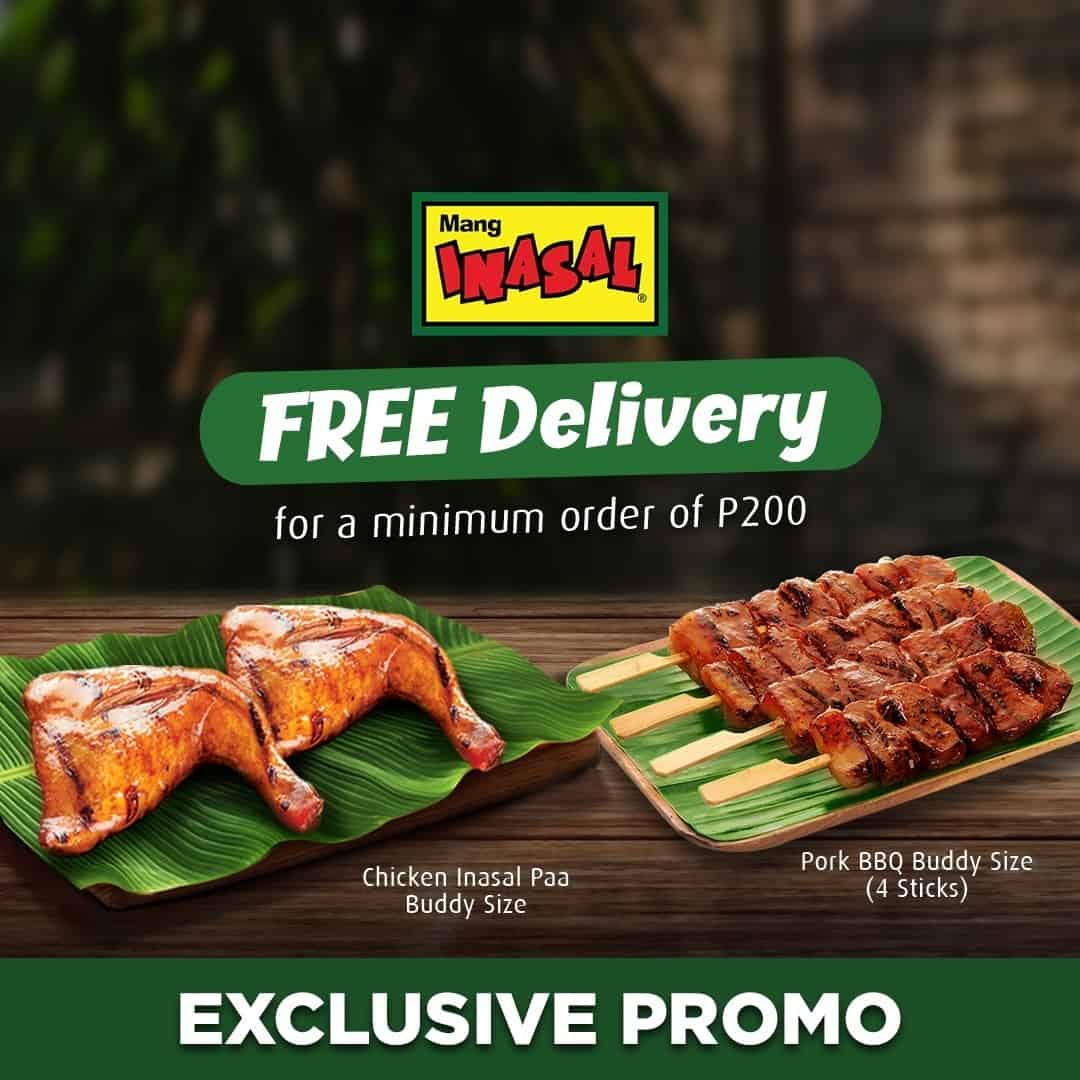 Photo Credit: Mang Inasal FB Page
But just a reminder that delivery hotline and business hours will depend on the Region and Area where you are. It is better to check it first and then proceed to your orders. Even the payment arrangement will also vary.
Oh, and did I say make allowance for a mouthful of traditional desserts such as Empanadas and Halo-halo because it is impossible to resist or ignore those yummy desserts? You will surely regret not adding them to your order.
What are you waiting for? Don't miss to check out some of the Mang Inasal featured menus.
Reach their Social Media Pages
Do you want to give them your comments or suggestions? Do you want to ask them for the current promos? Or do you simply want to ask their team another question? Worry not! Because you can easily reach them on the following pages:
Facebook: https://www.facebook.com/manginasalph/
YouTube: https://www.youtube.com/c/MangInasalPhilippines
Instagram: https://www.instagram.com/iammanginasal/
Twitter: https://twitter.com/iammanginasal
Conclusion
Mang Inasal is a brand that spiced up the food scene in the country with rich Filipino culture and tradition. The remarkable success of the growth of the company's chain nationwide is proven traditional Filipino excellence. While Mang Inasal may not yet hit the international arena, many foreigners have been impressed with the native style and flavor of Chicken Inasal which is featured in some of their YouTube Vlogs. Mang Inasal will forever be loved and home for every diverse customer with the same Filipino familiarity with the local taste.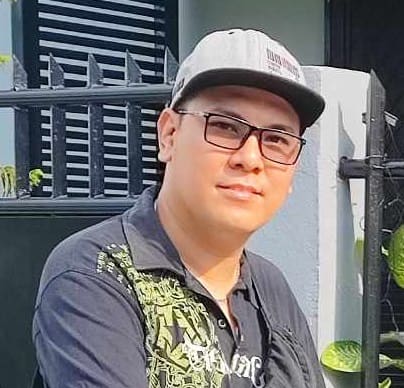 Hi! I'm Nivek Strife, the person who made MenuPH. I'm the one who added most of the popular menus you see on this website, and I really hope you enjoy them! Feel free to check them all out.
Growing up, I was surrounded by lots of tasty foods, like the classic Adobo and the sweet Leche Flan. That love for the many flavors of the Philippines is what got me excited about adding to MenuPH. When I learned how to make websites, I saw the need for a place to show off all the amazing Filipino dishes, and that's how MenuPH started.
MenuPH isn't just a website; it's like a fun journey into food. I've teamed up with famous chefs and found great places all over the Philippines to bring you a bunch of menus that show off the best of Filipino cuisine. Whether you're into the usual dishes or new twists, MenuPH is here to guide you through the rich world of Filipino flavors.
With MenuPH, my aim is to help local businesses, talk about good food choices, and make a group of friends who love food. No matter if you like fancy restaurants or street food, MenuPH has something for you. Come join me on this food adventure as we find great places, taste real flavors, and enjoy the unique food traditions that make the Philippines awesome.