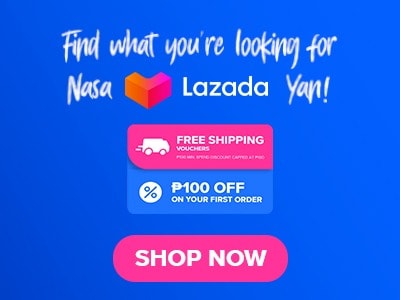 The Bacolod Chicken Inasal menu brings you the recipe for prime chicken cuts marinated in special herbs and spices that are skewered on bamboo sticks, blasted with achuete oil, and then grilled. This restaurant's chicken inasal has always been a staple of all Bacolod cuisines. Not only do they serve chicken inasals, but customers can also enjoy many different varieties of Filipino cuisine that they will surely love.
Menu Items
Price (PHP)

Chicken Inasal

Petso
139
Pak-Pak
125
Atay
73
Paa
139
Isol
75
Baticolon
73

Seafood Special

Bangus Sisig
197
Bangus Lumpia
147
Baked Mussels
295
Sizzling Gambas
289
Grilled Boneless Bangus
265
Boneless Danggit
135
Sizzling Boneless Bangus
285

Pork, Beef and Chicken

Pork Adobo ni lolla
389
Pork BBQ
63.5
Chorizo de Cebu
89.5
Sizzling chicken sisig
225
Chicken Adobo Flakes
179
Chorizo Hubad
199
Sizzling Kansi
389
Tres Adobos
395

Soups

Sinigang na Baboy
279
Sinigang sa batwan
279
KBL
279
La Paz Batchoy
169
Pancit Molo
139
Laswa ni Lola
155
Sinigang sa batwan Bangus
279

Desserts

Black Sambo
95
Tsokolate Fondue
155
Halo-Halo
165
Ube Con Leche
165
Leche Flan
73
Maja
63
Buko Pandan
73
Lechefanilla
115
Suman Fiesta
139
Banna Cream Sundae
95
Turon
53

Pang Pagana

Crispy Crablets
189
Hangop
99
Radish Ensalada
75.5
Papaya Atchara
45.5
Chicharon Bulaklak
275
Chikyninees
159
Eggplant with bagoong
109
Mangga Ensalada with Bagoong
139
Eggplant Ensalada
99.5

Sizzling

Chicken Adobo ni Yasya
325
Kare Kare ni Inday
395
Dinugoan ni Lola chit
185
Sizzling Pork sisig
225
Spare Ribs
225
BLH
245

Kan-on

Choririce
245
Sisig rice
245
Plain Rice
35.5
Garlic rice
45.5
Grilled Pandesal
45.5
Chicken Adobo Rice
225
Bagoong Rice
185
Salpicao Rice
295

Pansit

Pancit Efuven
199
Garlic sotangon
145
Efuven Guisado
145

Utan

Veggie Kare-Kare
119
Gising-Gising
109
Monggoi Guisada with Pork
119
Fried veggie Lumpia
119
Adobong Kangkong
109
Pinakbet
215
Chopsuey
189
Tortang Talong
125
Pangat ni Sir Dad
129
Guinataang Langka at Monggo na may Batwan
119
Lutik
119

Sarap Meals

Sarap ng Buhay
243
Buhay na Buhay
233
Manuhay
223
Mahabang Buhay
253

Namit Meals

Lusog Meal
253
Balay Meal
233
ilonggo Meal
259
Pinoy Meal
259

BBQuito Meals

Chorizo-q Meal
155
Chiquito Trio
145
Porquito Trio
165
Quarter Chicken
279

Family Meals

Family Meal A
1,275
Family Meal B
1,175
Family Meal C
1,275

Go1
109
Go2
123
Go3
123
Go4
119
Go5
119
Go6
119
Chori Pandesal
89.5
Grilled Adobo Pandesal
89.5
Fried veggie Lumpia
119
Suman with Muscovaldo Sugar
75.5
Arroz Caldo
89.5
Puto Manapla
25
Native Tsokolate Champorado
89.5
Suman at Manga
119
Ginataan
89.5
Pancit Molo
139
About Bacolod Chicken Inasal
Known for its tradition of giving guests a wonderful dining experience that leaves them with pleasant and lasting memories, Bacolod Chicken Inasal is a rapidly expanding and well-liked restaurant brand in the Philippines.
It is a very affordable and casual dining restaurant chain with a Filipino motif that specializes in Chicken Inasal, a delectable chicken barbeque, as well as a large variety of popular Filipino dishes that customers will surely enjoy.
Bacolod Chicken Inasal Menu Best Seller
Chicken Inasal
A very common dish that Filipinos absolutely love. Chicken Inasal is grilled chicken that is marinated in our very own special sauce which is blended with unique spices. Bacolod Chicken Inasal serves three different varieties of chicken inasal, paa, petso, and pakpak.
Chicken Adobo
Typical Filipino-style chicken stew, marinated in soy sauce and unique spices, and pan-fried and stewed until the chicken is tender.
Pork Adobo
It is a dish that mainly uses pork belly or butt as a base. The restaurant's pork adobo is braised in a unique sauce comprised of vinegar, soy sauce, garlic, bay leaves, and pepper.
Tres Adobos
This is a menu that can be considered a specialty of Bacolod Chicken Inasal. Customers can enjoy all three of Pinoy's favorite dishes in one serving, chicken, pork, and flakes.
Chicken Inasal Menu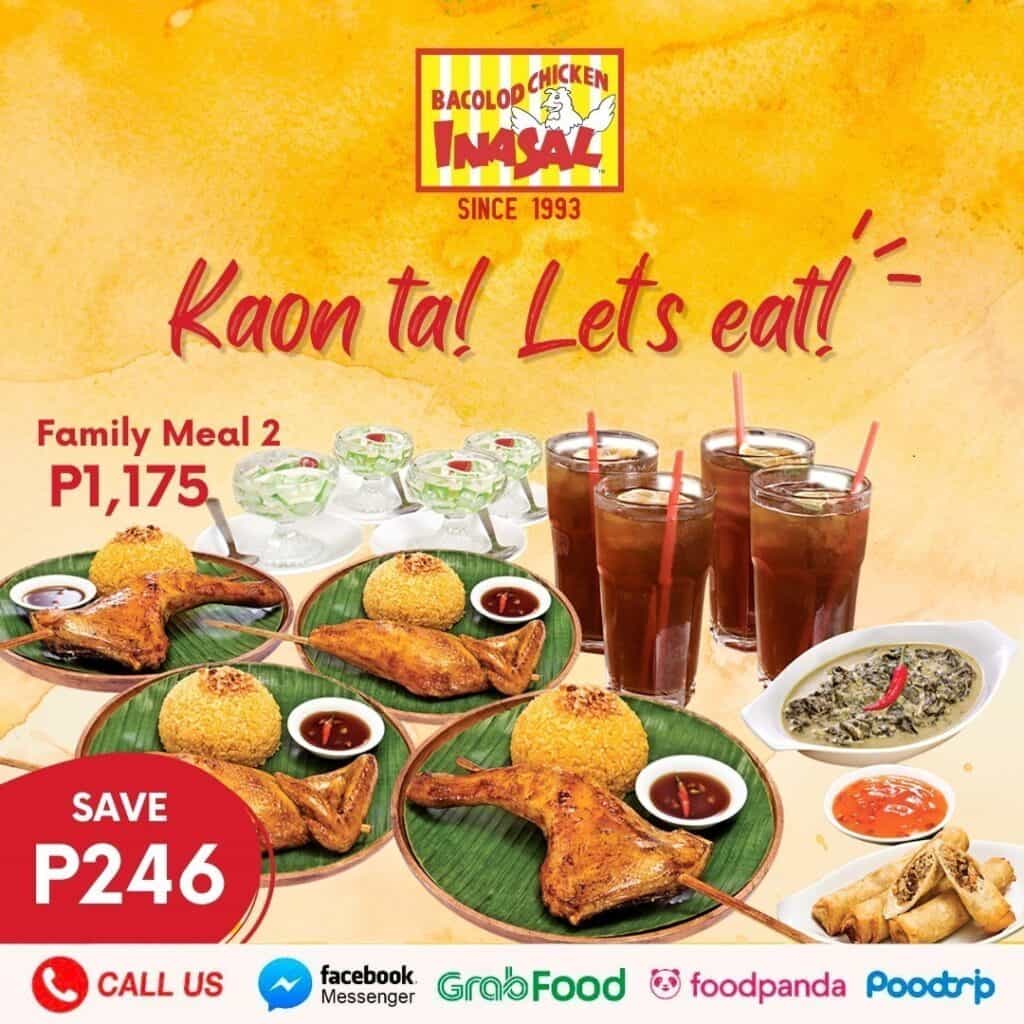 Chicken Inasal Petso
This particular part of chicken inasal is made of a chicken's breast. After being marinated in a unique sauce and grilled to perfection, the meat will be soft and tasty. Personally, my all-time favorite Bacolod Chicken Inasal menu.
Chicken Inasal Pakpak
Chicken wings are the foundation of this variant of chicken inasal. Grilled to perfection after being marinated in a secret sauce.
Chicken Inasal Paa
This is a variety of chicken inasal that uses a chicken's leg as its base. Marinated in a special sauce and grilled until it is tender and juicy.
Atay
Skewered chicken liver is one of the most popular backyard or street food dishes. It is slightly sticky and develops a slight char after cooking. Atay can be a little bit bitter, salty, sour, or sweet, depending on the customer's preference.
Baticolon
Chicken gizzard that is marinated in a specially made sauce and grilled until it becomes perfectly cooked.
Bacolod Chicken Inasal Seafood Special Menu
Bangus Sisig
A very delicious concoction of fried or baked bangus with onion, ginger, chili, and special seasoning. Bangus sisig has a very distinctive spiciness and saltiness that will make you want more.
Bangus Lumpia
It is a menu that uses milkfish, which are cut to pieces and wrapped with a lumpia wrapper, deep fried until the wrapper becomes golden brown and crispy. Bangus lumpia is best consumed when its texture is still crispy.
Baked Mussels
Mostly an appetizer seafood dish. Baked mussels are stuffed with a special sauce and oozed in melted cheese. A sumptuous dish that is budget-friendly and tasty.
Boneless Danggit
Dried boneless danggit is deep-fried resulting in a crispy texture that gives off a hint of saltiness in every bite.
Grilled Boneless Bangus
Boneless bangus that is dipped in a special marinade and grilled until slightly burnt, topped with a garlic bit when served. This menu from the Bacolod Chicken Inasal is best served with steamed rice.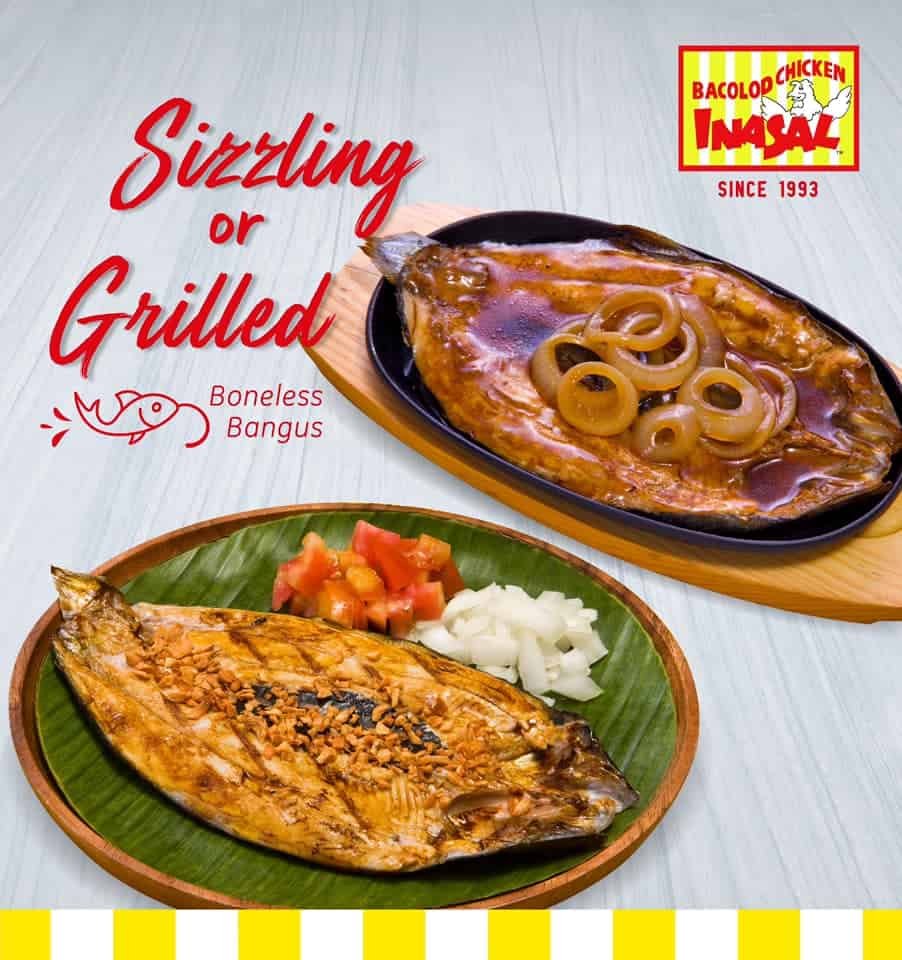 Pork, Beef & Chicken
Sizzling Chicken Sisig
It is a Filipino dish that is made from a combination of chicken parts, seasoned with calamansi, soy sauce, onions, and mayonnaise.
Chicken Adobo Flakes
This menu uses chicken meat that is shredded to pieces and fried. It is first marinated in a special sauce to enhance its flavor.
Soups
Sinigang na Baboy
Pork sigang is a delightful sour soup that uses pork ribs as its base, mixed with vegetables, and tamarind-flavored broth.
Sinigang sa Batwan Danggit
A fish counterpart of Sinigang na Baboy, this dish uses a fish called danggit as its base and is cooked almost exactly as how you would cook Sinigang na Baboy.
Sinigang sa Batwan Bangus
A fish counterpart of Sinigang na Baboy, amilkfish or bangus serves as the foundation for this menu, which is prepared similarly to Sinigang na Baboy.
Desserts
Black Sambo
A two-layered gelatin that is made of creamy milk and sweet chocolate.
Tsokolate Fondue
Made of chocolate and whipped cream. This dessert is best when you dip fruits in it.
Leche Flan
The ingredients for this traditional Filipino dish are egg yolks, milk, sugar, and vanilla essence, which are then cooked in a baking pan.
Bacolod Chicken Inasal Menu delivery
In case you want to order food from the Bacolod Chicken Inasal but you can't go out due to your work or are just busy, you can start ordering from them. All you need to do is to open the GrabFoods or FoodPanda website/app and then find the Bacolod Chicken Inasal. In this way, you can still enjoy eating the Bacolod Chicken Inasal menu even without going to their restaurant.
Social Media Pages
If you want to get the latest updates from Bacolod Chicken Inasal, you can start following them on their social media. In this way, you can get updates whenever they posted something online. Who knows, they might also post some promos that you should definitely try! Below, you'll find the links for their pages:
Facebook: https://www.facebook.com/bacolodchickeninasal/
Instagram: https://www.instagram.com/bacolodchickeninasal/
Conclusion
The Bacolod Chicken Inasal Menu offers a wide variety of Filipino dishes in addition to its mouthwatering chicken inasal. They serve one of the best chicken inasals, which is juicy, tender, and flavorful. Not only are their dishes delicious, but they are also very affordable and filling. In addition to their scrumptious dishes, their staff is so kind and accommodating that it makes you want to go back.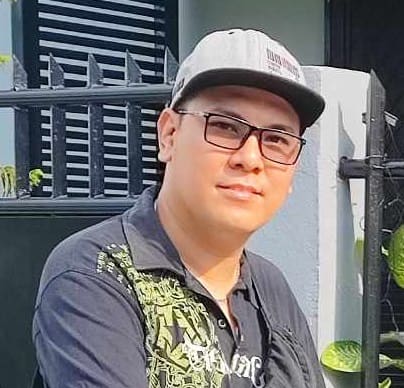 Hi! I'm Nivek Strife, the person who made MenuPH. I'm the one who added most of the popular menus you see on this website, and I really hope you enjoy them! Feel free to check them all out.
Growing up, I was surrounded by lots of tasty foods, like the classic Adobo and the sweet Leche Flan. That love for the many flavors of the Philippines is what got me excited about adding to MenuPH. When I learned how to make websites, I saw the need for a place to show off all the amazing Filipino dishes, and that's how MenuPH started.
MenuPH isn't just a website; it's like a fun journey into food. I've teamed up with famous chefs and found great places all over the Philippines to bring you a bunch of menus that show off the best of Filipino cuisine. Whether you're into the usual dishes or new twists, MenuPH is here to guide you through the rich world of Filipino flavors.
With MenuPH, my aim is to help local businesses, talk about good food choices, and make a group of friends who love food. No matter if you like fancy restaurants or street food, MenuPH has something for you. Come join me on this food adventure as we find great places, taste real flavors, and enjoy the unique food traditions that make the Philippines awesome.