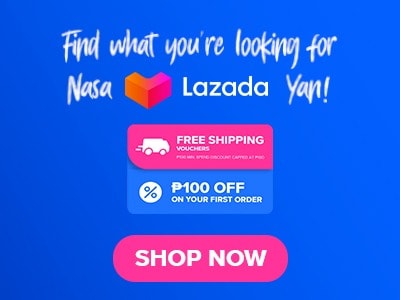 The Kpub BBQ menu offers a wide range of Korean dishes, from classic meat cuts and barbecue favorites to dishes like stews, noodles, and Korean side dishes. Aside from their à la carte dishes, they also offer different sets and packages that are perfect for sharing with friends and family. Additionally, this restaurant also provides its customers with a selection of Korean alcoholic and non-alcoholic drinks to complement their dishes.
From their specialty, which is their barbecue, to their appetizers, side dishes, and even drinks, all of their prices are reasonable, and the quality of their products is consistently good! With the lively and modern atmosphere of their restaurant, Kpub BBQ is a great place to enjoy a delicious Korean meal and socialize.
Below, you'll find the updated list of Kpub BBQ menu prices.
Menu Items
Price (PHP)

Order All You CanM

Beef sukiyaki
999
Whole Pork Belly
999
Korean Style Bacon
999
Marinated Pork belly in Sweet and Spicy Sauce
999
Marinated Pork Chop
999
Marinated Chicken in Sweet and Spicy Sauce
999
Glass Noodles with Sauteed Vegetables
999

Oppa chicken Wings it!

Yangnyum
229
Ganjang
229
Snowing cheese
229
Garlic Parmesan
229
BBQ
229
Rabokki
260
toppoki
240
Dipping Sauce
30

HonBap Set Meals

Dul Honbap
295
Hana Honbap
330
Set Honbap
295

Samgyeopsal

8-colors Samgyeopsal
1630
Sam Stew Set
Soo Ra Sang
3000
Hwarang
2700
Galbi Jjim
788

Korean Stew

Budae JJigae
1040
Jjim Dak
1040
Haemul Tang
1250
Dwaeji Galbi Jjim
1040
Galbi Tang
688
About Kpub BBQ
Kpub BBQ is a Korean restaurant chain that specializes in Korean barbecue. Although this restaurant has multiple branches all over Manila, they also have branches in places like Cebu City. Kpub BBQ offers a unique dining experience with its K-Pop-themed interiors, upbeat music, and live entertainment. Overall, Kpub BBQ provides a fun and flavorful dining experience for Filipinos who love Korean culture, especially their foods and drinks. If you are a K-Pop fan or just like Korea in general, this is a must-visit restaurant!
Kpub BBQ Oppa Chicken Wings Menu
This menu offers a wide variety of delicious flavors of chicken wings that are sure to satisfy any chicken wing lover that visits Kpub BBQ.
Yangnum – This flavor has a nice balance of sweet and savory flavors. The chicken wings are cooked until they are tender and savory, then coated with a sauce that has just the right amount of sweetness and does not overwhelm the balance of the flavors of the soy sauce and garlic. Yangnum Chicken Wings from Kpub BBQ is a must-try for anyone who enjoys sweet and savory chicken wings.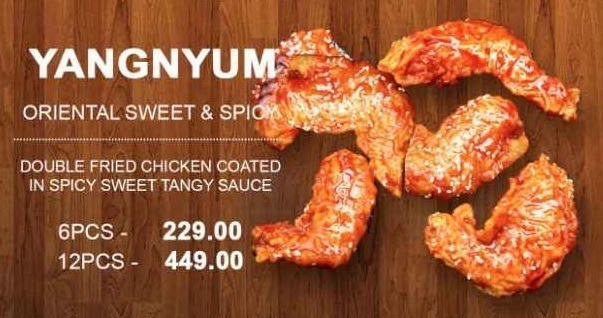 Ganjang – These wings' flavors came from when they were marinated in a mixture of soy sauce and spices before being grilled. The result is a delicious, savory flavor that is not too potent. Being crispy on the outside and juicy on the inside, the texture of this dish is very unique. Ganjang Chicken Wings are packed with unique flavors and a unique texture, making them a great choice for anyone looking for a chicken wing delight with a twist!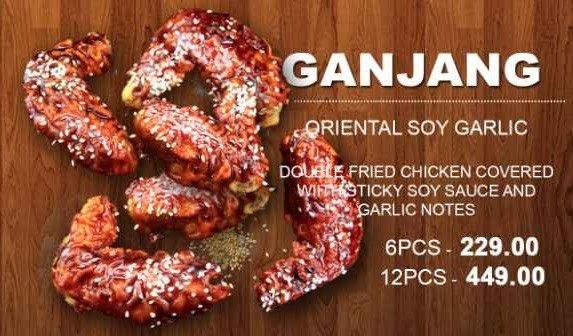 Snowing Cheese – The name of these chicken wings comes from the batter, which is white. It is a unique and delicious take on traditional chicken wings. The batter is light and crispy and then smothered in a generous amount of cheese. The cheese sauce is creamy and flavorful, with a slight hint of spice to balance out its richness.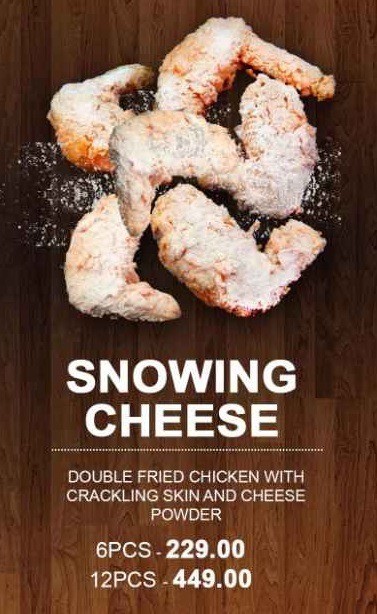 Garlic Parmesan – This chicken wing menu from KPub BBQ has an excellent combination of garlic and cheese! The chicken wings are first fried until it is crisp and golden brown in color and then tossed in a mixture of Parmesan cheese and garlic powder. The result is rich and flavorful chicken wings that are bursting with flavors and savory goodness! Like the other dishes on this menu, it has a texture that is crispy on the outside and soft on the inside which makes it a perfect treat for a snack or a quick meal.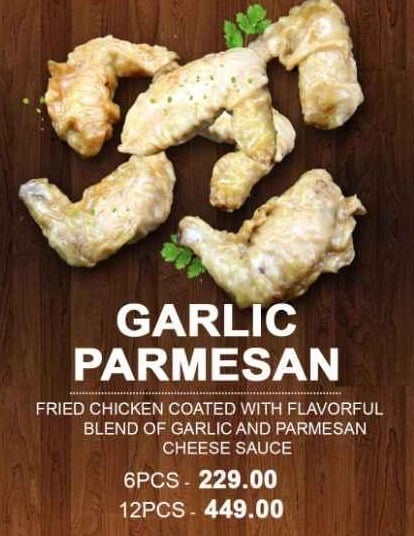 BBQ – The BBQ chicken wings at Kpub BBQ are one of the favorites of guests that frequents the place. The wings are grilled and then coated in a delicious BBQ sauce. The sauce is made by giving it a perfect balance of sweetness and smokiness and isn't too thick and overpowering making it the best complement to the wings themselves. The wings are crispy and juicy with just the right amount of char, making it one of the best treats at Kpub BBQ.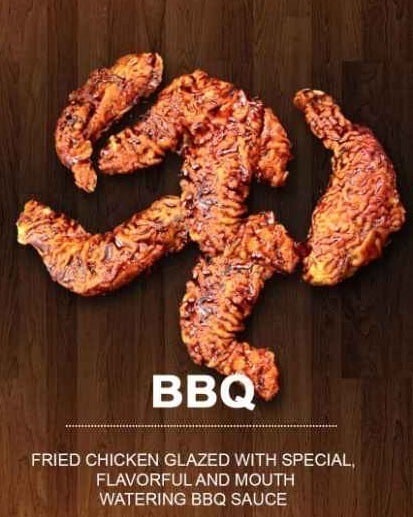 Honbap Set Meals
This menu is made for solo diners to make ordering convenient. This set meal includes a main dish, soup, and a side dish. Aside from the convenience, it also provides an option for those who want to taste different dishes without worrying about spending too much because of its affordability. The set meals themselves are all filling and very satisfying!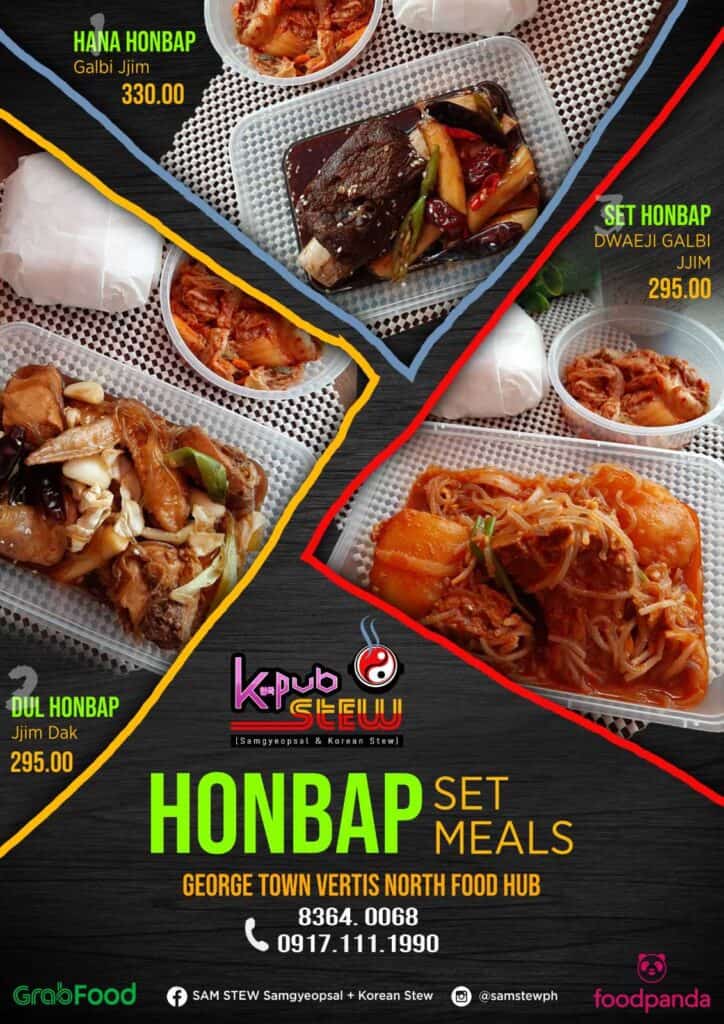 Kpub BBQ Korean Stew Menu
Kpub BBQ serves their customers a variety of Korean stews including kimchi stew, tofu stew, and army stew. The stews that they serve are served hot and fresh with just the right balance of flavors. Each serving has a generous portion which makes it great for sharing.
Order All You Can
This promo allows customers to enjoy unlimited servings of meat, sides, and rice for a fixed price. It is a great option for those who love to eat and want to get the most out of their money! Of course, the ingredients of this meal are all of the high quality and are excellently prepared which makes it a must-try not just for solo dining, but also even with groups.
8 Colors Samgyeopsal
This is Kpub BBQ's signature dish which features eight different flavors of pork belly which are all cooked to perfection on a grill. Each flavor is unique and continues to enhance the overall taste of the meal as you proceed. This item is perfect for those who want to try different flavors.
Dipping Sauce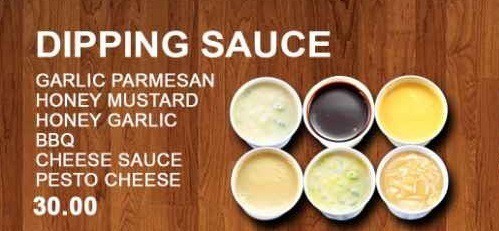 Because Kpub BBQ specializes in grilled dishes, their dipping sauce menu is also a must-try! Each sauce that they offer has the perfect blend of flavors that complements their meat well. This menu is a great way to enhance the taste of the dishes that you've ordered and add an extra layer of flavor.
Kpub BBQ Menu Delivery
Kpub BBQ's menu delivery can be ordered by visiting their social media pages. You can inquire about the dishes that are up for delivery at your location easily by directly going to one of their social media pages. Another way is to download delivery applications like GrabFood and FoodPanda, which make ordering easier. Simply search Kpub BBQ's online shop within the app, browse their menu, add dishes to your cart, and click checkout.
Social Media Pages
To know more about KPub BBQ's menu items and to stay up-to-date with their promos and discounts, you can follow and subscribe to one of their social media pages. Links are provided below.

Facebook: https://facebook.com/KPUBMain/menu/
Instagram: https://www.instagram.com/kpub_bbq/
Twitter: https://twitter.com/kpubbbq
Conclusion
The Kpub BBQ menu offers a wide selection of Korean dishes and drinks, with an emphasis on grilled meat. Their restaurant's atmosphere, which is modern and vibrant, paired with high-quality food and excellent service crews, makes this place a great destination for both casual dining and even special occasions. From their Korean-style barbecue to their side dishes, Kpub BBQ offers a flavorful and satisfying dining experience that will leave guests wanting for more! So if you are a fan of Korean cuisine or just want to try something new, Kpub BBQ is worth a visit.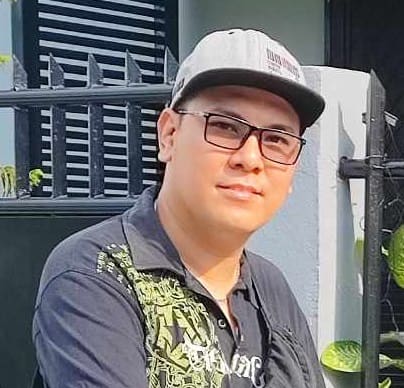 Hi! I'm Nivek Strife, the person who made MenuPH. I'm the one who added most of the popular menus you see on this website, and I really hope you enjoy them! Feel free to check them all out.
Growing up, I was surrounded by lots of tasty foods, like the classic Adobo and the sweet Leche Flan. That love for the many flavors of the Philippines is what got me excited about adding to MenuPH. When I learned how to make websites, I saw the need for a place to show off all the amazing Filipino dishes, and that's how MenuPH started.
MenuPH isn't just a website; it's like a fun journey into food. I've teamed up with famous chefs and found great places all over the Philippines to bring you a bunch of menus that show off the best of Filipino cuisine. Whether you're into the usual dishes or new twists, MenuPH is here to guide you through the rich world of Filipino flavors.
With MenuPH, my aim is to help local businesses, talk about good food choices, and make a group of friends who love food. No matter if you like fancy restaurants or street food, MenuPH has something for you. Come join me on this food adventure as we find great places, taste real flavors, and enjoy the unique food traditions that make the Philippines awesome.