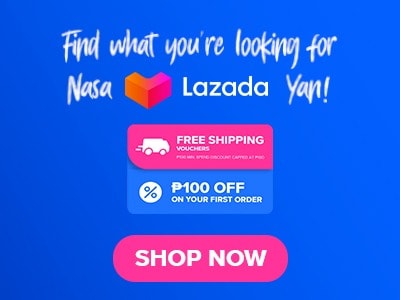 Craving for some shawarma? No worries I got you on this one. The Khaleb Shawarma menu has different varieties of food that you will surely enjoy, plus their price is very affordable for everyone so if you're looking for a homegrown version of shawarma Khaleb Shawarma is the place to go especially if you are living in the metro. In this article, we are going to dive deeper into Khaleb Shawarma's were about, their products, menu prices, and some details about them so if you're up for some shawarma goodness this is the right article for you. This is taking too long so without any further ado let's start. 
Menu Items
Prices (PHP)

Beef shawarma combo

Khal pita combo
108
Khal pita solo
84
Khalee rice combo
143
Khalee rice solo
119
Baked shawarma rice combo
179
Baked shawarma rice solo
155

Double pita pocket

Beef kebab pocket
108
Pita chips and fries
48
Chicken pita pocket
108

Big time kebab meal

BTK meal
263
Khalee rice
227

Rice bowl

Beef kebab rice bowl
84
Chicken rice bowl
84

Pitazza

Pitazza
216

Make your own

Myo beef shawarma - khal pita
600
Myo beef shawarma - khalee rice
650
Myo beef kebab - khal pita
600
Myo beef kebab - khalee rice
650
Myo tuna - khal pita
600
Myo chicken - khal pita
600

Beverages

Khaleb iced tea 500ml
36
Khaleb apple juice 350ml
24
Khaleb water 500ml
24
Coca-Cola 295ml
24
About Khaleb Shawarma
Khaleb shawarma started their humble business in 2003 when back in the day shawarma is not that popular in our country. In a very competitive food industry nowadays Khaleb Shawarma proved that they can last simply because their foods are delicious and affordable and that's what customers want.
When shawarma becomes popular in our country they are already in business and that's their advantage because they already mastered the art of making delicious shawarma over the years. From their first branch in Manila, they now have over 100 branches nationwide, they have branches in our leading Malls, transport terminals, and supermarket where customers can find them easily.
As of now, Khaleb shawarma is still expanding via franchising, their brand ambassadors are the famous singers and actresses Alex and Toni Gonzaga. They already perfect the supply chain while keeping their products fresh. Marlene B. Vasquez, the president and CEO of Khaleb shawarma is behind the making of this business successful and possible.
Khaleb Shawarma Menu Best Seller
According to our research and crew's interview, these on the list are their best sellers and crowd favorites that you should try.
Beef Shawarma Pita – This Khaleb Shawarma menu is made with beef marinated in seasonings and spices that give complex flavors actually tangy and warm and that's their beef shawarma pita, is very flavorful and actually delicious, the pita bread is great as well, the soft sliced beef and some veggies and spices are perfectly combined and wrapped into the pita bread, not too spicy for me but I enjoyed it with extra hot sauce since I like spicy foods.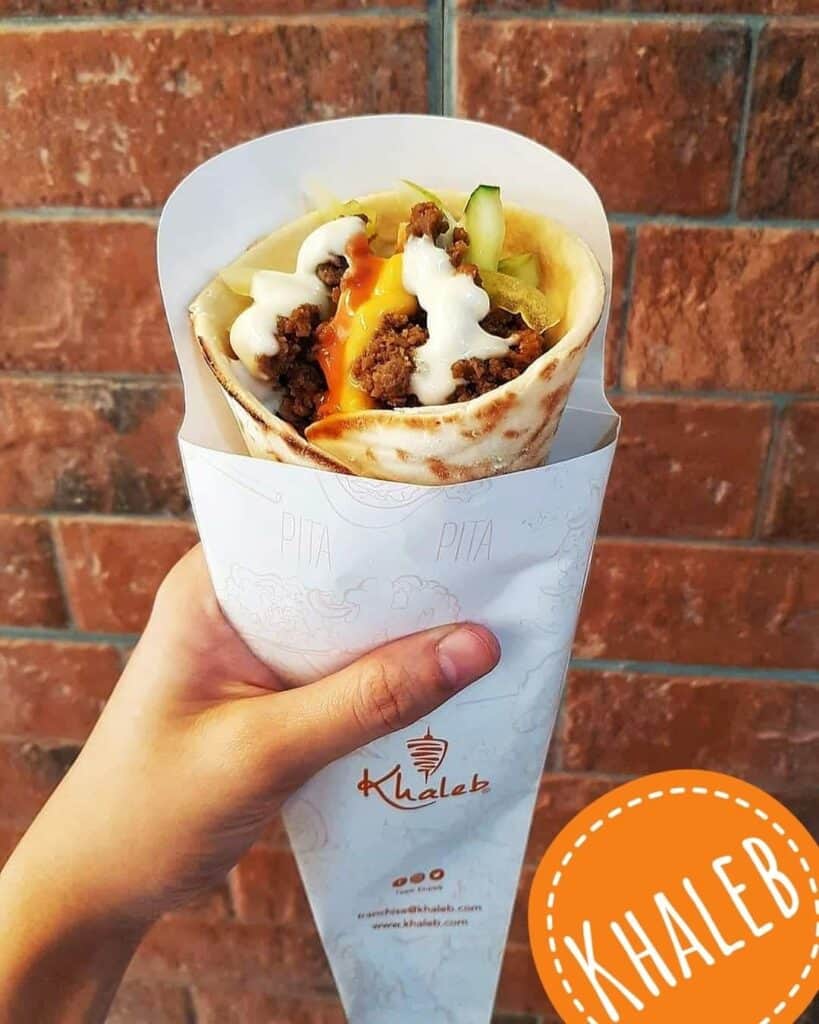 Kebab Shawarma Pita – Usually shawarma and kebab are often described as the same due to their almost same taste but kebab is a little different from shawarma for all we know. Kebab consists of ground meat not sliced just like shawarma and is often mixed with some vegetables, Khaleb shawarma's version of kebab is really good and appetizing as you look at their servings and presentation.
Pitazza – If you can't decide on what to eat whether its pizza or shawarma why not try their pitazza? This is actually a shawarma that looks like a pizza or a pizza that tastes like shawarma, their pitazza is one of the Khaleb Shawarma menu best seller best ellers, and also really good. Very tasty to be honest and we like how soft and tasty their dough is. Pitazza is a whole new level of shawarma experience that you should try. 
Beef Shawarma Rice – If you want their beef shawarma for sure you'll like their beef shawarma rice as well. It's the shawarma filling less than the pita bread but replaced with rice. Great flavors can be found in their beef shawarma rice, which has Filipino touch because of the rice. This innovative way of enjoying shawarma is something new and since we love rice, why not? Personally, I love this Khaleb Shawarma menu.
Go Combo
On their go combo, you will get to enjoy their beef shawarma or beef kebab with 350ml of Khaleb apple juice for as low as 80php only. They also have a combo for Khalee rice combo with 350ml of Khaleb apple juice for only 110php,
Double Deal Pita Pocket
Khaleb shawarma offers double-deal pita pockets for as low as 90pho you'll have 2 pita pockets. You'll get to choose between 2 beef kebab or chicken at a very affordable price, great for customers who are not satisfied with just one order or if you like sharing it with your loved ones.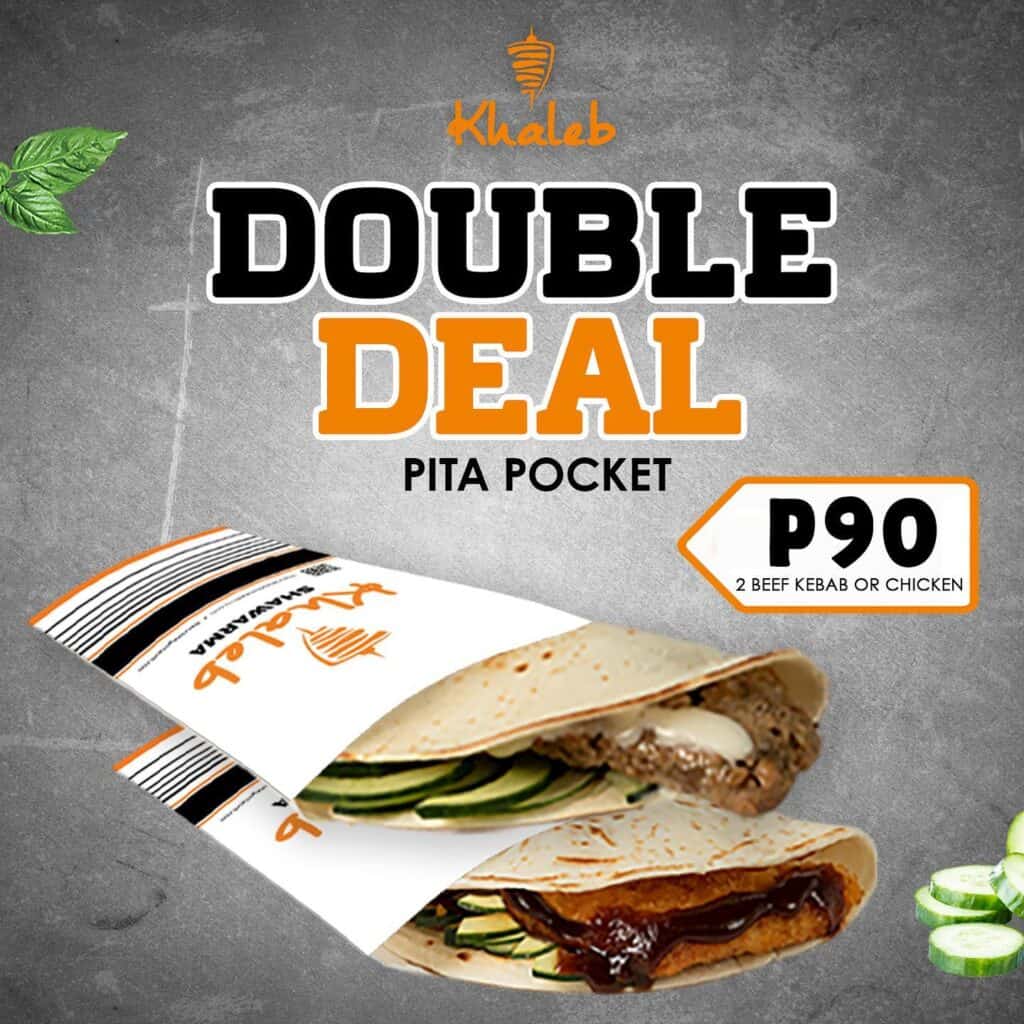 Big Time Khaleb Meal
Their big time khaleb meals are good for sharing it is actually good for 2-3 people or if you're not a heavy eater could feed four persons. They have BTK meal which is actually baked shawarma and double deal pita pockets for as low as 263php and khalee rice for as low as 227php.
Make your Own
The Khaleb Shawarma make-your-own menu consists of ingredients that you will choose to create your own food item. On their make your own they have Myo beef Shawarma – khal pita, Myo beef shawarma – khalee rice, Myo beef kebab – khal pita, Myo beef kebab – khalee rice, Myo tuna – khal pita and lastly their Myo chicken – khal pita. Everything on their make-your-own menu costs 600php aside from Myo beef shawarma – khalee rice which will cost you 650php. You can also order for extra sauce, their barbecue sauce costs 150php and their garlic sauce which is also 150php. 
Khaleb Shawarma Menu Delivery
Khaleb shawarma is available thru food panda if you want to order all you have to do is to go to the FoodPanda website and then search for it. Or you can also order thru Grab Foods if you want to use it instead.
If you're residing in the northern part of Luzon like Dau, Angeles, San Fernando, or Bataan you can use mangan.ph for delivery, all you have to do is to go to their website by clicking the link that we provided.
Social Media Pages
If you're wondering if Khaleb shawarma has social media pages well yes they have. You can follow their social media pages if you want to be updated about their latest product and discounts. Here are their links.
Facebook: https://facebook.com/TeamKhaleb/
Instagram: https://www.instagram.com/teamkhaleb/
Conclusion
Affordable and yet very delicious shawarmas and kebab. I personally want to recommend this place because everything on their menu is delicious and very affordable. Their servings are somehow good and the quality of their food is excellent. Great place as well and has fast and friendly crews. If you are looking for authentic shawarma express, the Khaleb Shawarma menu has everything that you need. It's the place that you should go and visit.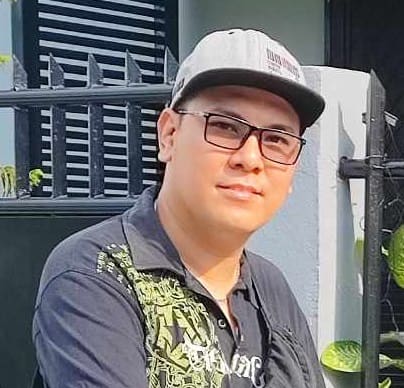 Hi! I'm Nivek Strife, the person who made MenuPH. I'm the one who added most of the popular menus you see on this website, and I really hope you enjoy them! Feel free to check them all out.
Growing up, I was surrounded by lots of tasty foods, like the classic Adobo and the sweet Leche Flan. That love for the many flavors of the Philippines is what got me excited about adding to MenuPH. When I learned how to make websites, I saw the need for a place to show off all the amazing Filipino dishes, and that's how MenuPH started.
MenuPH isn't just a website; it's like a fun journey into food. I've teamed up with famous chefs and found great places all over the Philippines to bring you a bunch of menus that show off the best of Filipino cuisine. Whether you're into the usual dishes or new twists, MenuPH is here to guide you through the rich world of Filipino flavors.
With MenuPH, my aim is to help local businesses, talk about good food choices, and make a group of friends who love food. No matter if you like fancy restaurants or street food, MenuPH has something for you. Come join me on this food adventure as we find great places, taste real flavors, and enjoy the unique food traditions that make the Philippines awesome.