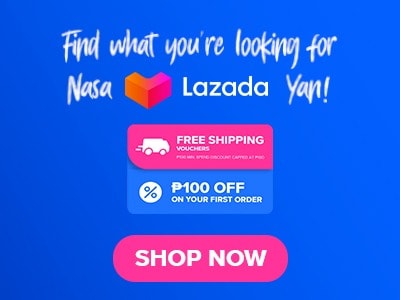 The influence of our neighboring countries is very evident in every move that we made. Even on simple things such as choosing what song to play on our morning radio, we tend to have a list of K-pop songs that can ultimately boost our energy.
At Jin Joo, you can literally enjoy your meal while listening to K-pop songs that are on trend and loved by many. Choose from the set of meals that is plastered on the Jin Joo menu so that you can match your mood with your meal.
Below, you'll find the updated list of Jin Joo menu prices.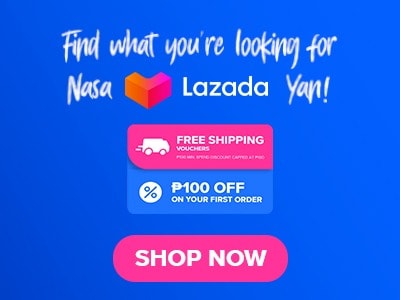 Menu Items
Price (PHP)

Hot Stone Pot Rice Meals

Beef Bulgogi Bibimbap
420
Beef Bulgogi Bokkeumbap
380
Chicken Bibimbap
350
Dolsot Haemul Bokkeumbap
380
Dolsot Kimchi Bibimbap
360
Grilled Pork Bibimbap
380
Mushroom Tofu Bibimbap
330
Spicy Seafood Bibimbap
450

Korean Meat

Set 1: Korean Meat Duo
1290
Set 2: Korean Meat Overload
1790
Set 3: Jin Joo Favorites
2770
Set 4: Jin Joo Premium
3190

Ala Carte - Jin Joo's 8 Flavors

Jin Joo's 8 Flavors
1560

Korean Barbecue

Chadolbaegi
550
Dak Galbi
350
Galbi Bon Sal
950
Kotsal
1100
LA Galbi
950
Samgyeopsal
390
Wusamgyeop
550
Yangnyeom Galbi
900

Main Course

Beef Bulgogi
390
Cheese Deung Galbi
950
Fire Cheese Chicken
890
Galbi Jjim
490
Godeungeo-Gui
690
Gun Mandu
390
Haemul Pajeon
395
Jeyukk Bokkeum
390
Jin Joo's Wings
390
Ojingeo Bokkeum
410
Rabokki
320

Soup and Noodles

Budae Jjigae (Army Stew)
960
Bulgogi Jeongol
940
Doenjang Jjigae
380
Galbi Tang
490
Japchae
390
Kimchi Jjigae
365
Seng Bulgogi
1290
Sundubu Jjigae
385

Seasonal Dishes

Beef Shrimp Roll
340
Fresh Seafood Platter
790
Nori Nachos with Pulled Pork
340
Spicy Pork Kimari
320
Squid Ink Japchae
380
Tempura Basket
390

Jin Joo Coolers

Berry Dalandan
165
Citrus Calamansi
165
Guyabano Delight
165

Beverages

Blueberry (Soju)
280
Chamisul (Soju)
260
Chum Churum (Original)
280
Coke
90
Coke Zero
90
Dalandan
120
Grapefruit (Soju)
280
Iced Tea
120
Peach (Soju)
280
Royal
90
Sprite
90
About Jin Joo
Not only that our music and arts have been influenced by other countries, but our food and cuisines are also affected. But on the brighter side, we get the chance to taste what other countries offer. An example of this restaurant is Jin Joo.
Modern Korean BBQ restaurant Jin Joo serves traditional and cutting-edge Korean cuisine. This restaurant is known for its 8-flavor samgyeopsal that can literally put you into heaven.
Jin Joo Menu Best Seller

Mainly because Jin Joo can serve meals that are flavorful, fragrant, and intense, the most popular foods are fairly difficult to choose. Here are some of Jin Joo's top-selling dinners, nevertheless, for the benefit of our lovely, devoted readers.
Gun Mandu – Enjoy this pan-fried Korean kimchi dumpling for as low as 390 pesos only.
Rabokki – This ramen costs 320 pesos and includes soft-boiled eggs, fried fish cakes, spicy sauce, and Korean rice cakes. It can be quite spicy, therefore I advise buying a big drink and selecting from the variety of beverages offered on Jin Joo's menu.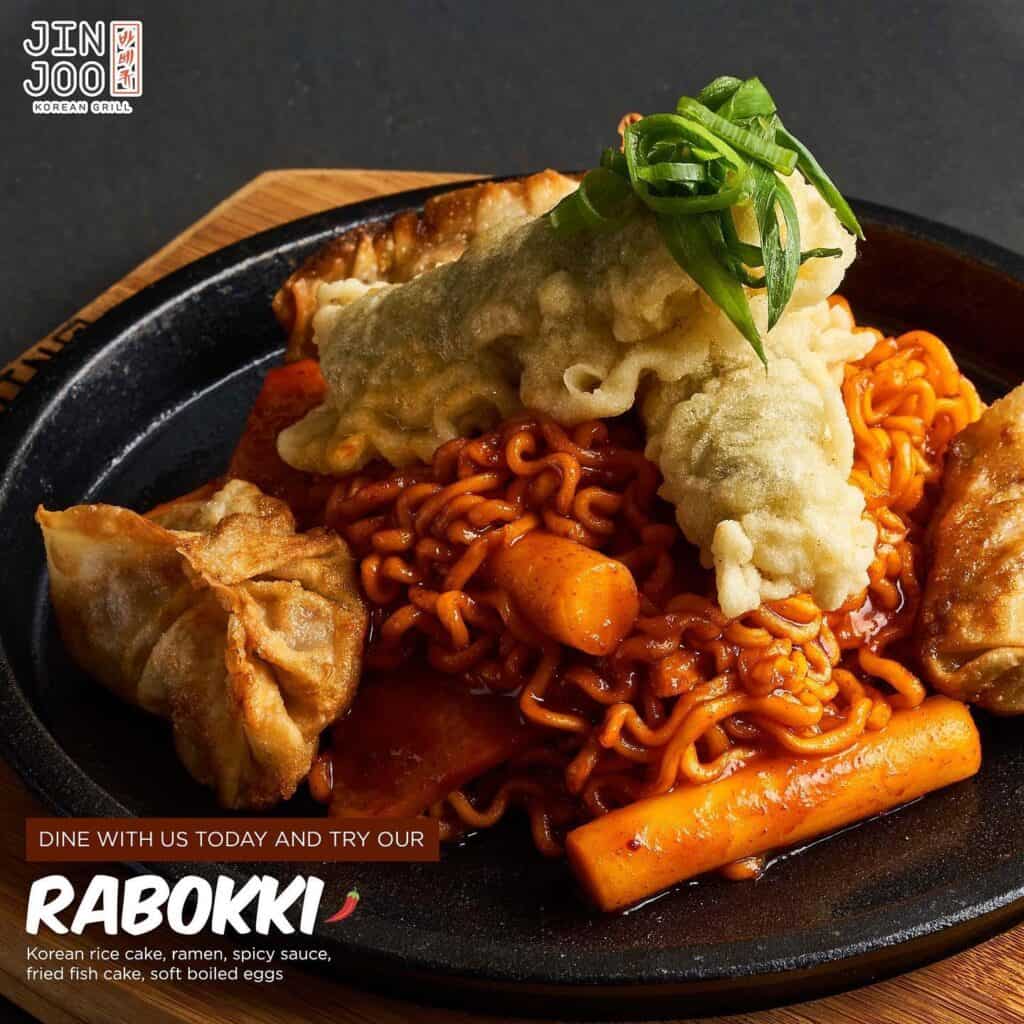 Yangnyeom Galbi – In this Jin Joo menu, the prime short ribs are marinated, grilled, and served with a sweet and spicy sauce.
Jin Joo's Wings – If you are a fan of fried chicken then this 390 peso dish cannot only serve you chicken but also side dishes such as dipping sauce and coffee gochujang glaze.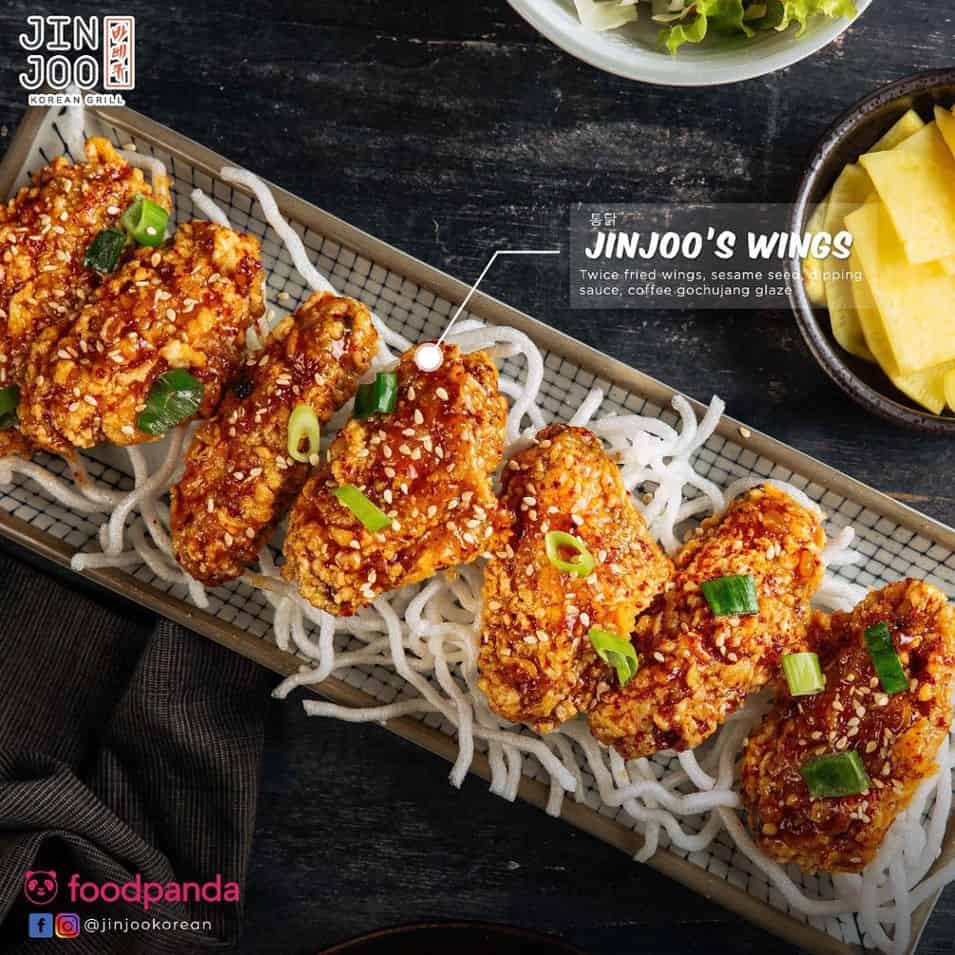 Samgyeopsal – Samgyeopsal can be substituted if you prefer to season your own meat. Freshly cut young pork belly, served in this 390 peso entrée, is unmarinated.
Mandu – This steamed Korean kimchi dumpling is ideal for those who eat light meals.
Jin Joo's 8 Flavors
At Jin Joo, you can have 8 flavors. It incorporates 8 colors with 8 flavors of Samgyeopsal that where naturally crafted and created from the rich farms of Korea. Enjoy the flavors of Herb, Honey Garlic, Smokey Barbecue, Peanut, Curry, Miso, Sweet Wine, and Red Pepper. It is truly satisfying as it can not only give you a plethora of flavor choices, but it will also help you to cut down your cost as it will only cost you about 1560 pesos only.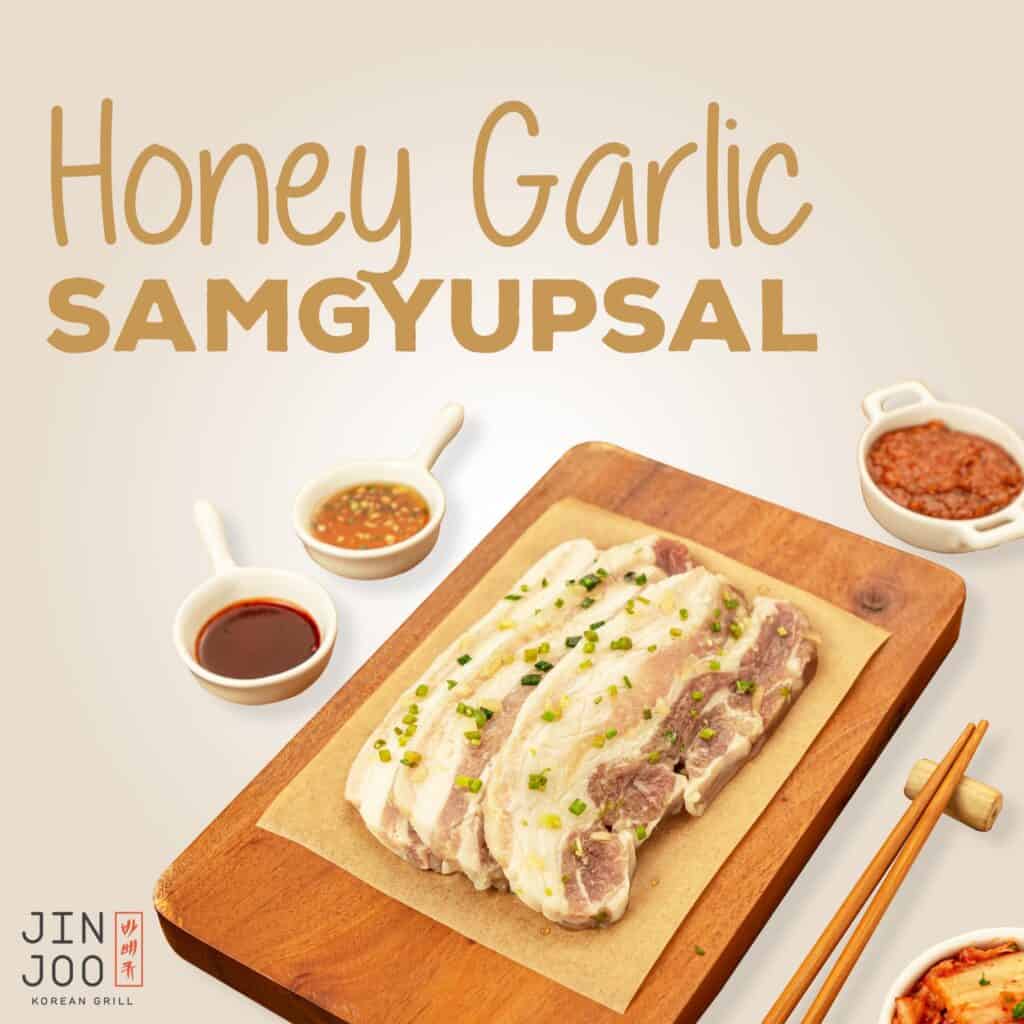 Korean Barbecue
Thin pieces of meat (often beef, pork, or chicken) are cooked on a hot plate or grill in the popular cooking method known as Korean barbecue. A range of seasonings and spices are frequently used to marinate the meat before serving it with a variety of side dishes, including rice, kimchi, and vegetables. Usually, it is a community dinner event that is shared with friends and family.
Dak Galbi – You can choose if it will be spicy or not but you will get a marinated chicken thigh packed with a special sauce from Jin Joo.
Galbi Bon Sal – Enjoy these 950 peso boneless short ribs that have quality USDA meats.
Yangnyeom Galbi – This Jin Joo menu consists of marinated prime short ribs that are grilled and served with a sweet and spicy sauce.
Samgyeopsal – If you want to season your own meat, then you can order samgyeopsal instead. This 390 peso dish is an unmarinated pork belly freshly cut from young pork.
Chadolbaegi – This prime beef brisket can be enjoyed along with lettuce which will balance its flavor of it.
Main course
There are main courses menu from Jin Joo that served as the centerpiece of a meal, typically accompanied by side dishes. This set of menus is typically the largest and most substantial part of dining at Jin Joo. Below, are some examples of main course meals that can be enjoyed at Jin Joo.
Rabokki – This 320 peso ramen consists of Korean rice cake, spicy sauce, fried fish cake, and soft-boiled eggs. It can be really spicy so I suggest that you buy a large drink and choose from the series of beverages found on Jin Joo's menu.
Mandu – if you are a light eater, then this steamed Korean kimchi dumpling is best for you.
Fire Cheese Chicken – oozing with cheese packed with spiciness, Fire Cheese Chicken will serve you the best cheesy and spicy feeling. This platter will only cost you 890 pesos but you can truly enjoy it.
Galbi Jjim – Craving for a Korean beef stew? Then this 390 peso meal will suit your cravings.
Soups & Noodles
After a cold and rainy day, we would like to sip a warm soup right? At Jin Joo, they offer eight different soups that can certainly give warmth to the cold weather. Choose from: Budae Jjigae (Army Stew), Bulgogi Jeongol, Doenjang Jjigae, Galbi Tang, Japchae, Kimchi Jjigae, Seng Bulgogi, and Sundubu Jjigae.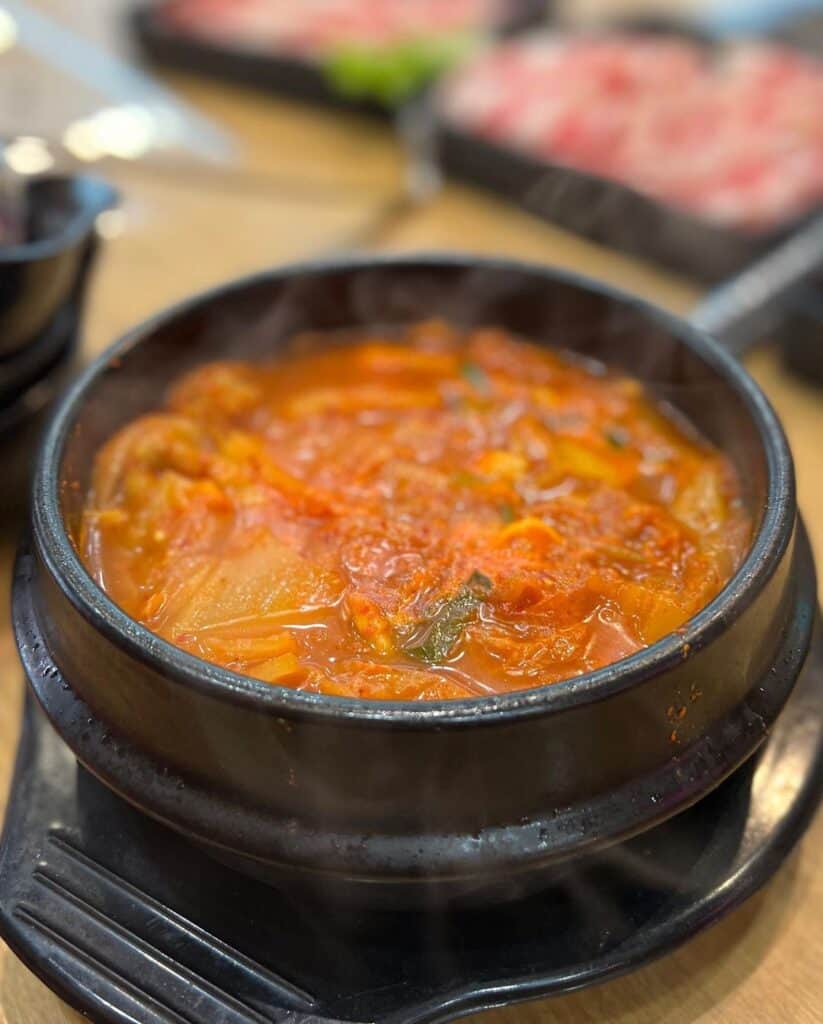 Meat Platter
As for those meat lovers out there, Jin Joo has this two sets of menu platters that can literally make you feel bloated, choose from set 1 which consists of Samgyupsal, Galbisal, Jumulleok, Dak galbi, and Wasamgyeop. If you dislike the first set of combinations then you can just buy set 2 which has Chadolbaehi, Yangayeom galbi, Chaekkeutsal, Galbi Bonsal, and Dwaeji galbi.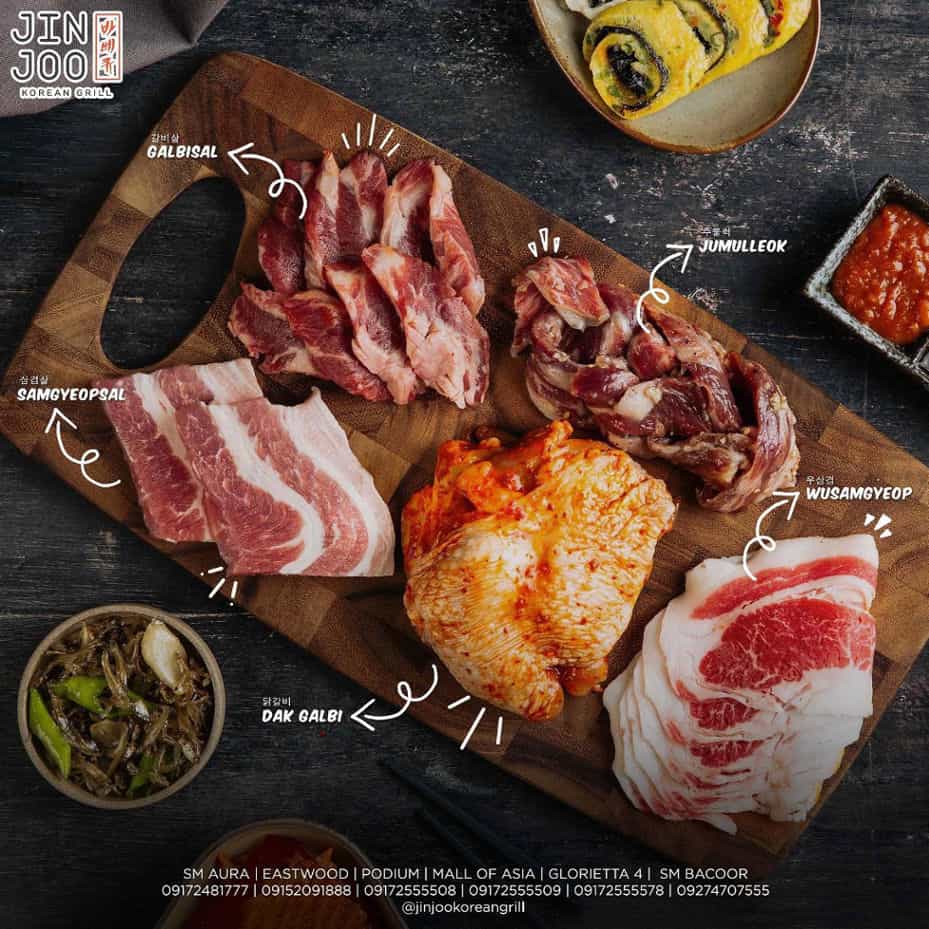 Unli K-BBQ
If you have a partner or a bestie by your side, then this unlimited Korean barbecue suits both of you! Enjoy this feast for 999 pesos only! However, take note that this promo is available only from Monday to Friday, so prepare for a weekday munching folk!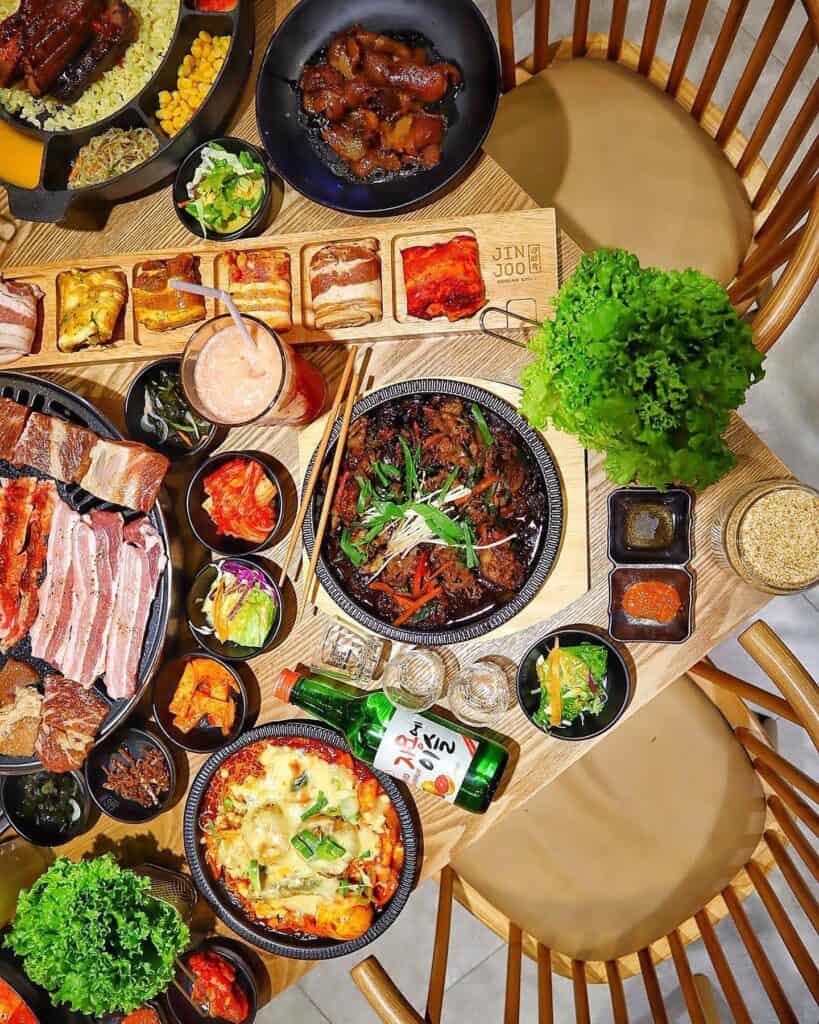 Set Menu
There are 3 sets of Jin Joo menus that vary depending on how many pax you are. There's this 3-4 pax set menu which will only cost you about 2390 pesos, and it includes the following dishes: Dawaeji galbi, Galbi sal, Japchae, Haemul pajeon, and galbi tang.
If you are 5-6 pax then pick the 3180 peso set that includes: Galbi bonsal, Ojinggeo bokkeum, Dak galbi, Haemul pajeon, Wusamgyeop, and Budae jigae. Lastly, if you are a group of 7-8 people, then this 4790 peso set suits you guys. It includes Chaekkeutsal, Bulgogi jeongol, Jin Joo's wings, Haemul pajeon, beef bulgogi, and Kimchi udon stir fry.
Jin Joo Menu Delivery
People are curious as to when and where to find Jin Joo because they are growing in popularity. As of now, Jin Joo's Facebook page reached over 50k followers while its Instagram account has more than 25k followers; I can say that Jin Joo is a place that you must visit. Five steadfast branches of Jin Joo currently stand steady in Metro Manila.
The addresses, phone numbers, and hours of operation are shown in the table below in case you require more information.
SM Aura Premier
| | |
| --- | --- |
| Address | 5/F Sky Garden, 26th St cor McKinley Pkwy, SM Aura Premier, Fort Bonifacio, Taguig, Metro Manila |
| Operating Hours | Daily from 11:00 AM to 7:00 PM |
| Contact Information | (0917) 248-1777 |
The Podium
| | |
| --- | --- |
| Address | 2/F, 12 ADB Ave, The Podium, Wack-Wack, Mandaluyong, Metro Manila |
| Operating Hours | T-Su: 11 AM – 8 PM |
| Contact Information | (0917) 255-5508 |
Eastwood Citywalk 1
| | |
| --- | --- |
| Address | Eastwood Ave, Eastwood Citywalk 1, Bagumbayan, Quezon City, Metro Manila |
| Operating Hours | Daily from 11:00 AM to 10:00 PM |
| Contact Information | (0915) 209-1888 |
SM Mall of Asia
| | |
| --- | --- |
| Address | 2/F, Seaside Blvd, SM Mall of Asia, Brgy 76, Pasay, Metro Manila |
| Operating Hours | Daily from 11:00 AM to 7:00 PM |
| Contact Information | (0917) 255-5509 |
Glorietta 4
| | |
| --- | --- |
| Address | G/F, Ayala Ave, Glorietta 4, San Lorenzo, Makati, Metro Manila |
| Operating Hours | Daily from 11:00 AM to 9:00 PM |
| Contact Information | (0917) 255-5578 |
Talk to Jin Joo PH Staff
To connect with Jin Joo online, you can easily find them on their various social media platforms. If you're interested in obtaining their social media handle and learning how to get in touch with them, please refer to the following information.
Facebook: https://www.facebook.com/JinJooKorean/
Instagram: https://www.instagram.com/jinjookorean/
Email: [email protected]
Contact Number: 0917 248 1777
Conclusion
Korea most especially South Korea has made a great influence on us Filipinos. The way we communicate, the way we choose food and the way we love music have been influenced by Korea. Filipinos are really adaptable, aren't we? That is why Jin Joo created their set of food variations that can be found in their Jin Joo Menu which can ultimately satisfy your Korean cravings. We might end up saying, "Naneun eumsig-eul jeongmal joh-ahanda" or I really love food, once we took a bite from their menu. So what are you waiting for? Come here now Unnie, Oppa!