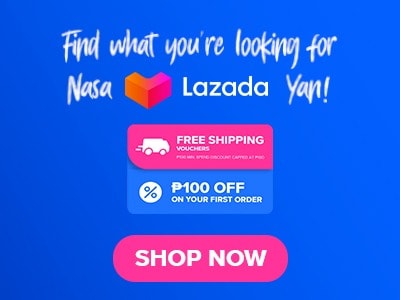 Soban K-Town Grill menu aims to use only the best cuts of beef, pork, and chicken to add strong, innovative, and mouthwatering flavors to classic K-BBQ. Soban is Arabic for a tiny tray or table. The Soban in Bonifacio Global City stands out visually. Customers will initially note each table's excellent ventilation system. This makes your visit more comfortable and maintains the restaurant smoke-free. As rice accounts for a sizable component of the diet in Korea, the starchier, stickier short grain kind is preferred.
Below, you'll find the updated list of Soban menu prices.
Menu Items
Prices (PHP)

Group Sets

Favorite Feast BBQ Set for 4 persons
2795
Favorite Feast BBQ Set for 2 persons
1525
Mega Meat BBQ Set for 2 persons
1275
Mega Meat BBQ Set for 4 persons
2310
Delivery Deal BBQ Set for 4 persons
1680
All Beef Mega Meat BBQ Set for 4 persons
2600
All Beef Mega Meat BBQ Set for 2 persons
1560
All Pork 6 Flavor Samgyupsal Set for 2 persons
1210

Dosirak Korean Boxed Meals

Honey Garlic Samgyupsal
350
Honey Spiced Samgyupsal Dosirak
350
Beef Upjinsal Dosirak
405
Dak Ganjeong Dosirak
320
Woo Samgyup Dosirak
405
Soy Garlic Samgyupsal Dosirak
350
Black Pepper Samgyupsal Dosirak
350
Dwaeji Bulgogi Dosirak
350
Fresh Samgyupsal Dosirak
350
Yangnyeom Woo Samgyup Dosirak
405
Honey Spiced Beef Bulgogi Dosirak
405
Gochujang Samgyupsal Dorsirak
350

Dosirak Junior Korean Boxed Meals

Woo Samgyup Dosirak Jr.
230
Dak Ganjeong Dosirak Jr.
205
Honey Spiced Samgyupsal Dosirak Jr.
190
Beef Upjinsal Dosirak Jr.
230
Honey Garlic Samgyupsal Jr.
190
Dwaeji Bulgogi Dosirak Jr.
190
Yangnyeom Woo Samgyup Dosirak Jr.
230
Soy Garlic Samgyupsal Dosirak Jr.
190
Black Pepper Samgyupsal Dosirak Jr.
190
Fresh Samgyupsal Dosirak Jr.
190
Honey Spiced Beef Bulgogi Dosirak Jr.
230
Gochujang Samgyupsal Dorsirak Jr.
190

BBQ Meats

Woo Samgyup
550
Samgyupsal
450
Soy Garlic Samgyupsal
475
Yangnyeom Woo Samgyup
575
Honey Spiced Samgyupsal
500
Honey Garlic Samgyupsal
500
Black Pepper Samgyupsal
475
Spicy Dak Galbi
480
Salt and Pepper Dak Galbi
455
Yangnyeom Tohisal
760
Honey Spiced Beef Bulgogi
575
Galbisal
795
Yangnyeom Galbisal
885
Seng Galbi
1690
Gochujang Samgyupsal
500

Other Specialties

Gimbap
115
Haemul Pajeon
400
Tteokbokki
305
Dak Ganjeong
495
Upjinsal Bulgogi
580
Dwaeji Bulgogi
450
Jeyuk Bokkeum
430

Baps and Rice

Ultimate Beef Bap
350
Ultimate Chicken Bao
350
Dolsot Bibimbap
380
Ultimate Spicy Pork Bap
350
Vegetarian Dolsot Bibimbap
380

Soups, Stews & Noodles

Japchae
350
Deung Galbi Kimchi Chigae
460
Ramyeon
300
Doenjang Chigae
390
Vegetarian Japchae
350
Seollongtang
460

Food Trays

Japchae (6-8 persons)
780
Fresh Samgyupsal (6-8 persons)
1500
Yangnyeom Woo Samgyup (6-8 persons)
1850
Honey Spiced Samgyupsal (6-8 persons)
1625
Japchae(12-15 persons)
1250
Yangnyeom Woo Samgyup (12-15 persons)
3500
Fresh Samgyupsal (12-15 persons)
2800
Vegetarian Japchae(6-8 persons)
780
Honey Spiced Samgyupsal (12-15 persons)
3000
Soy Garlic Samgyupsal (12-15 persons)
3000
Soy Garlic Samgyupsal (6-8 persons)
1625
Vegetarian Japchae (12-15 persons)
1250

Extras

Homemade Kimchi
250
Cheese Dip
165
Extra Banchan Set
150
Soup
35
Fresh Lettuce
135
Homemade Ssamjang
175
Pamuchim
185
Gyeranajjim
205
Sesame Sauce
105
White Rice
35

Drinks

Soban Iced Tea
110
Jinro Chamisul Soju Fresh
198
Jinro Chamisul Soju Original
198
Coke Regular in Can
85
Coke Zero in Can
85
Bottled Water
35
Sprite Regular in Can
85
Jinro Green Grape Soju
198
About Soban
Soban is Arabic for a tiny tray or table. The intention behind the meal was to advance Korean cooking. By drawing inspiration from the Korean immigrant populations in Los Angeles and New York, they set out to transform traditional BBQ by incorporating robust, cutting-edge, and delectable flavors and by using only the best cuts of beef, pork, and chicken.
Start off with the thick-cut European pork belly known as Samgyupsal, which is subsequently followed by the soft and delightfully marbled USDA Choice beef belly known as Woo Samgyup. Finish with their version of crispy Korean fried chicken, the Dak Ganjeong. No Soban experience would be complete without an abundance of delectable Banchan, which transform a modest and straightforward dinner into a full-fledged Korean feast. They hope to deliver your favorite Korean BBQ and more at Soban K-Town Grill in a daring, innovative, and savory style.
Soban Menu Best Seller
Gimbap – The rice in traditional Japanese sushi is seasoned with rice vinegar and is mildly sweet and acidic. The rice and oil mixture prevents the kimbap from drying out.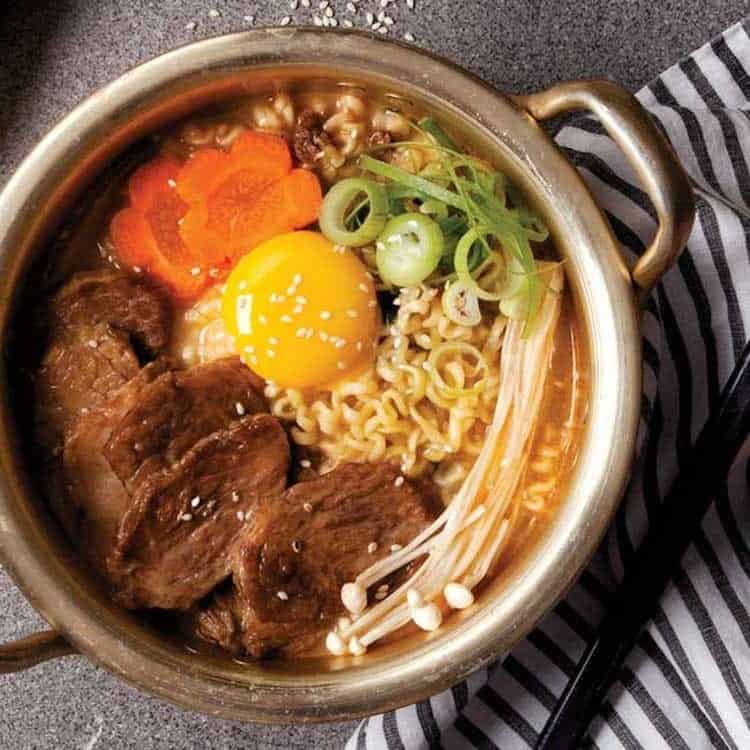 Ramyeon – The flavor is often salty and light because the broth is clear and the noodles are frequently thin curly noodles. It quickly gained popularity as the country's favorite comfort dish due to its simple preparation and great flavor. Nowadays, the original Japanese and Chinese ramen have gradually diverged. The soup contains the answer. Japanese ramen is popular among foreign tourists because of its soup.
Homemade Kimchi – The three main flavors of this Soban menu are sour, spicy, and umami. The flavor will vary according to the vegetables you use, the length of fermentation, and the amount of salt or sugar added. Since kimchi is a fermented cuisine, its predominant flavor is frequently sour.
Samgyupsal  – The meal resembles bacon but does not taste like bacon since it has not been properly cured. Instead of tasting like bacon, it has a much more meaty, earthy flavor. In any case, the flavors are out-of-this-world, and the sensation is visceral. Since the meat already has a very savory flavor, you depend on the dipping sauce and/or other barbecued side dishes to slightly add to the amazingness.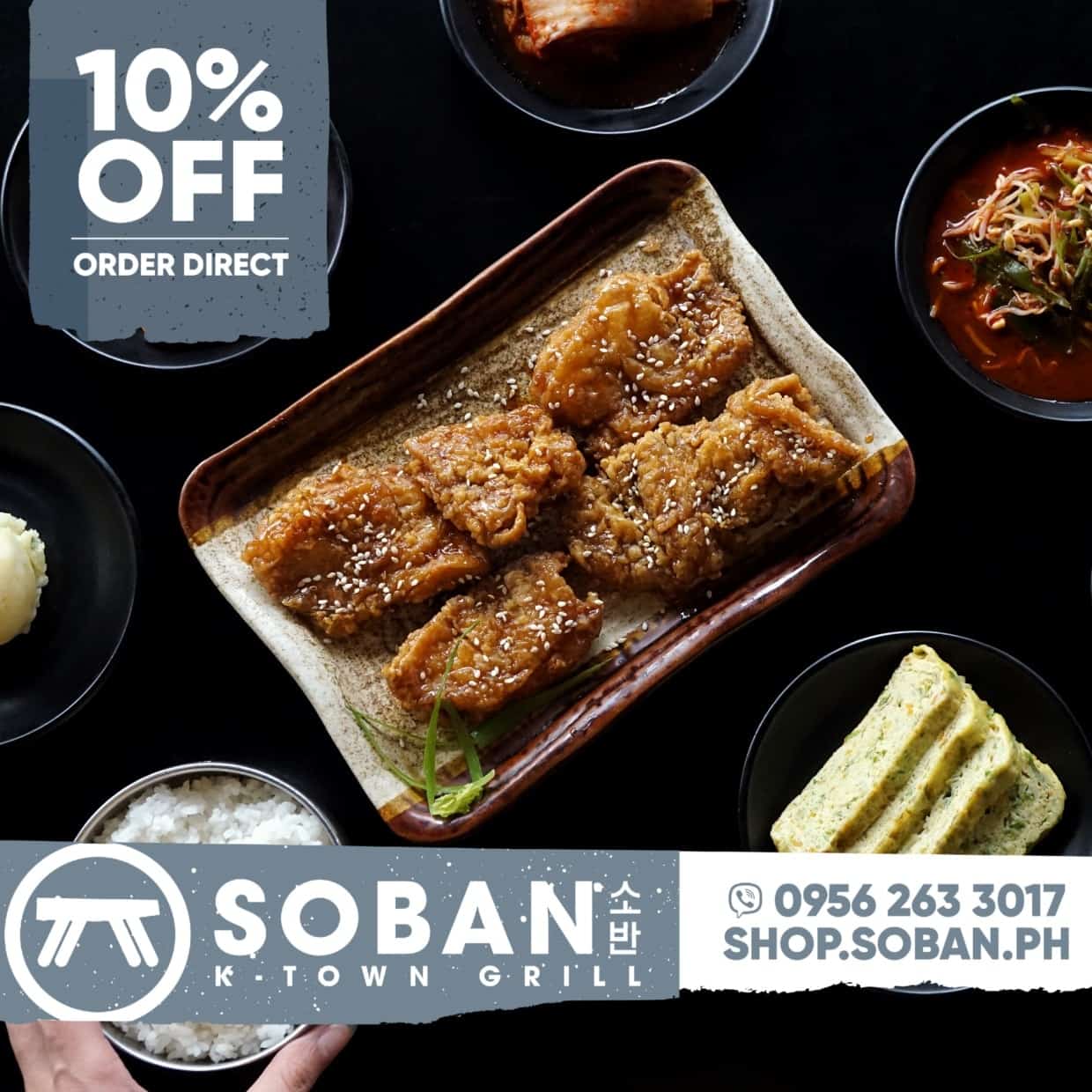 Dak Ganjeong – The gochujang gives the sauce a slightly spicy edge in addition to being sweet and sour. Although it's not extremely hot, you can adjust or leave out the gochujang if you choose. Ketchup can partially or completely substitute for gochujang. Ketchup is frequently added to dakgangjeong sauces to give them a softer flavor.
Soban BBQ Menu
The European-sourced, delicious, NMIS-certified pork is excellent. Our chicken comes from the United States. The beef is from the USA and is Premium USDA Choice High-Quality Beef certified. It has marbling and is extremely soft, juicy, and tasty.
Woo Samgyup – Despite the fact that they may appear alike, don't confuse this with Samgyupsal! Woo Samgyup is beef that has been thinly sliced, giving it a soft texture and flavorful zing. The Marinated Woo Samgyup tastes fairly sweet, which makes me think of upjinsal. If you appreciate bolder flavors, you'll enjoy soy garlic and chili bean samgyupsal.
Honey Spiced Bulgogi – The soy, sesame, garlic, and ginger marinade make the beef bulgogi incredibly soft and juicy, oozing with tastes that are subtly sweet, salty, and smoky. It is extremely flavorful and tantalizingly tasty.
Galbisal – This meat cut, which has a reputation for being soft, is nearly the same size as a human finger. It truly doesn't matter if you want to grill, braise, or boil this fantastic meat cut. Galbisal can be overcooked extremely easily, just like chadolbaegi.
Soban Samgyupsal
The Soban Samgyupsal menu comes in different sets and is divided into the following:
Favorite Feast BBQ set – it is composed of Fresh Woo samgyup, fresh Samgyupsal, honey spiced samgyupsal, soy garlic samgyupsal, honey garlic samgyupsal, Dak Ganjeong, Pajeon, Doenjang Chigae, Egg Casserole, rice lettuce sauces, and side dishes
Mega Meat BBQ set – it is composed of fresh woo samgyup, fresh samgyupsal soy garlic samgyupsal, black pepper samgyupsal, dak galbi spicy chicken, dak ganjeong, rice, lettuce, sauce, and side dishes
All Beef Mega Meat BBQ set – it is composed of fresh woo samgyup, yangnyeom woo samgyup, upjinsal, dak ganjeong, rice, lettuce, sauce, and side dishes
Soban Birthday Promo
Since birthdays only occur once a year, why not throw an extravagant celebration? Unlimited food certainly fits the party bill. But Soban doesn't state clearly that it gives birthday celebrants discounts. If you order via the Grabfood app, you can still get a discount by using their Facebook page discounts.
Soban Menu Delivery
To get a taste of this delicious restaurant, you need not go to a physical store especially when it is inconvenient for you. Here are some of the ways you can order through delivery:
Social Media Pages
Do you want to make sure that you get the latest news about the Soban food menu and its items? In that case, we highly encourage you to subscribe to the social media pages of Soban below:
Facebook: https://www.facebook.com/Soban.KTown/
Instagram: https://www.instagram.com/soban.ktown/
Conclusion
The same concept is used in every Korean restaurant: endless sides and meat. Although every Korean restaurant is unique, the Soban menu consistently offers the greatest Korean BBQ meat. Traditional Korean cuisine is typically regarded as being healthy due to its composition of ingredients and preparation techniques. Korean dishes frequently have fewer calories than standard American meals because they are frequently served with a lot of vegetables and little oil. During lunchtime, there are couches and chairs to pick from, and the atmosphere is really cozy. A translucent glass shell that reached the ceiling encircled the eatery. Any curious traveler or foodie would find the location to be contemporary and interesting. But the food that they provide to foodies is what must set the restaurant apart.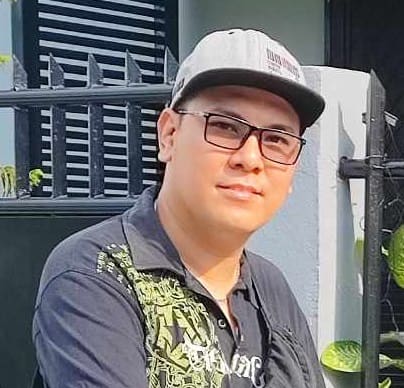 Hi! I'm Nivek Strife, the person who made MenuPH. I'm the one who added most of the popular menus you see on this website, and I really hope you enjoy them! Feel free to check them all out.
Growing up, I was surrounded by lots of tasty foods, like the classic Adobo and the sweet Leche Flan. That love for the many flavors of the Philippines is what got me excited about adding to MenuPH. When I learned how to make websites, I saw the need for a place to show off all the amazing Filipino dishes, and that's how MenuPH started.
MenuPH isn't just a website; it's like a fun journey into food. I've teamed up with famous chefs and found great places all over the Philippines to bring you a bunch of menus that show off the best of Filipino cuisine. Whether you're into the usual dishes or new twists, MenuPH is here to guide you through the rich world of Filipino flavors.
With MenuPH, my aim is to help local businesses, talk about good food choices, and make a group of friends who love food. No matter if you like fancy restaurants or street food, MenuPH has something for you. Come join me on this food adventure as we find great places, taste real flavors, and enjoy the unique food traditions that make the Philippines awesome.