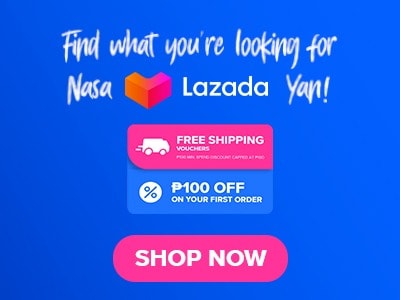 The Seoulgyupsal menu provides their guests with unlimited chicken, beef, and pork grills, along with the 10 flavors that they offer. Aside from their popular grills, they also offer different varieties of unlimited side dishes and add-ons. As a part of Seoulgyupsal's ongoing effort to improve its menu, they now also serve Japanese cuisine, including popular dishes like spicy tuna rolls, California maki, and tuna sashimi. To please and meet the needs of their target market, they are still inventing and updating the food and service that they offer.
Below, you'll find the updated list of Seoulgyupsal menu prices.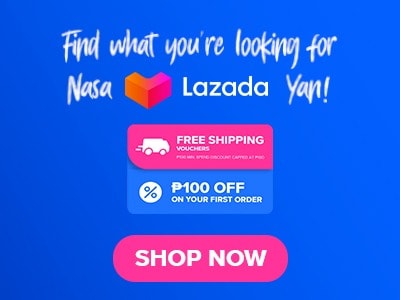 Menu Items
Price (PHP)

Beef

Yangnum Beef
599
Spicy Beef
599
Woo Samgyup Beef
599
Herbed Woo Samgyup Beef
599

Pork

Yangnum Samgyupsal
499
Herbed Samgyupsal
499
Spicy Samgyupsal
499
Herbed Dae Pae
499

Chicken

Yangnum Dark Galbi
399
Dak Galbi Korean Spicy Chicken
399
Chicken Buttoms
399

Sidedish and Sauces

Signature Kimchi
199
Homemade Cheese
100
Special White Sauce
40
Ssamjang
40
Seasoned Sesame Oil
40
Lettuce
150
Additional Side Dish
100
Japchae
249

Rolls

California Maki
85
Kani Maki
85
Mixed Maki
85
Ebi Tempura
220
Fire Tempura
220
Mixed Tempura
220

Korea x Japan

Samgyupsal
549
Spicy Samgyupsal
549
Yangnum Samgyupsal
549
Herbed Samgyupsal
549
Spicy Dak Galbi
549
Yangnum Dak Galbi
549
Chicken Buttoms
549
Dae Pae
549
Herbed Dae Pae
549
Spicy Beef
549
Yangnum Beef
549
Woo Samgyup Beef
549
Herbed Woo Samgyup Beef
549
Beef Bulgogi
549
Buttered Sirloin Steak
549

Samgyupsal and Chicken

Samgyupsal
399
Spicy Samgyupsal
399
Yangnum Samgyupsal
399
Herbed Samgyupsal
399
Chicken Buttoms
399
Yangnum Dak Galbi Korean Sweet Soy
399
Dak Galbi Korean Spicy Chicken
399
Daepae
399
Herbed Daepai
399

Unlimited Cheese

Yangnum Beef
449
Bulgogi Beef
449
Woo Samgyup Beef
449
Herbed Woo Samgyup Beef
449
Spicy Beef
449

Fish Rolls

California Maki With Creamy Japanese Mayo
85
Tuna Sashimi
Kani Maki
Spicy Tuna Roll
Tempura
Fire Tempura
About Seoulgyupsal
Seoulgyupsal is a Korean restaurant located in Kamuning, Quezon City. Seoulgyupsal opened its doors in 2017 with the goal of providing high-quality and affordable grilled Korean dishes with a variety of options that distinguish them from its competitors. The company prioritizes the service that they provide its guests to ensure that each one of them can have the best Korean dining experience. As a result, Seoulgyupsal is currently one of the best Korean BBQ restaurants in Manila. At the present, their goal as a business is to establish branches in key areas so that it can serve more clients and access new markets.
Seoulgyupsal Beef Menu
Of course, beef plays a significant role in tasty Korean grilled dishes. Beef samgyup and yangnum are two of the tastiest ones out there and are a lot of fun to eat, especially if they are accompanied by a lot of Korean-style side dishes. This menu is composed of yangnum dak galbi, dak galbi Korean spicy chicken, and chicken buttons. Naturally, these two are included in the lists of the best Korean beef recipes, but they also extend out to include spicy beef.
The best samgyup and yangnum are the ones that are from Seoulgyupsal! Their ssamjang dip enriches the grilled steak on so many levels that it makes you drool for more. The Seoulgyupsal beef menu is also of high quality and obviously fresh. Most importantly, Seoulgyupsal's beef menu is also budget-friendly.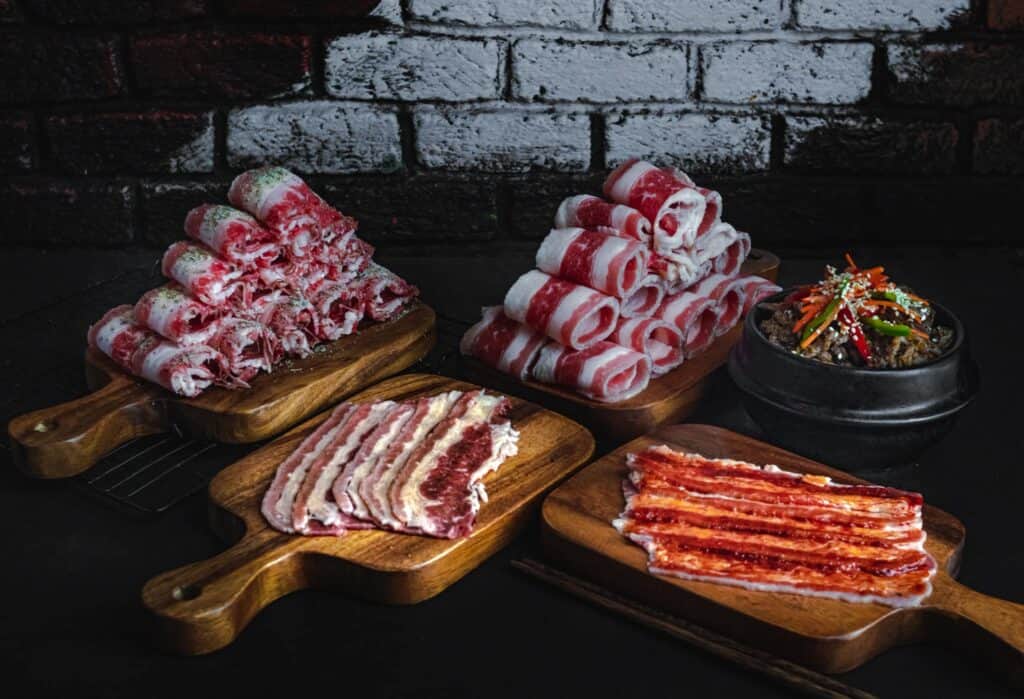 Pork
Pork is the most common Korean grilled dish, and Seoulgyupsal provides the best meat for all those grill lovers out there! Their pork yangnum samgyupsal, spicy samgyupsal, herbed samgyupsal, and herbed daepae are some of the best Korean dishes that you'll ever taste!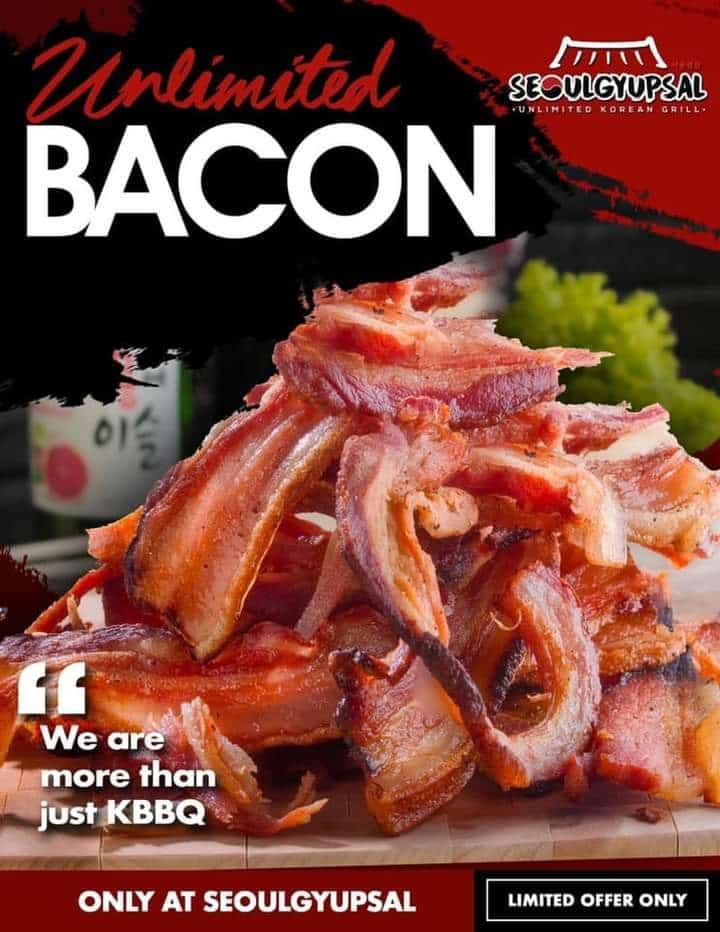 Pork is not only common in Korea but in the Philippines as well. Seoulgyupsal took advantage of how much Filipinos love pork dishes! They just can't resist meat. This is one of the reasons why this menu is also one of the most popular ones and the most ordered by customers whenever they visit Seoulgyupsal.
Chicken
This menu is composed of delicious Korean-style foods that use chicken as their main ingredient. These are one of the most popular chicken dishes that are part of Korean cuisine, especially the dak galbi. Dak galbi is a delectable, spicily grilled chicken dish that is one of the favorites among friends that go out for lunch. Since it is prepared and shared by a small and intimate group of people in Korea, it naturally encourages conversation and good times. One of the unspoken rules of eating this dish is that "Dak galbi should not be eaten in silence." Munch on your favorite Korean food while also having a good time!
Side Dish and Sauces
Naturally, it goes without saying that you should always have a side dish and sauces on hand when you are grilling. Seoulgyupsal menu offers different kinds of sauces and side dishes that would greatly enhance your grilled food's flavors. The side dishes and sauces that Seoulgyupsal are naturally of the best quality and, most importantly, budget-friendly.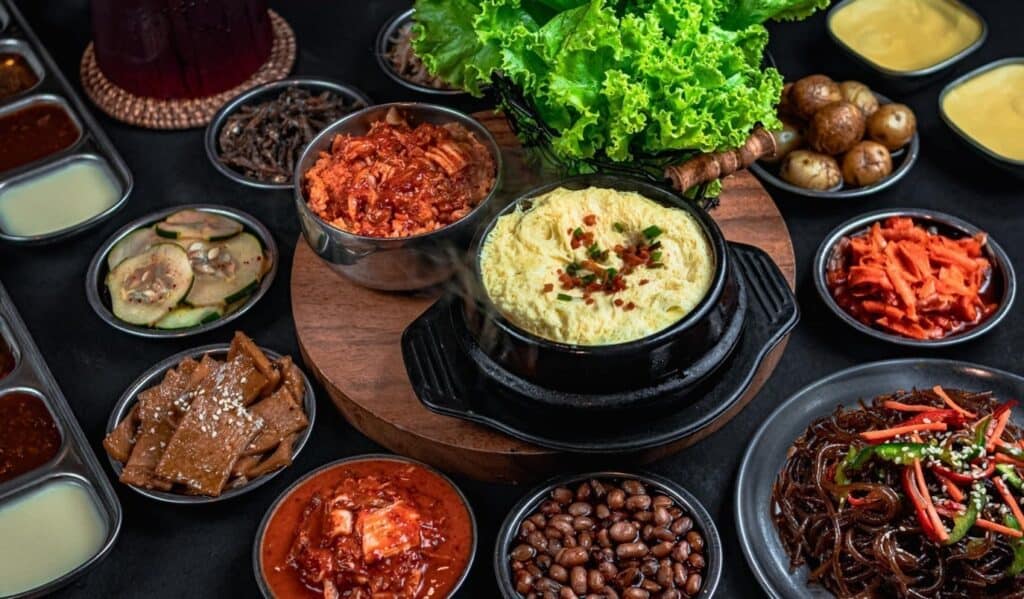 The sauces include kimchi, ssamjang, white sauce, and seasoned sesame oil, while the side dish menu is composed of lettuce and japchae. And if you can't get enough side dishes, you can always request an extra. Whether you want your meat wrapped in lettuce or not, Seoulgyupsal has the right things for you to fully enjoy your dining experience.
Seoulgyupsal Menu Signature Fish Cake
Aside from grilled foods, Seoulgyupsal also serves fish cakes. Their specialty is the California Maki with Creamy Japanese Mayo. This type of fish cake is named the California Maki due to how well-liked this dish is in California. Without raw fish, this was created using actual snow crabs as well as fruits and vegetables, for example, mango, avocado, and cucumber. The nori is placed within the sushi since it was also made to be eaten inside out; its outer layer is either sesame seeds or masago, depending on what the customer prefers.
It is a type of fish cake that everyone enjoys due to its being a tasty and healthy alternative meal. Especially if you are into improving your health and wellness, this is a dish you should include in your diet.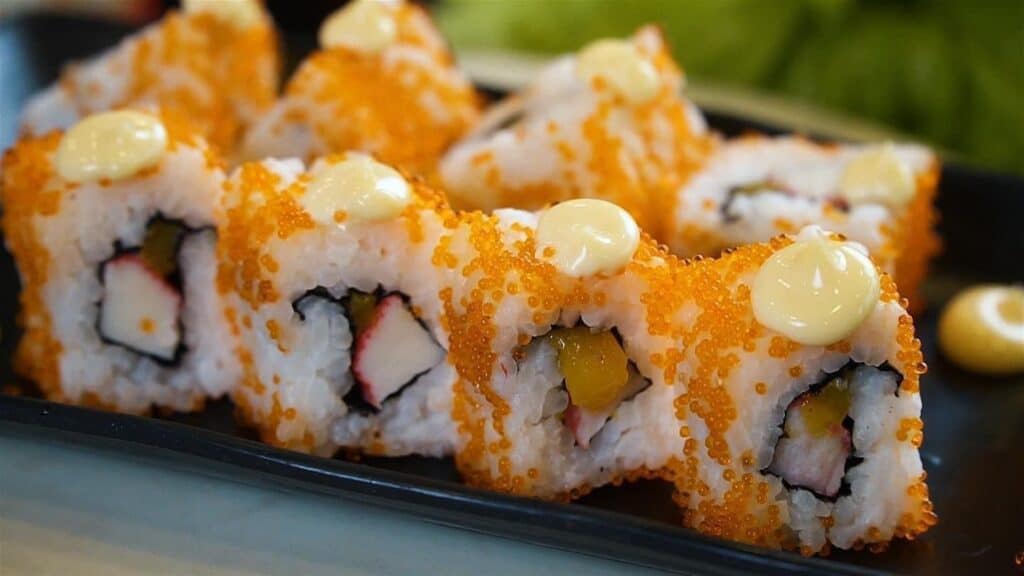 Seoulgyupsal Menu Delivery
Your favorite grill restaurant now offers delivery service so that you can enjoy delectable grilled Korean and Japanese dishes at home without having to visit their physical store. Ordering your favorite Seoulgyupsal food is made more convenient by the use of the GrabFood and FoodPanda applications. You can get these applications for free on your device's app store.
For more information about Seoulgyupsal's menu delivery and delivery services, you can send them a message through their social media pages, such as Facebook and Instagram.
Social Media Pages
To get updated about Seoulgyupsal news, you might as well follow or like their social media pages to get notifications. They have several pages across social media platforms, below are the links provided for you.
Facebook: https://www.facebook.com/seoulgyupsal/
Instagram: https://www.instagram.com/seoulgyupsal/
Conclusion
The Seoulgyupsal menu is composed of Korean dishes, with chicken wings being their specialty. They also now serve Japanese dishes, which improves the diversity of the foods that they offer. All of the meat that they serve tastes great! The other dishes were all so simple but tasted pretty good. Their sides are also a must-order whenever you are trying out their grilled dishes! Not only does it boost your meal's taste, but it also completes your Korean dining experience. The staff was all friendly and accommodating, and they were also quick to attend to all of their guests' needs. Overall, Seoulgyupsal is the ideal place you would want to go if you are craving Korean food or Japanese treats.