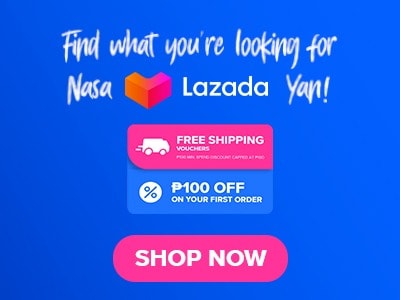 Do you ever find yourself getting confused about where to eat when you're at the mall or outside? Have you tried all of the different fast-food chains but still you are looking for something that can satisfy your cravings at an affordable price? Look no more as I found the best fast food restaurant for you to save you time. They are an international brand that is popular with its fried chicken and also they are serving different kinds of food selections from breakfast meals to fully loaded meals. Let's talk about KFC Menu, an American brand of fast food that's been served in the country for so many years.
Let's start and try to know some fun facts about them their food and the quality of service that they have.
Below, you'll find the updated list of KFC menu prices.
Menu Items
Price (PHP)

Bucket Meals

3pc Bucket Meal with Chicken chops
541
4pc Bucket Meal with Chicken chops
586
3pc Variety Bucket Meal with 1.5L Coke
611
4pc Variety Bucket Meal with 1.5L Coke
795
6pc Bucket Meal
565
8pc Bucket Meal
725
6pc Bucket Meal with Rice Drinks and Spaghetti
660
8pc Bucket Meal with Rice Drinks and Spaghetti
879
6pc Bucket Meal with Rice Fixins Drinks and brownies
640
8pc Bucket Meal with Rice Fixins Drinks and brownies
825
6pc Bucket Meal with Rice and Drinks
495
8pc Bucket Meal with Rice and Drinks
659
3pc Chicken and Zinger Steak Box
565
4pc Chicken and Zinger Steak Box
725

All Chicken Bucket

Crispy Strips Bucket
308
3pc All Chicken Variety Bucket
474
4pc All Chicken Variety Bucket
678
Bucket of 6
439
Bucket of 8
579
Bucket of 10
720
Bucket of 15
1008
Bucket of 20
1329

Fully Loaded Meals

Cheesy Chili con Famous Bowl Fully Loaded Meal
199
Chicken Chops Fully Loaded Meal
174
Korean BBQ Flavorshot Fully Loaded Meal
164
1pc Fully Loaded Meal
147
2pc Fully Loaded Meal
215
Shots Fully Loaded Meal
205
Famous Bowl Fully Loaded Meal
184

Breakfast Meals

Hash Brown
37
A.M or Pandesal
83
A.M or Pandesal Combo
112
A.M Egg Pandesal
42
A.M Egg Pandesal Combo
68
A.M Ham Pandesal
70
A.M Ham Pandesal Combo
99
Arroz Caldo Regular
53
Arroz Caldo Special
94
Arroz Caldo Meal
120
A.M 1pc Chicken Ala Carte
109
A.M 1pc Chicken Rice Meal
131
A.M Flavorshot Ala Carte
85
A.M Flavorshot Rice Meal
105
A.M Steak Rice Bowl
105
A.M Steak Rice Bowl Combo
130
A.M Cheese Hotdog Rice Bowl
105
A.M Cheese Hotdog Rice Bowl Combo
130

Fixins and Extras

Crispy Fries
45
Large Crispy Fries
62
Coleslaw
51
Large Coleslaw
72
Mashed potato
45
Large Mashed potato
62
Buttered Corn
45
Large Buttered Corn
62
Large Gravy
18
Extra Rice
25

Signature Meals

Chicken Chops Ala Carte
64
Chicken Chops Meal
85
Chicken Chops Combo
105
1pc Chicken Meal with Mashed Potato
130
1pc Chicken Meal
105
2pc Chicken Meal with Fixin
205
2pc Chicken Meal
187
1pc Chicken Ala Carte
89
2pc Chicken Ala Carte
168

Shots

Shots Combo
115
Large Shots Combo
170
Regular Shots
70
Large Shots
120

Burgers and Twisters

Zinger Combo
160
Zinger
125
Twister Combo
157
California Maki Twister
112
About KFC
KFC was founded by Colonel Harland Sanders way back in 1930. They are the second-largest restaurant chain in the world following McDonald but KFC specialized in Fried Chicken a little different from Mcdonald's which specialized in burgers.
It is an American brand of fast food with headquarters in the United States. KFC became successful and popular because of its Fried Chicken which is the founder's own recipe. However, the company's rapid expansion overwhelmed the aging founder Colonel Sanders so he sold it to a group of investors in 1964.
In 2018 KFC has 22,621 stores in 150 countries worldwide. They are serving thru various locations like Russia, Canada, America, South America, Europe, The Middle East, Asia, and Southeast Asia.
KFC was introduced to the Philippines in 1967. It was managed by a different franchise. In June 1994 Manuel Agustine manage to obtain the sole franchisee of KFC products in the country.
Now the management of KFC is working hard to maintain the quality and excellence that KFC has to be the fastest-growing quick-serve restaurant in the industry. As of now KFC has 329 branches in the country now operated by Ramcar Group of companies.
KFC Gravy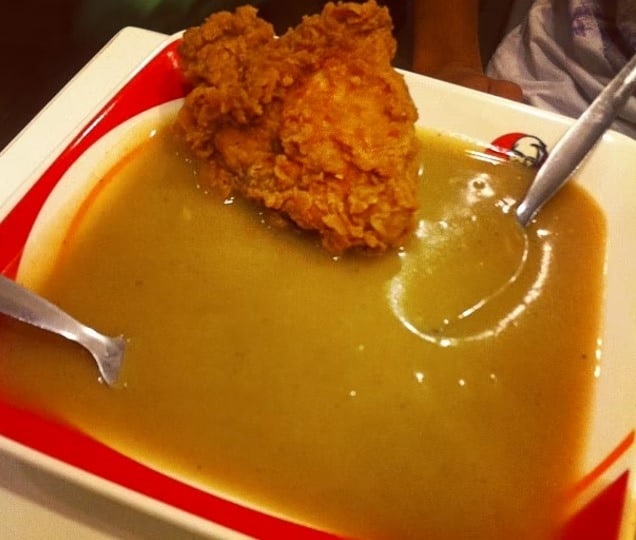 Some of you already know that the gravy on KFC is exceptional. It is delicious and actually a great partner for their chicken, though the recipe for their gravy remains a secret it is said that they use bouillon cubes to make it tastier and well-seasoned. Nobody knows the secret recipe for their gravy but one thing is for sure, it's really good.
KFC Menu Bucket Meals
KFC menu bucket meals are really recommended for a group of customers who needs bigger food servings and are also recommended for delivery. Take note that you'll save more if you order bucket meals.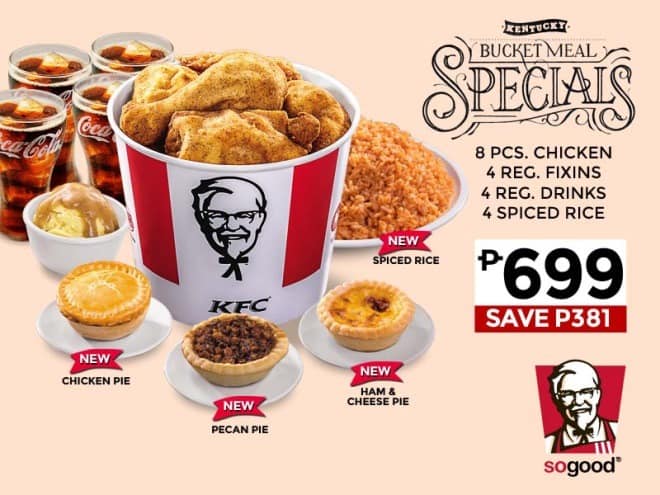 Available bucket meals:
Bucket of 10 with Coca-Cola 1L
Spicy Gangnam Bucket meal for 3
Spicy Gangnam Bucket meal for 4
6 pcs Bucket Meal
8 pcs Bucket Meal
6 pcs Bucket Meal with rice drinks and spaghetti
8 pcs Bucket Meal with rice drinks and spaghetti
6 pcs Bucket Meal with rice fixins drinks and brownies
8 pcs Bucket Meal with rice fixins drinks and brownies
6 pcs Bucket Meal with rice and drinks
8 pcs Bucket Meal with rice and drinks
Bucket of 6
Bucket of 8
Bucket of 10
Bucket of 15
Bucket of 20
Bucket of 6 with spaghetti platter
Bucket of 6 with fixin super platter
Bucket of 8 with fixin super platter
Bucket of 10 with super platter
Best KFC Menu Meal to Get in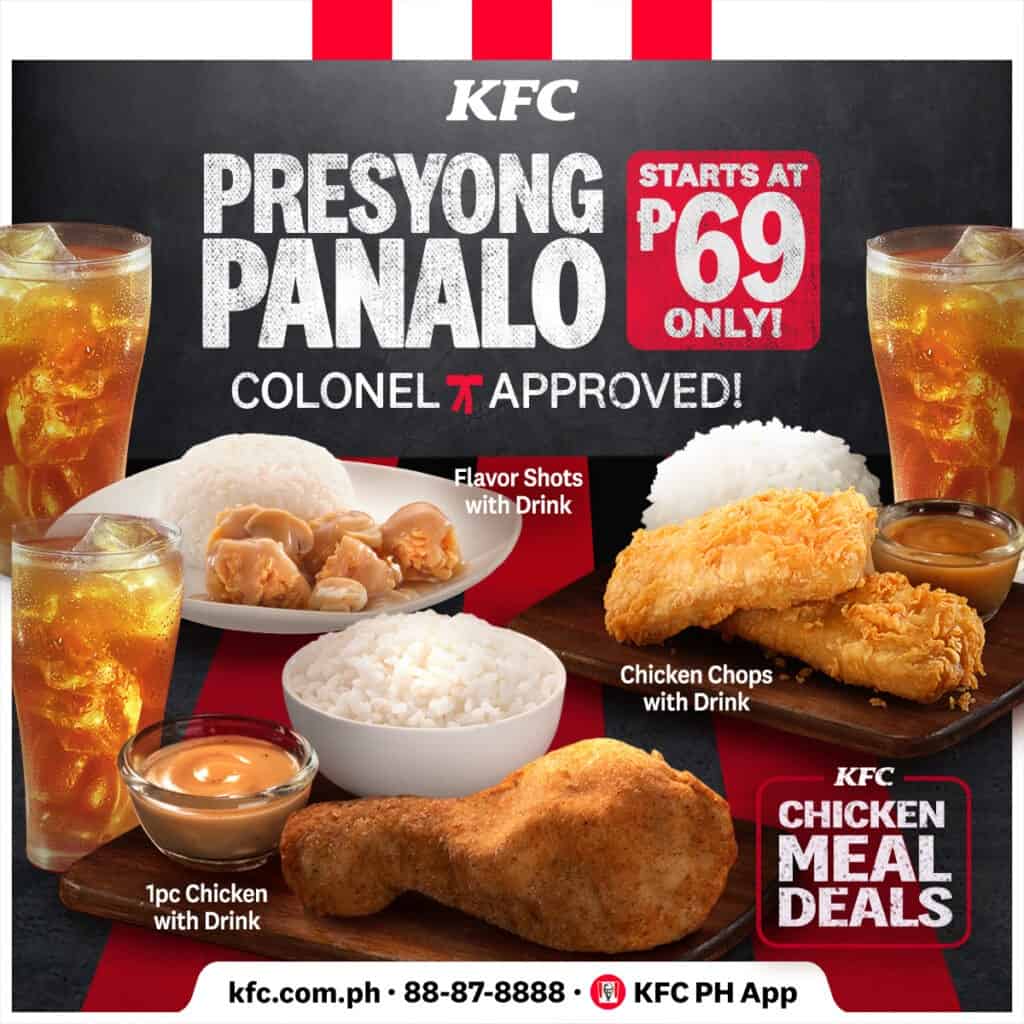 Here's the list of KFC's top 5 best menu
Crispy Colonel Sandwich – This is usually the one that we can see in their commercials on tv and has Colonel's name on it. This one is amazing and crispy and the chicken thank goodness is not dry. It has mayonnaise and pickles which really pulls this sandwich together. This is also one of the best sellers in KFC.
Original Recipe Chicken Bucket – The original will always be the best this KFC bucket meal is really a bomb. The chicken is juicy and the taste is delicious the texture is great. This is actually my personal favorite on their menu.
Chicken PopCorn – One of the crunchiest on their menu is their chicken popcorn. This taste great with KFC barbecue sauce as its dipping sauce. These amazing chicken popcorn are made with white meat and usually serve as a side dish but you can actually make a meal out of them.
Kentucky Grilled Chicken – This is one of the must-try on their menu, if you don't want it fried then you could have it grilled. The Chicken is marinated and seasoned before it is grilled. One of their best sellers and definitely a bomb.
Go Cup – The Go cup is actually the perfect mix of everything that you are looking for on their menu. This is perfect for to-go orders. Easy and not messy to eat with a lot of your favorites, isn't that good.
KFC Menu Delivery
If you don't have time to go outside because of your busy schedule or you are just avoiding the traffic and long queues this is great news for you.
You can order from them by simply going to their delivery website at kfc.com.ph or you can call their delivery hotline at 8887-8888. You can also use third-party delivery services like Food Panda and Grab Foods. Please note that the price of the delivery service that they offer may vary depending on your location.
Social Media Accounts of KFC
KFC also have Social Media accounts for you to follow if you want to be updated about their latest promotions and offers, here's the list of their social media.
Facebook:
https://facebook.com/kfcphilippines
Instagram:
https://www.instagram.com/kfcphilippines
Twitter:
https://twitter.com/kfcphilippines
Conclusion
KFC became one of the leading fast food in our country and abroad, we can guarantee from all of their food selections that we are getting the best at a very affordable price. The service that they offer is actually good based on my personal experience, the food is tasty and the place is clean. Highly recommended for barkada and family eat-outs if you are looking for something good and of course if you are a fan of fried chicken. All in all a good experience and a thumbs up.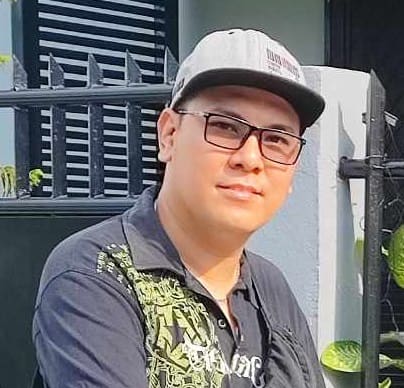 Hi! I'm Nivek Strife, the person who made MenuPH. I'm the one who added most of the popular menus you see on this website, and I really hope you enjoy them! Feel free to check them all out.
Growing up, I was surrounded by lots of tasty foods, like the classic Adobo and the sweet Leche Flan. That love for the many flavors of the Philippines is what got me excited about adding to MenuPH. When I learned how to make websites, I saw the need for a place to show off all the amazing Filipino dishes, and that's how MenuPH started.
MenuPH isn't just a website; it's like a fun journey into food. I've teamed up with famous chefs and found great places all over the Philippines to bring you a bunch of menus that show off the best of Filipino cuisine. Whether you're into the usual dishes or new twists, MenuPH is here to guide you through the rich world of Filipino flavors.
With MenuPH, my aim is to help local businesses, talk about good food choices, and make a group of friends who love food. No matter if you like fancy restaurants or street food, MenuPH has something for you. Come join me on this food adventure as we find great places, taste real flavors, and enjoy the unique food traditions that make the Philippines awesome.