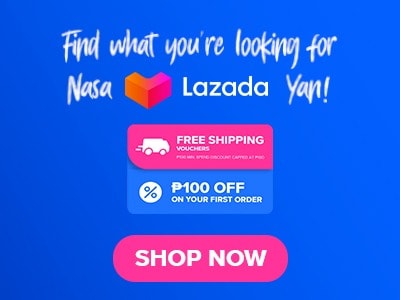 Although Graceland may be considered a fast food restaurant, many people can attest that the dishes that are part of their menu are not actually of the "fast food" variety because of the high-quality food that they are providing. Due to the on-site Baker's Plaza, one of Bicol's best sources of bread, pastries, and cakes, Graceland can also be compared to Goldilocks or Red Ribbon for all the people who visit Naga City.
Below, you'll find the updated list of Graceland menu prices.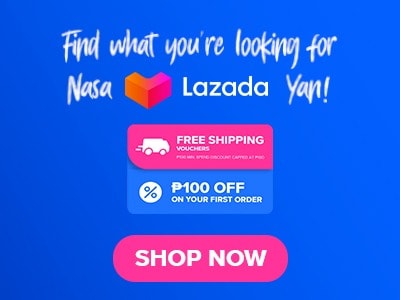 Menu Items
Price (PHP)

Popular

Lomi
138
Fried Lumpia
121
Pancit Guisado
670
Pancit Guisado Salo
323
Asado Mami
121
20 Pcs. Lumpia Shanghai
333
Meat Lovers
Pork Steak
120.8
Pinoy Adobo
182.4
2 Pcs. Barbecue Meal
124
Executive Meal
222.4
Barkada Treat
Barkada Treat A
541
Barkada Treat B
636
Barkada Treat D
1,517.60

Group Treats

Noodle Duo A
700
Noodle Duo B
592
Noodle Duo C
597
Spaghetti
474
Palabok
690
Crispy Chicken
481
All Meat
980
Noodle Trio
917
Pancit Guisado
670
20 pcs. Lumpia Shanghai
333
Pork BBQ
513

Cake

Dark Chocolate
109
Chiffon Cake
358
Choco Fudge Roll Whole
418
Mocha Supreme Jr.
462
Chocolate Cake
528
Mocha Java
682
Strawberry Delight
682
Concorde
814
Mini Red Velvet
109
Double Choco Roll Half
270
Cherry Black Forest Roll Half
330
Fudgy Choco
495
Butter Cream round
605
Chocolate Fantasy
682
Red Velvet
765
Black Forest Premium
875

Breads

Ham Cordon Loaf
50
Ube Royale
79
Happy Choco
94
Monay Bread
77
Jumbo Cream Loaf
88
Cheese Bread
97

Pastries

Cheese Cupcake Solo
25
Egg Pie Sliced
41
Garlic Sticks
50
Hopia Baboy
72
Hopia Mongo
88
Garlic Biscocho
105
Strawberry Puto
151
Star Peanut Cookies
40
Custard Mamon
42
Banna Cake Best Value
72
Hopia Ube
88
Butter Biscocho
99
Oatmeal Cookies
120
Star Peanut Jar
193

All Day Breakfast

Tocino
143
Tapa
143
Pinoy Breakfast
221
Longanisa
143
Bangus Breakfast
191

Sizzlers

Sizzling Sisig
213
Sizzling Bangus
202
Sizzling Bangus Sisig
212
Tenderloin Tips
202
Pork Cordon Bleu
233
Sizzling chicken
168
Sizzling Sisig w Egg
225
Sizzling burger steak
218
Sizzling Porkchop
221
Chicken Meals
1 Pc Chicken
128
Chicken and Spaghetti
183
2 Pcs Chicken
208
1 Pc Chicken and Lumpia Shanghai
172
Chicken and Pork BBQ
198
About Graceland
A modest beginning that grew into a food industry powerhouse in the major cities and villages of Naga and Bicol. The legacy of Graceland was established by Felipe and Felicidad Dy. It was amazing how willing they were to do whatever it took to achieve their goals for their expanding family. As of February 2016, Graceland had grown to be a must-visit restaurant in the Bicol region. These comprise three additional eateries that offer food to suit various market tastes.
Graceland Menu Best Seller
These dishes are the ones that customers often order whenever they get a chance to visit the Graceland restaurant in person.
Pork Steak
The ingredients that are typically found in this traditional Filipino-style pork steak are soy sauce, onions, salt, pepper, and calamansi. Since these ingredients work so well with this dish, it creates unique and savory flavors that would clearly appeal to the diners.
Pinoy Adobo
Like the sinigang soup dish, pork adobo is one of the most popular staple dishes in the Philippines. It uses slices of pork as its main ingredient. In this dish, the slices of meat are cooked with soy sauce, vinegar, and garlic. Some variations also include onions.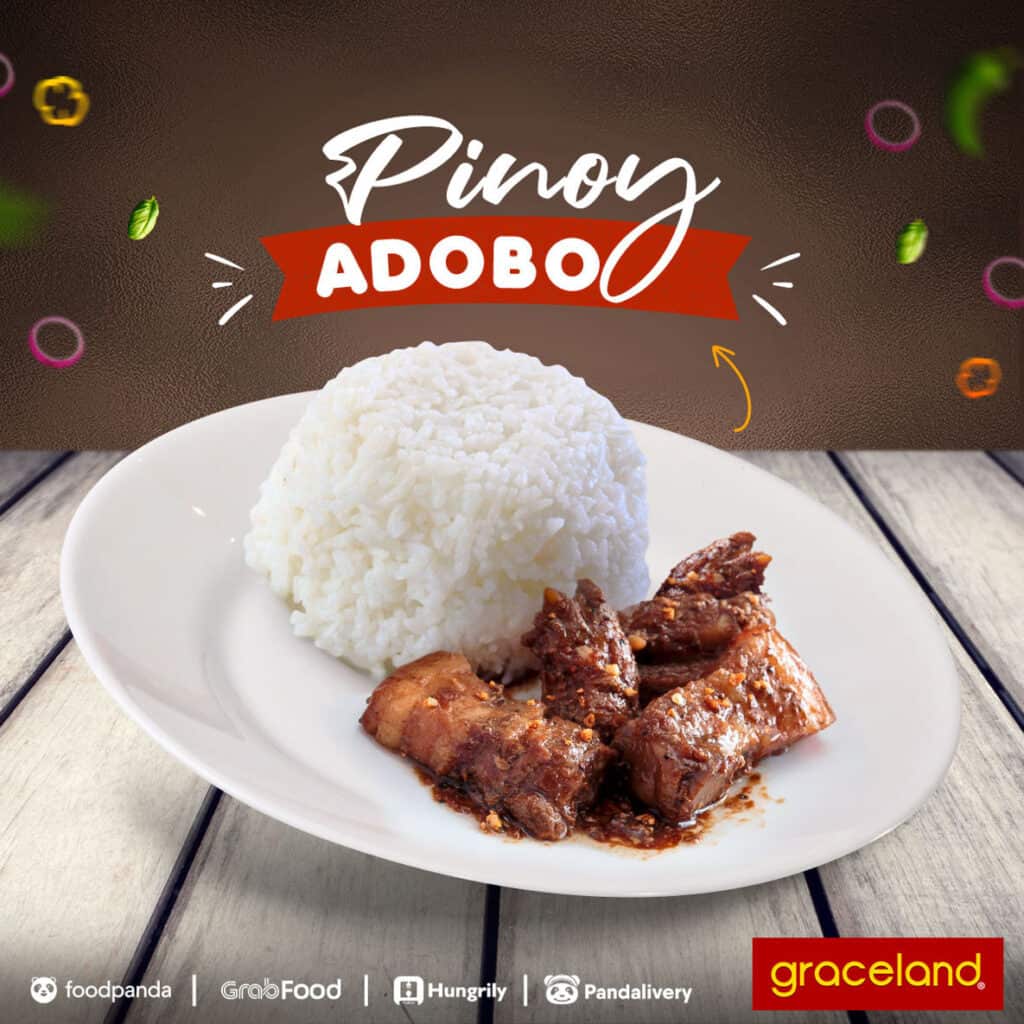 Barbecue Meal
This bamboo-skewered menu from Graceland is made up of chunks of thinly sliced pork that have been marinated in a unique blend of flavors and spices. This Filipino-style barbecue meal is typically grilled over charcoal and dipped in a container of hot vinegar before eating.
Spaghetti
An Italian dish that Graceland made its own by adding a little bit of a Filipino twist to it. This spaghetti is made with a number of meat ingredients, including hotdogs, luncheon meat, and pork. This dish is perfect for birthday parties and other occasions.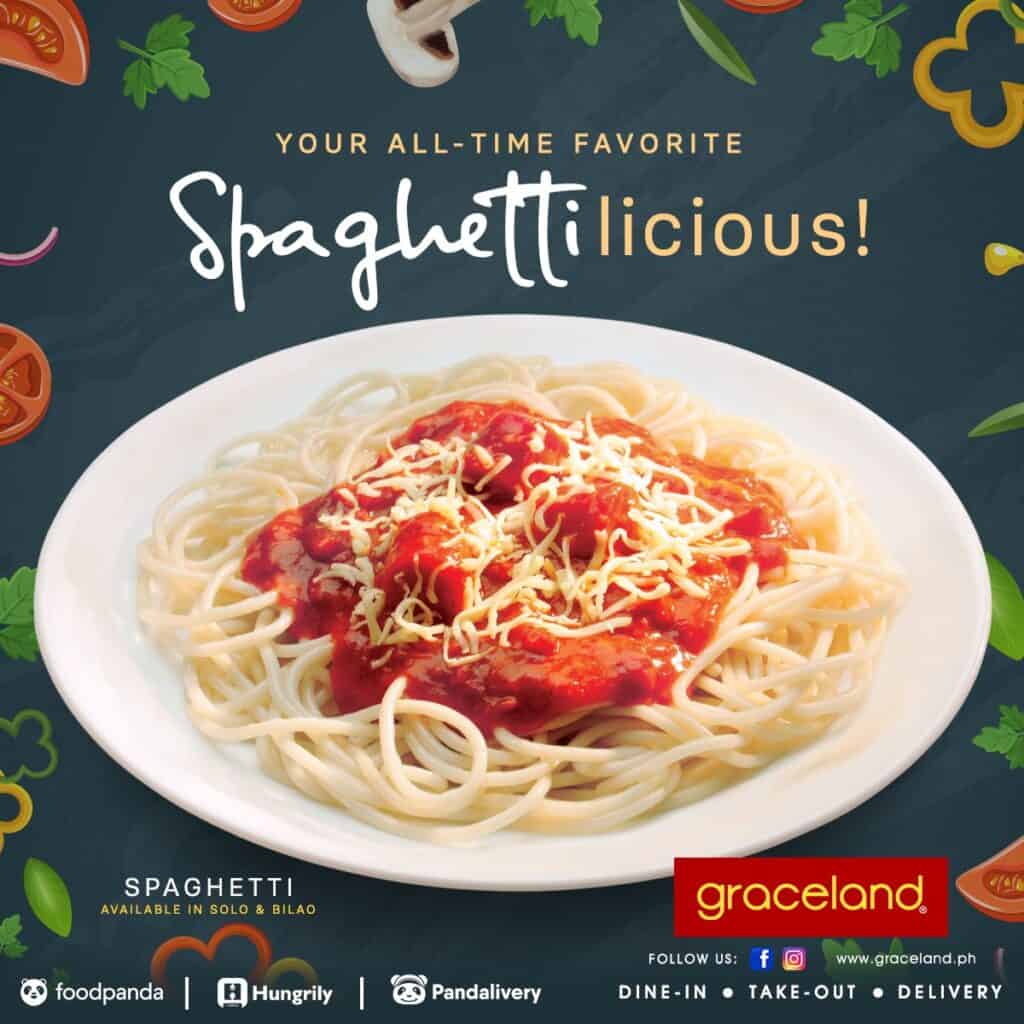 Crispy Chicken
Graceland's version of crispy chicken is a tasty treat that is simple but delectable for both children and adults. Crispy fried chicken is unquestionably a traditional option, whether it is from a birthday celebration or just an appetizer for game nights with friends.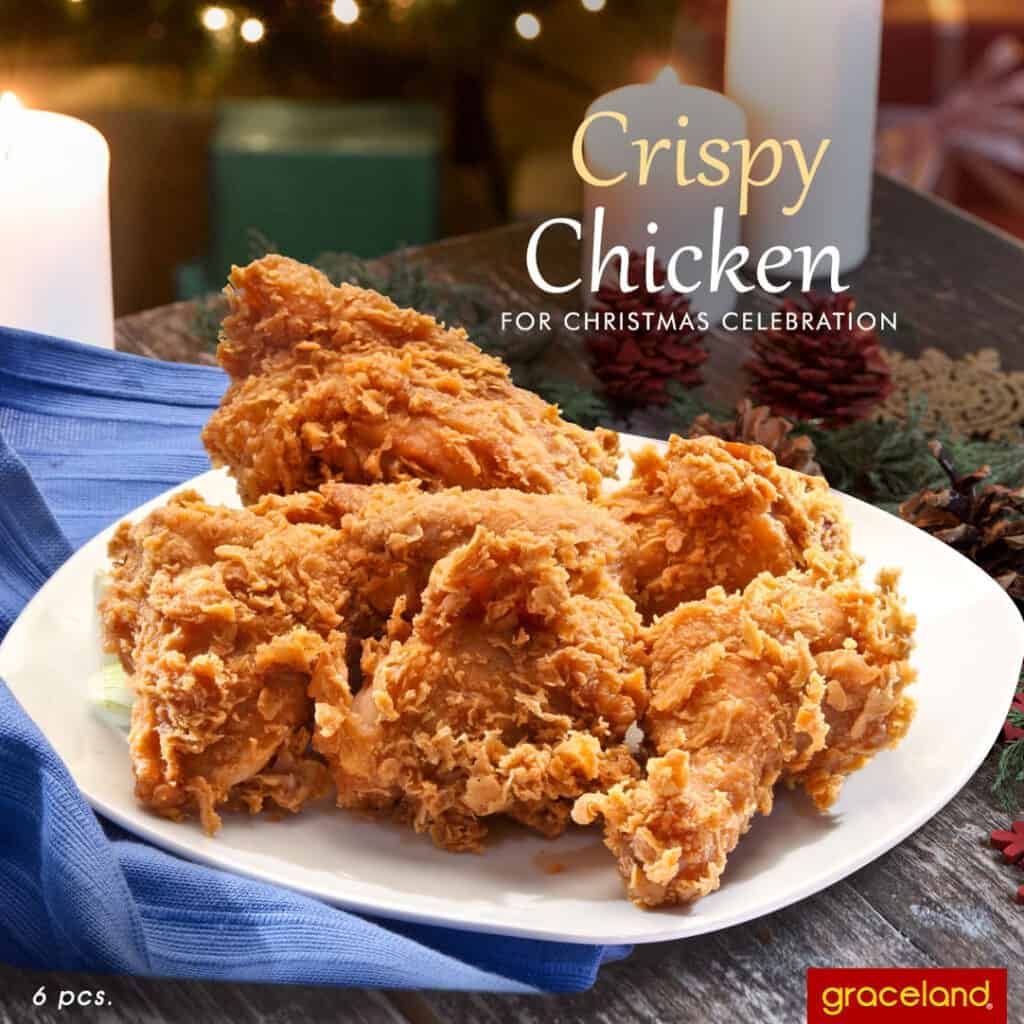 Graceland Popular Menu
This menu is composed of dishes that customers first look for whenever they are dining at Graceland restaurant.
Lomi
Filipino chicken noodle soups come in the form of chicken Lomi. The broth for this special soup is thicker than the broth for typical chicken soups. The texture of this dish's broth is almost identical to egg drop soup, with the addition of a raw egg. The combination of water and cornstarch that is added at the end of cooking thickens the dish soup even more.
Fried Lumpia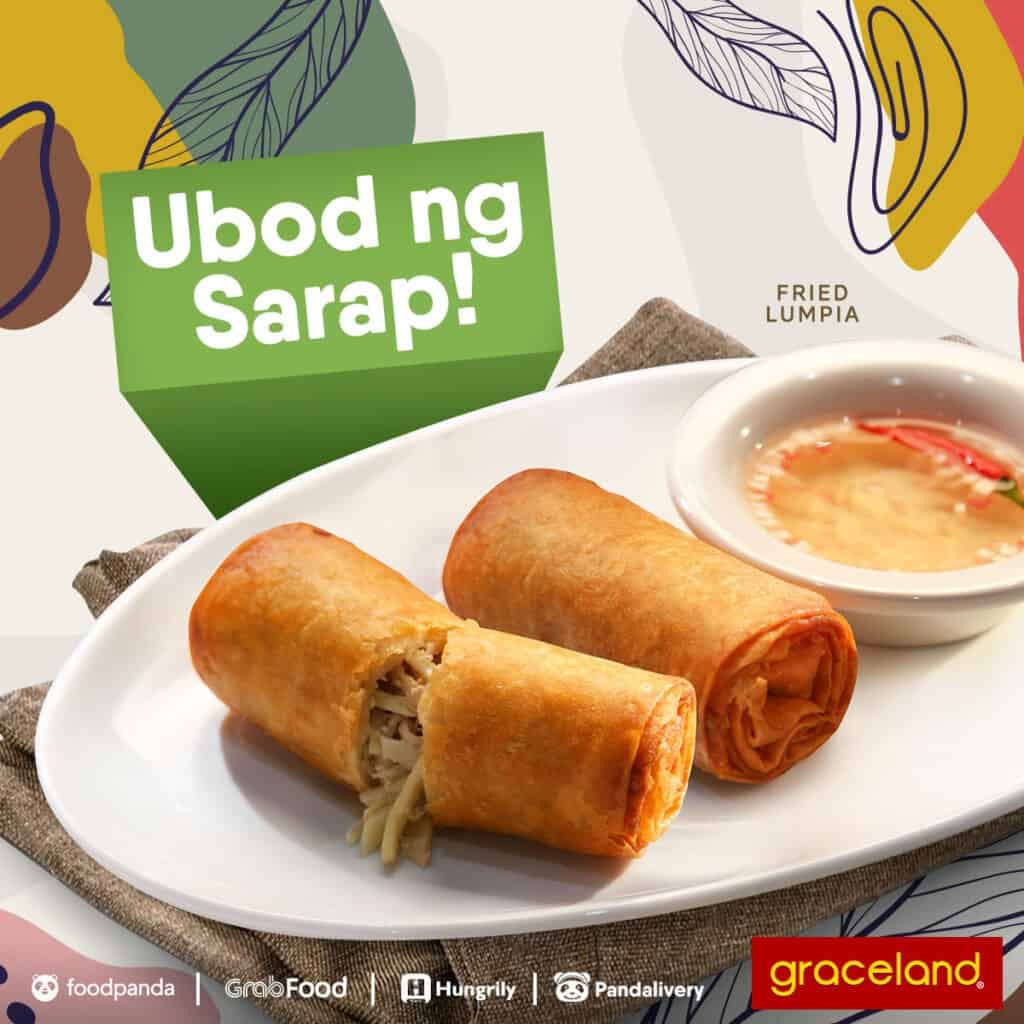 This dish is composed of different spring rolls that are very popular in the Philippines. These dishes are formed of a thin pastry skin, known as a lumpia wrapper, that encloses the lumpia fillings.
Pancit Guisado
A popular Filipino noodle dish that uses rice noodles, shrimp, veggies, and shreds of chicken for its ingredients. The noodles in this dish are locally known as bihon, and the term guisado describes the technique that is used to prepare it; it simply means sauteing.
Asado Mami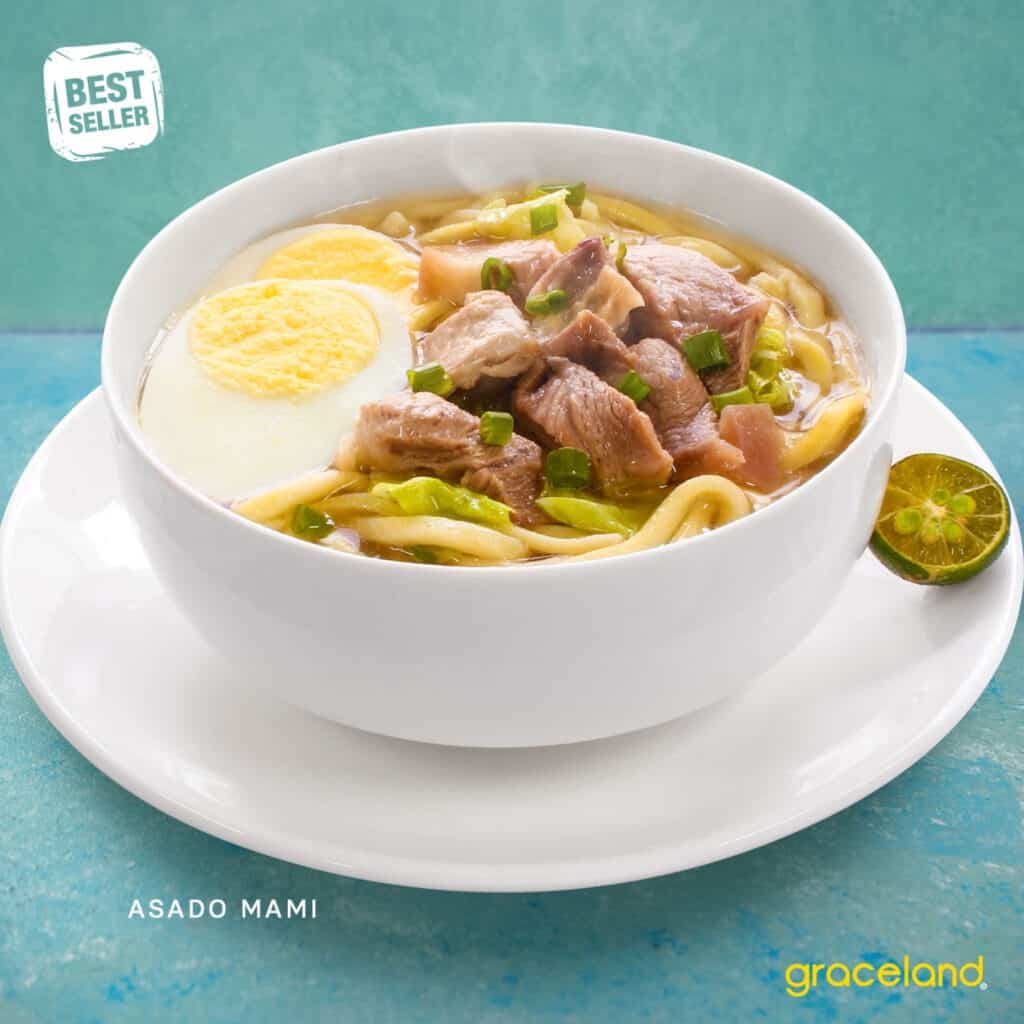 Asado mami is a sort of beef noodle soup with Filipino-Chinese roots. This dish uses simple egg noodles, eggs, and other toppings that are also soaked in the hot, fragrant beef stock. The main ingredient that this dish uses is the soft beef brisket, which gives the dish even more flavor.
Graceland Cakes Menu
These Graceland cakes are guaranteed to be made by the best artisans in all of Bicol. These were created with flour, sugar, and other ingredients that are typically baked in an oven. Cakes were originally bred as modifications, but they presently encompass a broad variety of dishes.
Breads
The bread from Graceland has played a significant role in the Bicolanos' diet. They offer three special loaves of bread; Ham Cordon Loaf, Ube Royale, and Happy Choco, which the locals absolutely love! Their bread is not as simple as the popular pandesal, each of them is uniquely flavored. But the best part of all of this is that these tasty bread are also reasonably priced.
Pastries
The dishes on this menu are composed of baked food that was made with a dough of flour, water, and savory or sweetened shortenings. Graceland's pastries are all sweet, baked treats that were made with the mixtures mentioned above and filled with cream to enhance their tastes even more.
Meat Lovers
These dishes that make up this Meat Lover menu of Graceland are composed of traditional Filipino meat dishes that locals love like; pork steak, pinoy adobo, and more. Aside from their taste, these dishes are also very affordable.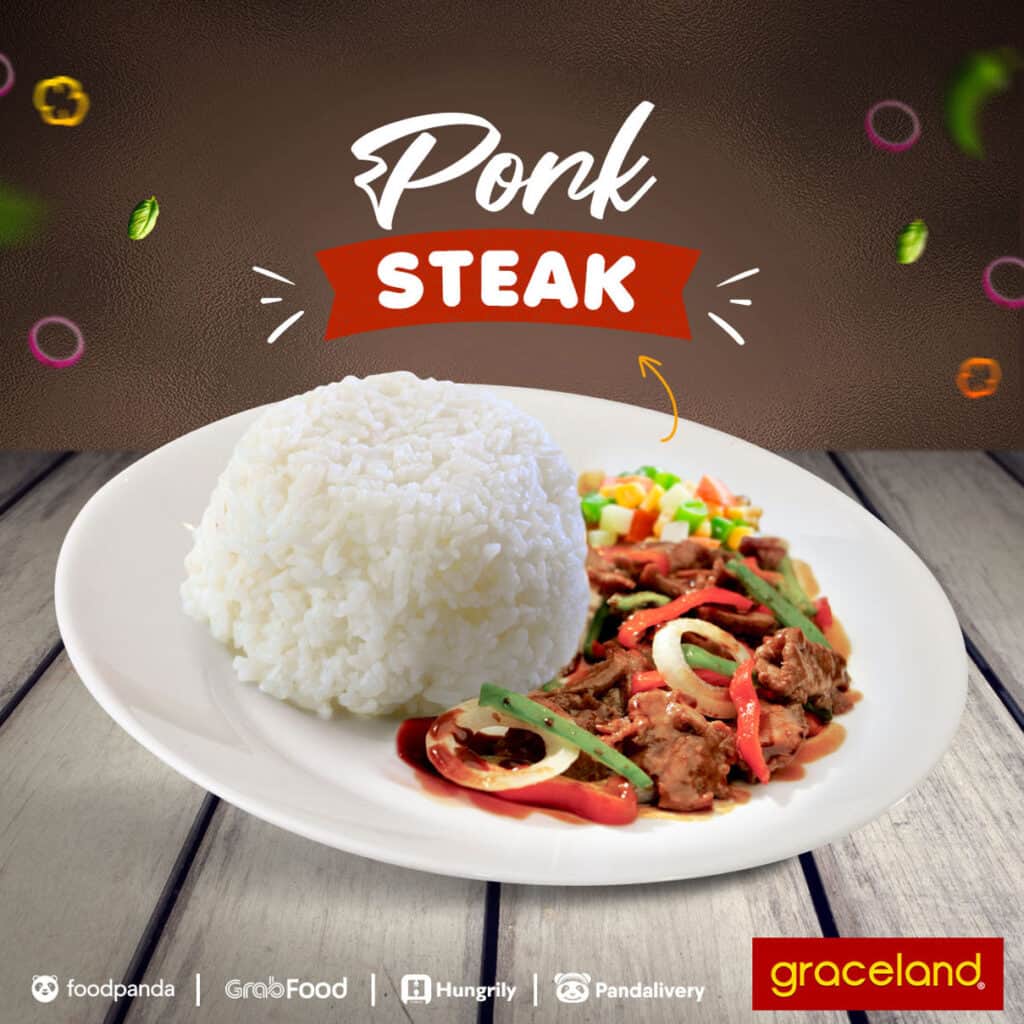 Barkada Treats
The Barkada treats of Graceland were made for guests who come into their store with a bunch of people. Each food bundle is composed mostly of Filipino dishes but the main point of this menu is for barkadas that come to Graceland would enjoy their meal and also pay less than individual orders.
Group Treats
Graceland's group treats mainly noodle dishes and pasta. However, they also serve other meat dishes from their original recipes. The main purpose of this menu is to allow customers who come in groups to still enjoy a variety of foods while paying less.
Graceland Menu Delivery
Graceland also offers every dish that is on its menu for delivery. Ordering from home is made convenient with the help of GrabFood and FoodPanda applications. To order from Graceland's menu, just download one of the said applications and search for their online store from inside the app.
Talk to Graceland PH Staff
For more information about the current news about Graceland, you can send them a message through their social media pages. Not only they are promoting their products but also they're offering other opportunities for their services. They have staff that will surely respond back to you. The links to their social media pages are provided below:
Facebook: https://www.facebook.com/graceland.ph
Instagram: https://www.instagram.com/graceland_bicol/
Email: [email protected]
Conclusion
Graceland is a well-known business that has developed into a number of businesses that Filipinos love. Out of the restaurants in the Bicol region, this one has by far the most gorgeous interiors. The restaurant is surrounded by inspirational phrases in frames of various sizes, as well as artificial fruits in frames that, due to their originality, will undoubtedly thrill your senses. The store's lighting is warm and comfy thanks to a variety of things.