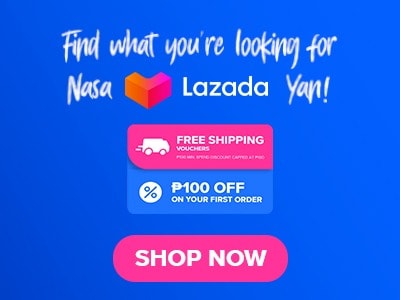 The Ducup menu consists of Korean dishes served in a cup. It offers rice combo meals, add-ons, topokki, and jaba kimchi. This small menu makes it easy for diners to easily choose the perfect Korean dish that will impress them. Each rice combo meal includes different authentic cuisines so you can conveniently have a full meal. The tagline of this restaurant is "Be Ready for Another Cup" as these dishes will boost your appetite and make you ask for more.
Menu Items
Price (PHP)

Rice Combo

Beef
169
Soy Pork
169
Spicy Pork
169
Soy Chicken
169
Spicy Chicken
169
Spicy Squid
169
Spicy Topokki
329
Rose Topokki
329
Spam & Egg Bowl
199
Korean Curry Bowl
199

Add-ons

Mandu
49
Korean Meatballs
49
Korean Skewers
49
Seaweed Roll
49
Japchae
49

Jaba Kimchi

Jaba Kimchi (280g)
99
Jaba Kimchi (460g)
159
About Ducup
Ducup is one of the brands under Foods Inc., a subsidiary company of Dujaba Inc. Ryan Bang and Tommy, his business partner founded this company last 2020. The authentic and flavorful dishes that this restaurant offers, the love of Filipinos for Korean cuisine, and the influence of Ryan Bang and other celebrities, vloggers, and influencers make it popular.
Ducup Rice Combo Menu
The Rice Combo meals of Ducup consist of rice, Japchae, Korean skewers, and your choice of toppings. When these dishes are mixed, it creates a savory flavor and texture that will give you a unique and delicious meal.
Beef – Enjoy this best-selling rice bowl of Ducup that consists of flavorful and tender beef. The aroma, texture, and flavor of beef combine well with rice and other toppings. It is one of the dishes that you should try as its delicious taste will boost your appetite. Garnish it with your choice of sauce to make it more delightful.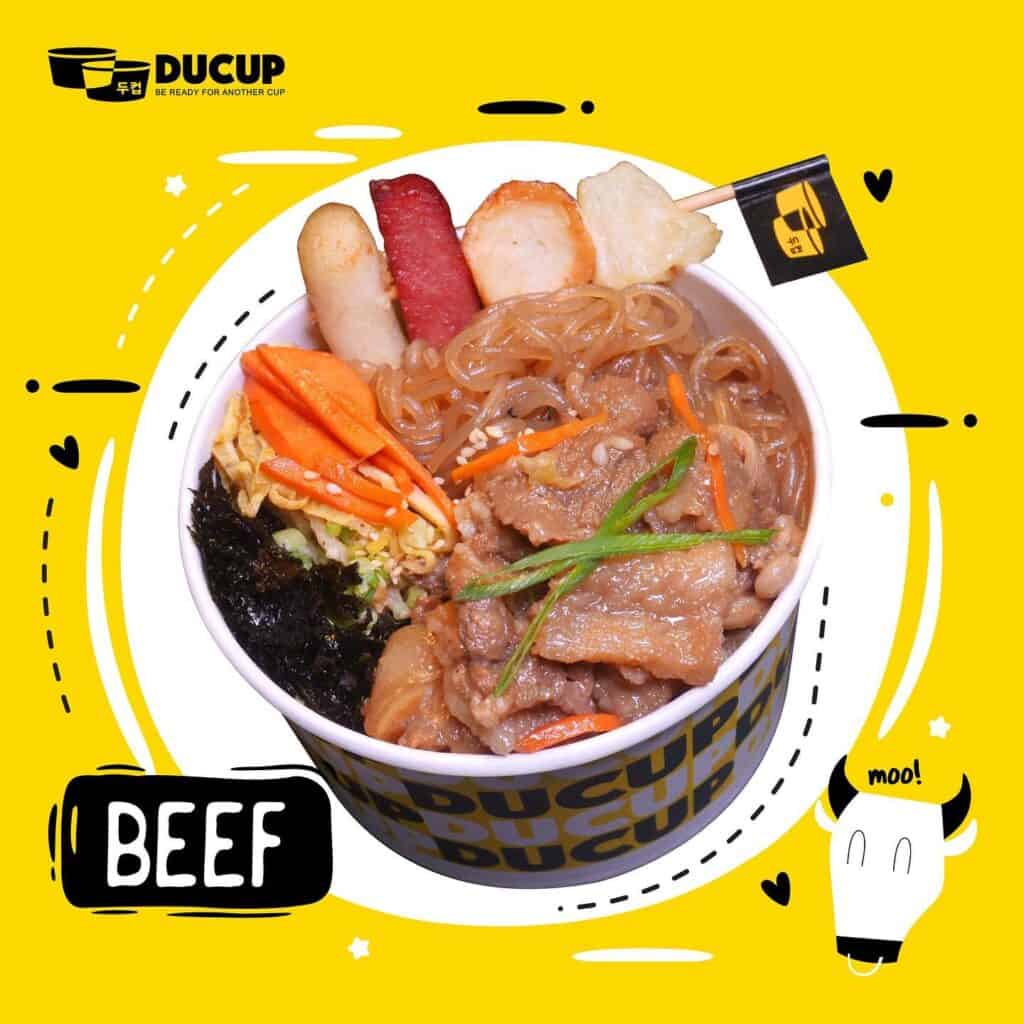 Spicy Pork – Pork is cooked in a special spicy sauce that gives a vibrant color to its dish. The juicy and tender meat and its spicy flavor will make you crave more. It is drizzled with the restaurant's special Gochujang sauce.
Spicy Chicken – Spice up your meal with the spicy rice bowl of the Ducup menu. The red-orange color of the chicken chunks shows the spice level of this dish. This special topping is perfect for those who want an exciting and appetizing meal.
Soy Pork – The restaurant's special blend of soy sauce is used to braise tender slices of pork. Diners enjoy its savory goodness making it one of the most-sought rice bowls in this restaurant.
Soy Chicken – This is a perfect dish for those who are not a fan of spicy dishes. It will surely satisfy your cravings making you ask for more. If you want a chicken dish that does not have a spicy kick, this one is for you. A soy chicken rice bowl is also great for kids as it has a delicious and comforting taste.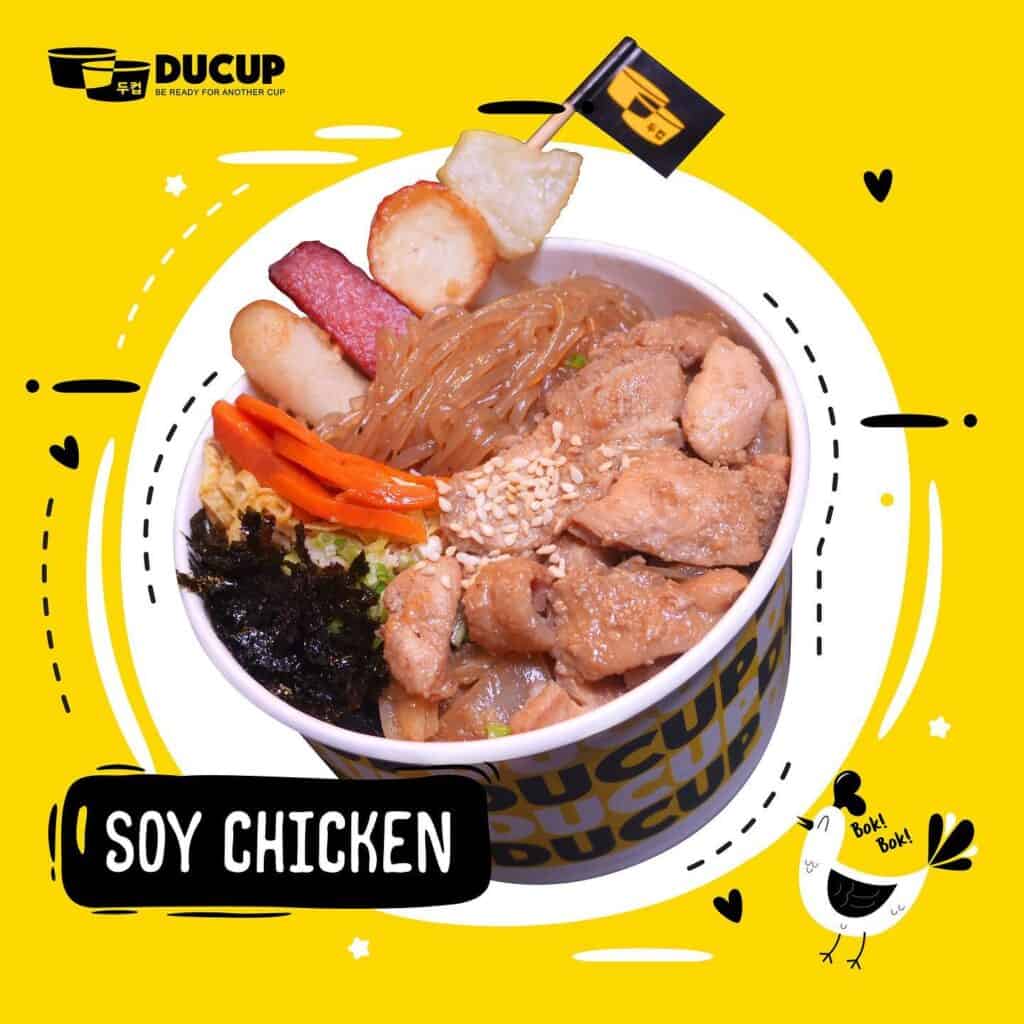 Spicy Squid – Squid is one of the seafood that is commonly seen in restaurant as it is abundant in the Philippines. This meal is created for those who love seafood and spicy dishes. It also contains essential nutrients that are good for the body.
Spicy Topokki – Topokki is a well-known food that is commonly sold on the streets of Korea. It is a rice cake in Korea that is loved for its spicy and rich flavors. Each bite has a satisfying effect as it has appetizing flavors and textures. This is one of the Korean cuisines that will surely be added to the list of your favorite dishes.
Rose Topokki – Korean rice cake is cooked in an authentic rose sauce that has a spicy, sweet, and creamy taste. The balance of spicy sauce and the creamy goodness of cheese makes it delicious. This milder version of the original spicy toppoki is ideal for people who want a mild spicy flavor.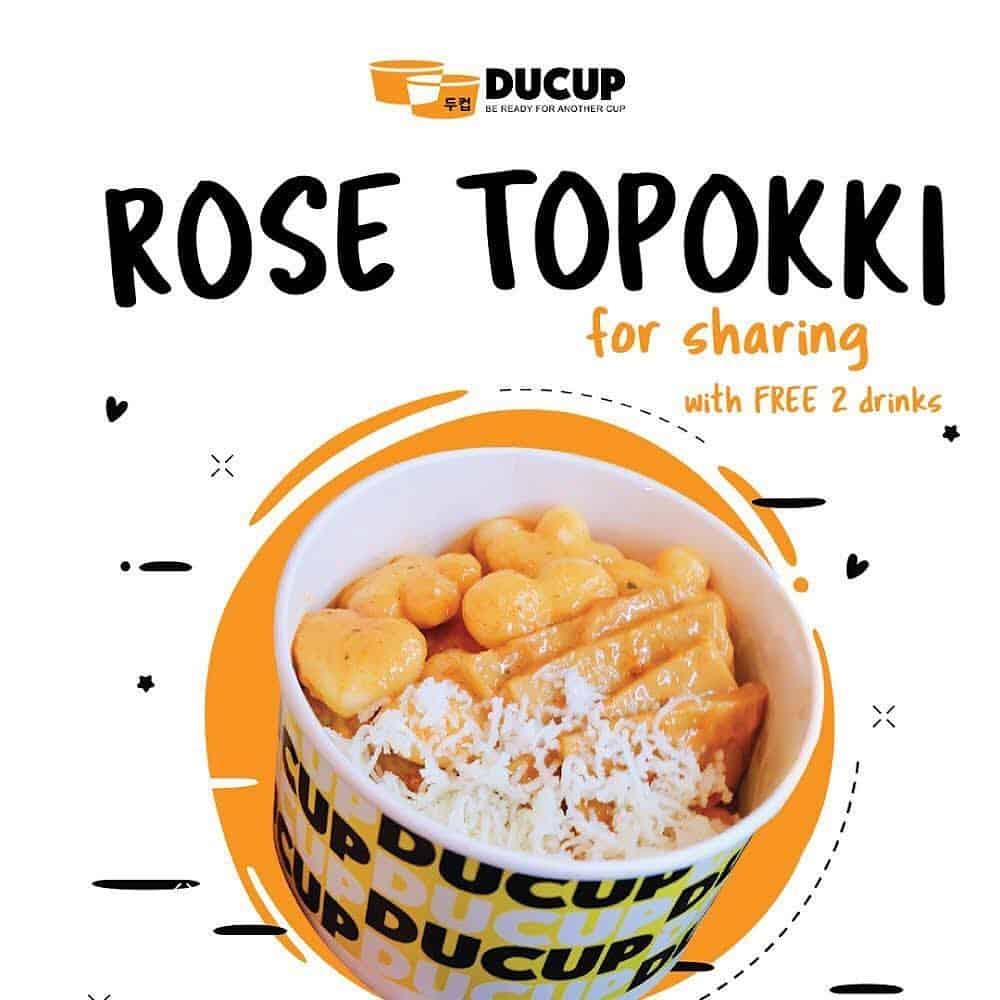 Add-Ons
These are the Korean dishes that you can add to your Ducup rice bowl. With these add-ons, you will be able to customize your meal and make your dining experience more enjoyable.
Mandu – It is a Korean dumpling where savory fillings are wrapped in a thin wrapper. The special fillings are expertly chosen to make it flavorful and tasty. Adding this dish to your favorite Ducup rice bowl will make it more enjoyable to eat.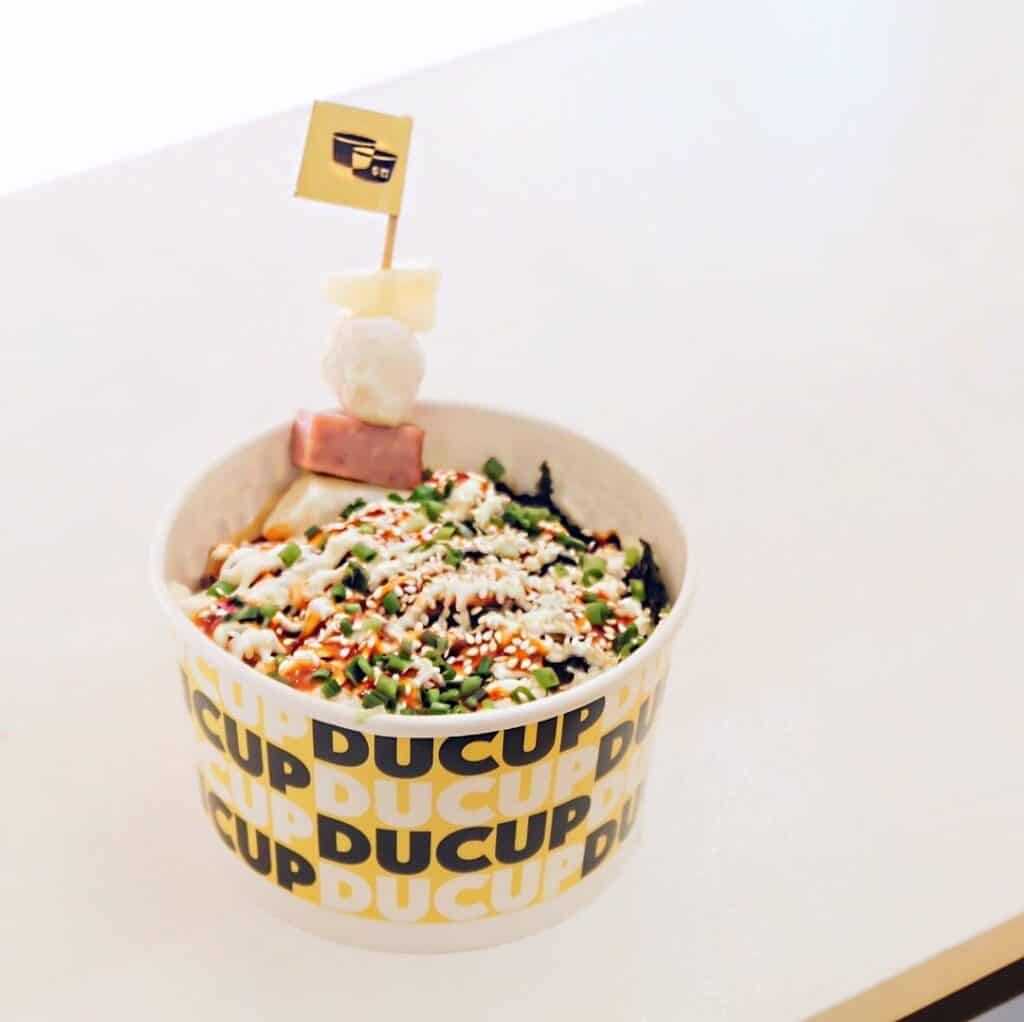 Korean Meatballs – Meat is finely chopped, shaped into a ball, and fried in this menu of Ducup. This will make your meal satisfying as these bite-sized meatballs are truly mouthwatering.
Korean Skewers – This skewer consists of rice cake, squid balls, smoked ham, and pineapples. The flavors of these dishes will increase your appetite which will make you enjoy your meal.
Seaweed Roll – Level up your meal with this extraordinary spring roll that is made up of deep-fried Korean seaweed. The distinctive flavor of its filling and the exciting texture of seaweed are the features of this dish that tickles the sense of taste of people.
Japchae – A Korean dish where classic glass noodles are cooked in a savory sauce and special ingredients. It is a well-loved cuisine that is unique and has an irresistible taste.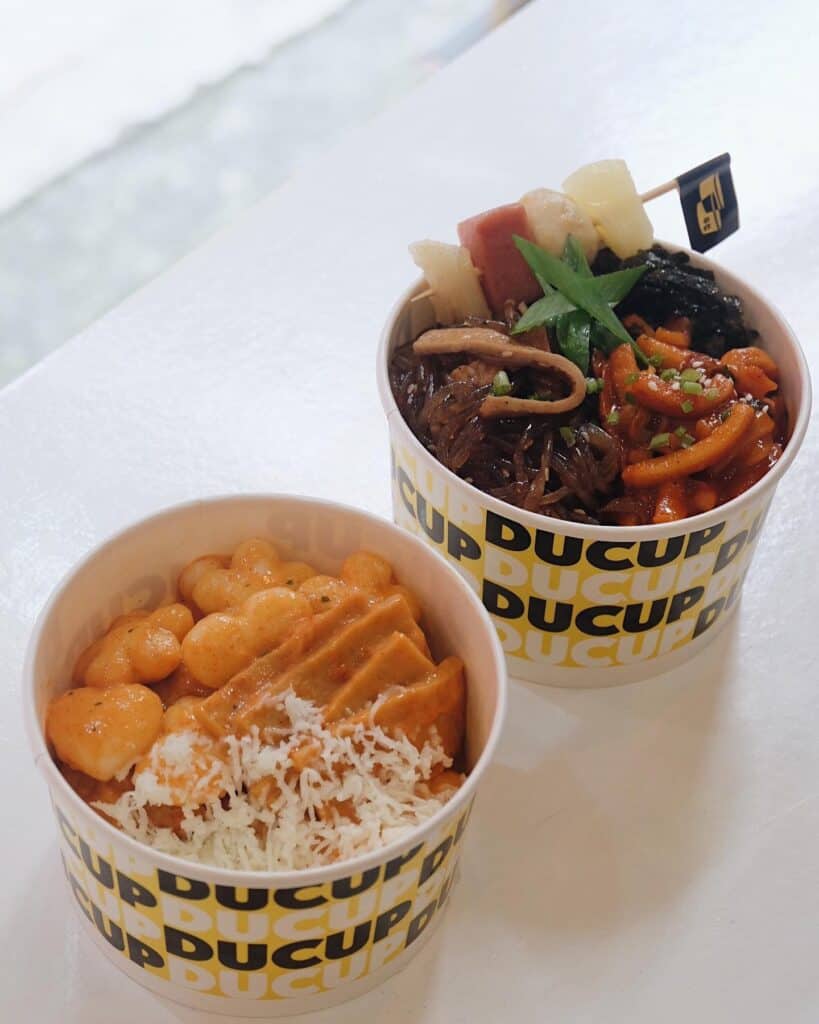 Ducup Jamba Kimchi Menu
Jaba Kimchi is a Korean dish made up of spicy pickled cabbage that is fermented to your pleasure. This Jamba Kimchi is available in two sizes and can be purchased in all Ducup stores and on their partner online delivery platforms.
Jaba Kimchi (260g) – This is a small-size Jaba Kimchi that is ideal for those who are trying kimchi for the first time. You can add it to your favorite Ducup rice bowl to make it more flavorful.
Jaba Kimchi (460g) – A bigger size of Jaba Kimchi is great for those who love it and use it often. There are many ways to enjoy this Jaba Kimchi making it a versatile dish. It can be paired with other cuisines as its taste and texture will surely go well with them.
Ducup Menu Delivery
You can now order your preferred Ducup food online by using GrabFood, FoodPanda, or SM Malls Online. If these websites aren't available in your area, don't worry because you can always call the nearest Ducup branch using their phone number posted on their social media accounts.
Social Media Pages
To stay updated on their latest menu items, events, and promotions, make sure to follow them on social media. By following Ducup on social media, you'll be the first to know about any exciting news or special deals, and you'll get a behind-the-scenes look at their kitchen and the team behind the delicious food.
Facebook: https://facebook.com/ducupmnl/
Instagram: https://instagram.com/ducupmnl/
Twitter: https://twitter.com/ducupmnl
Conclusion
Ducup menu provides a full meal in a cup so you can enjoy it anytime anywhere. This restaurant is great for Korean food lovers as it offers authentic meals. It also offers a Jaba Kimchi that you can eat along with your favorite rice combo meal. This Jaba Kimchi is a perfect gift that you can give to your loved one who is a fan of it. Ducup is available for franchise and it is a good investment as it has already a large community.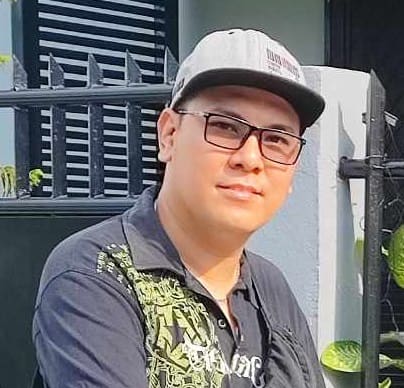 Hi! I'm Nivek Strife, the person who made MenuPH. I'm the one who added most of the popular menus you see on this website, and I really hope you enjoy them! Feel free to check them all out.
Growing up, I was surrounded by lots of tasty foods, like the classic Adobo and the sweet Leche Flan. That love for the many flavors of the Philippines is what got me excited about adding to MenuPH. When I learned how to make websites, I saw the need for a place to show off all the amazing Filipino dishes, and that's how MenuPH started.
MenuPH isn't just a website; it's like a fun journey into food. I've teamed up with famous chefs and found great places all over the Philippines to bring you a bunch of menus that show off the best of Filipino cuisine. Whether you're into the usual dishes or new twists, MenuPH is here to guide you through the rich world of Filipino flavors.
With MenuPH, my aim is to help local businesses, talk about good food choices, and make a group of friends who love food. No matter if you like fancy restaurants or street food, MenuPH has something for you. Come join me on this food adventure as we find great places, taste real flavors, and enjoy the unique food traditions that make the Philippines awesome.