Are you tired of every typical fast food restaurant and still looking for something that can truly satisfy your tastebuds? Have you found yourself craving steak pasta and salads and other special meal and wanted to bring family or special someone to that specific place but don't know where to go? No worries I got you. Savor the satisfying foods from the Mamou menu, this family-style restaurant only offers good quality foods for a reasonable price. I'm pretty sure you'll enjoy dining in their restaurant, and maybe they'll be your new favorite place the moment you try their food. Let's get started to know them even more, I bet you'll get interested in their foods and that for sure. Let's go.
Below, you'll find the updated list of the Mamou menu prices.
Menu Items
Price (PHP)

Appetizer

Stracciatella
595
Mamou's bacon steak
175
Palm spring rolls
275
Tofu and smoked fish spring rolls
275
Barcia strips
275
Fish fingers with grilled vegetable dip
275
Truffle flavored vegetable mushroom dip with whole wheat melba chips
275
Cracked chips with fuet and honey
325

Soup

Vegetable mushroom and barley soup
265
Orange camote cream soup
265
Hearty lentil soup
265
Mamou mami
295

Salad

Healdsburg harvest
425
Soft shell crab salad
495
Caesar salad
425
Mamou's green
385

Pasta

Lorenzo's truffle cream
425
Mamou's linguine vongole
395
Spaghettini al olio with labuyo flakes
345
Mario bottarga al olio
455
Lola fem's birthday spaghetti
325
Linguine al nero
395
Pasta andrada bolognese
425
Pasta cipolla
425
Pasta stracciatella
425
Lobster linguine (red/white)
1860

Sandwiches

Mamou's shroom burger
495
Dry aged burger
585
Roast beef sandwich
425
Lobster roll
595

Vegetarian

Vegetarian adobo with pickled ubod
295
Grilled vegetable stew
395

Meat

Angus rib eye USDA prime grade steak
2790
Dry aged USDA prime grade bone-in ribeye steak
4990
28 day dey aged USDA prime grade t-bone steak 700g
4590
28 day dry aged USDA prime grade porterhouse steak 1kg
5990
Wawa's prime rib 250g
1650
Wawa's prime rib 400g
2550
Lamb chops 600g
1990
Cordero
1990
Wagyu rib cap
4220
Roast pork and chicken regular
395
Roast pork and chicken to share
685
Kurubota sinigang
625
Lamb tapa
425
Duck adobo flakes
425
Venison curry
455
Alex's fried chicken
345

Seafood

Steamed sea based
895
Salmon steak
745
Spicy sweet tuyo
375
Maine lobster tails
995
Beer battered fish with malt vinegar
495

Dessert

Crispy milk
295
Dark chocolate sansrival
225
Keylime pie with schlagsahne
255
Pecan pie with schlagnahne
295
New york cheese cake
345
Crepe de lou
155
About Mamou
Mamou restaurant was established in 2011, their first location is in Fort Bonifacio heights, Taguig City. This restaurant is a family-style restaurant and is pretty popular. The menu that they offer is inspired by international cuisine and carefully created with homemade ingredients.
They got the name of this restaurant from a family member Ms.Malou Montano-Fores. Her nephew cannot pronounce correctly her name instead of Malou he kept on calling her Mamou and there started the beginning of history. With their concept of home kitchen food, Mamou only offers food that they will serve with their family.
Their delicious dishes made them popular and make their customers regular dinners. Their steak is one of the best on their menu. They offer good quality steaks, salads, pasta, and many more. Their place is not the typical big restaurant, actually, they can only cater 40-50 dinners but the place is cozy and amazing and for sure you'll enjoy eating comfortably.
Best Food to Get on Mamou Menu
Here is a list of some of their best food that you should try if you happen to go to their restaurant. This can also serve as a guide for you since all of the food on the list are really satisfying and delicious.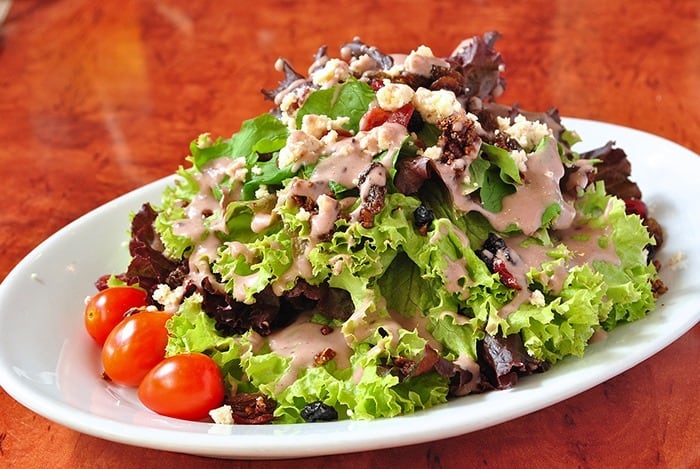 Healdsburg's Harvest – A good starter before the main course. This lovely salad is super satisfying. fresh and wholesome ingredients, I was really surprised about this salad, it is so good I finished it and left nothing for my friend haha. This salad is truly a winner. Cranberries, Pecan, and cheese over lettuce (I just can't remember if it's romaine or iceberg sorry) tossed with berry vinaigrette. This is really Perfect with steak as it will compliment its richness of it. A must-try salad but actually, this is their most recommended salad on their menu.
Lorenzo's Truffle Cream – This Mamou menu is so good you'll order this every time you go on their restaurant and that's for sure. The noodles are always al dente. The richness of parmesan cheese, cream, and truffle oil combined and you have the perfect pasta. I'm not into white sauce pasta but this pasta dish made me change my mind. I can actually finish 2 orders for this and I know you will as soon as you try their truffle cream pasta. One of my favorites on their menu and a must-try for new customers.
Pasta Andrada Bolognese – It looks like a typical spaghetti with red sauce but dang this is much better. Perfectly cooked pasta tossed with a rich and flavorful sauce. This I will recommend for those who are not a fan of white sauce and loves Italian-style pasta. Very flavorful. I enjoyed and love this one but nothing beats Lorenzo's truffle cream pasta sorry. (Just my opinion, I know we have different tastes) also, a must-try.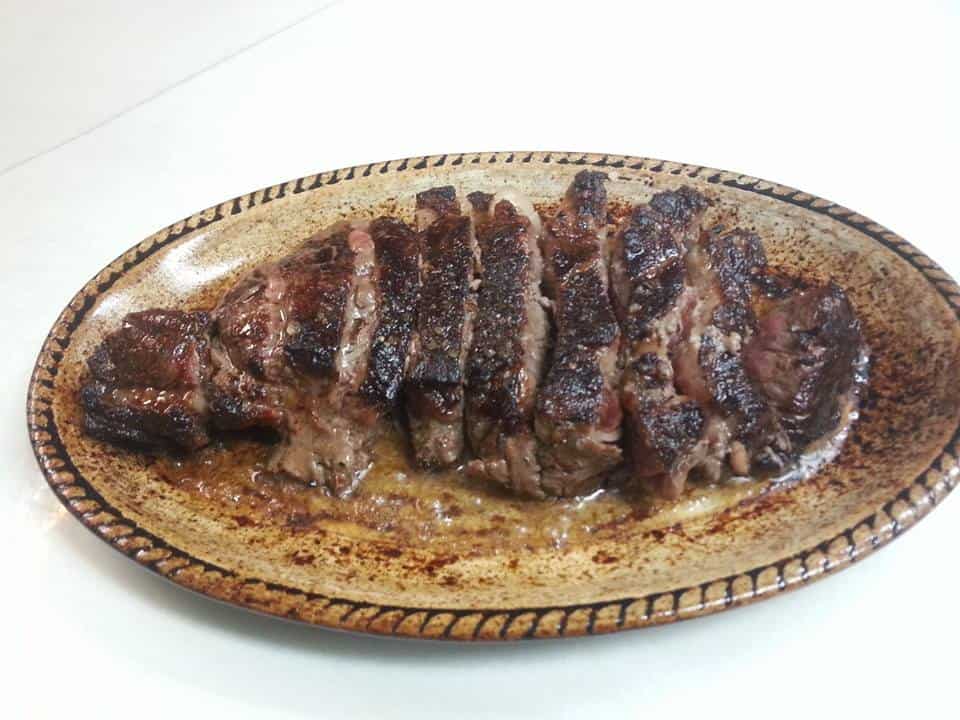 Angus Ribeye USDA Prime Grade Steak – This is perfection. Yes really. The richness of the steak in this Mamou menu is very flavorful. Though I want it medium well since I'm not a fan of the medium. Very juicy steak. My favorite actually. It also comes with two servings of complimentary side dishes which are steak rice and broccoli with cheese. Steak rice is a bomb but I choose broccoli with cheese. I highly recommended this steak for groupies you'll never go wrong with this one for sure.
Wagyu Rib Cap – A very satisfying meal. This wagyu rib cap of Mamou can be served in four different ways. Garlic, Butteryaki, mustard, and salt and pepper. I like garlic and butter yaki more than the other two flavors. Very tender and flavorful meat. Perfect with steak rice. What's best about this wagyu rib cap is The meat is effortlessly tender. Not dry and very savory. Highly recommended and also a must try.
Mamou Menu Angus Ribeye Steak
This perfect steak could be served in a single or share. Single-serve price is 1950php and for to share it's 3490php. Steak is very tender and savory, you'll never regret trying this one. This is actually the most popular steak that they offer on their menu and also most recommended. You'll get to choose how they prepare the steak for you whether it's medium or well done. And it comes with two complimentary sides which are steak rice and broccoli cheese.
Mamou Menu Dry Aged Steak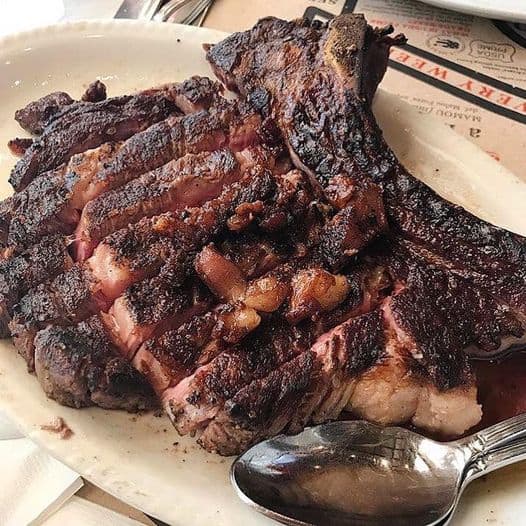 Enjoy 14oz Momous 28-day dry-aged USDA prime grade T-bone steak. For a very reasonable price of almost 2400php, you'll get to enjoy this masterpiece of succulent flavors. No words can express the satisfaction of this meal. Reliable and very consistent home Filipino cooking. Big serving as well and it is usually enough.
Mamou Menu Delivery
If you are craving some pasta and steak Mamou is accepting online orders so you don't have to go out of your house and enjoy their best meals in the comfort of your home. To order you can call their branch at
Mamou (The Podium) – 09175062668
Mamou 3.0 (Ayala Ortigas) – 09178662668
Mamou (BGC) – 09178162668
Though They offer this for pick-up only you can try ordering thru third-party delivery services like Food Panda and Grab Foods for an easier choice.
Talk to Mamou Philippines Staff
Do you have comments or suggestions and wanted to reach out to the Mamou Philippines staff? In that case, you should send them your concerns on their social media account or by sending them an email.
Facebook: https://www.facebook.com/mamouahomekitchen/
Instagram: https://www.instagram.com/mymamou/
Twitter: https://twitter.com/mymamou/
Email: eat@mymamou.com
FAQs
Who is the owner of Mamou?
Chef Malou Fores is the owner of Mamou restaurant.
What cuisine is Mamou?
Mostly western and European cuisine.
Who is Mamou?
Mamou is no other than Maou Fores the owner. The name of the restaurant Mamou means Malou. It's because her nephew cannot pronounce her name correctly.
Conclusion
Best place to go if you're looking for a good steak. The place is cozy and customer friendly and the staffs are very polite and welcoming. You'll never be wrong going to this restaurant. Servings of food on the Mamou menu are okay, foods are fantastic very delicious, especially their steaks. Highly recommended for those who love pasta, salad, and steak.