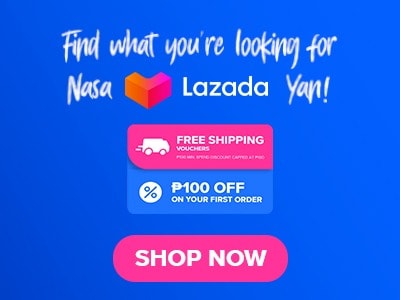 Are you craving some delicious pizza nowadays but already fed up with the usual brands that you can find in the market these days? Or are you looking for the perfect place to go whenever you are craving some pizza? Great news since I found an interesting one that might catch your attention. A new breed of pizza chain that you can find in our country. Have you heard about Angels Pizza? If not then please have time to read this article, I'm pretty sure after this article maybe you will consider trying their food items. The Angels Pizza menu offers unique pizzas and a variety of pasta and desserts. This new pizza brand is exciting and interesting at the same time since they are still in process of innovation to make their pizza really good and to compete with the giant known brands, their food items are also affordable but without compromising the quality. Let's take a quick look at their company and the food items that they can offer. How they started, some of the important facts about them to get to know them better. So much for a long introduction let's start now.
Below, you'll find the updated list of Angels Pizza menu prices.
Menu Items
Price (PHP)

Medium 9" Pizza

Angels pepperoni pizza
339
Garlic shrimp pizza
339
Garden of eden pizza
350
Pizza overload pizza
350
Creamy garlic and five cheese pizza
339
Angels supreme pizza
339
All meat pizza
339
Creamy spinach dip pizza
350
Angels on fire pizza
350
Buffalo chicken pizza
339
Angels aloha pizza
307
Chicken aloha pizza
350
Cheesy burger pizza
339

Family 12" Pizza

Angels pepperoni pizza
479
Garlic shrimp pizza
479
Garden of eden pizza
490
Pizza overload pizza
490
Creamy garlic and five cheese pizza
479
Angels supreme pizza
479
All meat pizza
479
Creamy spinach dip pizza
490
Angels on fire pizza
490
Buffalo chicken pizza
479
Angels aloha pizza
436
Chicken aloha pizza
490
Cheesy burger pizza
479

Big Family 14" Pizza

Angels pepperoni pizza
581
Garlic shrimp pizza
581
Garden of eden pizza
624
Pizza overload pizza
624
Creamy garlic and five cheese pizza
581
Angels supreme pizza
581
All meat pizza
581
Creamy spinach dip pizza
624
Angels on fire pizza
624
Buffalo chicken pizza
581
Angels aloha pizza
516
Chicken aloha pizza
624
Cheesy burger pizza
581

Desserts

Halohalo
99

Double Deal

Angels aloha double deal
750
Angels cheesy burger double deal
750
Garlic shrimp double deal
750
Garden of eden
750
Angels chicken aloha double deal
750
Angels all meat double deal
750
Angels supreme double deal
750
Angels on fire double deal
750
Pizza overload double deal
750
Angels pepperoni double deal
750
Creamy garlic and five cheese double deal
750
Creamy spinach dip double deal
750
Buffalo chicken double deal
750

Double Decker

Angels double cheesy melt
672

Combo Meals

Chicken nuggets with holy seasoned fries
165
1 pc chicken carbonara meal REGULAR
149
Angels bucket of 6 (serve with 4 rice & 1.5L coke)
699
Chicken bucket 6 pax
559
1 pc chicken and rice meal
115
2 pc chicken and rice meal
189
1 pc chicken and classic spaghetti meal
149
Breaded pork belly and rice meal
157

Pasta

Spaghetti platter with 8 pc bread sticks
299
Asian chicken pasta
109
Asian chicken pasta platter
349
Carbonara regular
99
Mac & cheese
109
Carbonara platter with 8 pc bread sticks
339
Classic spaghetti regular
89
Mac & cheese platter
339
Cheesy lasagna
159

Side Items

Parmesan chicken wings
229
Apple crumble turnover
50
Buffalo chicken wings
229
Brownies
92
Extra rice
15
Potato tots
59
Tacos
65
Bread stick 6 pcs
25
Chicken Nuggets 6 pcs
125
Honey glazed chicken wings
229
Holy seasoned fries
85

Calzone

Tuna
75
Bacon
75
Ham beef and mushroom
59

Drinks

1.5L coke
90
1.5L coke zero
90
Coke in can
50

Merchandise

APC Card
About Angels Pizza
Angel Pizza is a high-quality but affordable pizza. They started in 2009 by providing delicious pizza, a variety of pasta, desserts, and side dishes. Use fresh handmade dough and some pure tomato sauce. Unlike their competitors Angel Pizza win the hearts of Filipino customers thru their Buy one take one deal, they also have a lifetime membership card and that means you're allowed to buy their buy one take one deal forever.
Jerry Liu a Filipino Taiwanese businessman who founded Cirtek holdings is the current owner of Angels Pizza. He is also the owner of Figaro coffee and Tien Ma restaurant. As of today Angels Pizza has forty-plus branches in Luzon and Visayas and continuing its rapid growth amidst the pandemic. Angels pizza is actually one of the fastest-growing companies in the country.
Angels Pizza Menu Best Sellers
Though to be fair most of their food items are insanely good their best seller is their creamy spinach dip pizza. The cheesiness and creaminess of this pizza made it so popular even other pizza fanatics tried it and love it.
Aside from their creamy spinach dip pizza, you can also try their other pizza products like creamy garlic and five cheese pizza, Garlic shrimp, Angels on fire, Angel's aloha, and toppings so "bongga" which is an overloaded pizza with meaty goodness and vegetables.
Angels Pizza Promo
Angels Pizza is so generous that they have this double deal promo. This double deal promo is a permanent promo where you can order 2 big family-size pizzas sizes from 14 inches for only 750 pesos. That's really sulit, right? They also have this promo (one time only) that when you buy their angels pizza lifetime card you will get a free medium pizza when you buy a family-size pizza. They also offer a lot of discounts like 20 percent or 30 percent depending on the season, to be updated with these promotions all you have to do is to follow them on their social media accounts to be updated.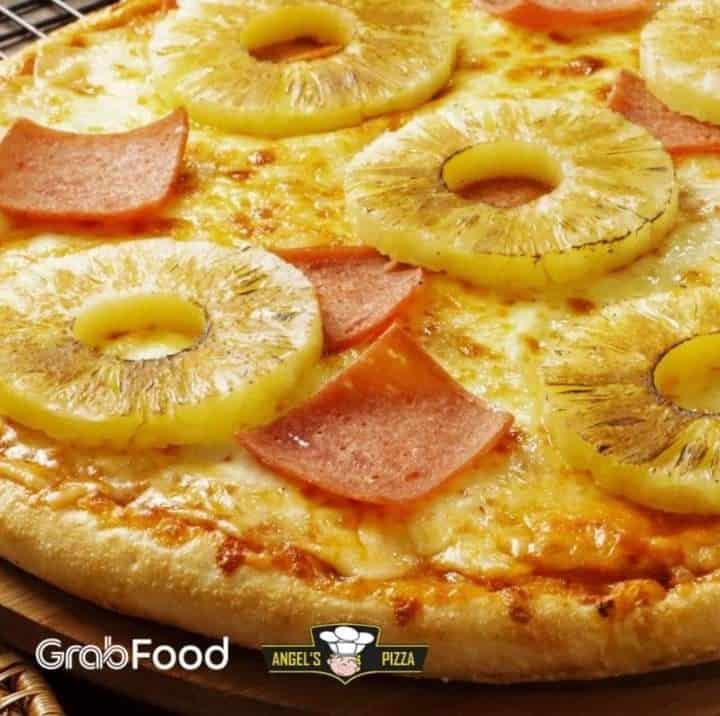 Most Popular Angels Pizza Menu Flavors
Here is the list of Angels Pizza's most popular menus that you can choose from. This can also serve as your guide on what to order if you are new to their menu items.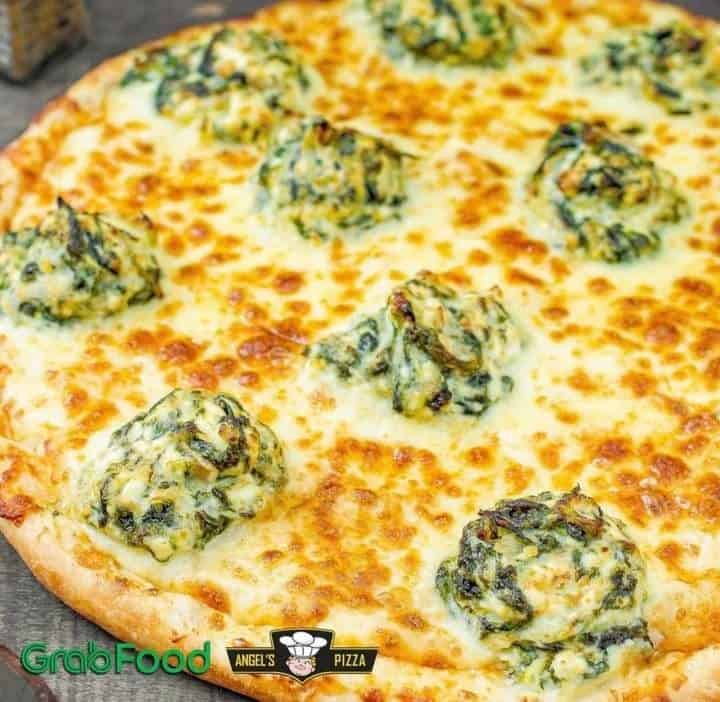 Creamy Spinach – This Angels pizza menu was introduced in 2018, the crust for this pizza is thin or the other way around which is the hand-tossed which is slightly thicker but not too thick. Creamy, savory, delicious, and everything are nice. This pizza is a must-try.
Overload – The overload pizza of Angels Pizza speaks for itself already. And by naming overload angels pizza make sure that the pizza that you will be getting is the most full-packed pizza that you will have. Perfect for pizza lovers who appreciate toppings more.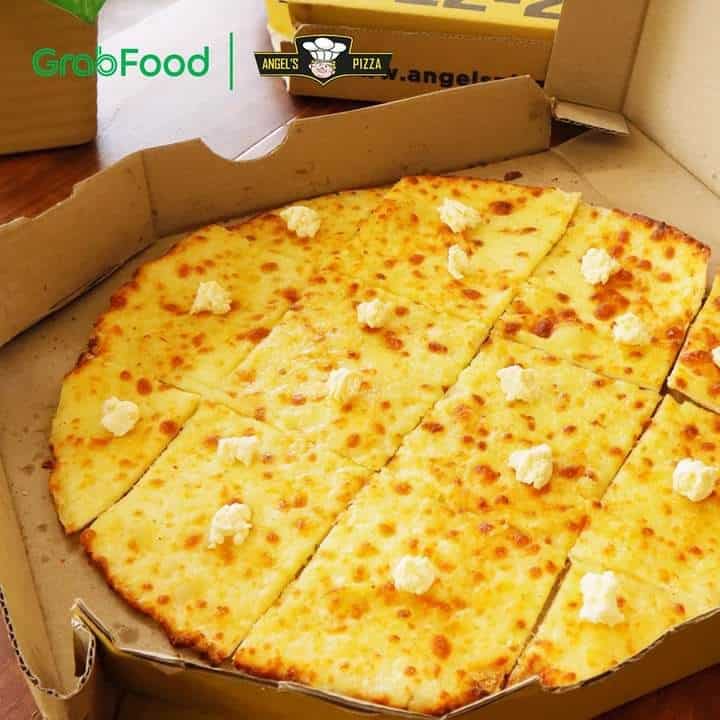 Creamy Garlic and Five Cheese – This creamy garlic and five cheese pizza has a little kick on the flavor because of the garlicky taste but is smooth and easy to appreciate. Perfect for cheese lovers out there who are still looking for a kick in every bite.
All Meat – The pizza for carnivores! I'm just kidding but this is the best Angels pizza menu for meat lovers, made special for their customers and loaded with a lot of meaty goodness, what's not to love with this pizza right? Recommended for meat lovers who love pizza and meat at the same time. Actually, this one is my personal favorite among their pizza flavors.
Chicken Aloha – Imagine pineapple in your pizza but Angels pizza way? That means delicious! For sure you will have a generous amount of ingredients and of course the barbecue flavor. It also has ham and bacon and mozzarella cheese. A masterpiece in a box of pizza. One of the must-try and recommend for people who love to see some pineapples on their pizza.
Social Media Pages
Do you want to reach out to their staff to tell your questions or suggestions? In that case, you can easily reach their team via social media pages:
Facebook: https://facebook.com/angelspizzaph/
Instagram: https://www.instagram.com/angelspizzaph/
Twitter: https://twitter.com/angelspizza/
Angels Pizza Menu Delivery
Having your Angels Pizza in the comfort of your home made it easy. Thanks to their delivery option you can now order your favorite pizza without going out. You can order online your favorite Angels Pizza simply by going to their website at https://angelspizza.com.ph/ or you can use third-party delivery services like Food Panda and Grab Foods.
Conclusion
Honest review, at first I admit that whenever I hear or saw them (Angels Pizza) the first thing that comes into my mind is a cheap pizza not until I tried their pizza once. After that, I started ordering their pizza one by one and now I'm already hooked. The great value for money the quality the taste is all there. It is hard not to love them, to be honest. The Angels Pizza menu consists of great pizza with affordable prices and good quality of service. I highly recommend this pizza chain, thumbs up!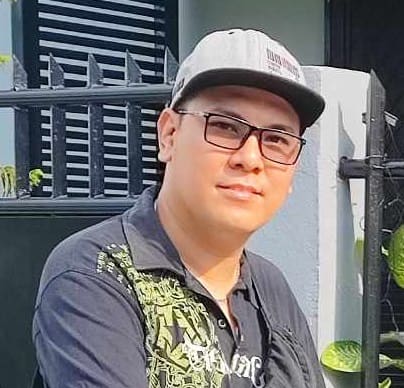 Hi! I'm Nivek Strife, the person who made MenuPH. I'm the one who added most of the popular menus you see on this website, and I really hope you enjoy them! Feel free to check them all out.
Growing up, I was surrounded by lots of tasty foods, like the classic Adobo and the sweet Leche Flan. That love for the many flavors of the Philippines is what got me excited about adding to MenuPH. When I learned how to make websites, I saw the need for a place to show off all the amazing Filipino dishes, and that's how MenuPH started.
MenuPH isn't just a website; it's like a fun journey into food. I've teamed up with famous chefs and found great places all over the Philippines to bring you a bunch of menus that show off the best of Filipino cuisine. Whether you're into the usual dishes or new twists, MenuPH is here to guide you through the rich world of Filipino flavors.
With MenuPH, my aim is to help local businesses, talk about good food choices, and make a group of friends who love food. No matter if you like fancy restaurants or street food, MenuPH has something for you. Come join me on this food adventure as we find great places, taste real flavors, and enjoy the unique food traditions that make the Philippines awesome.