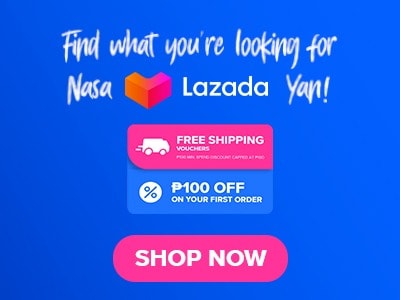 Are you ready to unravel a new experience filled with awesome Japanese culinary dining? Well, today is all about greatness and taste as we savor the finest collection brought to you by this recommended restaurant that highlights authenticity and greatness. Introducing Zensho! Your next Japanese go-to restaurant will surely transport you to the finest flavors of Japan. Here is the Zensho menu collection that they offer.
Menu Items
Price (PHP)

Salad

Kani Kuri Salad

Sashimi

Assorted/ Mixed
Tuna
Salmon
Blue Marlin
Tamago
Egg
Kani
Crabstick

Sushi

Assorted/ Mixed
Tuna
Salmon
Ebiko Roll
California Maki
Grilled Salmon
Futomaki
Salmon Skin
Spicy Tuna
Crispy California Maki
Tamago
Egg

Temaki

California Sarada
Tuna
Salmon
Blue Marlin
Salmon Skin
Spicy Tuna
Tamago
Egg

Appetizer

Agedashi Tofu
Yaki Gyoza
Buttered Shitake
Nasu Robatayaki
Eggplant
Nasu Agedashi
Eggplant
Hiyayako
Chilled tofu
Crab Stick Roll w/ Wasabe Mayo
Creamy Crab Croquettes

House Specialties

Pacific Special
Oyster Motoyaki

Soup

Miso Shirin Soup
Yasai Soup

Robatayaki - Shioyaki

Yakiniku
Beef slices
Yakitori
Barbequed chicken meat
Chicken Wings
Rebaa Yaki
Chicken Liver
Motsu Yaki
Gizzard
Butabara
Pork chops
Grilled Squid
Tai No Shioyaki
Grilled fish

Robatayaki - Teriyaki

Chicken Teriyaki
Beef Teriyaki
Pork Ribs Teriyaki
Cuttlefish Teriyaki
Fish Teriyaki
Salmon Head Kabutoni

Robatayaki - Barbeque

Tenderized Marinated Pork Belly
Marinated Sliced Beef Short Ribs
Marinated Chicken

Teppanyaki

U.S. Steak
Sukiyaki Steak
Pork Tenderloin
Chicken Teppanyaki
Oysters Teppanyaki
Tofu Steak
Fish Fillet
Cuttlefish
Beansprouts
Yasai Moriawase
Mixed vegetables
Misono Assortment

Curry

Beef Curry
Chicken Curry
Seafood Curry

Tempura

Ebi 3pcs
Ebi 5pcs
Kakiage Mixed vegetables, 4pcs
Kakiage Mixed vegetables, 8pcs
Ebi Kakiage Mixed chopped shrimp & vegetables
Kisu Fish 3pcs
Kisu Fish 5pcs
Ika Squid ring 3pcs
Ika Squid ring 5pcs
Satsumaimo Sweet potato 4pcs
Mixed Tempura

Furai

Tonkatsu Pork
Torikatsu Chicken
Tori Karaage
Khaki Furai
Tofu Furai
Sakana Furai Fish
Satsumaimo Sweet potato

Menrui (Noodles)

Nabeyaki Udon
Tempura Udon
Tori Udon
Niku Udon
Cha Soba
Yaki Udon
Yaki Soba Fresh
Ten Zaru Soba
Zaru Soba Cold

Nabemono (Hot Pot)

Sukiyaki
Shabu-Shabu
Shiromi Sakana White fish fillet

Yakimeshi

Mixed Fried Rice
Garlic Rice
Vegetable Rice
Beef Fried Rice
Chicken Rice
Seafood Rice
Kimchi Fried Rice
Curry Fried Rice
Steamed Rice
About
Zensho is your next perfect destination for flavorful Japanese dining that will bring you the authentic and the finest flavors of Japan. I am sure you will be delighted with this haven for Japanese enthusiasts. It allows you to unravel the magnifying goodness of the world of authentic Japanese cuisine filled with a long list of temaki, sashimi, Robatayaki, Teppanyaki and so much more.
Zensho Menu Best Sellers
Spice up your Zensho experience by bringing these best sellers to your table. You will definitely be delighted with this collection that highlights outstanding textures and amazing flavors that will leave a mark on your entire Japanese dining experience.
Oyster Motoyaki – Bring the light to your day with this savory Japanese delicacy. This Oyster Motoyaki features plumpy, fresh oysters that are baked in a creamy sauce with a slight hint of spicy sauce.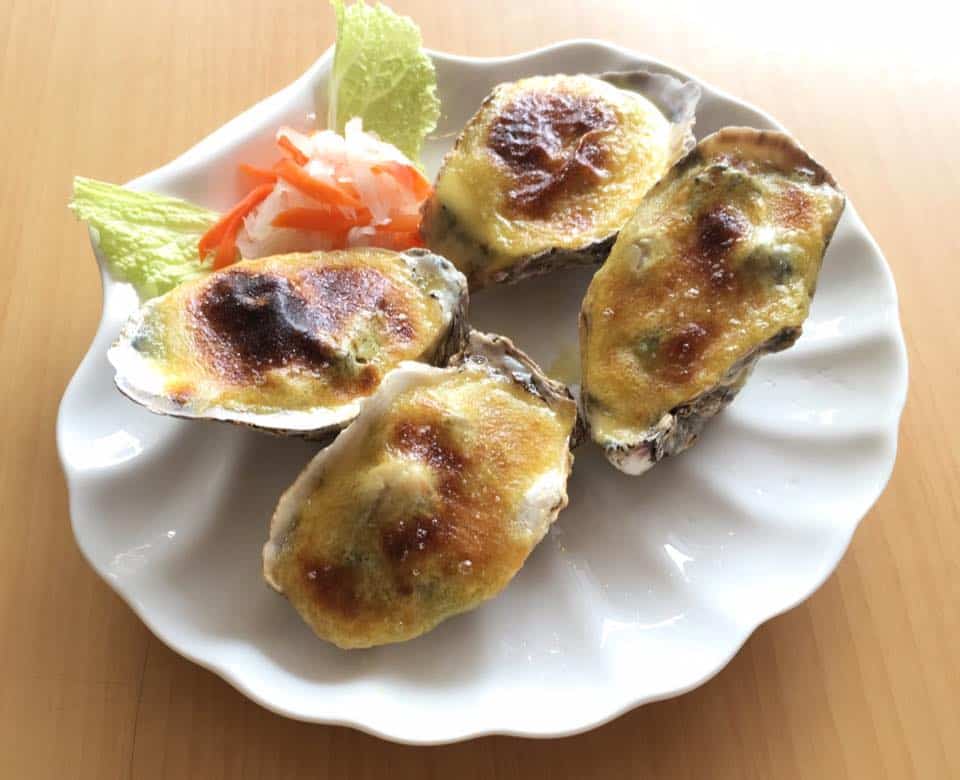 Tenderized Marinated Pork Belly – A succulent and melt-in-mouth pork belly is here to serve you a juicy bite that is marinated to utmost perfection. The meat is perfectly tenderized giving you a delightfully seasoned meat.
Yakiniku – Next on the list is this iconic Japanese barbeque dish that highlights thinly sliced meat slices giving you an ultimate juiciness you never had before.
Nabeyaki Udon – This hotpot menu of Zensho allows you to indulge in thick and chewy noodles that are served in a flavorful broth. It features an assortment of ingredients such as medleys of vegetables that elevate the dish to a higher level.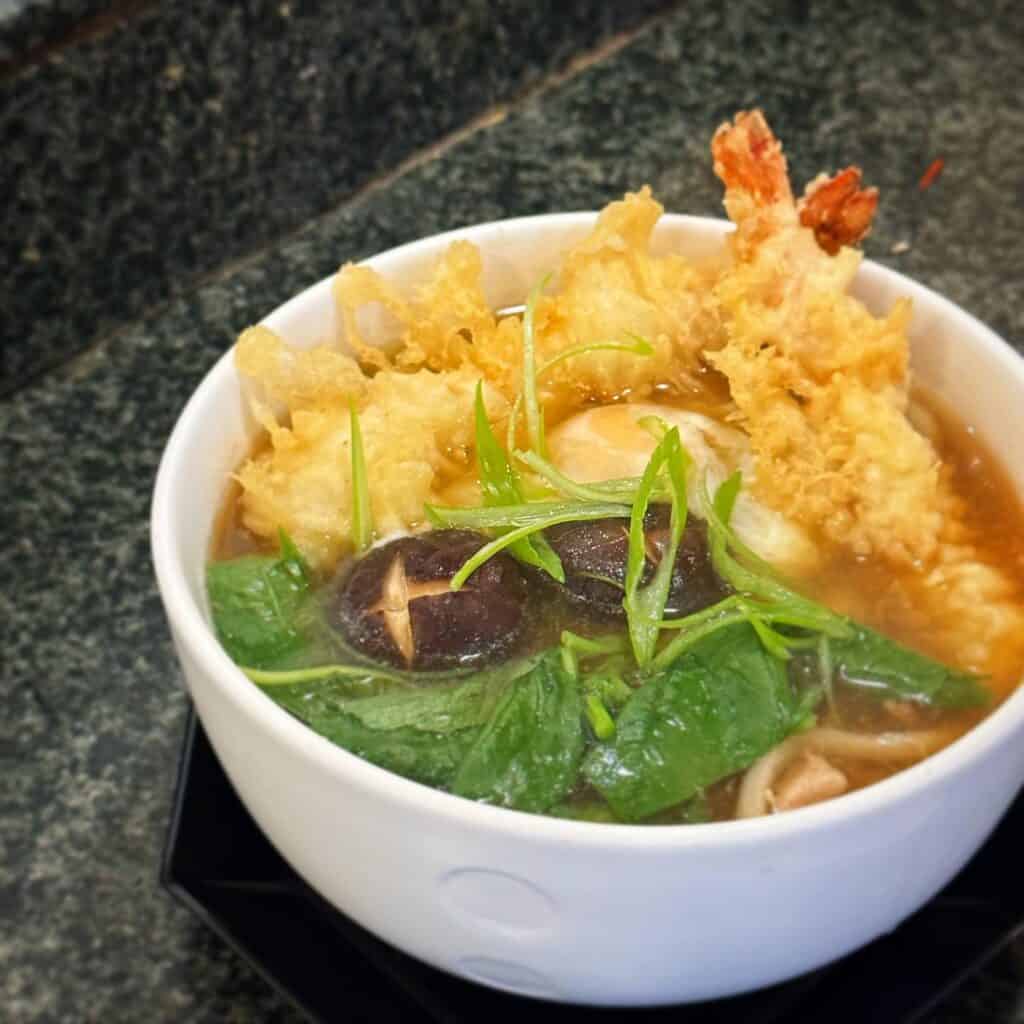 Oysters Teppanyaki – Don't miss this must-try oyster teppanyaki that allows you to experience a new savorful journey featuring a teppanyaki grill with a variety of seasoning and delicious toppings.
Robatayaki – Shioyaki
Savor the flavorful Japanese grilling that features skewered delights that are perfectly grilled in slow and finest process. This selection specifically caters to everyone who loves seasoned meat featuring its juicy and chewy textures.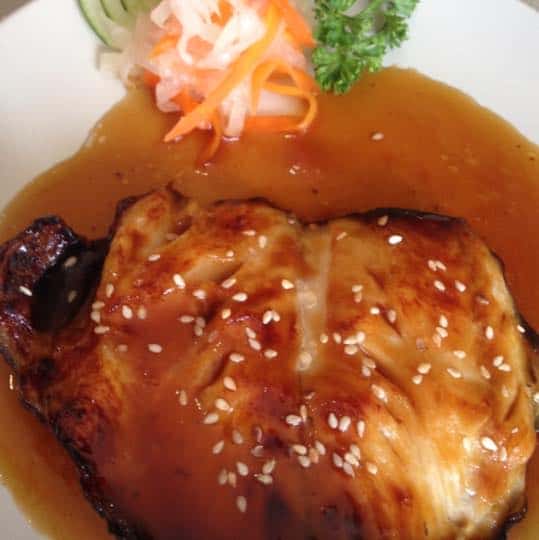 Yakitori – Start with this Zensho menu in the iconic Yakitori which features bite-sized pieces of chicken pieces that are delightfully skewered and grilled to an open flame.
Grilled Squid – This grilled-to-perfection grilled squid will transport you to a charred exterior and tender bite of this dish with its perfectly seasoned that embraces the natural flavors of the squid.
Butabara – This Butabara will leave a mark on your entire dining showcasing its expertly grilled meat packed with well-balcked flavors and the juiciness you never had before.
Rebaa Yaki – A very popular choice here at Zensho that offers a unique combination of savory profiles that is also perfect as an appetizer with its chicken liver that is packed with richness.
Teppanyaki
This Teppanyaki collection will surely give you a tantalizing experience that will bring great moments to your table. From US Steak to Chicken Teriyaki, this election is something you need to consider especially for first-timers.
U.S. Steak – Starting high with his U.S. Steak which features a high-quality beef slice that is perfectly cooked with a certain level of doneness. This steak allows you to savor a perfectly seasoned and grilled perfection resulting in a mouthwatering taste.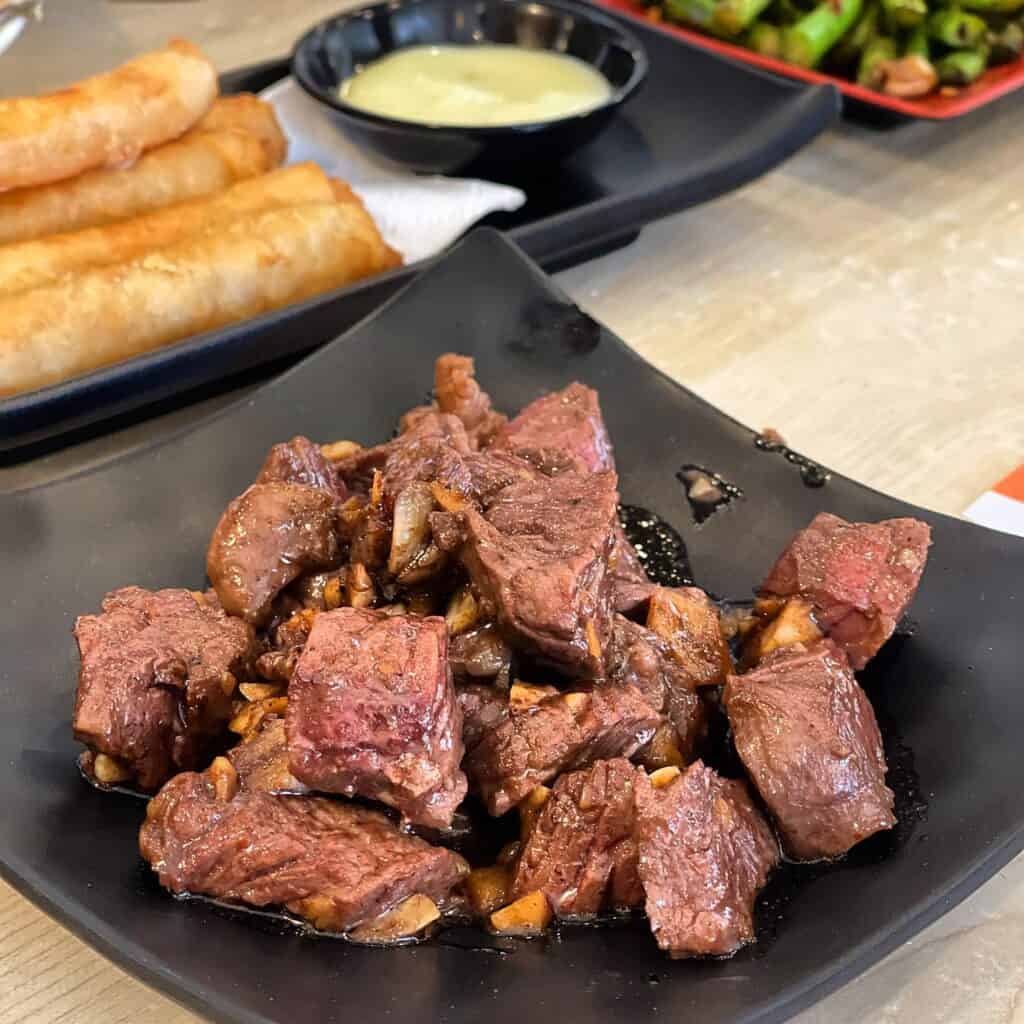 Sukiyaki Steak – This Hot Pot dish will bring the essence of sukiyaki to your dining table. It allows you to savor the ultimate textures of thin slices of beef that are delightfully marbled and tender to perfection.
Chicken Teppanyaki – A flavorful experience is here to give you a Chicken Teppanyaki featuring tender slices of chicken pieces that are seasoned delightfully with precision.
Yasai Moriawase – Looking for a healthier way to indulge here at Zensho? Well, you can check this Yasai Moriawase that features a delightful assortment of mixed and grilled veggies that are packed with awesome crunch and textures.
Zensho Menu Delivery
Unfortunately, Zensho does not offer any food delivery service because its entire Japanese dining experience features an amazing assortment of Japanese delicacies that are top-notch in quality and amazing flavors. You can enjoy the dining experience they offer and it will surely be one of your unforgettable Japanese dining experiences.
Social Media Pages
Join their vibrant community of food enthusiasts and share your Zensho experiences. Embark on a culinary adventure with Zensho and follow them on your favorite social media platform today!
Facebook: https://www.facebook.com/zenshojapaneserestaurant
Instagram: https://www.instagram.com/zenshojapaneserestaurant
FAQs in Zensho
What type of cuisine does Zensho offer?
Zensho allows you to dig into the magnifying flavors of Japanese cuisine featuring delightful collections of authentic flavors from Japan. From a wide range of Sashimi to delightful teppanyaki sets.
What is Zensho known for?
This restaurant is known for its Oyster Motoyaki which is found in their House Specialties.
What are the operating hours of Zensho?
Zensho delightfully welcomes you every day from 11 AM to 3 PM for Lunch and 5 PM to 9 PM for Dinner
Where is Zensho located in the Philippines?
You can savor the finest flavors of Japan from the food to the entire dining area if you visit them at 168 Tomas Morato cor Roces Ave, Dallas Square, Tomas Morato, Diliman, Quezon City, Metro Manila.
How can I reach Zensho's Staff?
You can reach out to Zensho's Staff at the provided contact number below:
Contact Number: (02) 8929-1069 (0933) 865-8600
Conclusion
Upon entering, Zensho will welcome you to the world that truly captures the heart of Japan, the authenticity and their commitment to utilizing the finest and freshest ingredients for every dish they serve is indeed evident in everything they serve in their restaurant. It allows you to indulge in the warm and inviting ambiance brought to you by their Chefs who have mastered the art of Japanese cuisine.
Zensho indeed offers an extraordinary dining experience from their house specialty oyster motoyaki to their perfectly tender pork belly that highlights an interactive thrill to the teppanyaki experience that will surely bring a mark to your dining table. I just wish that they could offer delivery options and sets that are perfect to share and prepare at home. Aside from that I am delighted with my entire experience here and it is definitely one of the gems here at Quezon City.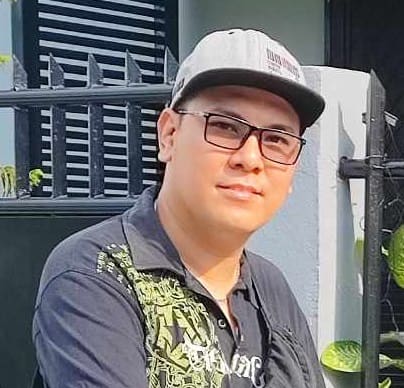 Hi! I'm Nivek Strife, the person who made MenuPH. I'm the one who added most of the popular menus you see on this website, and I really hope you enjoy them! Feel free to check them all out.
Growing up, I was surrounded by lots of tasty foods, like the classic Adobo and the sweet Leche Flan. That love for the many flavors of the Philippines is what got me excited about adding to MenuPH. When I learned how to make websites, I saw the need for a place to show off all the amazing Filipino dishes, and that's how MenuPH started.
MenuPH isn't just a website; it's like a fun journey into food. I've teamed up with famous chefs and found great places all over the Philippines to bring you a bunch of menus that show off the best of Filipino cuisine. Whether you're into the usual dishes or new twists, MenuPH is here to guide you through the rich world of Filipino flavors.
With MenuPH, my aim is to help local businesses, talk about good food choices, and make a group of friends who love food. No matter if you like fancy restaurants or street food, MenuPH has something for you. Come join me on this food adventure as we find great places, taste real flavors, and enjoy the unique food traditions that make the Philippines awesome.