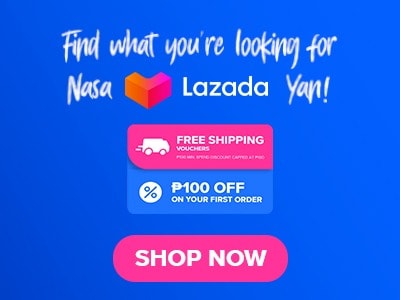 Denny's menu is inspired by American and Philippine cuisine. It offers breakfast feasts, three-egg omelettes, bistro signature bundles, signature slams, premium pancakes, breakfast favorites, shareable starters, fresh pasta, beef burgers, sandwiches, diner classics, holiday refreshers, and beverages. Some of its branches are open 24/7 so you can treat yourself to American cuisine anytime through dine-in, delivery, and take-out.
Below, you'll find the updated list of Denny's menu prices.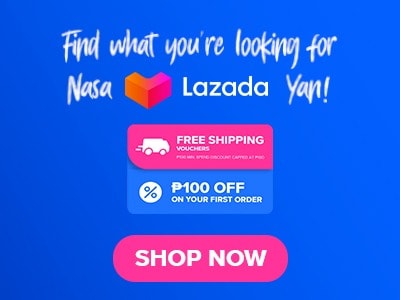 Menu Items
Price (PHP)

Breakfast Feasts

Meaty Feast
1495
Crispy Feast
1495

Pancake Hour

1 pc classic pancake or 1 pc waffle + a cup of coffee
150
Endless Coffee
75

Three-egg Omelettes

Taco Omelette
375
Truffle Mushroom Omelette
495
Ampalaya Omelette
275
Classic Eggplant Omelette
295

Bistro Signature Bundles

Half Rack Ribs + All-Time Breakfast + Pancake Puppies + Chicken Teriyaki
1195
Banana Hazelnut Waffle + Chicken Teriyaki + Half Rack Ribs + Mom's Spaghetti
1395

Signature Slams

The Original Grand Slam
270 / 495
Waffle Slam
295 / 495
Lumberjack Slam
455 / 685
All-American Slam
295 / 525

Premium Pancakes

Classic Waffle (1 pc)
105
Classic Waffle (2 pcs)
175
Classic Pancake (1 pc)
105
Classic Pancake (2 pcs)
175
Blueberry Pancake (1 pc)
160
Blueberry Pancake (2 pcs)
285
Choco Overload Peanut Butter Pancake (1 pc)
140
Choco Overload Peanut Butter Pancake (2 pcs)
255
Oreo Pancake (1 pc)
180
Oreo Pancake (2 pcs)
285
Banana Hazelnut Waffle
275
Fried Chicken & Waffle
445
Pancake Puppies
175

Breakfast Favorites

Combo 'Dobo
495
Combo Tapa
450
Combo Trio
595
Ampalaya Breakfast Combo
350
Arroz Caldo
325
Garlic Smoked Bangus
505
All-Time Breakfast
405
Crispy Smoked Bangus Belly
495

Shareable Starters

Denny's Share Four All
895
Zesty Nachos
655
Chicken & Sausage Quesadilla
495
Wings Basket (5 pcs)
425
Wings Basket (10 pcs)
695

Fresh Pasta

Mom's Spaghetti
275 / 495
Cajun Shrimp Pasta
295 / 495
Creamy Bacon Carbonara
295 / 495
Three Cheese Penne
275 / 495

Beef Burgers and Sandwiches

Bacon Cheeseburger
595
Classic Burger
525
Spicy Sriracha Burger
595
Moons Over My Hammy
475
Crispy Chicken Sandwich
395
Philly Steak Waffle Sandwich
395
The Grand Slamwich
495

Fresh Salads

Chicken Cranberry Apple Salad
345 / 545
Grilled Chicken Caesar Salad
345 / 545

Diner Classics

South Carolina Fried Chicken
495
Ribs Half Rack
675
Ribs Full Rack
1200
8 0z. USDA Striploin
1200
New Orleans Pork Chop (1 pc)
495
New Orleans Pork Chop (2 pcs)
795
Chicken Teriyaki
395
Crispy Crunch Pork Belly
495
Pork Belly and Eggs (1 pc)
375
Pork Belly and Eggs (2 pcs)
565
Eggplant Fritata
395
Chicken Fingers
495

Dinner Skillets

8 oz. Prime Cut Salisbury Steak
495
Cajun Shrimp Skillet
495
Bourbon Chicken Skillet
445

Holiday Refreshers

Berry Be Good
145
Greeny Celery
175
Well Well Caramel
195
Merry Blueberry
195
Mint Be With You
195
Oh My Cinnamon Latte
145
Soothing Gingerade
145
Halu Tiramisu
195

Sides

Steamed Rice
85
Garlic Rice
85
Fries
135
Hashbrown
120
Toast
65
Egg
35
Veggies
65
Bacon
95
Sausage
135
Scoop of Ice Cream
75

Fruit Juices

Fresh Lemonade
150
Orange Juice
150

Cold Beverages

Soda In Can
95
Bottomless Iced Tea
140

Milk Shakes

Chocolate
260
Vanilla
260

Hot Beverages

Brewed Coffee
85
Endless Coffee
105
Hot Chocolate
145
Hot Tea
75

Beer

San Miguel Pale Pilsen
125
San Mig Light
125
Tiger Beer
160
About Denny's
Denny's is an American diner that has its origin as a donut shop and is named Danny's Donut. In 1956, it was turned into a coffee shop and renamed Danny's coffee shop. In 1959, it was renamed Denny's coffee shop to avoid brand confusion with Coffee Dan's, and in 1961, it was named Denny's. Aside from American cuisine, it also offers classic and popular Filipino dishes.
Denny's Menu Best Seller
The best sellers of Denny's are the classic and popular breakfast sets that are perfect at any time of the day.
Lumberjack Slam – It is the best all-day breakfast menu that Denny's restaurant offers. It consists of two buttermilk pancakes, grilled ham, two sausages, two eggs, two bacon strips, toast, and hash brown. This set of breakfast meals is good for two people.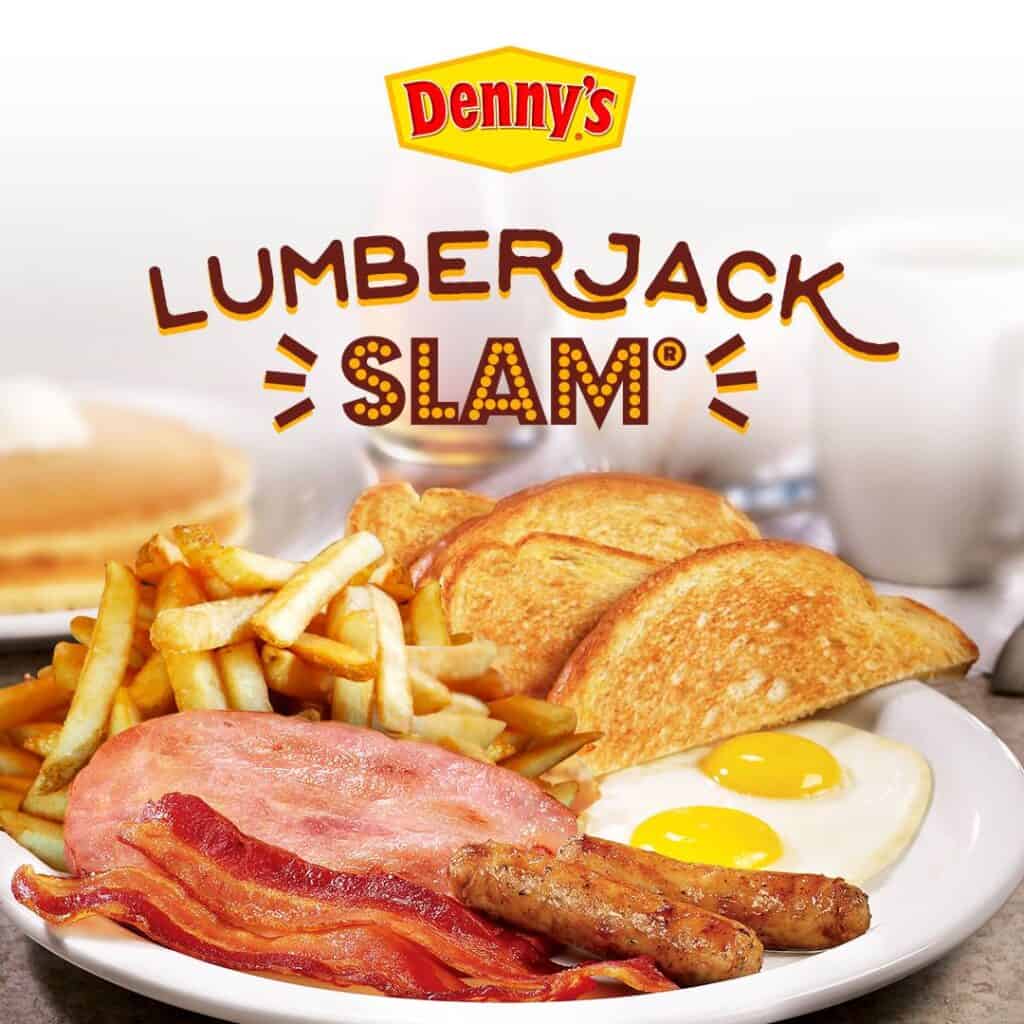 Crispy Smoked Bangus Belly – An all-time favorite Filipino dish that can be eaten at any time of the day. It is also known as "Bangsilog" because bangus belly is served with sinangag or garlic rice, and eggs. Pico de gallo, vinegar dip, and brewed coffee also come with this dish which makes it more delicious.
All-Time Breakfast – This breakfast is perfect for any time of the day. It consists of garlic rice, egg, 2 bacon strips, 2 sausages, and pico de gallo. Brewed coffee also comes with this breakfast set.
All-American Slam – Brewed coffee, hash brown, toast, sausages, bacon strips, and scrambled eggs with cheddar cheese come together in this dish. It is a popular breakfast because it consists of various items that will surely fuel you up throughout the day.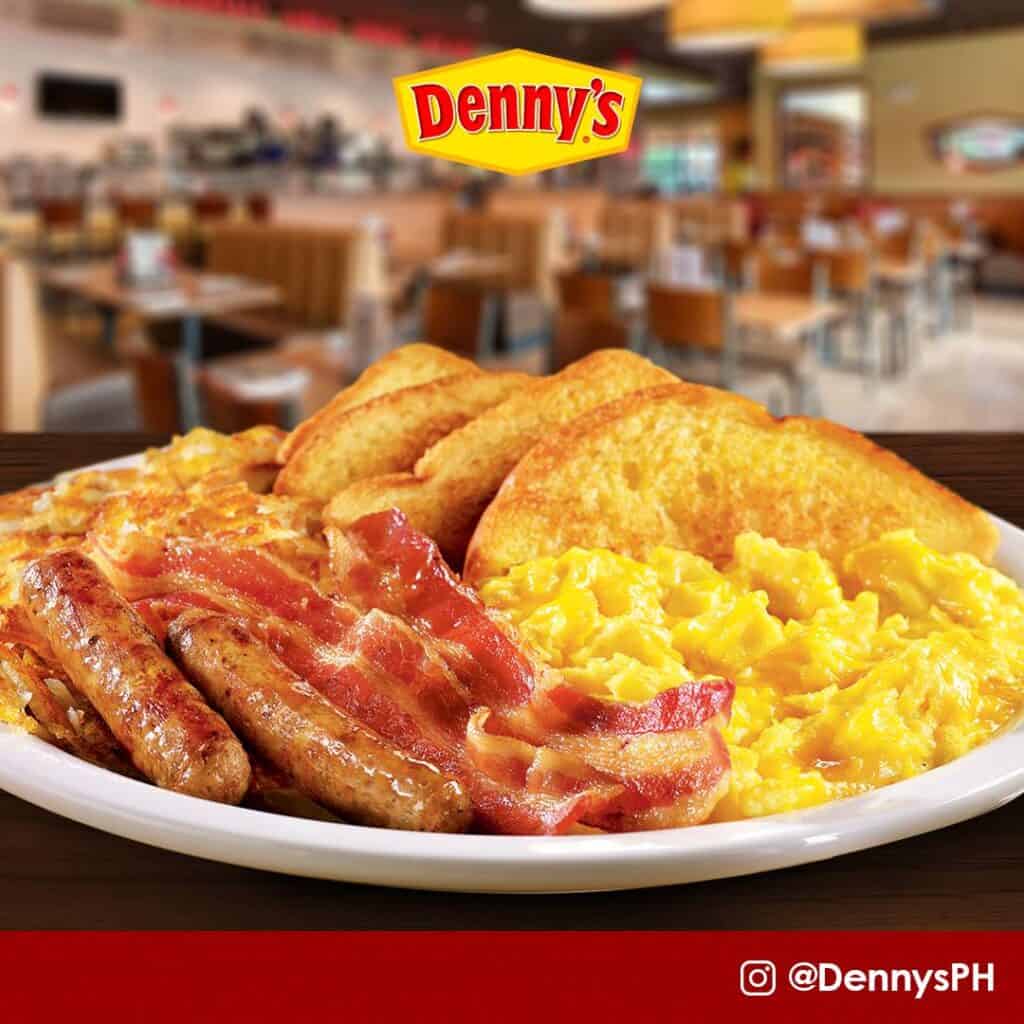 The Original Grand Slam – It is one of the hearty and classic breakfast menu combinations from Denny's that are popular in all of its branches. This dish is named after the achievement of Hank Aaron, a notable baseball player. Buttermilk pancakes, eggs, bacon strips, sausages, and brewed coffee are the foods that come with this breakfast set.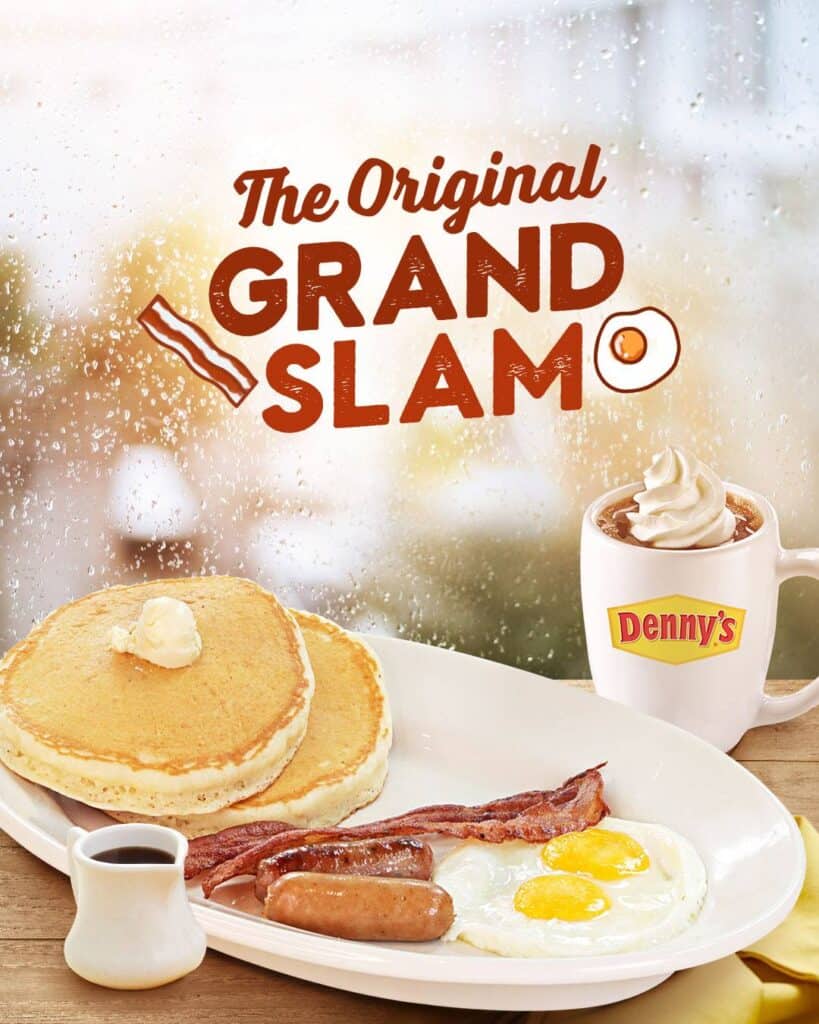 Denny's Menu Starters
Starters are perfect for sharing as various food items are served on one plate. It will boost your appetite while waiting for the next dish.
Denny's Share for All – It consists of various food items such as fries, chicken fingers, quesadillas, and pancake puppies that are perfect for kids and adults. Honey mustard, ranch sauce, and sweet caramel are the sauces served with this platter.
Zesty Nachos – Tortilla chips are topped with cheddar cheese, queso sauce, pico de gallo, nachos meat, and sour cream.
Chicken and Sausage Quesadilla – Tortilla is filled with crumbled sausage, onion, roasted seasoned chicken, fire-roasted bell peppers, cheese, and pico de gallo. This triangular shape starter is ideal for those who want to savor different flavors in each bite.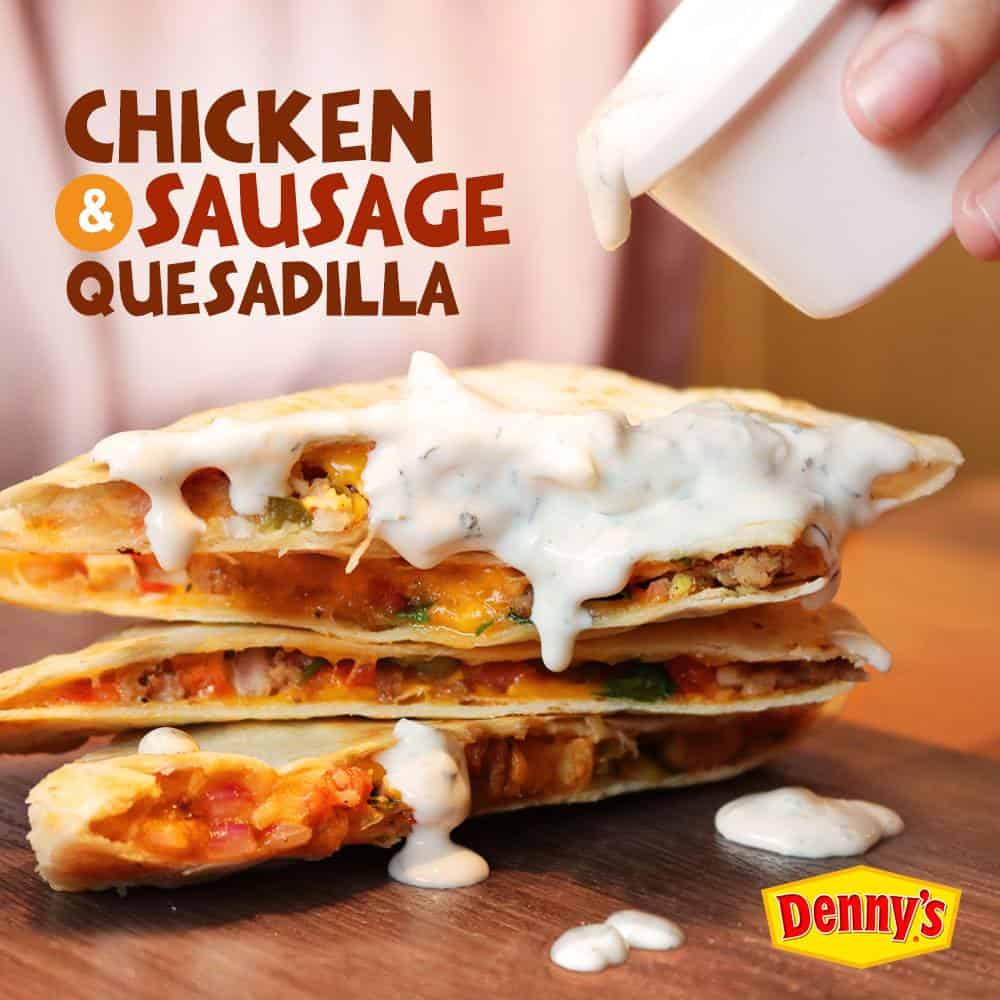 Wings Basket – A perfect dish for wings fanatics as it can be eaten as a viand for rice or as an appetizer. It is available in five and ten pieces and comes with dipping sauce.
Denny's Breakfast Menu
These sets of meals consist of classic breakfast food combinations that are well-liked by Americans and Filipinos.
Arroz Caldo – Slow-cooked rice porridge is topped with garlic bits, chicken chunks, and a hard-boiled egg that is cut in half.
Combo 'Dobo – A famous Filipino breakfast combination served with brewed coffee, garlic rice, eggs, adobo, danggit, vinegar, and pico de gallo.
Combo Tapa – It consists of tapa, danggit, garlic rice, eggs, pico de gallo, vinegar, and brewed coffee.
Combo Trio – Danggit, tapa, and adobo are the three breakfast combinations served in this dish. It also comes with brewed coffee, garlic rice, two eggs, vinegar, and dipping sauces.
Ampalaya Breakfast Combo – Bitter gourd, also known as ampalaya, is cooked with onion, tomatoes, and parsley. Steamed rice, danggit, and brewed coffee are served with it.
Signature Bundles
Signature Bundles are the perfect set of meals where you can enjoy more dishes at a lower price. Denny's offers two sets of menu signature bundles. 
The first is a set of meals that are good for three people. It includes pancake puppies; half rack ribs with fries; an all-time breakfast with garlic rice, egg, two sausages, two bacon strips, and pico de gallo; and chicken teriyaki with rice and egg.
The second one is good for three to four people. This signature bundle consists of banana hazelnut waffle; chicken teriyaki with rice and egg; half rack ribs with fries; and mom's spaghetti with two triangular pieces of bread.
In these signature bundles, you will be able to save up to more than four hundred pesos. These deals are perfect if you want to try various popular dishes that are budget-friendly.
Diner Classics
Diner classics are perfect meals that can be eaten at any time of the day. There are pork, beef, chicken, seafood, and vegetable dishes that you can choose from.
The pork dishes consist of half and full-rack ribs, pork belly and eggs, New Orleans pork chops, and crispy crunch pork belly. For beef fanatics, there is an 8-ounce USDA Striploin. Chicken dishes include chicken teriyaki and chicken fingers.
There are also skillets for those who want hot and freshly cooked foods. You can choose from 8-ounce prime-cut Salisbury steak, bourbon chicken fillet, and cajun shrimp skillet.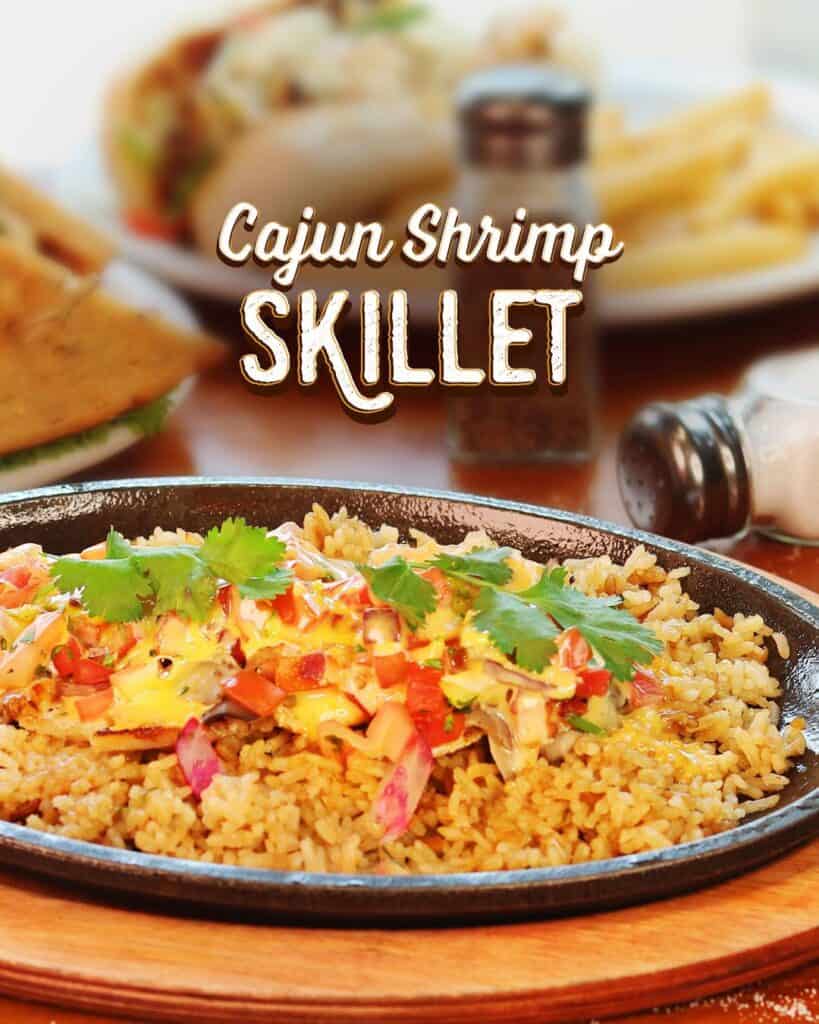 You'll surely find the dish that will satisfy your cravings with these diner classics. Best of all, for coffee lovers, it offers endless coffee for only fifty pesos for every entrée purchase.
Three-egg Omelettes
Three-egg omelets are served with a choice of steamed rice or toast. Endless coffee is also offered for those who will purchase an entrée. Taco, truffle mushroom, ampalaya, and classic eggplant are the omelet dishes that Denny's menu offers. 
The fillings of the taco omelet consist of onions, bell peppers, cilantro, chopped Romain lettuce, nacho meat, and grilled chicken breast. Truffle mushroom omelets are filled with onions, truffle oil, melted cheese, and shitake mushroom. For an ampalaya omelet, bitter gourd is cooked with egg, tomatoes, onion, and parsley. Classic eggplant omelet is a popular Filipino dish where a whole eggplant is pan-fried with egg and leeks. 
These sets of omelets are rich in protein and other nutrients that make it an ideal breakfast. Power up your day with these nutritious and delicious omelets. 
Pancakes
The premium pancakes that Denny's offers are classic waffles, classic pancakes, blueberry pancakes, choco overload peanut butter pancakes, oreo pancakes, and banana hazelnut waffles. There is also a fried chicken and waffle combo that are perfect for those who want to satisfy their cravings.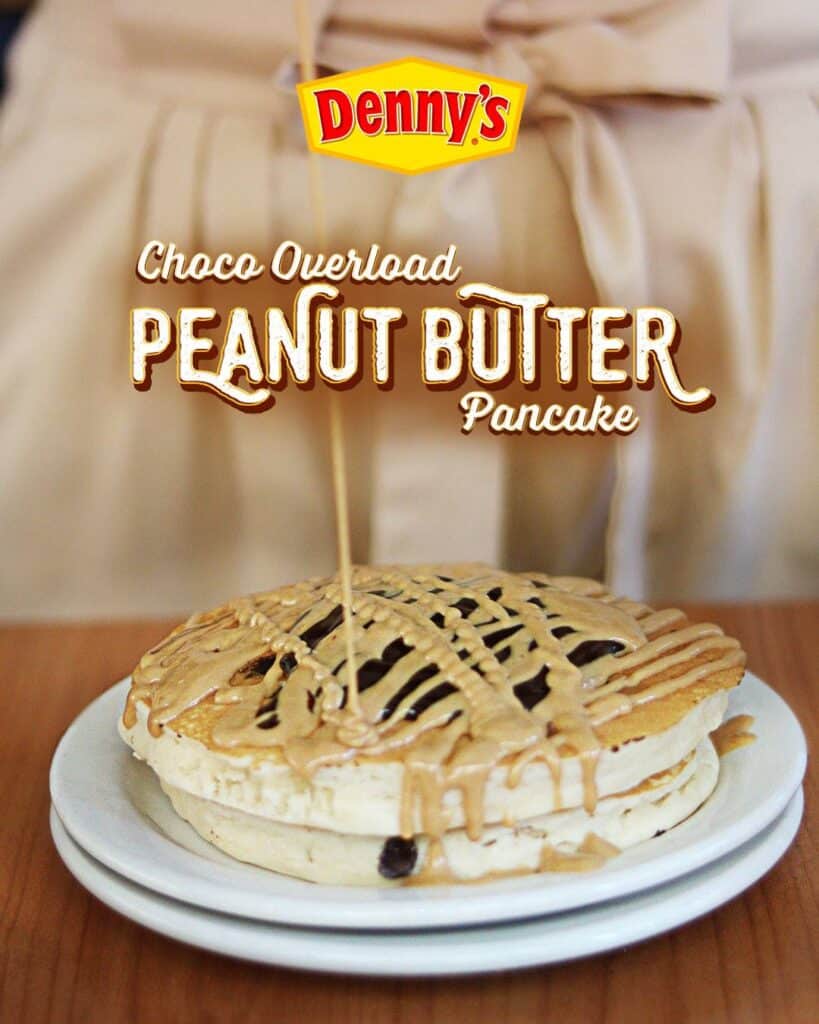 Pancake puppies are perfect for kids because of their visual presentation. These delectable pancakes are shaped into bite-sized balls making them ideal for kids.
Denny's Menu Delivery
The menu delivery is available on popular platforms such as FoodPanda and Grabfood. You can also download the "Bistro Delivers- Food Delivery" app or visit its website at www.bistrodelivers.com.ph. Creating an account is required to use this app for delivery. Discount codes are posted through their social media pages that you can use upon checkout.
Social Media Pages
For amazing deals and discounts, visit and follow their official Facebook account to stay tuned for special and exclusive discount codes. They also have different social media platforms that you can refer to the list below:
Facebook: https://www.facebook.com/DennysPhilippines/
Instagram: https://www.instagram.com/dennysph/
Twitter: https://twitter.com/DennysDiner
Website: https://dennys.ph/
Conclusion
Denny's menu is perfect for those who are looking for classic and popular American and Filipino cuisines. Some of its branches are open around the clock so if you're living near these branches, you can have your favorite dishes from Denny's anytime. Most of the dishes that they offer are perfect for breakfast but are also suitable for snacks, lunch, and dinner.