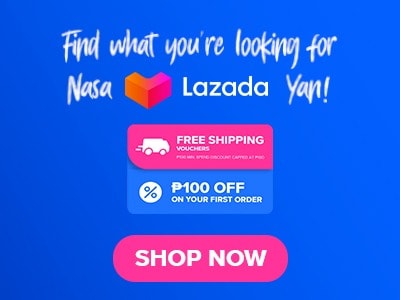 Are you looking for a classic American and Mexican Style experience for a restaurant and don't know where to go? Or are you the type of consumer that is willing to try everything new for a change since you're looking for a great place to eat? Look no more I found something that might tickle your interest. Are you familiar with the name Army Navy? If not let me introduce you to this classic American-Mexican casual dining restaurant. They offer a lot of burritos, quesadillas, burgers, and a lot more. Let us get to know the Army Navy menu so you have at least a hint of what to expect when you try going to their restaurant. Without further ado, let's begin.
Below, you'll find the updated list of Army Navy menu prices.
Menu Items
Price (PHP)

Army Navy Burger

Classic burger
210
Double burger
280
Bully boy burger
350
California burger single
280
California burger double
370

Burger Add-ons

Cheese
35
Bacon
50
Egg
30
Jalapeño
30
Sautéed onions
30

Sandwiches

Starving sailor chicken
275
Starving sailor steak
295
Chipotle crispy chicken sandwich
230

Tacos

Crunchy tacos
200
Soft tacos - steak
220
Soft tacos - carnitas
210
Soft tacos - chicken
200
Sisig baboy soft taco
220
Tacos add'on - double the meat
95

Burritos

Steak burrito
245
Chicken burrito
220
Carnitas (pork) burrito
230
P.I burrito (adobo flakes)
230
P.I burrito (sisig baboy)
230
Vegetable burrito
220
Breakfast burrito steak
250
Breakfast burrito Longganisa
250
Naked burrito chorizo
245
Naked burrito chicken
245
Naked burrito carnitas (pork)
245
Naked burrito adobo flakes
245
Sisig baboy naked burrito
245

Burritos Addons

Salsa
20
Guacamole
40
Lime
15
Sour cream
40
Cheese
25
Cheese dip
45
Double the meat
95

Drinks

LiberTea Milktea 940ml
225
LiberTea iced tea
115
LiberTea Milktea 500ml
130
Coke regular
65
Coke zero
65
Coke light
65
Sprite
65
Royal
65
Sarsi
65
Minute maid
60
Bottled water
40

Desserts

Churos chocolate
95
Churos caramel
95

Sides

Tapatio hot sauce
95
Freedom fries
95
Onion rings
90
Nachos
105
Tortilla chips
35
Tortilla soup
140
Clam chowder
140

All Day Breakfast

Tapa
230
Longganisa
230
Adobo flakes
220
Hungarian sausage
220
Bangus
230
Tocino
220
Bacon
220
Classic pancake
140

Chicken

3 pcs chipotle bbq & 3 pcs classic Buffalo
310
Fearless fries chicken
215
Classic Buffalo 4 pcs
215
Classic Buffalo 6 pcs
310
Chipotle bbq 4 pcs
215
Chipotle bbq 6 pcs
310

Pasta

Carbonara pasta
215
Pasta and meatballs
215

Querida Mia

Plain
170
Baja
190
Baja chicken
230
Charlie bravo
240
Queeida mia verde
260

Quesadilla

Steak quesadilla
230
Cheese quesadilla
145
Chicken quesadilla
220
About Army Navy
Army Navy was founded in March 2009 in Tagaytay City a province of Cavite sitting in the southern part of Luzon near manila. a casual dining restaurant that offers American – Mexican cuisine and also burgers and burritos. This company pioneered in the Philippines. This restaurant was founded by Eric Puno aiming to provide a great dining experience in one visit. They offer quality burgers and burritos with a diverse menu of freshly made food items. Everything that they offer screams quality, especially their one hundred percent quality beef. Each of their restaurant's designs took inspiration from a military Quonset hut. As of today they already have 39 branches throughout the country and still continue to expand.
Army Navy Menu Best Seller
Here is the list of the Army Navy menu best seller foods that you can find in their restaurant.
Classic Burgers – Army Navy definitely knows how to do their burgers really well. It is made with a single quarter-pound beef patty, lettuce, sliced tomatoes, and onions in a sesame seed bun. You can also order a double burger or a bully boy burger if you want more.
California Burger – If you're wondering what it tastes like it is made with quarter-pound Angus beef patty, lettuce, onions, and sliced tomatoes and cheese. By the way, the onion was cooked with their house-made sauce with a toasted sandwich bun. You can also order a double California burger.
Sandwiches – If you are not a fan of beef patties and you want it to be chicken, then you can try this one. They have a lot of variations like starving sailor chicken, starving sailor steak, or chipotle chicken sandwich.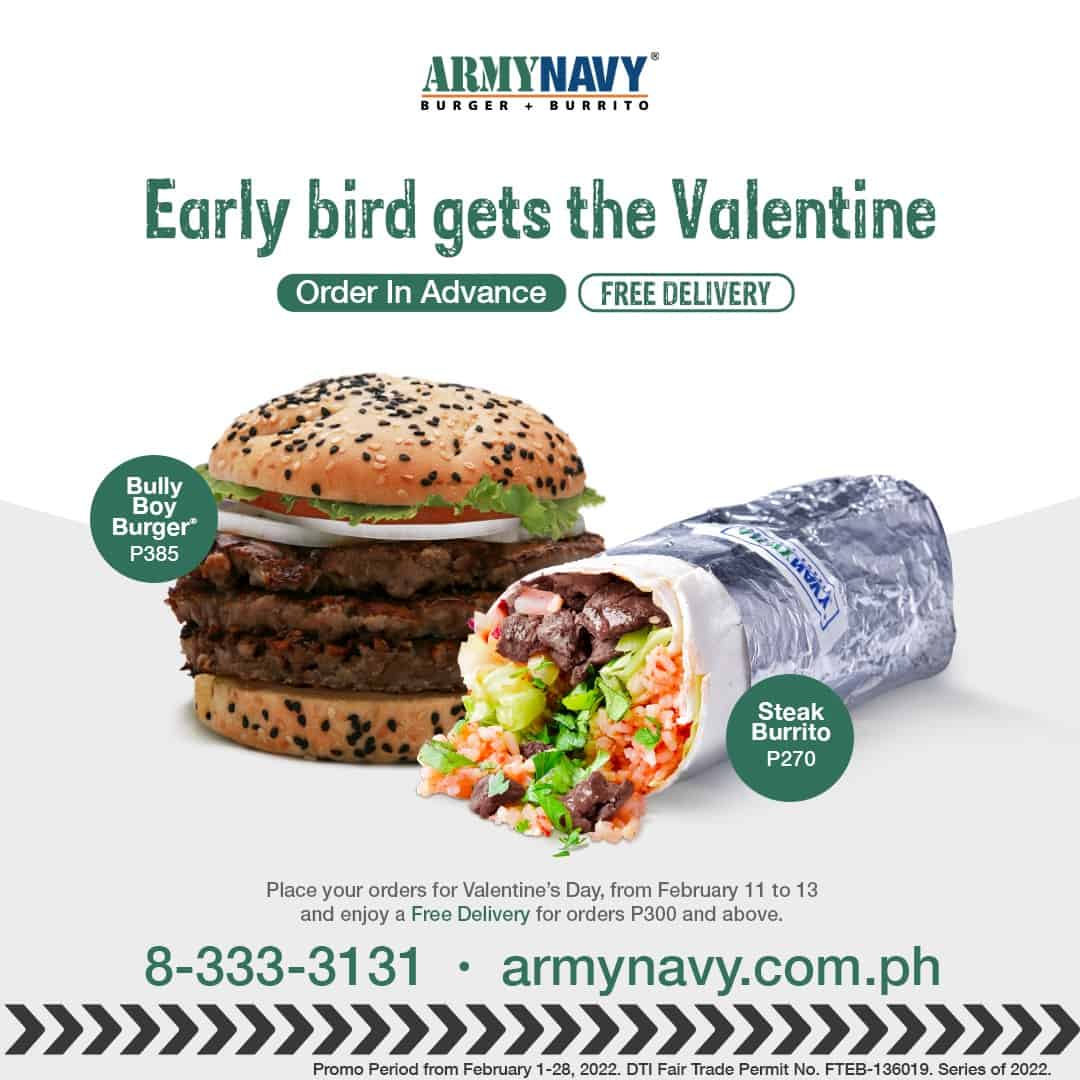 Wrapped Burritos – This Army Navy menu is a meal packed with different flavors that are actually known in Mexican cuisine, army navy has a wide variety of burritos that will surely give you the satisfaction that you are craving. You can choose pork beef or chicken and even vegetable. Your choice. They also have different sauces to choose from to add some kick to your wrapped burrito. Variations are P.I. Burrito which means sisig baboy or adobo flakes, breakfast burrito which is made with steak Longganisa, vegetable burrito, and steak.
Naked Burrito – It is like the wrapped burrito but not wrapped, am I making sense? Recommended for people who love to mix and match. Variations are chicken, chorizo, carnitas or pork, sisig baboy, and adobo flakes.
Crunchy Tacos – Army Navy serves these classic crunchy tacos made with ground beef, salsa, lettuce, and tomatoes topped with grated cheese in a hard shell taco. This one is a must-try, you'll never get disappointed I promise. One of my favorites on their food items.
Quesadilla – This menu is for the cheese lovers out there who can't get enough of their cheese. It is highly recommended to add sauces when you eat this one for a more flavorful bite. Variations are cheese, steak, and chicken.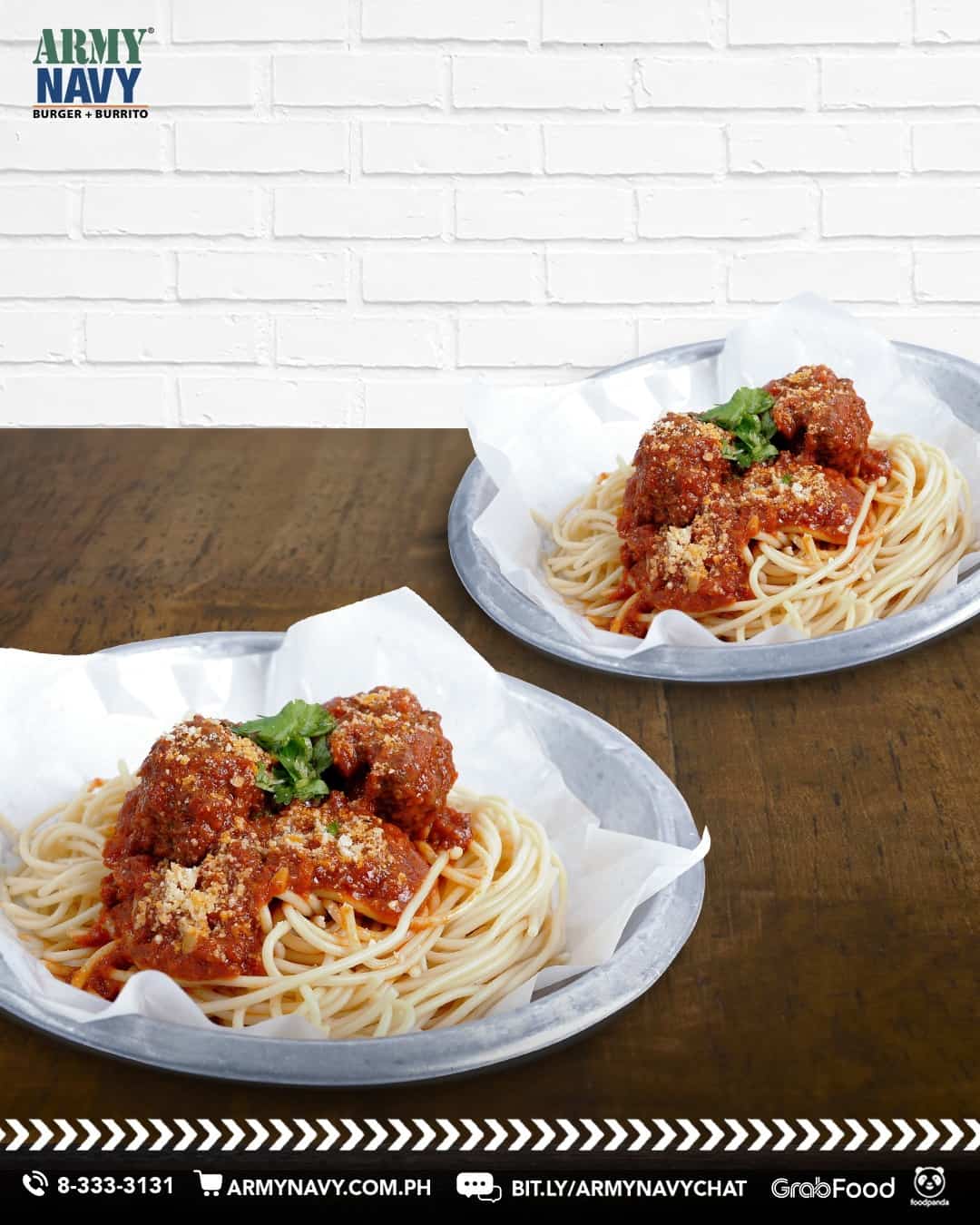 Pasta – If you think that the Army Navy menu is still not enough, then maybe their pasta can fill you up. They have different pasta variations like pasta and meatballs or carbonara pasta. I don't want to be biased but the pasta and meatballs are a bomb. Try it for yourself.
Churros – Army navy also offers churros that are actually good as a dessert. It has a balanced flavor of sweet and savory but not so sweet.
Sides – From onion rings, fries or even nachos Army navy have it. They have these delicious sides to fulfill your hunger without making you full enough. The variations that they have are onion rings, Freedom Fries, Skin on Fries, clam chowder, Bacon Cheese Fries, Nachos, Tortilla Chips, and Tortilla Chips.
Army Navy Breakfast Menu
Army navy is also offering breakfast meals for early birds. Their breakfast meals are actually good any time of the day. You can choose from Classic Pancake and Silogs (Tapa, Longganisa, Adobo Flakes, Bangus, Tocino, Hungarian sausage, and Bacon)
Army Navy Best Seller Burger
The best-selling and most popular burger of army navy is their Classic Burger. They definitely know how to do their burgers just good with the right flavors of course. It is made with a single quarter-pound beef patty, lettuce, sliced tomatoes, and onions in a sesame seed bun. You can also order a double burger or a bully boy burger if you want more. Classic but a real bomb once you get to experience their burger. A simple burger yet so delicious it can actually satisfy your burger cravings any time of the day.
Army Navy Customer Service
If you wish to talk with them or you have complaints, concerns, and suggestions you may visit them at
https://armynavy.com.ph/contact-us/ or you can call their hotline number at 8-333–3131
Social Media Pages
To make sure that you are always updated on their menus and promos, you can follow their social media pages:
Facebook: https://www.facebook.com/ArmyNavyBurgerBurritoPhilippines/
Instagram: https://www.instagram.com/armynavyburgerburrito/
Twitter: https://twitter.com/armynavyph
FAQs
What is an Army Navy Burger?
Army Navy burger is a classic burger usually made with quarter pounder beef patties and some vegetables. They specialize in burgers so you can make sure that they will serve you only the best burger.
Is Army Navy a Philippine brand?
The answer is yes. Army Navy is a Philippine brand, it was established and founded on 2009 by Eric Puno.
Where did Army Navy restaurant originate?
Their first restaurant originated in Tagaytay City where the views around the store are really nice and relaxing.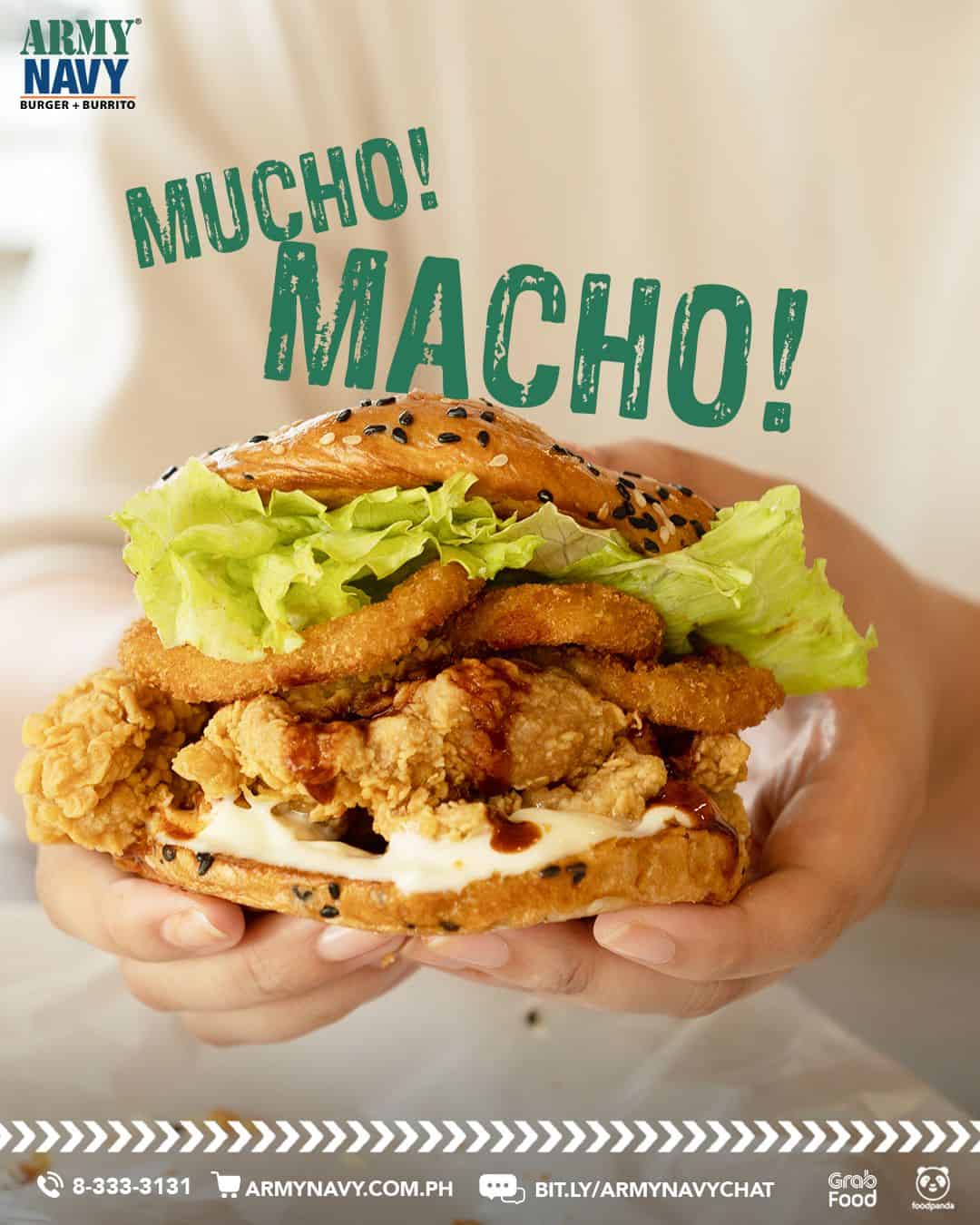 Conclusion
It is so nice to know that we can now have our American – Mexican food cravings satisfied, thanks to the Army Navy for providing quality and great food every time. The foods served on the Army Navy menu are plenty enough that won't let you feel any hunger anymore, and that is also a plus for them. Their restaurant places are actually customer friendly and cozy. The behavior of their staff is okay, to be honest. Highly recommended restaurant and also affordable.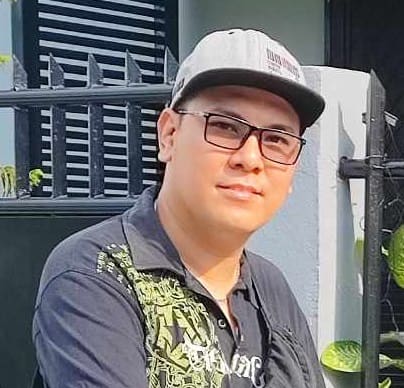 Hi! I'm Nivek Strife, the person who made MenuPH. I'm the one who added most of the popular menus you see on this website, and I really hope you enjoy them! Feel free to check them all out.
Growing up, I was surrounded by lots of tasty foods, like the classic Adobo and the sweet Leche Flan. That love for the many flavors of the Philippines is what got me excited about adding to MenuPH. When I learned how to make websites, I saw the need for a place to show off all the amazing Filipino dishes, and that's how MenuPH started.
MenuPH isn't just a website; it's like a fun journey into food. I've teamed up with famous chefs and found great places all over the Philippines to bring you a bunch of menus that show off the best of Filipino cuisine. Whether you're into the usual dishes or new twists, MenuPH is here to guide you through the rich world of Filipino flavors.
With MenuPH, my aim is to help local businesses, talk about good food choices, and make a group of friends who love food. No matter if you like fancy restaurants or street food, MenuPH has something for you. Come join me on this food adventure as we find great places, taste real flavors, and enjoy the unique food traditions that make the Philippines awesome.