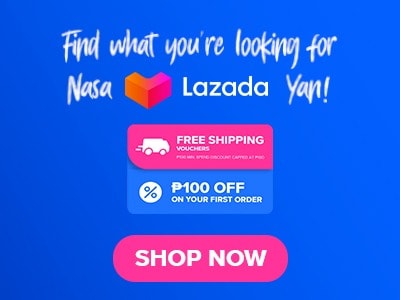 Filipino people love food but of course, we are still picky about the food that we eat, I found another interesting Filipino restaurant where you could get all the good foods that you are craving plus they have this fast-serve style where you could get your orders fast, just like fast foods but healthier. Binalot menu has a lot to offer, their dishes are delicious and most importantly affordable, you could get to experience great food without spending too much money. That's fabulous right? Interested already? Take time to read this article, let's get to know their menu and prices of every food, and let's take a deeper look at their restaurant. Let us start!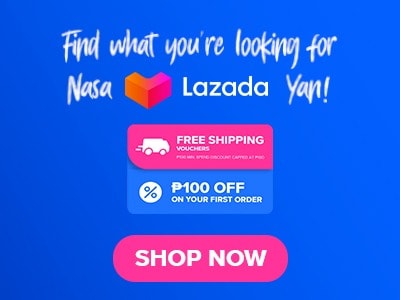 Menu Items
Price (PHP)

Binalot

Viva tocino
99
Sisig na makisig
99
Pork sinigang with a bang
99
Pride tilapia
99
Longganisa hamonado
99
Bistek walastik
119
No bones daing na bangus
119
Anytime inihaw na baboy
119
Tapa rap sarap
119
All pork adobo
129
All chicken adobo
129
Fiesta adobo
129

Pansit Ulam sa Bilao (Malaki/Mas malaki)

Pansit canton/bihon
410/540
Sisig na makisig
839/1297
Longganisa hamonado
839/1297
Viva tocino
839/1297
Pride tilapia
839/1297
No bones daing na bangus
1039/1482
Tapa rap sarap
1039/1482
Bistek walastik
1039/1482
Anytime inihaw na baboy
1039/1482
Fiesta adobo
1139/1625
All chicken adobo
1139/1625
All pork adobo
1139/1625

Boodle Fight

Package 1 (3-4 persons)
585
Package 2 (4-6 persons)
895
Package 3 (8-10 persons)
1735
About Binalot
Binalot started in 1996, Rommel T. Juan together with a friend (a year after Juan graduated from Dela Salle with a degree in marketing) started the business with 50,000php ad initial capital. The whole Binalot is inspired by the idea of his mom packing food on a banana leaf when they are having a picnic when he was younger.
His business became popular overnight, at first, they are not serious about it, for them, it was just for fun but after realizing that the business is going really well they started to be more serious. Though Binanot goes thru some trials they overcome it all and started to grow their business thru franchising. As of today they already have 41 branches in the Philippines, Juan explains that he wanted his restaurant to be a go-to stop for our balikbayans together with their families and friends to enjoy authentic Filipino foods.
Binalot Menu Best Seller
We tried ordering a list of Binalot menu best sellers and here are the top 5 top dishes. Best sellers are popular dishes that you must try, these items are for sure delicious. 
Vivo Tocino – One of the classic Filipino favorites especially at breakfast but you can still consume tocino at lunch or whenever you want. Their vivo tocino is served with salted egg, tomatoes, and plain rice. Their tocino is tender and sweet, it's actually too sweet for me but definitely delicious and worth your money.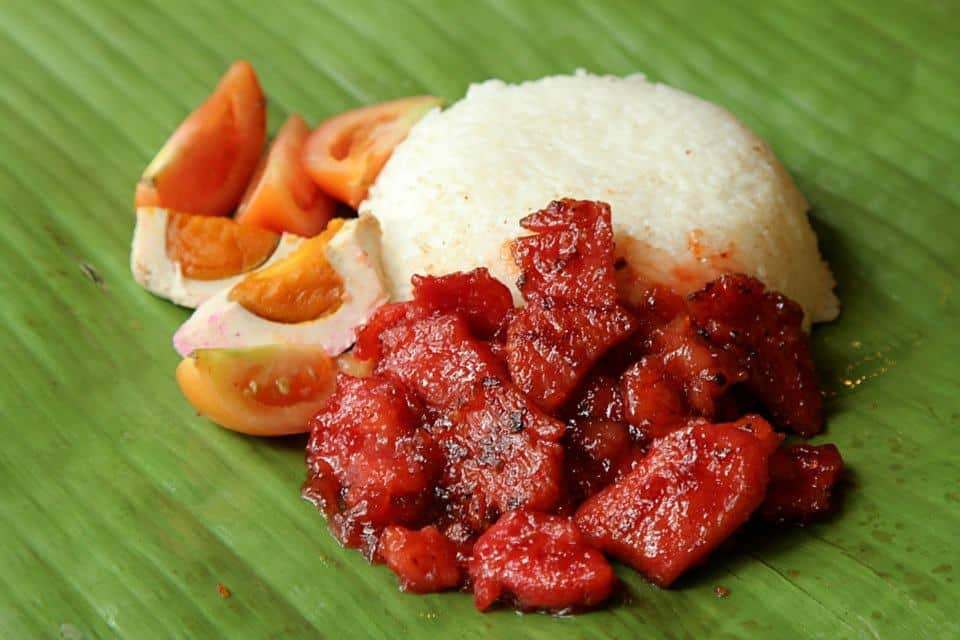 Pride Tilapia – Served with salted egg, tomatoes, and rice with crispy fried tilapia on top then wrapped with banana leaves. Nothing too fancy about this dish it's just about a fried tilapia, but I noticed that they seasoned their tilapia really well giving it a great taste even though it's just fried.
Tapa Rap Sarap – Just like tocino tapa is one of the most popular food items here in our county, tapa is made with beef and usually enjoyed at breakfast (of course any time will do) binalots version of tapa is soft and very flavorful. They serve their tapa with salted egg and tomatoes wrapped in banana leaves. If you want a classic Filipino food, this Binalot menu is highly recommended.
Sisig na Makisig – One of the most popular food items in the Philippines is sisig it is quite popular among Filipinos and other nationalities. Binalots version of sisig is delicious, it has the right taste and texture suitable for a binalot. They serve it with a sunny side-up egg and chili and calamansi for added flavors if you want to adjust.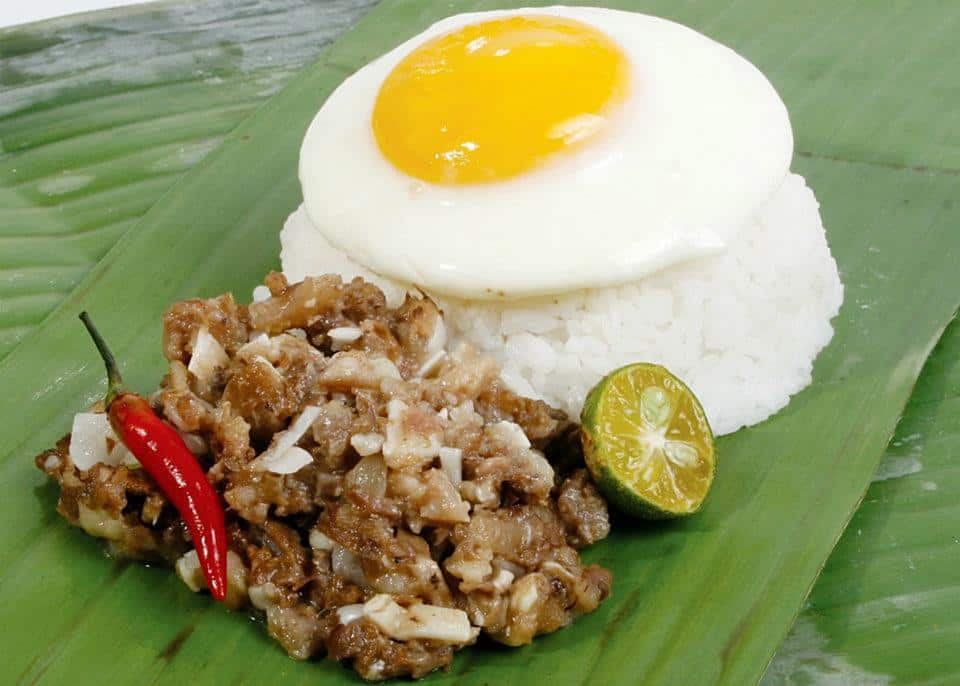 Pork sinigang with a Bang – Truly a masterpiece, binalots pork sinigang version is something you cannot miss on their menu. It has a very rich soup that is sour but not too much, very tender pork meat, and fresh vegetables. The vegetables are not overcooked and still crispy. 
Ready to Cook Products
Binalot has some ready to cook products for you to try. You can buy these items on their website online and pay thru Gcash or Paymaya. Items on their ready to cook menu are pork embutido, lumpiang shanghai, pork Longganisa, pork sisig, chicken bbq, chicken adobo, pork adobo, marinated liempo, pork bbq, pork tocino, and pork adobo flakes.
Ulam sa Bilao – Binalot is offering ulam sa bilao which means bigger servings that are great for sharing. Their ulam sa bilao includes pork bongga Longganisa, sisig na makisig, anytime inihaw na baboy, fiesta adobo, no bones daing na bangus, pride tilapia, bistek walastik, all pork adobo and lastly their all chicken adobo.
Boodle Fight – Binalot offers this popular Filipino favorite menu, the "Boodle Fight". They have 3 boodle fight items to choose from, package 1 will cost you 595php and is good for 3-4 persons. Package 2 will cost you 995php and is good for 5-6 persons and lastly package 3. This will only cost you 1735php and is good for 8-10 persons.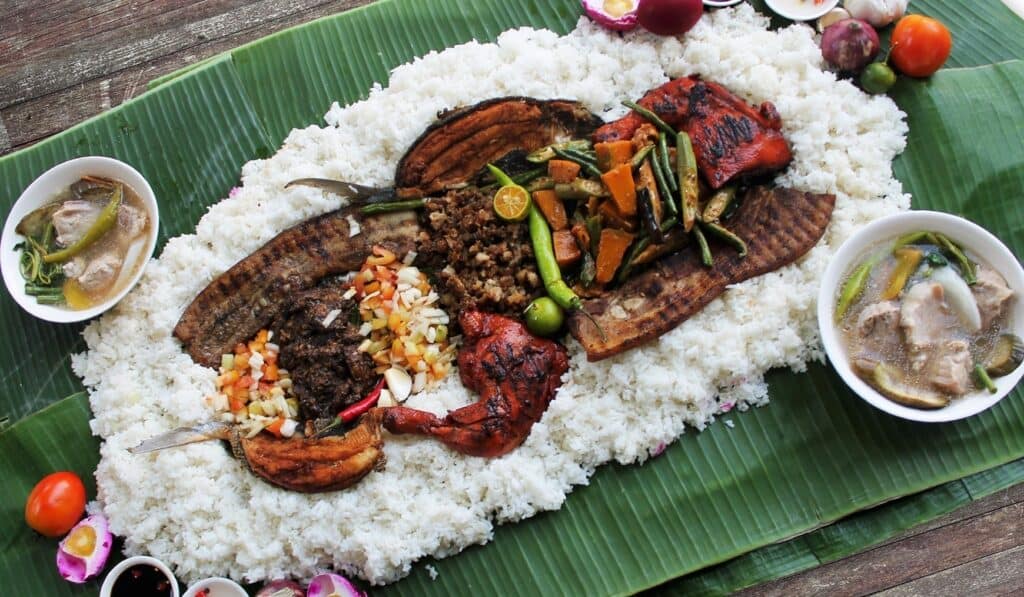 Binalot Menu Delivery
I have listed binalot's branches that offer delivery so if ever you just crave their food product you can order and call them right away.
Binalot Head office Parañaque: 03-88210509
Binalot SM City Olongapo: 0917-5098741
Binalot Mandaluyong Metro Manila: 02-72251335
Binalot Pure Gold Q.C: 02-83990737
Binalot Pasay Metro Manila: 0995-9208590
Binalot Santa Rosa: 048-8226483
They are also available thru food delivery services nationwide such as FoodPand, LalaFood, or GrabFoods.
Social Media Pages
Here is the list of Binalot's official social media pages. We highly recommend that you start subscribing to them so you cannot miss any important posts, especially about promos and updated Binalot menu prices.
Facebook: https://facebook.com/binalotfiesta/
Instagram: https://www.instagram.com/binalotfiesta/
You should follow or like their social media pages to be updated on their latest product and discounts social media accounts are also updated always so if ever they have a new addition to their menu social media is one of the platforms that they will use to market the new product.
Conclusion
The Binalot menu is a foodie's happy place. Their presentation along with the taste of their food is really great. I like how the banana leaves give added flavor to the food. The serving is good enough though I can't tell that they serve a lot maybe because they are more focused on quality rather than quantity of their serving. Fast serving as well and great crews. A good place to go if you want to enjoy good Filipino dishes and is highly recommended for foodies like me or for foreign nationals visiting our country who would like to experience authentic Filipino food without spending too much.