A restaurant that prides itself on its Chinese cuisine, Gloria Maris' menu is full of many Chinese dishes. Their menu ranges from vegetables to seafood and pork. Having the brand of a Chinese restaurant, their dishes aren't limited to Chinese cuisine. They also serve American, Japanese, and even Filipino dishes that they've made themselves.
Menu Items
Price (PHP)

Party Package

Package 1, Good for 20-30 pax, 5 Viands Menu
14,999
Package 2, Good for 31-40 pax, 6Viands Menu
19,999
Package 3, Good for 41-50 pax, 6 Viands Menu
24,999
Package 4, Good for 51-60 pax, 6Viands Menu
29,999
Package 5, Good for 61-10 pax, 6Viands Menu
34,999
Package 6, Good for 71-80 pax. 6Viands Menu
39,999

Seafoods

Sauteed Australian Scallop
1800
Taro Basket with Australian Scallop
1800
Local Scallop
550
Scallop Sze Chuan Style
550
Fried Squid
450
Fried Oyster
400
Oyster Cake
400
Salad Seafood Roll
400
Seafood Mango Salad
400
Fried Prawns
750
Prawns with Salted Egg
750
Steamed Prawns with Garlic
750
Hot Prawns Salad
750
Shrimp Broccoli
750
Fried Shrimp Ball
500
Shrimp with Asaparagus
650
Shrim Fuyong
350
Shrimp Sze Chuan Style
750
Steamed Fish Fillet with Soy Sauce and Garlic
350
Sweet and Sour Fish Fillet
350
Fish Fillet Hotpot with Beancurd
400
Fish Fillet with Broccoli
450
Fish Fillet with Beancurd
400
Fish Fillet with Corn Sauce
400
Fish Fillet Curry in Hot Pot
450
Steamed Fish Fillet with Tausi Sauce
350
Fookien Chopsuey
350
Lohanchay Hotpot
350
Mixed Vegetables with Sotanghon
350
Broccoli with Garlic
360
Runner Beans with Minced Pork
350
Asparagus with Garlic
360
Taiwan Pechay with Garlic
350
Polochay with Garlic
400
Chinese Kangkong with Garlic
350
Chinese Kangkong with Bagoong
350
Four Seasons Vegetable with Oyster Sauce
400
Spinach with 2 kinds of egg
400
Broccoli with Black Mushroom
480
Broccoli with Scallop
650
Japanese Mushcroom With Vegetables in Abalone Sauce
600
Stuffed Eggplant with Teriyaki Sauce
650
Runner Beans with Local Scallop and Squid Sauce
380
Seafood Chopsuey
400
Mushroom with Vegetables in Oyster Sauce
350
Letttuce with Minced Pork
400
Braised Beancurd with Mushroom
400

Pork Menu

Patatim with Mantao
800
Tong po Pork with Cuapao
550
Sweet and Sour Pork
380
Minced Pork with Eggplant
380
Braised Knuckle Tai Shan Style
480
Fried Spareribs with Salt and Pepper
450
Spareribs with Special Sauce
550
Spareribis with Beancurd Sauce
550
Spareribs with Cherry Sauce
550
Shanghai Roll
550

Rice Menu

Gloria Maris Fried Rice
450
Yangchow Fried Rice
380
Shanghai Fried Rice
450
Fookien Fried Rice
380
Salted Fish Fried Rice
450
Dried Scallop Egg White Fried Rice
450
Garlic Rice
300
Richman's Fried Rice
380
Pineapple Fried Rice
450
Glutinous Rice
450
Sate Fried Rice
380
Jasmine Rice
50

Dimsum Menu

Hakaw Sharksfin Siomai
150
Sharksfin Dumpling
150
Siao Long Pao
150
Japanese Siomai
150
Beancurd Roll
150
Chicken Feet
150
Seafood roll
150
Jumbo pao
180
Asado pao
150
Vegetable Dumpling
150
Machang
150
Beef Ball
150
Bird's Eye Dumpling
150
Qual Egg Siomai
150
Beef Siomai
150
Polonchay Dumpling
150
Steamed Spareribs with Tausi
150
Crispy Mango Shrimp Roll
150
Fried Shrimp Dumpling
150
Radish Cake
150
Fried Spring Roll
150
Taro Puff
150
Friend Wanton
150
Fried Siopao
150

Abalone

Braised Australian Abalone in Brown Sauce
2500
Braised Abalone with Local Sea Cucmber
2000
Abalone Sea Cucmber and Black Mushroom
2000

Sharksfin

Nraised Sharksfin in Superior Sauce
1700
Braised Sharskfin with Crabroe Soup
2200
Briased Sharksfin with Shredded Chicken Soup
2200
Braised Sharksfin with Assorted Seafood Soup
2200
Braised Sharksfin with Crabmeat Soup
2200

Roasting

Roasted Pecking Duck
1500
Soy Chicken
600
White Chicken
600
Suckling Pig with Seaweeds
1500
Shredded Cuck Fruits
650
Roasting combination
650
Pork Asado
400
Lechon Macau
500
Asado Soy chicken Roasting Combination
400
Lechon Macau and Asado Roasting Combination
400
Fried Pigeon
600

Beef

Chinese Style Beef Tenderloin
450
Beef with Ampalaya
450
Beef with Broccoli
450
Braised Beef Brisket with Tendon Ho pot
650
Beef Brisket Curry Hot Pot
550
Black Pepper Beef
450

Chicken

Gloaria Maris Fried Chicken
480
Conatonese Roast Chicken
480
Chicken Lemon Sauce
450
Hot chicken Salad
450
Chicken Beancurd Sauce
450
Curry Chicken in Hot Pot
450
Steamed Chicken with Black Mushroom and Chirizo
380

Congee

Special Congee
250
Lean Meat Congee with Century Egg
250
Fish Fillet congee
250
Seafood Congee
250
Sliced Beef Congee
250
Chicken Congee
250
Plain Congee
150

Crispy Noodles

Assorted Meat
380
Beef Brisket with Tendon
450
Spareribs Crispy Noodle
400
Seafood
400
Mixed Vegetables
400

Noodles

Birthday Noodles
380
Fookien Misue
380
Efu Noodles
380
Fujian Noodles
380
Pancit canton
380
Sauteed Seafood
380
Local Scallop with Sotanghon
380
Sate Seafood with Sotanghon
400
About Gloria Maris
Gloria Maris has established itself as a reputable name in authentic Chinese cuisine through the many years of its operation. They provide a unique gourmet experience to their diners and also showcase the best in Chinese cuisine, with delicious seafood delights and a wide variety of Chinese specialties.
Gloria Maris Menu Best Seller
Live Crab Steamed with Garlic – The live crab is cooked by heating water in a large pot. Over high heat, until the water starts to boil. The live crab is then added and steamed for about 10 to 15 minutes until the meat and the shells turn dark orange. This dish is served with a soy-garlic dip.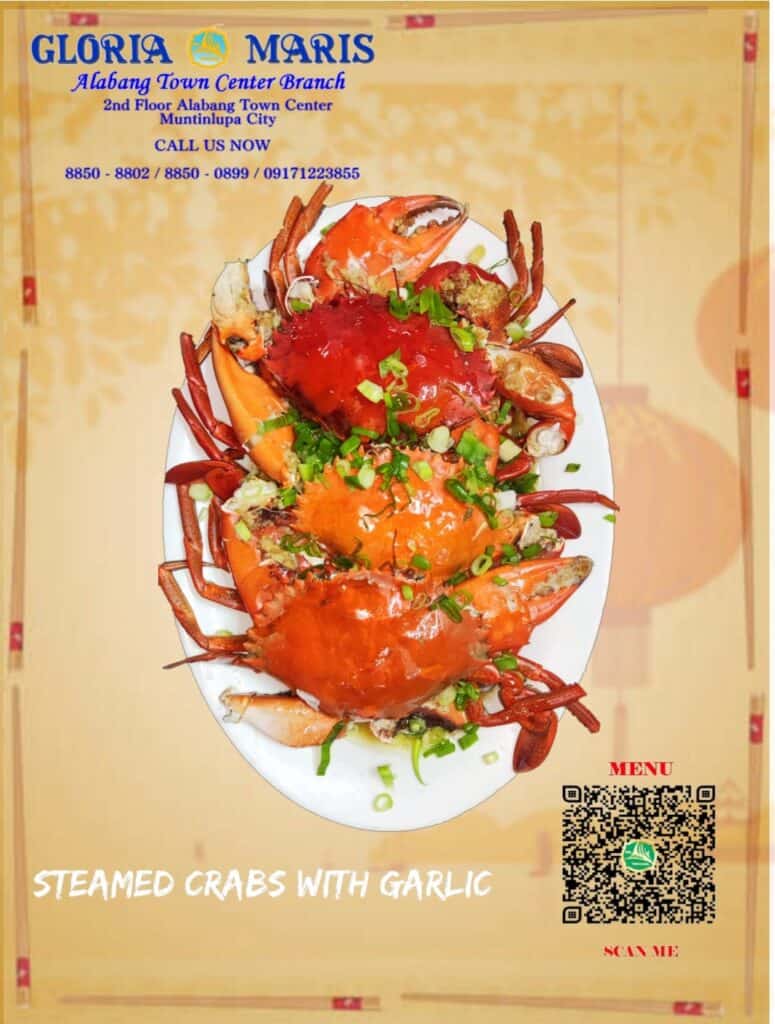 Sweet and Sour Live Lapu-Lapu – A traditional Chinese meal that features a crispy deep-fried lapu-lapu coated in batter with pickled vegetables and sweet and sour sauce. This dish is best served hot and is best paired with rice.
Fried Live Suahe that is Salted and Peppered – Crunchy, salty, peppery, and slightly spicy. These are the flavors that you can taste in this Gloria Maris menu. A live suahe is delicately marinated in a specially made sauce, deeply fried, and sauteed in herbs and spices that result in its crispy texture.
Steamed Live Lobster with Superior Sauce – Chinese-style live lobster that is steamed with garlic, ginger, scallions, and superior soy sauce. The highlight of this dish is the live, extremely fresh lobster that has been steam-cooked, a really straightforward, attractive entree that would impress everyone.
Live Sea Mantis that is Steamed with Egg White – This tasty seafood sauce that is made from steamed egg white is very compatible with the live sea mantis and makes for a very delicious meal.
Fried Chicken
Fried chicken is mostly referred to as "Southern fried chicken" and was made by Gloria Maris as one of their areas of expertise. It is a dish consisting of seasoned, flour-dusted chicken pieces that have been deep-fried. The breading provides the surface of the chicken with a crunchy texture while preserving the tenderness of the meat.
Gloria Maris Menu Seafoods
Sauteed Australian Scallop – There's something luxurious and indulgent about this dish. Sauteed Australian Scallop tastes fantastic when paired with a pot of rice. It is also topped with freshly chopped parsley, which gives the food additional flavor and color.
Scallop Sze Chuan Style – This dish is stir-fried scallops in Szechuan sauce that results in a juicy and delicious taste. This delicious seafood dish is best paired with rice.
Fried Squid – This menu gained popularity in the 1980s and became a common appetizer offered at the majority of American dining establishments. Gloria Maria made this recipe with their own twist, and it has now become one of the many seafood dishes that are served in their restaurant.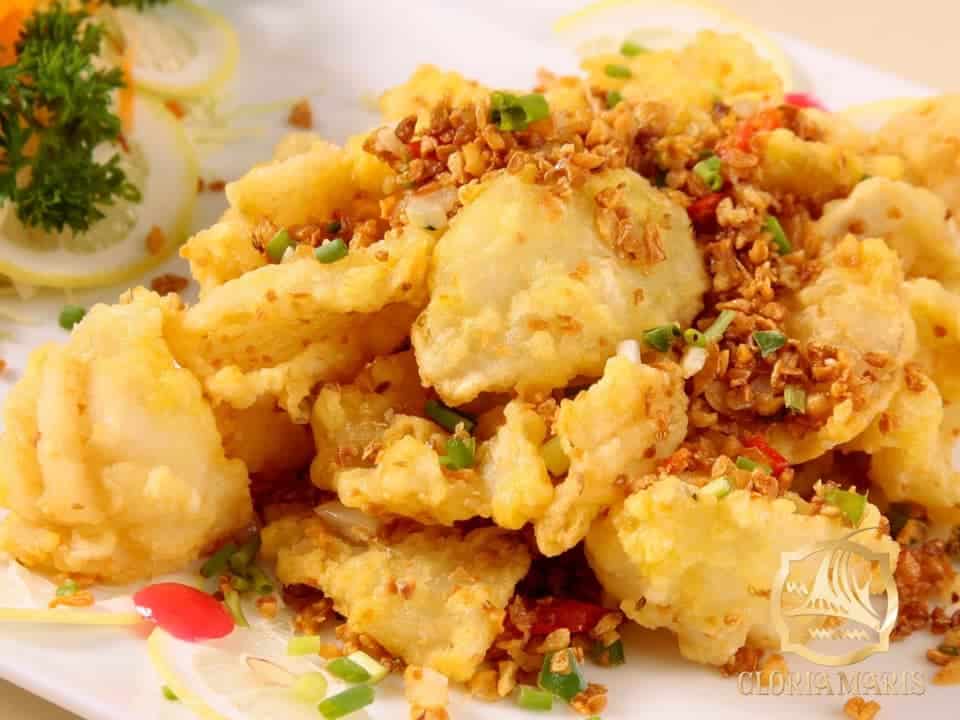 Fried Oyster – In this menu, the oysters are simply seasoned with salt and pepper and then breaded into Gloria Maris' cooking method of mixed ingredients to create a crispy and tasty fried oyster dish.
Oyster Cake – Oysters, bean sprouts, and green onions are combined with tapioca starch and then cooked with eggs to make this dish. The end result is an omelet-like dish that is golden brown and sticky, and it is a wonderful dish.
Salad Seafood Roll – Is made up of many seafood ingredients, like crab meat, shrimp, or scallops. Many condiments are tossed inside the bowl to make a very delicious and tasty salad seafood roll.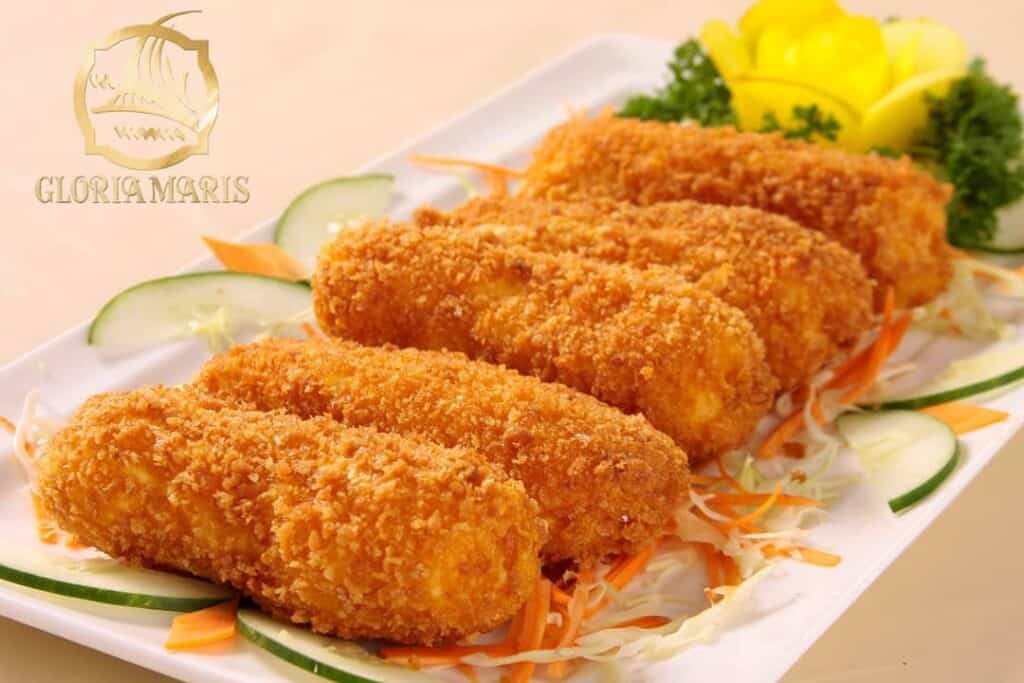 Seafood Mango Salad – This Gloria Maris special seafood mango salad has distinct aromas and textures that work well together to create a tasty and refreshing drink.
Fried Prawns – Prawns are coated with specially made breading. Deep fried until they became golden brown. This dish is best served while it is still hot and crispy.
Prawns with Salted Egg – The prawns on this menu are seasoned with Gloria Maris' special seasoning powder. Deep fried with the egg over medium heat until they are golden brown.
Steamed Prawns with Garlic – The oil in a saucepan is heated over medium to high heat. Shrimp are added after the garlic and finely chopped spring onions to make them more aromatic and savory.
Gloria Maris Menu Vegetable
Fookien Chopsuey – This is a stir-fried Filipino Chinese meal made up of meats, fish, and veggies. It resembles chop suey almost exactly, except this dish's method of cooking results in crisp, not overdone, vegetables.
Lohanchay Hotpot – On the customer's dining table, a pot of soup stock is simmering, and a variety of treats and ingredients are set near the pot for the customers to choose from and add to the hot Stock.
Mixed Vegetables with Sotanghon – It is a recipe for bean thread noodles in a stir-fry with vegetables and fried tofu. It is a delicious vegan menu that's ideal for many customers who want to experience healthy dining once in a while.
Chinese Kangkong with Garlic – This is a dish that is made of sauteed water spinach and is served with an oyster sauce flavored with rice wine and garlic. Chinese kangkong with garlic is a great dish to serve with fried, grilled or steamed meats and seafood that is easy to prepare and healthy.
Chinese Kangkong with Bagoong – One of the most affordable menus at Gloria Maris, water spinach is simply blanched water served with specially made fermented shrimp that blends perfectly together to produce a wonderful aroma and delicious taste.
Stuffed Eggplant with Teriyaki Sauce – This simple Gloria Maris menu is made special by the eggplants being brushed with sesame oil, and cooked in a frying pan for 3 to 5 minutes. Spoon marinade over the cut sides until it seeps into the incisions.
Lettuce with Minced Pork – Lettuce wraps with pork, stuffed with a ton of hidden crunchy vegetables and flavorful savory brown sauce. This dish is also known as San Choy Bow and is possibly the best cuisine in the entire world that is also healthy.
Braised Beancurd with Mushroom – Beancurd sticks are a great vegetarian dinner. It is a simple dish that makes the most of the beancurd and mushroom flavors that are blended together to create a harmony of aroma and delicious taste.
Pork Menu
Patatim with Mantao – One of the many traditional Filipino dishes is Patatim, which also has influences from Chinese cuisine. It is brimming with a pig stew flavored with fragrant peppercorns, sesame oil, and soy sauce. It is a more sophisticated rendition of Chinese red braised pork.
Sweet and Sour Pork – This Gloria Maris menu is a stir-fried meal from China that is composed of succulent pork tenderloin, bell peppers, onions, and pineapple. A sweet and sour sauce is then drizzled over the crispy, battered pork.
Minced Pork with Eggplant – A traditional Chinese stir-fry dish from the northern Sichuan province includes minced pork with eggplant. This dish is made more special by Gloria Maris.
Fried Spareribs with Salt and Pepper – This is a simple fried spareribs dish that is just made more tender and has richer flavors due to the salt and pepper that were added during the cooking process.
Shanghai Roll – Filipino egg rolls also known as Lumpiang Shanghai or Shanghai rolls use ground pork as their primary ingredient. Finely chopped spring onions, carrots, and seasoning are also mixed inside the roll.
Rice Menu
Gloria Maris Fried Rice – A very simple dish made special by Gloria Mari's recipe. It is a dish in which the rice is stir-fried till it turns golden brown.
Shanghai Fried Rice – It is a type of Chinese fried rice that includes sauces, pork, and vegetables. This menu from the Gloria Maris is bound to be one of the favorites among its diners. It can be consumed by itself without any sides or soup.
Salted Fish Fried Rice – It is a fish dish that has been salted and preserved and is served with rice. This is the most common dish that Gloria Maris' diners order for its simplicity and exquisite taste.
Garlic Rice – Steamed rice that has been cooked with a lot of garlic. This rice dish is regarded as a staple diet in most of Asia, mostly in the Philippines.
Yang Chow Fried Rice – It is prepared with rice that has been stir-fried with meat and vegetables, and it frequently includes components like ham, shrimp, peas, carrots, and eggs.
Jasmine Rice – An ordinary steamed rice recipe that uses jasmine rice.
Dimsum Menu
Sharksfin Dumpling – Gloria Maris' menu includes shark fin dumplings. It is a type of dumpling found in a gelatinous broth. Shark fin, shrimp, crab, and shiitake mushrooms are among the ingredients used in making a shark fin dumpling.
Japanese Siomai – Instead of the conventional dim sum wrapper, this dish is served with prawns and is essentially a type of minced pork dish.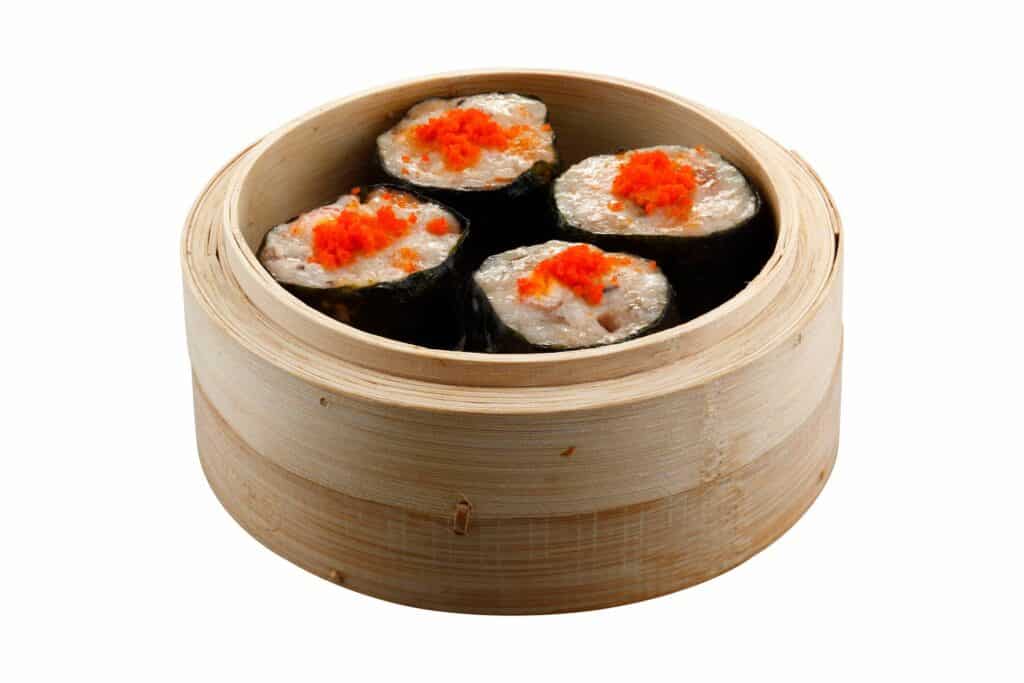 Chicken Feet – One of the most famous appetizers in Asia is chicken feet. It is packed with collagen, which prevents joint pain and is also good for the skin.
Asado Pao – An ideal Asian snack or appetizer is the Asado pao. These hefty steamed buns have soft, fluffy bread with aromas that are sweet and savory.
Beef Siomai – Famous Filipino-style dumplings, also known as beef siomai, include stuffing of ground beef, mushrooms, and vegetables. It is regarded as one of the most well-liked food snacks on Gloria Maris' menu.
Party Package
Package 1 – Good for 20 to 30 people and has 5 food menu items.
Package 2 – Good for 31 to 40 people and has 6 food menu items.
Package 3 – Good for 41 to 50 people and has 6 food menu items.
Package 4 – Good for 51 to 60 people and has 6 food menu items.
Package 5 – Good for 61 to 70 people and has 6 food menu items.
Package 6 – Good for 71 to 80 people and has 6 food menu items.
Gloria Maris Menu Delivery
Taro Basket with Australian Scallop – This popular delicacy from Gloria Maris is a little deep fried Taro basket with fresh scallops wrapped inside each ring that the customers will surely enjoy because it is done to perfection!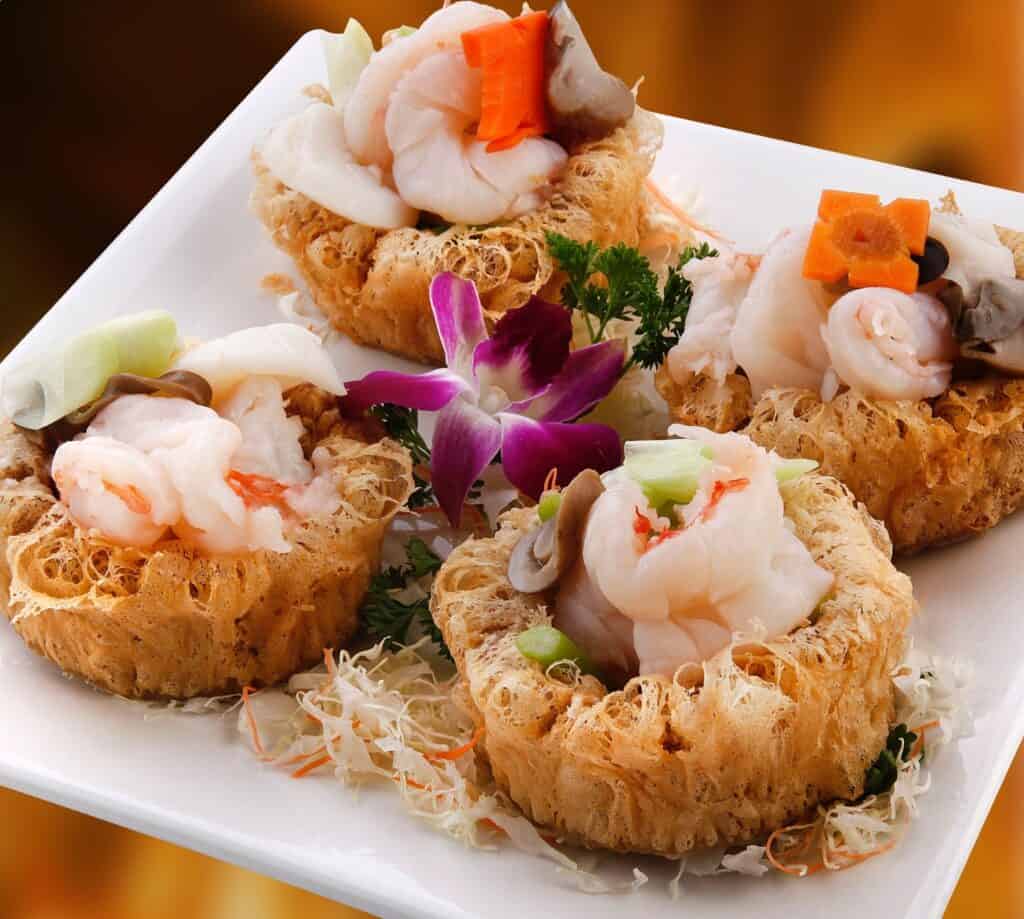 Spareribs with Special Sauce – Certain to become a family favorite are these Spareribs with special sauce. This Gloria Maris menu is aromatic and tasty perfectly matched with steamed meat. Pairing it with steamed rice makes it more filling, and the sweet and tangy sauce blends perfectly with it.
Local Scallop – A basic scallop dish that is made by searing them and cooked on the stovetop. The scallops are painted with butter or oil to make them nice and crispy, with a golden brown exterior that provides a delicate balance of savory and tender taste.
Hot Prawns with Garlic – After being marinated, the prawns are heated for a few minutes until they start to get somewhat crispy. Steamed rice is the ideal side dish for this menu, which is served with a fiery sauce.
Social Media Pages
To have access to more information about Gloria Maris' promos, events, and discounts, you can follow their official social media pages. These links will redirect you to one of their official Web sites.
Official website: https://gloriamarisph.com/
Official Facebook page: https://facebook.com/OfficialGloriaMarisGH/
Official Instagram account: https://www.instagram.com/officialgloriamarisgh/
Conclusion
Gloria Maris' menu is not just composed of Chinese cuisine but has a very wide range of cuisines. They created all of the dishes they served, including those from non-Chinese cuisines. Gloria Maris is the place you want to go to if you want to have a taste of authentic Chinese cuisine.