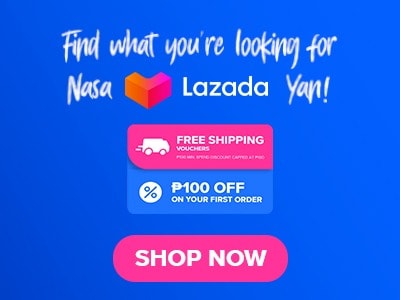 The China Blue menu consists of scrumptious Chinese cuisines. It offers appetizers & cold dishes specialty, Chinese barbecue, bird's nest soup, soup and consommé, classic Chinese delicacies, poultry and meats, seafood, vegetables and tofu, rice and noodles, Chinese tea menu, dim sum, desserts, and lauriat. These dishes exhibit the vibrant culture and modern interpretation of classic Chinese cuisine.
Below, you'll find the updated list of China Blue menu prices.
Menu Items
Price (PHP)

Appetizers & Cold Dishes Specialty

Sour plum, sweet vinegar-marinated cherry tomatoes
330
Chicken, green apple and crispy beancurd salad, truffle dressing
950
Jellyfish, shredded chicken and century egg salad flambé
600
"Shanghai style" soya braised fish
600
Deep-fried vegetarian bean curd sheet pickled cucumber with pancake wrapper
790
Ivy plant and bamboo shoot salad, sesame onion oil dressing
500
Oven-baked scallops with creamy cheese sauce
1390
Stir-fried shiitake mushrooms, sweet vinaigrette sauce
400
Crispy oyster mushrooms, curry flavored fried garlic and sour cream dip
450
An array of Chinese cold dishes, house specialty of China Blue
990
Goose liver mousse, cherries, squid ink crumble
990
Fried soft shell crab, "Bi Fong Tang style"
890
Paper-thin crispy beef in sweet and spicy sauce
590
Golden prawn toast, salted egg, pickled cabbage
690

Chinese Barbecue

Barbecued whole roasted suckling pig, "Hong Kong style"
Seasonal Price
Golden roast U.S. duck with pancake wrappers
Seasonal Price
Barbecued honey-glazed Matsusaka pork neck
760
Garlic-flavored roasted chicken with baby cucumber in mango savory sauce
1250
Crispy baby pigeon, "Chinese herbal style"
Seasonal Price
Roasted shallot chicken in rock salt flambé
720
Barbecued scallops skewer with bacon, black pepper sauce
1390

Bird's Nest Soup (Per Person)

Braised bird's nest soup with superior crab roe
3600
Bird's nest, dried scallops, sea cucumber, silken chicken soup
3600
Braised bird's nest with seafood, spinach and egg white pearl broth
3600
Bird's nest, roasted duck, bamboo pith and mushroom coriander soup
3900
Braised bird's nest with abalone and dried fish lip soup
4100

Soup and Consommé (Per Person)

Monk jumps over the wall" soup
3300
Double-boiled moon fish clam, healthy Chinese herb, black chicken
650
Braised fish lips and fish soup infused with coriander
550
Superior crab roe with braised sea cucumber and seafood broth
760
Silken chicken soup with sea cucumber, chrysanthemum tofu
720
Assorted seafood, eight hour golden broth
750
Classic seafood hot and sour soup
440
Minced beef, sea moss, pickled vegetable spring onion soup
490
Tibetan rock grains, ivy plant, sweet corn and silken tofu soup
400
Double-boiled peach gum with fresh mushrooms, cordyceps flower soup
400
Special soup of the day
350

Classic Chinese Delicacies

Braised sea cucumber, roasted garlic and shiitake mushrooms
2300
Braised sea cucumber with shrimp mousse and Tibetan rock grains sauce
2500
Braised two-headed whole abalone with dried scallops in superior abalone sauce
5400
Braised two-headed whole abalone with stuffed shiitake mushroom, black garlic golden sauce
5900
Braised abalone, assortment of sea treasure in a clay pot
3800
Braised baby abalone with crab claw, fried fish maw in dried scallops sauce
3120
Braised sea cucumber, diced seafood and bean curd sheet with dried shrimp onion sauce
1450

Poultry and Meats

U.S. beef tenderloin with Chinese walnuts
1320
Wagyu beef cheeks and tendon with radish in a hot pot
1850
Wok-fried U.S. beef tenderloin, asparagus and Hunan pepper
1320
Sautéed U.S. beef, king oyster mushroom and leek with chef's special 13 spices mix
1290
"Taiwanese style" three cup chicken casserole
590
Chicken and dried ginger, fried garlic casserole
590
Stir-fried pork with pickled mustard and bamboo shoot
680
"Sichuan style" wok-fried spicy chicken
590
Crispy pork with strawberry in sweet and sour sauce
700
"Hong Kong style" fried pork ribs with fried garlic
720
Stir-fried Xin Jiang cumin lamb or beef with leeks, served with momo wrappers
1250
Wok-fried diced chicken with Sichuan pepper corn
590
"Hangzhou style" soya braised pork belly served with steamed mini bun
850
Wok-fried crispy pork belly with garlic-infused sweet and sour soya sauce
850
Braised pork spare ribs with pork tendon and wild mushroom
890

Seafood

Live shrimp (poached with ginger and Shaoxing wine or fried with five spice salt)
Market Price
Deep-fried crab claw, coated with shrimp paste and salted egg taoso
780
Simmered golden pomfret, slice pork with shallot and ginger, traditional style
1380
Braised seafood with bean curd served in a sizzling hot pot
1150
Stir-fried live black garoupa with bell pepper and candy walnut
Market Price
Wok-fried sea prawn skewer with asparagus in Sichuan garlic sauce
1400
Crispy-fried squid in five spice salt
590
Crispy-fried shrimp with wasabi and mango salsa
990
Simmered fried snow fish with leek and duo of mushrooms hot pot
1420
Oven-baked snow fish in honey teriyaki sauce with egg white and crab meat
1420
Wok-fried scallops with asparagus in black truffle sauce
1490
Pan-fried scallops and shrimp mousse in crab roe sauce
1490
Baked king prawn and crystal noodle with spring onion
2100
Wok-fried scallop and shrimp with sakura shrimp dry chili sauce
1650
Egg white custard with scallops, clams and shrimp in crab roe sauce
1620
Deep-fried soft shell crab and shrimp with calamansi sweet and sour mango dressing
1190
Sautéed prawn, assorted mushroom and seasonal greens with signature XO sauce
1400

Live Seafood

Asian Lobster
Seasonal Price
Baked Lobster
Seasonal Price

Vegetables and Tofu

Homemade spinach bean curd in Sichuan eggplant and minced chicken sauce
600
Stir-fried crispy lotus root with sweet and sour sauce
450
Stir-fried assorted mushrooms with asparagus in vegetarian XO sauce
520
Pan-fried stuffed shitake mushroom and tofu served with signature truffle golden sauce
890
Braised vegetarian meat and mushroom with glass noodles
490
Wok-fried string beans with spicy minced pork and dried shrimps topped with meat floss
520
Braised fish mousse, Sichuan vegetable and eggplant clay pot
890
Poached Hong Kong vegetables with sea treasures in superior stock
780
Crispy pumpkin coated with salted duck eggs
500
Sauce
490

Rice and Noodles

Scallops and egg white fried rice with spring onions
790
Fried rice with diced chicken, Chinese sausage and tomatoes
530
"Cantonese style" salted fish, fried rice with diced chicken''
600
Wok-fried rice with honey barbecued pork, taro and dry shrimp
730
Wok-fried lobster and Hong Kong noodles with superior stock and ginger spring onion
Seasonal Price
Fried somen noodles with fried tofu and vegetarian ham
520
Stir-fried rice vermicelli, roasted duck with snow vegetable and bean sprout
550
Yang chow fried rice
650
Wok-fried Hong Kong noodles duo of seafood "Traditional Style"
790
Seafood fried rice with signature XO sauce
700
Wok-fried organic black rice with wild mushrooms, wolfberry and assorted vegetables
450
Wok-fried homemade "Ho Fan" with seafood and egg white sauce
830
Stir-fried Ho Fan noodles, with U.S. beef, onion and vegetables
700
Crispy Hong Kong egg noodles with shrimp, chicken, pickled mustard in hot and sour sauce
790
Braised e-fu noodles with seafood and vegetables
870

Chinese Tea Menu

Premium Dragon Well Long Jing, Green Tea
280
Organic Superfine Dragon Well Long Jing Green Tea
320
Taiwan Ginseng (Lan Gui Ren) Oolong Tea
220
Ripened Aged Loose Pu-Erh Tea
220
Fengqing Wild Tree Yesheng Raw Pu-erh Tea Cake 2014
420
Tie Guan Yin "Iron of Goddess" Oolong Tea
220
Taiwan Osmanthus "Gui Hua" Oolong Tea
220
Chrysanthemum Bulb Tea
280
Premium Jasmine Dragon Pearl Green Tea
220

Dimsum Menu

Steamed crystal shrimp dumplings "Har Kau"
330
Steamed scallop and shrimp pork dumpling "Siew Mai"
330
Steamed honey glazed roasted "Char Siew" pork buns
280
Steamed chicken feet with XO, black bean sauce
250
Steamed pork spare ribs with fried garlic sauce
250
Poached minced ginger pork dumpling with fried garlic vinegar sauce
250
Taro dumpling "WoGok" with scallop
320
Stir-fried radish cake with XO sauce
280
Deep-fried roasted duck and dry shrimp hand bag pastry puff
350
Homemade mackerel fish ball vegetable congee
290
Shredded chicken and dry scallop congee
290
Assorted mushroom, bamboo pith vegetable congee
250
Freshly made rice roll with shrimp and asparagus
360
Freshly made rice roll with barbecued pork and coriander
320
Freshly made rice roll with scallop and sun-dried scallops
380
Pan-fried handmade rice roll with Guangdong chicken, sakura shrimp and spring onion
320

The Bygones Dim-Sum Series

Deep-fried homemade mackerel fish cake with brown gravy sauce
320
Steamed dry scallop seafood with coriander flower shape dumpling
350
Deep-fried crispy prawn wonton
290
Deep-fried smoked duck, taro vegetable spring roll
300
Steamed chicken and vegetable sweet corn dumpling
290
Deep-fried beancurd rolls with chives and seafood
320
Deep-fried honey Matsusaka pork carrot shape dumpling
330

The Gourmet Dim-Sum Series

Steamed house specialty truffle mushroom buns
330
House specialty black and gold egg custard buns
330
Deep-fried smoked duck with mushroom green pear dumpling
330
Oven-baked honey sesame barbecued pork pastry puff
300
Steamed Yin Yang shrimp dumpling and chicken mushroom truffle dumpling (per piece)
240

Deluxe Dim-Sum Series

Steamed chicken with black garlic soup dumpling
320
Steamed organics duo glutinous rice with abalone and chicken
390
Wild fungus dumpling with black truffle oil
320

Desserts

Bird's nest with stuffed orange peach sorbet and tropical fruit
2900
Almond cream with bird's nest and mini crystal dumpling
3100
Hot or cold Chinese pear in sun-dried longan syrup, gingko nuts and snow fungus
290
Almond pudding with lychee sorbet and ube stick
360
Mango crepe parcel with strawberry ice cream
390
Coconut charcoal ice cream, crispy cheese cracker, toasted bread
320
Chilled sago cream with mango puree
290
Mango ice cream served with crispy rice crackers, gold leaf red bean oreo dumpling
390
Seasonal local fruits
430

Lauriat

Lauriat Menu 1 (Minimum order of 10 persons)
38000
Lauriat Menu 2 (Minumum order of 10 persons)
46888
Lauriat Menu 3 (Minimum order of 10 persons)
63800
About China Blue
China Blue is an elegant restaurant created by Jereme Leung that features a contemporary version of classic Chinese cuisine. It is one of the restaurants located inside Conrad Manila. Its classic and modern blend of interior design creates a luxurious and welcoming ambiance. The spectacular view of Manila makes the dining experience more satisfying. 
China Blue Menu Best Seller
Discover the most popular dishes at China Blue, which are highly recommended for their incredible flavors. These dishes are sure to satisfy your appetite and leave you craving more. Be sure to add them to your list of must-try dishes!
House Specialty Black and Gold Egg Custard Buns – A luxurious and popular house specialty gourmet dim sum made with black and gold egg custard buns. Its glossy jet-black color with golden stripe makes it look extravagant. The salty and sweet flavor as well as the chalky texture of its egg custard filling make this dish scrumptious.
Crispy Fried Shrimp with Wasabi and Mango Salsa – This China Blue menu is made with shrimp that is breaded and deep-fried until its coating turns into an exquisite golden color. Its creamy wasabi complements well with sweet mango salsa creating a satisfying dish.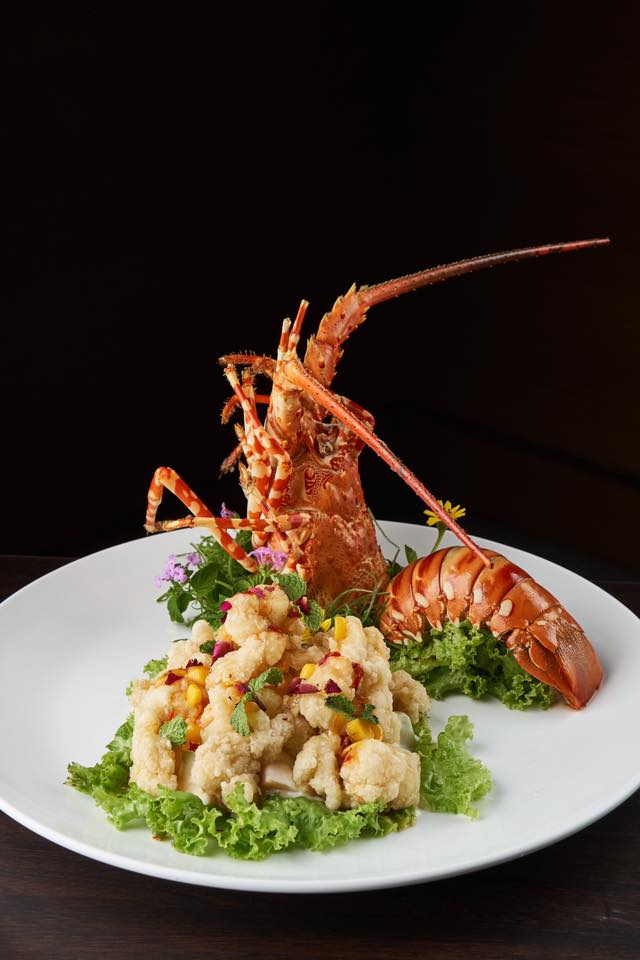 Wok-fried U.S. Beef Tenderloin, Asparagus, and Hunan Pepper – A delicious meat dish where U.S. Beef Tenderloin is wok-fried with asparagus, hunan pepper, and other special seasonings. The combination of the flavor and texture of its ingredients will delight your palate and fill your cravings.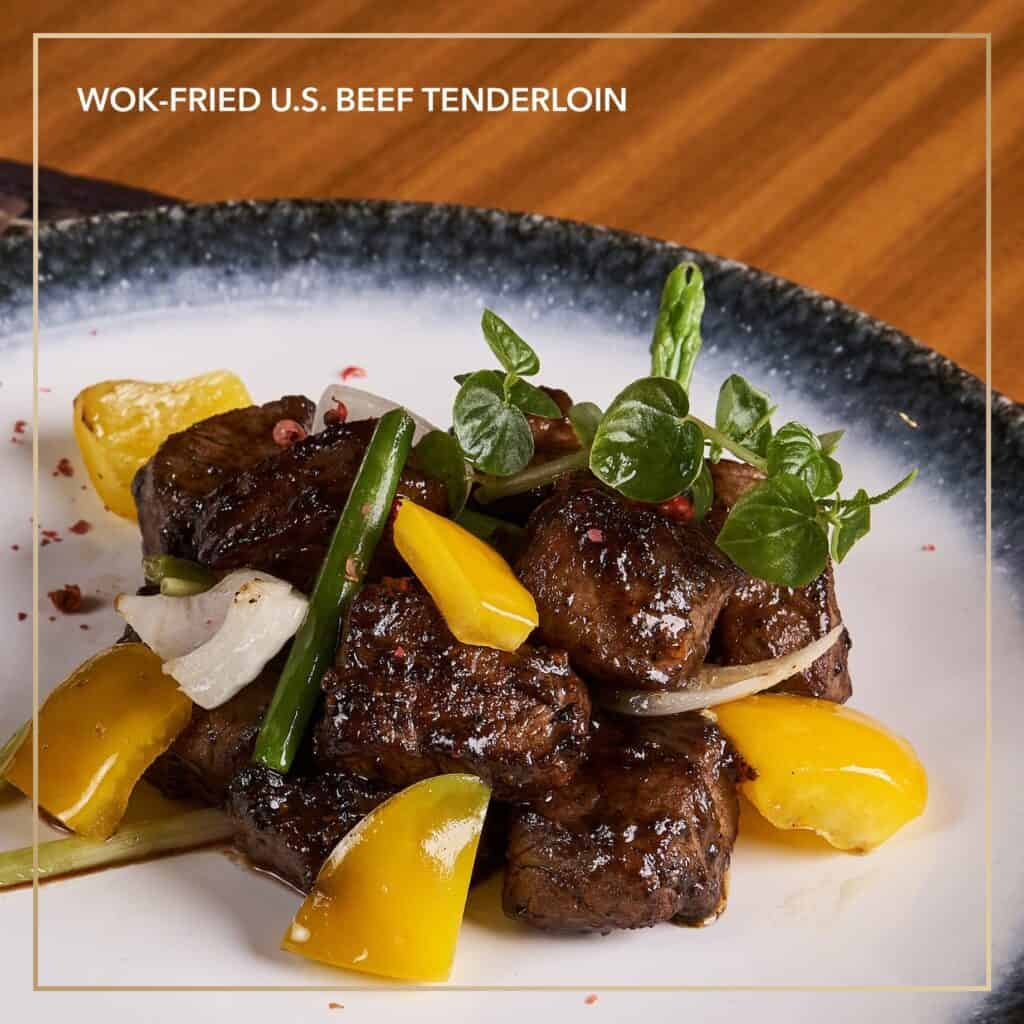 Steamed House Specialty Truffle Mushroom Buns – The mushroom-like shape of the truffle bun, delicious minced mushroom fillings, and special sauce of this dish make it one of the restaurant's best sellers. This gourmet dim sum is one of the amazing dishes that you should not miss out on.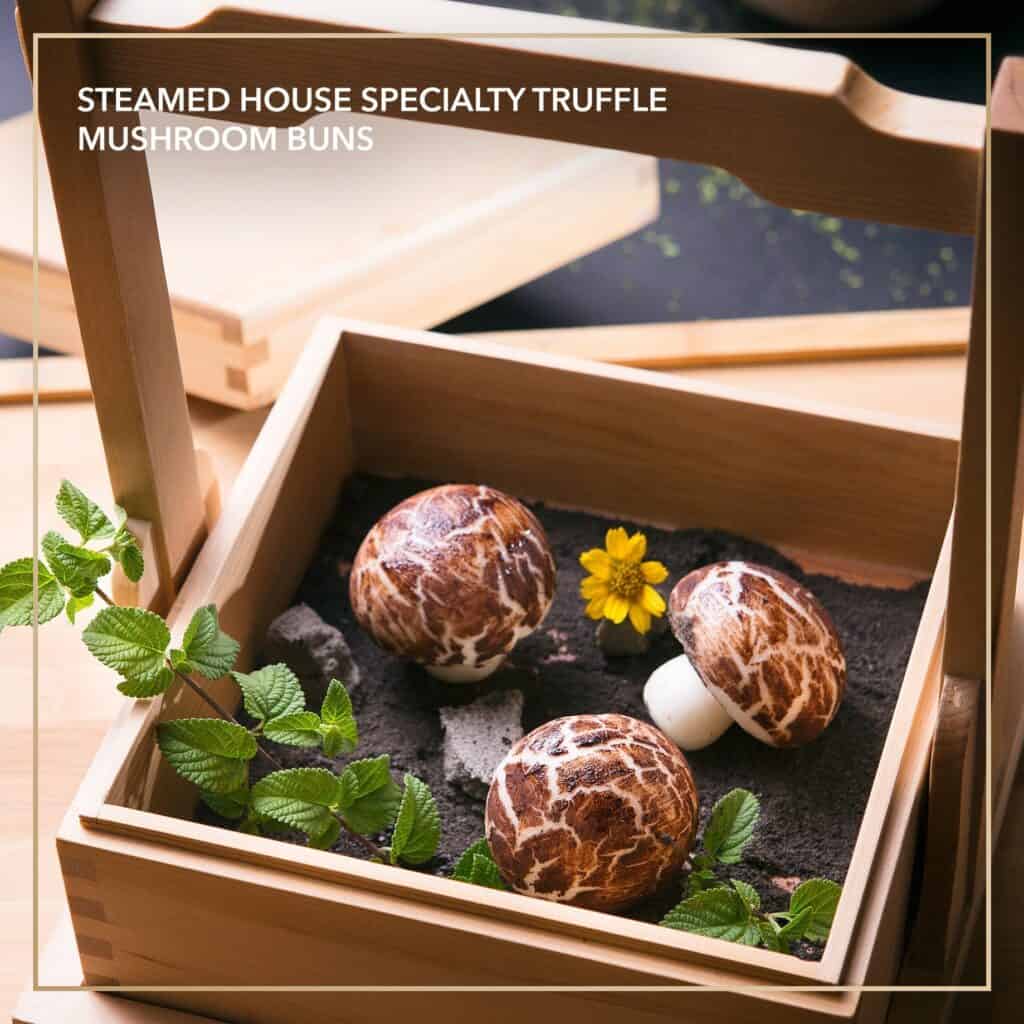 Stir-fried Shiitake Mushrooms, Sweet Vinaigrette Sauce – It is made up of crispy and sweet stir-fried shiitake mushrooms garnished with special vinaigrette sauce. You will be pleasantly surprised by the delicious taste of this savory dish.
Appetizers & Cold Dishes Specialty
These appetizers and cold dishes of China Blue will boost your appetite making your dining experience more delightful.
Chicken, Green Apple, and Crispy Beancurd Salad, Truffle Dressing – A delicious salad made with chicken, slices of green apple, and crispy bean curd dressed with special truffle dressing. The creamy and rich consistency of its truffle dressing gives a robust flavor making it appetizing.
Deep-fried Vegetarian Bean Curd Sheet Pickled Cucumber with Pancake Wrapper – This China Blue menu is made with a bean curd sheet that is deep-fried expertly. Pickled cucumber and pancake wrapper also come with this dish. The combination of its ingredients matches well perfectly. 
Paper-thin Crispy Beef in Sweet and Spicy Sauce – Beef is cut into thin slices, marinated in a sweet and spicy mixture, and then expertly grilled. The flavor of this dish and the texture of the beef makes it simply addicting and appetizing.
Oven-baked Scallops with Creamy Cheese Sauce – The creamy and delicious scallops are garnished with creamy cheese sauce and baked expertly. It is a well-loved appetizer as it is packed with flavors making meals appetizing.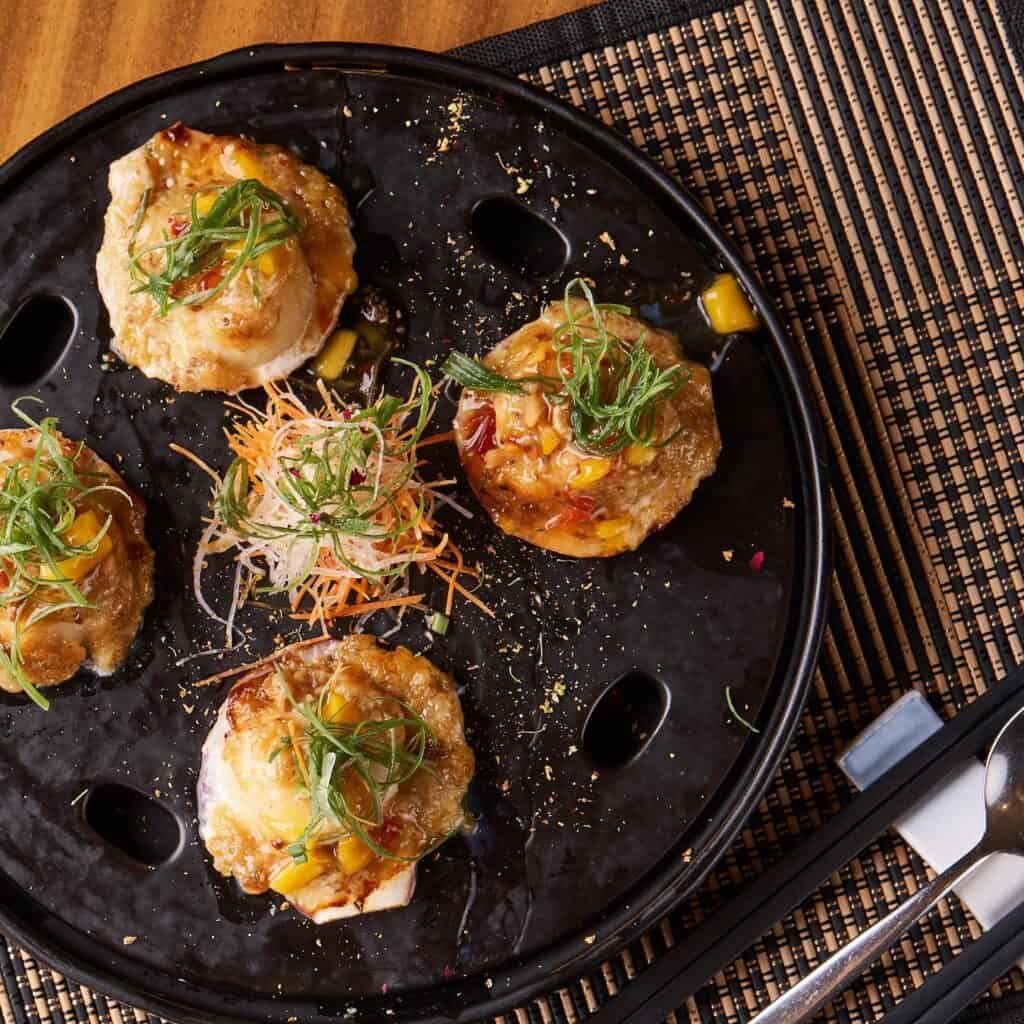 Jellyfish, Shredded Chicken, and Century Egg Salad Flambé – It is a delectable salad dish made up of jellyfish, century egg, and shredded chicken. This dish is prepared using the flambe cooking technique to enhance its flavor and appeal.
Chinese Barbecue
These are some of the Chinese barbecue dishes of China Blue that will take your dining experience to the next level as they are bursting with flavor.
Barbecued Whole Roasted Suckling Pig, "Hong Kong style" – This is a popular dish in China that is commonly prepared for celebrations as its taste always pleases the crowd. Each bite of this menu from China Blue will delight your taste buds.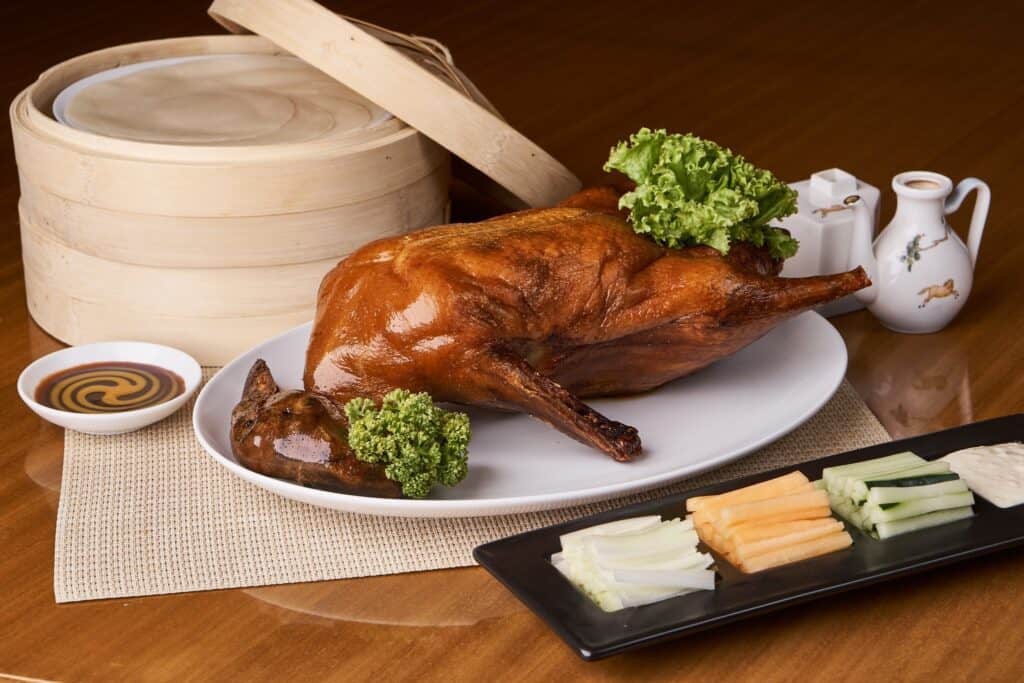 Golden Roast U.S. Duck with Pancake Wrappers – The skin of the duck is garnished with the restaurant's special blend of seasonings and roasted until it becomes golden brown. It is served with mixed side dishes, pancake wrapper, and special sauce.
Garlic-flavored Roasted Chicken with Baby Cucumber in Mango Savory Sauce – Slices of cucumber are paired with garlic-flavored roasted chicken and a flavorful mango sauce. The garlicky flavor of this China Blue menu and the savory mango sauce perfectly match together which results in an irresistible dish. 
Roasted Shallot Chicken in Rock Salt Flambé – Its rock salt base seals in the taste and flavor to make this roasted shallot chicken more flavorful and succulent. The flambe technique also enhances the presentation and taste of this dish.
Barbecued Scallops Skewer with Bacon, and Black Pepper Sauce – An elegant dish made up of scallops with bacon that are garnished with black pepper sauce. Its visually appealing presentation and savory taste make it mouthwatering.
Bird's Nest Soup Menu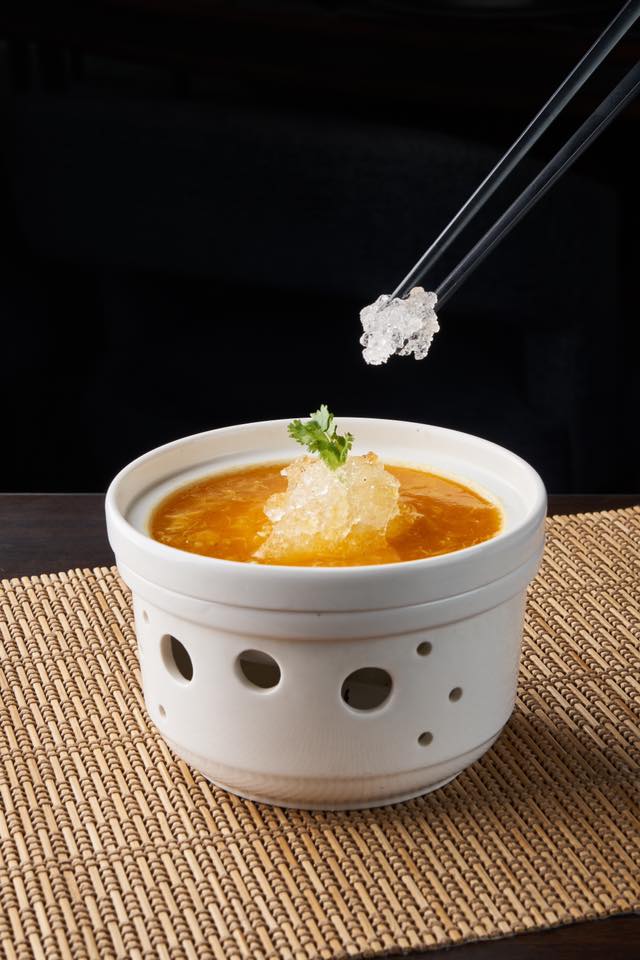 China Blue offers different variants of bird's nest soup. These traditional and luxurious Chinese soups menu from China Blue are well-loved for their distinctive taste and the health benefits that it provides. Some people also believed that it provides medicinal benefits such as strengthening the immune system and contains a lot of nutritional value. 
Soup and Consomme
The delicious and flavorful soup and consommé of China Blue consist of seafood, beef, chicken, tofu, and a special soup of the day. These soups are made up of fresh and quality ingredients making them rich in flavor. It is also served on a warmer to maintain its right temperature. These comforting soups are perfect during cold weather.
Classic Chinese Delicacies
This restaurant is famous for its traditional Chinese dishes that are loved by many people. The menu has a variety of special foods, including sea cucumber and abalone. These ingredients are carefully cooked in a slow, gentle way, which is called braising. To make it even more delicious, they are combined with other unique ingredients and tasty sauces. This mix of flavors creates a delightful experience for everyone who tries them. These mouth-watering Chinese dishes not only taste good but also represent the rich and diverse culture of China.
China Blue Menu Delivery
This restaurant offers multiple options for customers to enjoy their menu, including dine-in, pick-up, and delivery services. For those who prefer delivery, simply contact them at +6328833-9999 or send an email to [email protected] to place your order. Alternatively, you can visit their online shop at https://conradmanilaestore.whyqueue.shop/ to browse and order from their menu.
Talk to China Blue PH Staff
Want to know more about China Blue? Check out their social media pages to find out about their menu, reservations, and other services. You can even message them to book your visit. Here are the links to get you redirected to their pages and website.
Facebook: https://www.facebook.com/ConradManilaPH/
Instagram: https://www.instagram.com/conradmanila/
Website: https://eatdrinkhilton.com/china-blue-by-jereme-leung-conradmanila/
Contact No.: +63 2 8833 9999
Conclusion
The China Blue menu is tailored by Jereme Leung making it unique, authentic, and flavorful. The delicious and well-plated Chinese cuisine, elegant ambiance, and stunning view of this restaurant will give you a great dining experience. The diners also commend its accommodating and friendly staff as they made good food suggestions that will satisfy your cravings.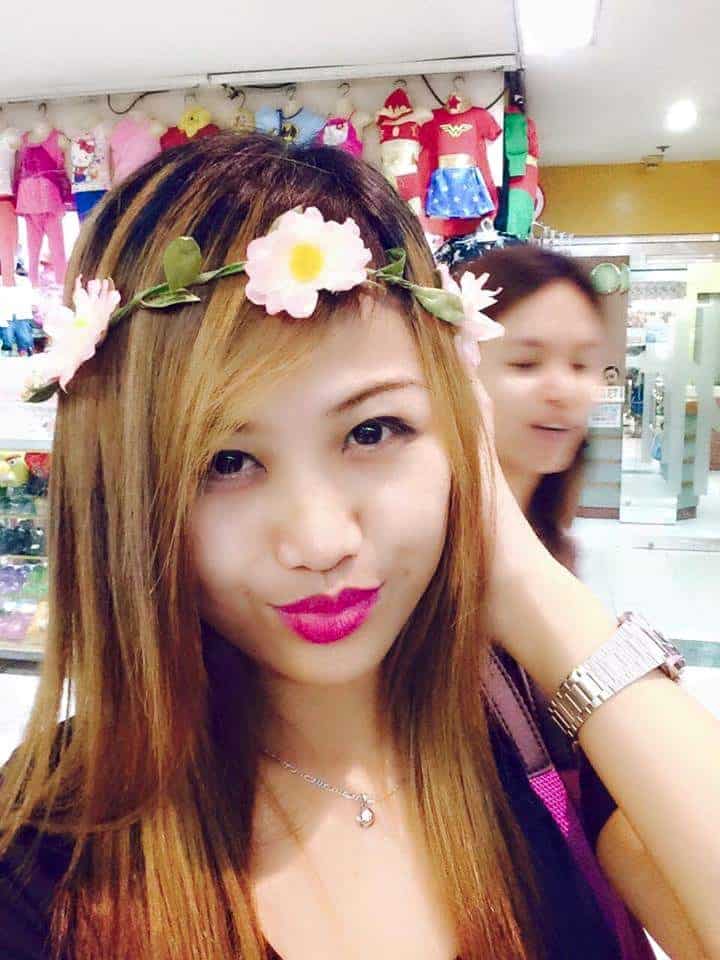 Hello! I'm Shaoyeu Cassandra, a mom who spends most of my time at home, and when I'm not busy, I enjoy writing blogs. I live in Cavite, and I really love talking about the menus of different restaurants.
So, I decided to share my thoughts on the menus of some fast-food places. I'm hoping my take on them can be like a helpful guide for you to decide what tasty treat to go for next. I hope you discover something you really enjoy! Thanks for stopping by!