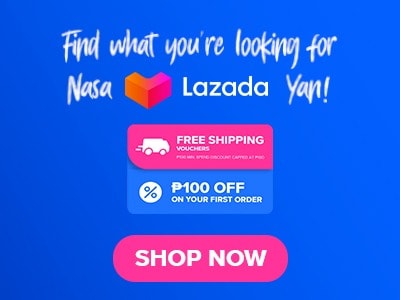 There are a lot of places that offer great food however if you're looking for something quick I have a recommendation. Have you heard about The Beanery Philippines? If not and you're internet with their food offerings then stick with me and we are going to get to know The Beanery Philippines more. The Beanery menu offers a wide selection of delicious food items for you. Let's talk about this establishment, its menu and prices and what can they offer. Let's start! 
Below, you'll find the updated list of The Beanery menu prices.
Menu Items
Price (PHP)

Coffeeholic's Choice (12oz/16oz/22oz/Hot)

Cafe Americano
89/99/109/69
Spanish Latte
99/109/120/79
Hazelnut Latte
99/109/120/79
French Vanilla
99/109/120/79
Caramel Macchiato
109/119/130/89
Salted Caramel
109/119/130/89
Cafe Mocha
109/119/130/89
Iced White Chocolate Mocha
109/119/125/89

Premium Coffee (12oz/16oz/22oz)

Irish Latte
109/120/125
Vienna
109/120/125
Butterscotch Latte
109/120/125
German Iced Coffee
109/120/125
Affogato
115/125/130
Shakerato Blanco
115/125/130

Yakult Soda Series (12oz/16oz/22oz)

Strawberry Yakult Soda
60/70/80
Green Apple Yakult Soda
60/70/80
Lemon Yakult Soda
60/70/80
Lychee Yakult Soda
60/70/80
Peach Mango Yakult Soda
60/70/80
Blueberry Yakult Soda
60/70/80

Frappuccino's (12oz/16oz/22oz)

Strawberry Creme Frappuccino
120/135/145
Caramel Frappuccino
120/135/145
Salted Caramel Frappuccino
120/135/145
Java Chip Frappuccino
120/135/145
White Chocolate Mocha Frappuccino
120/135/145
Chocolate Chip Frappuccino
125/139/149
Coffee Jelly Frappuccino
125/139/149
Mocha Cookie Frappuccino
125/139/149
Matcha Green Tea Frappuccino
125/139/149

Non Caffeine Drinks (Over Iced) (12oz/16oz/22oz)

Signature Chocolate
89/99/109
Matcha Green Tea Latte
119/129/139
Strawberry Kreme Latte
115/125/135

Add Ons

Milk
20
Espresso Shot
20
Sauce/Syrup
15
Nata De Coco
10
Coffee Jelly
10
Yogurt Syrup
10
Whipped Cream
25
About The Beanery
The Beanery Philippines menu offers a wide selection of great dishes, you can choose from classic Filipino breakfast to international dishes that you will surely enjoy. They prepare each dish delicately to ensure the satisfaction of their customers on every plate. They also offer a wide selection of delicious coffees and mouthwatering desserts. The Beanery always make sure that in every serving they made their customers happy and satisfied.
The Beanery offers exciting promotions and deals that add to the great experience, they have daily breakfasts combos and weekday lunch specials so that their customers can enjoy great deals with them, those deals keep their customers and other new customers who are looking for a budget-friendly food escapades.
The Beanery Menu Best Sellers
Here are some samples of their hot-selling items at The Beanery.
The Beanery Breakfast Special – This one is a great choice especially if you are looking for a heavy meal and it's breakfast time. This breakfast special includes garlic fried rice, fried egg, and a Filipino favorite tapa. This classic meal keeps their patrons coming back since this is absolutely delicious.
The garlic fried rice tastes really good plus the fried egg is not overcooked, but you can actually request the doneness of your egg depending upon your preference, the tapa is not too salty, and it has all the right flavors. Tapa has soft meat as well.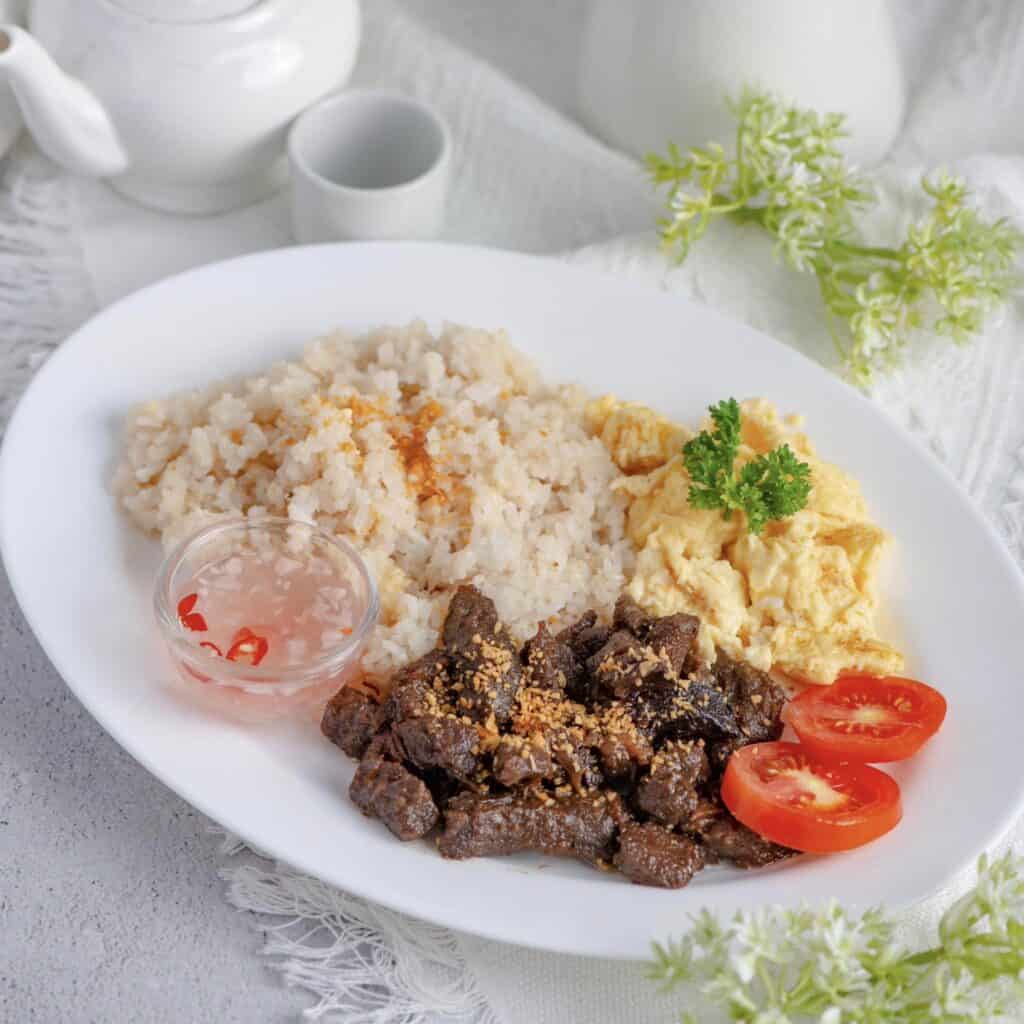 Chicken Pesto Panini – Chicken pesto panini version of The Beanery is a delicious sandwich with tender chicken meat and basil pesto as stuffings, the outside of the sandwich is also crunchy but still soft. I highly suggest you try this one, the strong flavor of pesto plus the tender chicken meat makes it a good sandwich. If you love the flavor of pesto you'll definitely love this one for sure.
Creamy Carbonara – The Creamy Carbonara's menu of The Beanery is a pasta lovers dream. Made with creamy sauce and crispy bacon bits this tastes really good plus the pasta is actually al dente which I prefer honestly. The creamy carbonara tastes and looks good I am honestly not a fan of white sauce pasta but this one passed my delicate tastebuds, I like it, no I love it! This goes really well with anything like their classic chicken wings and other items on their menu so if you're looking for a delicious pasta this one is for you. 
Decadent Chocolate Cake – Decadent chocolate cake version of The Beanery is a slice of heaven for chocolate lovers out there who are looking for a good chocolate cake. This one is rich and has a strong flavor of chocolate, made with moist chocolate chiffon layered with chocolate frosting and then topped with chocolate ganache.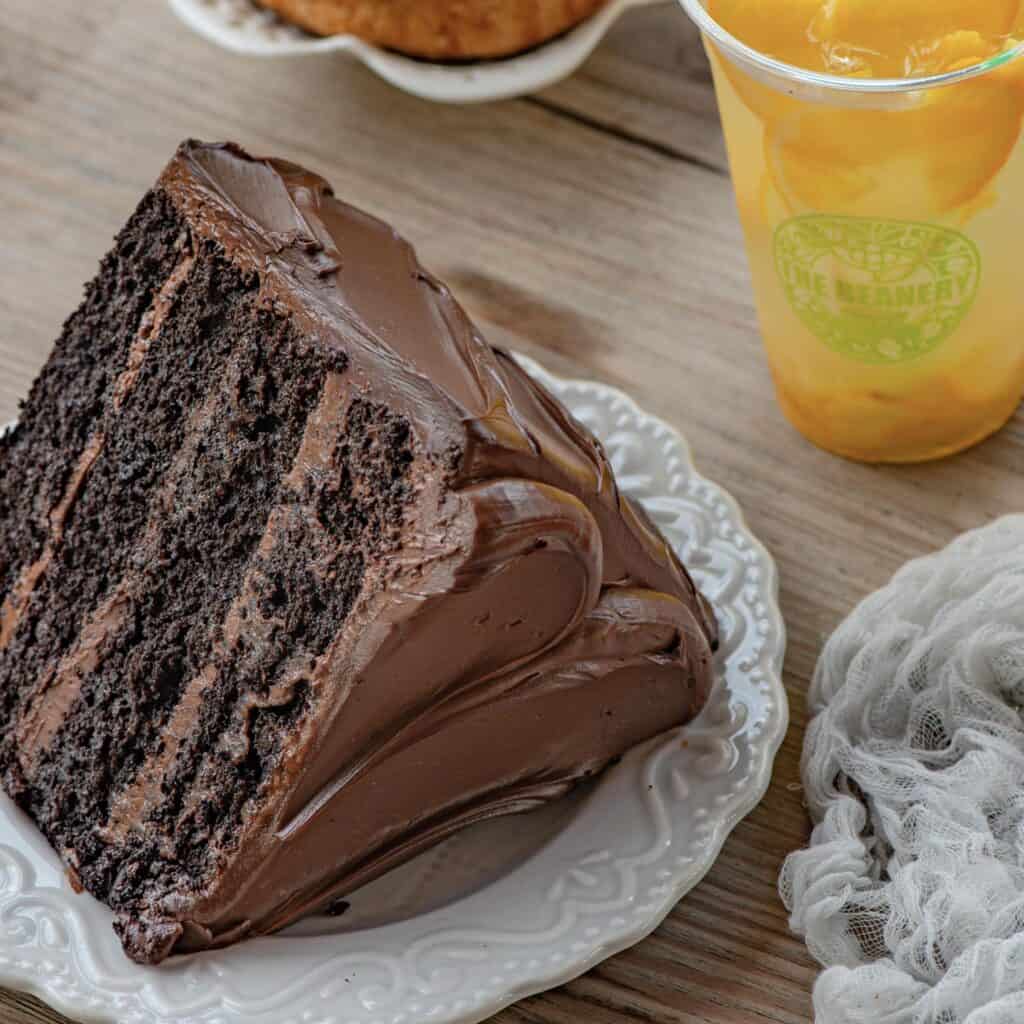 This one will truly satisfy your chocolate cravings once you tasted it. This item is a must-try dessert on their menu and to be honest this is my favorite since I love desserts also one of their best sellers if we are talking about their desserts on their menu.
Pasta
The Beanery offers a great selection of pasta menu. They have baked mac & chicken if you're looking for something heavier and spaghetti bolognese for your Italian cravings. They also have spaghetti and cordon bleu which is a good combination. Other items like baked mac, carbonara, and lasagna supreme can also be found on their menu.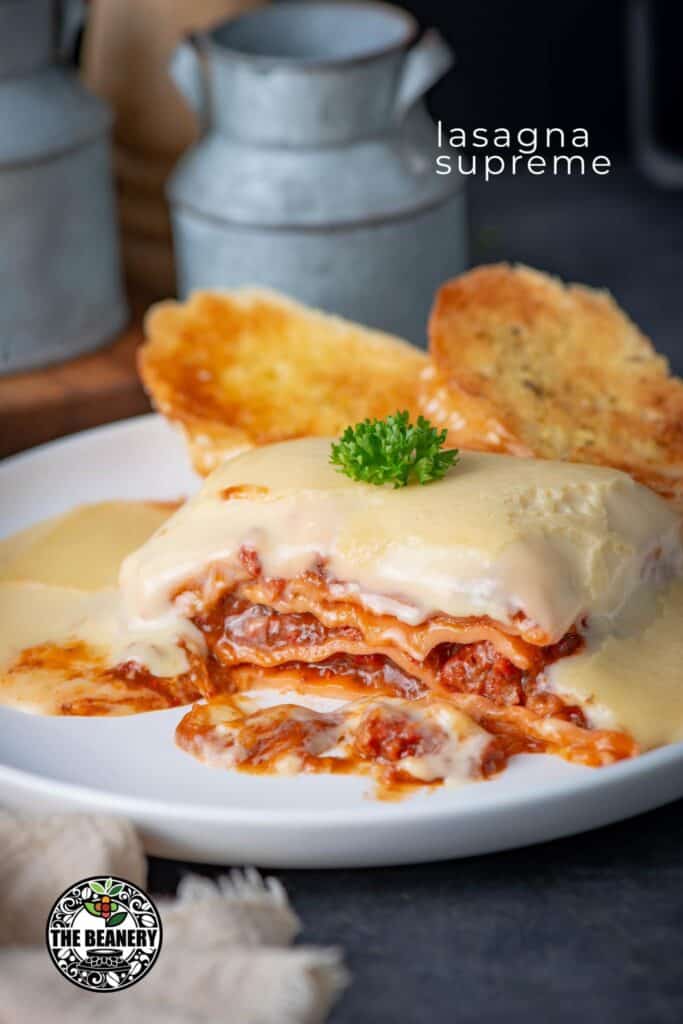 Sandwiches
If you're looking for something light, The Beanery also has sandwiches that are delicious and perfect for quick bites. Beanery Club sandwich is one of their most satisfying sandwiches menu, followed by tuna melt. They also have a chicken sandwich this one tastes amazing. And of course, they also have a ham & cheese sandwich if you want to stick with the classic. Philly cheesesteak and Japanese pancake are the item that is also a must-try on this menu.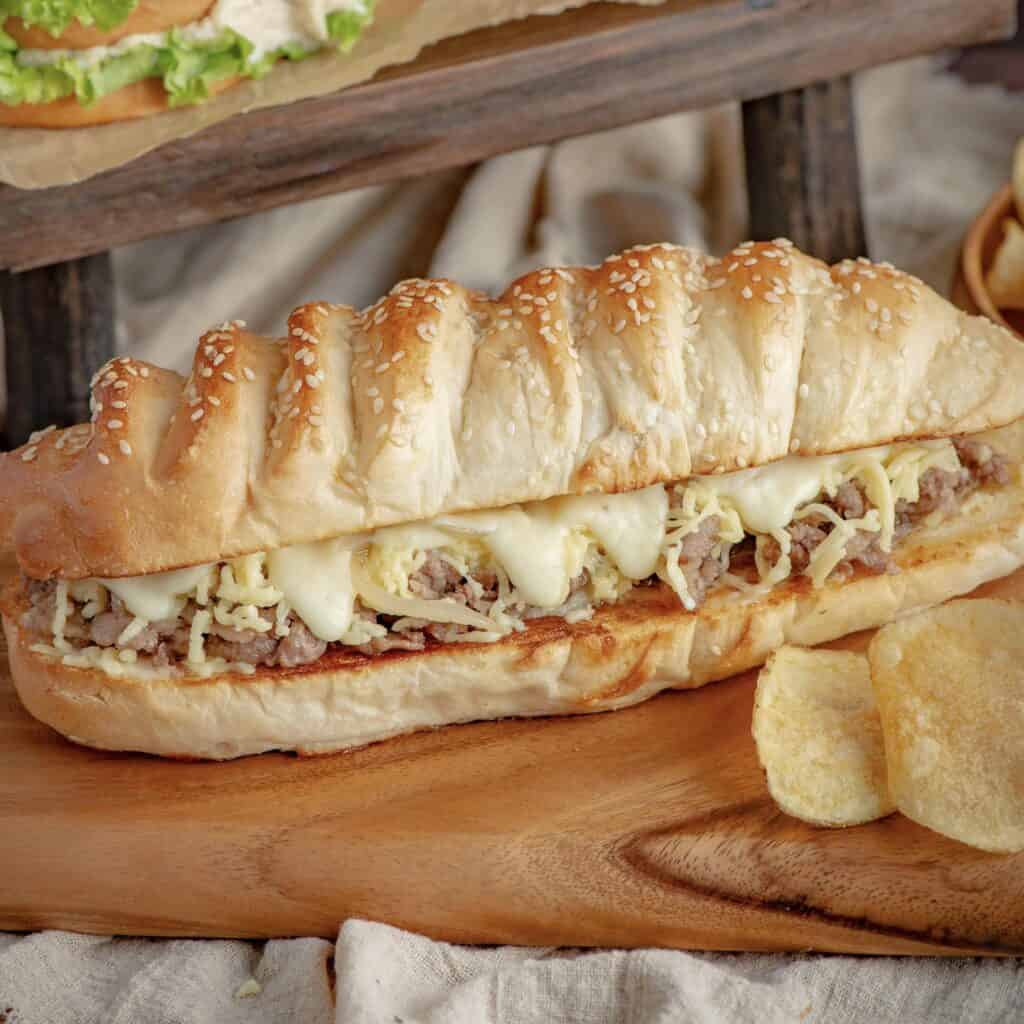 The Beanery Menu Delivery
The Beanery offers an efficient delivery service and makes sure that the goods that they deliver will freshly arrive in the comfort of your home. With their delivery service customers may now enjoy their favorite items of The Beanery anytime. All you have to do is message them directly on their Facebook page to order.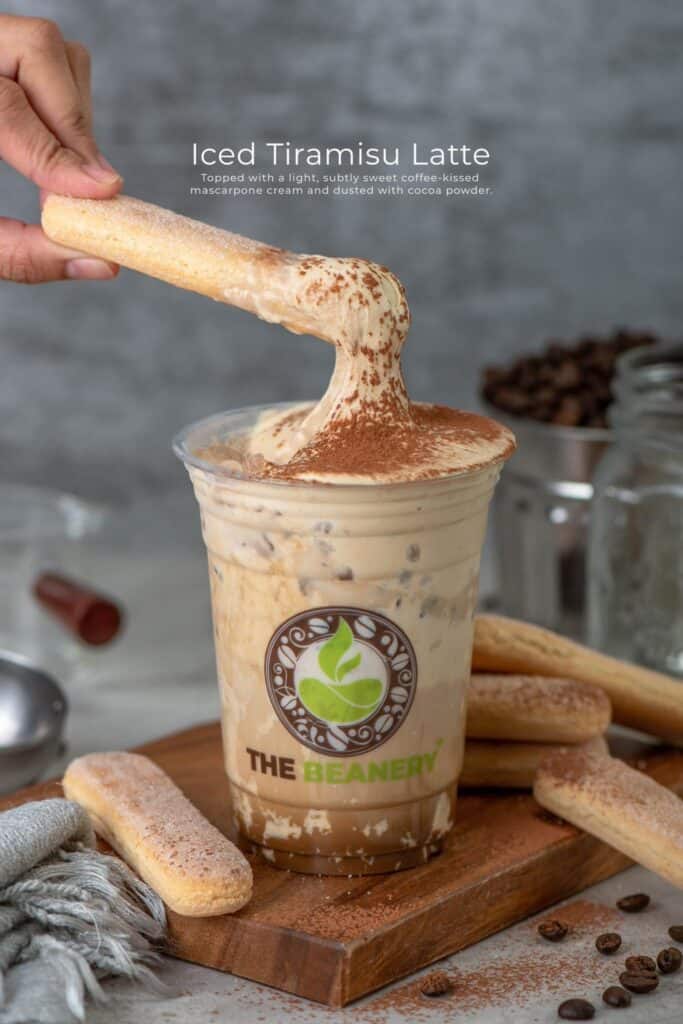 The Beanery Social Media Pages
Sip, savor, and follow the aromatic trails to The Beanery Cafe's world of coffee and camaraderie! Give them a follow and a like on their social media pages today, and you'll unlock a coffee-lovers paradise filled with delightful brews, sweet treats, and exclusive perks.
Facebook: https://www.facebook.com/BeaneryBataan
Instagram: https://www.instagram.com/beanerybataan
Facts
What are The Beanery's business hours?
The Beanery is open 7 days a week from 10:00 in the morning until 8:00 pm.
The Beanery. Are they halal-certified?
No. The Beanery is a non-halal-certified cafe.
What does The Beanery offer?
This cafe offers a lot of delicious light meals and beverages. They also have dine-in, pick-up, and delivery. 
What is the payment method accepted at The Beanery?
The Beanery accepts cash payments and for a cashless and more convenient transaction, they are now accepting payment thru GCash.
Does The Beanery offer dishes that can be partnered with rice?
Yes. The Beanery is aware that the Philippines loves rice meals thats why they are offering it. Some items are lechon kawali, roasted chicken, pork belly, and cordon bleu.
Conclusion
Overall The Beanery menu is a great treat offering different dishes to satisfy everyone's cravings and preferences. Whether you're looking for breakfast, light meals, sandwiches, pasta, or great beverages they have it. Crews are okay, nice, and fast to serve but not compromising the quality of the goods that they are offering. The place is clean and comfortable as well, and it has a cozy vibe and great atmosphere that you will surely love and find comforting. Don't miss this chance to enjoy their delicious food especially if you're in Manila and for sure after your visit, you will plan your next visit again. Great for everyone who loves to enjoy delicious food without having to spend too much.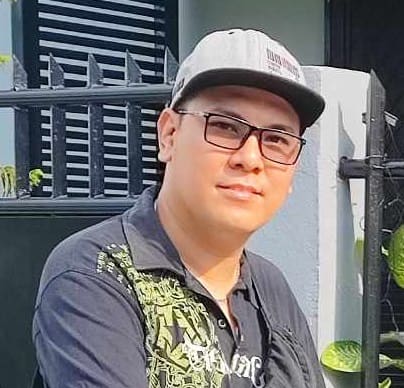 Hi! I'm Nivek Strife, the person who made MenuPH. I'm the one who added most of the popular menus you see on this website, and I really hope you enjoy them! Feel free to check them all out.
Growing up, I was surrounded by lots of tasty foods, like the classic Adobo and the sweet Leche Flan. That love for the many flavors of the Philippines is what got me excited about adding to MenuPH. When I learned how to make websites, I saw the need for a place to show off all the amazing Filipino dishes, and that's how MenuPH started.
MenuPH isn't just a website; it's like a fun journey into food. I've teamed up with famous chefs and found great places all over the Philippines to bring you a bunch of menus that show off the best of Filipino cuisine. Whether you're into the usual dishes or new twists, MenuPH is here to guide you through the rich world of Filipino flavors.
With MenuPH, my aim is to help local businesses, talk about good food choices, and make a group of friends who love food. No matter if you like fancy restaurants or street food, MenuPH has something for you. Come join me on this food adventure as we find great places, taste real flavors, and enjoy the unique food traditions that make the Philippines awesome.