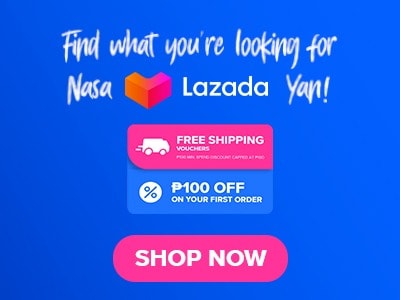 There is no accolade more prestigious in the restaurant industry than the Michelin star. Chefs pursue this ultimate acclaim throughout their entire lives. This Olympian accomplishment is only accomplished by the very greatest restaurants that reliably reproduce their cuisine year after year. It is a great honor for Tim Ho Wan menu to be one of them.
The gold standard for culinary perfection is a Michelin star. Restaurants of a particularly high standard are given Michelin stars. One, two, or three stars can be given to restaurants that pass the test, and chefs from all over the world highly prize this distinction.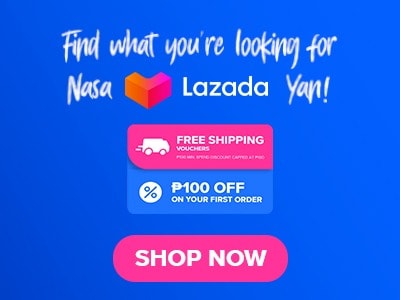 Below, you'll find the updated list of Tim Ho Wan menu prices.
Menu Items
Price (PHP)

Chef's Specials

Hong Kong Wanton Noodle Soup
263
Pork Chop with Luncheon Meat Fried Rice In Xo Sauce
325
Salted Egg Yolk Custard Bun Steamed
188
Taro Puff with Chili Shrimp
200
Fish Ball Noodle Soup
213
Deep-Fried Fish Skin
181
Fried Radish Cake & Shrimp
248
Mala Poach Chicken
325
Mala Beef Brisket Rice Roll
250
Pan Fried Minced Pork Patty with Salted Fish
250
Salted Egg Yolk Custard Bun Fried
188
Hong Kong Wanton Noodle Dried
263

Vermicelli Roll

Vermicelli Roll with Shrimp
263
Vermicelli Roll with BBQ Pork
235
Vermicelli Roll with Sweet & Sesame Sauce
194

Rice

Spareribs Rice
235
Rice with Chicken, Sausage & Mushroom
235
Glutinous Rice with Lotus Leaf
263
Rice with Beef & Fried Egg
248

Chef's Regular Meal To-go

Chef's Regular Meal To-Go Set 1
438
Chef's Regular Meal To-Go Set 2
438
Chef's Regular Meal To-Go Set 3
438
Chef's Regular Meal To-Go Set 4
438

Chef's Basket

Chef's Basket B
4538
Chef's Basket A
2613
Chef's Basket C
4950

Beverages

HK Milk Tea
135
Cold Barley Water
69
Iced Tea
85
Coke
98
Mineral Water
54
Sprite
98
Coke Lite
98
Royal Orange
98
Jasmine Tea
85
Oolong Tea
85

Heavenly King

Baked Buns with BBQ Pork
213
Beancurd Skin Roll with Pork and Shrimp
219
Pan Fried Radish Cake
194
Steamed Egg Cake
113

Soup

Beef Brisket and Tendon Noodle Soup
263
Braised Soup HK Style with Shredded Chicken & Mushroom Soup
219
Jade Wonton Soup
219

Steamed

Pork Dumpling with Shrimp
200
Prawn Dumpling
213
Dumpling with Spicy Sauce
235
Braised Chicken Feet with Abalone Sauce
194
Pork Rib with Black Bean Sauce
182
Steamed Spinach Dumpling with Shrimp
182
Beef Ball with Beancurd Skin
169
Mushroom & Vegetable Dumplings
150

Deep Fried

Beancurd Skin Roll with Shrimp
236
Spring Roll with White Egg
194
Wasabi Salad Prawn Dumpling
207
Prawn Sauce Fried Chicken Wing
194
Tofu with Pork Floss
182

Vegetable

Poached Fresh Seasonal Vegetable
194
Poached Fresh Green with Oyster Sauce
248

Chef's Special Meal To-go

Chef's Special Meal To-Go Set A
563
Chef's Special Meal To-Go Set B
563
Chef's Special Meal To-Go Set C
563

Desserts

Mango Pomelo Sago
169
Taro Coconut Milk with Sago
169
About Tim Ho Wan
The two cooks teamed up in 2009 to launch Mongkok's first 20-seat dim sum restaurant. They would eventually receive their own Michelin star a year later. More eateries started to appear, and each received a Michelin star. The praise for providing excellent meals at reasonable costs quickly followed. Tim Ho Wan was formerly said to as the world's most cheap Michelin-starred restaurant.  With the opening of its first international site in Singapore, the little hole-in-the-wall restaurant from Hong Kong began to export it's tasty and reasonably priced dim sum cuisine.
The year 2013 saw the opening of Tim Ho Wan's first international eatery at Plaza Singapura. It had the same flavor as its Hong Kong equivalent and was a resounding success. Long lineups formed outside at all hours, and there was a lot of media interest. Tim Ho Wan immediately gained widespread recognition. With its blend of high quality and reasonable prices, Jollibee invested $33.1 million for a 45 percent share in Titan Dining, the parent business of Tim Ho Wan, in 2018. Later, they increased their position to 80 percent ownership.
Tim Ho Wan Menu Best Seller
Pan Fried Carrot Cake – Another often ordered item on dim sum menus is radish cake, also known to many dim sum enthusiasts as radish cake. From the crumbs within to the smooth layer immediately beneath the crunchy shell, this one is a study of texture.
Prawn Dumpling – Freshness and hardness of the prawn are important; if they are mushy, that's not good. This Tim Ho Wan menu is not dry; it is firm and delicious.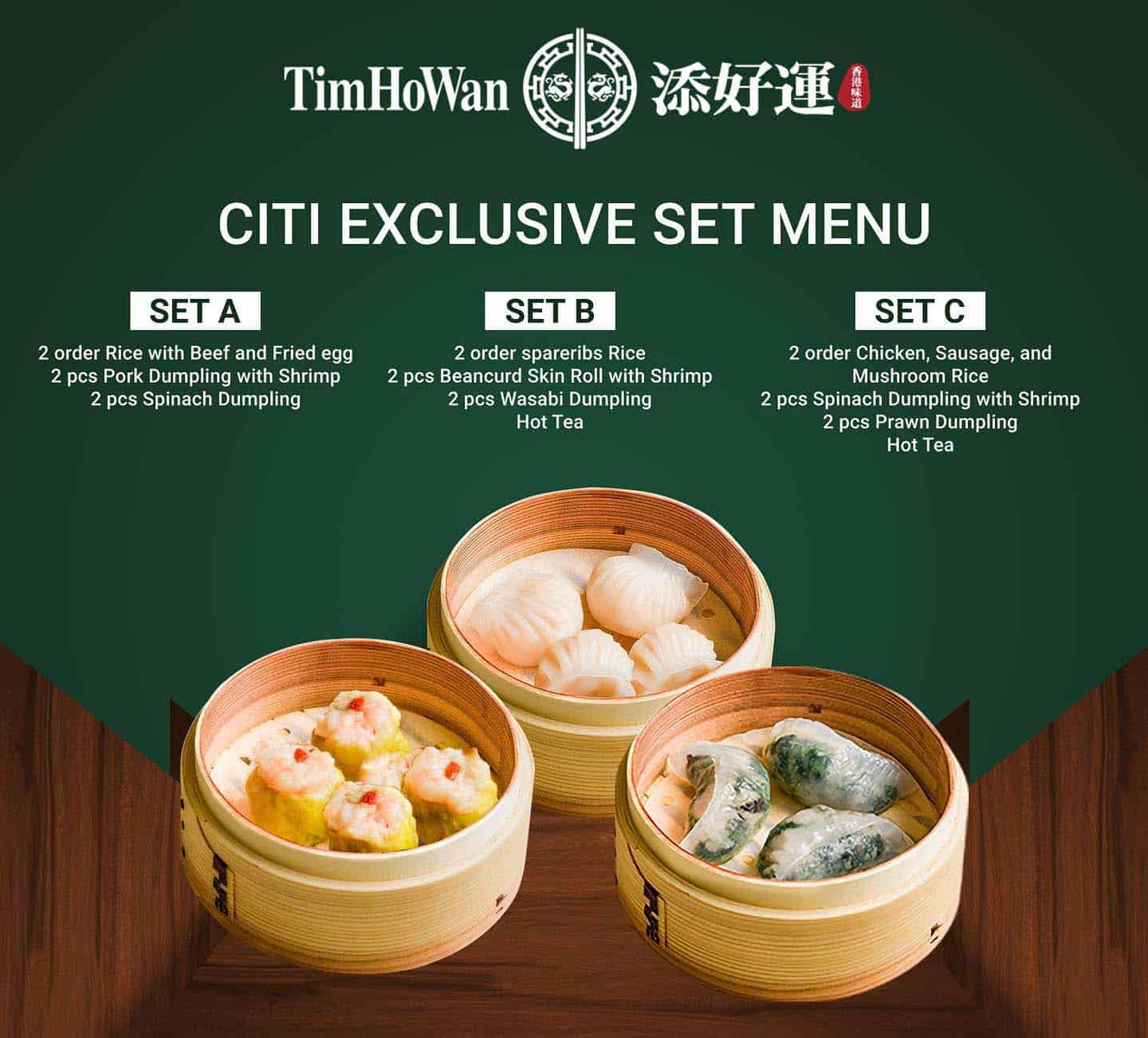 Pork Dumpling with Shrimp – The one in Tim Ho Wan is big and dense, much like the ha gaw. You'll want more since it's straightforward and timeless.
Dumpling Teochew Style – This dumpling's translucent shell trembles as you bite into it, releasing potent, savory tastes from the blend of ingredients on the inside. These dumplings come in 3 pieces per order and are a tad bigger than the prawn dumpling
Tim Ho Wan Menu Vegetarian Options
Here are some of the vegetarian options that are available on the Tim Ho Wan menu:
Sponge Cake – Has a light texture and is not fragile like butter cake but tends to have an unremarkable flavor that is not overpowering. Sponge cake is so frequently used to create cakes with layered designs or roll spoons.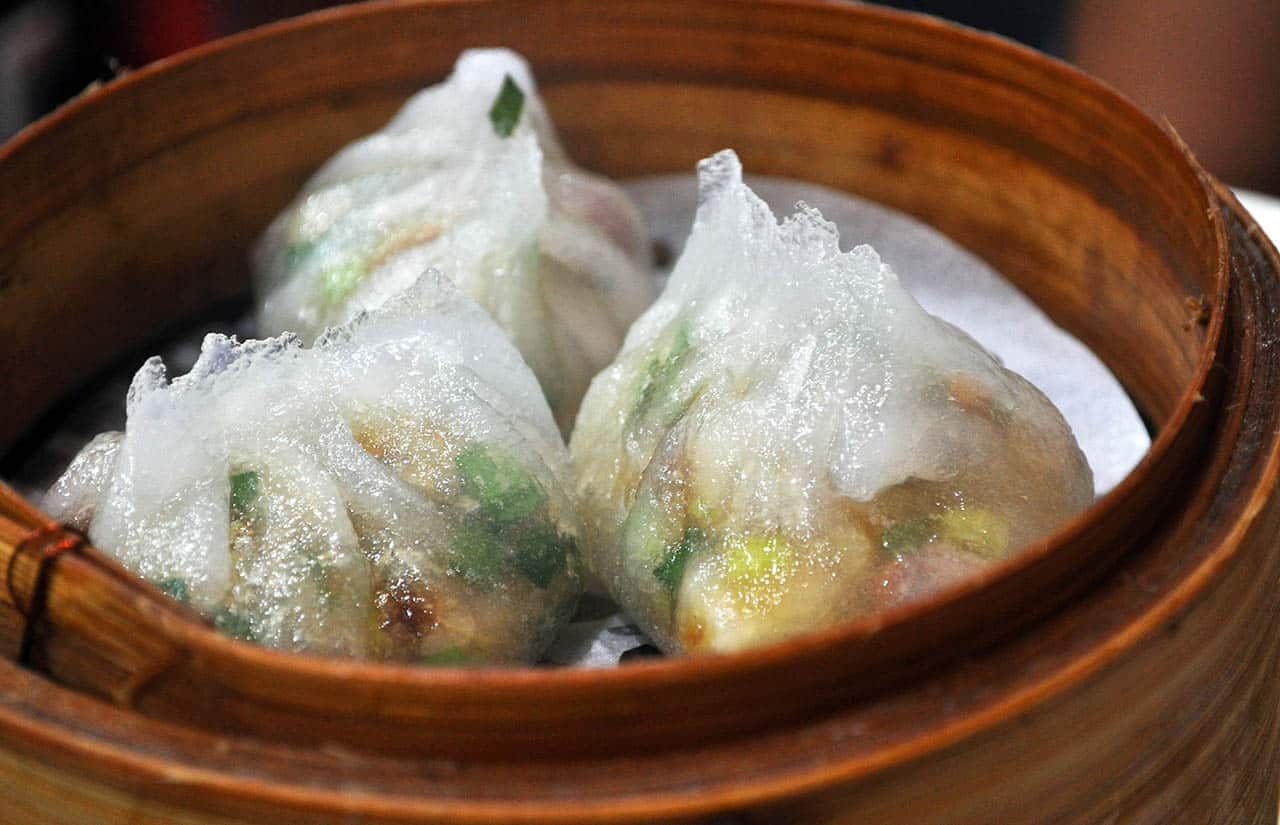 Chiu Chow Dumplings – Specializes in making crystal dumplings. The skin of the dumplings is comprised of corn flour and is practically translucent. The skin has a texture akin to Hakka abacus seeds or the locally popular chai kueh, steamed vegetable dumplings with Chiu Chow heritage.
Vegetarian Spring Roll – Traditional Chinese spring rolls are savory snacks made from a pastry sheet stuffed with vegetables
Pan-Fried Noodles – Fresh Hong Kong pan fry noodles are typically used to make pan-fried noodles. The key distinction is that noodles with the names Hong Kong or pan-fried are par-cooked in boiling water before being prepared for stir-frying.
Tim Ho Wan Pork Bun
The texture of the pork buns is appealing. It has a crumbly, fluffy crust and barbecued pork and Tim Ho Wan's unique sauce inside, giving it a sweet-salty dichotomy in flavor. One of the all-time favorites and a delicacy not to be missed when dining in Tim Ho Wan is the BBQ pork bun. a slightly sweet bun that is brown and glazed. These buns often have a larger size than steamed buns and have a buttery, bread-like feel. For the saltier variant, it's typically packed with hog meat or vegetables; for the sweeter variety, it's typically stuffed with red bean purée.
Tim Ho Wan Pork Chop Fried Rice
Fried rice has an umami flavor since it is typically prepared with meat, which is amplified by the vegetal overtones and the buttery taste of the greens and eggs added to the fried rice. After a long day at work, our Pork Chop best served with unique fried rice will provide you with a satisfying lunch. It is perfectly breaded and fried. This takeout favorite is surprisingly easy to make and will repay you for the effort. It features juicy slices of pork tenderloin, rainbow veggies, and crispy rice swimming in a sticky, savory sauce. Even those who may be wary of other Asian cuisines cannot deny the allure of a dish made with rice.
Tim Ho Wan Menu Delivery
This delicious and affordable menu at Tim Ho Wan could attract many people to its physical stores. This restaurant has a lot of customers. However, you do not need to worry about this for you can always order their delicious dumplings, pork buns, and many more via the Grabfood and Foodpanda app, or simply visit their official website and select the Philippines page.
Social Media Pages
To make sure that you have the latest news about the Tim Ho Wan menus, promos, and foods, simply follow the official social media pages below:
Facebook: https://www.facebook.com/TimHoWanPH/
Instagram: https://www.instagram.com/timhowanph/
Twitter: https://twitter.com/timhowanph/
FAQs
What is Tim Ho Wan famous for?
A network of dim sum restaurants with roots in Hong Kong is called Tim Ho Wan. The brand, which was once recognized as the least expensive Michelin-star eatery in the world, has subsequently grown and currently has franchises in 12 nations.
Who is Tim Ho Wan?
Together with Chef Leung Fai Keung, Chef Mak Kwai Pui, previously of the renowned Lung King Heen restaurant in Hong Kong's Four Seasons Hotel, founded Tim Ho Wan. The two chefs teamed up in 2009 to launch Mongkok's first 20-seater premier dim sum restaurant.
Where did Tim Ho Wan originate?
The story of this delicious and affordable restaurant started in 2009 in Hong Kong. Since then, it has been a restaurant that people would often go to.
Conclusion
The golden guideline for all chefs in the kitchen is precision. From dish arrangement and service delivery to the precise sizing of every mouthful and even the folds of the snowy skins for dumplings, every aspect is painstakingly and meticulously examined. It takes years of practice to perfect this, and it shows in the consistency of flavor found on every Tim Ho Wan menu.
Tim Ho Wan aims for the best dim sum possible. Let the meal transcend your senses when you come and experience it for yourself. Every Tim Ho Wan restaurant provides dim sum, which is produced from only the freshest, highest-quality ingredients and is only prepared upon request in order to preserve its carefully desired flavor and texture.