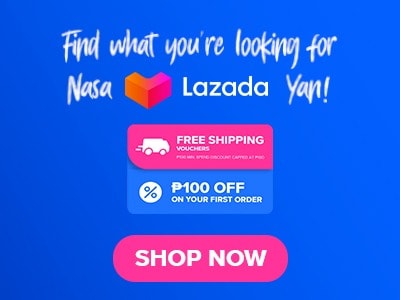 Dive into the vibrant flavors through the heart of Chinese cuisine here at Ninetea! It is a well-known restaurant that features a wide array of Chinese delicacies as well as amazing teas that will bring a tantalizing experience to your day. Every dish in the Ninetea restaurant is served with the finest ingredients to give you a remarkable quality of dining with an exclusive tea selection! Here is the menu collection and its price that is waiting for you to be adorned.
Menu Items
Price (PHP)

Fried Food

Deep-Fried Fish Cake
180
Deep-Fried Pig Blood Cake
180
Deep-Fried King Oyster Mushrooms
180
Deep-Fried Marinated Tofu
180
Deep-Fried Thousand Layer Tofu
180
Salt and Pepper French Fries
180
Deep-Fried Mackerel
180
Deep-Fried Turnip Cake
200
Crispy Chicken
220
Taiwanese Popcorn Chicken
220
Deep-Fried Bread Bun
220
Garlic Pork Ribs
220
Deep-Fried Chicken Wings
250

Pan-Fried

Pan-Fried Glutinous Rice Sausage
160
Pan-Fried Taiwanese Sausage
220
Homemade Dumpling
320

Marinade

Pig Blood Cake
180
Marinated Tofu
180
Braised Fish Cake
180
Braised Vegetable Assorted
220
Duck Gizzard Salad
250
Spicy Braised Duck Blood
280
Braised Intestine
280

Noodle

Taiwanese Dried Noodles (Thick Noodles)
280
Vegetarian Noodles
320
Preserved Egg Noodles (Handmade Noodles)
320
Crispy Pork Rib Noodles (Yellow Noodles)
380
Spanish Mackerel Noodle (Yellow Noodles)
380
Taiwanese Beef Noodle (Handmade Noodles)
480

Extra Toppings

Noodle
50
Yellow Noodle
50
Preserved Egg
50
Mackerel Fish
100

Hot Pot Toppings

Mushroom Combo Hotpot
450
Kimchi Hotpot With Rice (Beef)
500
Peeled Chili Chicken HotPot
550
Bitter Gourd Chicken HotPot
550
Taiwanese Mutton Hotpot
600
Szechwan Style Spicy Hotpot (Pork)
650

Hot Pot Ingredients

Pork
100
Beef
100
Goat
100
Chicken
100
Duck Blood
100
Enoki Mushroom
50
Chinese Cabbage
50
Hongxi Mushroom
50
King Oyster Mushroom
50
Thousand Layer Tofu
50
Tofu
50
Broccoli
50
Cucumber
50
Cabbage
50
Taiwan Petchay
100
Dry Tofu Skin
100
Mushroom
100
White Mushroom
100
Corn
120
Mix Hot Pot Ingredients
200

Rice Set Meal (with Side Dish)

Taiwan Minced Pork Rice
380
Dried Prunus Pork Rice
420
Crispy Fried Chicken Leg Rice
420
Claypot Fish Fillet Rice
420
Sweet and Sour Fish Rice
420
Ribs with Perilla and Plum Rice
480
Braised Beef Rice
480

Extra Toppings

Rice
50
Minced Pork
100
A la carte main course
250

Fresh Tea

Roasted Black Tea
130
Iced Jasmine Green Tea
130
Iced Tie Guan Yin Oolong Tea
130
Mountain Tea
130
Oolong Tea
130

Bubble Milk Tea

Tie Guan Yin Bubble Tea
230
Jasmine Bubble Tea
230
Oolong Bubble Tea
240
Ninetea Bubble Tea
240
Brown Sugar Bubble Milk Tea
250

Milk Tea

Ninetea Milk Tea
190
Jasmine Milk Tea
190
Tie Guan Yin Milk Tea
190
Oolong Milk Tea
190

Fresh Fruit Tea

Pomelo Lemon Tea
230
Iced Lemon Green Tea
230
Passionfruit Green Tea
230
Apple Jinxuan Tea
230
Lemon Ruby Tea
230
Mango Green Tea
270
Iced Grapefruit Tea
270
Orange Mountain Tea
270
Grapes Fruit Tea
310
Fresh Fruit Tea
330

Mixture

Smoked Plum Tea
270
Yakult Green Tea
270
Yakult Honey Lemon
270
Lemon Calamansi Tea
270
Iced Honey Lemon Tea
270
Strawberry Smoothie
270
Nutella Smoothie
270
Brown Sugar Bubble Fresh Milk
300
Winter Melon Lemon
270
Winter Melon Latte
270

Soda

Rose Grapefruit Soda
280
Kyoho Grape Soda
230

Salted Cream

Salty Cream Black Tea
270
Salty Cream Jasmine Tea
270
Salty Cream Tie Guan Yin Tea
270
Salty Cream Oolong Tea
270
Salty Cream Pineapple Tea
300
Salty Cream Apple Tea
300
Salty Cream Mango Tea
300
Salty Cream Grapes Tea
330

Latte

Black Tea Latte
270
Jasmine Latte
270
Tie Guan Yin Latte
270
Oolong Latte
270

Extra Toppings

Honey Jelly
30
Bubble
30
Big Cup
50
About Ninetea
Ninetea is a very recommended Chinese restaurant that is the perfect place whether you are looking for family dining or a romantic date. It is a restaurant that takes you to new and vibrant flavors of China with its amazing platters that are perfectly curated by its skilled chefs. There is so much to love in this restaurant from their Fried food to their noodles along with the wide range of available tea.
Ninetea Menu Best Seller
Make the best of your Ninetea experience with their best-selling collections that I curated for you. Unleash your inside adventurous instinct by savoring these beloved dishes from Ninetea.
Deep-fried bread Bun – These best-selling fried buns offer you a crispy outside with a soft texture inside. It has a slight sweetness that makes a perfect appetizer.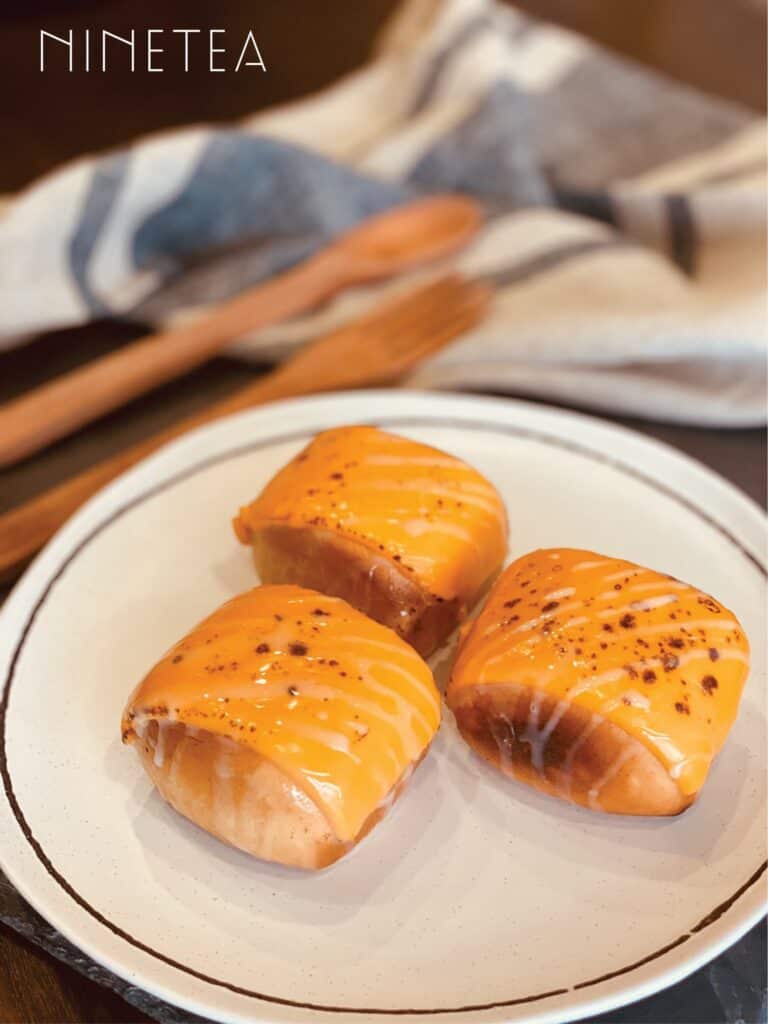 Homemade Dumpling – Next on the list is this iconic Homemade dumpling. It is a classic Chinese dish that features a savory mixture of minced meat along with delightful vegetables. It has various seasonings that are delightful to eat.
Duck Gizzard – This duck gizzard is both flavorful and savory. It features the muscular part of the duck's stomach. It is marinated to perfection giving you tender and juicy bites that you will surely love.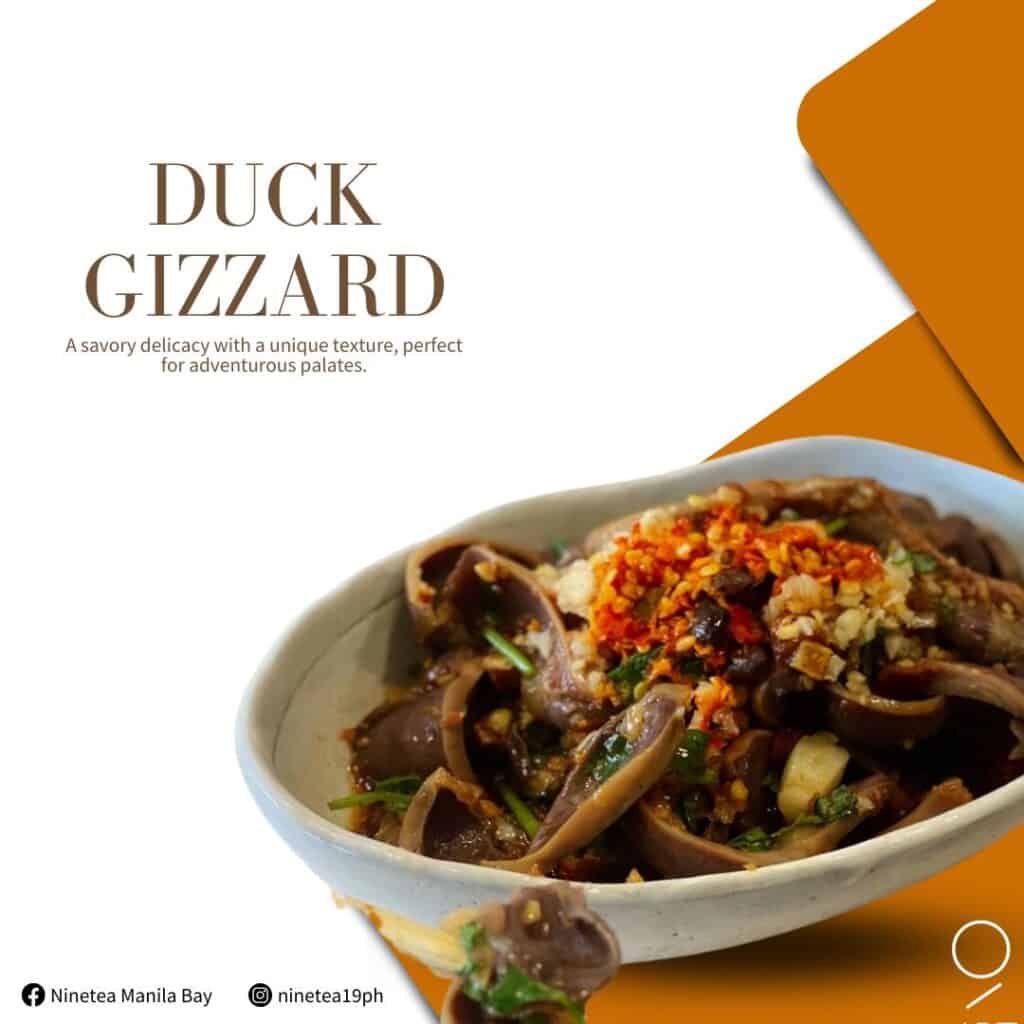 Ninetea Milktea – An all-star and signature drink menu that you can only have here at Ninetea. It features a refreshing taste that allows you to indulge in creamy and sweet tea-based flavors highlighting cream, black tea, and a fusion of milk and sugar.
Taiwanese Beef Noodle – This Taiwanese beef noodle has a well-deserving spot on this list. It highlights a hearty flavor with this comforting bowl that features tender beef stewed with aromatic spices on a bed of perfectly cooked noodles.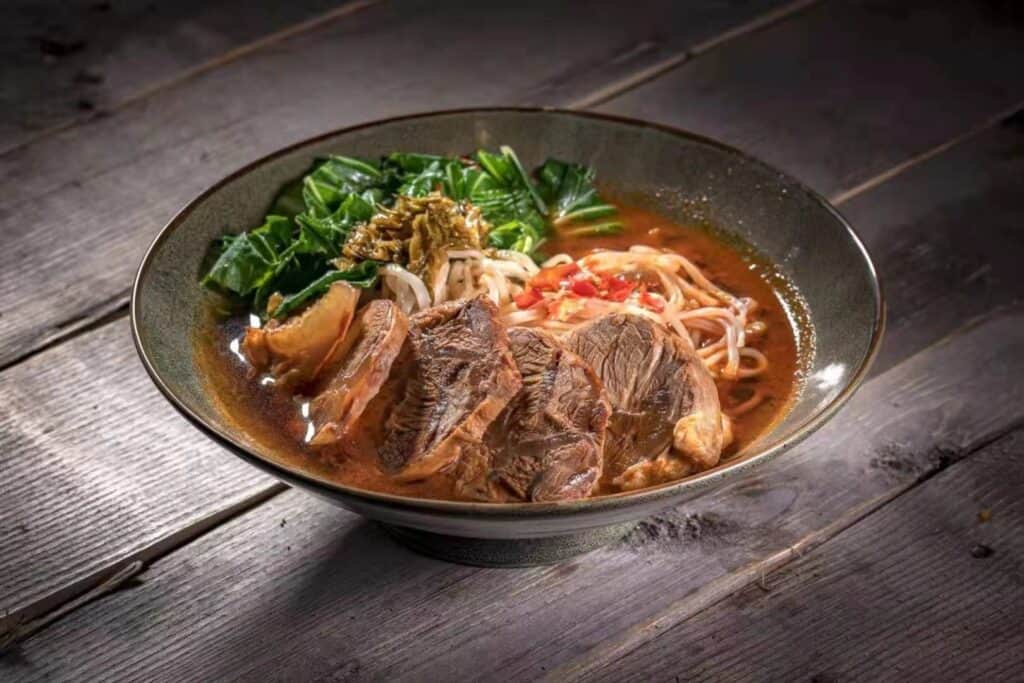 Marinade
Be delighted with the following menu of Ninetea that highlights savory flavors and tender meats along with varieties of vegetable medleys. 
Marinated Tofu – This marinated tofu is a perfect meal for everyone who is into vegetarian options, It allows you to indulge in tofu that is delightfully cooked and marinated in various Chinese seasonings.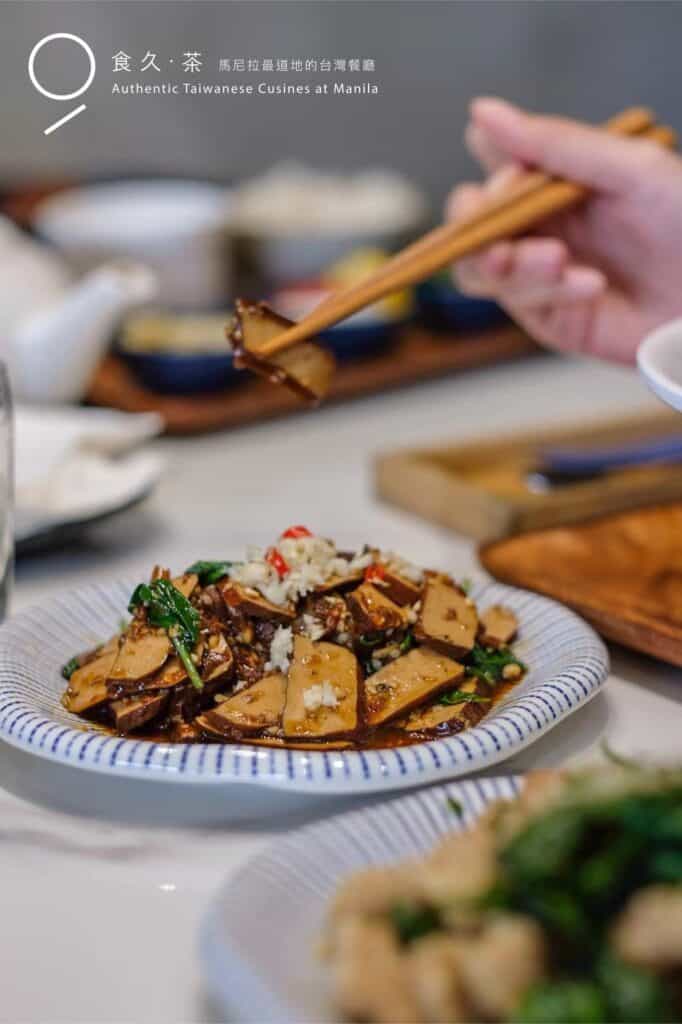 Spicy Braised Duck Blood – A bold and spicy experience awaits you in this Spicy Braised duck blood that features a fiery and aromatic sauce creating a unique delightful texture.
Braised Intestine – Savor the goodness this Braised intestine has to offer, it allows you to enjoy the tender and braised intestines that are delightfully cooked and flavored with various seasonings to give you a savory and rich flavor.
Braised Vegetable Assortment – This dish is perfect for everyone who is looking for a way to enjoy a delightful meal in the healthiest way. It features a medley of vegetables that are slow-cooked and enhanced with flavorful sauce.
Fresh Fruit Tea
A refreshing sip of these beverages brings an intense boost to your day. That is why these drinks menu are very recommended if you are looking for a boost but you don't like coffee.
Pomelo Lemon Tea – Start your experience with this engaging Pomelo Lemon Tea. This Ninetea menu has a citrus-infused flavor tea that features a blend of pomelo and lemon giving you a tangy and slightly sweet taste. 
Mango Green Tea – This Mango Green Tea is a famous delightful drink perfect if you are looking for a sweet mango flavor and refreshing tropical taste for a drink.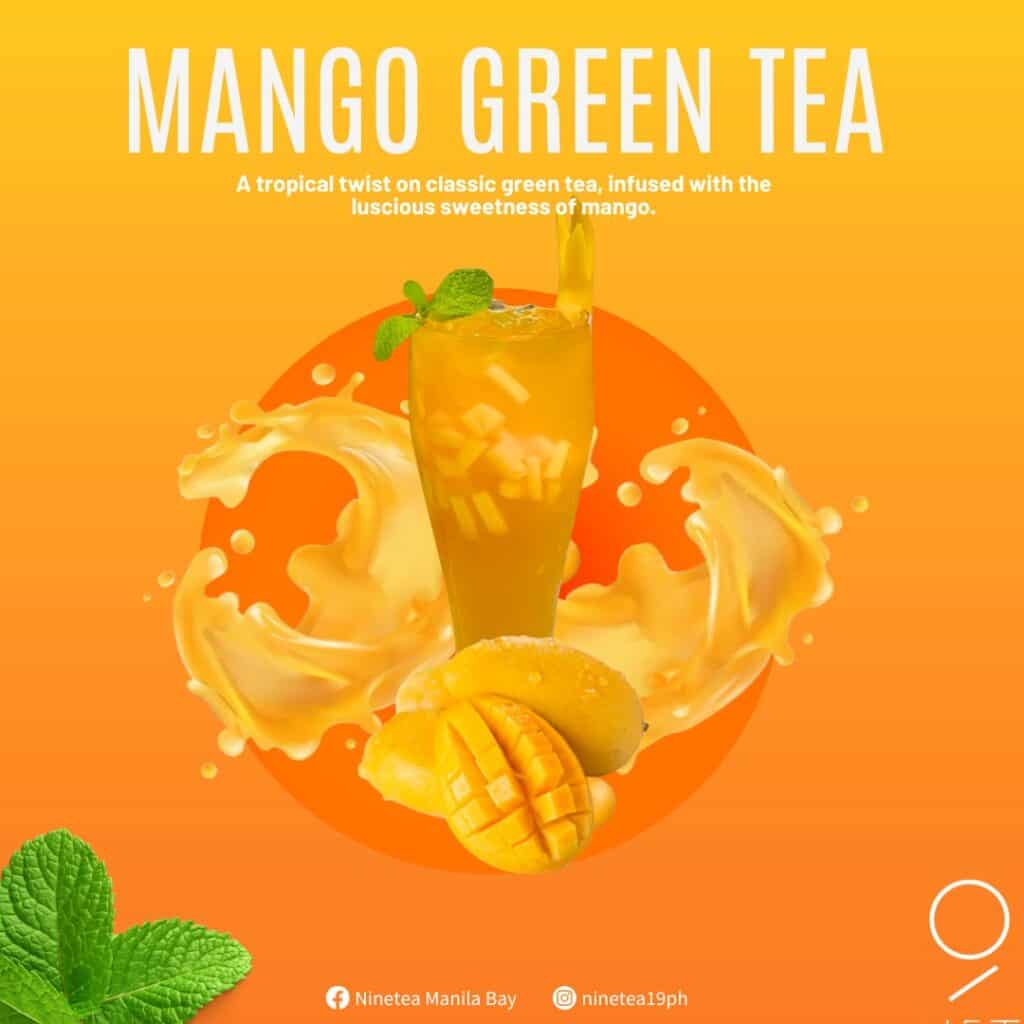 Iced Grapefruit Tea – Be enhanced with this cooling beverage that allows you to take a sip and bring a zesty flavor of grapefruit tea that is served over ice for an extra refreshing experience.
Fresh Fruit Tea – This drink is a very recommended drink that features a brewed tea with various fruit slices giving you a comforting and satisfying drink to quench your thirst.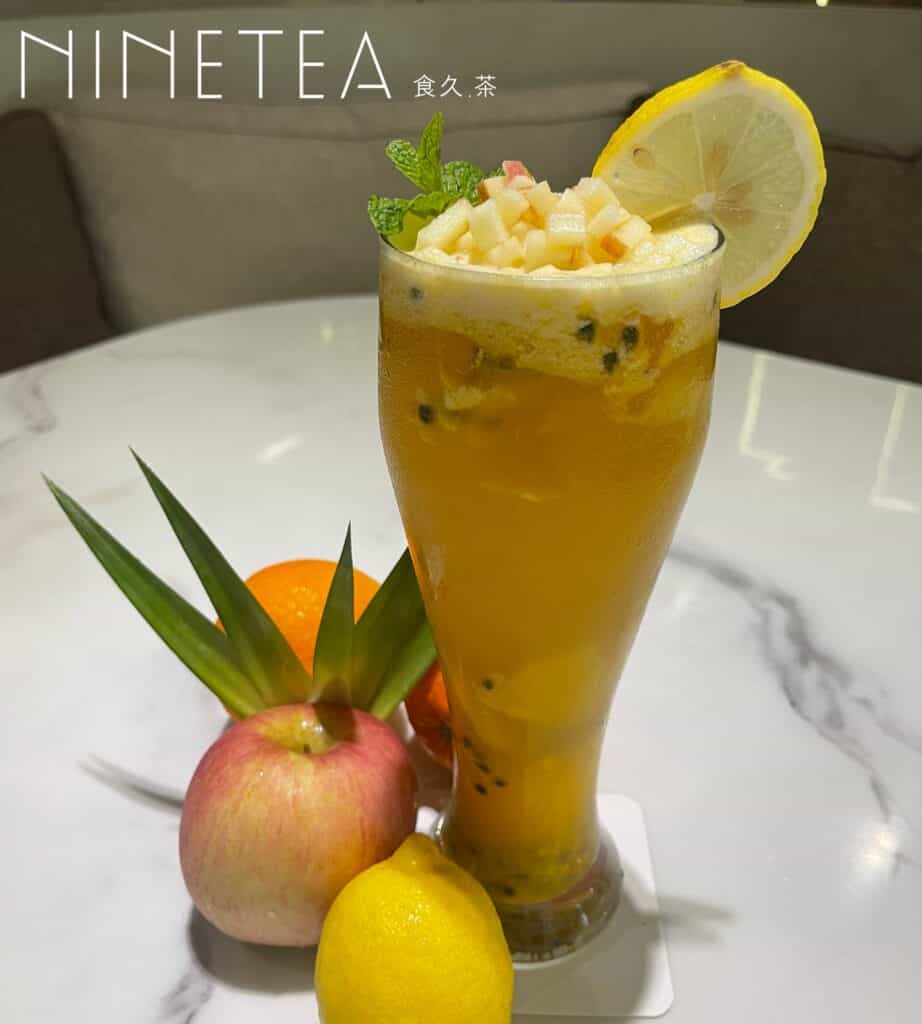 Ninetea Menu Delivery
Unfortunately, Nineta does not offer any food delivery service at the moment. But I think we can take that as a sign for us to take a delightful visit to this restaurant even just for one to experience the magnifying flavors of their best-selling dishes and other dishes that they greatly take pride in. I am sure you will be delighted with your entire dining experience here at Ninetea.
Social Media Pages
Get inspired by their photos and videos of their delectable bubble tea, cozy ambiance, and fun and lively atmosphere. And show your support for this local business by following Ninetea on social media today!
Facebook: https://www.facebook.com/NineteaManilaBay
Instagram: https://www.instagram.com/ninetea19ph
TikTok: https://www.tiktok.com/@officialninetea
FAQs 
What type of cuisine does Ninetea offer?
Ninetea allows you to indulge in delightful collections featuring Chinese delicacies and authentic tea flavors that are brimming in flavors.
What is Ninetea known for?
It is famous for its iconic collections of fried food, Noodles, and of course Fresh Fruit Teas.
What are the operating hours of Ninetea?
Ninetea are operating from 10 AM until 9 PM from Mondays to Sundays.
Where is Ninetea located in the Philippines?
If you are planning to take a delightful visit to their store, you can visit them at their location at the 5th Floor Ayala Malls Manila Bay, Diosdado Macapagal Blvd, cor Aseana Ave, Parañaque, Philippines
Conclusion
In conclusion, Ninetea is indeed the way to go for an exciting Chinese dining experience. Their diverse menu collection allows you to enjoy a wider array of authentic dishes that highlight authenticity and origin. Ninetea combines famous traditional favors with an enchanting modern elegance that will mark it as one of the best dining experiences you ever have. From the delightful bite of homemade dumplings to the aromatic Taiwanese Beef noodles, This restaurant has always had something to satisfy every palate.
Their commitment to culinary excellence is served up to their ea collection which is one of the hallmarks of their business. They have delightful options of tea that are worthy of global appreciation. Whether you're in the mood for a fulfilling bowl of a meal or a comforting taste of home, Ninetea is definitely a way to go.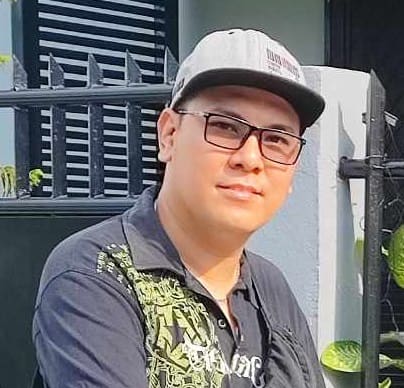 Hi! I'm Nivek Strife, the person who made MenuPH. I'm the one who added most of the popular menus you see on this website, and I really hope you enjoy them! Feel free to check them all out.
Growing up, I was surrounded by lots of tasty foods, like the classic Adobo and the sweet Leche Flan. That love for the many flavors of the Philippines is what got me excited about adding to MenuPH. When I learned how to make websites, I saw the need for a place to show off all the amazing Filipino dishes, and that's how MenuPH started.
MenuPH isn't just a website; it's like a fun journey into food. I've teamed up with famous chefs and found great places all over the Philippines to bring you a bunch of menus that show off the best of Filipino cuisine. Whether you're into the usual dishes or new twists, MenuPH is here to guide you through the rich world of Filipino flavors.
With MenuPH, my aim is to help local businesses, talk about good food choices, and make a group of friends who love food. No matter if you like fancy restaurants or street food, MenuPH has something for you. Come join me on this food adventure as we find great places, taste real flavors, and enjoy the unique food traditions that make the Philippines awesome.