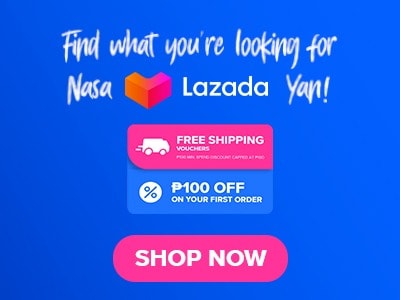 Looking for a restaurant that offers authentic Asian cuisines with genuine and innovative taste? The menu of Sunday BBQ features several dishes known and loved by Filipinos, as they are part of our celebrations and traditions. Its traditional comfort food has a perfect harmony of classic and contemporary flavors, making them suited to the preferences of customers from different generations.
Below, you'll find the updated list of Sunday BBQ menu prices.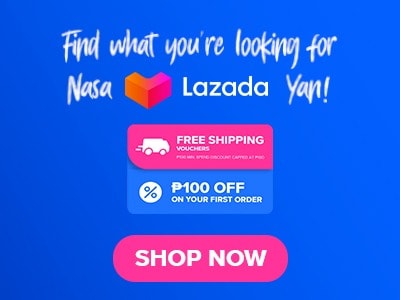 Menu Items
Price (PHP)

Appetizer

Chili Wonton
199
Crab & Cream Cheese Dumpling
199
Son In Law Eggs with Mango and Tofu
219

BBQ + Noodles

Chicken and Jojos (to share)
579
Grilled Lemongrass and Garlic Chicken
269
Grilled Taiwanese Pork and Cheese Sausage
269
Honey Pork BBQ
269
Peking Roast Chicken
269
Pork BBQ Ribs
269
Roast Platter Combi
629
Vietnamese Pork Balls with Fresh Hofan
289
White Rice
39
Fried Rice
79

Filipino Classics

Bibingka Galapong with Cheese
179
Bibingka Galapong with Cheese & Salted Egg
199
Pansit Binondo
259
Seafood Palabok
259

Veggies

Eggplant with Minced Pork
209
Veggie Fooyang
209

Drinks

Hongkong Milk Tea
95
Milo Dinosaur
130
Iced Tea (lemon/cucumber/mangosteen/guyabano)
60
Milk Shake (Ube or Mango)
140
Iced Coffee
130
Hot Coffee
95
Softdrinks in Can
70
Bottled Water
40
About Sunday BBQ
Sunday BBQ is a restaurant located in the heart of Makati, making it easily accessible when you are craving authentic Asian and Filipino cuisine. The interior design of this restaurant has a garden vibe and vibrant yellow ambiance that complements the food it offers. It also has a chill and cozy ambiance that gives diners a relaxing and comforting dining experience.
Sunday BBQ Menu Best Sellers
Sunday BBQ is known for its barbecue, sumptuous roastings, and other traditional Asian cuisines. Here are some of the best sellers of this restaurant that will give you a gratifying meal experience that you will surely love and enjoy.
Grilled Lemongrass and Garlic Chicken – A cuisine that will surely be your instant new favorite when you try it. The boneless, tender, and juicy chicken is marinated in garlic and lemongrass and laid on top of flavored rice with an umami flavor profile. It is served with sweet chili sauce but is also good and delicious on its own.
Peking Roast Chicken – It is loved for its crunchy and crispy skin and tender and juicy meat. The ginger scallion sauce is served with it to make it more flavorful and satisfying. This peking roast chicken of Sunday BBQ is one of the cuisines you try when you visit this restaurant, as it has a genuine taste.
Bibingka Galapong with Cheese – Level up your favorite Filipino delicacy with this bibingka offered by Sunday BBQ. The aroma of banana leaves and the grated cheese on its top make it a yummy cuisine. It is served with two dipping side items that add a layer of flavor and texture.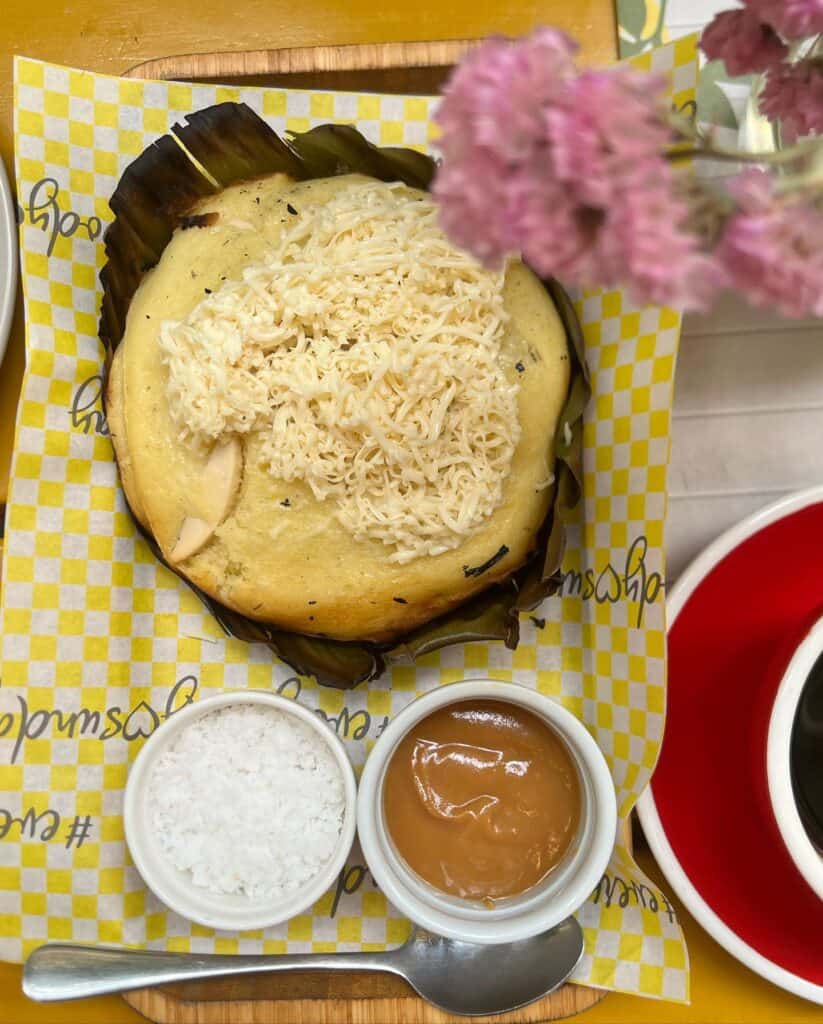 Pork BBQ Ribs – Enjoy this classic menu from Sunday BBQ where the ribs are loved by the crowd, as most people are familiar with it. The pork ribs are grilled expertly and coated with special BBQ sauce, making it look mouthwatering. 
Honey Pork BBQ. The Cantonese-style pork is roasted and glazed with a honey barbecue sauce. It is perfectly cooked, which is why it has a tender texture and distinctive taste that will make you crave more.
Appetizer
The appetizer offered by Sunday BBQ includes dumplings, wontons, and eggs. These dishes are creatively and meticulously crafted using the best ingredients combined perfectly, which will surely stimulate your appetite.
Crab and Cream Cheese Dumpling – A delicious and unique dumpling where the homemade dumpling wrapper is filled with crab meat and cream cheese and fried until crispy and golden brown.
Chili Wonton – The pork, shrimp, and other special ingredients are carefully wrapped in a homemade dumpling wrapper and cooked perfectly. It comes with a special dipping sauce made with a mixture of black vinegar, soy sauce, and chili, giving this dumpling spicy and yummy flavors.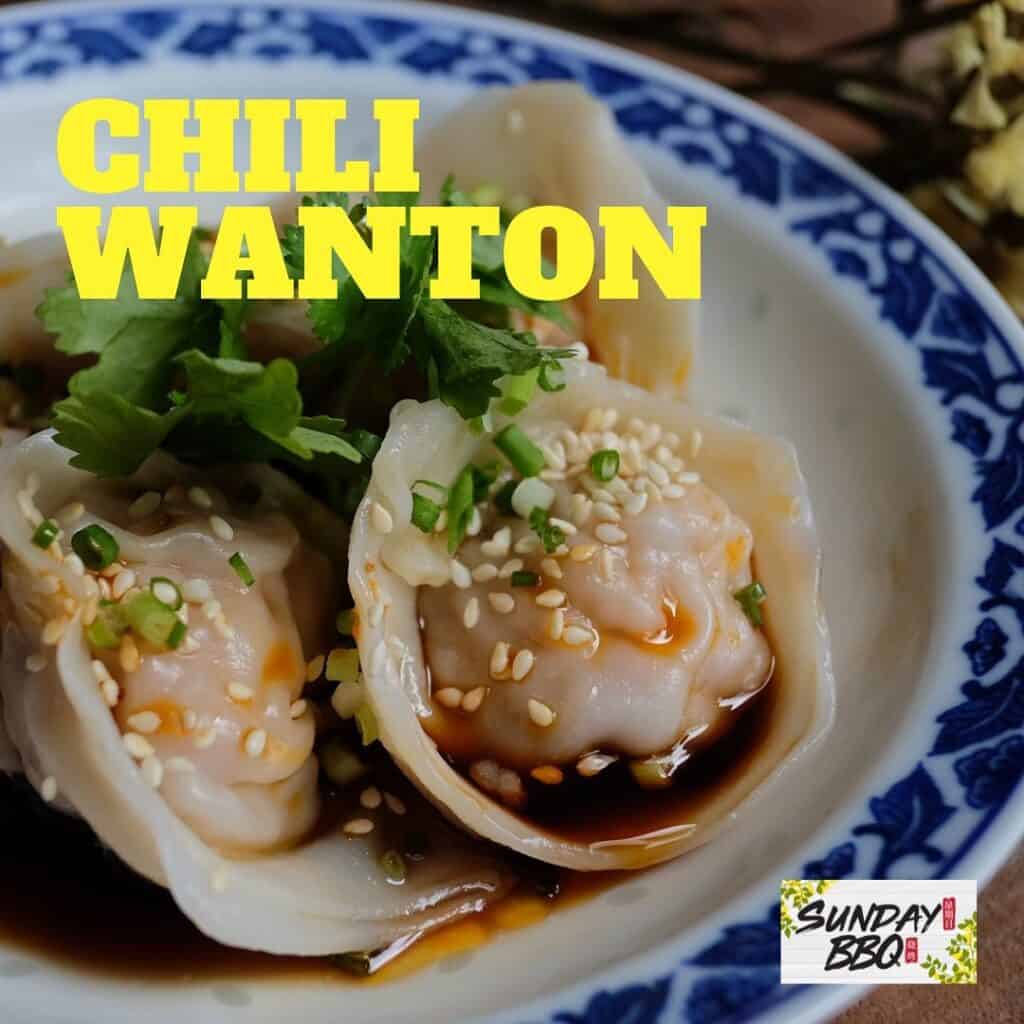 Son In Law Eggs with Mango and Tofu – It is a special take on Sunday BBQ on the popular street food from Thailand. The crispy golden eggs with a mild runny texture are served with fried tofu, delicious mangoes, and special sweet tamarind sauce. In this cuisine, you will experience sorts of flavors, such as savory, sweet, and sour.
BBQ + Noodles
BBQ or roasting dishes are the specialties of the Sunday BBQ, which is why they are the popular items on its menu, as they have unique taste. Some of its cuisines are also served with homemade fresh noodles with a distinctive flavor and texture. 
Vietnamese Pork Balls with Fresh Hofan – The surprising goodness of this cuisine will take you to the streets of Vietnam. Customers loved the freshness and distinctive taste of hofan noodles, which are handmade and homemade. The sweet, tangy nuoc cham sauce goes well with its taste and texture. It also comes with three sticks of flavorful, juicy, and tender pork balls.
Roast Platter Combi – Experience the enjoyable flavors and textures of the popular sumptuous roastings of this restaurant in one plate. It consists of Peking roast chicken, honey pork BBQ, and BBQ pork ribs that will give you an ultimate dining experience.
Chicken and Jojos – A good-for-sharing meal that will surely be enjoyed by all ages where chicken and mojos are combined and garnished with herbs. The crunchiness and satisfying goodness of chicken and the delicious taste of potatoes will give you a pleasurable meal. It is served with two sauces specially crafted by the restaurant to boost its flavors.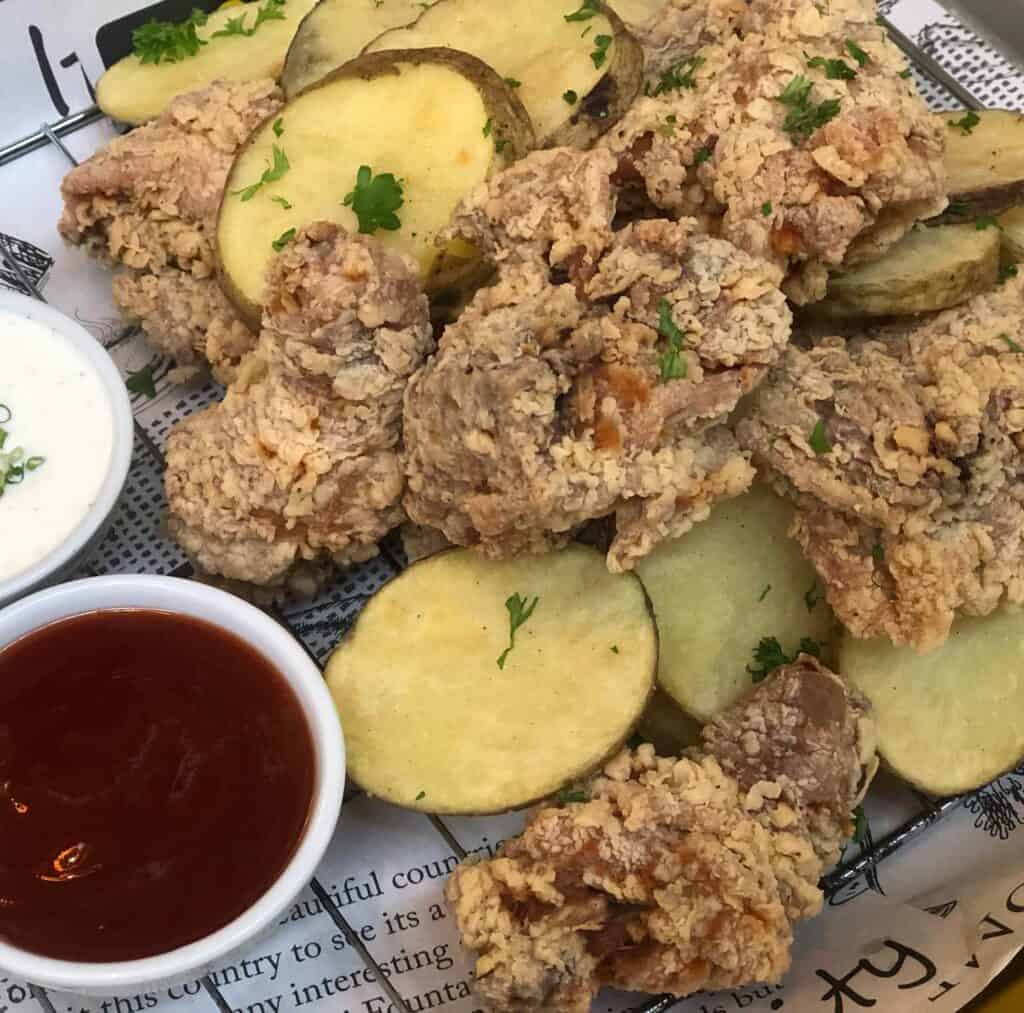 Filipino Classics
The Filipino Classics offered by Sunday BBQ consists of palabok, pansit, and bibingka. These cuisines have significant symbolism in our culture and traditions, as they are commonly served during special occasions.
Seafood Palabok – Savor the goodness of this traditional, savory, and hearty Filipino cuisine, where noodles are cooked with shrimp gravy and topped with squid, shrimp, pork, boiled egg, and minced pork cracklings.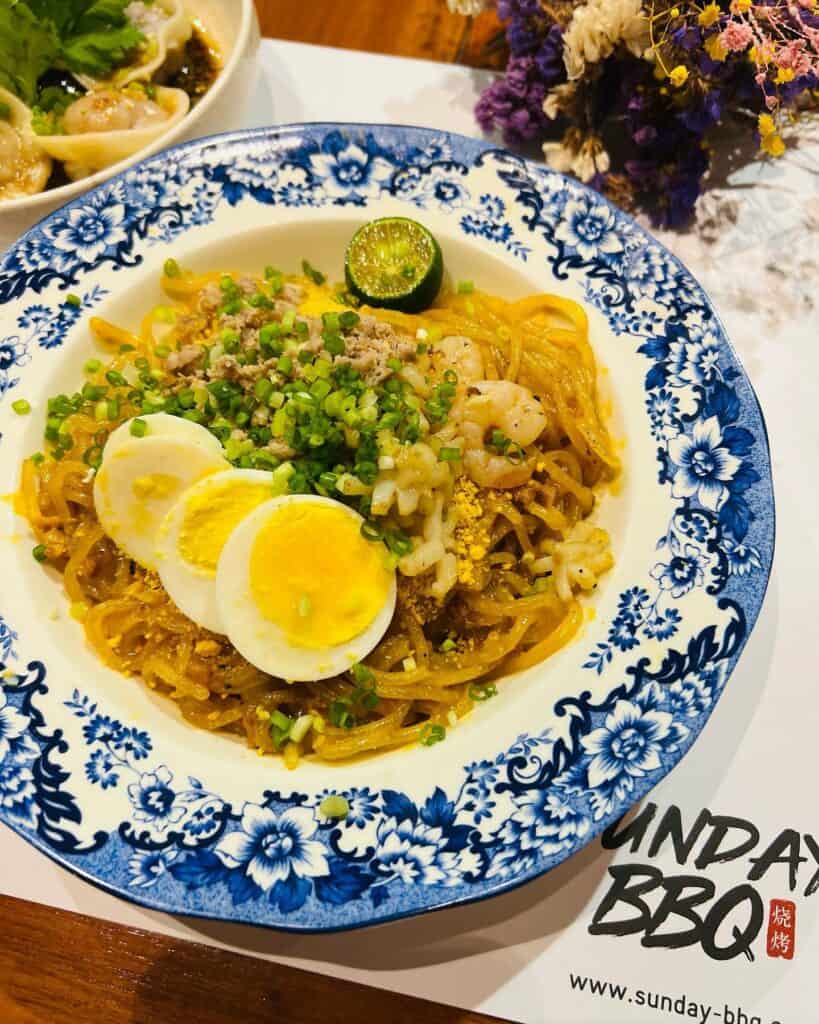 Pansit Binondo – This Sunday BBQ menu is a classic noodle dish with an earthy oriental touch that will make you love it in every slurp. The toppings of this cuisine, such as vegetables, fishballs, bell peppers, and other special ingredients, give a festive and appealing look. 
Bibingka Galapong with Cheese and Salted Egg – One of the classic Filipino cuisines where bibingka is topped with cheese for additional creamy and delicious flavors. It has a cheesy and smoky taste and a soft texture that is pleasing to the palate, which is why people love it. The salted egg served with it gives a distinctive taste that makes it extraordinary.
Veggies
The vegetable cuisines served by Sunday BBQ are ideal for those who want a healthier meal, as it contains essential nutrients. It offers veggie fooyang with mixed fresh vegetables stuffed inside a Cantonese omelet. This cuisine pairs perfectly with any meal and is great for those not into meat. The other vegetable dish it serves is eggplant with minced pork, where slices of eggplant and ground meat are cooked in a flavorsome sauce and garnished with onion leeks.
Drinks
Sunday BBQ serves heartwarming and refreshing drinks, such as tea, shakes, coffee, soft drinks, and water. For those who want milk tea, it offers Hongkong Milk Tea that is comforting and flavorful. It also serves an iced tea in cucumber, lemon, guyabano, and mangosteen flavors. The flavors of milkshakes this restaurant provides are ube and mango. This restaurant also offers coffee in hot and cold varieties that can be enjoyed anytime and paired with your favorite cuisines.
Sunday BBQ Menu Delivery
Contact Sunday BBQ at 0998 283 0828 (Greenbelt) or 0999 101 8948 (Ayala North Exchange) to inquire and arrange your delivery. You can also place your order on the website or application of Foodpanda.
Sunday BBQ Social Menu Pages
With a casual and laid-back atmosphere, customers can expect a fun and delicious dining experience with friendly service. Get ready to drool over their mouth-watering BBQ posts and stay updated on their latest promotions and events.
Facebook: https://www.facebook.com/sundaybbqph
Instagram: https://www.instagram.com/sunday_bbq
Website: https://sunday-bbq.com/contact
FAQs
What type of cuisine does Sunday BBQ offer?
Filipino and Asian are the types of cuisines offered by Sunday BBQ.
What are some of the must-try cuisines at Sunday BBQ?
Some of the must-try cuisines at Sunday BBQ are Grilled Lemon Grass and Garlic Chicken, Bibingka, Son-in-law eggs, and Peking Roast Chicken.
Where is Sunday BBQ located?
The branches of Sunday BBQ are located in the following areas in Makati.
Ground Floor, Greenbelt 1
3rd Floor of Ayala North Exchange
Does Sunday BBQ offer special promos?
Sunday BBQ offers promos and discounts on some special occasions.
Can I host private events at Sunday BBQ?
Sunday BBQ has ample space where you can host your private events and other special occasions.
Conclusion
The simplicity of the Sunday BBQ menu makes it easier for customers to choose the meal that will satisfy their cravings. Its cuisines are delicious and reasonably priced and will give you a hearty meal. The dishes it serves also showcase the unique culture and tradition of the Philippines and other Asian countries. Customers liked its sumptuous roastings and affordable cuisines with a unique taste, as some of the ingredients used are homemade.