Are you a fan of Korean street food or cuisine and you are looking for a place to enjoy unlimited Korean barbecue and side dishes? Soga Miga menu has a lot to offer, their dishes are fully packed and consist of beef and pork, and other delicious side dishes. Are you familiar with this restaurant? If not please read this article and who knows maybe after reading you'll be interested enough to visit their restaurant and try their food right? In this article, we are going to get to know Soga Miga a little bit more, let's dive into their best seller items and their prices. We'll start now and not delay things anymore! 
Menu Items
Price (PHP)

Rice Meal

Crispy fried chicken
160
Buffalo chicken wings
190
Teriyaki chicken wings
190
Barbecue flavored chicken wings
190
Honey garlic chicken wings
190
Honey Parmesan chicken wings
200
Sriracha chicken wings
200
Crispy pork liempo
220
Crispy dory fish
220
Dory fish In oysters and garlic sauce
220
Cheesy baked salmon
290

All Day Breakfast Silog

Pork tapsilog
250
Tocilog
250
Hotsilog
220
Bangsilog
260
Spamsilog
260
Cornsilog
220
Chicksilog
250

Extras

Rice
35
Java rice
50
Garlic rice
50

Light Bites (for Sharing)

Crispy fries
125
Cheese flavored fries
135
Barbecue flavored fries
135
Sour cream flavored fries
135
Cheesy bacon fries
195
Crispy wedges
145
Beef cheese wedges
195
Nachos
195
Pizza dip
195
Fish and chips
250
Crispy chicken wings with fries
240

Burgers

Cheese burger
190
Cheese burger with bacon and egg
250
Cheesy bacon burger
290
Spam lover burger
310

Pasta

Lasagna rolls
235
Carbonara
195
Spaghetti
195
Tuna pasta
195
Baked macaroni
195
Pesto pasta
195

Salad Soup Sandwiches

Caesar salad
230
Cream of mushroom soup
105
Cream of corn soup
105
Clubhouse
250
Ham and cheese
150
Bacon and cheese
150
Tuna and cheese
150

Toast and Pancakes

Classic french toast
160
Cinnamon french toast
160
Cream cheese and banana French toast
190
Nutella cinnamon french toast
190
Classic pancake
160
Caramel pancake
170
Chocolate and banana pancake
190

Oh Frappe

Hazelnut
220
Mocha
220
Salted caramel
220
Java chip
220
Chocolate chip
220
Cookies and cream
220
Strawberry
220
Green tea
220
Mango graham
220

Oh Sundae

Chocolate sundae
210
Cookies and cream
210
Mango graham
210
Strawberry
210
Banana split
210

Cheesecakes

Blueberry cheesecake
140
Cookies and cream
140
Salted caramel
140
Matcha green tea
140
Chocolate cheesecake
140

Refreshments

Bottled water
40
Iced tea
70
Mango juice
70
Pineapple juice
70
Classic lemonade
80
Purple lemonade
80
Green lemonade
80
Cucumber lemonade
80
Lychee lemonade
80
Blue lemonade
80
Red lemonade
80
Soda in can
60

Hot Beverages

Espresso
95
Americano
105
Cafe latte
125
Cappuccino
125
Hot choco
145
Hot mocha
145
Caramel macchiato
145
Hazelnut flavored coffee
145
Salted caramel flavored coffee
145
Hot green tea latte
145
Hot tea
70
Kapeng barako
95

Cold Beverages

Iced americano
115
Iced latte
145
Iced cappuccino
145
Iced mocha
165
Iced choco
165
Iced green tea latte
165
Iced caramel macchiato
165
Iced hazelnut flavored coffee
165
Iced salted caramel flavored coffee
165

Smoothies

Banana
170
Banana strawberry
185
Strawberry
170
Mango
185
Choco banana
195
About Soga Miga
Soga Miga is a Korean restaurant that offers Korean barbecue, unlimited meat, and a lot of side dishes. For as low as 699 you will get to enjoy unlimited meat. Soga Miga means House of beef, If you are living in the southern part of the Tagalog region Soga Miga is one of the best Korean restaurants that you can find.
It has a modern look on its interior bringing a cozy and comfortable atmosphere. They have 18 charcoal grills on their tables and 18 private rooms that can accommodate up to 12 persons in every room where you can hold celebrations or business meetings or just a simply barkada gathering. 
Soga Miga Menu Best Seller
Here is the list of Soga Miga best and a top-selling menu that you should try if you're planning to visit their restaurant anytime soon while traveling to Tagaytay. On the list are their best-selling items that their crews told us in an interview regarding their best sellers. 
Cheese Tteokboki – This is already popular among Korean food fans across the country. This is made with Korean rice cakes that look long white and chewy that is stir-fried with cheese and some spicy paste which I think is a gochujang. Cheese lovers will surely enjoy their cheese Tteokboki for sure. This is very good as an appetizer as well. The taste is really good not too spicy just a bit, gooey and cheese at the same time.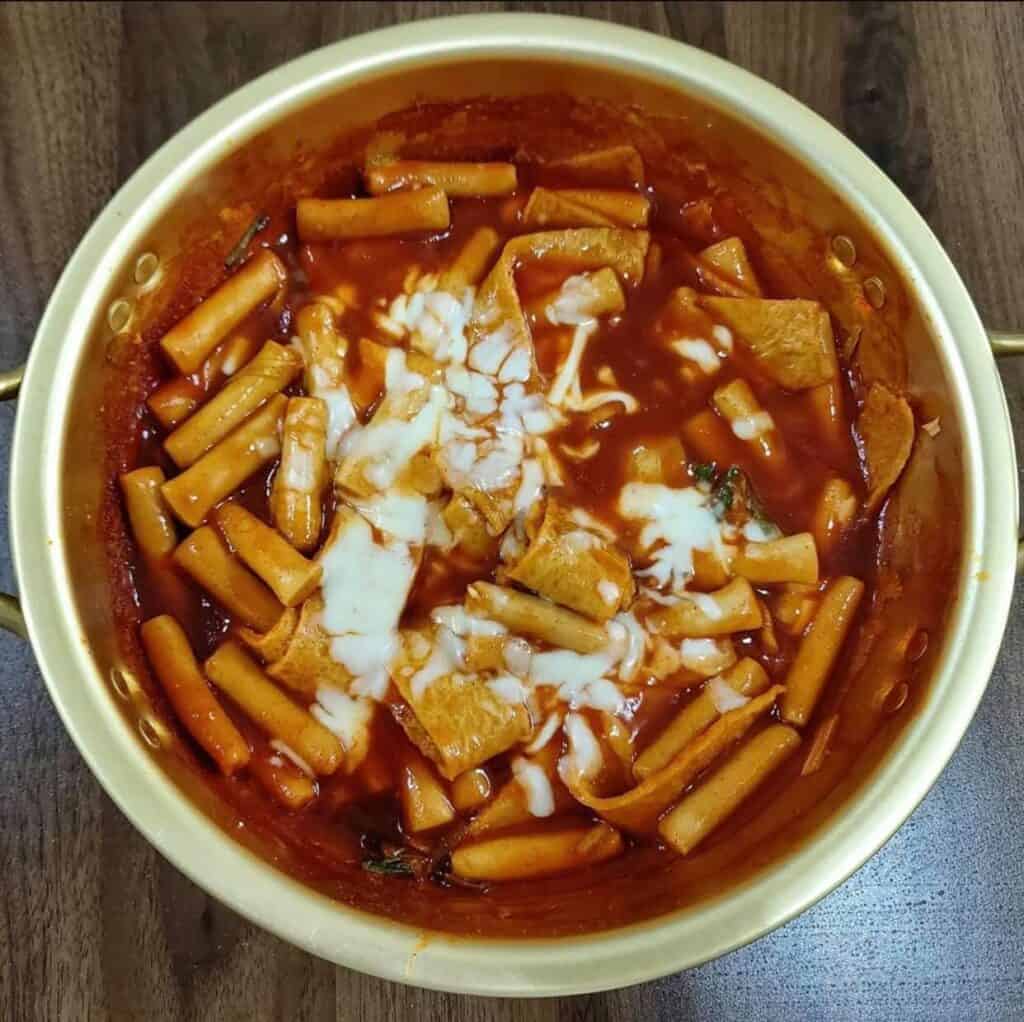 Gunmandu – This is a Korean dumpling pan-fried but not too crunchy just right. These dumplings are stuffed with a mixture of vegetables and meat with a special sauce that is a little bit sweet. This Soga Miga menu is actually like the gyoza of Japan with a Korean touch. I personally like their gunmandu along with cheese tteokboki. 
Wagyu Flap Meat – On their US Angus beef menu you can find the wagyu flap meat. This slice of meat is really good and tender. Their wagyu flap meat is grilled with sliced onions and whole cloves of garlic. It can be seasoned with Korean paste or salt for added flavor. After grilling the meat it is also cut into bite-size pieces for a more enjoyable treat. 
Dishes and Soups Menu
Soga Miga has a lot of dishes and soups to choose from, they have kimchi soup which is very flavor Packed, seafood pancake for those who love to try a different style of cooking for seafood, a steamed egg that is great as soup, spicy rice cake with fritters for an appetizer as well as the simmering pig mini feet with herbal ingredients.
They also have grilled mackerel if you love fish, spicy beef, and leek soup if you're looking for a beefy soup, hot stone pot bibimbap is ready popular in our country because of Korean telenovelas and this is the first Korean dish that I've tried and it's really delicious, ramyeon a noodle dish that is a bit spicy, udon noodle, soybean paste stew with beef brisket, cold noodle in chilled broth this is something new for us because we're used to hot soup and banquet noodles. 
Soga Miga Unlimited BBQ Menu
Here in Soga Miga you can eat all you want for only 799php only, you'll get to choose their meat options like LA galbi marinated in sweet sauce or smoked duck which they will only refill once, wagyu beef (brisket point) this one is really good, beef short plate topping with sauce, beef abomasum, pork belly, pork belly which is marinated with chili paste that I really like and enjoy and pork steak marinated with sauce.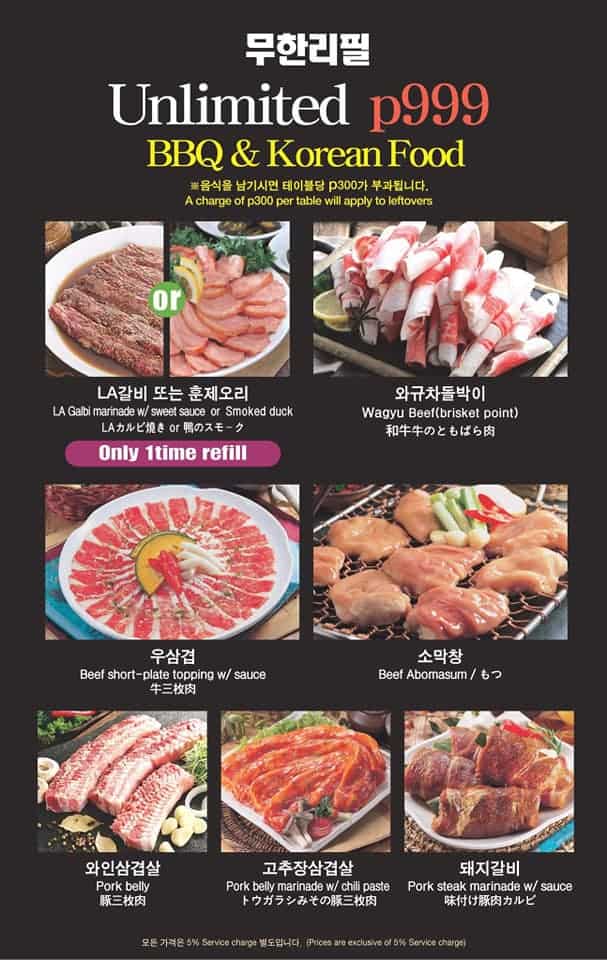 Uncooked Menu
Soga Miga's uncooked menu is the one that you can find on their unlimited barbecue and Korean food list. They have wagyu beef, beef short plate, beef abomasum, pork belly plain, or pork belly marinated. All of the items are uncooked and you're the one who will grill it for a more Korean vibe experience.
Soga Miga Menu Delivery
Soga Miga is fortunate to accept deliveries and this is a great thing if you just crave Korean barbecue and dishes but can't go outside. Soga Miga delivers only in Ayala Alabang areas or Alabang-based condos so if you are within the area this is good news. You may call 09178073008 for your orders.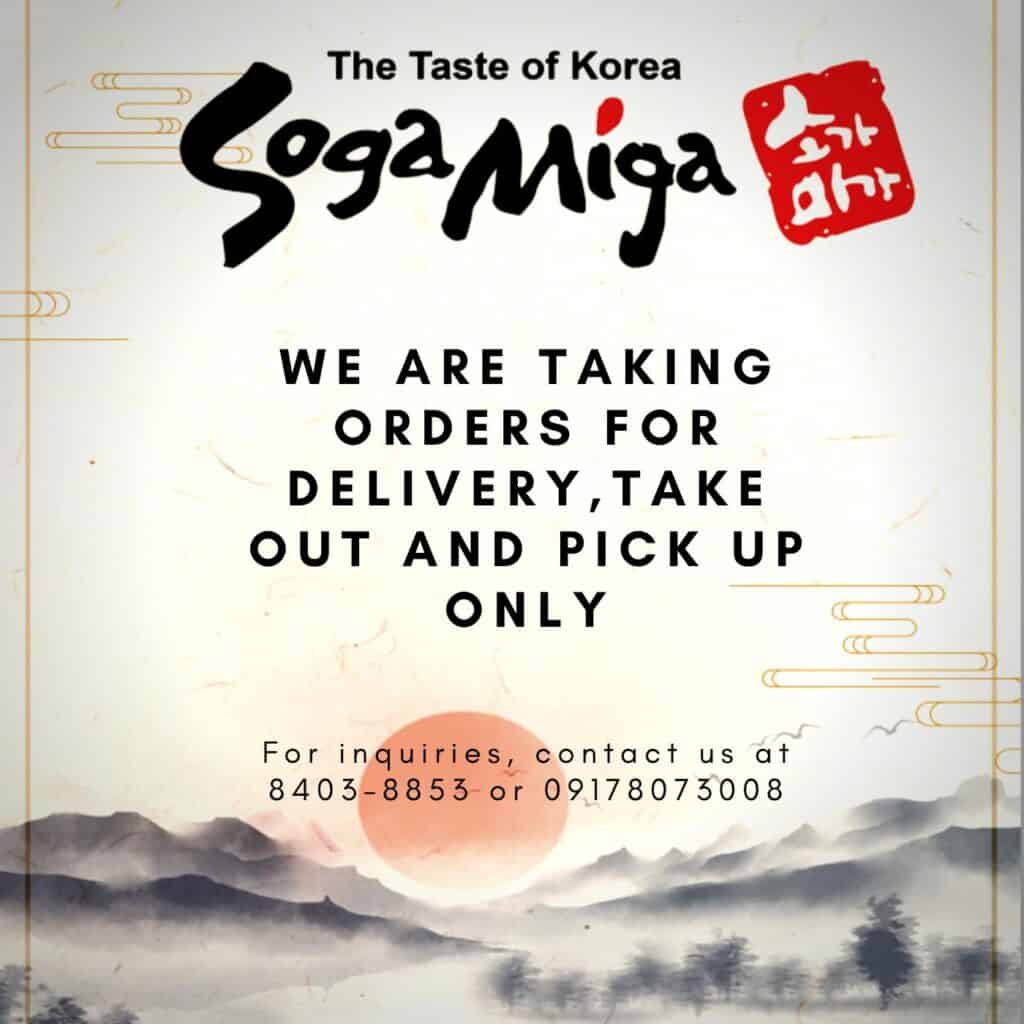 If you are not in these areas no worries since we have food delivery services that are always available, you can choose food panda or any food delivery that you know. You can order thru them but ordering is available depending on your location. 
Social Media Pages
Soga Miga has social media pages so if you want to be updated on their latest menu, products, and discounts. You should like or follow these pages if you want to keep on getting the latest updates. We highly encourage you to do it to show your support.
Facebook: https://facebook.com/sogamiga/
Conclusion
Soga Miga menu has it all if you are craving a Korean barbecue style of eating and other Korean dishes they have it. If you want a Korean vibe while enjoying your meal their place is one of the best that you can find, to be fair their price is a bit higher than other Korean buffets but the quality is good, their products really give value for your money. The crews are friendly and fast I like how they maintain the cleanliness of the place despite the busy days, especially at lunch and dinner time. Highly recommended for foodies out there who want to experience Korean unlimited barbecue. Great place!