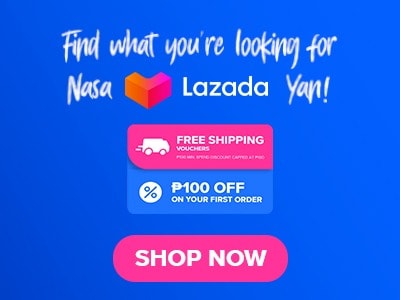 The menu at Benjarong Restaurant features a variety of authentic Thai dishes prepared with traditional cooking methods and fresh ingredients, such as soups, salads, appetizers, curries, and stir-fried dishes. They also offer grilled prawns and fish, as well as vegetarian options like stir-fried vegetables and tofu dishes. Benjarong is a great destination for Thai cuisine enthusiasts for the fact that they use fresh ingredients and traditional cooking methods making each and every dish they serve flavorful and authentic.
Below, you'll find the updated list of Benjarong Restaurant menu prices.
Menu Items
Price (PHP)

Appetizer

Porpia Tom Yam
430
Peek Gai Yad Sai Larb Gai Tord
430
Gai Tord Kamin
420
Tord Man Gung
495
Guay Tiew Luy Suan
390
Por Pia Pak
350
Gai Hor Bai Toey
390
Larb Gait Tord
390

Soup

Tom Yang Gung
430
Tom Kha Gai
400
Tom Jued Woon Sen Moo Sub Sa Rai
400

Noodle Soup

Guay Tiew Nuea
900
Woon Sen Tom Yun Talay
690

Salads

Som Tam
300
Yam Som O
370
Yam Pla Duk Foo
390
Yam Woon Sen Talay
550

Salads for Sharing

Som Tam Tord Salmon Foo
490
Nuea Yang Nam Tok
490

Specialties

Kai Jiew Moo Sub
370
See Krong Moo Katiem Wan
590
Pla Yang Bai Tong
1250
Panaeng Nuea Yang Bai Tong
1300

Curry

Gaeng Khieo Wan Gai
490
Gaeng Phed Ped Yang
590
Massaman Nuea
680
Gaeng Khieo Wan Gung
800
Panaeng Moo
520

Family Style

Seua Rong Hai
690
Pla Nung Manao
690
Pla Sam Rod
890

Vegetable

Phad Phak Bung Fai Daeng
300
Phad Phak Ruam Mit
300
Phad Phak Kana Moo Krob
390

Noodle

Rad Na Moo
450
Phad See Ew Gai
450
Phad Thai Gung Sod
590
About Benjarong Restaurant
Benjarong Restaurant is a Thai fine dining establishment with locations in the Philippines, Thailand, India, and the United Arab Emirates. This restaurant is well-known for serving authentic Thai cuisine prepared by expert chefs using traditional cooking methods and fresh ingredients. They provide a memorable dining experience because of their delicious Thai cuisine and classy atmosphere. The ambiance is further enhanced by the use of soft lighting and a soothing color palette, making it a great place for a romantic dinner or a special occasion.
Benjarong Restaurant Menu Best Seller
The dishes that are on this menu are the ones that guests order usually when they visit Benjarong. You can also try these dishes and you won't get disappointed.
Gai Tord Kamin
Gai Tord Kamin is a popular Thai dish made of deep-fried chicken marinated in turmeric and other herbs and spices. It has a flavorful taste that is ideal for those who like bold and spicy flavors.
Por Pia Pak
It is a popular Thai appetizer made up of crispy spring rolls filled with various vegetables. Por Pia Pak has a delicious flavor and is a healthy option that is ideal for those who enjoy crunchy and flavorful snacks.
Yang Bai Tong Panaeng Nuea
This Thai menu from Benjarong Restaurant consists of grilled fish served with a spicy dipping sauce. This dish is finished with a Thai sauce that adds flavor, making it one of Benjarong's Specialties.
Peek Gai Yad Sai Larb Gai Tord
This is a popular Thai appetizer made up of stuffed chicken wings with fried minced chicken larb on the side. It has a delicious and unique taste for a Thai appetizer that will surely satisfy any food enthusiast!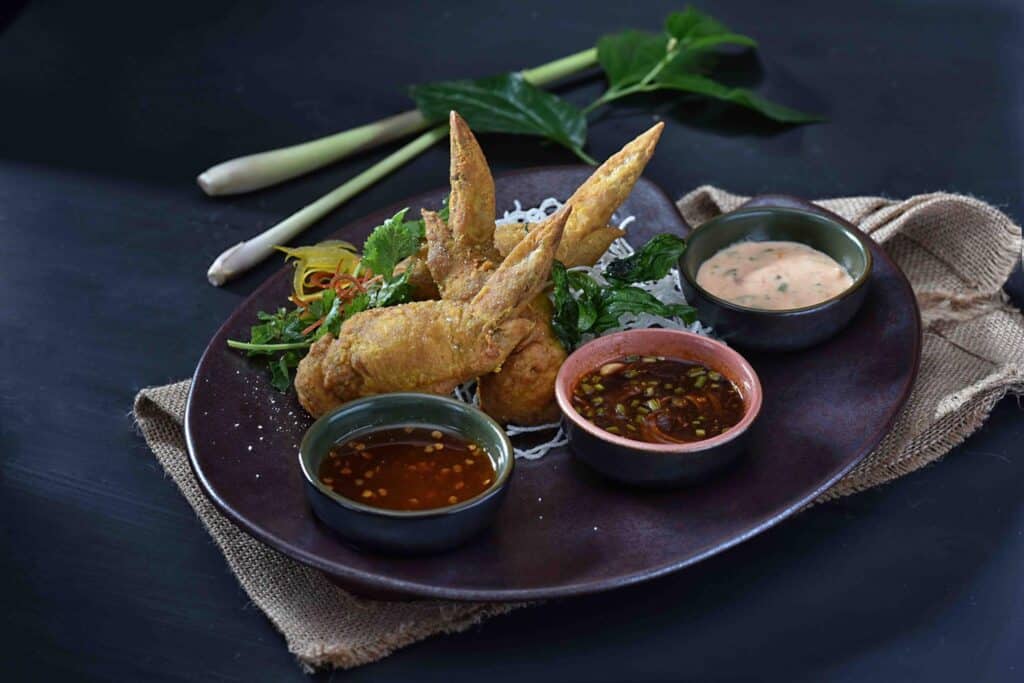 Appetizers Menu
These dishes offer a range of flavors, from spicy to sweet and savory, and are a great way to start off your meal at Benjarong Restaurant.
Porpia Tom Yam
It is a popular Thai appetizer made up of crispy spring rolls filled with a spicy and tangy combination of vegetables and meat. It is a flavorful appetizer that combines a crispy texture with bold Thai flavors and is the ideal dish for people who want to try spicy and tangy Thai dishes.
Tord Man Gung
This Benjarong Restaurant menu is made of deep-fried shrimp cakes filled with ground shrimp, herbs, and spices. It produces a delicious and savory dish that is both crispy on the outside and tender on the inside.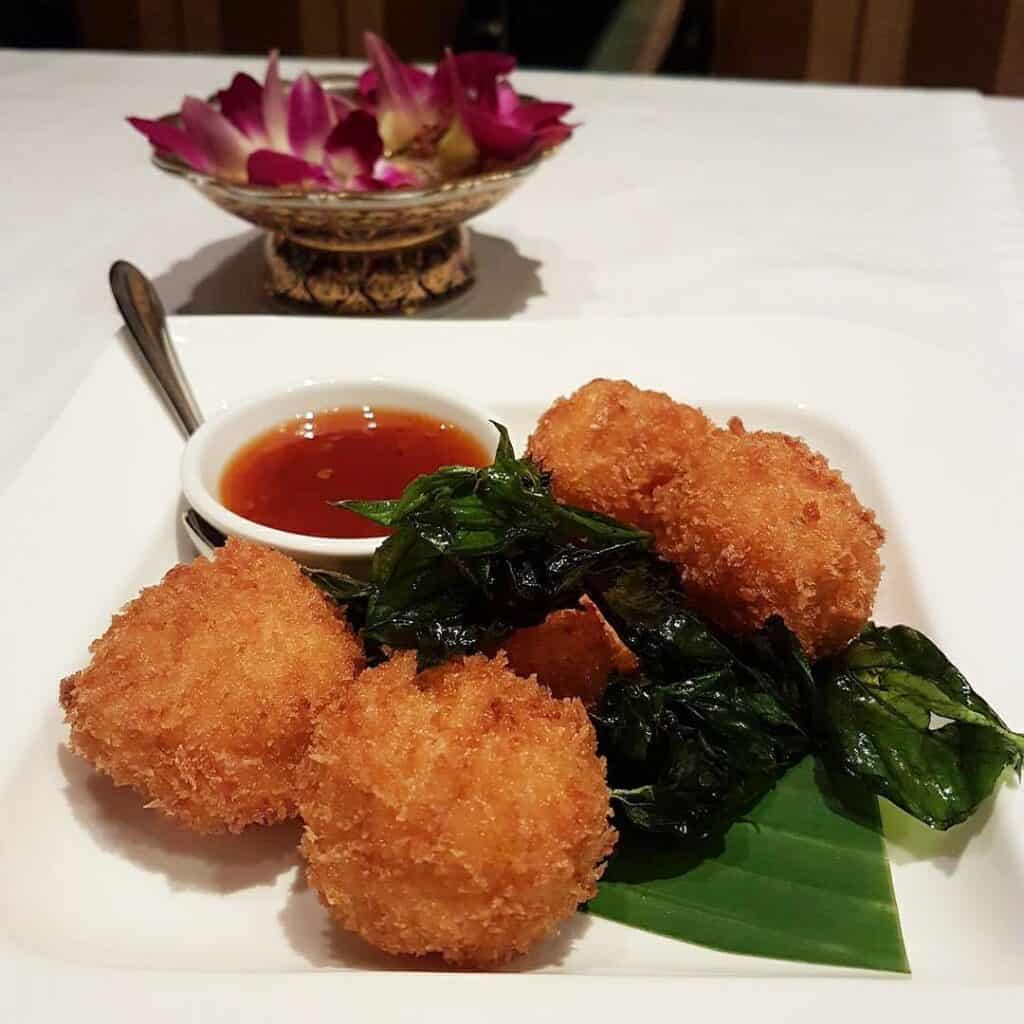 Guay Tiew Luy Suan
This dish is a popular Thai appetizer made of deep-fried shrimp cakes filled with ground shrimp, herbs, and spices. Guay Tiew Luy Suan is one of the many varieties of appetizers that has a crisp exterior and tender interior and it is also one of the healthy options for those who enjoy light and flavorful Thai soups.
Soup
This menu is made up of flavorful soups that are a must-ordered to complete your Benjarong dining experience.
Tom Yang Gung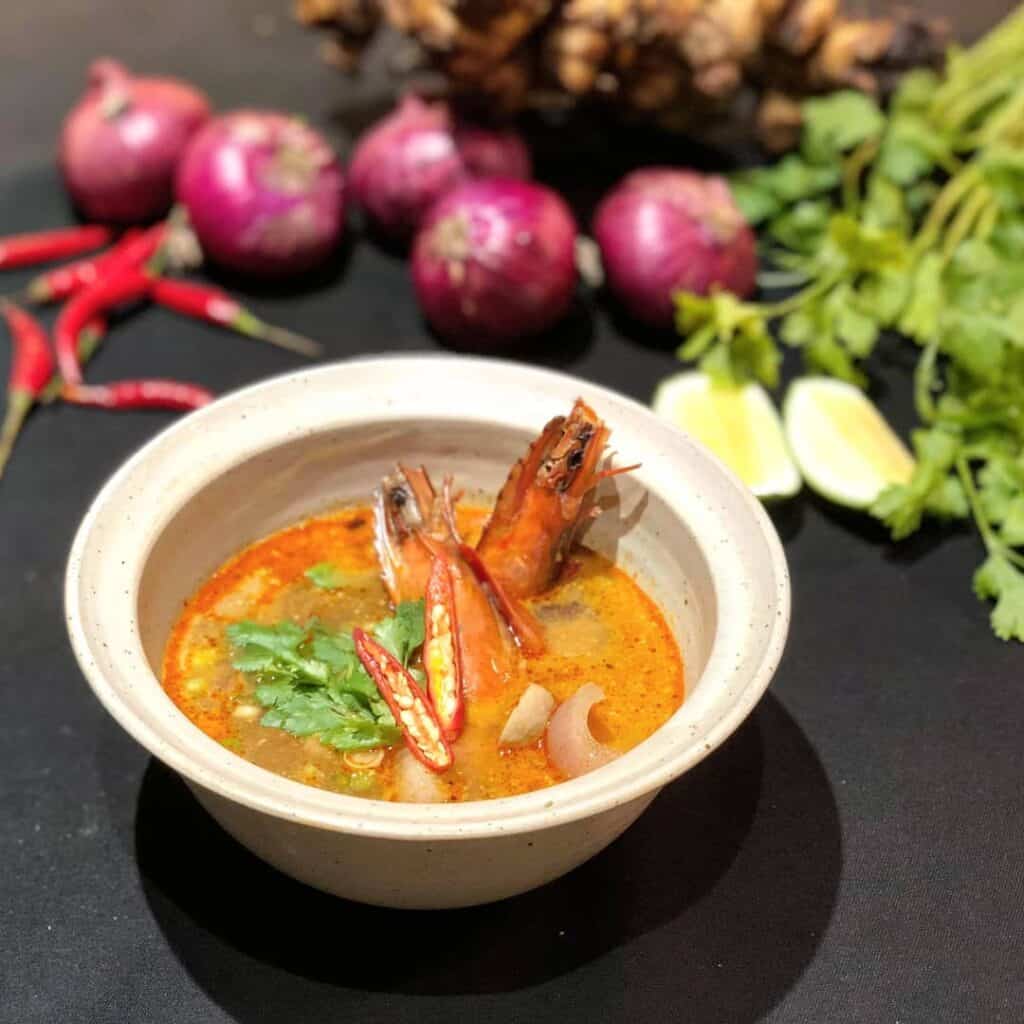 This is a popular Thai soup menu of Benjarong Restaurant is known for its spicy, sour, and fragrant flavors. It features a broth made from lemon grass thus making it one of the healthier choices for an excellent dining experience at Benjarong.
Tom Kha Gai
Tom Kha Gai is a popular Thai soup with a rich, creamy broth made with coconut milk and other aromatic herbs and spices. Its soup is flavored and enriched by the addition of chicken, making it a delicious and satisfying soup to have for those who want to add creaminess to their meal experience.
Tom Jued Woon Sen Moo Sub Sa Rai
Tom Jued Woon Sen Moo Sub Sa Rai is a Thai soup made with glass noodles, ground pork, and various herbs and vegetables. It has a light and refreshing flavor, making it a popular dish in Thailand, particularly during the hot season.
Salads
This menu is made up of a wide variety of Thai salad dishes that are both healthy and delicious.
Som Tam
This salad is famous for its fresh, tangy flavor, as well as its spicy kick. It would make a delicious and refreshing salad for those who like fresh and tangy flavors.
Yam Som O
Yam Som O is a Thai salad made with pomelo fruit, shrimp, shallots, and other ingredients. The dish is famous for its unusual flavor and texture combinations. Chefs adore this dish for its delicious and unique salad, which is ideal for those who enjoy a combination of sweet, tangy, and spicy flavors.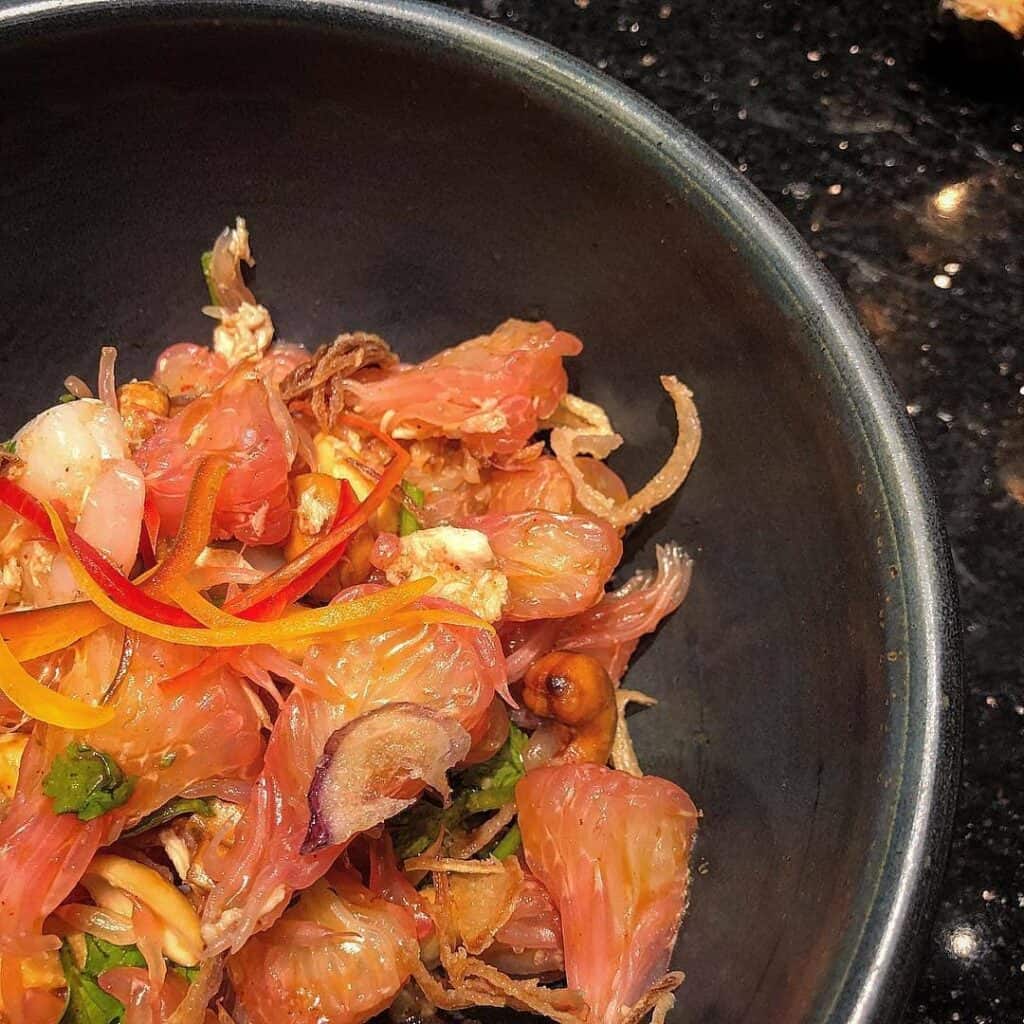 Yam Pla Duk Foo
It is a popular Thai salad made with crispy fried catfish flakes, shredded green mango, sliced shallots, and various seasonings. This dish has the crisp texture and tangy flavor that most customers prefer.
Benjarong Restaurant Specialties Menu
This menu is composed of not only authentic dishes but also the best that Benjarong has to offer.
Sub Kai Jiew Moo
Sub Kai Jiew Moo, also known as Thai omelet with minced pork or Thai omelet with shrimp is a popular Thai dish served as a main course or as a side dish.
Pla Yang Bai Tong
Pla Yang Bai Tong is a Thai dish that typically consists of grilled fish that has a bold and tangy flavor from the lime juice and fish sauce, with a slight sweetness from the sugar.
Katiem Wan Krong Moo
Katiem Wan Krong Moo is a popular Thai stir-fry dish that includes garlic, sweet peppers, onions, and pork. It is popular with customers for its bold and savory flavors, and it is frequently served over steamed rice.
Curry
The curry menu at Benjarong Restaurant includes a variety of Thai curries made with various types of meat, vegetables, and curry pastes. These curries are typically served with steamed jasmine rice, and customers are also able to choose the level of spiciness they prefer. This menu is famous because of the flexibility it gives the guests.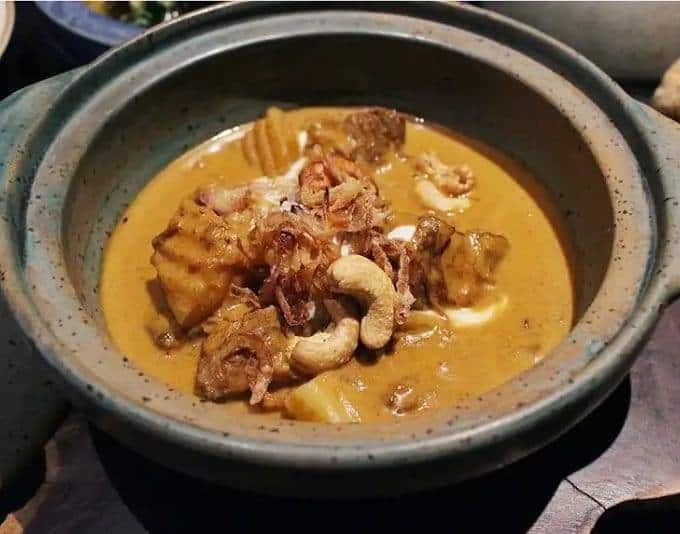 Family Style
This menu is usually intended for sharing and may include a variety of dishes served in larger portions to accommodate larger groups. Benjarong's menu allows guests to try a variety of dishes and flavors while socializing with friends and family.
Benjarong Restaurant Menu Delivery
Benjarong provides delivery services for their customers to conveniently order the food they crave anytime and anywhere they want. Ordering is also made much easier by the GrabFood and FoodPanda applications that can be downloaded to your mobile phones. For more information about their menu delivery, you can visit Benjarongs' websites and social media pages.
Social Media Pages
Want to experience Thailand dishes? Then book your reservations at Benjarong. Enjoy delicious and unique flavors of Thai dishes while scrolling through their social media pages. They are actively posting updates about the news and you might get surprising discounts and perks if you follow their pages. The links are provided below.
Facebook: https://www.facebook.com/benjarongmanila
Instagram: https://www.instagram.com/benjarong_manila/
Twitter: https://twitter.com/dusit_manila
Conclusion
The menu at Benjarong Restaurant offers a wide range of dishes, including soups, salads, appetizers, curries, and stir-fried dishes. In addition to the food, the restaurant also boasts a beautiful and elegant atmosphere, with traditional Thai decor and intricate details such as hand-painted silk murals and gold leaf accents. Benjarong Restaurant is definitely worth a visit if you're looking for a taste of authentic Thai food or a unique and sophisticated dining experience.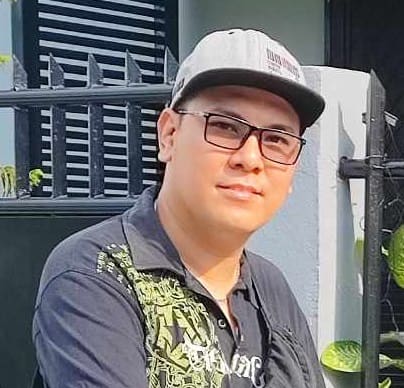 Hi! I'm Nivek Strife, the person who made MenuPH. I'm the one who added most of the popular menus you see on this website, and I really hope you enjoy them! Feel free to check them all out.
Growing up, I was surrounded by lots of tasty foods, like the classic Adobo and the sweet Leche Flan. That love for the many flavors of the Philippines is what got me excited about adding to MenuPH. When I learned how to make websites, I saw the need for a place to show off all the amazing Filipino dishes, and that's how MenuPH started.
MenuPH isn't just a website; it's like a fun journey into food. I've teamed up with famous chefs and found great places all over the Philippines to bring you a bunch of menus that show off the best of Filipino cuisine. Whether you're into the usual dishes or new twists, MenuPH is here to guide you through the rich world of Filipino flavors.
With MenuPH, my aim is to help local businesses, talk about good food choices, and make a group of friends who love food. No matter if you like fancy restaurants or street food, MenuPH has something for you. Come join me on this food adventure as we find great places, taste real flavors, and enjoy the unique food traditions that make the Philippines awesome.