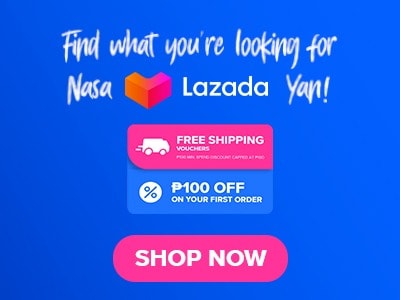 What could be better for a night out with friends than juicy and delicious grilled ribs? And The Rib Shack is the ideal spot to go for that! The Rib Shack's menu is all about bringing the enjoyable and delicious flavors of BBQ and grilling to the table. This restaurant is known for its mouthwatering and tender ribs, and a variety of slow-cooked and grilled meats, each of which are generously smeared with their signature homemade BBQ sauces. All of the dishes that The Rib Shack offers cater to the tastes and preferences of most meat lovers that are looking for a satisfying and flavorful experience. 
Below, you'll find the updated list of The Rib Shack menu prices.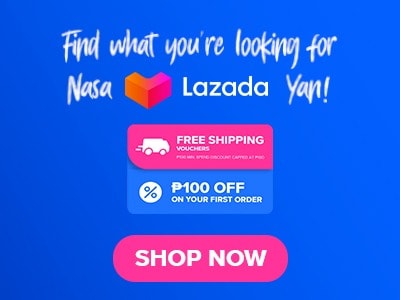 Menu Items
Price (PHP)

Feast Trays

Feast Trays A
2575
Feast Trays C
2127
Feast Trays D
2239
Feast Trays E
2687
Feast Trays F
4367
Twosome Platter
1478
Feast Trays B
2575

Party Pans

BBQ Ribs Party Pan
2500
Chori Sliders Party Pan
900
Carbonara Party Pans
890
Tomato Meatballs Party Pans
100
Buffalo Wings Party Pans
1100
Crispy Wings Party Pans
1030
Crispy Bacon Party Pans
114
Smoked Bacon Party Pans
1170

Ribs

Single (Rice + 1 Side)
400
In a Relationship (2 Sides)
770
It's Complicated (3 Sides)
1260

Chicken

Roasted Cajun - Whole (2 Sides)
720
Roasted Cajun - Half (1 Side)
400
Buffalo Wings
400
Crispy Chicken Wings
380

Peri - Peri

Peri-Peri Whole Chicken
730
Peri-Peri Half Chicken
410
Single Chop (1 Rice + 1 Side)
360
Duo Chop (2 Sides)
650
Trio Chop (3 Sides)
915

Pizza

Meat Lovers
610
Pulled Pork Pizza
610
Bacon & Cheese
580
Four Cheese
460
Margherita
460

Pasta

Lasagna
370
Pulled Pork Truffle Pasta
330
Tomato Meatballs
370
Carbonara
340
Pasta De Sardine
340

Nibblers

Beernuts
105
Crispy Bacon
440
Smoked Bacon
420
Nachos Overload
390
Pulled Pork Nachos
390

Soup and Salad

Shiitake Mushroom
200
Grilled Chicken Salad
315
Caesar Salad
240

Seafood

Fried Calamari
370
Fish & Chip
360

Kids

Chicken Tenders
270
Mac and Cheese
260
Bacon & Egg Pancake
260

Sandwiches

Shack Burger
370
Pulled Pork Sandwich
360
Chori Burger
280
Chorizo Sliders
340
Grilled Cheese Sandwich
270

Shack Bowls

Chicken Teriyaki
290
Beef Teriyaki
300
Adobo Flakes
290
Bacon Bowl
290
Chori Patty
290

Dessert

Cheesecake
200

Extras

Garlic Rice
55
Plain Rice
45
Extra BBQ Sauce
25
Mashed Potato
78
Garlic Potato Balls
157
Grilled Corn
78
Buttered Vegetables
78
Buttered Garlic Spinach
280
Coleslaw
319

Sauces

Original
280
Chipotle
319

Drinks

Coke
80
Coke Zero
80
Royal
80
Sprite
80
Pineapple Juice
85
Iced Tea (1L)
185
Sarsi
80
Coffee Americano (1L)
220
Coffee Latte (1L)
250

Bangin Burrito

Pulled Pork
270
Chicken
280
Beef and Shrimp
300

Japanese Hits

Kushiyaki
360
Yakiton
315
Yakitori
315

Breads

Banana Cake (350g)
155
Carrot Cake (350g)
155
Bread & Butter Pudding (350g)
220
Brioche Loaf (900g)
190
Eggless Loaf (900g)
175
Eggless Whole Wheat Loaf (900g)
190
Sourdough Boule (500g)
99
Sourdough Boule (1kg)
199
Flat Bread (Piece)
80
Asado Bun (Piece)
50
Cookies (Per Box)
120
About The Rib Shack
The Rib Shack is a restaurant in Quezon City, Philippines known for its mouthwatering and finger-licking good ribs. The Rib Shack offers a menu that focuses more on BBQ and grilling. The items on their menu range from tender and smoky ribs to juicy chicken and savory pulled pork to make sure that there is something to cater to anyone, whether they prefer pork, chicken, or beef. The Rib Shack prides itself on using high-quality ingredients and cooking techniques that create a unique and unforgettable dining experience.
The Rib Shack Menu Best Seller
This menu is filled with a variety of delicious meat items that comes in all forms of dishes, from fried, grilled, and pizza items.
Buffalo Wings – The buffalo wings from The Rib Shack are a delicious combination of crispy and tender chicken wings coated in a tangy and spicy buffalo sauce. The wings are cooked to perfection, boasting a crispy exterior and juicy meat on the inside, while the sauce adds a zesty kick to it, making it a perfect appetizer or snack for those who love a bit of spiciness in their meals.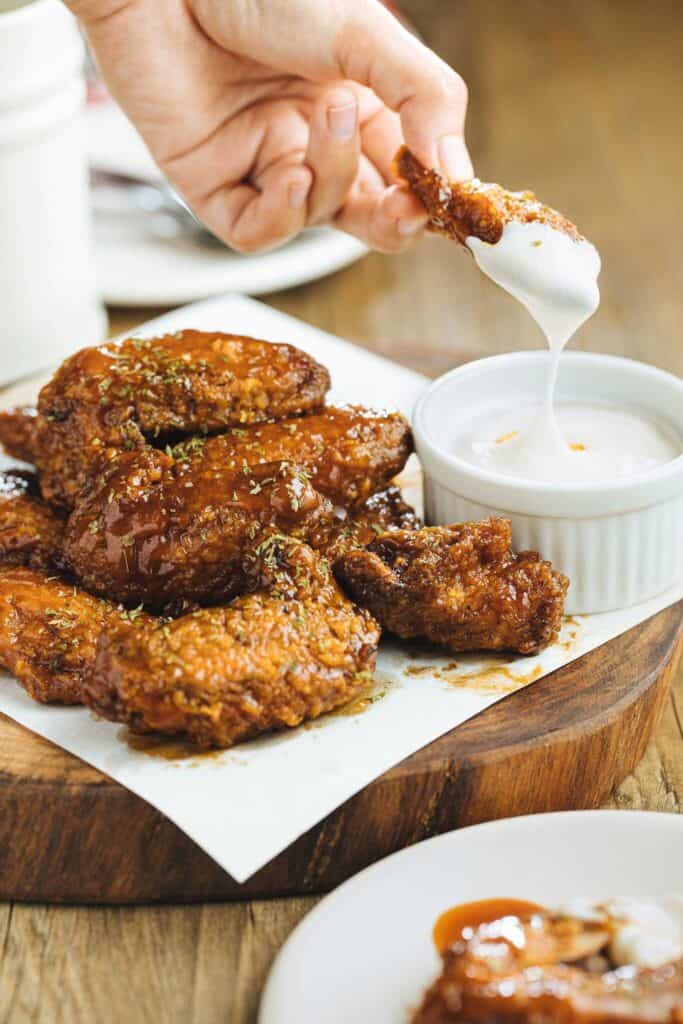 Crispy Chicken Wings – These crispy chicken wings menu from The Rib Shack are a crowd-pleaser. The meat remains tender and juicy, offering a satisfying bite with every mouthful, and then served with a choice of delectable sauces to make for a delicious and addictive treat.
Meat Lovers – This pizza is generously topped with an array of mouthwatering meat, creating a flavor-packed and satisfying pizza experience. The pizza's crust is perfectly baked to achieve a crispy yet chewy texture, providing an excellent base for the delicious toppings.
Tomato Meatballs – These meatballs are a comforting and delicious option for those that are looking for a hearty and flavorful dish. These tender meatballs are made from a blend of seasoned meat and are simmered in a rich and savory tomato sauce and then served with pasta.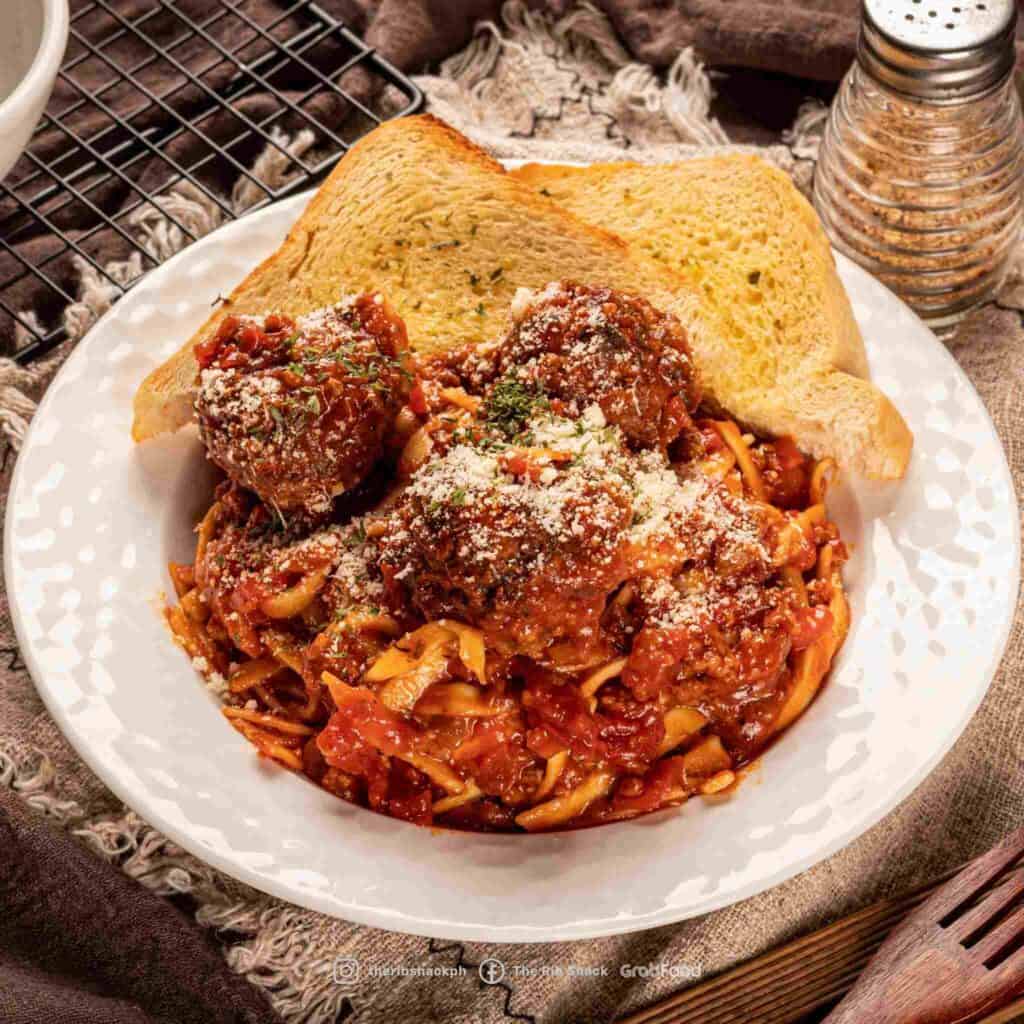 Beef Teriyaki – This dish is made from tender beef that is marinated in a sweet and savory teriyaki sauce, which infuses it with a mouthwatering taste. It is grilled to perfection making the beef both juicy and flavorful, making it a delightful choice for those who crave a meaty dish with a blend of Asian-inspired flavors.
Feast Trays
This menu is filled with a selection of feast trays that can be ordered by customers who come in groups at The Rib Shack.
Feast Trays A – This tray offers an enticing selection of mouthwatering dishes that are perfect for sharing with friends and family. This tray features a delicious and satisfying combination of 2 BBQ Ribs and a half chicken, both expertly grilled to perfection and served with grilled corn.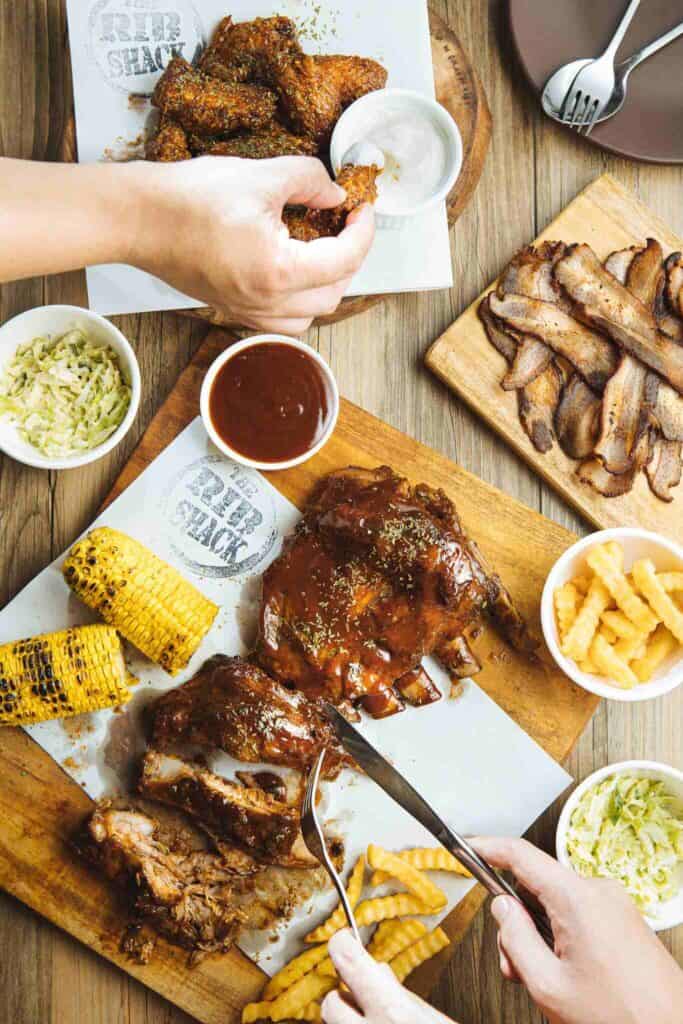 Feast Trays B – This tray is ideal for those who love meat as it is composed of a generous offering of 2 Trio Peri-Peri Pork Chops, 1 whole chicken, and 1 serving of bacon, accompanied by grilled corn. The different meats in this tray make sure that customers will have a satisfying and diverse dining experience.
Feast Trays C – This tray has a fantastic combination of 1 BBQ Rib, 1 whole chicken, and 1 serving of bacon, along with grilled corn. This tray offers a perfect balance of flavors, with the rich taste of the BBQ Ribs, the juicy chicken, and the savory bacon, all enhanced by the sweetness of the grilled corn.
Ribs
This menu presents a diverse array of dishes centered around ribs as the main ingredient, accompanied by your choice of side dishes.
Single (Rice + 1 Side) – This menu option from the Rib Shack is the ideal choice for those who are looking for a simple yet satisfying meal at The Rib Shack. Customers can choose one side dish to accompany their rib dish ensuring a flavorful and enjoyable dining experience without any fuss.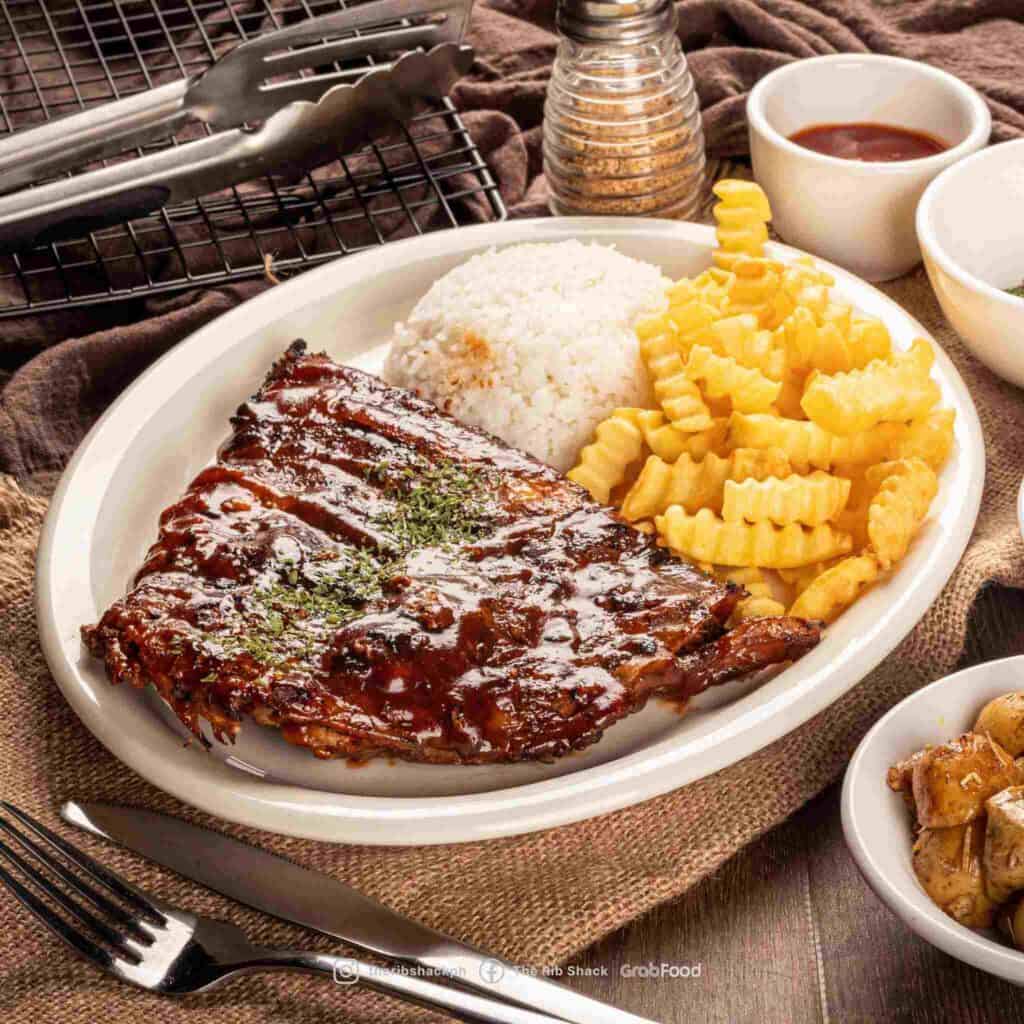 In a Relationship (2 Sides) – For those looking for a more complete and satisfying meal, this option offers two side dishes to complement their rib order. This combination allows diners to explore and enjoy a variety of flavors, making it an ideal choice for those who love trying different side dishes alongside their main course.
It's Complicated (3 Sides) – This menu item is ideal for anyone who simply wants to indulge in a variety of flavors as it provides a delicious array of three side dishes with their rib order. With this menu item, customers can explore a diverse range of flavors in one satisfying meal through a single order.
Party Pans
Introducing The Rib Shack's Party Pans menu, designed to make your gatherings and events a culinary hit. This selection features an array of mouthwatering dishes, perfect for pleasing every palate at the party. These party pans are available in various sizes, offering you the flexibility to select the right fit based on the number of guests you're hosting. Choose from delectable options such as the savory BBQ Ribs Party Pan, the delightful Chori Sliders Party Pan, the creamy Carbonara Party Pans, the flavorful Tomato Meatballs Party Pans, the zesty Buffalo Wings Party Pans, the crispy delight of Crispy Wings Party Pans, and the irresistible allure of Crispy Bacon and Smoked Bacon Party Pans. With The Rib Shack's Party Pans, your gatherings are set to become flavor-packed feasts that everyone will savor.
Peri-Peri
Explore The Rib Shack's Peri-Peri menu, filled with dishes that combine strong flavors and a delightful spicy kick. These dishes are perfect for those who enjoy a bit of heat and excitement in their meals. Try the Peri-Peri Whole Chicken or the Peri-Peri Half Chicken for a twist on classic chicken. You can also choose the Single Chop (comes with 1 Rice and 1 Side), the Duo Chop (with 2 Sides), or the Trio Chop (served with 3 Sides) for a satisfying meal variety. With The Rib Shack's Peri-Peri menu, get ready for a flavorful adventure that adds excitement and spiciness to every bite.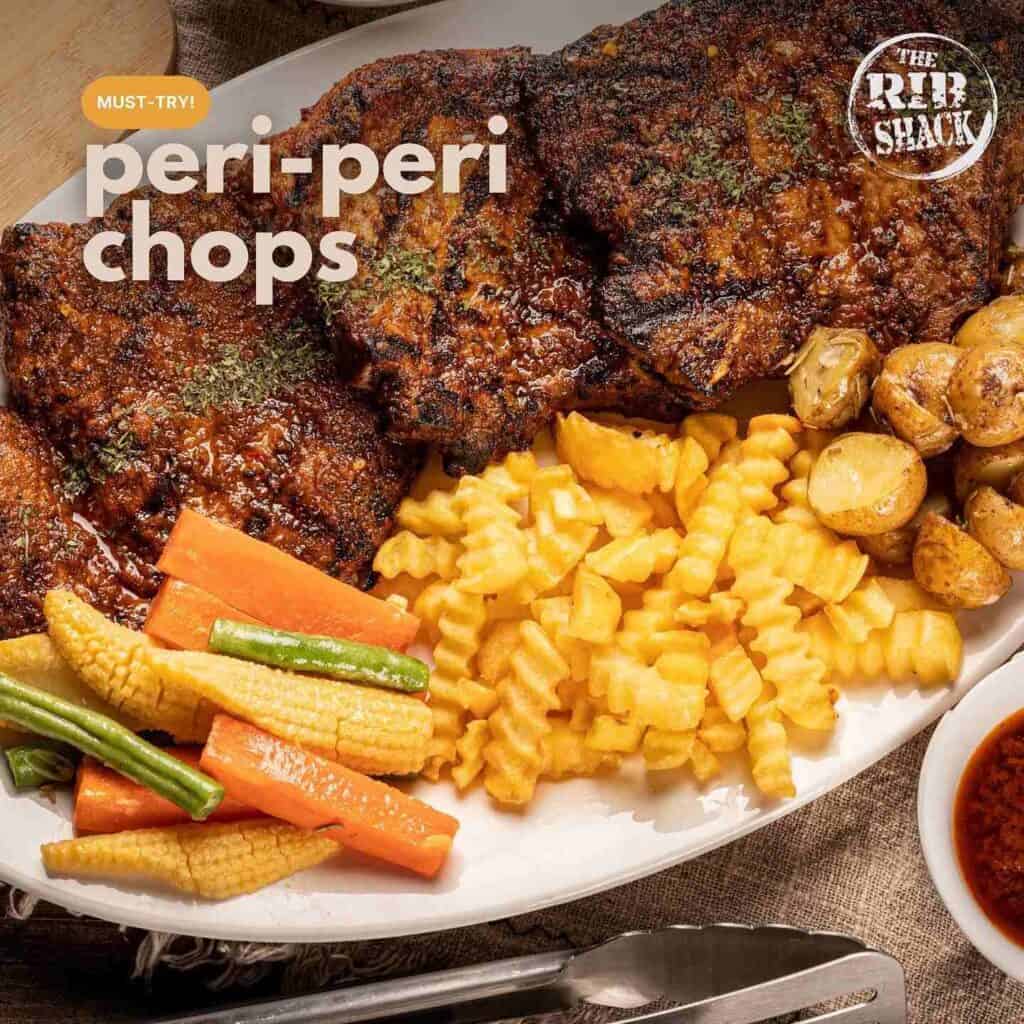 The Rib Shack Menu Delivery
The Rib Shack makes ordering their delicious food even easier with a menu delivery option, ensuring that a wider range of customers can enjoy their tasty offerings. This convenient service allows you to savor their food from the comfort of your home, with the help of delivery services like FoodPanda.
The Rib Shack Social Media Pages
Stay updated on exclusive offers and be the first to know about new menu items from The Rib Shack by following and liking their social media channels. Join their delicious conversation and satisfy your cravings with their tempting delights.
Facebook: https://www.facebook.com/dineattheshack
Instagram: https://www.instagram.com/theribshackph
FAQs
What are some popular dishes at The Rib Shack that I should try?
Some of the popular dishes that The Rib Shack offers are Buffalo Wings, Crispy Chicken Wings, Meat Lovers Pizza, and Tomato Meatballs.
Does The Rib Shack offer any vegetarian options?
The Rib Shack does provide customers with a selection of vegetarian dishes to cater to those who have dietary preferences.
Does The Rib Shack have any special sauces or marinades for their dishes?
The Rib Shack does have special sauces and marinades that enhance the flavors of their dishes.
Does The Rib Shack have any ongoing promotions or loyalty programs?
You can keep up with The Rib Shack's ongoing promos and loyalty programs by following some of their social media pages.
Can I get Rib Shack's food delivered to my home?
The Rib Shack does offer delivery services that bring your food orders straight to your home.
Conclusion
The Rib Shack is a must-visit restaurant for all BBQ and grilling lovers in the Philippines as it offers a delicious and exciting menu filled with a variety of mouthwatering meat dishes. The restaurant delivers a flavorful experience to its customers with its signature homemade BBQ sauces and its expert cooking techniques. So the next time that you want to have a night out with friends or family, visit The Rib Shack to enjoy a sumptuous feast that celebrates the rich and hearty flavors of slow-cooked and grilled meats.