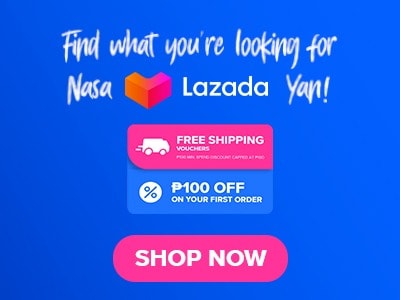 Intrigued about Singapore cuisine but a bit hesitant to try it because you're considering the price first? No worries I have the perfect place for you to go. This place offers Singaporean cuisine that is delicious, quality, and affordable. Ever heard about Bugis Singapore Street Food? If not and you're interested then you're on the right article. Bugis Singapore Street Food menu offers a wide variety of dishes from breakfast to dinner. This place serves authentic Singaporean dishes that I'm pretty sure everyone will love. In this article let's get to know Bugis Singapore Street Food more, Let's take a look at their prices and menu and other items that they offer. Let's begin!
Below, you'll find the updated list of Bugis Singapore Street Food menu prices.
Menu Items
Price (PHP)

Breakfast

Fish
230
Sausage
230
Chicken
230
Sweet Pork
230
Nasi Lemak Burger
165
Economical Beehon
65
Kaya Toast Set (Best Seller)
125
Roti With Condensed Milk And Brewed Coffee
75
Singapore Ramen (Best Seller)
100

Breakfast Drinks

Milso Dinosaur
125
Hot Milo
55
The Tarik (Cold)
95
The Tarik (Hot)
55
Fruit Tea
75
Hot Jasmine Tea
50
Blended Iced Tea
75
Brewed Coffee
55

Appetizers

Numnums (Stick/Set Of 12)
38/420
Chicken Satay With Peanut Sauce
120
Dynamite
38
Curry Balls
38
Beef / Pork Roll
120
Chicken Chops
135
Squid Sambal
185
Buttered Squid Rings
185
Crunchy Tofu W/ Mushroom Sauce
145
Salted Egg Chicken And Prawns
280

Noodles

Singapore Laksa
250
Bah Kut The
230
Fish Soup With Mushroom Noodles
230
Steamboat
230
Sukiyaki
225
Mee Goreng
155
Canton/Bihon Guisado
195
Singapore Ramen
100
Char Kuey Teow
155
Fried Noodles
65
Satay Beehon
185
Soy Sauce Chicken Noodle
195

Rice Meals

Satay Rice
125
Nasi Goreng Rice
125
Sambal Fried Rice
125
Hainanese Fried Rice
115
Shrimp Fried Rice
155
Laksa Rice
165
Shanghai Fried Rice
175
Plain Rice
35
Beef Teriyaki
190
Chicken Teriyaki
185
Pork Teriyaki
185
Nasi Lemak
230
Bugis Chicken With Rice
185
Bugis Chicken Ala Carte
255

Curry Meals

Fish Curry
225
Chicken Curry
225
Beef Curry
295
Curry Tonkatsu
225
Extra Roti
40

Chicken

Hainanese Chicken
248
Sou Garlic Chicken
165
Buffalo Wings
165
Orange Chicken
205
About
Singaporean cuisine is a very rich and unique cuisine that has Indian, Malay, and Chinese influences. If you want to try Singaporean cuisine great news since you don't have to travel all the way to Singapore to enjoy their dishes. Thankfully, Bugis Singapore Street Food is offering Singaporean cuisine at a very affordable price. This place serves a variety of delicious dishes from breakfast to dinner. They also have choices of drinks to enjoy with your meal, samples are brewed coffee, Milo Dinosaur, and more.
As of now Bugis Singapore Street Food already has three branches in the metro they have two in Quezon City and one in San Juan. If you're planning on visiting Bugis Singapore Street Food with some family or friends just take note that they only have limited seats so if you're going during busy hours it is best to go earlier. They also offer delivery service so if you don't have the time to visit the restaurant they can deliver your favorite items right to your doorstep.
Bugis Singapore Street Food Menu Best Sellers
Here are some samples of Bugis Singapore Street Food's best sellers.
Kaya Toast Set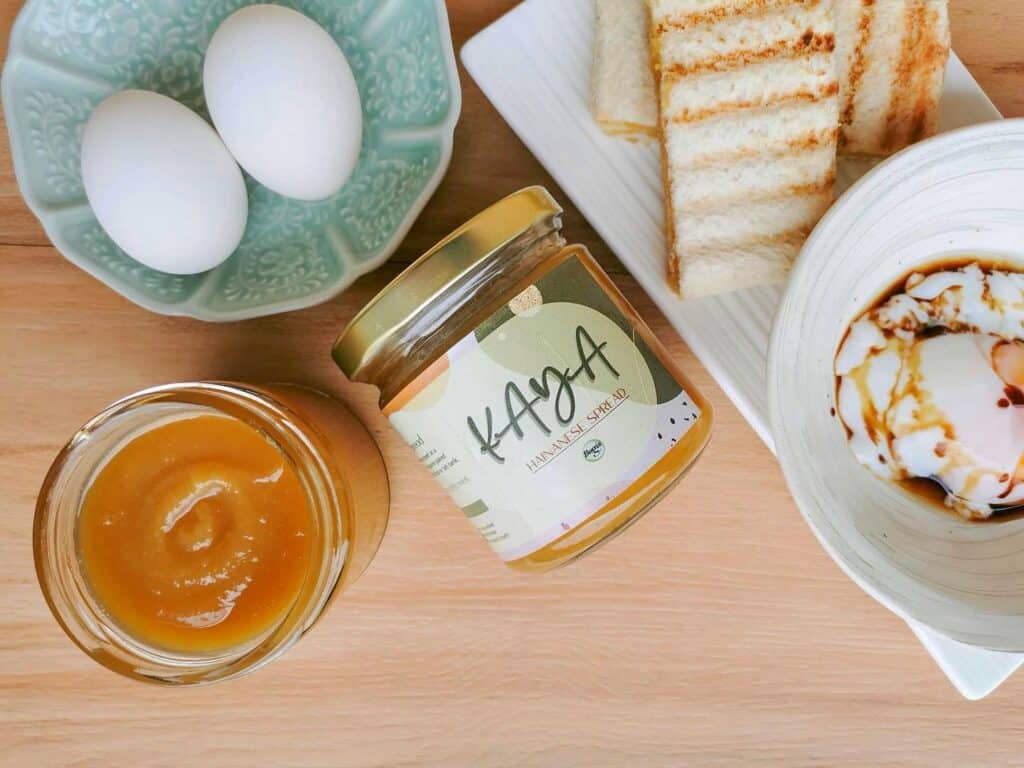 Kaya toast version of Bugis Singapore Street Food is a staple in Singapore breakfast. This one is made with roasted bread, kaya spread, a slice of butter, egg, pandan essence, and a creamy coconut milk mixture. Kaya toast is one of the most famous breakfast items in Singapore. This one tastes amazingly delicious so if you don't have a problem eating something sweet for breakfast then you should try this one.
Hainanese Chicken
Hainanese chicken menu of Bugis Singapore Street Food is served with their signature fragrant rice that they cooked with chicken stock and chicken fat, some ginger, and garlic. This one is basically a steamed chicken that is really soft and flavorful. This could be better with the sauce that comes along with it which is a mixture of chili, ginger, garlic, and dark soy sauce.
Hainanese chicken is also one of the most famous items in Singapore, great thing that Bugis already brought this dish to the market at a very affordable price, included on their best-selling items list, and also a must-try.
Orange Chicken
The orange chicken version of Bugis Singapore Street Food is also one of their best sellers. This one tastes amazing as well. This has a sweet and just a hint of spicy flavor to it. The chicken is crispy and tender at the same time and has a great flavor. The sauce combinations that are used in this dish are sour, sweet, savory, and everything that you could ask for in a chicken dish. They also put some brown sugar on making the sauce and orange zest to give this a kick. One of the most delicious orange chicken I had.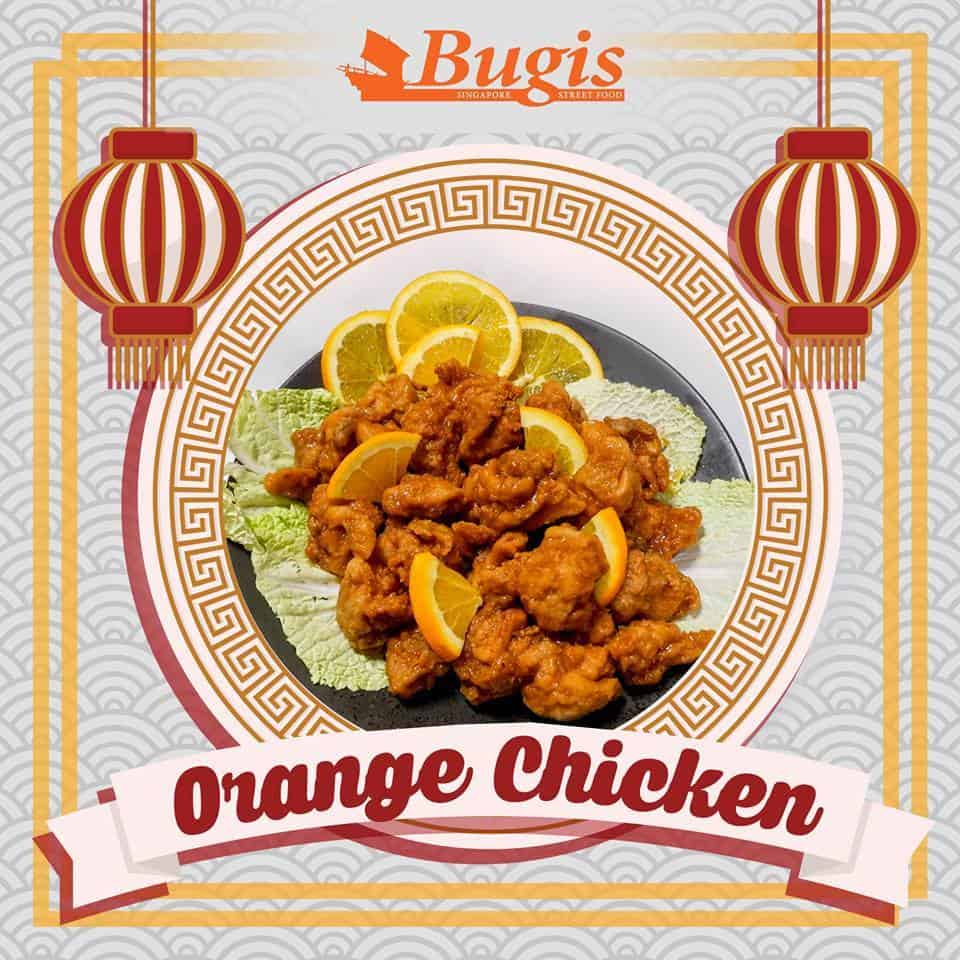 Chicken
The chicken menu of Bugis Singapore Street Food has 4 delicious chicken dishes that you will surely enjoy. On this menu, they have Hainanese chicken which is also included in their best sellers, this one is a must-try as well. Made with tender steamed chicken with rice and Hainanese soup.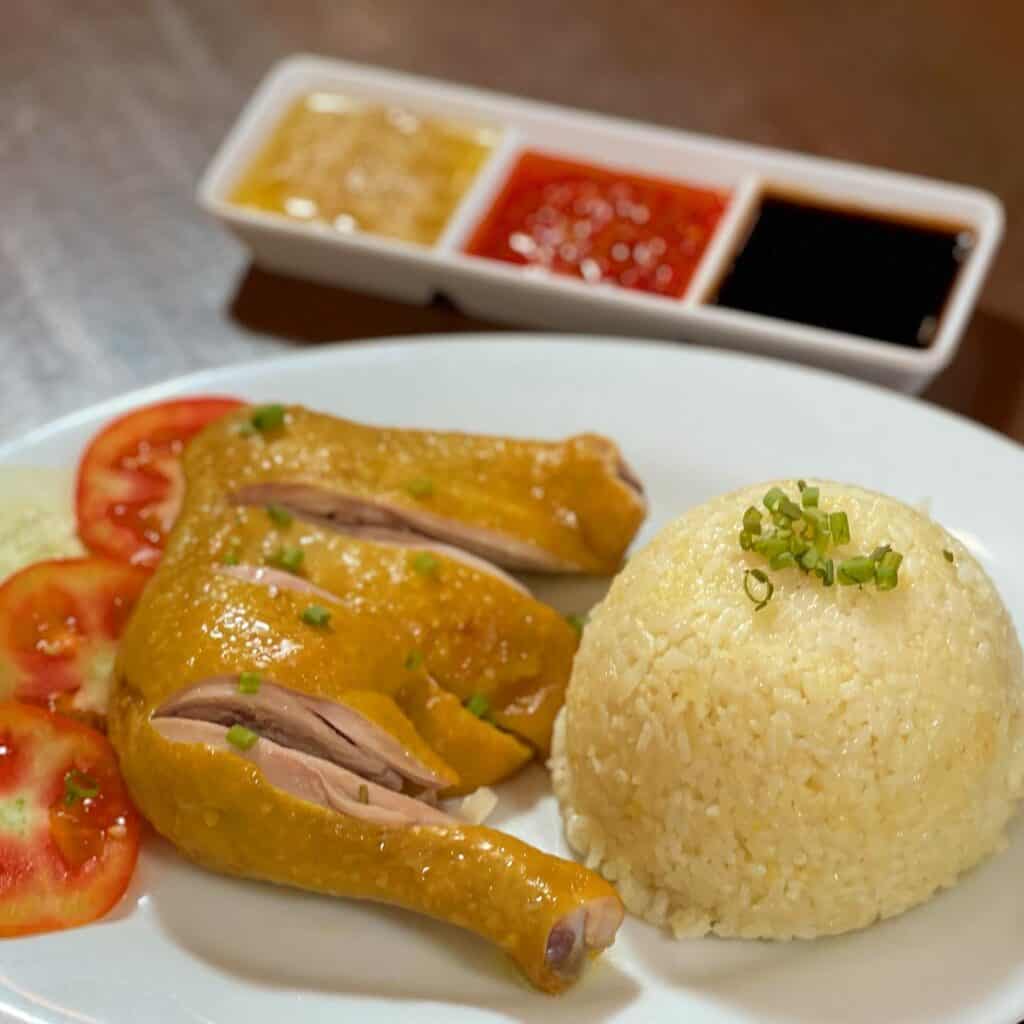 They also have soy garlic chicken, this one is also a great option if you're looking for something amazing. Buffalo wings are also included on this menu, their buffalo wings are really delicious and perfect with rice or just by itself. And lastly, their orange chicken which is also included in their best sellers. This one tastes sweet with an amazing flavor of citrus and spices and is also a must-try.
Breakfast
The breakfast menu of Bugis Singapore Street Food has a lot of options. In this menu, they actually have 9 dishes to choose from, starting from fish which is garlic rice, fish fillet, egg, coffee or hot chocolate, and slices of potato.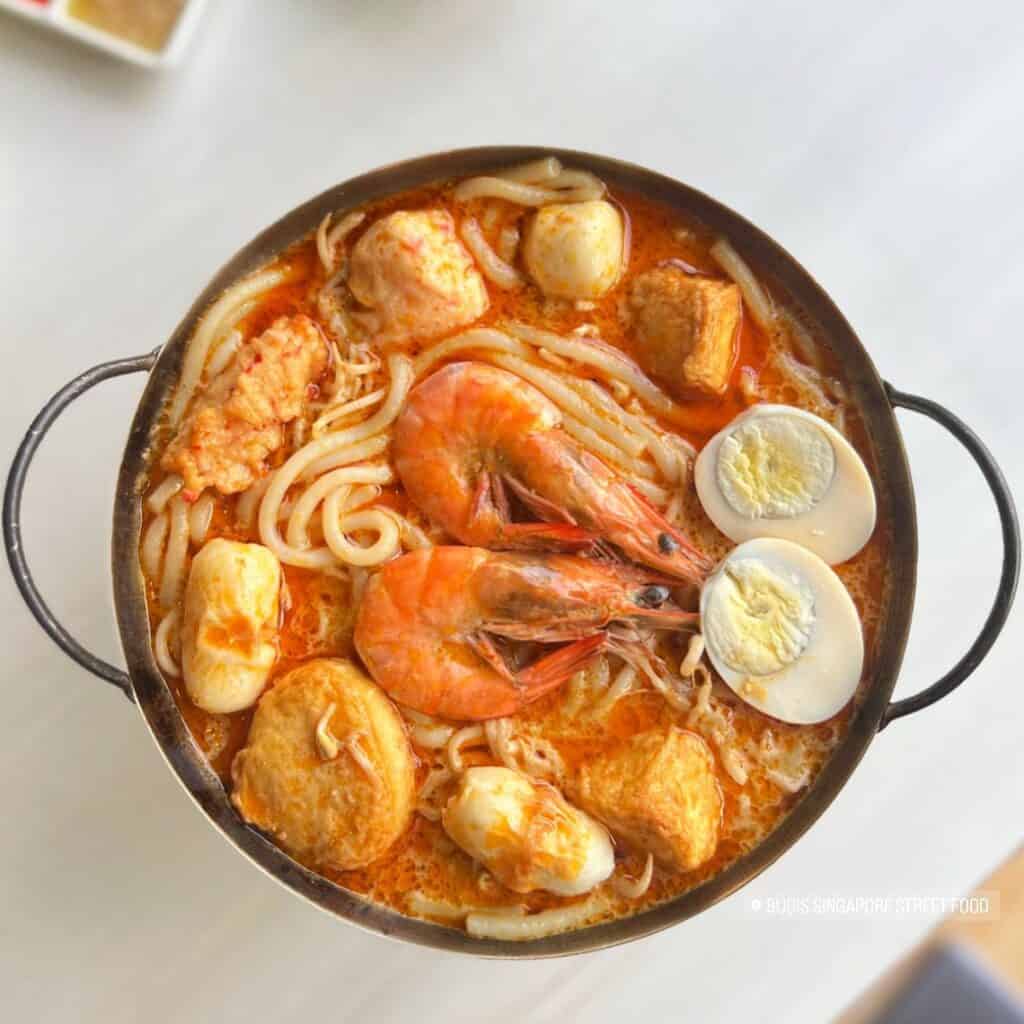 They also have sausage which is served as two Hungarian sausages, garlic rice, slices of potato, egg, and coffee or chocolate drink. If you like chicken for breakfast they also have this chicken with garlic rice, egg, hot coffee or chocolate, and potato slices.
Another option Is their sweet pork, this one is tocino, garlic rice, potato slices, egg, and hot chocolate or coffee. Other items are Nasi lemak burger if you're looking for something lighter, and economical beehon which is a flavorful stir-fried meat vegetable and beehon. Other options are Kaya toast, Roti with Condensed Milk and brewed coffee, and Singaporean ramen.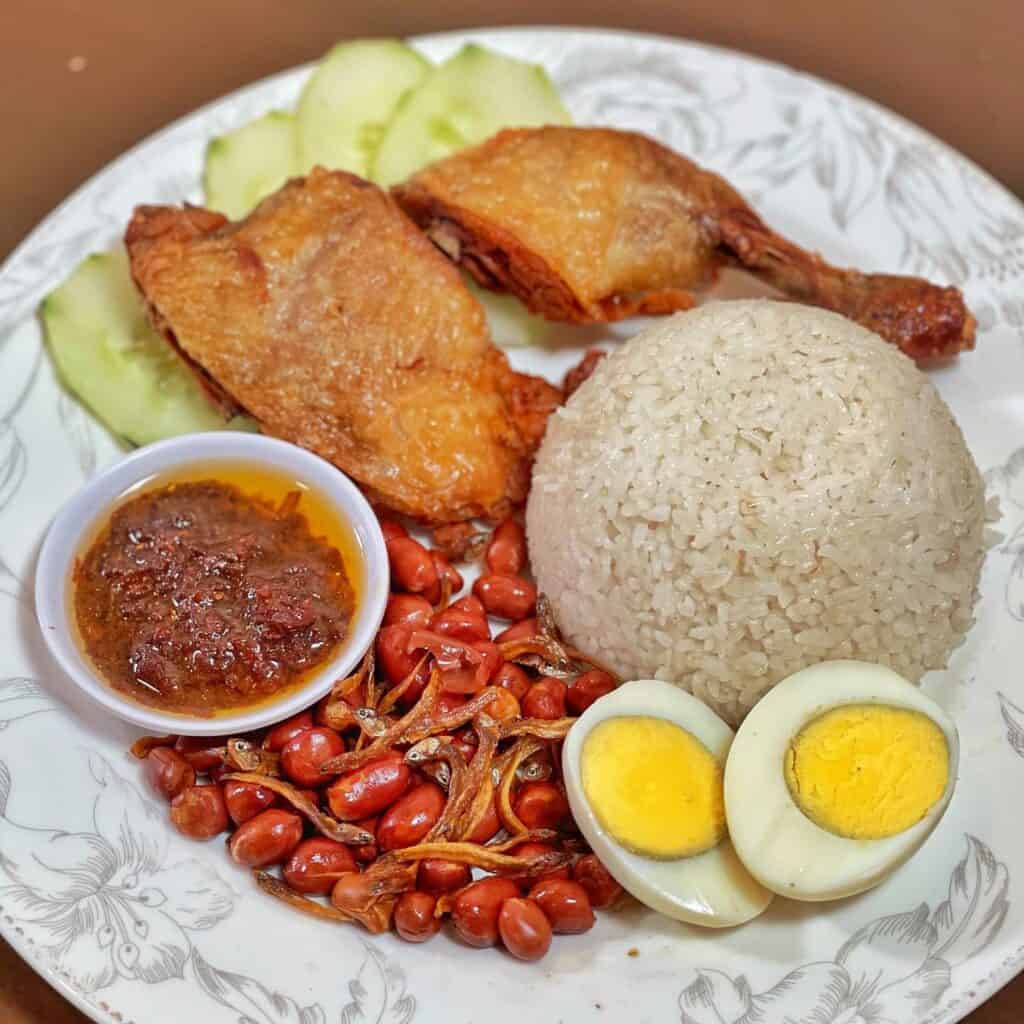 Bugis Singapore Street Food Menu Delivery
Craving for your favorite Bugis Singapore Street Food favorites? No worries because they provide an in-house delivery service. To order simply message them on WhatsApp, Facebook, and Instagram, or call their branches through landline. Also, you can use other platforms such as third-party delivery services such as Grab or Lalamove for your convenience and hassle-free transactions.
Social Media Pages
Be among the first to know about their limited-time offerings, secret menu items, and upcoming promotions. Their social media followers get VIP access to all things delicious! Start checking them now and don't forget to hit the follow button.
Facebook: https://www.facebook.com/BugisPH
Instagram: https://www.instagram.com/bugisph
Frequently Asked Questions
What are Bugis' business hours?
Bugis is open daily from 10:00 in the morning until 10:00 in the evening from Mondays to Sundays.
How many branches does Bugis have?
Bugis has branches in Nicanor Roxas Street in Quezon City, Banawe Street in Quezon City as well, and Guevarra Street, San Juan Metro Manila.
Bugis: Are they halal certified?
No. Bugis is a non-halal-certified restaurant that serves dishes with harmful ingredients like pork.
What is the payment method that is accepted at Bugis?
Bugis Singapore Street Food accepts cash payment, we tried paying through Gcash or card but they said that it was not available at that time.
Is there a parking space at Bugis Singapore Street Food?
Yes, they have however Bugis Singapore Street Food's parking is first come first serve basis. In order for you to get a parking space just make sure you're not going to visit them during their busy hours.
Conclusion
Decent food with quality and I am really impressed actually, They have a lot of delicious items. Bugis Singapore Street Food menu offers a wide variety of delicious Singaporean meals that will surely fill your hunger and satisfy your tastebuds. If you want to experience Singaporean cuisine without spending too much it's better to try this place and believe me they are sulit to visit honestly. Their service crews are knowledgeable about their products which is why asking for their recommendations is possible, highly recommend them to all the food folks out there looking for decent quality products.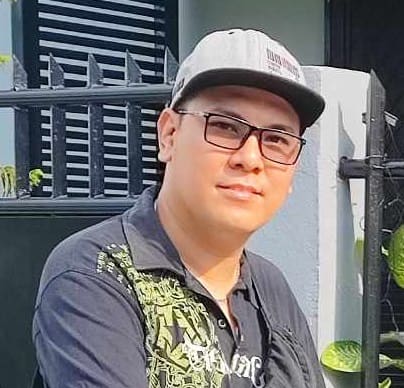 Hi! I'm Nivek Strife, the person who made MenuPH. I'm the one who added most of the popular menus you see on this website, and I really hope you enjoy them! Feel free to check them all out.
Growing up, I was surrounded by lots of tasty foods, like the classic Adobo and the sweet Leche Flan. That love for the many flavors of the Philippines is what got me excited about adding to MenuPH. When I learned how to make websites, I saw the need for a place to show off all the amazing Filipino dishes, and that's how MenuPH started.
MenuPH isn't just a website; it's like a fun journey into food. I've teamed up with famous chefs and found great places all over the Philippines to bring you a bunch of menus that show off the best of Filipino cuisine. Whether you're into the usual dishes or new twists, MenuPH is here to guide you through the rich world of Filipino flavors.
With MenuPH, my aim is to help local businesses, talk about good food choices, and make a group of friends who love food. No matter if you like fancy restaurants or street food, MenuPH has something for you. Come join me on this food adventure as we find great places, taste real flavors, and enjoy the unique food traditions that make the Philippines awesome.