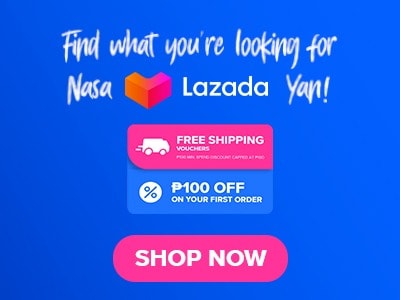 Cakes have been a staple in every celebration here in our country, whether it's just a simple get-together, birthday or even holiday cake are always present at every Filipino table. The Caramia menu has a lot of delicious cakes to offer so if you are looking for something new Caramia is a great place to go or order your cake cravings. In this article we are going to get to know Caramia a little bit more, we are going to have a sneak peek at their story their cakes, and of course their prices.
Below, you'll find the updated list of Caramia menu prices.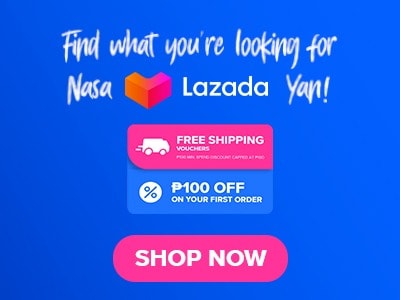 Menu Items
Price (PHP)

Cakes and Gelato

Classic Ube cake (whole/Mini/slice)
900/665/150
Midnight dream (whole/mini/slice)
930/665/150
Pistaccio cioccolato (whole/mini/slice)
995/735/160
Chocolate s'mores (whole/sliced)
915/150
Coffe honeycomb (whole/sliced)
795/140
Sea salted honey crunch (whole/sliced)
770/135
Mango magnifico (whole/sliced)
900/150

Premium Gelato (Tub/pint)

Ferrero
735/380
Pistachio
735/380
Strawberry supreme
735/380
Blueberry cheesecake
735/380
Chocolate therapy
735/380
Cookies N' Cream
735/380

Gelati

Jr. Scoop
60
1 scoop
100
2 scoops
185
3 scoops
275
Pint
365
Tub
715

Gelato Shakes

Pistachio almond
258
Chocolate crumble
238

Coffee and Tea

Cappuccino
115
Cafe latte
115
Brewed coffee
100
Cafe mocha
125
Caramel macchiato
130
Espresso
100
Green tea
60

Iced Coffee

Iced latte
115
Iced mocha
125

Cold Frappes

Java mocha mudslide
195
Salted caramel crunch
185
About Caramia
Caramia is an Italian word that literally means "My Dear", this restaurant offers different kinds of cakes and gelato desserts. Their cakes have just the right sweetness to satisfy your sweet cravings and also their products are delicious. Before Caramia was established there was Amici's gelato which is actually part of Fr. Colombo's mission to bring delicious Italian cakes and gelato here in our country, the Philippines.
Their brand will always be a part of Amici's but then they realize that products are tasty and delicious enough to have their own brand and that's how Caramia started. They came to the idea that they will give their product another step further and decided to do cakes. They are still continuing their innovative ideas to bring new kinds of flavor to their customers. This establishment is owned by the Moran family who started their business here in our country in 2009.
Caramia Menu Best Seller
Ube Cake – This is one of the most popular items on their menu. This Classic Ube cake has layers of Ube chiffon and Ube fillings and then topped with designed whipped cream for a more delicious flavor. Their Ube cake is very delicious and the sweetness is just right. You can also add dedication for this cake for only 60 PHP, also candles whether you like blue or pink. We all know that Filipinos love Ube as a dessert and maybe that's the reason why their classic Ube cake is one of their best sellers.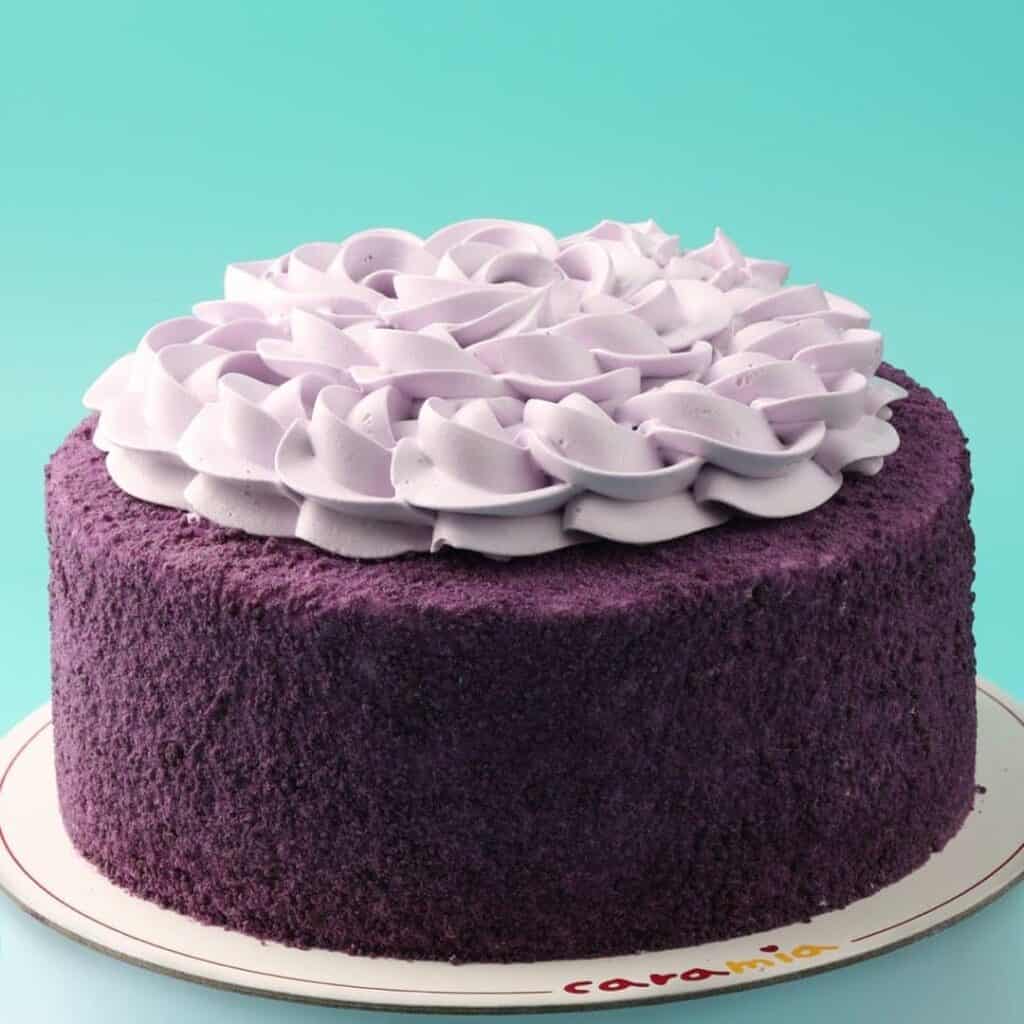 Midnight Dream – The midnight dream cake from the Caramia menu is made with layers of creamy chiffon cake with caramelized cashew nuts. The outer part of this cake has chocolate shavings and cashew as well for more flavors. This cake is also one of their most popular food items that you can find on their menu and their website. Midnight dream cake can also add dedication for only 60 PHP and just like the Ube cake you can also choose the candle if you like the blue one or the pink one.
Pistachio Cioccolato – This awesome cake is made with layers of chocolate chiffon and pistachio fillings. On the outer side of the cake is deep dark chocolate designed with pistachio nuts. This is one of their favorite best-seller cake and actually my personal favorite among all of their cakes. Just like the other cakes you can also add dedication to their Pistachio Cioccolato cake for only 60 PHP and candle colors which are blue and pink are also available.
Salted S'mores – Their Salted S'mores are perfect for sweet tooth out there who are looking for the perfect cake for their sweet cravings. Made with layers of chocolate butter cake, light chocolate cream for the filling, and lightly salted marshmallow icing on top. They also put graham crust on the outer side of the cake for more flavor. This cake is really good and I like it with coffee or tea.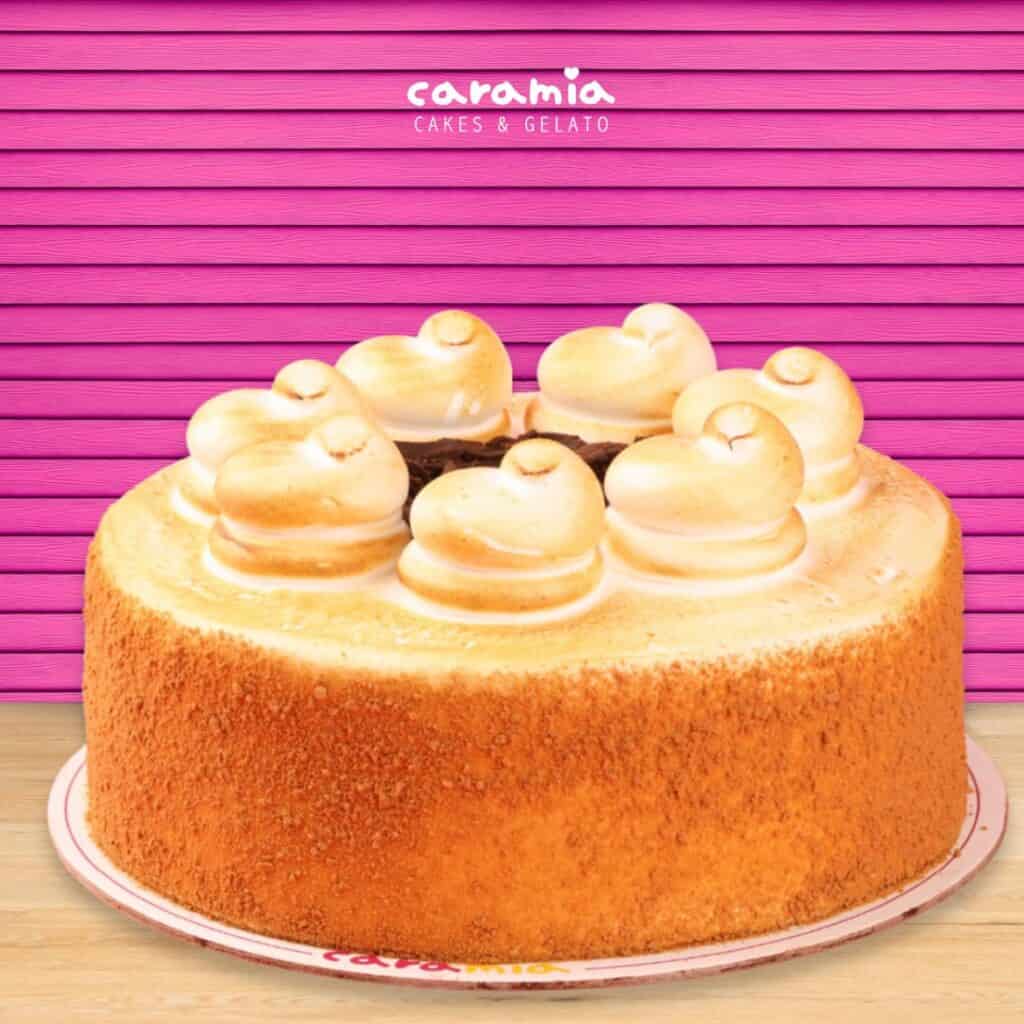 Chocolate Therapy – Their chocolate therapy is served in tubs, it is made all chocolate and perfect for chocolate lovers. It's like chocolate overload in a tub. The taste for this chocolate therapy is sweeter with a bit of bitterness because of darl chocolate but overall great flavor. It also has a chocolate chip, small chocolate fudge, and chocolate syrup on top as a design. You can have this for only 870 PHP.
Cookies and Cream – Just like chocolate therapy their cookies and cream are also served in tubs, it has this creamy texture and chop cookies that you will surely enjoy and love. Their cookies and cream tubs are perfect for the sweet tooth as well. If your looking for a crunch in every bite then this is the perfect item for you. You can have this for only 870 PHP as well just like the chocolate therapy.
Caramia Menu Cakes
Caramia has 9 delicious cakes menu to choose from, they have Chocolate Java, Salted S'mores, Strawberry Shortcake, Ube Cake, Midnight Dream, Pistachio Cioccolato, Mango Magnifico, and Sea Salted Honey Crunch. Cakes are available in whole or mini-sized cakes and prices range from 835 PHP to 1465 PHP. All cakes are made fresh and can last for a couple of days but I'm sure their delicious cakes cannot last for too long with a sweet tooth.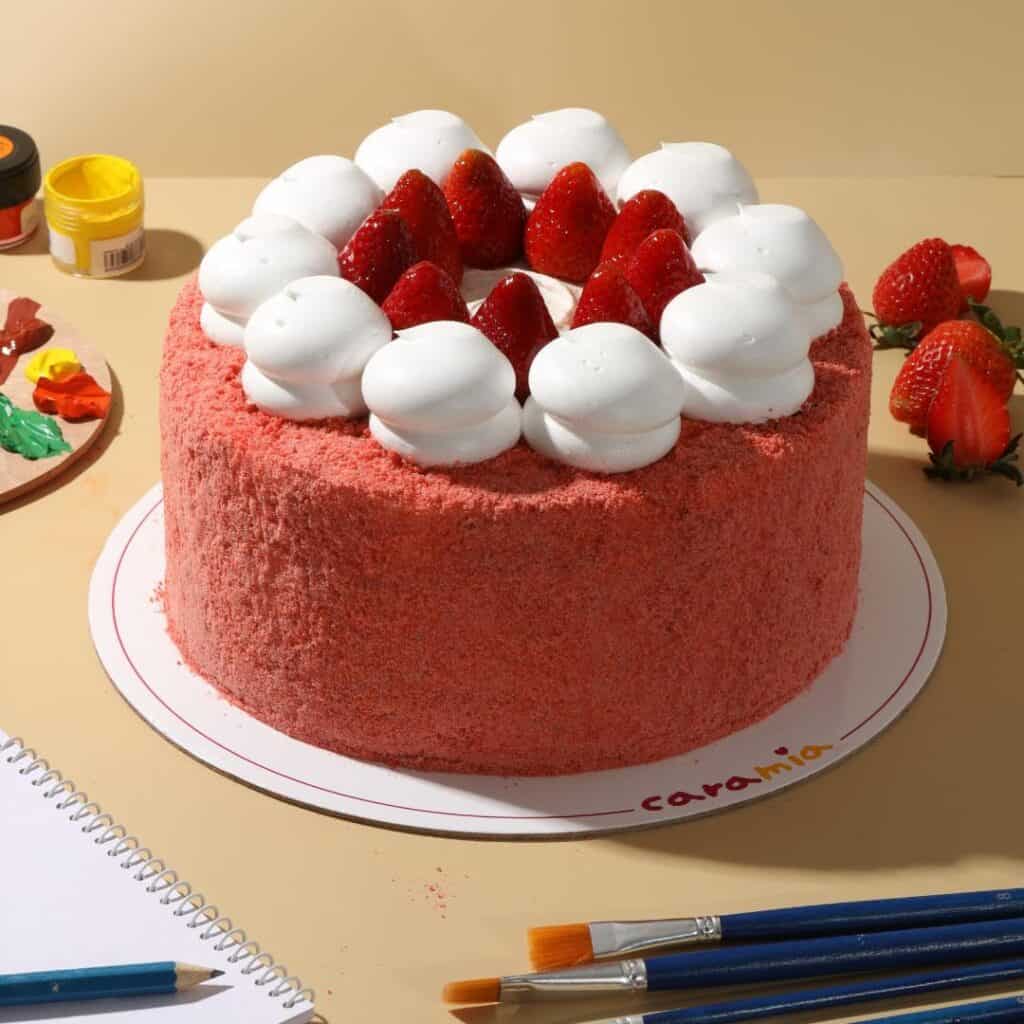 Gelato
In this Caramia menu, they have 10 flavors to choose from. They have Blueberry Cheesecake, Cookie Dough, Ferrero, Strawberry Supreme, Coffee Mudslide, Chocolate Therapy, Turtle Pie, Cookies and Cream, Mango Cream Pie, and lastly their Ube with White chocolate. All flavors of their gelatos' are 870 PHP.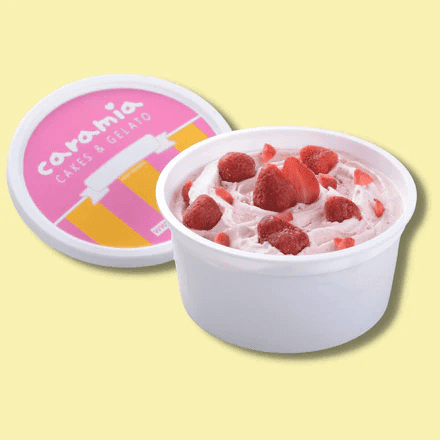 Party Package
Caramia also offers a party package. They have Package A which includes 75 scoops of gelato for only 11,400 PHP. Package B which is 125 scoops and will cost you 18,500 PHP. Lastly Package C, 200 scoops of gelato for only 30,200 PHP. You can choose 2 flavors for your package. For Chocolate, you can choose from Ferrero, Turtle Pie, and Chocolate Therapy. For Fruity they have Blueberry Cheesecake, Mango Cream Pie, and Strawberry Supreme. On the Nutty selection, they have Pistachios. Lastly, their Specials where you can choose from Mint Chocolate, Cookie Dough, Ube and White Chocolate, Coffee Mudslide, and Cookies and Cream.
Discounts & Promos
You can purchase a discount card for Caramia, they call it a Gusto card. With this card, you will have 10% off on your total purchase if you buy in-store, and 20% off on your purchase on your birthday if you are going to buy products in-store. Also, you can have a free 200 PHP Caramia gift voucher on your first purchase of any whole cake that you order on their website.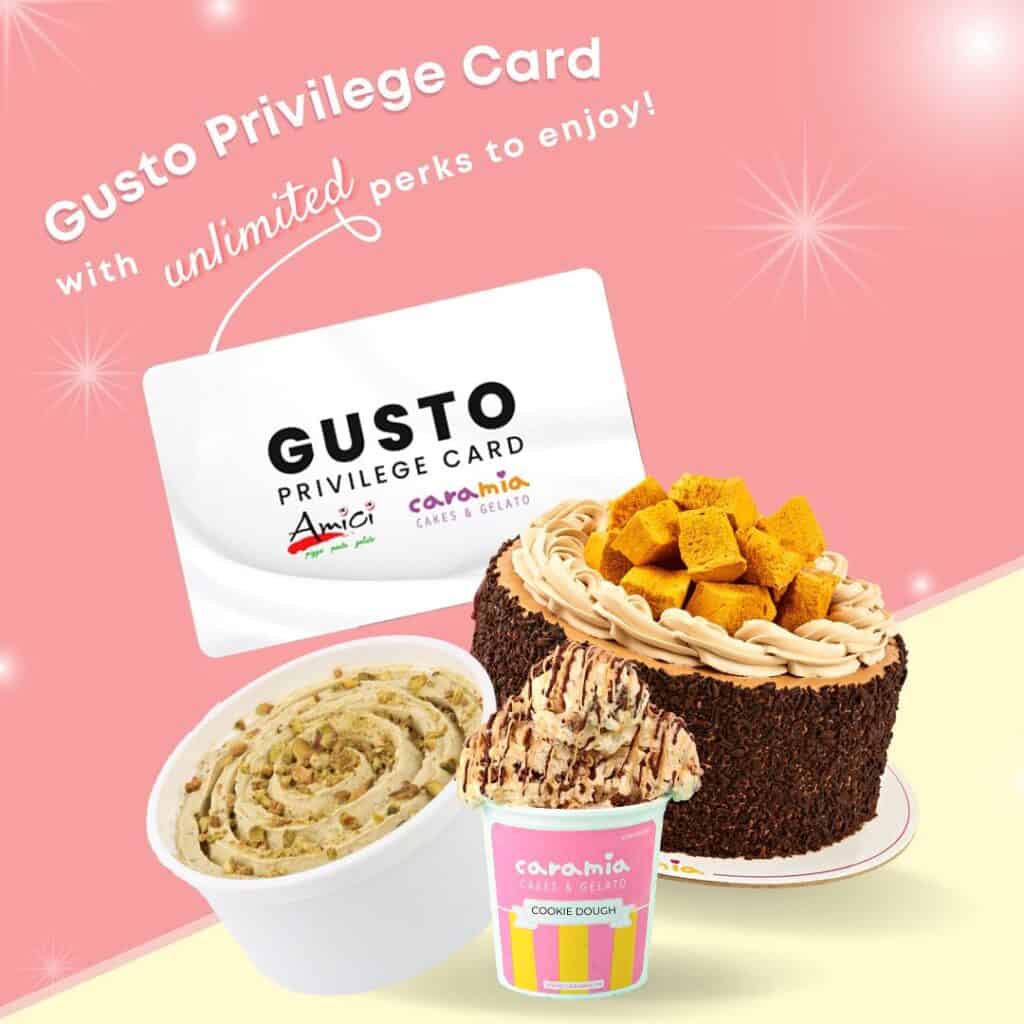 Caramia Menu Delivery
Ordering cakes from Caramia online is made easy simply by going to their official website. Also, they offer to pick it up in the store or local delivery service. You can also use your favorite food delivery that is available in your area.
Social Media Pages
If you're passionate about tasty treats and want to stay informed about Caramia's latest offerings, deals, and special promotions, then you must follow their social media accounts. Not only will you be informed, but you'll also show your support for the restaurant. So, don't miss out on any updates – be sure to check out the links to Caramia's social media pages below.
Facebook: https://www.facebook.com/caramiacakesandgelato/
Instagram: https://www.instagram.com/caramia.ph/
Conclusion
Their cakes have a reasonable price and are delicious. If you are looking for a delicious and decent cake Caramia's menu has it all. Caramia cakes will never disappoint you. Great for birthdays and special occasions. Their service is fast and reliable. They have the freshest cakes every day. I highly recommend Caramia for those who love to try quality and delicious cakes like no other. Their gelato is a must as well it has the right flavor and texture.