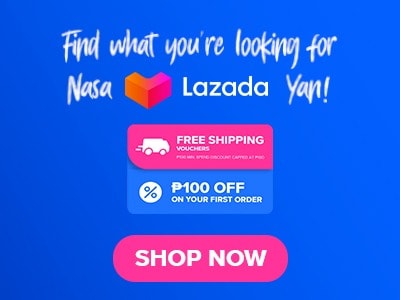 Your Local menu is categorized into Lunch & Dinner and Weekend Brunch. The Lunch & Dinner menu consists of Starters, YL Buns, Main, Noodles, Sides, Desserts, Beers, Signature and Classic Cocktails, Sparkling drinks, and White and Red Wine while the Weekend Brunch includes Toasts and Buns, and Rice Meals. Coffee and beverages are also included in these menus. It also offers exclusive dishes for special events, potluck trays for celebrations, and set meals that allow you to create a perfect meal to satisfy your cravings. 
Below, you'll find the updated list of Your Local menu prices.
Menu Items
Price (PHP)

Starter

Son-In-Law Eggs
170
Truffle Aburi Fries
275
Gochujang Tuna Tartare
310
Prawn Toast
320
Roast Beef Katsu Sando
340
Pomelo Salad
395
Beef Rendang Chicken
395
Torched Unagi
450
Feel Good Chicken
475

YL Buns

Beef Rendang Bun
250
Salted Egg Chicken Bun
250
Chili Crab Bun
295
YL Buns Platter
770

Main

Black Pepper Spam Misubi Bowl
350
Roasted Cauliflower Curry
385
Tofu Steak and Eggs
425
Chicken Rice
450
Glazed Pork Nasi Lemak
480
Truffle Aburi Pork Chasyu
475
Crispy Lamb Flakes Massaman
560
Lamb Rendang
640
Torched Salmon Donburi
795
Steak Nasi Goreng
1350

Noodles

Laksa Fettucini
470
Striploin Hokkien Mee
520
Mentaiko Brown Butter Udon
550

Sides

Extra Egg
50
Black Rice, Corn, Shitake
100
Ginger Rice
100
Mantou Bread
150
Side Salad
180

Beverages

Bottled Water
50
Soda
90
Yakult Lemonade
150
The Tarik
150
Sea Salt Lemonade
150
Gula Melaka Iced Tea
180
Arnie Palmer
190
Sparkling Water
230
Ginger Almond Lemonade
270

Desserts

Miso Caramel Ice Cream
330
Avocado Tart
340
Chocolate Earl Grey Pudding
360
Cereal Milk Ice Cream
355

Coffee

Espresso (shot)
180
Black
130/150
White
150/170
Mocha
185/195
Sea Salt Coconut Americano
185/195
Citrus Pandan Coffee Soda
195

Beers

Asahi
180
Engkanto High Five Honey Ale
290
Engkanto Live It Up Lager
290
Monkey Eagle Philippine Ale
370
Monkey Eagle Psychedelic Blonde
370

Signature Cocktails

Op-Un
370
Kalma
385
Ukiyo
395

Classic Cocktails

Gin & Tonic
420
Whiskey Sour
420
Genmaicha
480
Tinker
480

Sparkling

Don Luciano Pink Moscato (Glass)
480
Don Luciano Pink Moscato (Bottle)
2100

White Wine

Sarah's Creek Chardonnay (Bottle)
990
Sarah's Creek Sauvignon Blanc (Bottle)
990
Camelot (Glass)
350
Camelot (Bottle)
1550
Los Vascos (Glass)
450
Los Vascos (Bottle)
1870
Corte Viola Soave (Bottle)
1200
Bat Gavi Del Comune di Gavi
1600

Red Wine

Sarah's Creek Cabernet Sauvignon (Bottle)
990
Sarah's Creek Merlot
990
II Poggio dei Vigneti Chianti
1800
II Poggio dei Vigneti Montepulciano
1200

Toasts and Buns

Brown Butter Kaya Toast
160
Pancetta Kaya Toast
245
Salted Egg Chicken Buns
250
Chili Crab Buns
270
Parma Ham Sourdough Toast
425
Avocado Blue Cheese Toast
490
Beef Brisket Hash Croissant
550

With Rice

Hand Pulled Chicken Rice
250
Black Pepper Spam Misubi Bowl
350
Chili Crab and Chicken Congee
370
Roast Beef Tapa
460
Smoked Salmon Nori Brekkie Bowl
650
Torched Salmon Donburi
795

Beverage

Bottled Water
50
Soda
90
Sparkling Water
90
Sea Salt Lemonade
160
Yakult Lemonade
160
The Tarik
160
Gula Melaka Iced Tea
180
Arnie Palmer
190

Coffee

Espresso (shot)
100
Black
130/150
White
150/170
Mocha
185/195

Signature Coffee

Sea Salt Coconut Americano
185/195
Citrus Pandan Coffee Soda
195

Potluck Tray

Glazed Pork Nasi Lemak
1200
Assorted Buns Tray
1350
Mentaiko Brown Butter Udon
1100
About Your Local
Your Local is one of the brands under the Tasteless Food Group. It offers different Asian-inspired cuisines with a local twist. The culinary background and experiences of Chef Denny Antonino and Nicco Santos helped them to create authentic and innovative dishes. The multiple layers of flavors and unique cooking styles make their dishes stand out.
Your Local Menu Best Seller
These are the best-selling dishes of Your Local that makes people come back as they are filled with goodness.
Truffle Aburi Pork Chasyu – Chaysu pork belly aburi with truffle aioli is roasted slowly to perfection. It is then laid on a bed of Japanese rice and topped with leeks and pickled onion. The rich truffle sauce of this dish makes it extra delicious.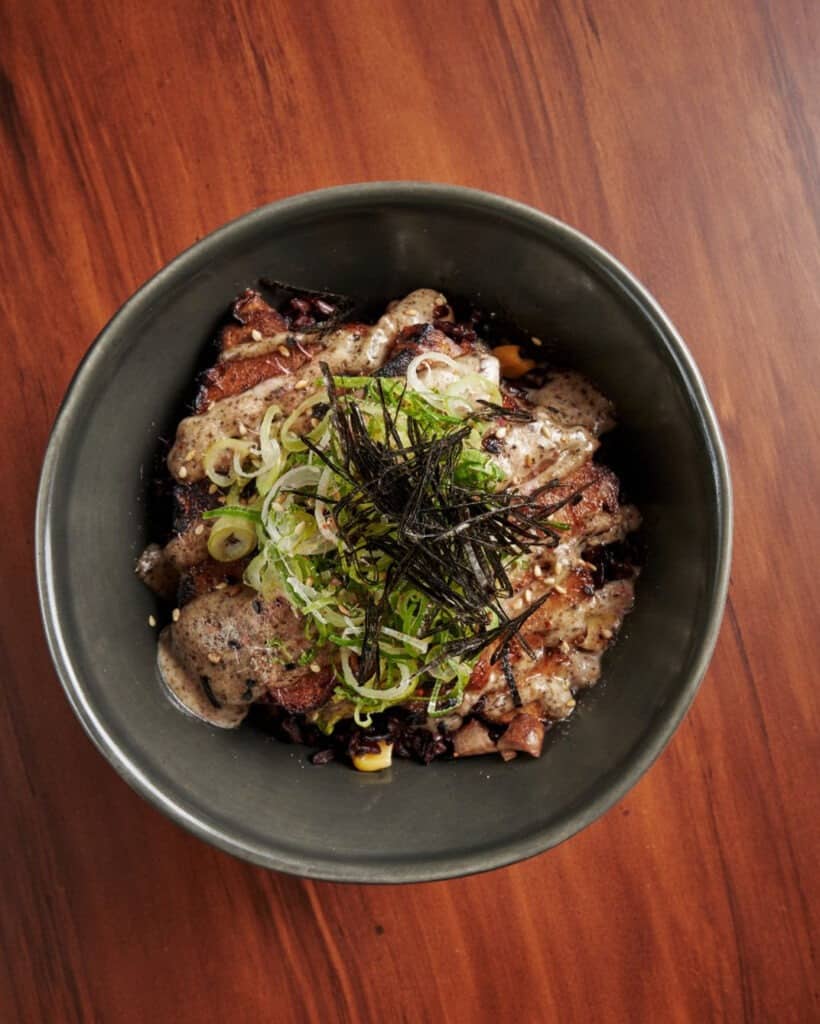 Torched Salmon Donburi – It is a succulent dish where shitake black rice is topped with Norweigan salmon, Ebiko, Oboro, Mentaiko, and Salmon Skin on Roast Corn. The sweet and savory flavors combined with a variety of textures make it a sensational dish.
Black Pepper Spam Musubi Bowl – A hearty and tasty dish perfect for lunch on weekdays. It consists of black pepper kecap manis, nori, aioli, roasted sesame, and Japanese rice.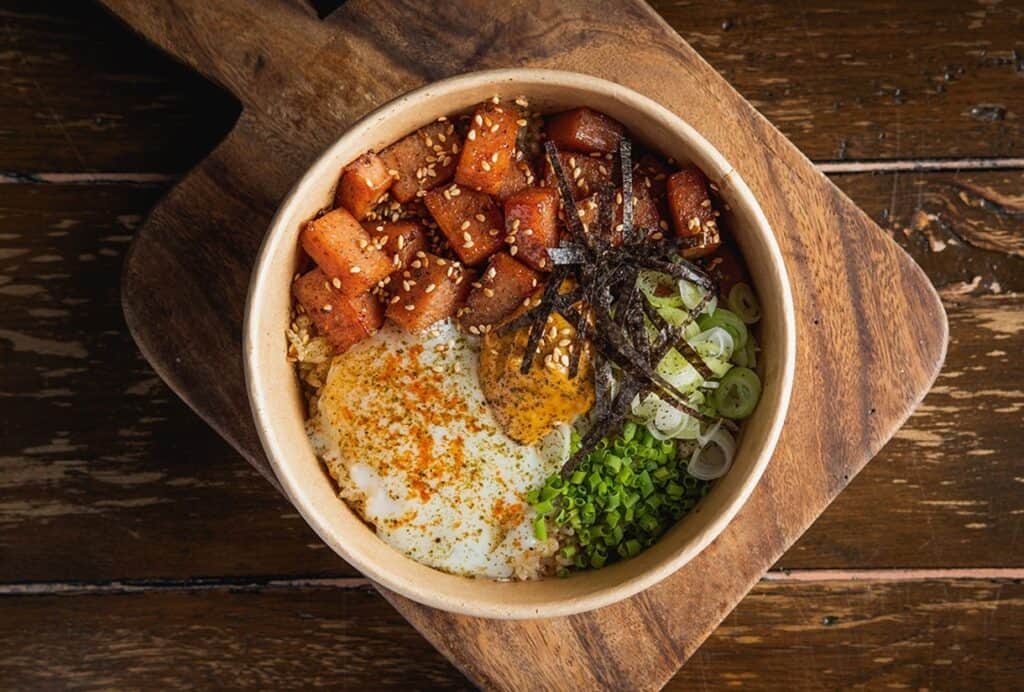 Beef Rendang Nachos – Fire up your appetite with this nacho dish with an Asian twist. It is made with lightly crisp wantons that are served with a tasty combo of beef rendang, cilantro aioli, cheese sauce, pickled onion, and chives.
Chili Crab Bun – This is the best-selling bun of Your Local filled with chili crab, cucumber spears, mantou, cilantro, and leeks.
Lunch & Dinner Menu
These are some of the starters and main dishes that are part of Your Local's Lunch & Dinner menu.
Gochujang Tuna Tartare – Start a great meal with this fresh and spicy menu from Your Local that is made with tuna loin, Gochujang dressing, sesame, peanuts, and rice chip.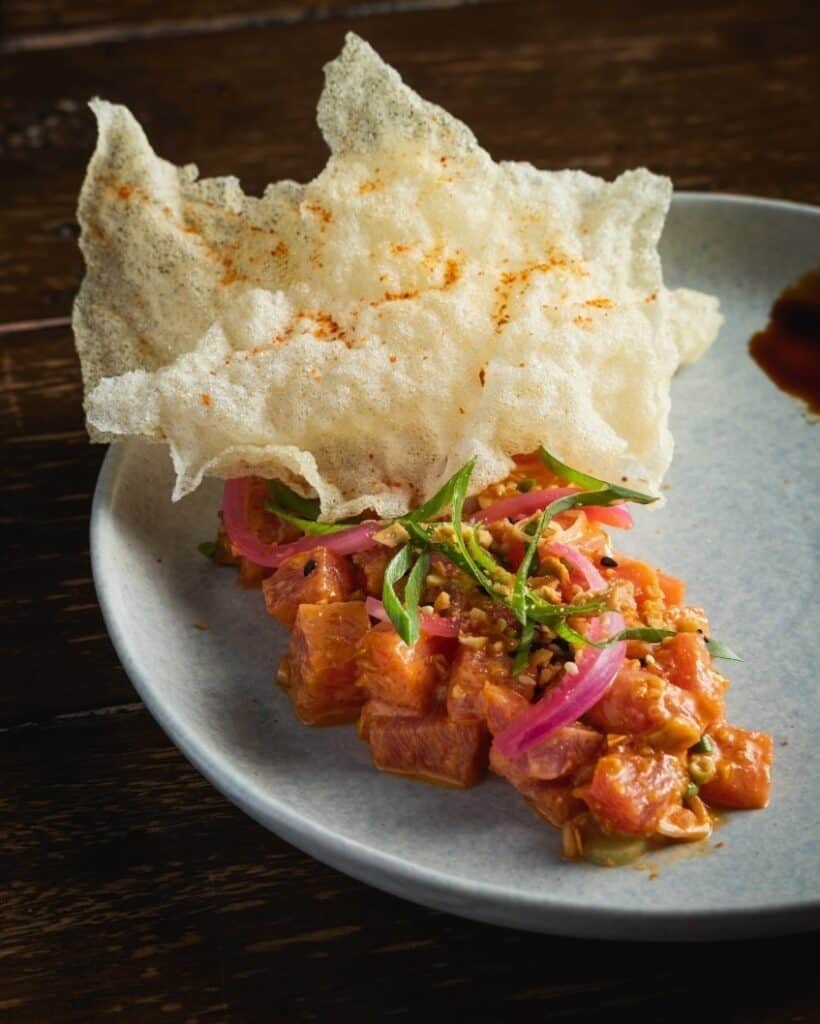 Truffle Aburi Fries – An irresistible and all-time favorite starter that is filled with goodness. Torched truffle aioli fries are topped with cheese and garnished with nori powder.
Feel Good Chicken – Feel the goodness in every bite with this Feel-Good Chicken dish of Your Local. It is made with prawn-paste chicken served with maple cream cheese.
Prawn Toast – One of the most satisfying dishes that make people crave more. This dish consists of milk bread, deep-fried minced prawns, herbs, Singaporean sweet chili jam, and roasted sesame.
Torched Unagi – Your Local collaborated with the "Taste and Tell" restaurant to create this extraordinary dish. It comes with 2 pieces of torched eel kabayaki, mentaiko aioli, mantou toast, pickled onion, cucumber, and chives.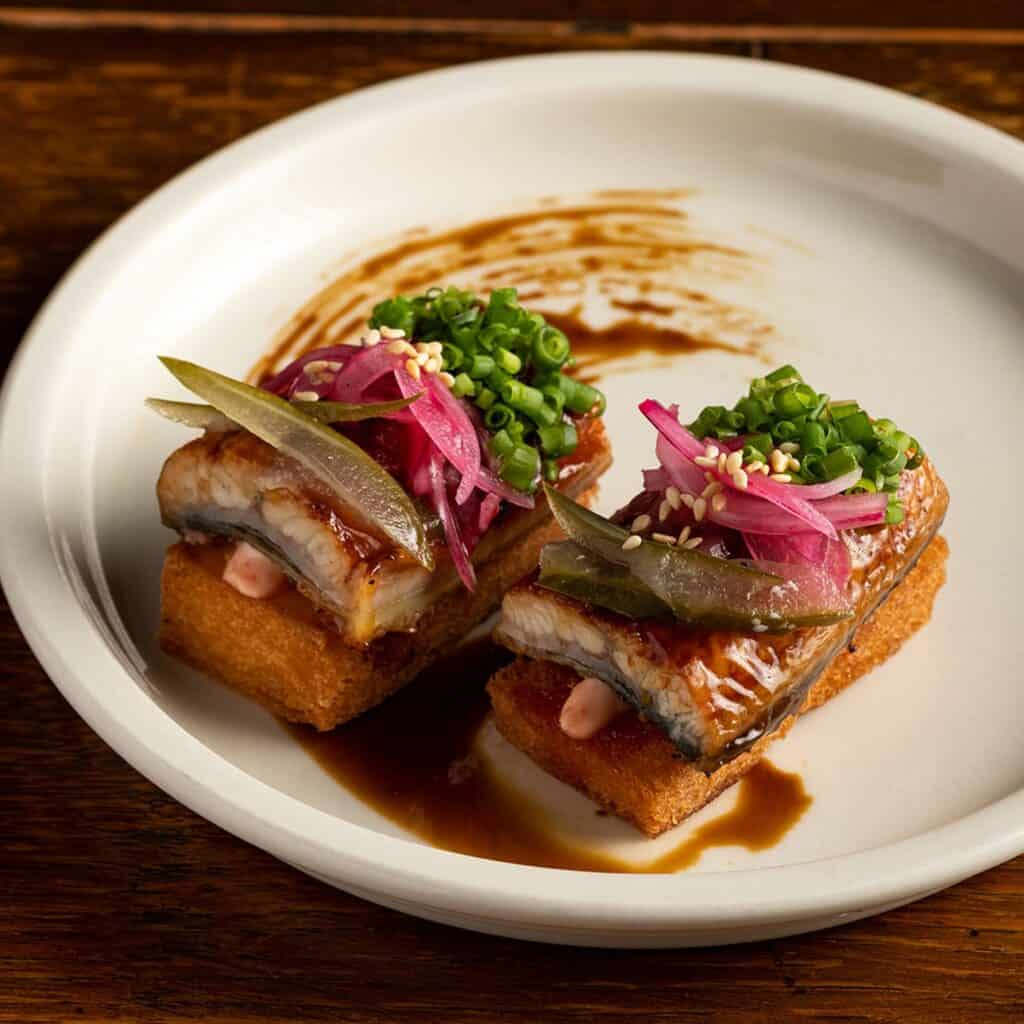 Chicken Rice – A main dish that always satisfies the cravings of people from different walks of life. Ginger rice, steeped chicken, sweet soy, and chili sauce come with this dish.
Steak Nasi Goreng – This is a steak and egg combination with a Southeast Asian twist. This Your Local menu is marinated in satay curry and grilled to perfection. Son-in-law eggs, nasi goreng fried rice, and smashed cucumber are served with it. 
Roasted Cauliflower Curry – A tasty Indian-inspired curry sauce and caramelized cauliflowers create a vegetable dish that is bursting with flavors. Chicken rice, herb salad, and fried papadum complete this dish.
Crispy Lamb Flakes Massaman – The fried lamb shoulder flakes are served with a creamy massaman curry sauce, sous vide egg and basil fried black rice.
Glazed Pork Nasi Lemak – It is a flavorful dish that will surely be loved by everyone. It comes with coconut rice, braised pork belly, fried eggs, sweet and spicy anchovies, and peanuts.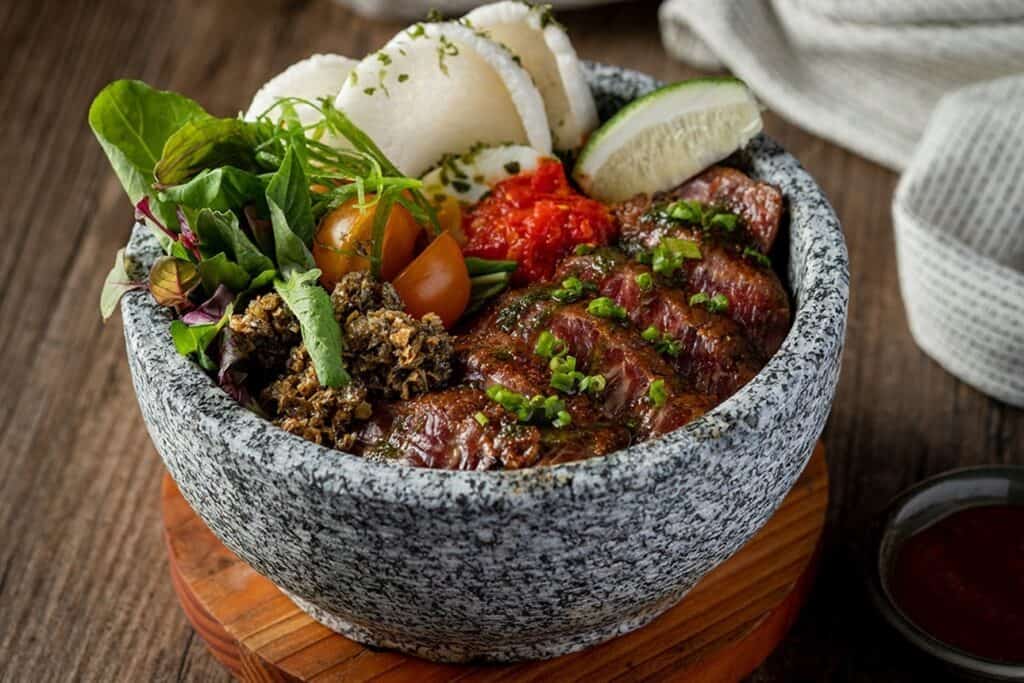 Your Local Brunch Menu 
Make your weekends extra special with your loved ones with these exclusive brunch menus that are only available every Saturday to Sunday from 8 AM to 2 PM.
Pancetta Kaya Toast – Enjoy the taste of Singapore with this Pancetta Kaya Toast. This version of Your Local restaurant on this classic breakfast dish from Singapore makes it authentic and unique. Toasted milk bread is stuffed with fried pancetta, homemade kaya jam, soft egg, brown butter, and sweet soy.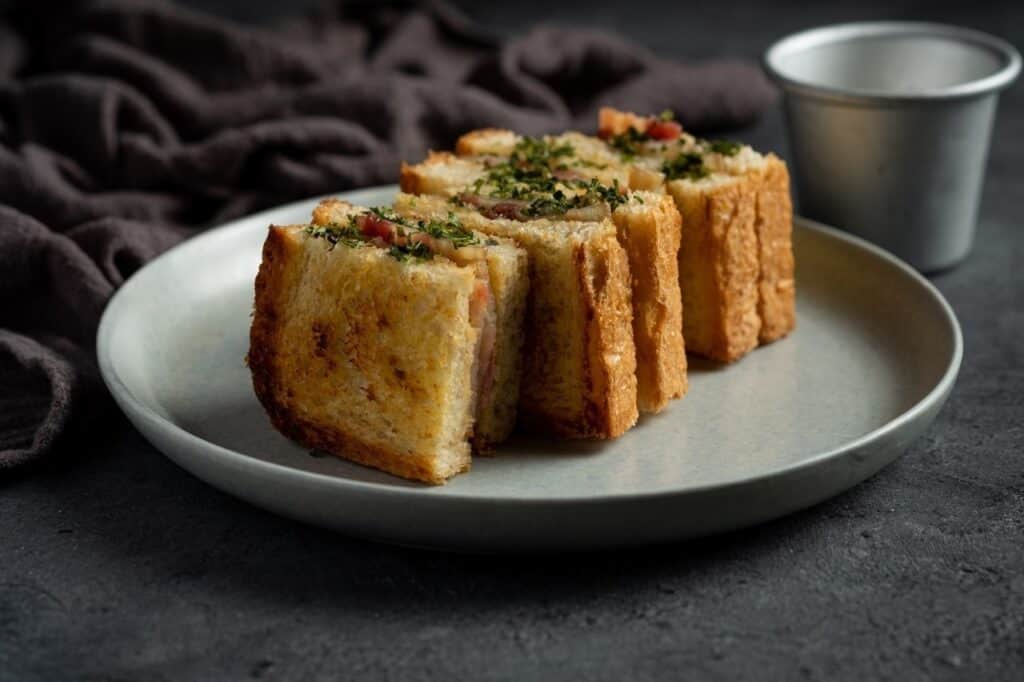 Salted Egg Chicken Buns – A delightful bun where mantou bun is filled with fried chicken, maple cream cheese, and salted egg.
Avocado Blue Cheese Toast – Make your brunch more exciting and satisfying with this toast made with smashed avocado, blue cheese, poached egg, sourdough, and greens.
Hand Pulled Hainanese Chicken Rice – An aromatic and savory dish made with poached chicken, ginger scallion sauce, kecap manis, herb salad, homemade chili sauce, and fragrant rice.
Roast Beef Tapa – It is a mouthwatering rice meal that consists of roast beef brisket and homemade tapa glaze topped with a fried egg and served with truffle aioli, nori fried rice, and herb salad.
Chili Crab and Chicken Congee – This dish consists of chili crab, Hainanese chicken, mantou crouton, aji tamago, and Japanese fried rice.
Smoked Salmon Nori Brekkie Bowl – This fresh and delightful dish will make you look forward to the weekend. Nori fried rice is topped with smoked salmon and poached egg. Ebiko, salmon skin, herb cream cheese, and greens make this dish look fun and festive.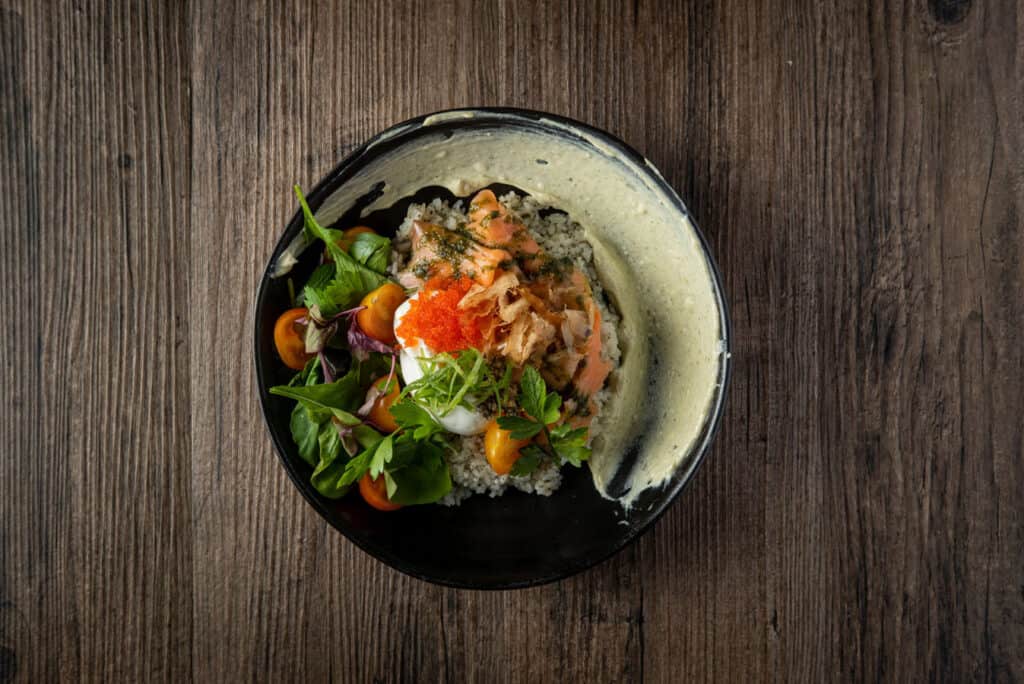 Noodles
The rich flavor of these delectable noodle dishes of Your Local makes them remarkable and satisfying.
Laksa Fettucini – A comforting, rich, and creamy dish that will boost your mood. This dish is made with fettucini cooked with chili, salmon, kamaboko, egg, coconut cream, and cilantro. The creamy and comforting broth of this pasta makes it mouthwatering.
Striploin Hokkien Mee – Beef striploin is stir-fried with rice noodles, black vinegar, herbs, bok choy, and shrimp broth. The tender striploin makes this classic hokkien mee rich in beef flavor.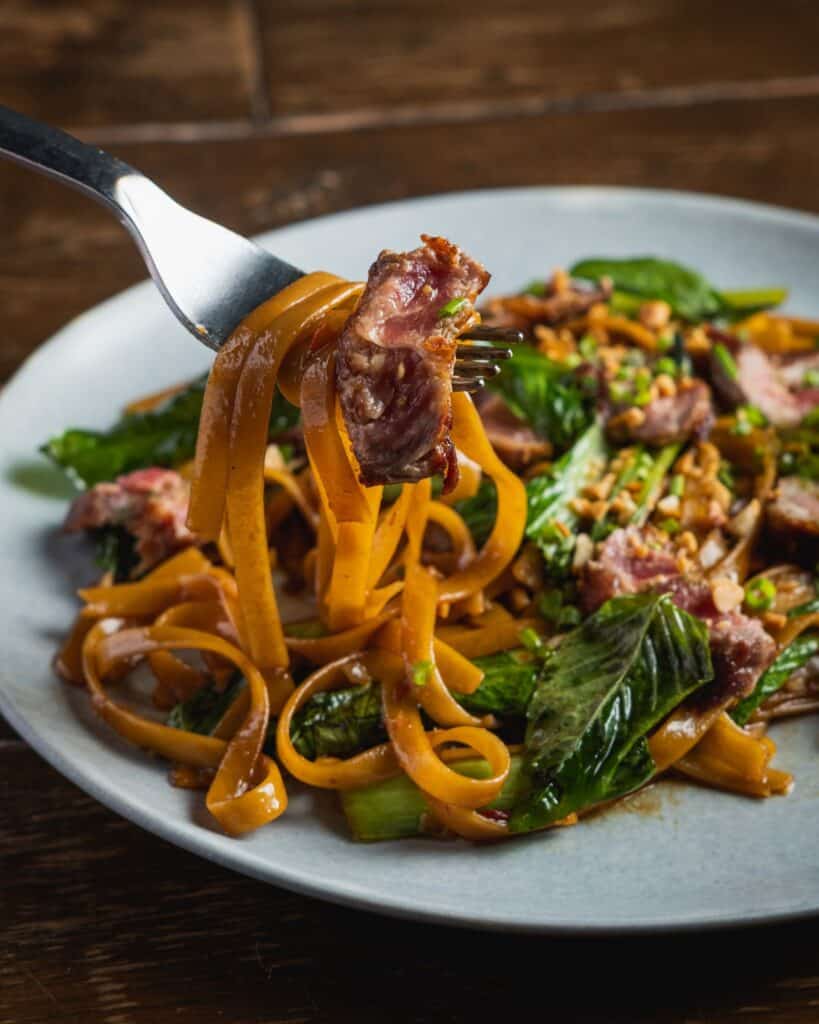 Mentaiko Brown Butter Udon – The brown butter enhances the taste and flavor of this dish. Udon noodles are cooked with brown butter sauce, pork chasyu, bonito flakes, nori, and sesame.
Coffee
The coffee that Your Local menu offers consist of an espresso shot, black, white, and mocha flavors that are available in hot and iced. There are also signature coffees such as Sea Salt Coconut Americano, made with Yardtick's Switch Beans and Gula Melaka topped with lightly salted coconut mouse; and Citrus Pandan Coffee Soda, made with soda water, espresso, pandan, lemon grass, kaffir, and citrus fruits. The aroma of these coffees and their rich taste makes them great beverages that can energize you and help you to be more active and productive.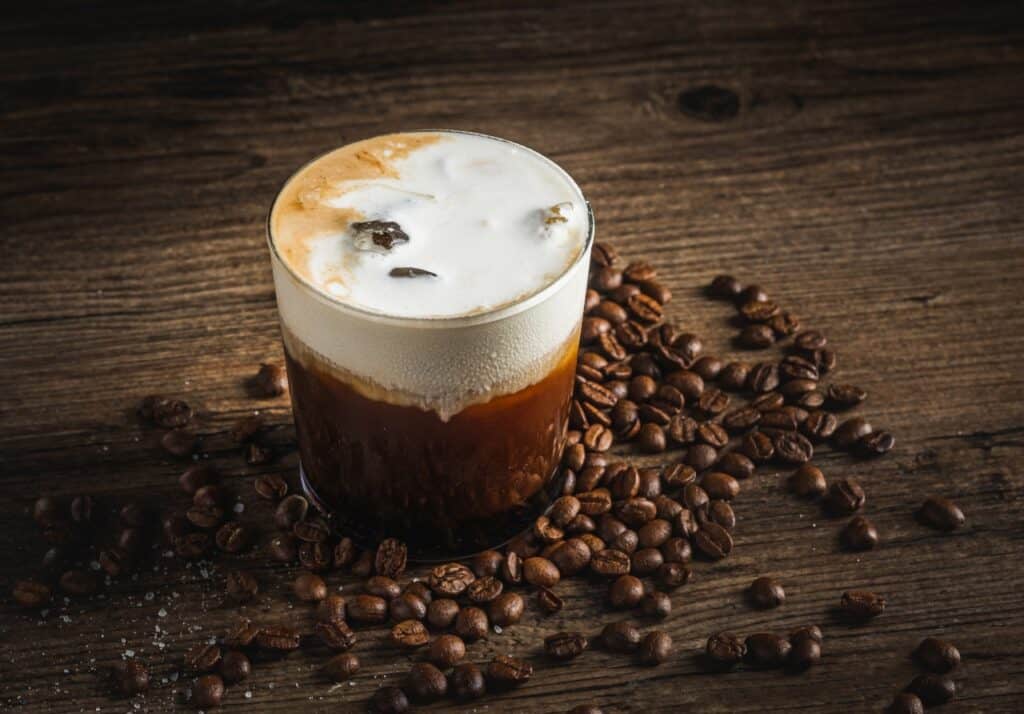 Your Local Menu Delivery
The menu of Your Local is available for dine-in, takeout, and delivery. For delivery, visit https://www.tasteless.ph/collections/your-local which offers free delivery for a minimum spend of PHP 1000. You can also place your order on third-party delivery platforms such as GrabFood, FoodPanda, and Pickaroo.
Your Local Social Media Pages
Looking for the latest buzz on Your Local? Check out their social media pages to stay up-to-date on their menu offerings, promotions, and special events. Be sure to follow and subscribe to their pages to never miss a beat!
Facebook: https://www.facebook.com/Yourlocalph
Instagram: https://www.instagram.com/yourlocalph/
Email: [email protected]
Website: https://www.tasteless.ph/pages/faqs
Conclusion
Your Local menu consists of delectable dishes that are perfect for those who want to taste different flavors of Asia with a local and modern twist. The wide selection of these dishes will make it easier for you to find the perfect dish that will satisfy your cravings. It also offers an exclusive set of dishes for special events and potluck trays to make your celebrations more fun, meaningful, and memorable.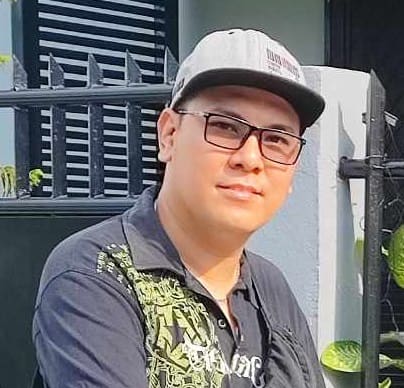 Hi! I'm Nivek Strife, the person who made MenuPH. I'm the one who added most of the popular menus you see on this website, and I really hope you enjoy them! Feel free to check them all out.
Growing up, I was surrounded by lots of tasty foods, like the classic Adobo and the sweet Leche Flan. That love for the many flavors of the Philippines is what got me excited about adding to MenuPH. When I learned how to make websites, I saw the need for a place to show off all the amazing Filipino dishes, and that's how MenuPH started.
MenuPH isn't just a website; it's like a fun journey into food. I've teamed up with famous chefs and found great places all over the Philippines to bring you a bunch of menus that show off the best of Filipino cuisine. Whether you're into the usual dishes or new twists, MenuPH is here to guide you through the rich world of Filipino flavors.
With MenuPH, my aim is to help local businesses, talk about good food choices, and make a group of friends who love food. No matter if you like fancy restaurants or street food, MenuPH has something for you. Come join me on this food adventure as we find great places, taste real flavors, and enjoy the unique food traditions that make the Philippines awesome.