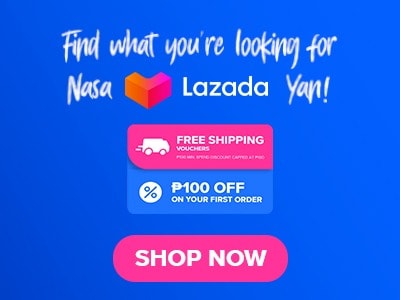 The Marriott Café menu raises the bar for eating. With its captivating open-theatre kitchens, this vibrant, daring, and contemporary buffet restaurant in Manila captivates foodies. Enjoy a tempting a la carte menu or a huge, lavish buffet with both regional and international cuisine. The Marriott Café really emphasizes the concept of creative eating. The Marriott Café Bakery, tucked away to the side of the restaurant, provides fresh grab-and-go options of coffee drinks, baked pastries, bread, and other healthful drinks and snacks.
Below, you'll find the updated list of Marriott Café menu prices.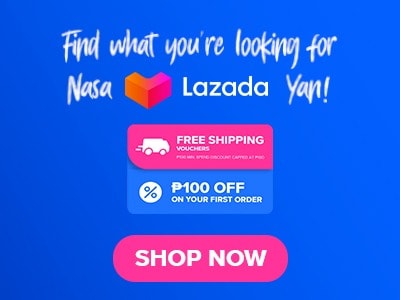 Menu Items
Price (PHP)

Red Wine by the Bottle

Matua Valley Marlborough, New Zealand
2500
Seaglass Santa Barbara, USA
4000
Genesis Reserva Merlot, Chile
3000
Grant Burge Benchmark, Australia
2600
Volcanes Tectonia Cabernet Sauvignon, Chile
4500
Willowglen, Australia
1430
Penfolds Koonunga Hill "76"
3500
19 Crimes Red Blend, Australia
2700
Chateau Jean De Trimoulet, St-Emilion Grand Cru, France
4800
La Crema Sonoma Coast, USA
6000
Tisdale, California USA
1430
Montes Classic Series, France
3500
Beringer Founders Estate, USA
3200
Mont Gras Antu Syrah, Chile
4800
Rothbury Estate, Australia
1380
PAZ Malbec, Argentina
3000
Calvet Grand Reserve, France
4000

Sparkling Wine by the Glass

Zonin Prosecco, Italy
600
Elysee Brut, Italy
500

White Wine by The Glass

Canyon Road Chardonnay, California
330
Willowglen Chardonnay, Australia
350
Rothbury Estate Chardonnay, Australia
330
Tisdale Chardonnay, California
350
Starborough Sauvignon Blanc, NZ
520

Classic Cocktails

Mimosa
630
Bloody Mary
630
Long Island Iced Tea
570
Whisky Sour
510
Sangria
480
Cosmopolitan
480
Calamansi Lime Margarita
510

Beers

Local Beers
275
Imported Beers
420
Local Craft
395

Starters, Salads, Soups

Bourbon Maple BBQ Chicken Wings
690
Spicy Broccoli Poppers
530
Caesar Salad
690
Tuna Nicoise Salad
920
Roasted Pumpkin and Sweet Potato Soup
390
Pork Sisig Tacos
690
Fresh Vegetable Spring Rolls
560
Greek Salad
820
Cobb Salad
720
Clear Chicken Soup
390

Deli

Marriott Burger
805
Marriott Club Sandwich
780
"Beyond Meat" Vegan Burger
830
Crispy Alaskan Pollock Sandwich
720

All Day Breakfast

Free-Range Classic or Smoked Salmon Eggs Benedict
980
Daing na Bangus (Fried Milk Fish)
590
Bircher Muesli
480

Rustic Homemade Pizza

Margarita
620
Four-Cheese
780
Pepperoni
790

Pasta

Create Your Own Pasta
560
Barilla Spaghetti Tartufata
760
Barilla Spaghetti Bolognese
710
Arrabbiata
540

Mama's Cooking

Hainan Chicken Rice
980
Pad Kra Pao
880
Chicken or Pork Adobo
785
Sinigang na Sampalok
790
Tofu and Green Beans Bicol Express (Vegan)
580
Wonton Noodle Soup
880
Pancit Canton
720
Beef Shank Kaldereta
890
Chicken Inasal Rice
790
Harvest Gourmet Plant Based Bola Bola in Sweet & Sour Sauce
580

Western Comfort

Barbecue Glazed US Short Rib
1280
Parmesan Crusted Chicken
990
200g New York Strip
1988
Crispy Battered Fish & Chips
990
Cauliflower Steak
730

Kids Menu

Mini Corndogs Poppers
420
Plant Based Chicken Nuggets
510
Mango and Strawberry Pop
400
Vegetable Mac and Cheese
370
Banana Sundae
400
Warm Chocolate Brownie
400

Desserts

Cheesecake Brulee
450
Apple Walnut
450
Plants Vs. Chocolates (Plant-based)
450
Chocolate Praline Crunch
450
Mango Crumble
450

Buffet Menu

Breakfast(Daily)
1600
Lunch(Daily)
2888
Dinner(Sunday to Thursday)
2888
Dinner(Friday)
3188
About Marriott Café
Enjoy distinctive local cuisine, delectable worldwide favorites, and plentiful buffets at the hotel's all-day dining venue, the Marriott Café, which is situated on the Ground Floor of the Manila Marriott Hotel. Meik Brammer, who was named executive chef of the Marriott Hotel Manila in 2010, oversees the kitchen operations of the Main Hotel, West Wing, and Marriott Grand Ballroom, which has a capacity for 4,000 guests. Meik began his apprenticeship in 1993 at Hotel Llemmenautal in Bad Bevensen, Germany, before obtaining his post in Manila. He now has more than 27 years of culinary leadership and expertise.
In Resorts World Manila, a vibrant and engaging mixed-use complex across from Ninoy Aquino International Airport Terminal 3, the Manila Marriott Hotel serves as the focal point. This five-star facility is positioned to become the most distinctive and all-inclusive Meetings, Incentives, Conferences, and Exhibitions destination in the Philippines. The main ballroom is a 3,000 square meter, pillar-free space that can comfortably hold 4,000 people for drinks and 2,500 people for a dinner setup. This enormous venue, which can be divided into four sections, has cutting-edge technology, including the only ballroom with SkyFold Technology—vertical folding partitions that come from the ceiling—and 176 Programmable Pillow Ceiling Lights, which can change the room's lighting to any of 360 different colors and lower the ceiling from 12 meters to 10 meters.
Marriott Café Menu Best Seller
If you are not in the mood for a buffet, you can always try their ala carte menu. In this section, we discuss the best sellers of its ala carte menu.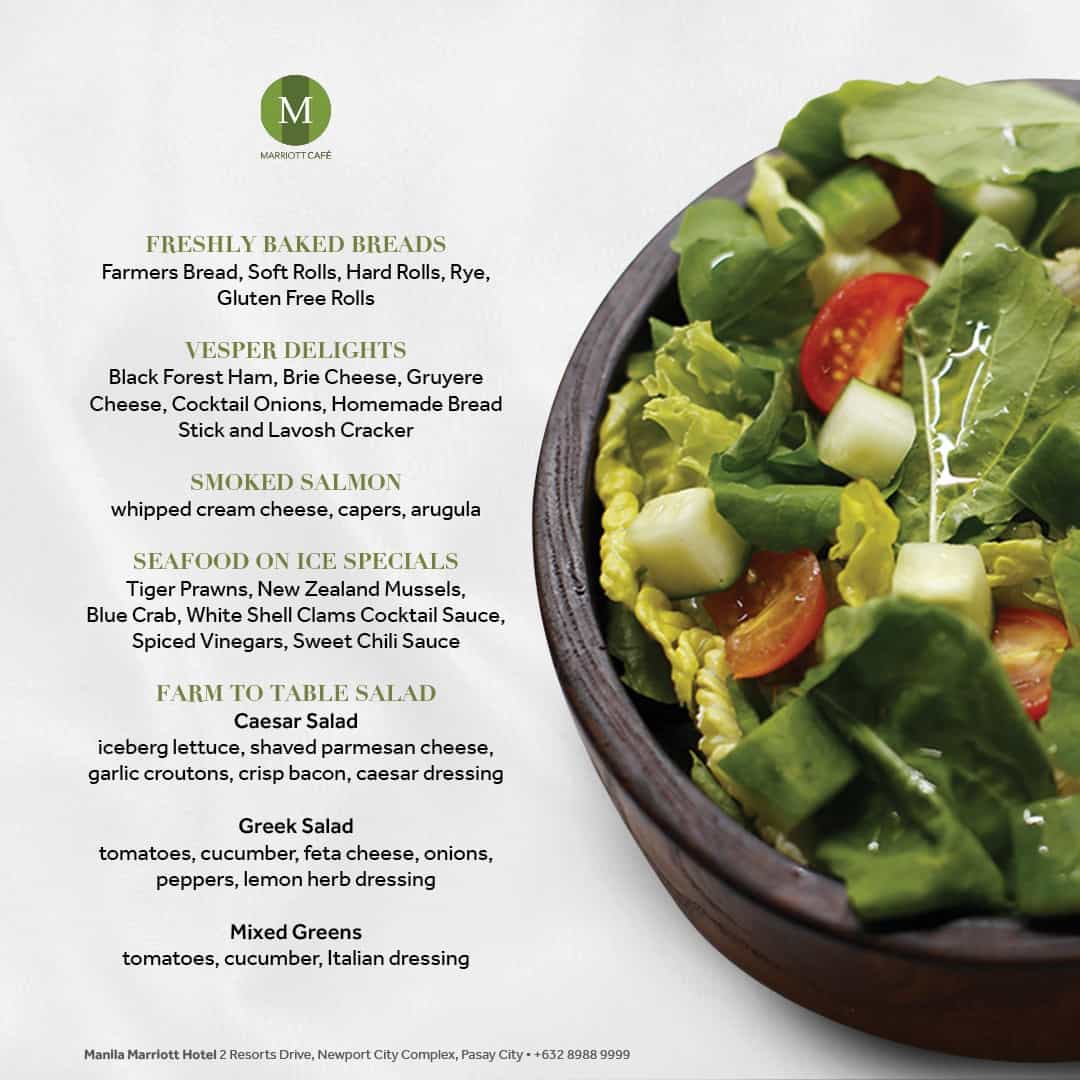 Caesar Salad – The emulsion's yolks provide richness, but the umami-rich anchovies that give Caesar salad dressing its delicious flavor and pungent garlic flavor are mostly responsible for the emulsion's taste. If you simply can't, substitute mayo for a lazy Caesar and omit the anchovies in favor of a dash of Worcestershire sauce.
Parmesan Crusted Chicken – This Marriott Café menu is a fantastic keto-friendly, gluten-free, and low-carb recipe. Adding chicken dishes with a parmesan crust to your repertoire is a terrific idea.
Wonton Noodle Soup – The soup may occasionally still contain noodles or veggies like bok choy. When red pepper flakes or other hot spices are added, wonton soup takes on a sweet, sour, salty, and spicy flavor. The saltiness of different types may vary. Wonton soup has 77 calories per 241g portion, which is its nutritional value.
Marriott Café Buffet Menu
Tiger Prawns – They are a lower calorie and lower fat source of high-quality protein, making them a better option for protein than red meat. As a result, prawns and shrimp are frequently substituted in recipes.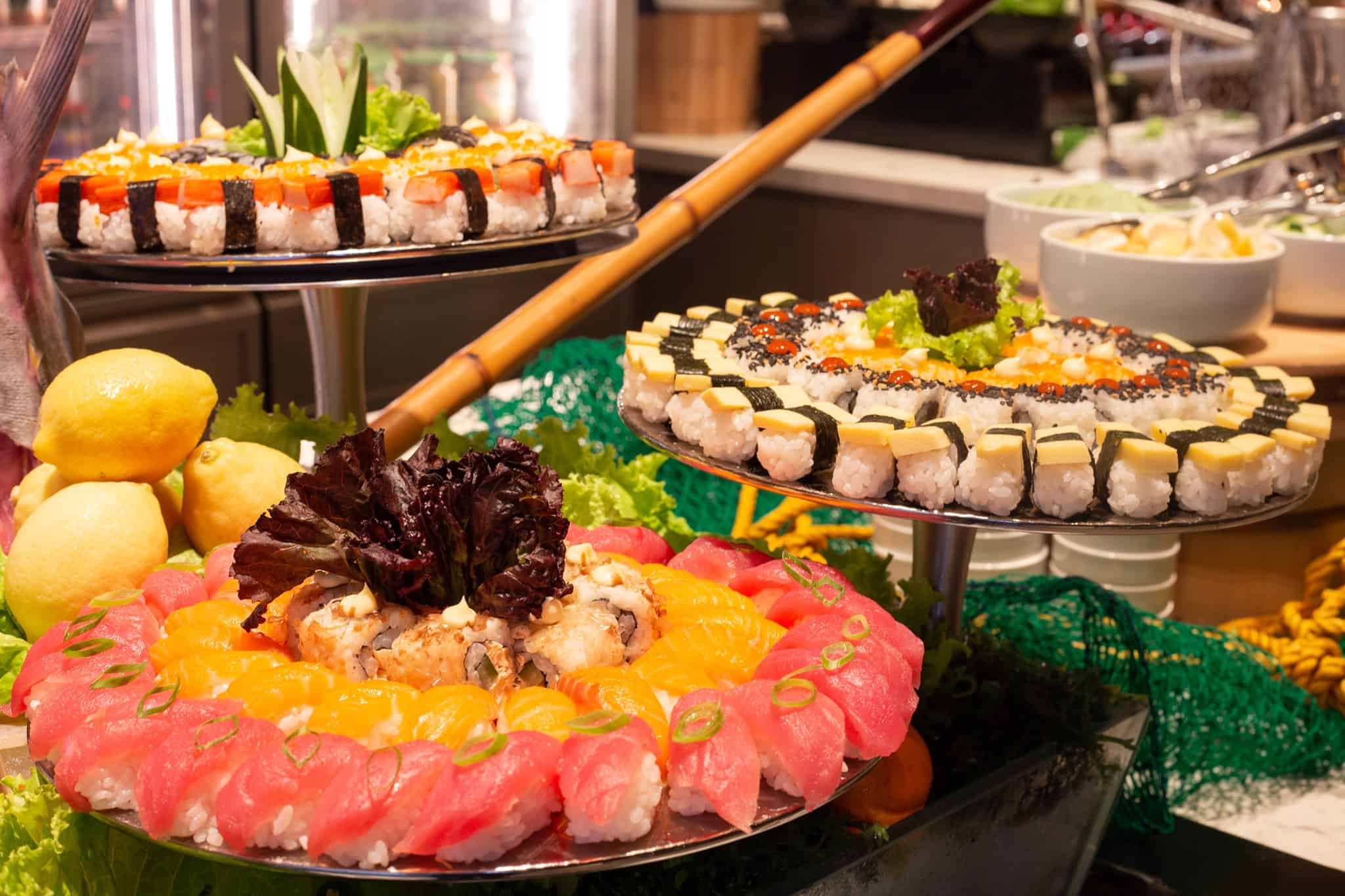 Sashimi Station – The Sashimi Station offers tuna, salmon, maki rolls, California rolls, and cucumber rolls so you may have a flavor of Japan.
Australian Beef Rump – This traditional pub favorite at a low price is a favorite among meat aficionados since it offers the best beef flavor. It has a firmer texture than a fillet and is leaner, and fuller in flavor.
Marriott Café Cake Menu
Ube Mango Tart – The tart has a half-moon form with mango jam as the filling. It features a flaky crust and a chewy, sweet flavor like freshly prepared mango jam from a farm. Creamy milk custard and ube purple yam custard are combined in this delectable tart, which is baked in a buttery graham pie crust. The taste of the root ranges from a delectable vanilla kiss to a somewhat nutty flavor, depending on how much of the starch has been converted into sugars.
Caramel Chocolate Cake – A three-layer, milk chocolate ganache- and caramel sauce-covered, moist, and fudgy chocolate salted caramel cake. Dreams are created from this. For a special event, such as a birthday or as a centerpiece at Christmas, this caramel cake is ideal.
Chocolate Black Forest – The ideal way to pamper someone you love is with layers of rich dark chocolate cake loaded with cream and tart cherries. The dessert with the same name and this chocolate bar does have one thing in common: cherries. This Marriott Café menu is renowned for its layers of chocolate sponge cake, whipped cream, and tart cherries on top, which give it a unique sweet-tart flavor character. Due to the combination of sour cherries and the dark cocoa powder in the sponges, the flavor might be described as tart and intensely chocolaty.
Cheesecake Brulee – Is sweet, but not in an overwhelming way. Creme Brulee's flavor varies greatly and entirely depends on the maker's preferences. Because vanilla and caramel are the two main flavors in classic creme brulee, it tastes like a combination of both.
Promos
Subject to different conditions, the Marriott Café has several promos that it offers. If you book a reservation with Eatigo, you can enjoy discounts of up to 50% off. All their food prices are on a significant markdown if you reserve via Eatigo. Another one would be birthday privileges if you are a holder of a BDO Mastercard. 50% OFF on lunch and dinner buffet including Sunday brunch for a minimum of 4 and maximum of 10 diners, including the cardholder of a Qualified Card with a complimentary birthday cake.
Social Media Pages
If you want to follow the Marriott Cafe to get its latest menu, price, and promo, you can easily reach them on their social media pages. All you need to do is to follow them using the following links:
Facebook: https://facebook.com/manilamarriott/
Instagram: https://www.instagram.com/manilamarriott/
Twitter: https://twitter.com/manilamarriott
Marriott Café Menu Delivery
Unlike other fine dining restaurants which lets you focus more on the experience within the walls of their store, Marriott Café is different. It offers a delivery menu that customers could enjoy. It delivers cakes, burgers, and other meals. Luckily, there is no hassle in ordering via delivery for it is only one click away via the Foodpanda or GrabFood app.
Conclusion
Dine at the Marriott Café menu to experience unique local fare, delectable international favorites, and huge buffets. You can walk from your Manila hotel room to this warm, open-all-day eatery. The Marriott Cafe Buffet by Marriott Hotel is hailed as one of Manila's top buffet establishments. Foreigners as well as Filipinos like visiting this location. It serves both domestic and foreign cuisine, with its seafood area being one of the most recognized. The restaurant quickly captivates food enthusiasts with its open kitchen and different magnificent buffet stations serving both foreign and local delicacies. Marriot Café wants to please every customer who dines with them, from their buffet spread to their accessible a la carte menu.