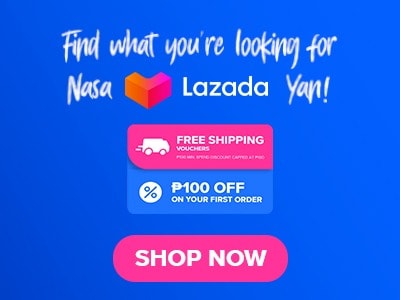 If you are looking forward to having a memorable and satisfying Japanese dining experience, there is no other place to visit than Yashinoya. The Yoshinoya menu revolves around its signature dish, the Gyudon, which is thinly sliced beef simmered in a savory soy-based sauce and served over a bed of steamed rice and has been the cornerstone of Yoshinoya's offerings since its opening. However, the restaurant also offers a variety of other rice bowls, noodle dishes, and side items, all crafted with a focus on authentic Japanese flavors and high-quality ingredients. So look forward to the best Japanese dining experience that you can have only at Yashinoya.
Below, you'll find the updated list of Yoshinoya menu prices.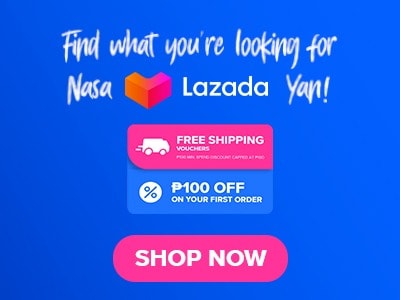 Menu Items
Price (PHP)

Beef Bowls

Gyudon
234
Gyudon with Cheese
270

WHAT'S NEW?

Iced Kohi
109

Rice Bowls

Grilled Beef
234
Beef Yakiniku
234
Togarashi Pork
234
Chicken Karaage 3pcs Rice Bowl
282
Chicken Teriyaki
222
Prawn Tempura 3pcs
276

Ramen

Gyu Ramen
300

Bento

Gyudon Bento
342
Prawn Tempura 3pcs Bento
384
Chicken Karaage Bento
384

Jumbo Plates

Gyudon & Tempura
486
Gyudon & Chicken Karaage
486
Gyudon & Chicken Teriyaki
450
Gyudon & Yakiniku
450

Group Meal

Go Share
1110

Sides

Prawn Tempura 3pcs
234
Chicken Karaage 3pcs
216
Gyoza 4 Pcs
156
Kani Salad
95
Mixed Veggies
72
Miso Soup
54

Dessert

Coffee Jelly
48

Beverages

Iced Kohi
109
Red Iced Tea
66
Pepsi in Can
72
Bottled Water
42
7UP in Can
72
Mountain Dew in Can
72
Yuzu Lemonade
66

Extras

Hard Boiled Egg
30
Red Ginger
18
Teriyaki Sauce
12
Japanese Mayo
18
Beef Soup
18
Seven Spices
12
Rice
48
About Yoshinoya
Yoshinoya is a well-established and popular Japanese fast-food chain founded in Japan in the year 1899. It specializes in serving delicious and affordable Japanese cuisine and is known for its signature dish, the Gyudon, which features tender slices of beef simmered in a savory soy-based sauce, served over a bed of steamed rice. Yoshinoya has expanded its menu over the years to include a variety of rice bowls, noodle dishes, and side items, all prepared with high-quality ingredients and authentic Japanese flavors.
Yoshinoya Menu Best Seller
In this menu, you'll find yummy Japanese dishes that many people who come to Yoshinoya usually order.
Gyudon with Cheese – This dish is made up of tender, thinly sliced beef simmered in Yoshinoya's signature savory sauce and served atop a bed of steamed rice. The addition of melted cheese takes this dish to another level, adding a creamy touch to the already flavorful dish.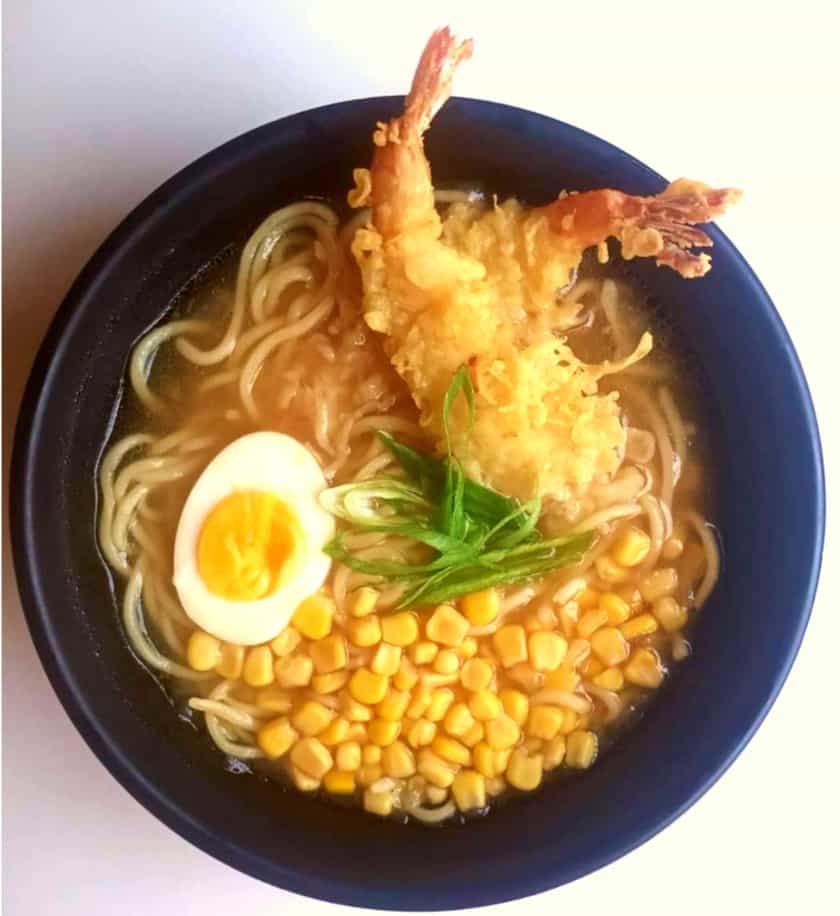 Chicken Teriyaki – This dish offers a delicious take on the beloved Japanese classic which is instead of pork, it is made of tender pieces of chicken glazed with a glossy and slightly sweet teriyaki sauce, creating a perfect blend of flavors that is perfect for those that are looking for a lighter yet flavorful option.
Gyudon & Yakiniku – This combo provides a satisfying contrast between the tender beef in Gyudon and the smoky, grilled flavors of Yakiniku. The dish showcases the versatility of meat preparation in Japanese cuisine and is a great way to indulge in a variety of flavors in one meal.
Yoshinoya Menu Rice Bowls
The menus here include a variety of traditional Japanese rice bowl dishes, which are at the core of their cuisine.
Grilled Beef – It is an exciting and satisfying dish that highlights the rich flavors of beef prepared in a classic Japanese style. It features thinly sliced beef that is expertly grilled to perfection, resulting in tender and savory meat with a slightly charred exterior. The Grilled Beef is served over a bed of steamed rice, allowing you to savor the natural meaty flavors complemented by the smoky notes from the grilling process.
Beef Yakiniku – At Yoshinoya, the Beef Yakiniku is a unique and exciting variation of this flavorful classic, which features thin slices of beef that are marinated and grilled to perfection, resulting in a delightful balance of savory, sweet, and slightly charred flavors. The dish is accompanied by a variety of dipping sauces that enhance the meat's taste and provide a customizable experience for customers.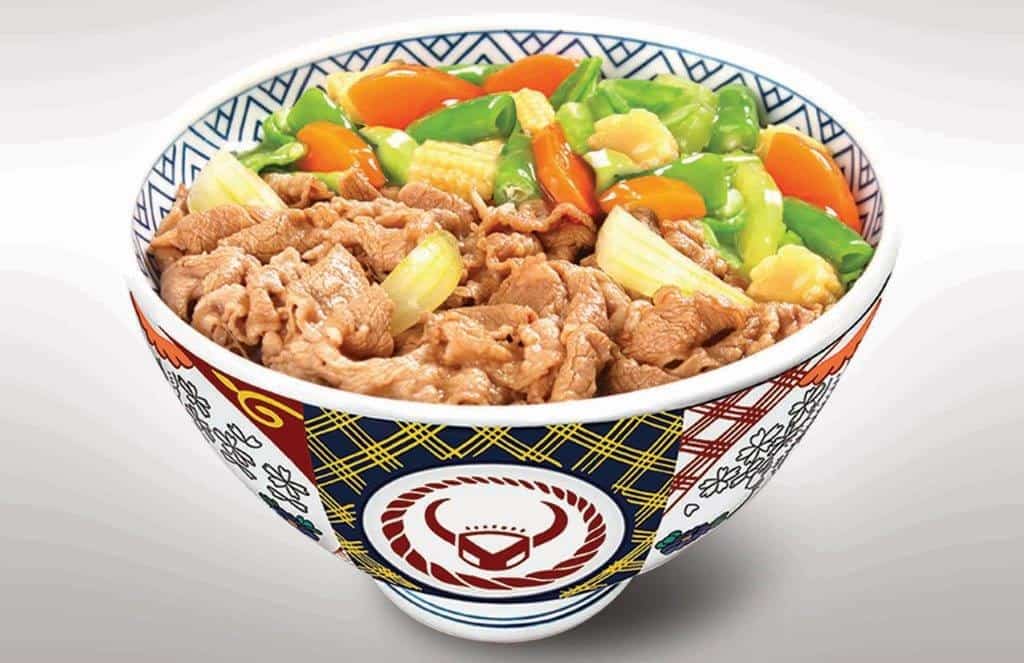 Togarashi Pork – This Japanese pork dish is made up of diced pork that is seasoned with togarashi, a Japanese seven-spice blend known for its kick of heat and unique flavors. The togarashi seasoning adds depth and complexity to the dish, making it a bold and exciting choice for those who appreciate a little culinary adventure.
Bento
This menu of Yoshinoya offers a range of choices for the most beloved Japanese meal, the bento, which is like a lunch box filled with different tasty items.
Gyudon Bento – This bento box has a generous portion of thinly sliced beef that was simmered in a savory and slightly sweet sauce made from soy until it becomes completely tender. The beef is served over a bed of steamed rice, allowing the flavors to meld together and creating a satisfying umami-rich experience.
Prawn Tempura 3pcs Bento – This bento box features three pieces of prawn tempura, each delicately battered and fried to achieve a crispy texture while preserving the natural sweetness of the prawns. The prawn tempura is served alongside a portion of steamed rice and an array of sides, creating a blend of flavors and textures that will surely satisfy anyone.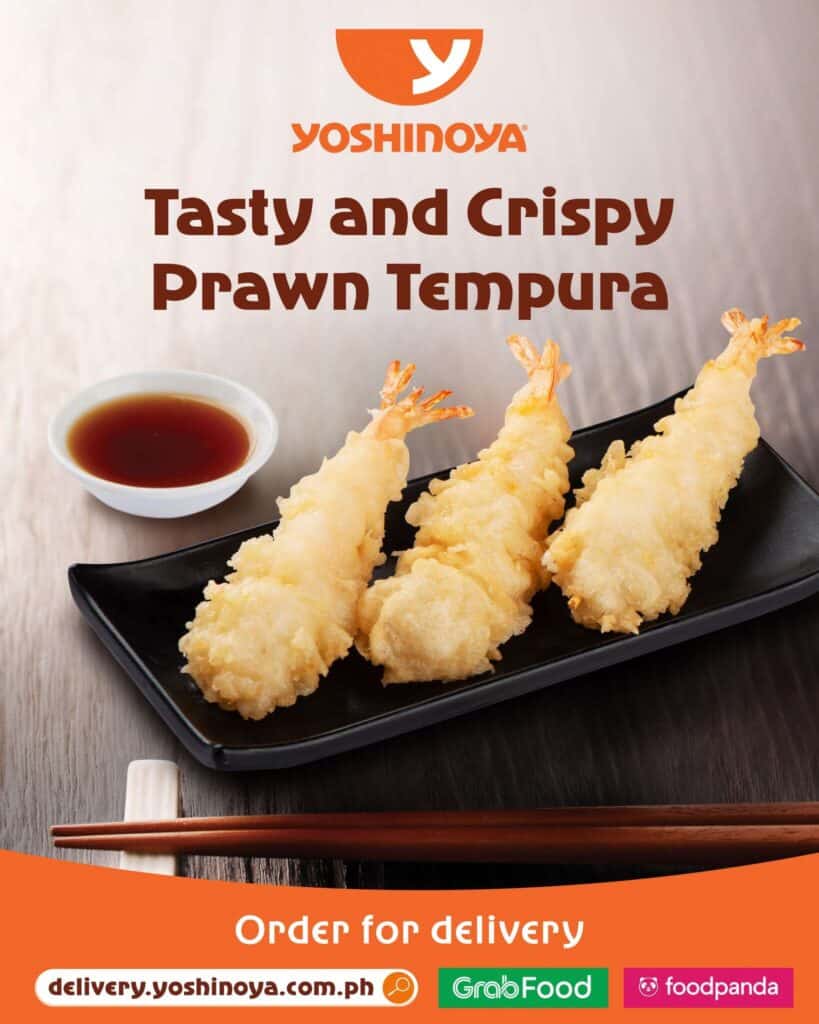 Chicken Karaage Bento – This bento box features tender and flavorful bite-sized pieces of chicken karaage, which are marinated, coated, and fried to a golden brown resulting in a crispy and juicy chicken with an irresistible flavor profile. Along with the chicken, the bento includes steamed rice and a variety of sides that enhance and complete the overall dining experience.
Jumbo Plates
Introducing The Jumbo Plates at Yoshinoya, where you'll find a delicious variety of combinations that bring out the wonderful tastes and textures of Japanese food. On each plate, you'll discover Yoshinoya's special Gyudon, a comforting creation with thinly sliced beef gently simmered in a savory sauce, complemented perfectly with a tempting side dish.
From the Gyudon & Tempura pairing to the Gyudon & Chicken Karaage fusion, and the Gyudon & Chicken Teriyaki option to the Gyudon & Yakiniku delight, every plate unites the signature flavors of their Gyudon with another mouthwatering companion. It's an inviting way to savor the best of Japanese cuisine all in one satisfying experience.
Beef Bowls
The Beef Bowls menu of Yoshinoya introduces a pair of enticing choices that bring out the delectable essence of Gyudon, a well-loved Japanese specialty. Alongside the classic Gyudon, there's a slight twist with the Gyudon with Cheese, adding an extra layer of flavor to this familiar favorite.
Sides
The Sides menu of Yoshinoya brings a selection of options, that perfectly complement your main meal. Crafted to offer a balanced and flavorful experience for Yoshinoya's customers, each item on this menu plays its part. From the satisfying Prawn Tempura (3pcs) and flavorful Chicken Karaage (3pcs) to the savory Gyoza (4 Pcs) and refreshing Kani Salad, alongside the Mixed Veggies and comforting Miso Soup, these sides add a new layer of taste and enjoyment to your meal.
Extras
The Extras from Yoshinoya menu consists of a variety of add-ons that are designed to elevate flavors and tailor your meal to your preferences. These extras offer customers the liberty to personalize their dishes according to their individual tastes and likings. You'll find choices such as Hard Boiled Egg to add a protein boost, Red Ginger to infuse a zesty kick, Teriyaki Sauce and Japanese Mayo for that savory touch, and Seven Spices to add a dash of heat. Additionally, there's Beef Soup to enhance the experience, and of course, Rice to complete your meal. These options allow you to create your own unique combination and make every meal at Yoshinoya truly your own.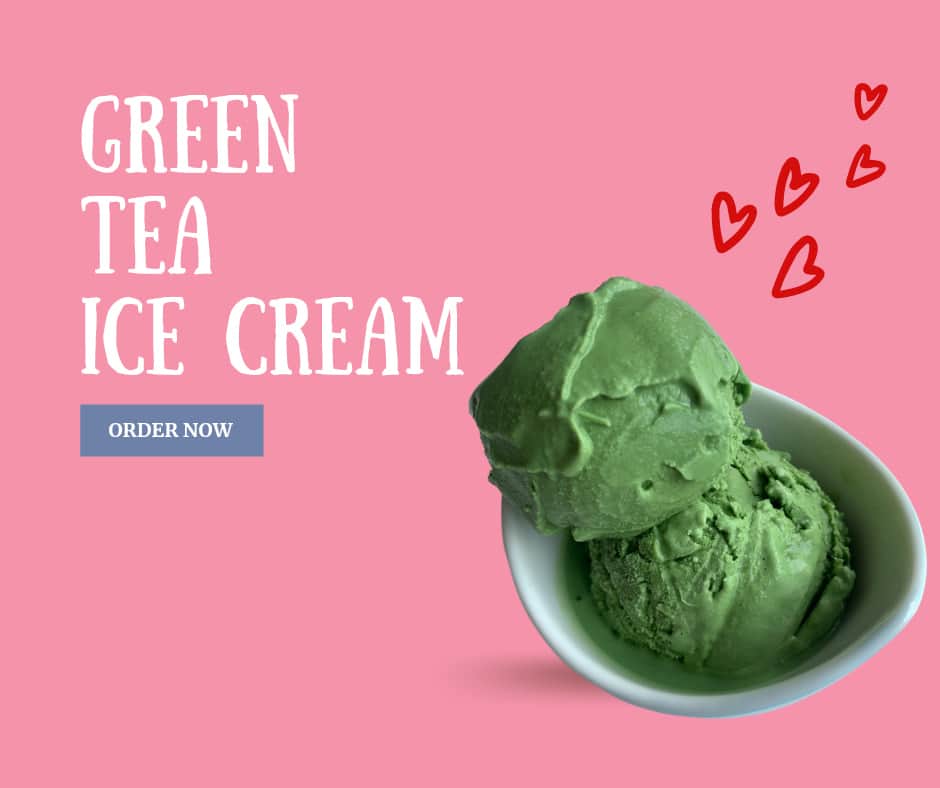 Yoshinoya Menu Delivery
Yoshinoya makes it easy for you to order your favorite types of Gyudon with their menu delivery. You can choose from various options and get them delivered right to you using services like FoodPanda and GrabFood.
Yoshinoya Social Media Pages
Step into a world of authentic Japanese flavors and savory delights at Yoshinoya, where each dish is a journey into the heart of Japan's culinary heritage! Subscribe, follow, and like their social media pages to get you updated with the latest news, promos, or discounts. Check out the links below:
Facebook: https://www.facebook.com/YoshinoyaPhil
Instagram: https://www.instagram.com/yoshinoyaph
Twitter: https://twitter.com/YoshinoyaPh
YouTube: https://www.youtube.com/@yoshinoyaphilippines
FAQs
What is Yoshinoya, and what type of cuisine does it offer?
Yoshinoya is a well-known international fast-food chain that specializes in Japanese cuisine, particularly its signature dish Gyudon.
Does Yoshinoya have a delivery service for its food orders?
Yes, customers can conveniently order from the comforts of their homes through Yoshinoya's delivery service.
What are some of the most popular dishes on Yoshinoya's menu?
Some of the most popular dishes at Yoshinay are the gyudon, togarashi, teriyaki, and more!
Can I make reservations for dining at Yoshinoya in advance?
Although Yoshinoya operates on a walk-in basis, they also accept reservations.
Is Yoshinoya family-friendly and suitable for large groups?
Yoshinoya is one of the best places to visit with family and groups of friends.
Conclusion
Yoshinoya is a popular Japanese fast-food chain that has become a go-to place for many Filipinos who love Japanese cuisine. This restaurant is known for its iconic Gyudon, a rice bowl featuring tender slices of beef simmered in a rich soy-based sauce. Yoshinoya offers a variety of rice and noodle dishes that cater to different tastes with a focus on quick, flavorful, and satisfying meals. So if you are craving some delicious and affordable Gyudon, Yoshinoya is the first place that you should go to.