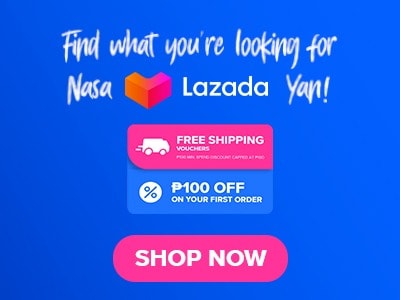 Casa Verde's menu is made up of a wide variety of American and Filipino dishes. Their menu features different appetizers, soups, salads, sandwiches, burgers, pizzas, pasta, and main dishes and to complement all of these, Casa Verde also offers classic a selection of refreshing drinks, shakes, and desserts. All of these are served generously at affordable prices making Casa Verde a favorite dining spot for both visiting tourists and locals that come regularly.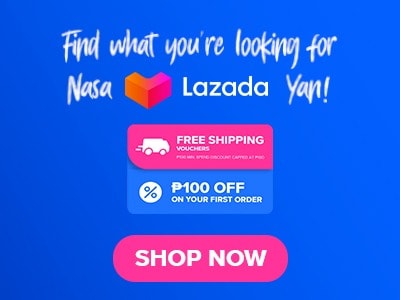 Menu Items
Price (PHP)

Appetizers

Buffalo Wings
228
Karlamari
218
Chips & Salsa
135
Therese's Pieces
258
Bacon & Cheese Potato Skins
198
Ultimate Blazing Nachos
318
Fried Cheese
175
Best Sampler
438
Southwest Sampler
488
Southwest Egg Rolls
238
Chicken Quesadillas
278
Green Bites
218

Soups & Salads

Baked Potato Soup
138
Caryl's Country Salad
238
Watermelon Salad
208
Soup & Salad Combo
248

Casa Verde favorites

Brian's Ribs
325
Tenderloin Tips & Eggs
268
Casa Verde Platter
1599

Chicken

Chicken-Fried Chicken
278
Golden Chicken Fingers
298
Roasted Seasoned Chicken
298

Seafood

Fish & Fries
278
Ting-Ting's Tavern Shrimps
298
Shrimps on the Barbie
298
Tricia A La Pobre
238

Hot Off The Grill

Raffitas
328
Chicken, Mushroom & Cheese
318
David Dean's Tenderloin
318
Jon Jay's Steak & Pasta
418
The Dax
418

Surf & Turf

Steak Ala John Paul
418
Pastas
328
Victoria's Secret Spaghetti
228
Southwest Pasta
238
Seafood Carbonara
258

Sandwiches

Club Sandwich
278
The Count of Monte Cristo
268
Super Sandwich Combo
265
Salad & Sandwich Combo
265

Burgers

Burger Bites
268
Excalibur
318
Casa Verde burger
275
The Big Bang
558
Bacon, Mushroom & Cheese
288
The Mighty Ton
1099

Sides

Rice
35
Harvest Rice
50
French Fries
50
Mashed Potatoes
50
Vegetable Medley
35
Bread Basket
60
About Casa Verde
Casa Verde is a popular restaurant known for its American comfort food and casual dining atmosphere. The restaurant was established in Cebu City in 2002 and has expanded to different locations in both Manila and Davao. The restaurant's ambiance is relaxed and laid-back with a casual but comfortable atmosphere due to its colorful interiors, and decor making it a popular place for locals and tourists alike. And with the multiple locations scattered across the country, it's easy to visit and enjoy their delicious dishes.
Casa Verde Menu Best Seller
This menu is made up of a variety of dishes that are ordered the most by visiting guests at Casa Verde.
Buffalo Wings – This is one of the most famous dishes, not only at Casa Verde but maybe at all the restaurants that offer it. It is a very popular dish made from chicken wings that are cooked until they are crispy on the outside but tender on the inside. Completed with a delicious and spicy sauce that would surely make you want more.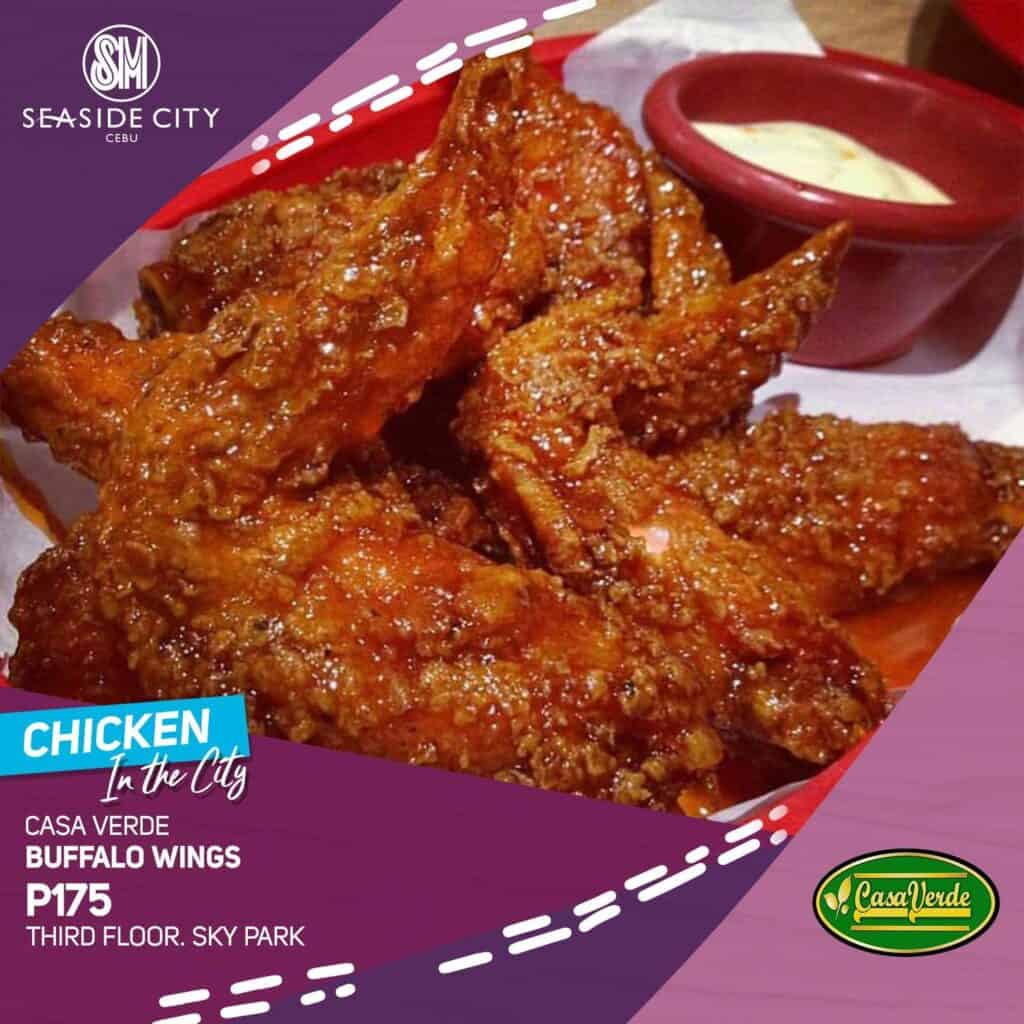 Chips & Salsa – This is the most famous appetizer on the Casa Verde menu as well as one of the best sellers. It is made of crispy tortilla chips that are served with a delicious and spicy salsa making it the perfect starter to any meal or just a simple snack to enjoy with your friends.
Fried Chicken – Like the Buffalo Wings, fried chicken is also a famous dish not only here in the Philippines but more so in other countries, like the US. This is made of deep-fried chicken parts that are seasoned with a special breading before being fried to perfection. Served with gravy, this is absolutely one of the must-try dishes at Casa Verde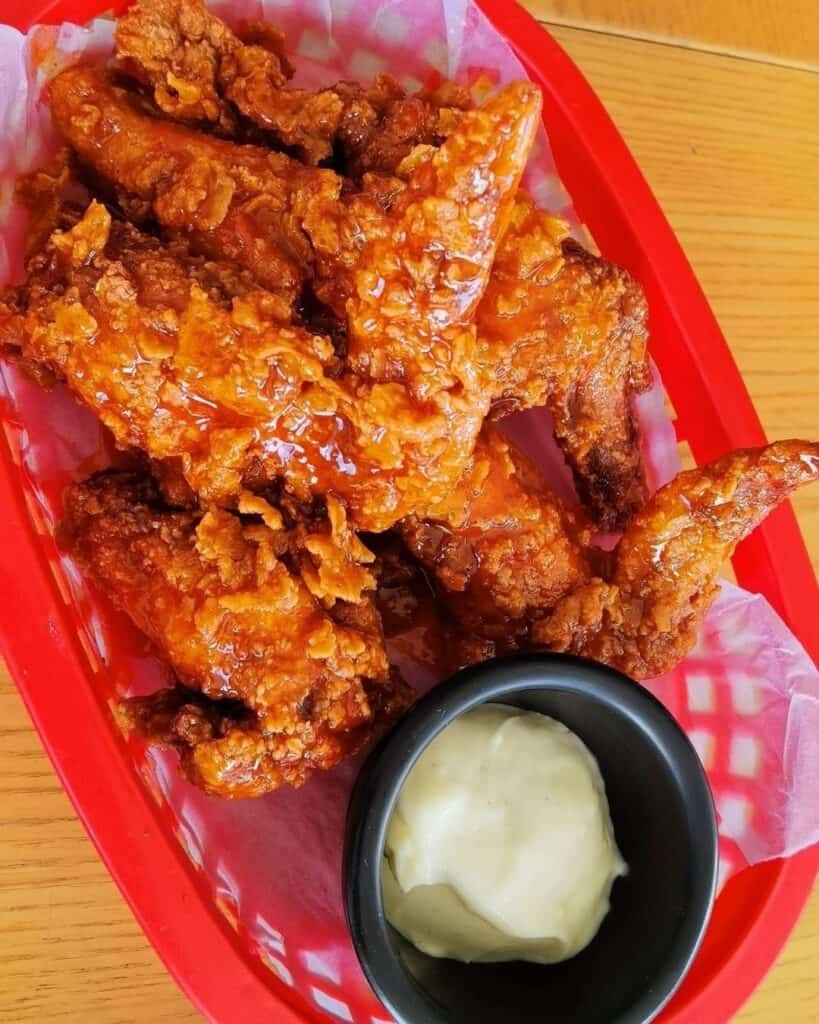 Casa Verde Favorites
This menu is like Casa Verde's best-seller menu and is also made up of dishes that are most often ordered by guests who visit the place.
Raffitas – This menu from Casa Verde is made up of grilled beef ribs that are a must-try for all the meat lovers that visit Casa Verde. The meat is cooked perfectly so that it falls off the bone, and with the BBQ sauce that is added to the dish, it becomes a much juicier and hearty meat dish with a nice touch of smokiness.
Tenderloin Tips & Eggs – This dish features a generous serving of tender beef tenderloin tips that are cooked to perfection and served alongside two perfectly cooked eggs. This is a hearty breakfast or brunch option for those who visit Casa Verde.
Casa Verde Platter – This is a platter that is made up of some of Casa Verde's most popular dishes. This is the perfect item for those who are having trouble deciding on what they want to order. It is ideal for guests who come in groups and want to try a little bit of everything that Casa Verde offers.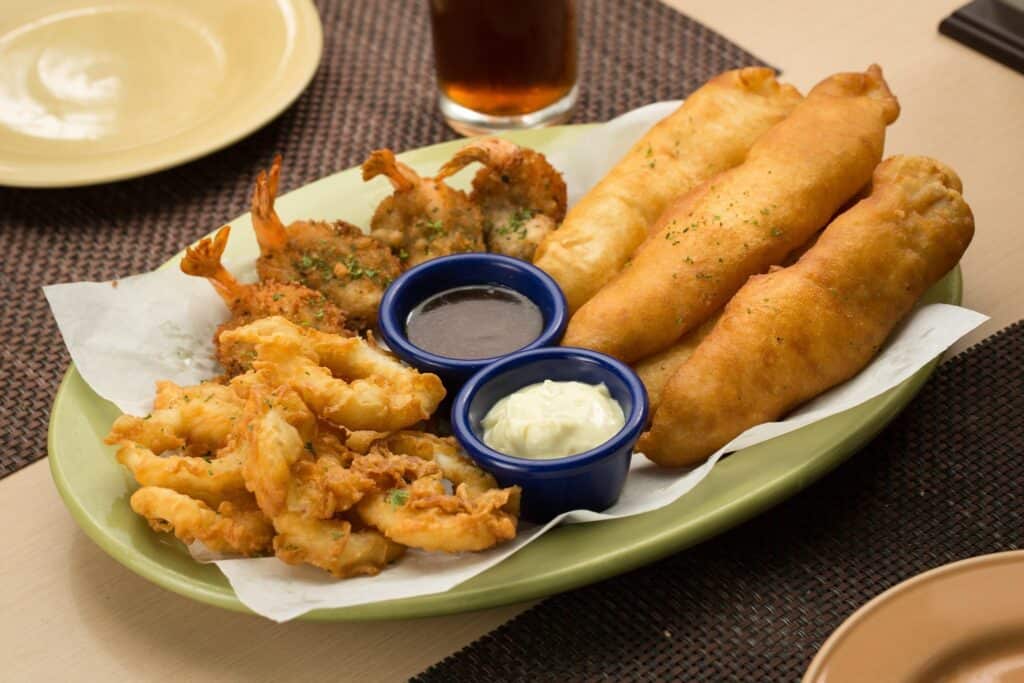 Hot off the Grill
This menu is made up of a wide selection of grilled dishes that are served fresh from the grill.
Brian's Ribs – This dish is one of Casa Verde's most popular dishes for a good reason. The dish itself consists of a generous serving of perfectly cooked baby back ribs that are drenched in a sweet BBQ sauce. While the seasoned fried rice that is served with it makes the overall meal experience for the customers both filling and satisfying.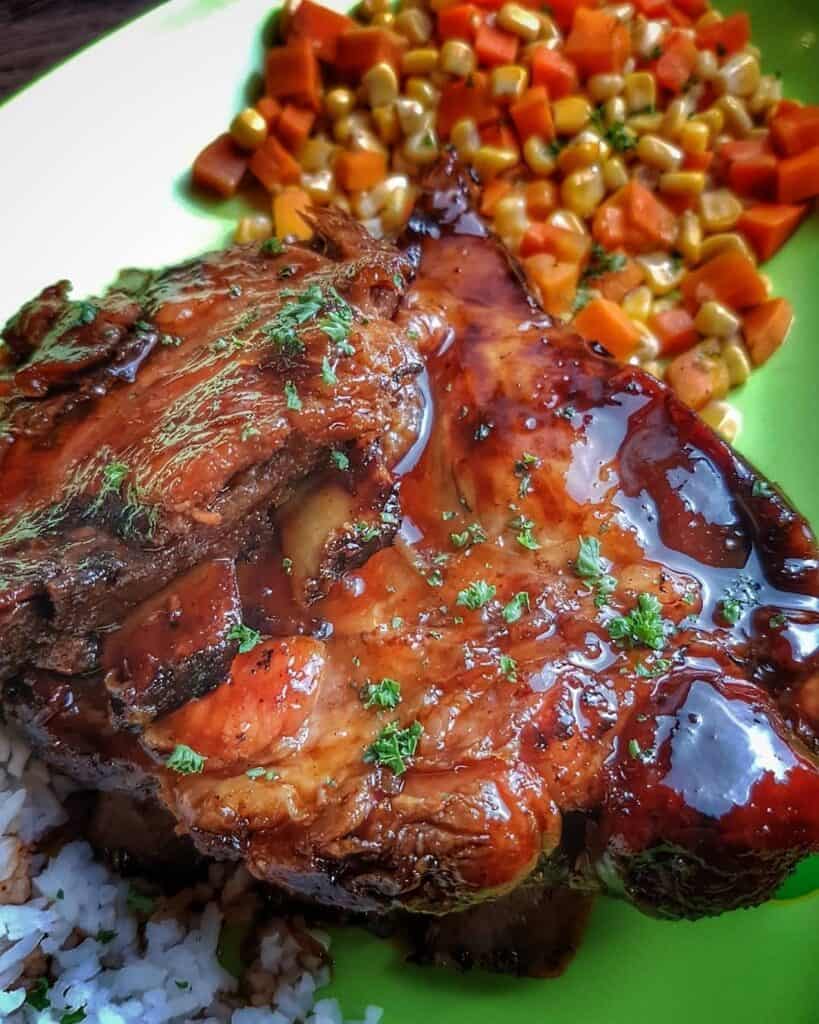 Chicken, Mushroom & Cheese – It is also a grilled dish but uses meat as its main ingredient. The chicken in this dish has a juicy and flavorful taste with a little bit of an earthy flavor that comes from the mushrooms on top of it. It also has a creamy taste due to the melted cheese that is added to the dish. And with the garlic rice and steamed vegetables that are served with it, this dish is good for a balanced and healthy meal.
David Dean's Tenderloin – This dish is made of grilled beef tenderloin that is cooked to perfection, resulting in it being juicy, tender, and full of flavor! David Dean's Tenderloin is paired with a large serving of mashed potatoes making the dish both hearty and satisfying overall.
Soups and Salads
This Casa Verde menu is made up of soup and salad dishes that are perfect for any season, whether it is rainy or a sunny day, these dishes will surely satisfy most people.
Baked Potato Soup – This soup dish is rich, creamy, and smooth with a hint of smokiness that came from the baking process. It uses potatoes as it's main then topped with bits of bacon and cheese making it a great dish to warm you up on a chilly day.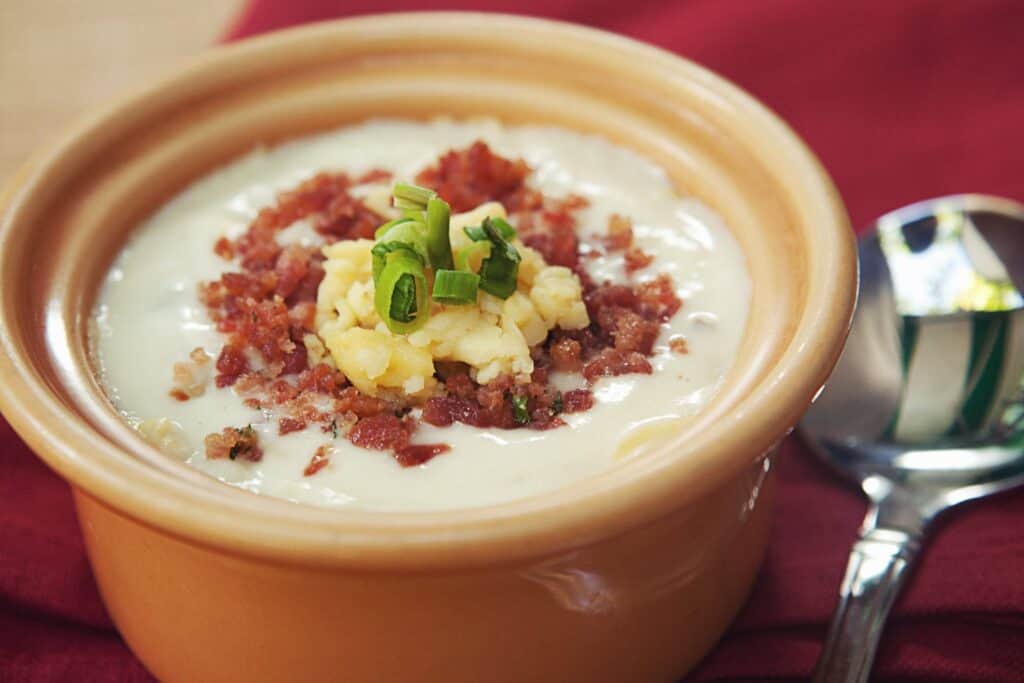 Caryl's Country Salad – This is a refreshing option for those who are looking for a soup dish that is healthy but is still packed with flavors. This soup dish is made up of greens, cucumber, and tomato, and is made special with grilled chicken, bits of bacon, croutons, and cheese.
Watermelon Salad – This soup dish is a unique but refreshing option that is perfect for a hot summer day. It features watermelon cubes, feta cheese, and fresh mint leaves that are tossed in a balsamic dressing. It has a perfect balance of flavors due to the combination of sweet watermelon and salty feta cheese.
Casa Verde Menu Delivery
Casa Verde offers delivery services for the convenience of their regular and new customers alike. This provides easier access to all the delectable dishes that Casa Verde offers. Customers can now order their favorite Casa Verde foods and drinks through third-party delivery services like GrabFood and FoodPanda applications.
Social Media Pages
By following their social media pages, you can keep up with their latest menu items, promotions, and events. You can also get a glimpse of their mouth-watering dishes and read reviews from satisfied customers. Plus, Casa Verde often runs exclusive social media contests and giveaways, so following their pages is a great way to win some free food!
Facebook: https://facebook.com/CasaVerdePH/
Instagram: https://instagram.com/casaverdeph/
Conclusion
Casa Verde's menu offers a wide selection of delicious dishes that cater to different palates and customers' preferences. Aside from its main dishes, Casa Verde also offers a variety of appetizers, salads, soups, pasta, and desserts that complement them. They have good customer service that greatly impacts their customers' overall dining experience. Overall, with Casa Verde's friendly service, cozy ambiance, and above all, delicious food and drinks, it has become one of the best places to visit whenever you are in Cebu.