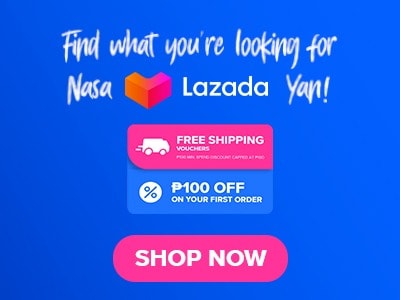 If you're a fan of Japanese cuisine, you'll love the Marudori menu! This Japanese restaurant has become popular in the Philippines, and it's no wonder why. They specialize in yakitori, a tasty dish where chicken is skewered and grilled over charcoal to make it tender and smoky. Each skewer is carefully prepared for a juicy and delicious flavor.
But that's not all they offer! Marudori also has a wide variety of other Japanese dishes to choose from. You can enjoy sushi, sashimi, tempura, donburi, and ramen. They've got something for everyone, so you can pick your favorite and have a fantastic Japanese dining experience at Marudori. So, if you're craving some authentic and mouthwatering Japanese food, check out the Marudori menu and discover all the delicious options waiting for you!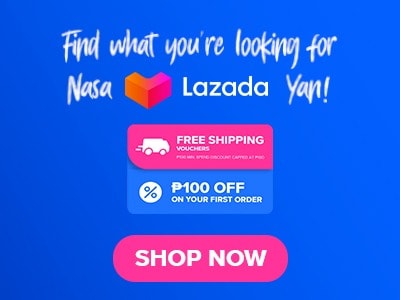 Below, you'll find the updated list of Marudori menu prices.
Menu Items
Price (PHP)

Tori Paitan Ramen

Shio Paitan
430
Shoyu Paitan
460
Tantanmen
490
Ebi Miso
640

Hiyashi Ramen

Hiyashi Chuka
490

Sides

Gyoza
150
Garlic chicken Chahan
390
Shiro Miso Karaage
450
Tsukune
280
Grilled Shrimp
280
Aji Tamago
80
Grilled Chicken
120
White Chicken
100

Tsukemen

Yuzu
520
Ebi Miso
680
Gyokai
530

Beverages

Soda
80
Standoford shaw Ginger Ale
220
Organic Kombucha
280
Bundaberg
180
San Pellegrino
230
Le Minerale
50
Sapporo Beer Bottle
180
Lemon Dou
150
About Marudori
Marudori is a Japanese restaurant located in the Philippines that offers a unique dining experience focused on yakitori, which is a traditional Japanese grilled chicken skewer dish. The restaurant aims to provide customers with authentic and flavorful Japanese cuisine in a relaxed and casual setting. Marudori strives to create an inviting and enjoyable atmosphere for diners, with a cozy interior and friendly service. The restaurant is known for its warm hospitality and attention to detail, ensuring that customers have a memorable dining experience.
Marudori Menu Best Seller
This menu is made up of Marudori's most popular dishes from both its physical and online stores.
Gyoza – These Japanese-style dumplings are typically filled with a savory mixture of ground meat and vegetables, wrapped in a thin dough, and then pan-fried to achieve a crispy texture. The gyoza at Marudori is flavorful and well-seasoned, making them a tasty appetizer or side dish.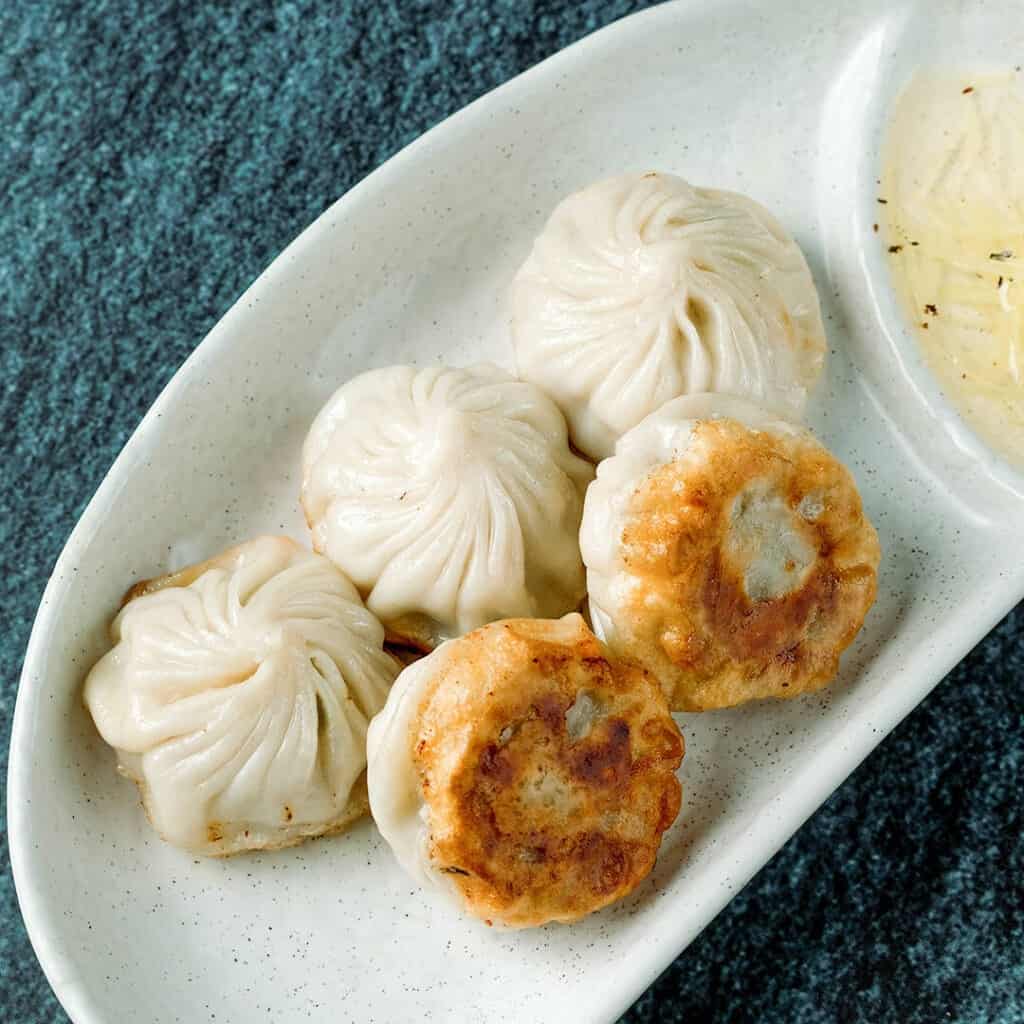 Garlic Chicken Chahan – This is a fried rice dish that uses garlic and tender pieces of chicken as its main ingredients making it both aromatic and flavorful. Marudori's version of garlic chicken chahan is well-balanced in flavors, with the garlic providing a delicious aroma and the chicken adding a meaty element to the dish.
Tsukune – This menu of Marudori is a meatballs that are skewered and grilled to perfection giving it a tender and juicy texture while also being packed with savory flavors, making it a mouthwatering option for those who enjoy chicken-based dishes.
White Chicken – Marudori's white chicken is expected to be prepared in a flavorful manner, showcasing the natural taste of the chicken while incorporating complementary seasonings and cooking techniques.
Gyokai – Marudori's gyokai is a seafood-based dish that combines various types of seafood such as shrimp, fish, and shellfish and offers a harmonious blend of flavors from the different seafood ingredients, giving customers an enjoyable and satisfying seafood experience.
Tori Paitan Ramen
This menu is made up of three different varieties of Tori Paitan Ramen which is perfect for those who are looking for unique and authentic Japanese ramen dishes.
Shoyu Paitan – This dish features a flavorful chicken-based broth that is simmered for hours to achieve a velvety texture. The broth is infused with soy sauce, giving it a savory and slightly salty taste, while the ramen noodles are typically thin and firm, and the bowl is garnished with toppings such as sliced chashu pork, green onions, and bamboo shoots.
Tantanmen – This dish has a robust and flavorful broth with a spicy kick featuring noodles that are typically thicker and chewier than the other ramen dish. The dish has a bold and fiery flavor profile that is ideal for those who are looking for a spicy ramen dish.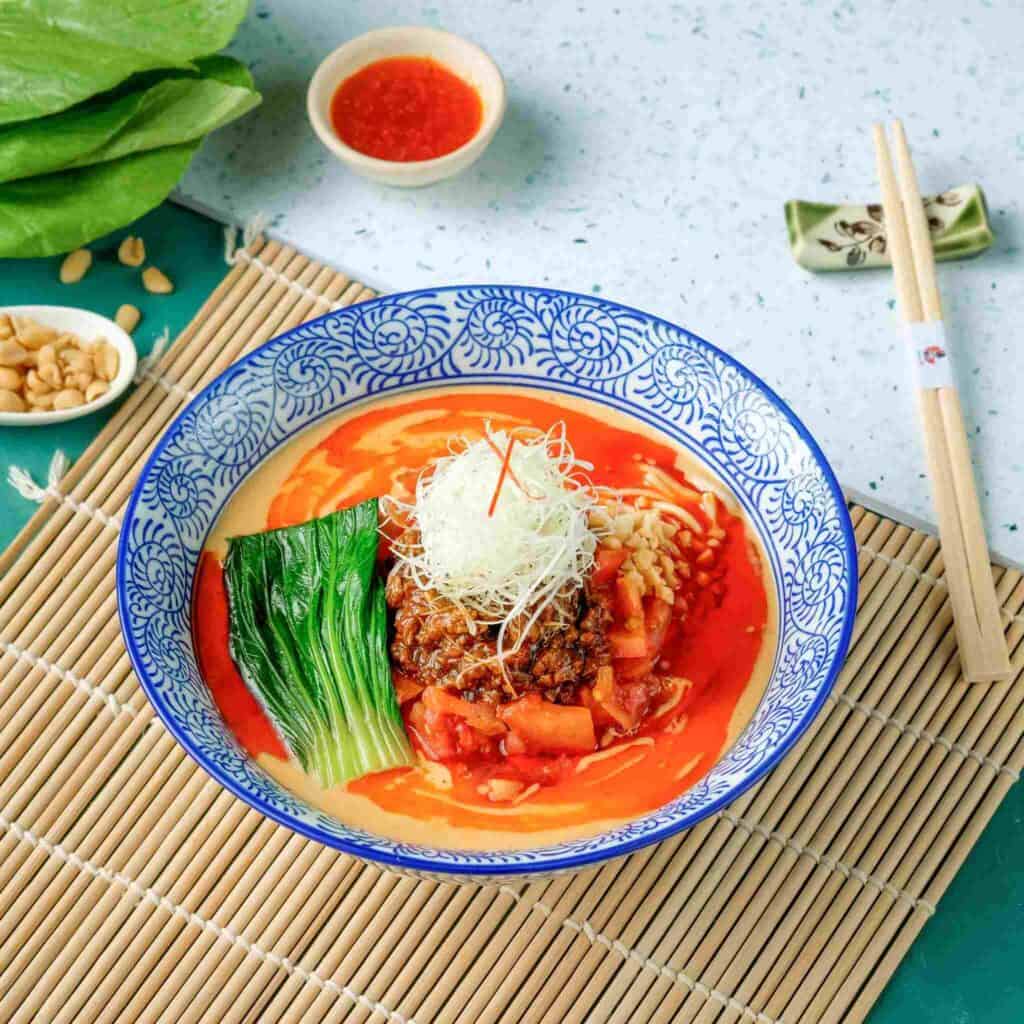 Ebi Miso – It offers a savory and comforting miso broth with the natural sweetness of shrimp. The soup is enriched with miso paste, which adds a depth of umami flavor to provide a delightful combination of seafood flavors and the rich umami taste of miso.
Marudori Menu Hiyashi Ramen
This menu is composed of a variety of hiyashi ramen, which is a chilled noodle dish that is perfect for hot summer days. It is a popular Japanese dish consisting of cold ramen noodles served with an array of toppings and a flavorful dressing.
Hiyashi Chuka – Hiyashi Chuka is a traditional Japanese cold noodle dish that is commonly enjoyed during the summer months that consists of chilled ramen noodles topped with a variety of colorful and refreshing ingredients. The dish includes a mix of vegetables such as cucumber, carrots, and bean sprouts, as well as a thinly sliced omelet and ham or chicken. These ingredients are arranged beautifully on top of the noodles and garnished with sesame seeds and chopped green onions.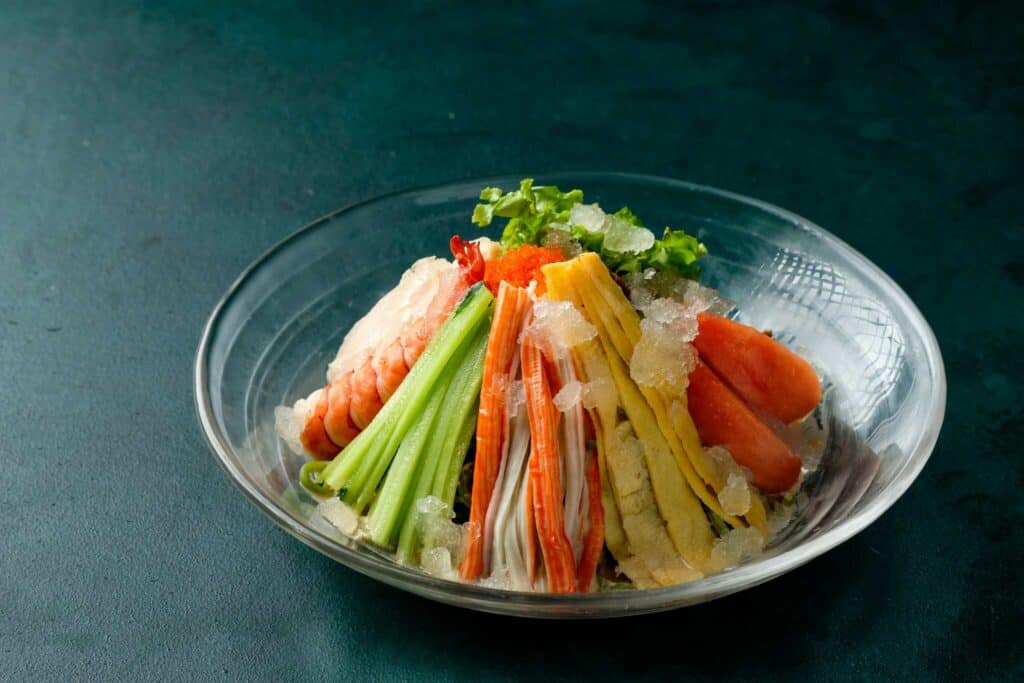 Marudori Tsukemen Menu
Tsukemen is a special kind of ramen menu served at Marudori. The noodles and broth are served separately on a plate and in a bowl. It's fun because you get to dip the noodles into the rich and tasty broth before taking a bite. This way, you can control how much broth you want with each bite of noodles. So, if you love ramen and want to try something unique and delicious, Tsukemen at Marudori is the perfect choice for you!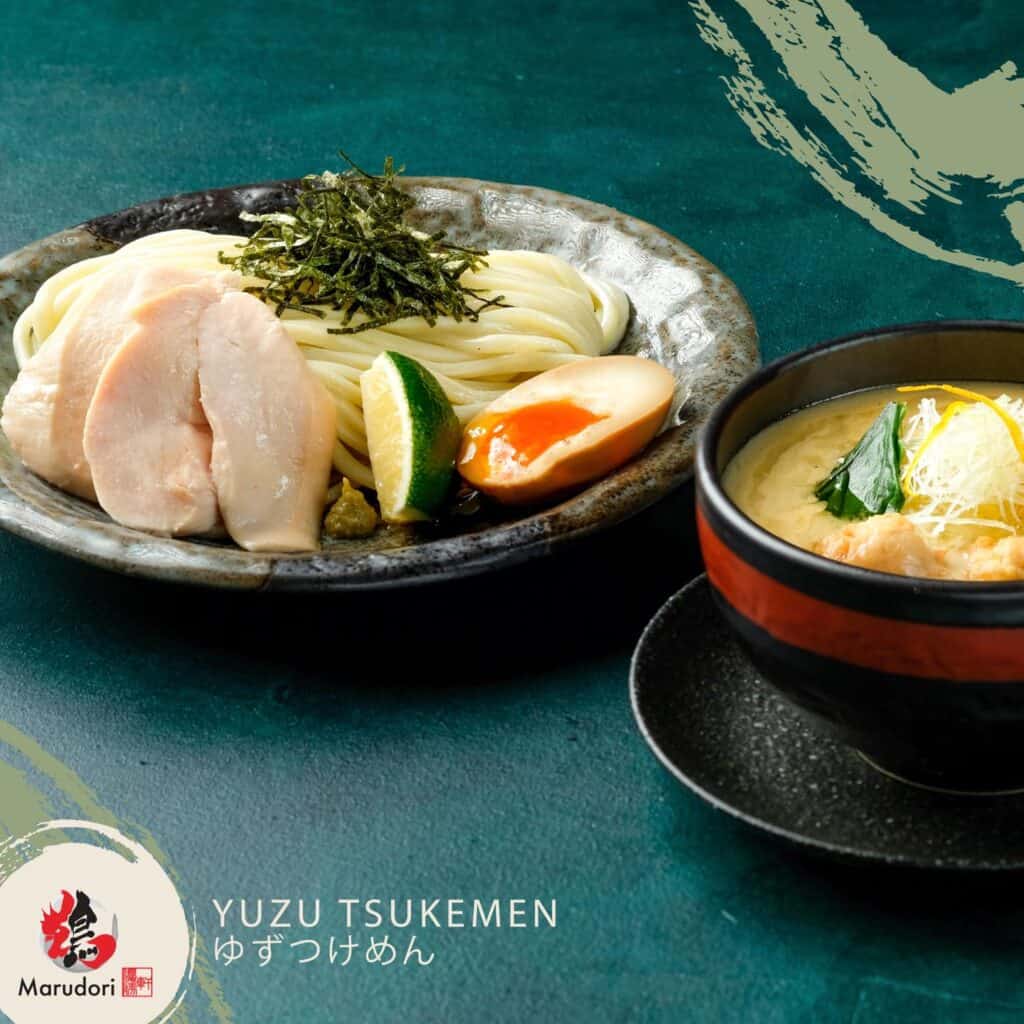 Sides/Extras
This menu has a lot of different dishes to choose from. They are perfect for adding extra flavors and variety to your meal. You can pick different dishes that go well with their main offerings. So, if you want to try different flavors and make your meal even more delicious, check out this menu and pick your favorite dishes to enjoy! It's a great way to add some extra yumminess to your mealtime. Enjoy the tasty variety!
Beverage
Beverage options in this menu offer a wide variety to choose from. You can find something that matches your taste and what you like. These beverages are a great addition to your meal, making it even tastier. Plus, they're perfect for satisfying your thirst and keeping you refreshed. So, whether you're in the mood for something sweet, fruity, or maybe a little fizzy, this menu has it all! Pick your favorite beverage and enjoy it with your meal. It's the perfect way to stay hydrated and satisfied!
Marudori Menu Delivery
Marudori wants to make sure everyone can enjoy their delicious Japanese food, so they offer a menu delivery service. This means you can order your favorite dishes and have them delivered right to your doorstep. No need to leave your home! You can do it all with the help of FoodPanda or GrabFood, which are delivery services that bring the yummy Japanese cuisine from Marudori to you. So, if you're in the mood for some tasty and authentic Japanese flavors, just place your order and enjoy the convenience of dining at home with Marudori's menu delivery!
Marudori Social Media Pages
They love seeing your happy moments at Marudori! Share your delightful experiences with them by tagging #MarudoriGrill. Your photos make their hearts smile! Be the first to know about the latest menu additions, promotions, and special events. Stay connected with Marudori on social media!
Facebook: https://www.facebook.com/ramen.marudori/
Instagram: https://www.instagram.com/ramen_marudori
Website: https://nipponhasha.com/join-our-team/
FAQs
Where is Marudori Philippines located?
You can visit the Philippines branch of Marudori at Retail 107, Ground Floor, 8 Rockwell Center, Plaza Dr, Makati, 1210 Metro Manila.
What are the operating hours of Marudori Philippines?
Marudori operates from 10 AM-10 PM.
What types of ramen does Marudori Philippines serve?
Marudori serves two different types of ramen, tori paitan ramen, and hiyashi ramen.
Does Marudori Philippines offer other Japanese dishes besides ramen?
Yes, they have a wide menu that includes side dishes, tuskemen items, and beverages apart from its ramen menu.
Is there a Marudori secret menu?
Yes, they do add new items from their secret menu.
Conclusion
Marudori is a popular restaurant in the Philippines known for its delicious Japanese cuisine, particularly its yakitori dishes. Aside from its delicious dishes, the restaurant also has a cozy and inviting atmosphere in order to provide customers with a dining experience that combines authentic Japanese flavors with a warm ambiance. Marudori is a go-to destination for those seeking quality Japanese food, whether it's perfectly grilled skewers, flavorful ramen, or other traditional Japanese dishes. So if you are a fan of yakitori or are just looking to explore the flavors of Japan, Marudori should be on top of your list!