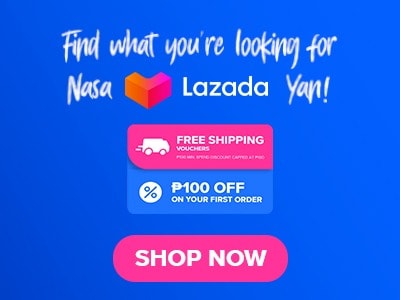 The Pan de Manila menu is composed of bread that was made fresh from scratch using ingredients of the highest quality to provide only the best for their customers. They produce specialty bread, soft-crusted sandwich bread, and other baked goods, including muffins and ensaymadas, in addition to their famous pandesal. And because bread, not just pandesal, is already part of the Filipino diet, the goal of their menu is to provide Filipinos with tasty, healthy, and affordable bread. From the most basic and traditional pandesal to different flavored specialty bread, Pan de Manila has a vast selection of bread.
Below, you'll find the updated list of Pan de Manila menu prices.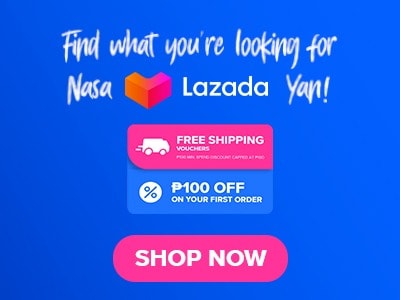 Menu Items
Price (PHP)

Special Spreads

Herb Cream cheese
175
Garlic Butter
135
Pesto Dip
135
Ube Halaya
85
Dari Creame classic
30
Magnolia Gold
60
Magnolia Chocolait
30

Breads

Pandesal
6
Loaf Breads
55
Whole Wheat Breads
50
Cheese Sticks
60
Ensaymada
10
Pand de Coco
52
Pesto-flavored Breads
35
Banana loaf
55
Sugar-free Breads
65
Macapuno
19

Pandesal with Palamans

Garlicky Corned Beef
45
Grilled Ham and Cheese
50
Cheese and Egg White
35
Cheesy Egg
40
Tuna Sandwich Spread
40
Grilled Hotdog pan
45
Cheesy Hotdog Pan
55
Grilled Luncheon Meat
55
Grilled Luncheon Meat w Egg
70
Cheesy Luncheon Meat
65
Cheesy Luncheon Meat w Egg
75

Beverages

Cafe con Leche
Chocolate con Leche
Chocolate Blanco
Cafe Mocha
Soya Milk

Spreads

Peanut Butter
Coco jam
Fruit Jams
Garlic Butter
Herb Cream Cheese
Sharp Melting Cheddar Cheese
Spanish-style Sardines
About Pan de Manila
Pan de Manila is a bakery located at California Garden Square, Highway Hills, Mandaluyong City. It is well-known for its traditional Filipino bread like pandesal and ensaymada. Pan de Manila promotes living a healthier, more natural lifestyle because it is one of their corporate beliefs. So in keeping up with this concept, they utilize zero preservatives, artificial colorants, or flavors, and only use bromate-free flour in all of their bread to prioritize the health of their customers. And of course, this also goes for their house-brand palamans, no artificial flavoring, no coloring, and no preservatives.
Pan de Manila Menu Best Seller
This menu contains the products that frequent customers always buy whenever they visit the Pan de Manila branches.
Pandesal
At Pan de Manila, pandesal is the most popular Filipino bread. Given that the name dates back to the Spanish colonial era of the 16th century, that means "salt bread" in Spanish. In the present, pandesal has already become a traditional Filipino bread roll and is typically consumed during breakfast. It has a light, airy, and faintly sweet texture.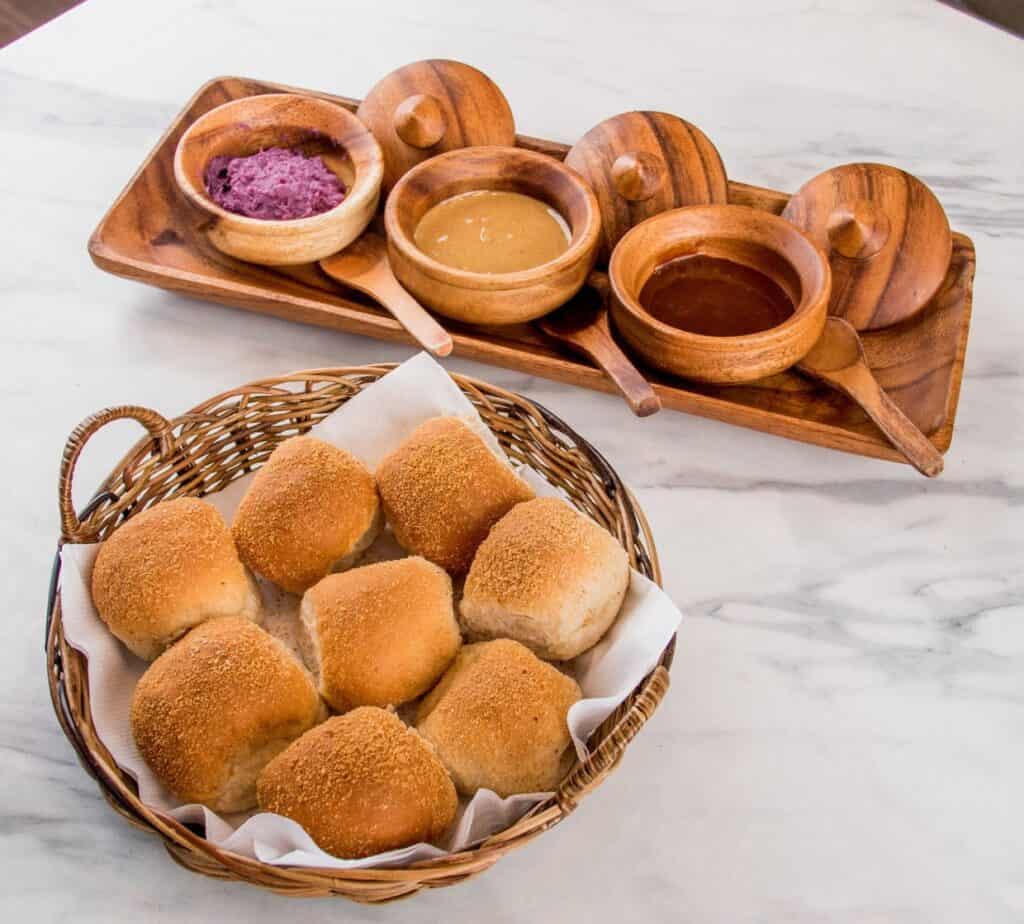 Ensaymada
Another one of the customers' favorites at Pan de Manila, is Ensaymada, a Filipino sweet bread that is renowned for its softness and scroll-like appearance. People in the Philippines frequently enjoy ensaymada, which are pastries that are covered in butter and dunked in sugar.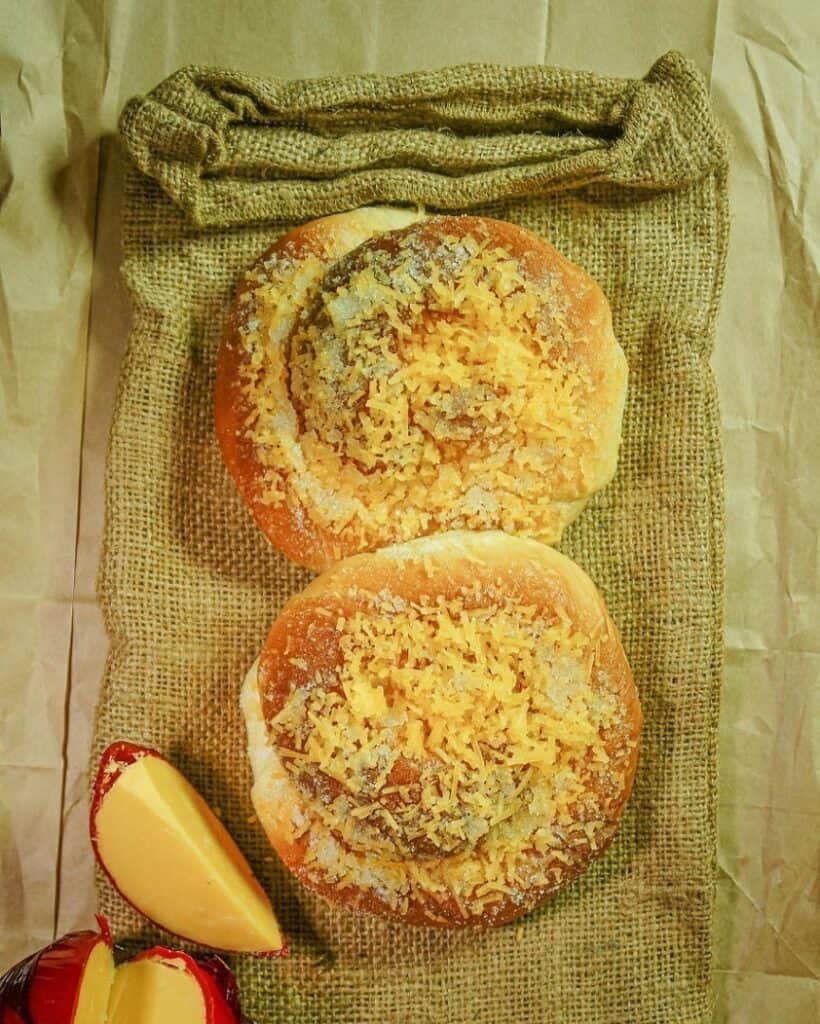 Pan de Coco
Slightly underrated and overlooked, pan de coco is a very ideal choice as a snack or dessert because of its soft, fluffy texture and wonderfully sweetened coconut filling. This Pan de Manila menu bread is a family favorite of many Filipinos and tastes great when paired with coffee, tea, or milk.
Banana Loaf
The most popular bread when it comes to kids' choices is this type of cake that is made from mashed bananas. A moist banana loaf that is served warm with Pan de Manila's special spreads is very delectable. Although it is high in sugar and calories, it is a good source of vitamins and minerals.
Pandesal with Palaman
The Pan de Manila menu features its delicious pandesal, which is filled with satisfying ingredients that will leave you craving for more and feeling fully satisfied.
Grilled Luncheon Meat with Egg
Grilled luncheon meat with egg is made by dipping luncheon meat slices in beaten egg, frying them in a pan with heated oil until slightly crispy, and then sandwiching them in between the fluffy pandesal. Enjoy the tasty and juicy luncheon meat with the fluffy and aromatic Pan de Manila's pandesal.
Tuna Sandwich
Mayonnaise, tuna, and bread are the main components that go into making a tuna sandwich. Depending on the customer's choice, they can add components like pickles, relish, onions, or Pan de Manila's special spreads.
Grilled Ham and Cheese
This would make the perfect breakfast or lunch. Pan de Manila's grilled ham and cheese sandwich is made of buttery toasted bread with smoky and salty ham and a melty cheese sandwich inside their soft and tasty pandesal. The ham and cheese flavors blend really well, creating a unique but very delicious taste.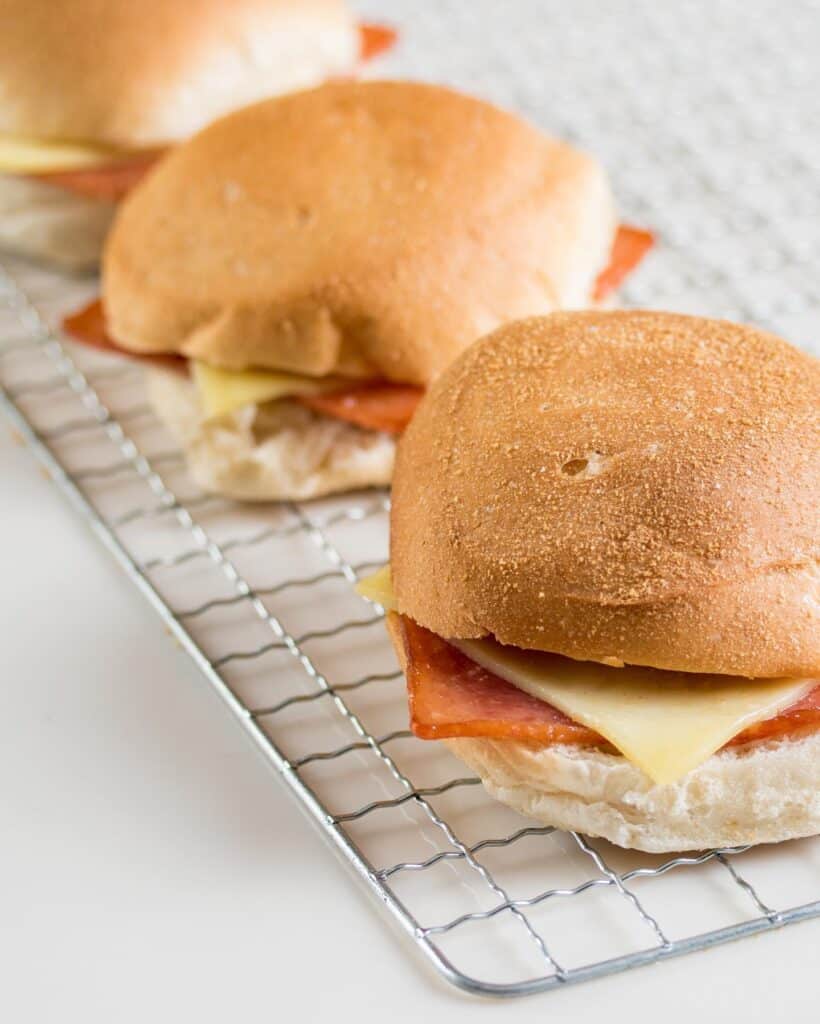 Pandesal
Pandesal is without a doubt the face of the Pan de Manila franchise. It is their most popular and best-selling Pan de Manila menu. Their pandesal comes in two sizes, big and small. Although they have two varieties of pandesal, their tastes don't differ that much. Both are soft, have a chewy texture with a slightly crunchy crust, and have a sweet aroma that goes well with coffee and milk.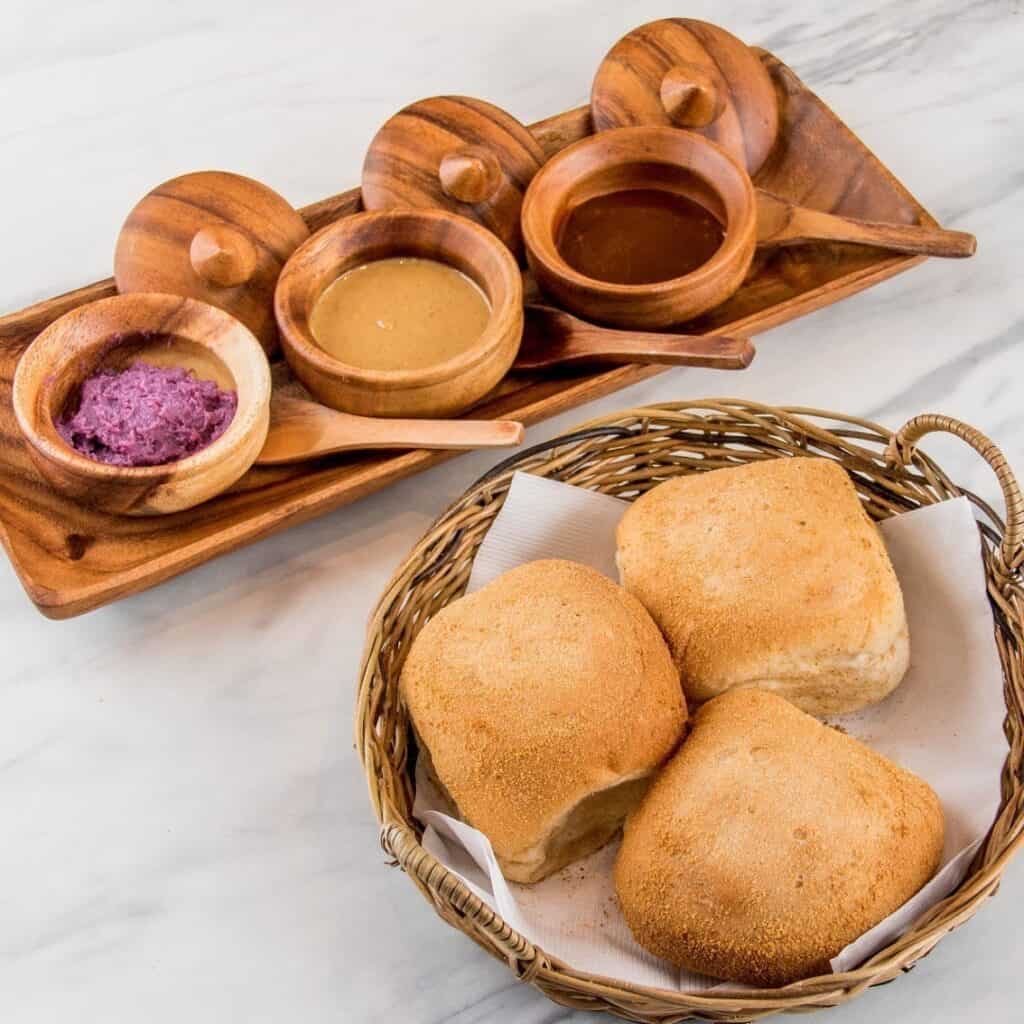 Special Spreads
Pan de Manila spreads, although not at the same level of popularity as their bread, are very popular in their own right. They are homemade spreads that really blend well with their bread and create a very delicious harmony of flavors. Unlike popular spread brands, Pan de Manila's are very affordable and have the same, if not better taste.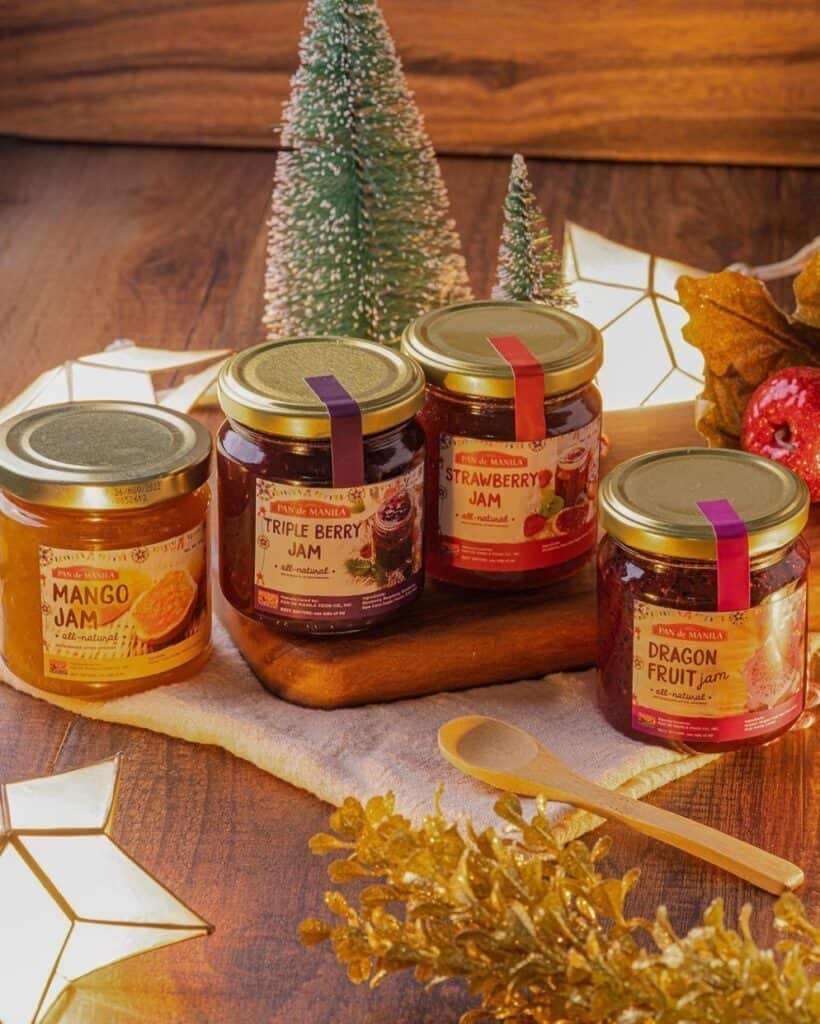 Breads
They serve a lot of different varieties of bread, such as pandesal, which is their most famous product. They also serve classic bread that Filipinos love, like ensaymada, pan de coco, banana bread, and more. They produce soft, fluffy, and tasty bread that really gives you your money's worth. Just passing by one of Pan de Manila's branches would make you want to buy one of their bread because of the bread's aroma.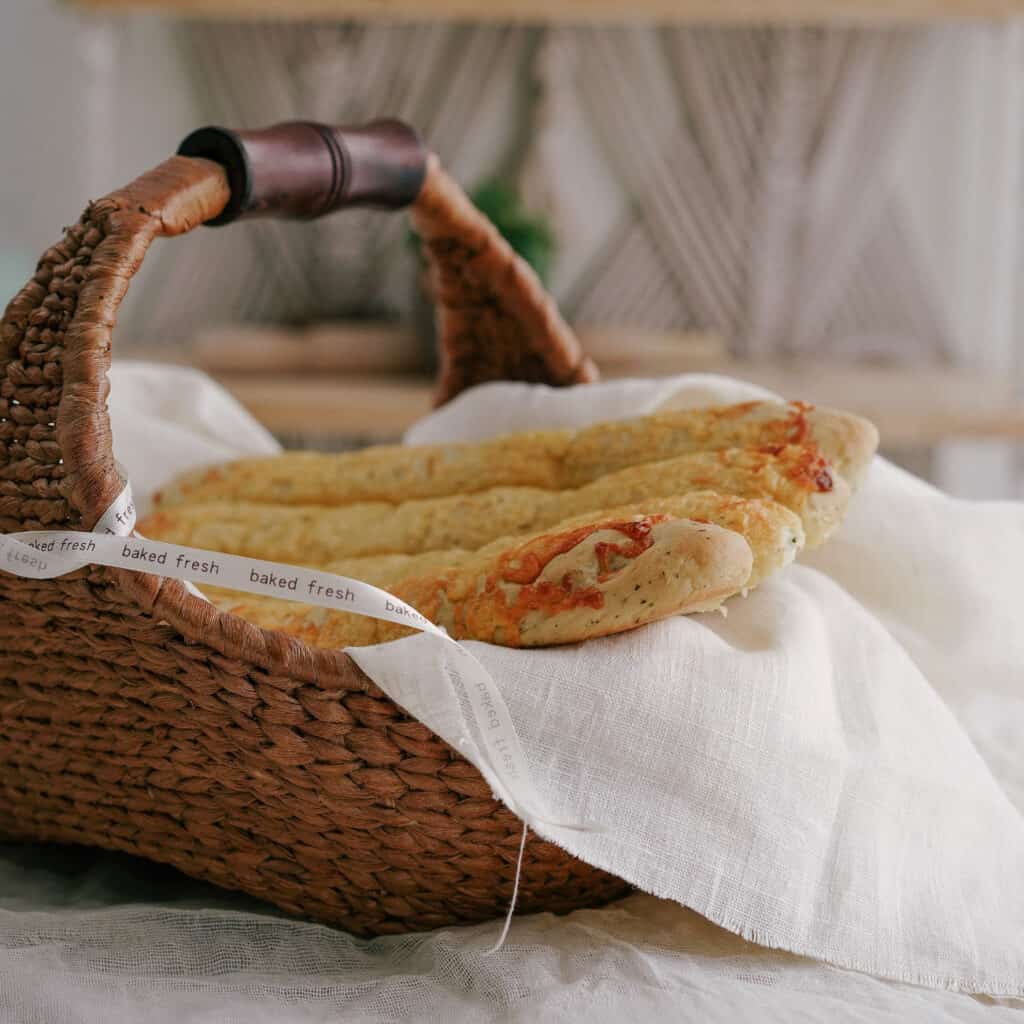 Pan de Manila Menu Delivery
Pan de Manila now provides delivery to all of its regular customers. Download the FoodPanda, Pickaroo, GrabFood, Lazada, or Shopee applications and search for the Pan de Manila store. Once you've found their store, browse their menu and order the food that you are craving.
Social Media Pages
For more information about Pan de Manila menu delivery and products, visit their official website or send a message to one of their social media pages. Links are provided below.
Facebook: https://facebook.com/PandeManilaOfficial/
Instagram: https://www.instagram.com/pandemanilaofficial/
Twitter: https://twitter.com/pandemanila
Website: https://www.pandemanila.com.ph/
Conclusion
Pan de Manila's menu consists of freshly baked, large portions of bread that definitely give you your money's worth. Especially their pandesal, which is perfectly soft; the taste even multiplies with the palaman that they offer. Aside from their pandesal and loaf bread, their cheese sticks and other special bread are also a must-try. Once you've tried all of Pan de Manila's bread, you will notice that you always find yourself going back to their store.