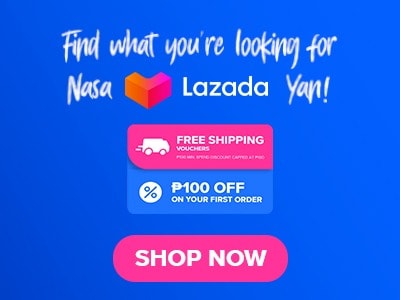 Tagaytay is one of the best places in the Philippines to visit as it has a lot of attractions and a good climate. One of the dining places you should try when you visit Tagaytay is the Papa Bolo, serving cuisines inspired by different cultures. The delicious food selections on its menu and the cozy ambiance of this restaurant will give you an awesome dining experience.
Below, you'll find the updated list of Papa Bolo menu prices.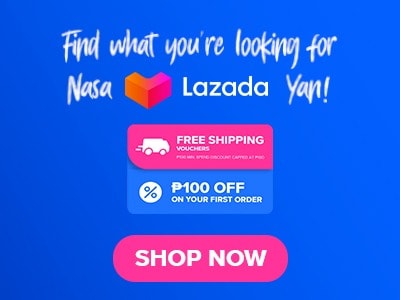 Menu Items
Price (PHP)

Beer

Bad Pony
229
Barkada Bliss
229
Cowboy Classic
229
Fruity Booty
229
Piña Niña
229
Twin Suns
229

Starters

Bacon Poutine
329
Caesar Salad
299
Caprese Salad
249
Chicken Wings
299
New England Chowder
179
Onion Soup
149

Classics

Goto Bulalo
989
Sisig
299
Tanigue
349

Platters

Meat Platter
819
Seafood Platter
719
Streetfood Platter
379

Group Meals

Barkada Brunch (Goto Bulalo, Sisig, Kangkong, Seafood Platter, and Jasmine Rice for 6)
1899
Family Feast (Goto Bulalo, Pata, Leaf Sliders, Mussels, and Jasmine Rice for 8)
2499
Fiesta Fare (Goto Bulalo, Pata, Leaf Sliders, Meat Platter, and Jasmine Rice for 8)
2699

Mains

Baked Mussels
459
Chicken Lollipop
439
Leaf Bowls
259
Mushroom Pizza
449
Nachos
279
Pata
899
Pork Bao
149
Softshell Crab
329
Steak Frites
599
Takoyaki Kernels
299
Wagyu Skewers
349

Sides

Bar Nuts
49
Buttered Corn
49
Classic Fries
129
Jasmine Rice
49

Dessert

Mango Puffs
149
Pavlova
199
Pineapple Tart
189
Taal
259
Trinity Ice Cream
219
Tsokmate Beeramisu
279

Beverage

Hot Tea
69
Lemonade
99
Orange Juice
69
Soda
59
Soda Water
59
Milkshake (Vanilla Oreo)
149
Americano
119
Café Latte
119
Cappuccino
119
Espresso
119

(Super)Natural Wines

Judith Beck Blaufrankisch
3500
Judith Beck Weissburgunder
3500
Milan Nestarec Danger 380 Volts 2020
3800
About Papa Bolo
Papa Bolo is known for its craft beer and great food and was established to empower the community. They started thinking of making pineapple beer, and this dream grew and motivated them to use the local produce to create special dishes. Its name is inspired by the folklore where Tagaytay gets its name. The "Papa" comes from the word father and "Bolo," which means knife.
Papa Bolo Menu Best Seller
Here are some of the best sellers of Papa Bolo you should try when you visit this restaurant, as they will surely satisfy your cravings and give you a great and memorable dining and travel experience.
Pata Bolo – It is the special take on Papa Bolo in a classic pata dish, where the huge chunk of pork is deep-fried until it achieves its ideal taste and crispy texture. The tamarind, garlic, and herbs are the special ingredients that give this dish a distinctive taste and finger-licking goodness. A special sauce is paired with it to boost its flavor and excite every bite.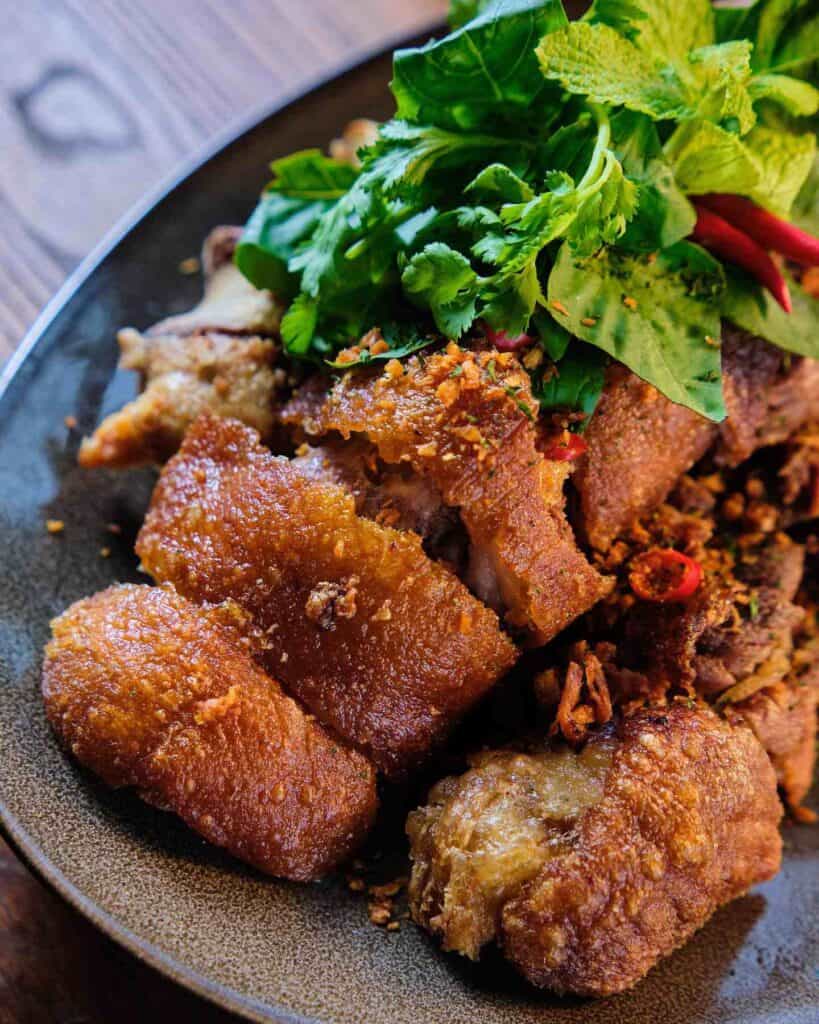 Meat Platter – The favorite platter of its patrons as it consists of several types of meat perfect for kids, teens, and adults. It comprises Cumberland, Frankfurter, pork belly, grilled corn, and fries. Honey mustard and Magic dip are the two sauces served with it, captivating the taste buds.
Mushroom Pizza – From its puff pastry to its flavorsome sauces and toppings, the mushroom pizza menu of Papa Bolo will surely make you crave more. It is topped with basil pesto, mushroom, cheese, special sauce, and other special ingredients and drizzled with balsamic vinaigrette. 
Seafood Platter – Dive into the scrumptious and enjoyable flavors of the ocean with this platter, perfect for seafood lovers. It comes with different kinds of seafood, such as pulpo, softshell crab, and white fish covered with special batter and fried until crispy and golden brown. This meal also comes with all-time favorite fries and two special sauces crafted by the restaurant.
Taal Dessert – Tagaytay is one of the places where you can get a spectacular view of Taal Volcano, which is why this restaurant created a special dessert inspired by this scenery. It is made with a delicious combination of raspberry jam, meringue, and sweet pea sponge. Its presentation looks like a Taal Volcano, and you will surely enjoy its explosion of flavors.
Papa Bolo Menu Starters 
A great dining experience starts with a light and delicious meal that whets your appetite and gives you a happy mood. The starters of Papa Bolo consist of salad, chowder, fries, soup, and wings that are savory and pleasing to the senses.
Bacon Poutine – Most people love fries, as they increase our dopamine levels, making us feel good; that is why restaurants commonly serve them. The fries served by this restaurant are different from the ordinary ones, as it is garnished generously with cheese, bacon, and brown gravy.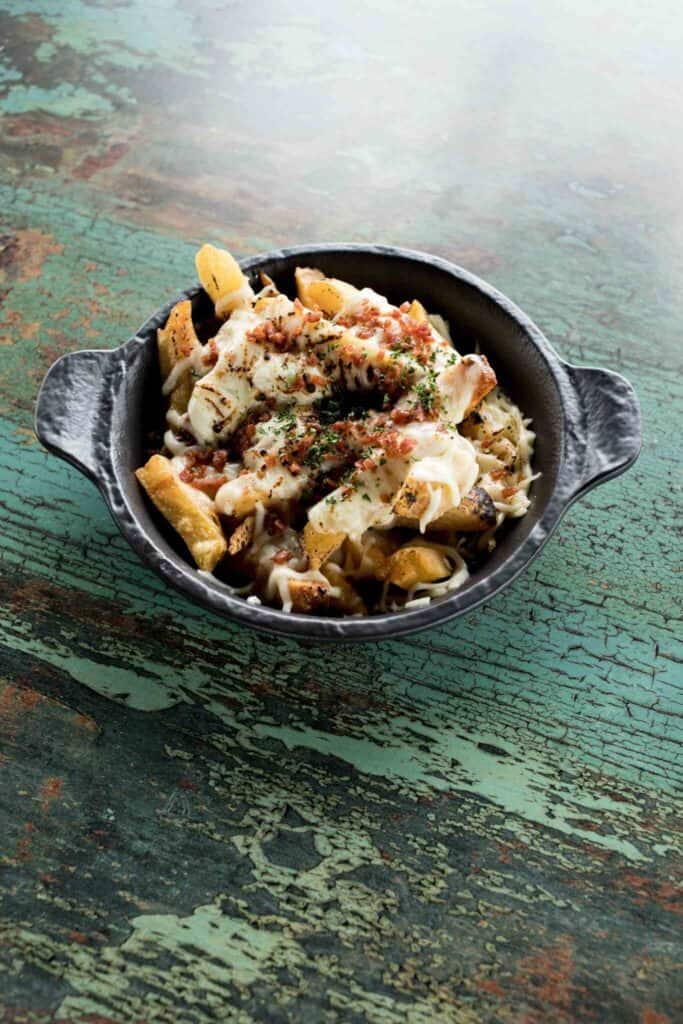 Chicken Wings – The crunchy chicken wings are flavored with honey butter and garnished with special herbs, satisfying each bite. It comes with aioli sauce that adds a depth of flavor that matches perfectly with the texture of the chicken and honey butter flavor.
New England Chowder – A heartwarming, creamy, and flavorful clam chowder with bacon bits, herbs, and special ingredients. It is served in a freshly baked bread bowl with a thick texture and a perfect balance of softness and crunchiness.
Classic
The classic Filipino dishes served from the Papa Bolo menu consist of all-time favorite Filipino cuisines familiar to our taste. These cuisines are commonly served in Filipino homes and restaurants and are the specialty of Tagaytay. 
Goto Bulalo – Bulalo is one of the foods people seek when visiting Tagaytay, as it is one of their specialties. The Goto Bulalo of this restaurant has a genuine and distinctive taste because it is prepared using the cooking methods of Tagaytay and Batangas. It features beef from Tagaytay and other special ingredients, resulting in soul-soothing cuisine.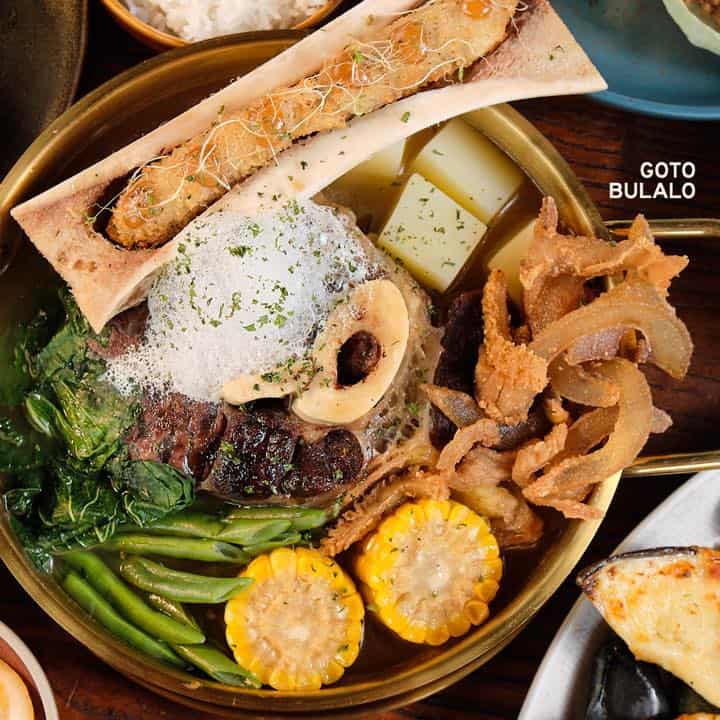 Sisig – Every Filipino knows sisig, as its unique and appetizing taste and aroma that impresses the palate. The sisig of Papa Bolo consists of pork parts cooked in flavorful spices and topped with egg yolk and special aromatics and ingredients.
Tanigue – It is a gratifying seafood dish prepared by steaming the fish and glazing it with citrus, giving it a soft texture and delicious taste. The ginger and mint flavor of this tanigue make it mouthwatering and enticing.
Mains
The main dishes offered by Papa Bolo consist of meats, seafood, and vegetables. These cuisines have a creative presentation and appetizing goodness that will give you a meal you will surely enjoy.
Pork Bao – The cuapao is stuffed with pork, sweet soy, cilantro, and bok choy. Its bun has a soft texture, glossy and soft appearance, and golden-brown color. This Papa Bolo menu is an ideal meal for those who want a nutritious and delicious dish, as it is made with flavorful and healthy ingredients. 
Softshell Crab – It is a delicious seafood cuisine with softshell crab seasoned with spices and fried to ideal crispiness. The pineapple curry slathered on it, and the house blend of herbs on its side adds a hearty flavor and gives an appealing presentation.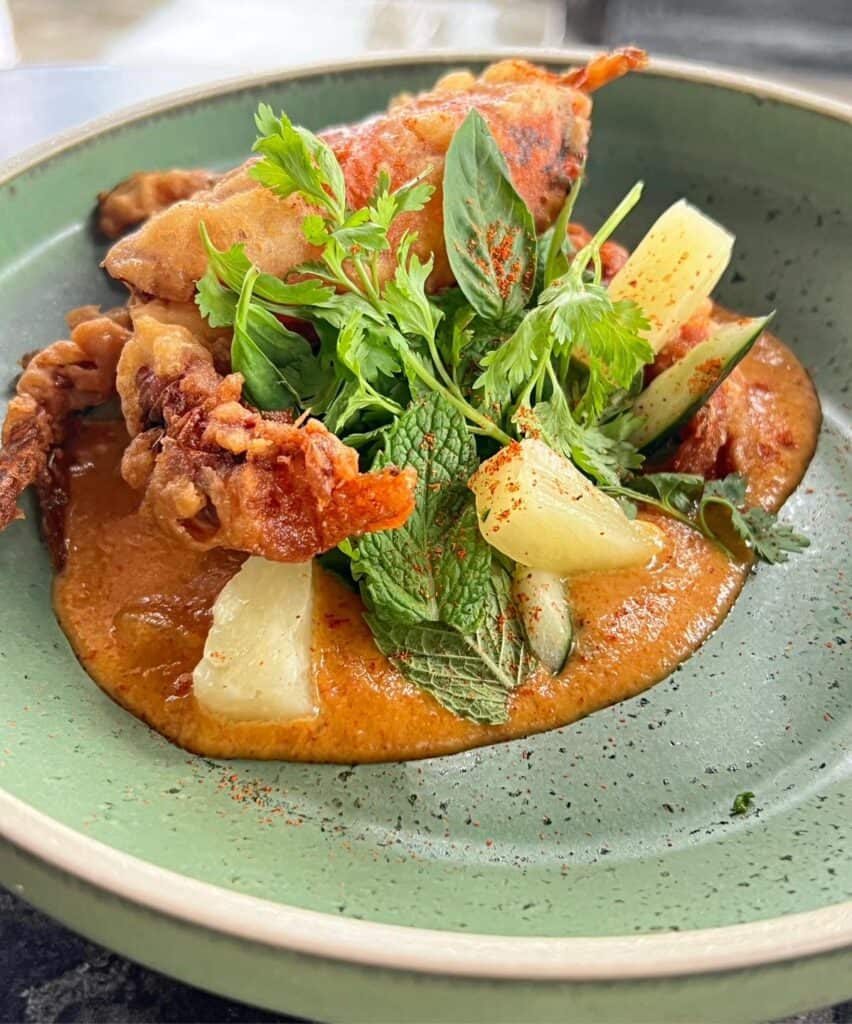 Leaf Bowls – Leaf bowl is an excellent choice for those who want a wholesome dish or are health-conscious. The string beans, plant-based meat, and peanut sauce are mixed together and served in a fresh cabbage cup.
Group Meals
Food tastes better, and meals become more memorable when you share your favorite food with those you love. So, if you are dining with your family or friends, the group meals menu of Papa Bolo is an excellent option. 
Treat your family and spend your special day with them with the Family Feast offered by this restaurant. It consists of all-time favorite Filipino favorite meals ideal for all ages, such as Goto Bulalo, Leaf Sliders, Pata, Mussels, and Jasmine Rice for eight people.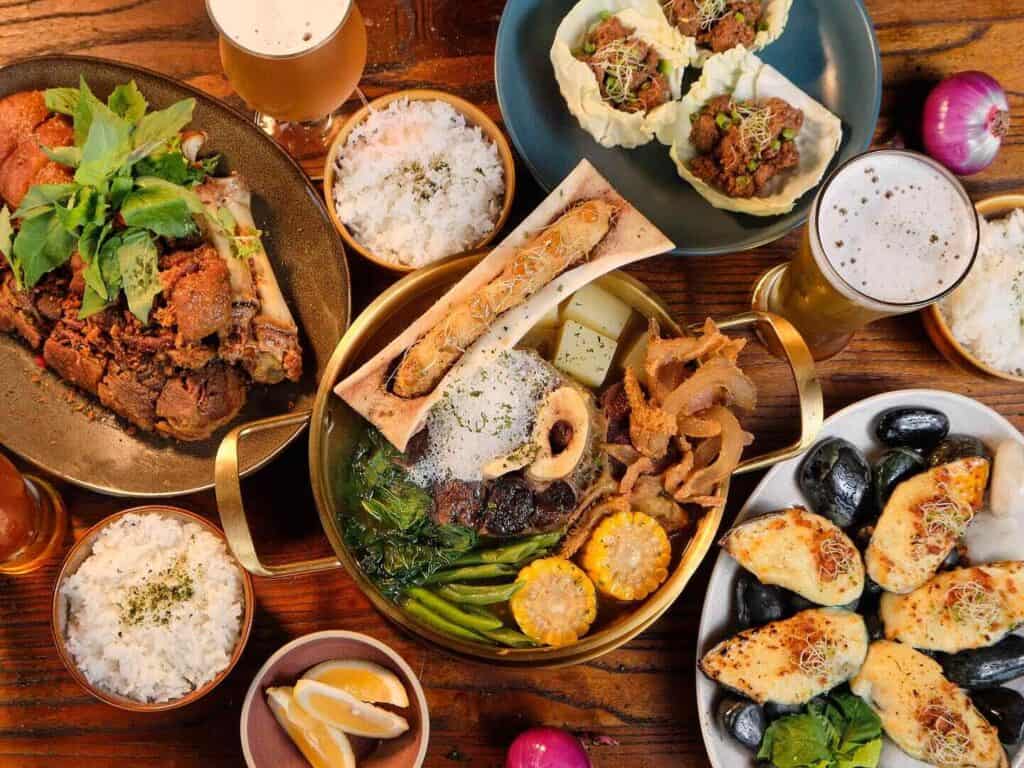 Hang out with your barkada and enjoy the Barkada Brunch of Papa Bolo, which comprises comforting Goto Bulalo, popular sisig, healthy kangkong, scrumptious seafood platter, and jasmine rice serving six people.
Eat like you are in a festival with the Fiesta Fare set, which includes Jasmine Rice, Meat Platter, Leaf Sliders, Pata, and Goto Bulalo. It is ideal for eight people and will surely impress everyone with its satisfying taste.
Dessert
Papa Bolo offers delicious dessert to finish your meal with a sweet note. It serves Taal Volcano-inspired sweet treats, pineapple tart, mango puffs, and pavlova. If you want a luscious and luxurious treat, it provides Tsokmate Beeramisu with the restaurant's tsokmate and barkada bliss brews. There is also a Trinity Ice Cream and their version of crème brûlée inspired by Filipino halo-halo.
Papa Bolo Menu Delivery
Papa Bolo does not offer a delivery service yet, so if you want to try their meal, do not forget to visit this restaurant when you visit Tagaytay.
Social Media Pages
Papa Bolo regularly posts on their social media pages, including mouth-watering food photos, promotions, and events. By engaging with their posts, such as liking, commenting, and sharing, you can help increase their reach and engagement.
Facebook: https://www.facebook.com/papabolobeer
Instagram: https://www.instagram.com/papabolobeer
TikTok: https://www.tiktok.com/@papabolobeer
Website: https://www.papabolo.com/contact
FAQs
Is Papa Bolo an ideal place to work or study?
Yes, Papa Bolo is an ideal place to work or study, as they provide Wi-Fi and sockets.
What activities can I enjoy at Papa Bolo?
The activities you can enjoy at Papa Bolo are Beer Pong, Arcade, Family Meals, and much more.
Is reservation required at Papa Bolo?
Reservation is not required at Papa Bolo, as walk-ins are always welcome; however, for large groups, reservation is recommended.
Does Papa Bolo offer special or limited-time promos?
Yes, Papa Bolo offers special or limited-time promos, where you can enjoy discounts and freebies.
Are pets allowed in Papa Bolo?
Yes, pets are allowed in Papa Bolo, and they can stay at the rooftop, a special place allocated for them. They are not allowed inside the restaurant due to health and safety protocols.
Conclusion
The fantastic selection of food and beer on Papa Bolo's menu makes the dining experience and bonding with your loved ones more fun and special. Its guests love its nice architectural design, making it perfect for photography. This restaurant offers a lot of activities that will surely give you an adventure filled with sweet memories, joy, and laughter.