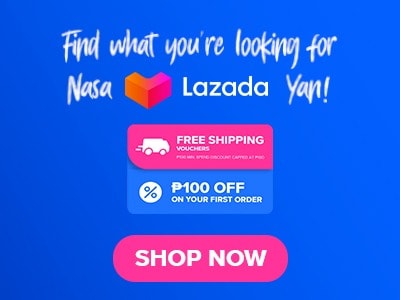 There are a lot of local establishments that offer kakanin and Filipino merienda, however have you ever wondered where to get the best Filipino kakanin and merienda? I have something in mind that I am thinking is a great recommendation for you. Why not try Susie's Cuisine? Have you heard about them? Susie's Cuisine menu has a lot of Filipino merienda to offer and they are quite popular already and becomes a household name. Let's get to know Susie's Cuisine more, let's see the Filipino favorites that they offer, their best sellers, and of course the price that they offer on their products. Let's go!
Below, you'll find the updated list of Susie's Cuisine menu prices.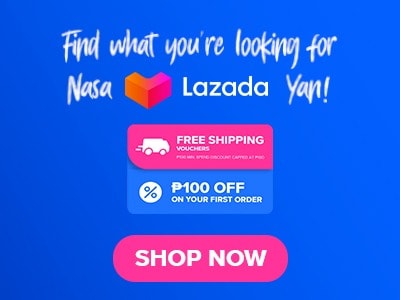 Menu Items
Price (PHP)

Kakanin

Rice cake 1/4
75
Rice cake half box
150
Rice cake box
280
Ricecake W/ Macapuno Box
315
Cassava cake box
280
Tibok tibok 1/4
185
Tibok tibok sml bilao
635
Tibok tibok big bilao
955
Kalame bico 1/4
105
Ube lacatan 1/4
160
Ale ube 1/4
190
Ale ube sml bilao
870
Sapin sapin 1/4
150
Sapin sapin half box
300
Sapin sapin sml bilao
585
Leche Flan Sml Bilao
710
Leche Flan Mini Plain
225
Four Season Sml Bilao
480
Kalame Ube 1/4
200
Nilupac 1/4
105
Moche 5 Pieces
60
Moche 10 Pieces
115
Moche 20 Pieces
220
Moche 40 Pieces
440
Moche 50 Pieces
565
Moche 100 Pieces
1035
Cassava Cake W/ Macapuno Box
315
Kapit 1/4
145
Extra Latik
119
Leche Flan Llanera Mac
125
Cassava Cake Half
150
Kapit Kalabasa 1/4
65
Kapit Kalame Trio
590
3 in 1 kalame
485
Ube All in Trio
570
Tibok - Tibok All in Trio
795
4 in 1 Kakanin Bilao
545
Kalame Bico Big Bilao
855
Nilupac Big Bilao
855
Leche Flan W/ Mac Sml Bilao
575
Premium Leche Flan Pizza Cut
125
Ricecake Slice
30
Ricecake Sml Bilao
415
Ricecake Big Bilao
520
Ricecake W/ Macapuno SmI Bilao
590
Cassava Cake Slice
30
Cassava Cake 1/4
75
Cassava Cake Sm Bilao
415
Cassava Cake Big Bilao
520
Tibok-Tibok Slice
35
Tibok Coconut Slice
30
Tibok Coconut 1/4
115
Tibok Coconut Sml Bilao
460
Tibok Coconut Big Bilao
690
Tibok W/ Corn Slice
45
Tibok W/ Corn 1/4
190
Tibok W/ Corn Half Box
605
Tibok W/ Corn Sml Bilao
690
Tibok W/ Corn Big Bilao
980
Kalame Duman Slice
35
Kalame Duman 1/4
130
Kalame Duman Half Box
355
Kalame Duman Sml Bilao
680
Kalame Duman Big Bilao
1025
Kalame Bico Slice
30
Kalame Bico Half Box
295
Kalame Bico Sml Bilao
565
Kalame Big Bilao
485
Kalame Kopis Slice
35
Kalame Kopis 1/4
115
Kalame Kopis Half Box
315
Kalame Kopis Sml Bilao
575
Kalame Kopis Big Bilao
855
Ube Lacatan Big Bilao
840
Ale Ube Slice
55
Ale Ube Big Bilao
1250
Sapin-Sapin Slice
30
Leche Flan 1/4
180
Leche Flan W/ Mac SmI Bilao
575
Kapit Kalabasa Slice
20
Kapit Kalabasa Half Box
165
Kapit Kalabasa Sml Bilao
290
Ale Gabi Slice
35
Ale Gabi 1/4
160
Ale Gabi Half Box
370
Ale Gabi Sml Bilao
690
Premium Assorted Sml Bilao
565
Kalame Ube Slice
50
Kalame Ube Sml Bilao
790
Kalame Ube Big Bilao
1135
Nilupac Slice
30
Nilupac Half Box
295
Nilupac Sml Bilao
565
Premium Leche Flan Sml Bilao
855
Kapit Half Box
275
Kapit SmI Bilao
395
Ube Ricecake
490
Ale Ube with Macapuno Styro Box
200
Ale Ube with Macapuno SmI Bilao
690
Ale Ube with Macapuno Big Bilao
1035
Duman Sta Rita Bilao By Order
4025

Cakes

Moist Cake Sml
200
Moist Cake Med
375
Oreo Cake Sml Whole
315
Moist Cupcake
275
Mamon cheese cake
175
Black Forest Classic Sml Whole
345
Black Forest Classic Big Whole
1035
Caramelcake Sml Whole
230
Caramel Cake Big Whole
575
Carrot Cake Sml Whole
405
Carrot Cake Big Whole
1095
Coffee Walnut Sml Whole
290
Coffee Walnut Big Whole
805
Halaya Ube SmI Whole
345
Halaya Ube Big Whole
1035
Oreo Cake Big Whole
805
Red Velvet Sml Whole
345
Red Velvet Big Whole
1035
Swiss Cake Sml Whole
345
Swiss Cake Big Whole
805
Dreamcake Whole
290
Lemon Vanilla Chiffon Dedication cake
865
Chocolate Chiffon Dedication Cake
865

Rice meals

Plain Rice
30
Sizzling Pork Sisig
225
Native Longanisa with Rice & Egg
110
Siomai with Rice
115
Tocino with Rice & Egg
105
Embutido with Rice
160
Porksteak with Rice
175
Chicken Tocino with Rice & Egg
115
Dinuguan with Rice
205
Tapa with Rice & Egg
130
Spam with Rice & Egg
170
Daing with Rice
140
Relyeno with Rice
195
Breaded Porkchop W/ Rice
170
Breaded Chicken w/ Rice
110
Hard Boiled Egg
20
Fried Egg
25

Pancit

Chicken Sotanghon with Miki Big Bilao
860
Chicken Canton Big Bilao
935
Chicken Guisado Big Bilao
890
Palabok Solo
140
Palabok Sml
795
Palabok Big
1130
Malabon Solo
145
Malabon Sml
850
Malabon Big
1150
Guisado Solo
130
Guisado Sml
130
Guisado Big
665
Sotanghon W/ Miki Solo
890
Sotanghon W/ Miki Sml
125
Sotanghon W/ Miki Big
645
Canton Solo
860
Canton Sml
125
Canton Big
645
Bihon Canton Sml
640
Bihon Canton Big
930
Extra Palabok Sauce
60

Pasta

Baked Lasagna Solo
150
Baked Lasagna Sml
805
Baked Lasagna Big
1300
Baked Macaroni Solo
145
Baked Macaroni Sml
835
Baked Macaroni Big
1255
Carbonara Solo
100
Carbonara Sml
675
Carbonara Big
1165
Baked Spaghetti Solo
160
Baked Spaghetti Sml
920
Baked Spaghetti Big
1405
Italian Spaghetti Solo
135
Italian Spaghetti Sml
820
Italian Spaghetti Big
1210
Tropical Solo
140
Tropical Big
1245
Japchae Solo
160
Japchae Sml
1080
Japchae Big
1855
Macaroni Solo
115
Macaroni Sml
680
Macaroni Big
1140
Filipino Spaghetti Solo
135
Filipino Spaghetti Sml
820
Filipino Spaghetti Big
1210

Bread

Cheese Cake Round Sml
190
Cheese Cake Round Big
295
Cheese Cake Slice
60
Oh My Mamon Jar
215
Mini Toasted Mamon
140
Cheddar Cheese Ensai
200
Dulce De Leche Ensai
260
Banana Slice
40
Banana Loaf
115
Ensaymada X6
325
About Susie's Cuisine
In the year 1972 Susie's Cuisine is founded by Anicia Ayson through her friends and family's motivations that is fond of her cooking. She started a small business in Angeles City inside Nepo Mart. Susie's cuisines name comes from the founder's eldest daughter. The food on their menu consists of pancit luglug or Palabok with rice delicacies. The best place to satisfy your cravings especially when you are in Pampanga is to go to Susie's Cuisine this place is already a household name especially when it comes to Kakanin. Kakanin is a part of Filipino culture, this is usually rice cakes or desserts using glutinous rice and other ingredients like coconut milk, and that's what Susie's Cuisine specializes in. As of Today, Susie's Cuisine is now managed by Jesusa Ayson Yabut, the founder's daughter, and her husband Glenn Yabut. Susie's Cuisine has 15 branches in Pampanga, Bataan, and Tarlac.
Susie's Cuisine Menu Best Seller
Here are samples of Susie's cuisine best sellers.
Malabon – This noodle dish is one of the most popular and favorite noodle dishes in the Philippines. Susie's cuisine's version of Malabon is really tasty and full of flavors that are bursting in your mouth with every bite. It is loaded with ingredients that made the sauce delicious plus the chicharron also adds more flavors to the already flavorful and delicious Malabon. It has a meaty sauce that is already combined with the noodles and they serve it with sliced eggs and chicharon flakes for great presentation. Great food if you're looking for something delicious and Filipino'ey.
Filipino Spaghetti – A typical Filipino spaghetti is sweet, unlike the original Italian spaghetti. This Susie's Cuisine version of Filipino spaghetti menu is sweet but not too much and it is meaty, saucy, and cheesy as well. The spaghetti noodles are perfectly cooked and not soggy the sauce taste really good this one is perfect for kids and adults. They serve this one with a lot of cheese on top and can be ordered solo, small and large. Filipino spaghetti of Susie's Cuisine is one of their best-selling products and is already quite popular with their customer.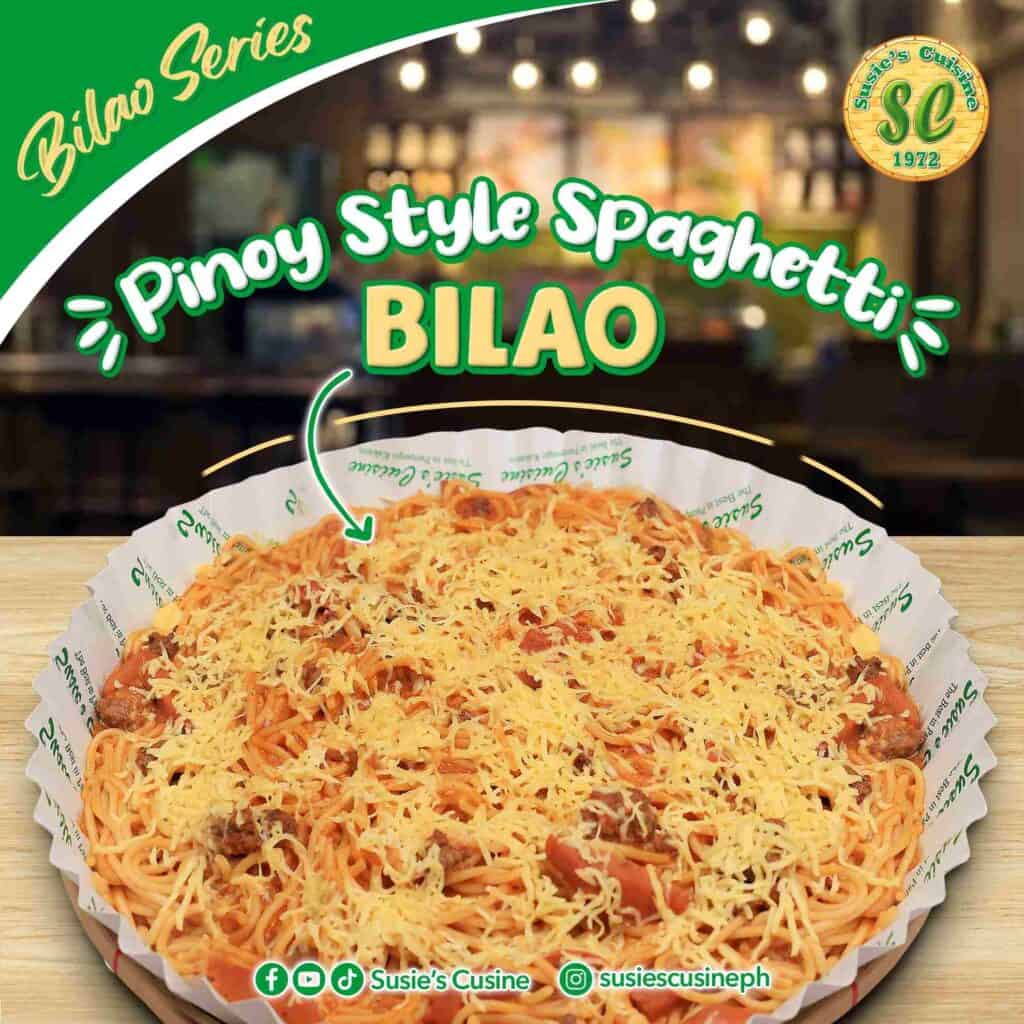 Sapin Sapin – One of the most famous and delicious desserts or kakanin in the Philippines is the sapin sapin. Susie's cuisines version of sapin sapin is also one of their top-selling items since sapin sapin is already known as delicious. Sapin Sapin which means layer is a sweet Filipino dessert that is made with different colors and flavors of rice cakes layering each other. Usually violet, yellow, and white the sapin sapin version of Susie's cuisine is served with latik on top making it more aromatic and flavorful.
Leche Flan – This one is basically every Filipino's favorite dessert. Susie's cuisines version of leche flan is really creamy, smooth, and has the right amount of sweetness. It doesn't have the eggy taste anymore since I noticed that they used vanilla extract to contrast the strong eggy flavor of their leche flan. Leche flan is usually made with egg yolks, condensed milk and a little bit of vanilla extract or calamansi zest. Their leche flan is a must-try item on their menu and is popular among their customers since this one is really good.
Susie's Cuisine Kakanin Menu
Susie's cuisine has a lot of delicious items on its kakanin menu. They have rice cake that you can buy in 1/4, half box, and rice cake boxes. They also have a rice cake with macapuno box. A Cassava cake box is also present on this menu. They also have tibok-tibok that you can order in 1/4, small bilao, and big bilao. Kalame bico 1/4, ube lacatan 1/4, ale ube 1/4, kalame ube 1/4, nilupac 1/4, kapit 1/4, kapit kalabasa 1/4 and sapin sapin 1/4 are the solo orders, these items usually have bigger versions for sharing.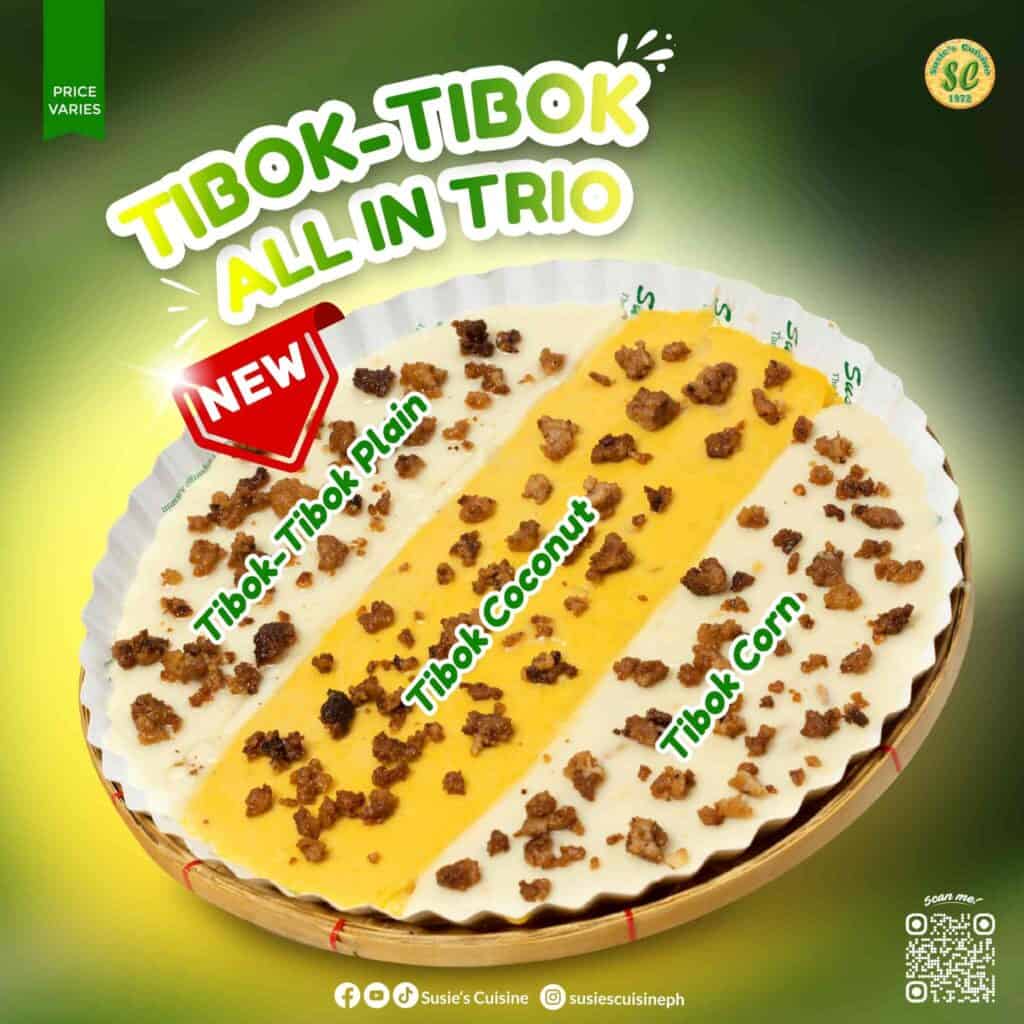 They also have four seasons bilao which is 4 kinds and colors of desserts in one bilao. Their mochi can also be bought in 5, 10, 20, 40, 50, and 100 pieces. Casava cake with macapuno and Casava cake plain are also on this menu. They also offer duman santa rita bilao by order. Premium Leche flan is also present in this menu and many other items that you will surely love.
Susie's Cuisine Menu Rice Meals
On their rice meals menu, they have 17 items that will surely satisfy your hunger. Sizzling pork sisig is one of the best items on this menu, they also have Native Longanisa with Rice & Egg. If you want something easy why not try their siomai with rice, they also have tocino with rice and egg, embutido with rice, and pork steak with rice. If you want something sweet their chicken tocino with rice and egg is a great choice.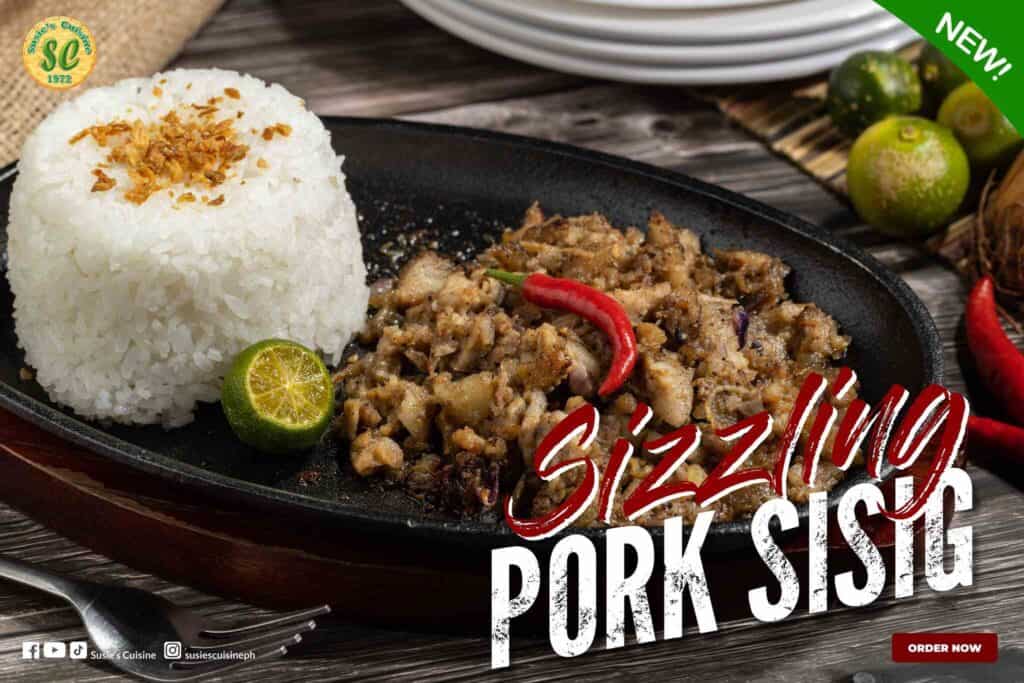 They also have dinuguan with rice. Tapa with rice and egg, spam with rice and egg, daing with rice and egg, relyeno with rice and egg, and other options while breaded porkchop with rice and breaded chicken with rice are the fried options. In this menu, you can also find add-ons like plain rice, hard-boiled egg, and fried egg.
Pancit
Susie's cuisine offers different varieties of pancit menu. They have Chicken Sotanghon with Miki Big Bilao, Chicken Canton Big Bilao and Chicken Guisado Big Bilao. They also have palabok solo, small and big. Malabon is also available on this menu where you can order solo, small, and big as well. Guisado solo, small and big, and sotanghon with miki solo, small and big are also great choices if you can't decide what to order. They also have canton solo, small and big, and lastly their bihon canton solo, small or big.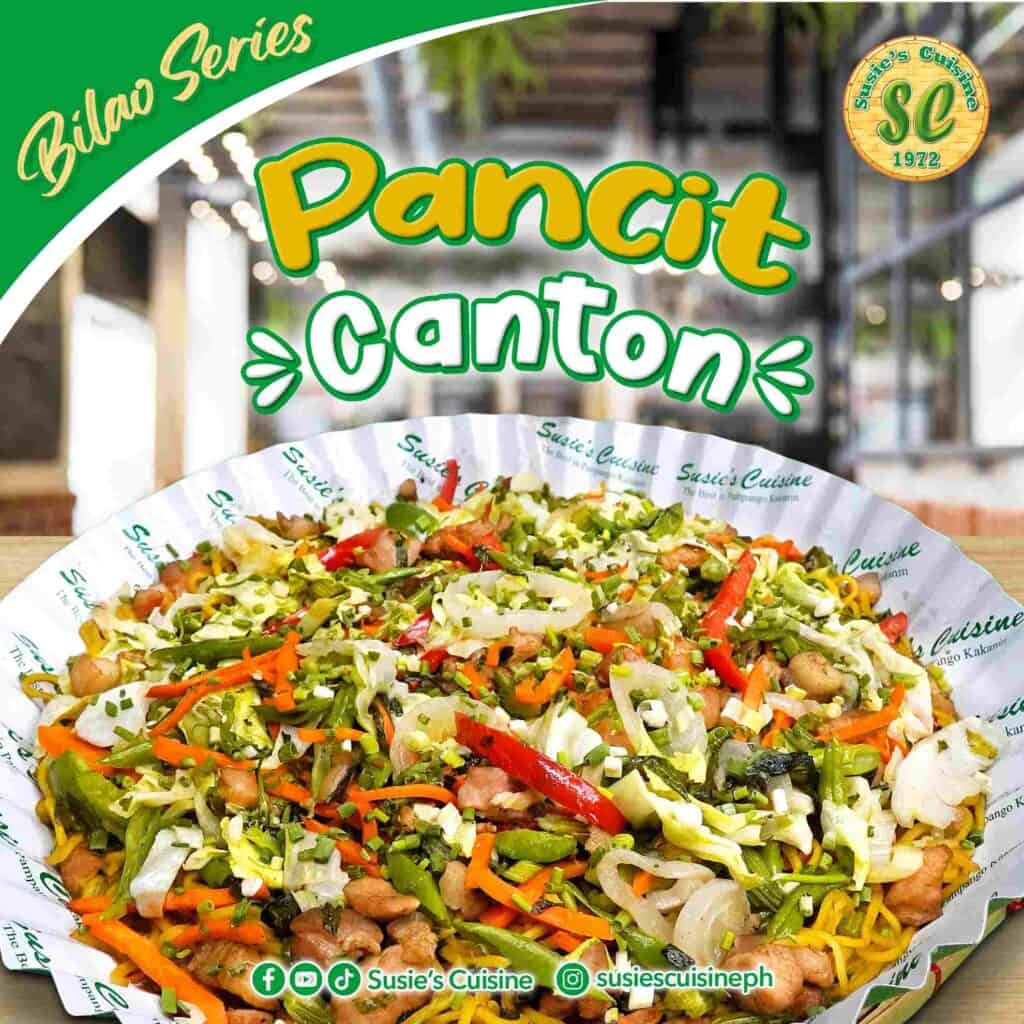 Susie's Cuisine Menu Delivery
You have the convenience of ordering your preferred Susie cuisine food items through various food delivery services like Foodpanda, Grab, Lalamove, and other platforms that operate in your locality. Enjoy the ease of browsing the menu and selecting your favorite dishes, as they will be promptly delivered to your doorstep with just a few simple taps. Embrace the convenience and savor the flavors of Susie cuisine without leaving the comfort of your home, thanks to the wide availability of reliable food delivery services.
Social Media Pages
Discover their special offerings for festive occasions and celebrations, and be the first to know about the limited-time treats and seasonal favorites. Engage with their posts, share your favorite dishes, and tag us in your food adventures to be featured on our page. So, follow Susie's Cuisine, savor the flavors, and let them take you on a culinary journey that celebrates the vibrant tastes of the Philippines.
Facebook: https://www.facebook.com/susiescuisineofficial/
Instagram: https://www.instagram.com/susiescuisineph/
Twitter: https://twitter.com/susiescuisineph
TikTok: https://www.tiktok.com/@susiescuisine
Youtube: https://www.youtube.com/@susiescuisine
FAQs
Where is Susie's Cuisine located in the Philippines?
Susie's Cuisine is located in the upper part of Luzon. You can find their stores in Pampanga, Bataan, and Tarlac.
What are the must-try dishes at Susie's Cuisine?
Their best-selling items that you should try are biringhe, tibok tibok, Pancit Luglug, and different versions of kakanin.
Can I buy pasalubong (gifts/souvenirs) at Susie's Cuisine?
Yes, Susie's also offer pasalubong boxes making Susie's cuisine a perfect stop if you want to bring something good to your family back home after exploring the north.
Conclusion
One of the best places to go especially if you are craving something Filipino'ey and delicious. Susie's Cuisine menu has a lot of different options, especially on their kakanin and meryendas. The place is a great place we actually had fun in one of their branches in Tarlac. The food is great and their crews are nice, I cannot complain about anything because everything is actually good. The prices of the food that they offer are reasonable and the quality of the food is just fantastic, really worth every cent.