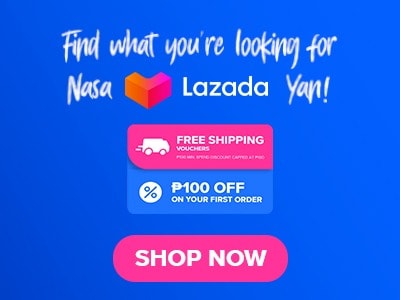 Wildflour Cafe's menu is characterized by its mix of international and local flavors, combined with a commitment to using high-quality ingredients. The cafe takes pride in creating dishes from scratch, ensuring that each item is made with care and attention to detail. The menu at Wildflour Cafe offers a wide range of options that ranges from classic brunch favorites to hearty sandwiches, refreshing salads, and comforting pasta dishes. The cafe also features main courses that showcase various cuisines, such as American, Italian, and Asian-inspired dishes.
Below, you'll find the updated list of Wildflour Cafe menu prices.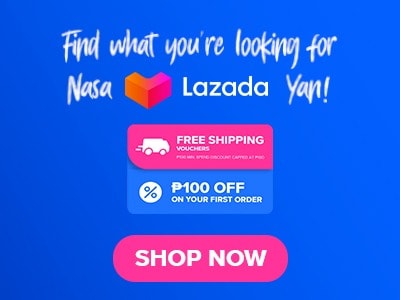 Menu Items
Price (PHP)

Assorted Pastry Boxes

Mystery Bread Bundle
475
Mystery Pastry Box
495

BLD (Breakfast, Lunch & Dinner) Meals And Bundles

BLD Bundle (For 2)
1265
BLD Bundle (For 3)
1870
Beef Tapa Meal
655
Burger Steak Meal
525
Dagupan Bangus Belly Meal
600
Tocino Meal
525
Skinless Longganisa Meal
525
Bacon Steak Meal
630
Longganisa Hamonado Meal
560
Danggit Meal
525
Dried Squid Meal
525
Lechon Manok Meal
570

Breakfast

Wildflour Breakfast - Bacon Steak
755
Chia Bowl
552
Mushroom Asparagus Omelette
679
Wildflour Breakfast - Sausage
685
Fruit Bowl
485
Egg Salad Tartine
715
Steak & Eggs
3680
Croque Madame
630
Fried Chicken and Waffles
863
Ham, Mushrooms and Eggs on Toast
620
Blueberry & Ricotta Pancakes
725
BLT Benedict
645
Granola & Yogurt
485

Appetizer

Chorizo & Gambas
1010
Korean Fried Chicken Wings
782
Roasted Bone Marrow
1145
Fried Calamari
780

Vegetables

Sweet Potato Fries
437
Broccoli & Cauliflower
550

Soup

Tomato Soup
437
Clam Chowder
431

Salad

Steak Salad
895
Baby Mixed Green Salad
490
Wild Mushroom Salad
679
Wildflour Chopped Salad
725
Roast Chicken Salad
725

Sandwich

Soup Salad Sandwich
667
Chicken Avocado Sandwich
725
Clubhouse Sandwich
725
Reuben Sandwich
799
Fried Chicken Sandwich
684
Tuna Melt
667
Philly Cheesesteak
684

Burgers

California Burger
748

Pasta

Lasagna Bolognese
736
Mac & Cheese
541
Cacio E Pepe
805
Squid Ink Pasta
875

Mains

Steak au Poivre
2243
Mussels & Fries
782
Chicken & Biscuits
874
Tasmanian Salmon
1185
Braised Beef
1144
Duck Adobo
1490
Wildflour Quiche
610

Rice Bowls

Kimchi Fried Rice
748
Adobo Fried Rice
725
Filipino Breakfast
685
Beef Tapa
720
Mushroom Bowl
725
Bacon Fried Rice
720
Steak Fried Rice
990

Cake Slices & Loaves

Carrot Cake Slice
414
Coconut Pie Slice
366
Bibingka Cheesecake Slice
420
Egg Pie Slice
246
Apple Pie Slice
354
Sweet Pastries
Cream Cheese Log
156
Tiramisu Cronut
204
Hazelnut Cronut
204
Old Fashioned Donut
102
Dulce Cronut
204
Chocolate Croissant
190
Cinnamon Twist
102

Savory Pastries

Croissant
170
Ham & Cheese Pull Apart Bread
178

Breads

Baguette
160

Loaves

Cranberry Walnut Loaf
391

Coffee & Tea

Honey, calamansi
225
Honey, calamansi
224
Café Mocha
190
Americano
190
Brewed Coffee
242
Hazelnut Hot Chocolate
259
Cold Brew
207
Iced Cubano
322
Black Sesame Latte
225
Vietnamese Latte
215
Cappuccino
215
Latte
200
Fresh Juices & Smoothies
Blue Dream
380
Kale Smoothie
380
Golden Juice
380
Orange Juice
485
Red Juice
380
Good Morning Sunshine
380
Coconut Pineapple Smoothie
380

Farmacy Ice Cream

Strawberry
863
Chocolate
863

Farmacy Milkshakes

Strawberry Milkshake
340
Chocolate Milkshake
340

Snacks And Sweets

Mini Chocolate Chip Cookies Jar
495
Granola Pack
636
Cereal Polvoron (100g)
165
Cereal Polvoron (200g)
300
Granola Jar
780
Walnut Butter Cookies Jar
340
Ube Butter Cookies
294

Food Trays

Lasagna Bolognese Tray
4224
Kimchi Fried Rice and Steak Tray
4818
Broccoli & Cauliflower Tray
2110
Kimchi Fried Rice Tray
3080
Grilled Cheese Tray
1716
Baby Mixed Green Salad Tray
1870
Wildflour Chopped Salad Tray
2772
Tuna Melt Tray
2552
Clubhouse Sandwich Tray
2772
California Burger Tray
2772
Chicken Avocado Sandwich Tray
2816
Bucatini and Meatballs Tray
2162
Pasta Alla Norma Tray
3220
Mac and Cheese Tray
3345
Campanelle Cacio E Pepe Tray
2618
Squid Ink Pasta Tray
2772
Beef Tapa Tray
2508
Adobo Fried Rice Tray
2750
Filipino Breakfast Tray
3345
Bacon Steak and Fried Rice Tray
2750
Tasmanian Salmon Tray
4532
Mushroom Rice Bowl Tray
2772
About Wildflour Cafe
Wildflour Cafe is a popular cafe in the Philippines known for its artisanal bread and pastries, as well as its diverse menu of international dishes. This cafe has several locations across Metro Manila and has become a go-to destination for food lovers and coffee enthusiasts. One of the highlights of Wildflour Cafe is its bakery section, where guests can find an assortment of freshly baked bread, croissants, and pastries. In addition to its bakery items, Wildflour Cafe also offers a variety of signature dishes that fuse international flavors with local ingredients.
Wildflour Cafe Menu Best Seller
This menu is composed of the most popular and most-sold dishes at all of Wildflour Cafe's branches.
Braised Beef – The braised beef at Wildflour Cafe is a standout dish that features tender and juicy beef that was slow-cooked to perfection in a rich and flavorful sauce and then served with a side of vegetables and your choice of starch making it a hearty and satisfying option.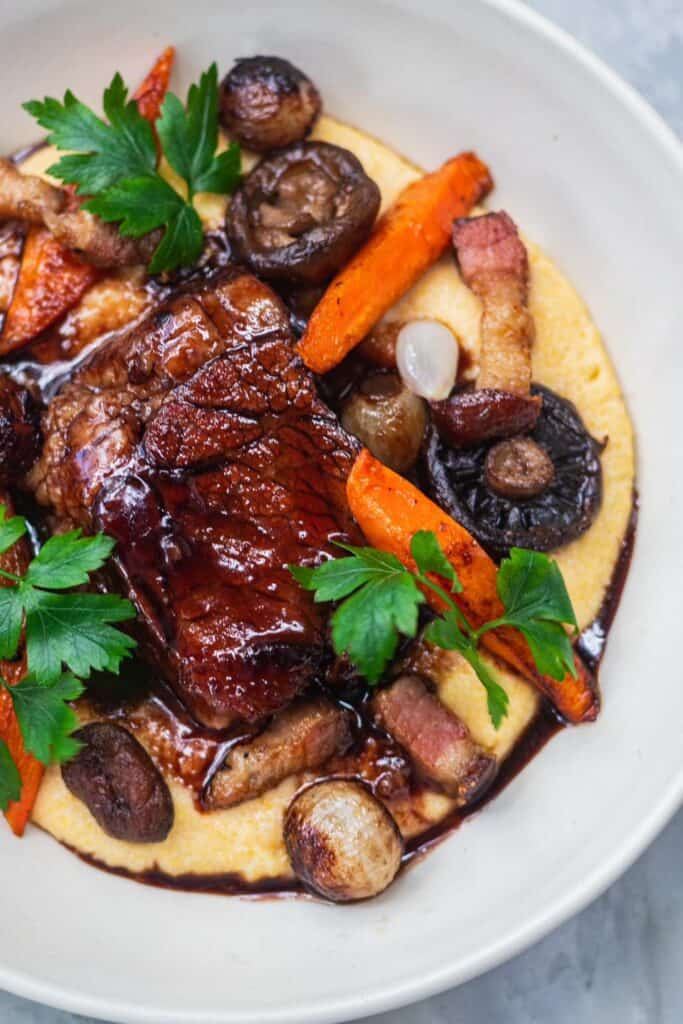 Duck Adobo – Wildflour Cafe puts a unique twist on traditional Filipino adobo menu by using duck meat. The duck is cooked in a tangy and savory adobo sauce, resulting in tender and flavorful meat making it a delicious and innovative take on a classic Filipino dish.
Adobo Fried Rice – The Adobo Fried Rice is a must-try for adobo lovers that visit Wildflour Cafe. It combines the familiar flavors of adobo with fragrant fried rice, resulting in a comforting and flavorful side dish that pairs well with any side dish.
Beef Tapa – Wildflour Cafe's Beef Tapa is a popular choice for breakfast or brunch with thinly sliced beef marinated and cooked until tender, then served with garlic rice and a side of pickled vegetables making it a satisfying and flavorful dish that is sure to please anyone.
Steak Fried Rice – If you're craving a fusion of flavors, the Steak Fried Rice at Wildflour Cafe is a great option. It features tender pieces of steak cooked to your preference and tossed with fragrant fried rice, vegetables, and seasonings making this rice meal filling and tasty one that showcases the quality of the ingredients.
Wildflour Cafe Menu Breakfast
The breakfast menu at Wildflour Cafe provides customers with a selection of delectable items that are ideal to start their day.
Steak & Eggs – t features a juicy and tender steak cooked to your liking, served alongside perfectly cooked eggs. The dish is accompanied by a side of roasted potatoes and a tangy chimichurri sauce making it a hearty and flavorful option that is sure to satisfy meat lovers.
Fried Chicken and Waffles – The fried chicken that the Wildflour Cafe offers is crispy on the outside and juicy on the inside and then served on top of fluffy Belgian-style waffles, completed by the maple syrup that is drizzled on top of it and creamy butter on the side.
Ham, Mushrooms, and Eggs on Toast – This dish offers a delightful medley of flavors that features thinly sliced ham, sautéed mushrooms, and perfectly cooked eggs served on top of toasted bread. The combination of savory ham, earthy mushrooms, and creamy eggs creates a satisfying and delicious breakfast or brunch option.
Wildflour Cafe Appetizer Menu
This menu is composed of different variety of appetizers that would make a great start to any meal.
Chorizo & Gambas – It features succulent shrimp cooked with spicy chorizo, garlic, and olive oil which makes this appetizer packed with bold and savory flavors that will delight seafood lovers.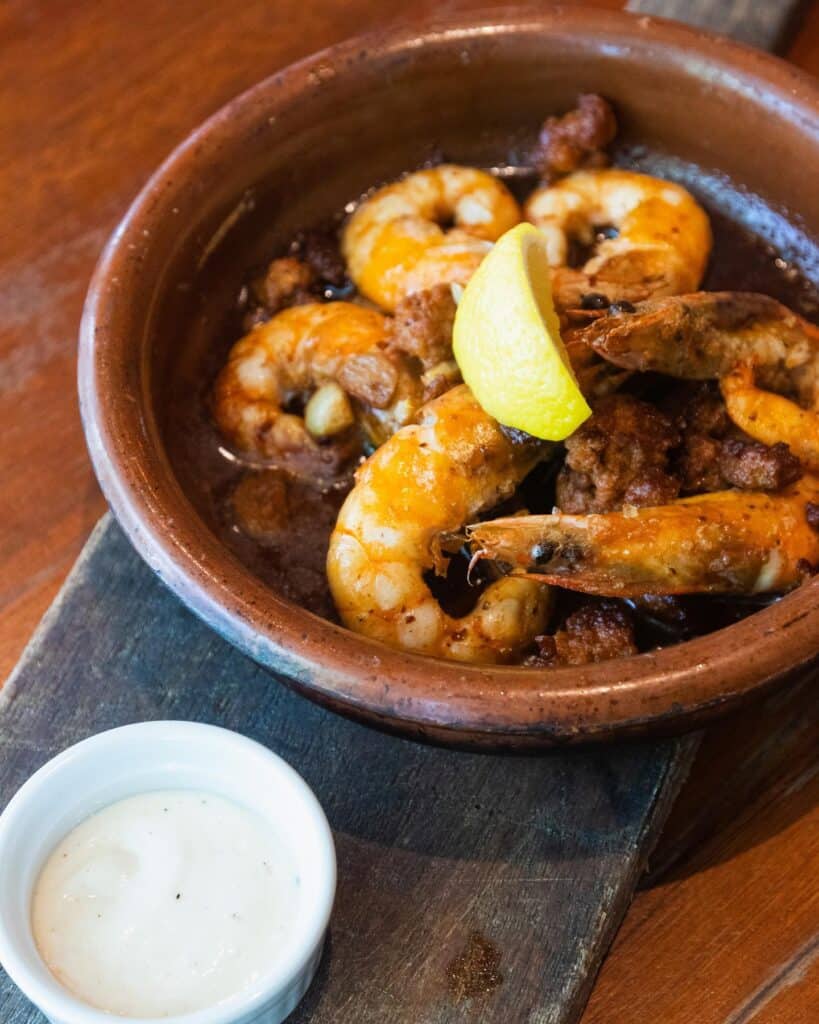 Korean Fried Chicken Wings – These wings are crispy on the outside and juicy on the inside, coated in a flavorful and slightly spicy Korean-style sauce, and then served with a side of pickled radish.
Fried Calamari – The calamari rings are crispy, tender, and perfectly seasoned and are served with a tangy dipping sauce that complements the flavors of the seafood. It's a popular choice for seafood enthusiasts looking for a crispy and flavorful appetizer.
Vegetables
Vegetable lovers rejoice! This menu of Wildflour Cafe presents a delightful array of dishes that brilliantly showcase the diverse flavors and enticing textures of farm-fresh vegetables. Each dish is a testament to the culinary artistry of showcasing the natural essence and taste of the vegetables, resulting in a mouthwatering and nourishing dining experience that celebrates the beauty of plant-based cuisine.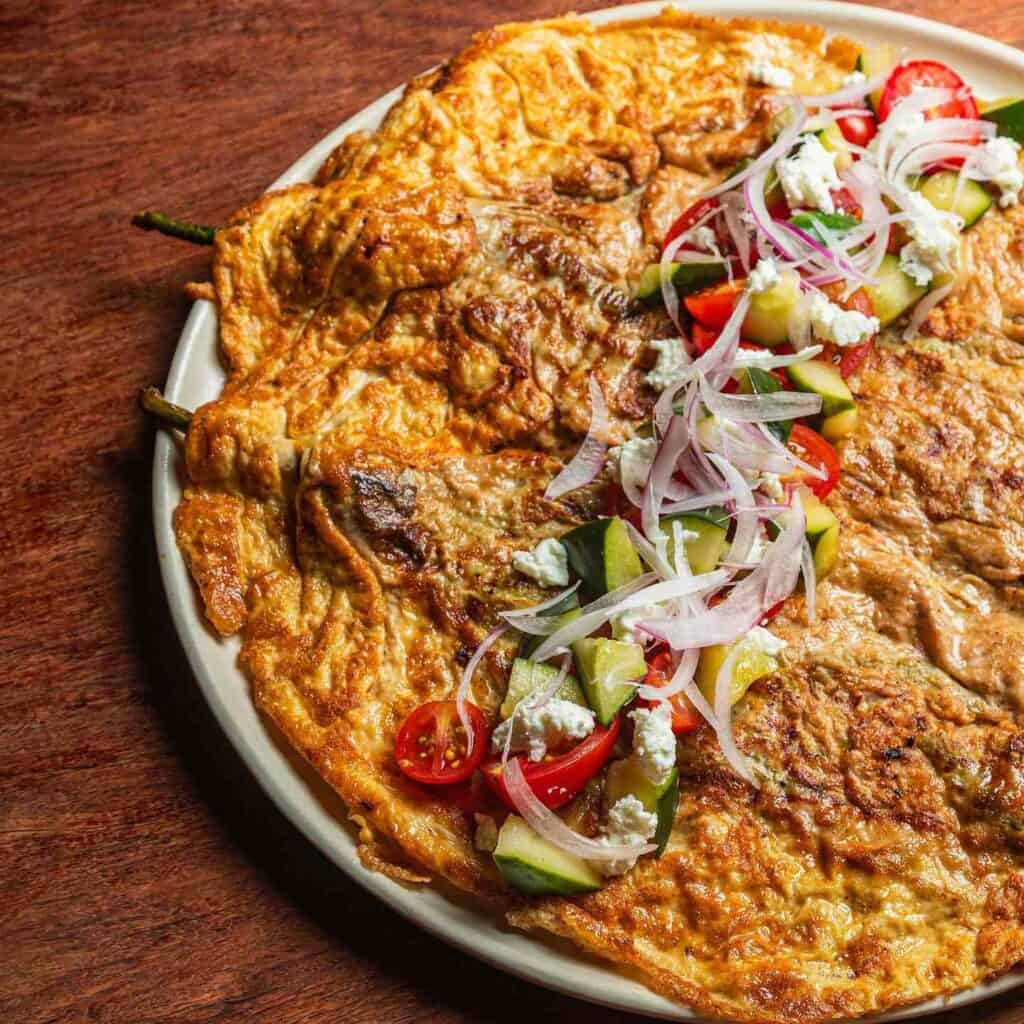 Salad
Salads take center stage in this menu of Wildflour Cafe, offering a haven for those who appreciate the goodness of fresh, nourishing meals and cater to health-conscious diners. Each salad item is carefully crafted with an abundance of vibrant ingredients, resulting in a harmonious blend of flavors, satisfying textures, and a visual feast of colors. Embrace the delightful medley of nature's finest offerings, as this menu invites you to savor the refreshing and invigorating experience of these wholesome salads.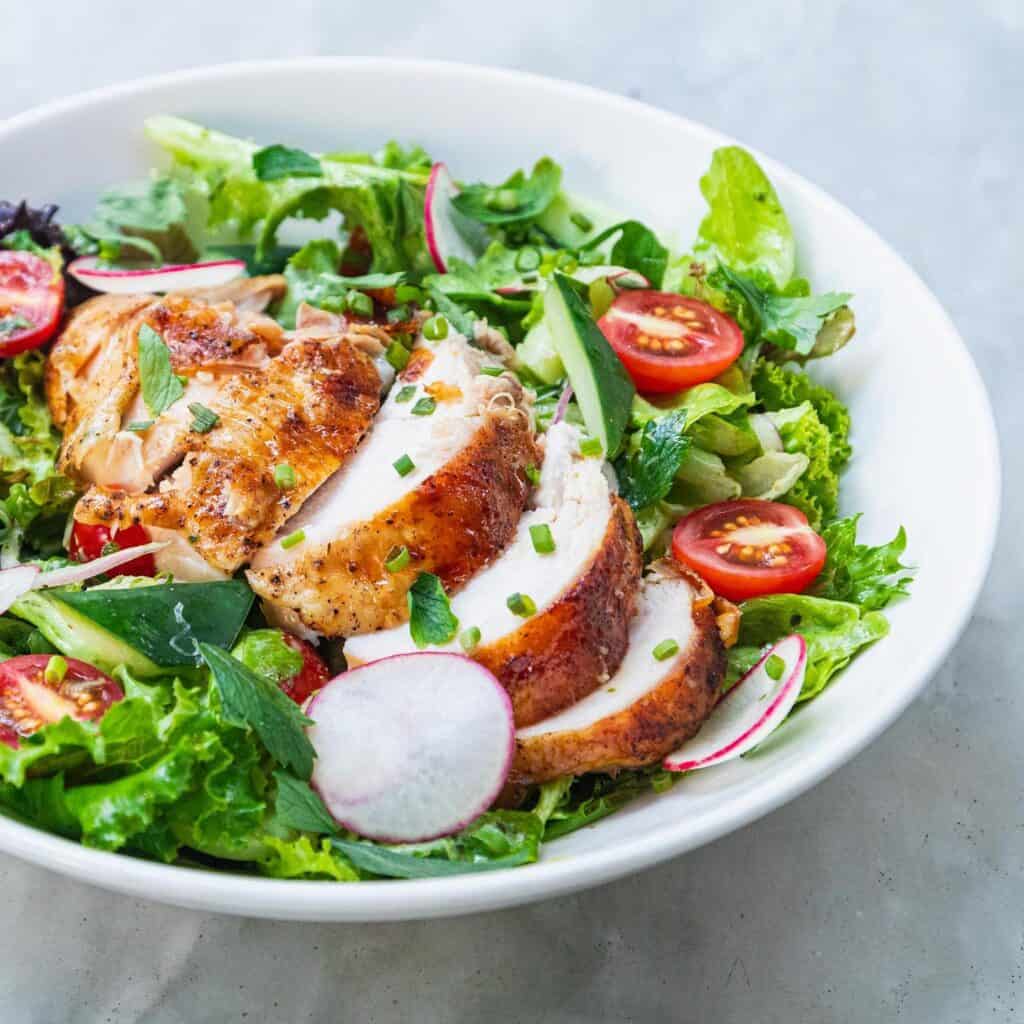 Wildflour Cafe Menu Delivery
Wildflour Cafe simplifies the ordering process by offering a convenient menu delivery service, ensuring a seamless and hassle-free experience for customers. With this option, you can effortlessly enjoy your favorite dishes from Wildflour Cafe without leaving the cozy confines of your home, thanks to the partnership with trusted third-party delivery services like FoodPanda or GrabFood.
Wildflour Cafe Social Media Pages
Follow their social media pages to discover a world of delectable dishes inspired by the beauty of the wild. Stay up to date with the latest creations, seasonal specials, and limited-time promotions. They take pride in creating Instagram-worthy dishes that not only satisfy your taste buds but also ignite your sense of wonder.
Facebook: https://www.facebook.com/wildflourmanila/
Instagram: https://www.instagram.com/wildflourmanila
TikTok: https://www.tiktok.com/@wildflourmanila
Twitter: https://twitter.com/wildflourmanila
Website: https://wildflour.com.ph/wildflour/
FAQs
What kind of food does Wildflour Cafe serve?
Wildflour Cafe is known for serving a diverse range of food that combines international flavors with local influences.
What are some of the must-try dishes at Wildflour Cafe?
Some of the must-try dishes at Wildflour Cafe are their Braised Beef, Duck Adobo, Adobo Fried Rice, and Beef Tapa.
Where are Wildflour Cafe's locations?
Wildflour Cafe branches are strategically spread around Manila in places like Makati, Mandaluyong, Quezon, and more.
Does Wildflour Cafe offer delivery services?
Yes, Wildflour Cafe has a delivery menu for customers to browse online and is partnered with third-party delivery services like FoodPanda.
Conclusion
Wildflour Cafe stands out as a vibrant and highly regarded dining establishment in the Philippines. Its unique blend of international and local flavors, commitment to using high-quality ingredients, and scratch-made dishes set it apart from other cafes. The cafe has a diverse menu that caters to different tastes and dietary preferences, including vegetarian and gluten-free options to ensure that there is something for everyone to enjoy. The combination of great food, attentive service, and an inviting ambiance makes Wildflour Cafe a go-to destination for both locals and visitors looking for a memorable dining experience.