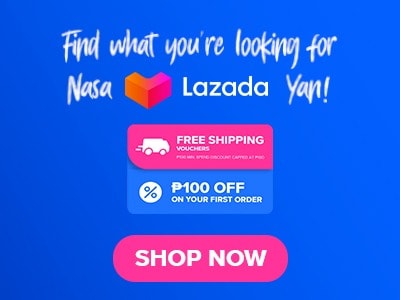 The Sentro 1771 menu is influenced by Western and Asian cultures. It consists of breakfast, a la carte, dessert, beverages, and wines. An exclusive set of meals is also provided for a special occasions. There are also catering and corporate functions that can be extended up to the alfresco area so you can celebrate important moments with your loved ones. 
Below, you'll find the updated list of Sentro 1771 menu prices.
Menu Items
Price (PHP)

Sentro Signature Dishes

Beef Salpicao
1200
Sinigang na Corned Beef
700
Coconut Chicken with VCO
690
Catfish Adobo Flakes
350
Beef Ribs Adobo
795
Rated GG
416

Filipino Favorites

Bistek Tagalog
590
Chicken Barbeque Boneless
490
Inihaw na Baboy
500
Grilled Squid
750
Lechon Kawali
790
Sentro Chicken Adobo
580
Blissful Bangus Belly
690
Seafood Kare Kare
760
Kare-Kare
750
Chicken Tinola sa Gata
650

Pica-Pica

Macau Chorizo and Cheese Tidbits
443
Fried Kesong Puti
530
Pork Sisig
520
Sizzling Tofu
200
Fresh Smoked Fish Spring Roll
320
Gambas Sentro
600
Fried Calamari
550

Vegetables

Pinakbet
300
Fresh Vegetable Lumpia
315
Crispy Catfish & Green Mango Salad
400
Stir-Fried Ampalaya & Malunggay
290
Adobo Kangkong
200
Fried Vegetable Spring Rolls
450
Vegetable in Tamarind Soup
125

A La Sentro

Dinuguan sa Sampalok
370
Honey Garlic Spareribs
790
Beef Binagoongan
795
Sugar-Free Humba
630
Tilapia in Coconut Milk
120
Seafood in Coconut Milk
700
Chicken Salpicao
440
Bangus Eggplant Torta
390

Rice and Noodles

Crispy Bagoong Rice
680
Seafood Bagoong Rice
680
Sentro Bagoong Rice
550
Fried Calamari Palabok
495
Sotanghon Guisado
410

Sandwiches

#colsplan#
Caesar Double Decker Sandwich
320
Chicken, Egg & Romaine Sandwich
220
Steak Tips Sandwich
390

Filipino Breakfast Set

#colsplan#
Beef Tapa
340
Champorado w/ Fried Tuyo
320
Pritong Paksiw Belly
480
Daing na Bangus
480
Longganisang Durog
370
Malunggay Omelette
249.99
Suman & Native Hot Chocolate
220
Pan De Sal & Hot Chocolate
220

Coffee

#colsplan#
Brewed Coffee
100
Cappucino
130
Café Lattee
130

All-Time Favorite Dessert

Coffee Pie (Slice) (Regular)
258
Coffee Pie (Slice) (Sugar-Free)
268
Fried Suman and Mangoes
220
Ginataang Halo-Halo
170
Coffee Bean Sans Rival
250
Banana Turon (Regular)
200
Banana Turon (Sugar-Free)
245
Banana and Kamote Un-Cue (Regular)
230
Banana and Kamote Un-Cue (Sugar-Free)
250
Puto Bumbong
150
Maja Blanca
266
Buko Chia Salad
200

Refresher

Sago't Gulaman
150
Ripe Mango Shake
190
Green Mango Shake
190
Banana Shake
150
Watermelon Shake
150
Strawberry Shake
160
Coke
100
Coke Zero
100
Sprite
100
Mineral Water
55
Honey Ginger Lemonade
190

Tea

Green Tea
180
Salabat
120
Sparkling Water
150
Mineral Water
40
Sago't Gulaman
150

Juicery Smoothies

Banana Smoothie (Regular)
180
Banana Smoothie (Sugar-free)
200
Banana Strawberry Smoothie (Regular)
190
Banana Strawberry Smoothie (Sugar-free)
210
Strawberry Smoothie (Regular)
190
Strawberry Smoothie (Sugar-free)
210
Mango Smoothie (Regular)
200
Mango Smoothie (Sugar-free)
220
Blueberry Banana Smoothie (Regular)
265
Blueberry Banana Smoothie (Sugar-free)
285

Vegetable Juices

Memories
255
The Big Vibe
330
On Your Feet
170
Let It Flow
260
Jumpstart
240
Purify
355
Strawberry Fields
255

Sentro Cocktails and Beers

Mojito
550
Sangria (Pitcher)
1200
Strawberry Margarita (Pitcher)
850

Beer

San Miguel Pale Pilsen
125
San Miguel Light
125
San Miguel Super Dry
165
San Miguel Premium
170

House Wine

White
650
Red
650
Sparkling
1990
Rose
1300

Red Wine

Valdivieso Merlot 2017 Valley, Chile
930
M-R Series Cabernet Sauvignon 2017 Coonawarra, Australia
950
Antaño Tempranillo 2015 Rioja, Spain
1200
Two Eights Classic Shiraz 2017 Southeastern, Australia
1200
Torres San Valentin Garnacha 2016 Catalunya, Spain
1250
Apulo Primitivo-Negroamaro 2016 Puglia, Italy
1320

White Wine

Two Eights Classic Sauvignon Blanc-Semillon 2016 Margaret River, Australia
1200
Two Eights Classic Sauvignon Blanc-Semillon 2016 Margaret River, Australia
1250
About Sentro 1771
Sentro 1771 is one of the brands under the 1771 Group of Companies. It is considered the first restaurant that offers modern Filipino cuisine. It provides Filipino, Western, and Asian cuisines with a twist to serve remarkable and exciting dishes. Every branch of this restaurant embodies a classy and native ambiance. The hospitality of its staff and the delicious food that it offers showcase Filipino culture.
Sentro 1771 Menu Best Seller
These are the best-selling dishes of Sentro 1771 that are known for their exciting flavors and authenticity.
Sinigang na Corned Beef – It is the best-selling and most popular dish in Sentro 1771. Its ingredients are well-combined making it a mouthwatering dish.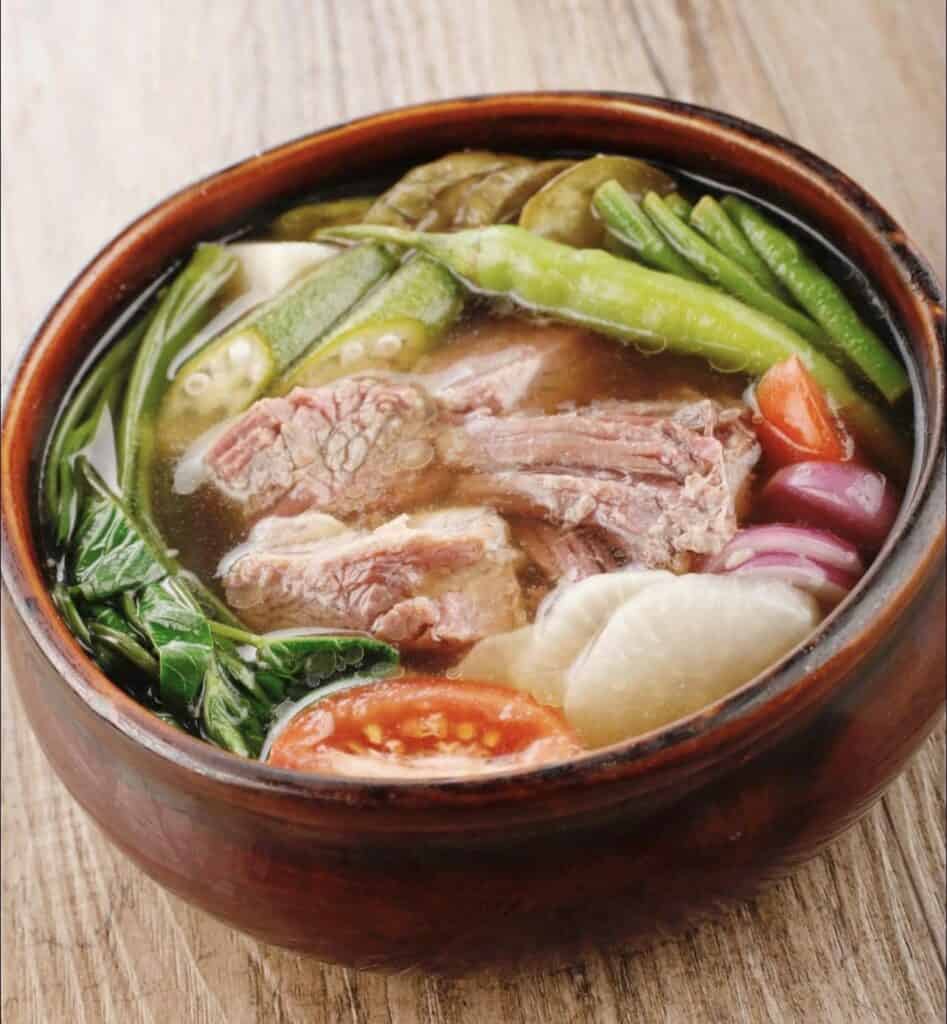 Rated GG – A special seafood dish made up of fried galunggong fillet and topped with roasted garlic.
Sotanghon Guisado – Sotanghon Guisado is a hearty noodle dish where glass noodles are stir-fried with carrots, Baguio beans, cabbage, pork, chicken, and shrimp.
Coffee Pie – It is a delicious dessert made with chocolate-cashew crust filled with coffee. This slice of coffee pie is topped with cream cheese and toffee sauce.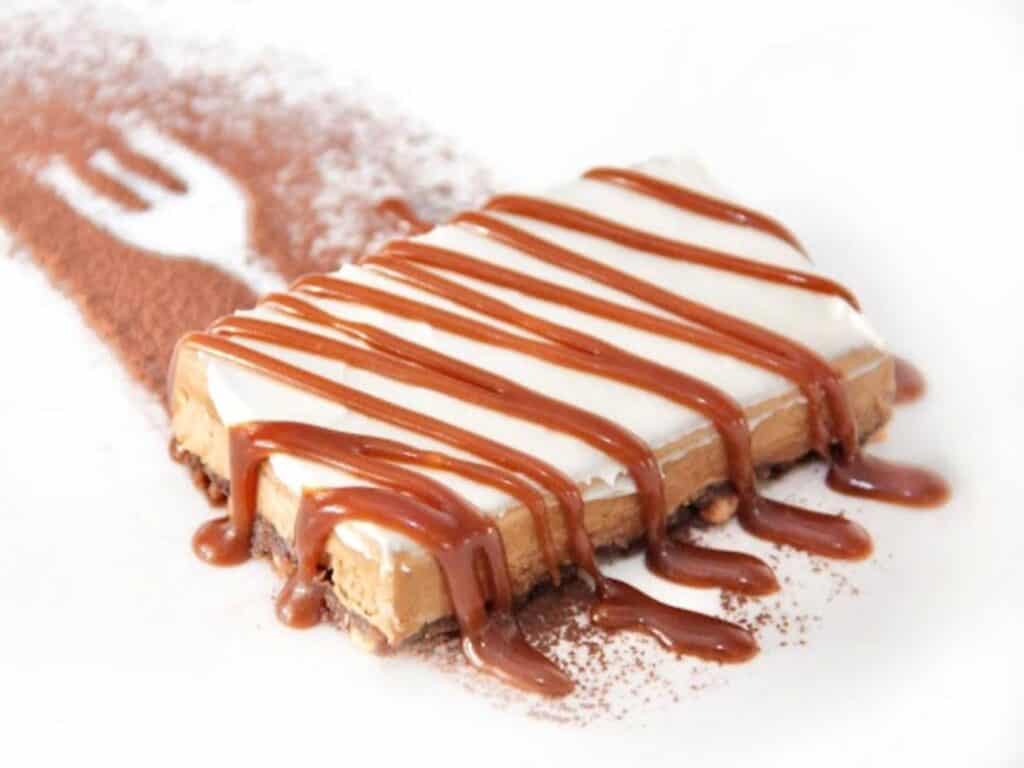 Sugar-Free Humba – A fulfilling and guilt-free meal that is free of sugar but packed with goodness. It is made up of pork belly stewed with soy sauce, vinegar, rhum, and fermented black beans. Coconut sugar is used as a sweetener to make this dish healthier.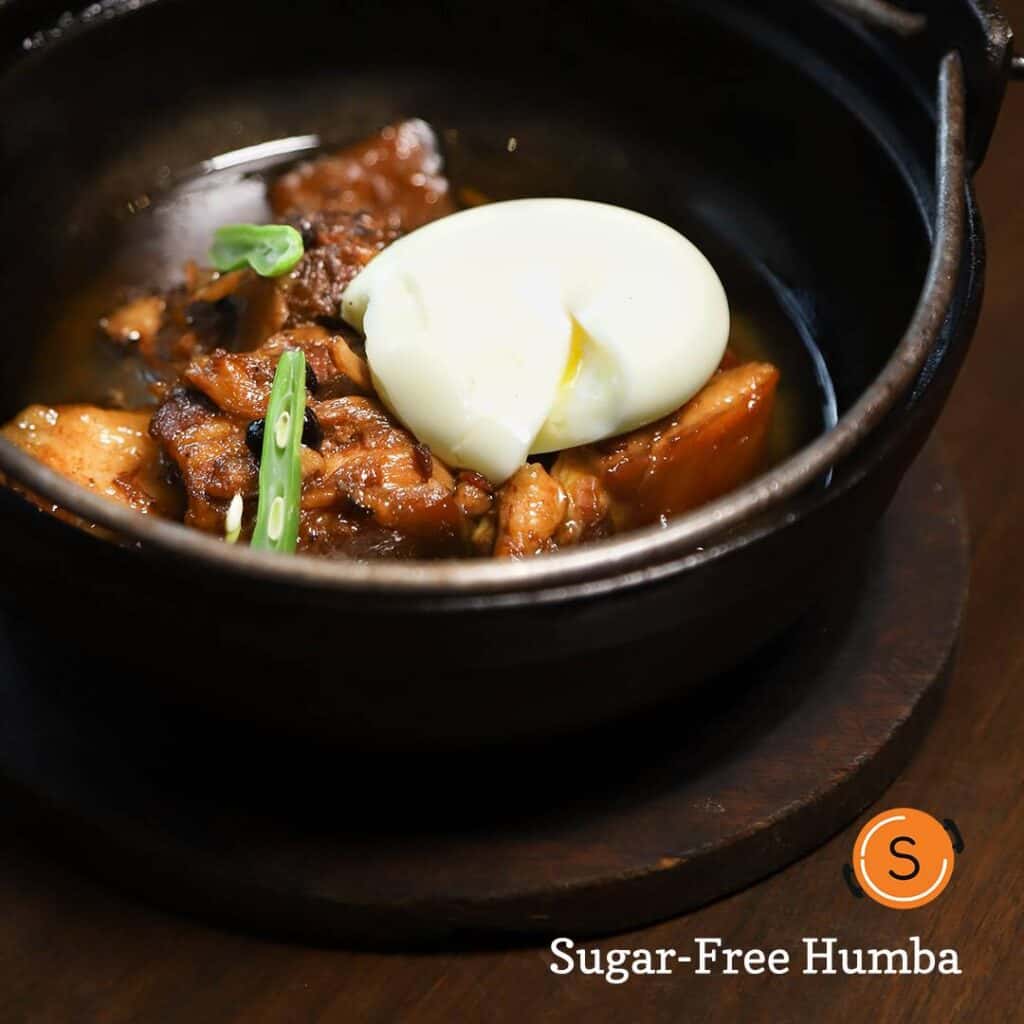 Pork Sisig – This pork sisig menu of Sentro 1771 is loved for its crispy and fatty texture and savory flavor.  This is typically paired with beer as its taste and flavors go well with it. 
Bangus Eggplant Torta – This is a simple and delightful meal made with eggplant torta with flaked bangus a la sentro.
Beef Ribs Binagoongan – It is a mouthwatering dish made with beef ribs browned and stewed with garlicky bagoong and eggplant until it becomes tender.
Ala Carte
Sentro 1771 offers ala carte meals that consist of their signature menu, Filipino favorites, pica-pica, vegetables, a la sentro, rice, and noodle dishes. 
Beef Salpicao – Cubes of Australian beef tenderloin is cooked with garlic and olive oil.
Coconut Chicken with VCO – Chicken is cooked with tanglad, pandan, garlic, ginger, buko meat, and buko juice. Virgin coconut oil is also added to make it more delicious and nutritious. It uses a free-range chicken that is considered to produce tastier meat to make this dish more delectable.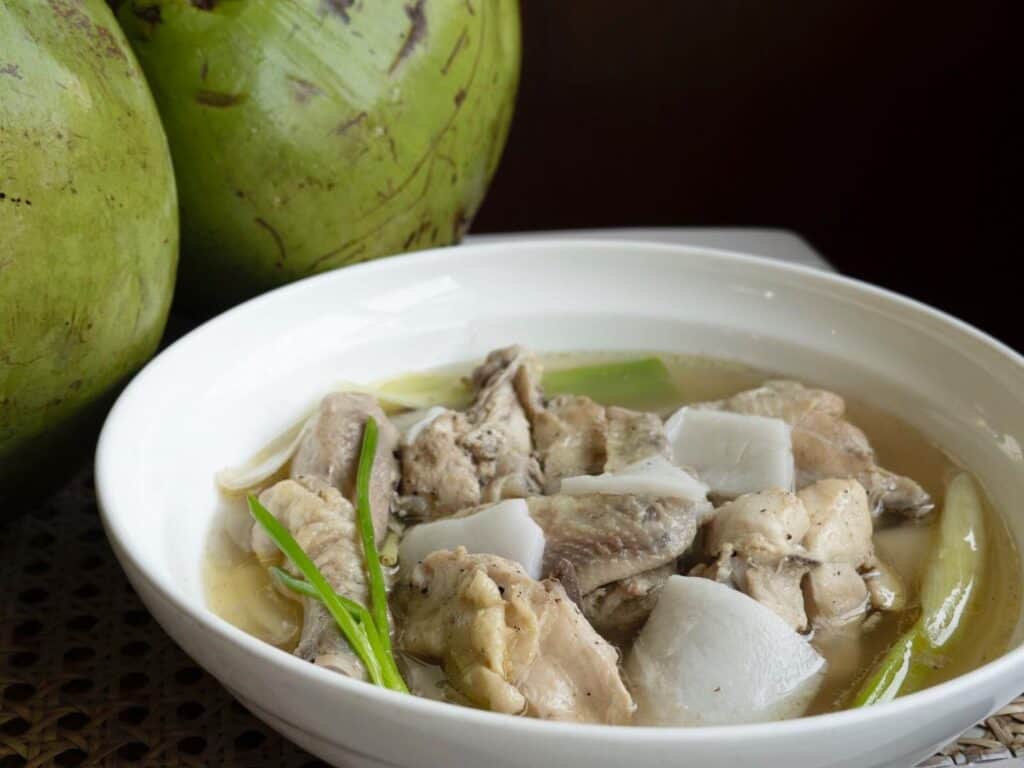 Beef Ribs Adobo – Japanese soy sauce and oyster sauce are the two special ingredients that make this dish satisfying.
Bistek Tagalog – It is one of the favorite dishes of Filipinos made with beef sirloin marinated in a special calamansi and soy sauce mixture and sauteed with onions.
Fresh Vegetable Lumpia – Shrimp, pork, carrots, Baguio beans, shredded cabbage, and kangkong stems are stuffed in homemade lumpia wrappers. It comes with chopped garlic and lumpia sauce.
Tilapia in Coconut Milk – A Filipino favorite dish where tilapia is flavored with coconut milk simmered with mustasa, garlic, and ginger. This Sentro 1771 menu has a sweet and savory flavor that will stimulate your appetite.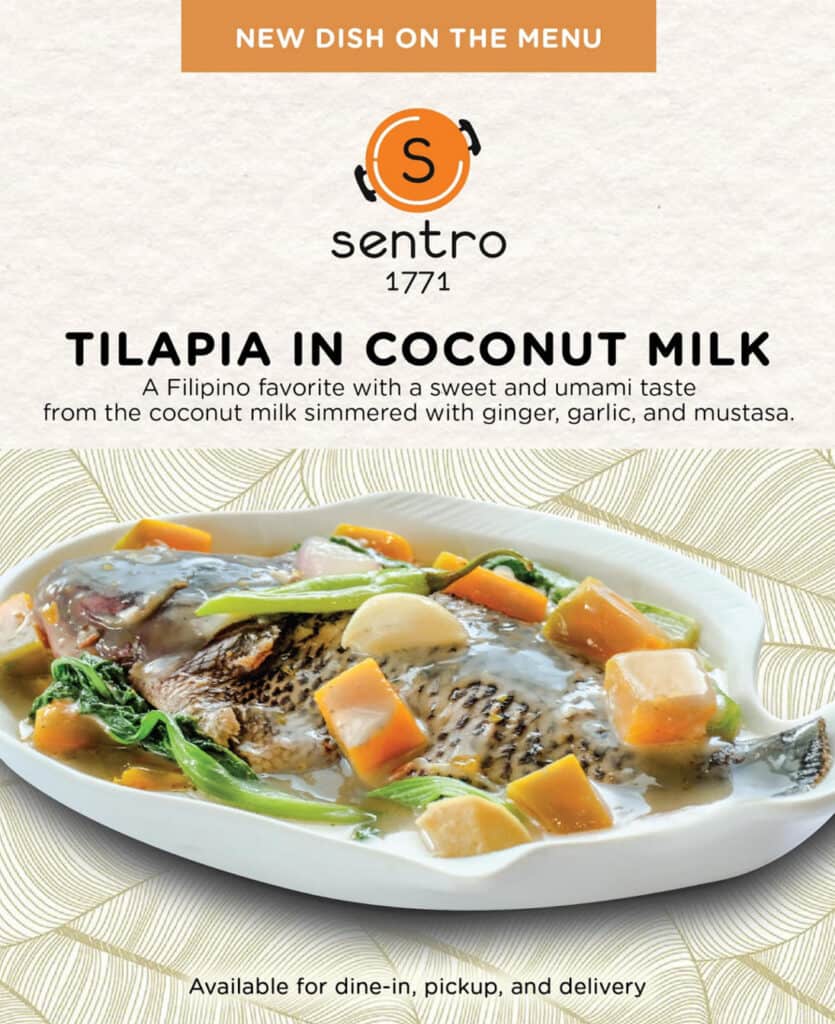 Sentro Bagoong Rice – A special dish where bagoong rice is topped with air-dried beef tapa, Macau chorizo, chicharon, and green mango strips.
Fried Kesong Puti – This is a perfect bite-sized finger food that will satisfy your cheese cravings. Native white cheese is coated with special breading and deep-fried until it turns golden brown. Garlic dip and sweet chili guava sauce are served with it.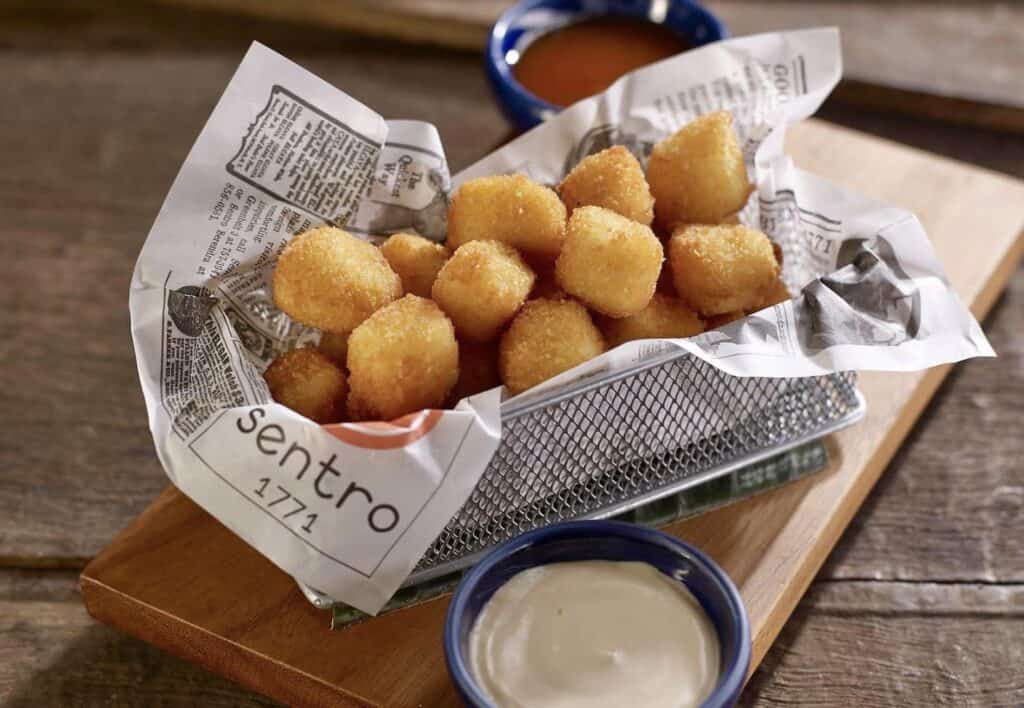 Sentro 1771 Breakfast Menu
Start your day with these classic and delicious breakfast meals that consist of sandwiches, Filipino breakfast sets, and coffee.
Beef Tapa – It is one of the classic Filipino breakfast dishes that is served with garlic rice and sunny-side-up eggs. A hot cup of brewed coffee is the perfect drink to pair with it.
Champorado w/ Fried Tuyo – This is a comforting dish made with champorado, a rice porridge that is served with tuyo or salted fried fish.
Malunggay Omelette – A healthy breakfast meal made with malunggay and egg that are rich in nutrients.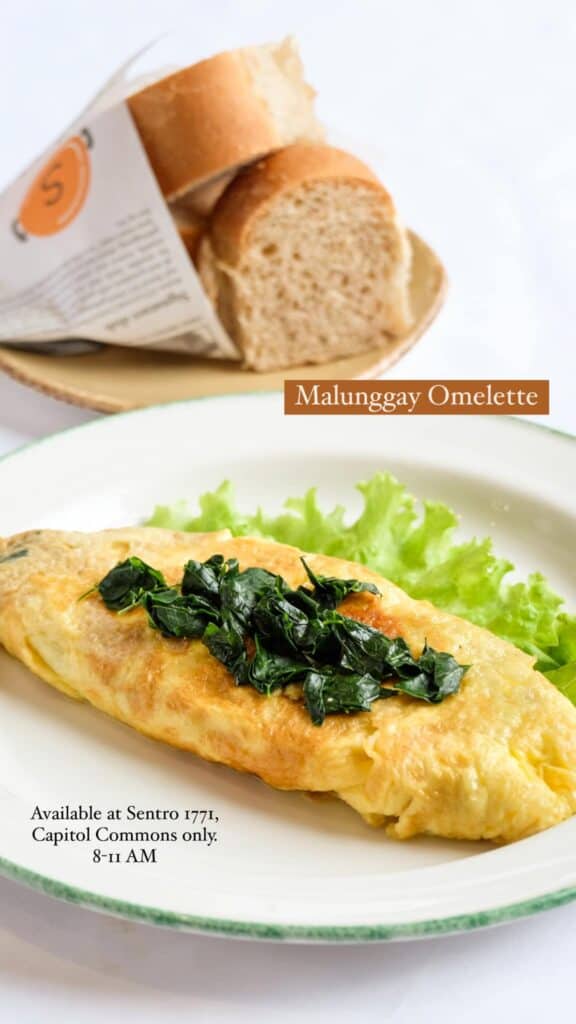 Suman & Native Hot Chocolate – Suman is a famous Filipino delicacy made from glutinous rice cooked in coconut milk, wrapped in a banana leaf, and served with native hot chocolate.
Pan De Sal & Hot Chocolate – Pan De Sal is a popular type of Filipino bread typically eaten for breakfast. It comes with hot chocolate that can wake up your senses. People love to dip pan de sal in hot chocolate or coffee as a traditional way of eating this breakfast combination.
Longganisang Durog – It consists of minced longganisa that is served with rice and egg. The sweet, savory, and garlicky flavors of longganisa make this dish a great meal for breakfast.
Daing na Bangus – This is one of the classic breakfast menu from Sentro 1771 where milkfish is marinated in a special sauce. Its sweet milky taste and crispy texture make it delectable. 
Chicken, Egg, & Romaine Sandwich – It is a delicious sandwich filled with romaine lettuce, chicken, and egg. This is a fulfilling and versatile dish as it can be eaten for breakfast or a snack.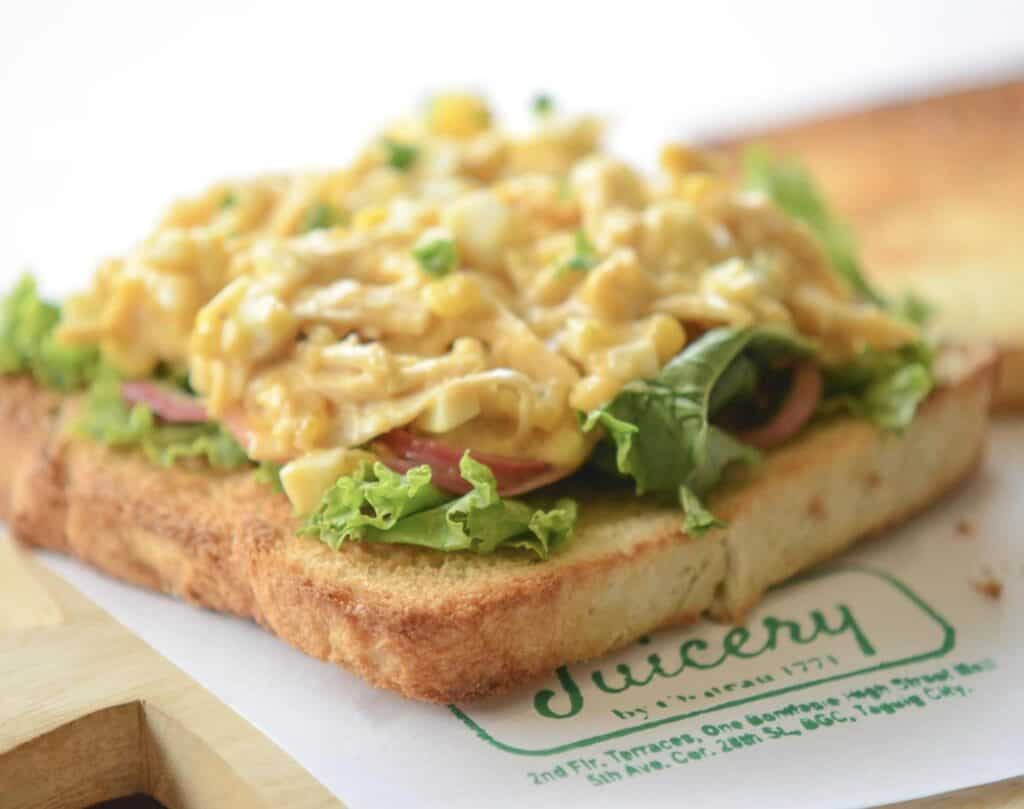 Dessert
Treat yourself to these sweet dishes that consist of classic Filipino delicacies that are filled with goodness.
Coffee Bean Sans Rival – It is a signature dessert coffee dish that has an exciting flavor.
Fried Suman and Mangoes – This unique dish is made up of rolled-out suman fried until it becomes light and crisp. It is topped with ripe mangoes and served with a sweet coco jam.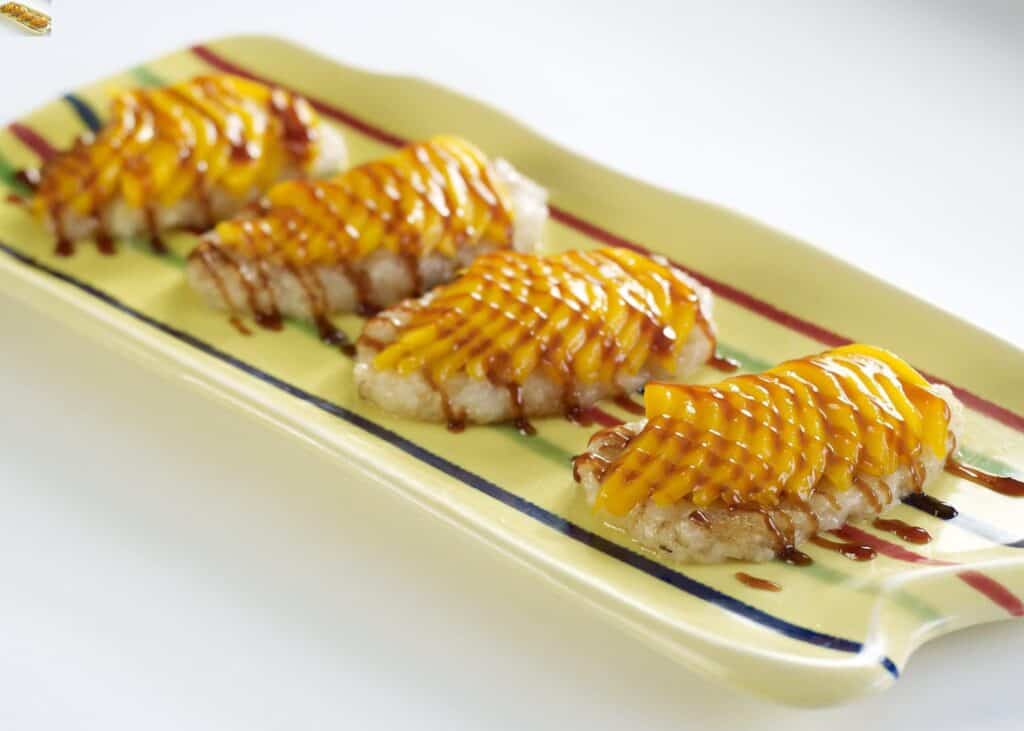 Ginataang Halo-Halo – A delectable Sentro 1771 dessert menu that consists of sweet potato, ube, banana, glutinous rice balls, and tapioca cooked in thickened coconut milk. 
Banana Turon – It is one of the popular desserts sold by street vendors. The crispiness of the wrapper and the sweetness of the banana and sugar makes it a delightful dish.
Banana and Kamote Un-cue – Caramelized banana and sweet potato are the two delicious desserts that are served in this dish. It is available in regular and sugar-free variations.
Puto Bumbong – This is one of the most delightful delicacies in the Philippines made with steamed violet sticky rice topped with grated coconut and muscovado.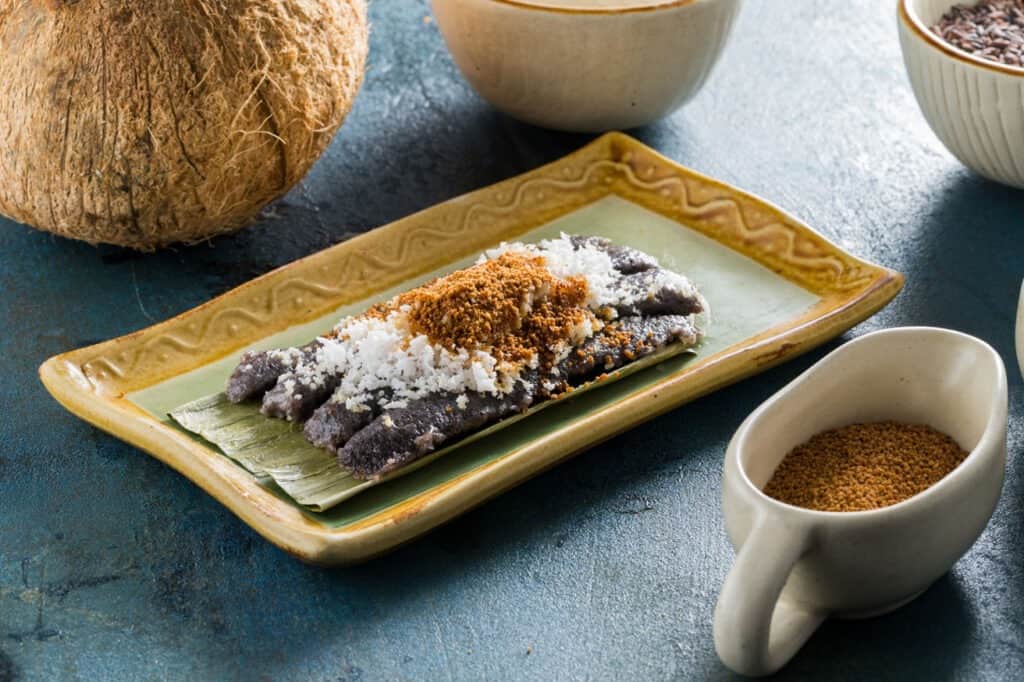 Maja Blanca – Maja Blanca is a smooth and creamy dessert made with coconut milk and sweet corn kernels with toasted coconut toppings. It is a delicious snack that can also be eaten at the end of the meal to satisfy your cravings.
Beverages
The beverages offered by Sentro 1771 include refreshers, teas, juicery smoothies, vegetable juices, cocktails, and beers. Shakes, juices, and soft drinks are the refreshers that it offers. The smoothies that it provides are also packed with goodness and nutrients.
Vegetable juices are perfect for those who want a drink that provides a lot of health benefits. It consists of Juicery Memories, which helps in preventing Alzheimer's; The Big Vibe, which helps in weight loss, constipation, detoxification, and high cholesterol; On Your Feet, which helps in weight loss, high blood pressure, and fatigue; Let It Flow, helps in constipation; Jumpstart, helps in fatigue; Purify, helps in detoxification; and Strawberry Fields, helps in cleansing kidney.
These beverages will make your meals more satisfying and delicious. Refreshers, smoothies, and juices can cool you down, especially in hot weather. The wine and cocktails are perfect options for those who want a top-notch dining experience.
Sentro 1771 Menu Delivery
The menu of Sentro 1771 is available for dine-in, take-out, and delivery. For delivery, visit order.sentro1771.com to place your order. You can also check out their social media pages to access their contact information so you can easily reach them to arrange your order or book a reservation.
Sentro 1771 Social Media Pages
Stay informed about Sentro 1771's latest menu updates, discounts, and promotions by following or subscribing to their social media pages. Checking their social media is an excellent way to keep up-to-date with everything happening at Sentro 1771. Don't forget to follow them to ensure you don't miss out on any exciting news or offers!
Facebook: https://www.facebook.com/sentro1771
Instagram: https://www.instagram.com/sentro1771/
Twitter: https://twitter.com/Sentro1771
Youtube: https://www.youtube.com/@1771Group
Pinterest: https://www.pinterest.ph/sentro1771/
Website: https://sentro1771.com/contact-us/
Conclusion
Sentro 1771 menu has a wide selection of food and beverages that it offers and makes it a perfect place for people from different walks of life. They are committed to ensuring that everyone will enjoy their delicious cuisine and attentive service. Some of the dishes that it offers are available in a regular and sugar-free variety.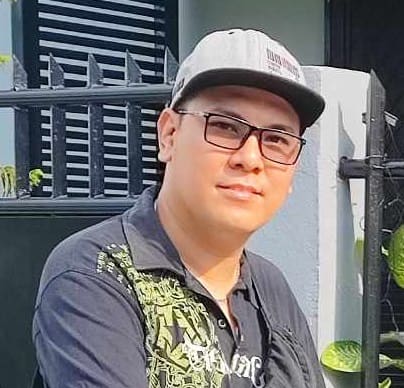 Hi! I'm Nivek Strife, the person who made MenuPH. I'm the one who added most of the popular menus you see on this website, and I really hope you enjoy them! Feel free to check them all out.
Growing up, I was surrounded by lots of tasty foods, like the classic Adobo and the sweet Leche Flan. That love for the many flavors of the Philippines is what got me excited about adding to MenuPH. When I learned how to make websites, I saw the need for a place to show off all the amazing Filipino dishes, and that's how MenuPH started.
MenuPH isn't just a website; it's like a fun journey into food. I've teamed up with famous chefs and found great places all over the Philippines to bring you a bunch of menus that show off the best of Filipino cuisine. Whether you're into the usual dishes or new twists, MenuPH is here to guide you through the rich world of Filipino flavors.
With MenuPH, my aim is to help local businesses, talk about good food choices, and make a group of friends who love food. No matter if you like fancy restaurants or street food, MenuPH has something for you. Come join me on this food adventure as we find great places, taste real flavors, and enjoy the unique food traditions that make the Philippines awesome.