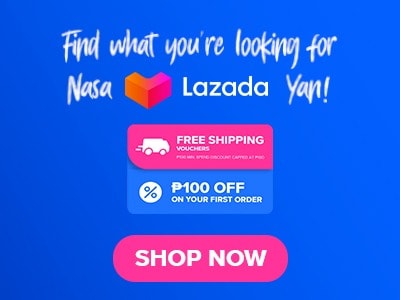 Strike the day with enthusiasm and great coffee. Introducing Cafe Fleur your next perfect destination for your coffee cravings and savory sensations. I have been meaning to review and share this cafe for a very long time and I am sure that you are also excited for this another delightful journey we will have so brace yourselves because here is their wide range of Cafe Fleur menu collection
Below, you'll find the updated list of their menu prices.
Menu Items
Price (PHP)

Small Plates

Trio of Spreads
475
Basket of Breads
475
Aligue Gambas
475
Wild Mushroom Ravioli
475
Home-cured Dill Salmon
495
Crab Cakes
475
Café Fleur's Chicken Wings
375

Bowls

Roasted Tomato, Basil and Cream
375
Café Fleur's Crab Chowder
425
Pancit Molo
350

Salads

Beetroot, Feta, Olive and Orange
475
Mushroom Confits, Baby Arugula
450
Pinoy Caesar
450
Pako, Watermelon and Kesong Puti
395

Pasta

Aligue Crab meat Coconut Pasta
475
Tuyo Caper and Roasted Cherry Tomatoes Pasta
450
Café Fleur's Signature Champignons Pasta
475
Garlic Prawn, Lemony Squid Ink Aglio Olio Pasta
475

Big Plates

Duck Leg Confit Lemongrass
675
U.S. Wagyu Striploin (250g)
1,750
Cereal Salted Egg Prawns
525
Salmon Steak
575
Spiced Boneless Chicken a la Plancha
575
Lamb Shank Tagine
755
Blue Marlin Sambal
625
Pork Belly BBque
650
Café Fleur's Wagyu Burger
575
Curried Falafel with Spinach
525

Desserts

Edith's Bread and Butter Pudding
375
San Sebastian Burnt Cheese Cake
375
Impossible Cake
375
Vuco Fye
395
Tsokolate Heg Fye
325
Vananah Walnut Cake
395

Smoothies

Green
350
Yellow
295
Red
350
White
295

Fruit Shakes

Strawberry
275
Blueberry
275
Banana
275
Pineapple
275
Mango
275
Watermelon
275

Coffee

Café Latte
125
Cappuccino
125
Espresso
95
Café Mocha
150
Americano
105
About Cafe Fleur
Cafe Fleur is home to a variety of coffee and hearty meals. They offer excellent quality dining from every sip of their coffee packed with richness up to their excellent cuisines, this cafe is definitely a home of all flavors. Their long list of appetizers and the wide range of Main Entrees are worthy of global recognition.
Cafe Fleur Menu Best Seller
Take this journey with me as we savor the finest collection and best-selling dishes in this category. It features their top-pick dishes showcasing various flavors and textures.
Pinoy Caesar – A Filipino twist to your classic Caesar salad. It features crips of romaine lettuce with the smokey goodness of tinapa and a savory longanisa. Finally, a salted egg is added as a final touch of an explosion of flavors.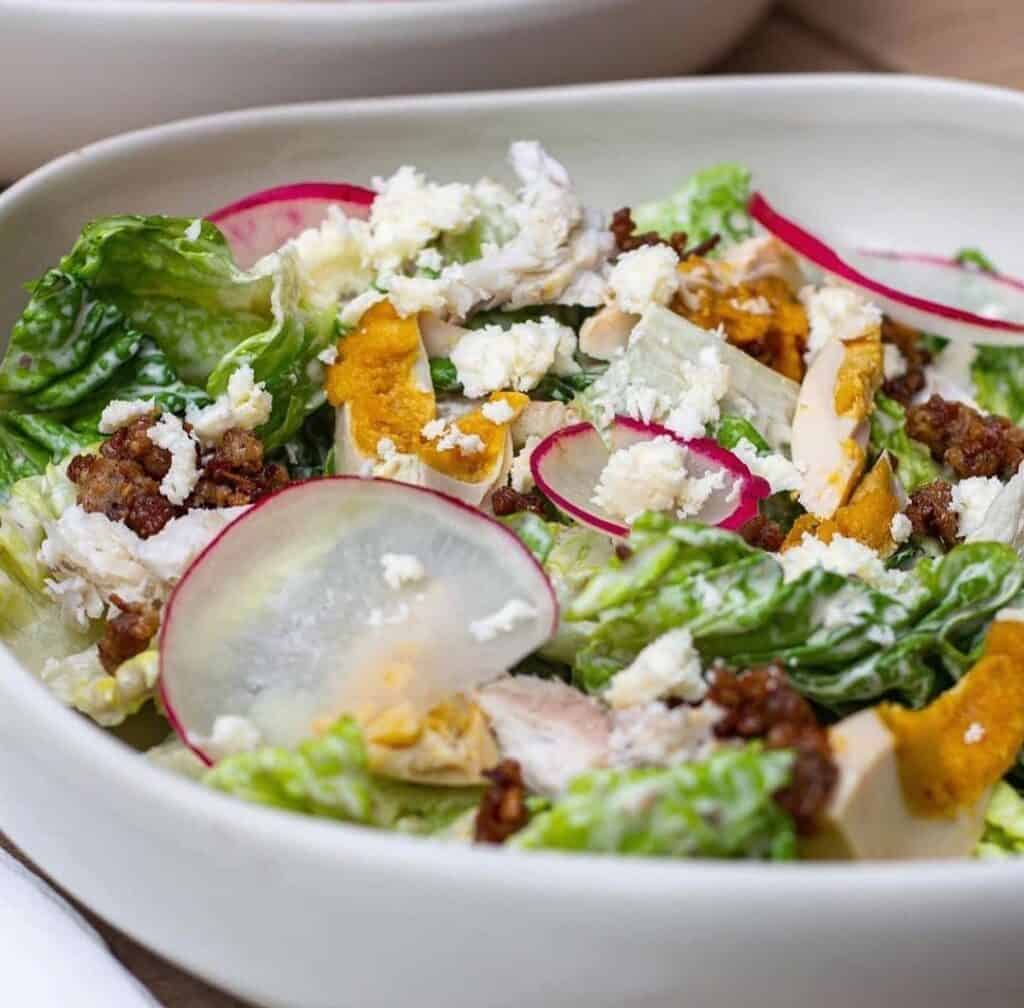 Duck Leg Confit Lemongrass – Enjoy rich, delicate duck leg confit flavored with lemongrass and served with pumpkin and spinach for a harmonic flavor combination.
U.S. Wagyu Striploin (250g) – A 250g U.S. Wagyu Striploin, Bistek Style or Chimichurri, with the ideal combination of marbling and juiciness.
Garlic Prawn, Lemony Squid Ink Aglio Olio Pasta – Let us dive into this seafood adventure with this garlic prawn and tender and succulent squid. over a perfectly cooked pasta. The pasta is bathed with zesty squid aglio sauce.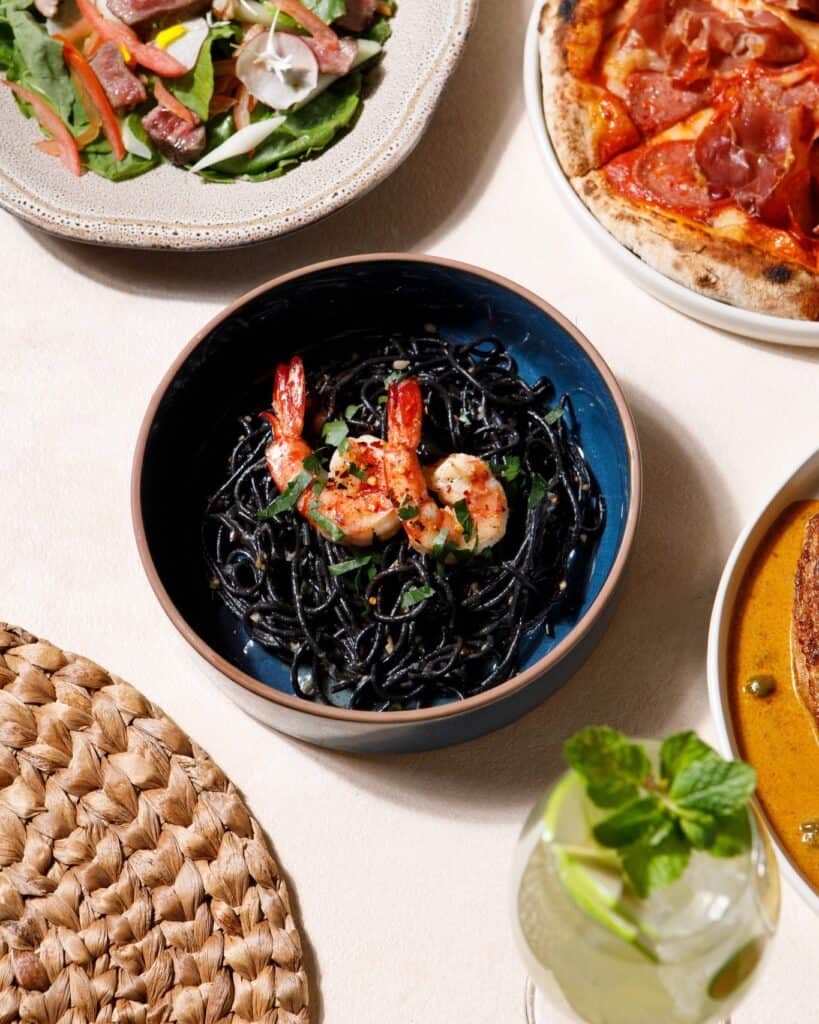 Café Latte – A delectable coffee preparation in which espresso is combined with steamed milk and froth to create a creamy and pleasant Café Latte.
Mains
Get that tummy ready because we are about to embark on another enticing and exciting adventure as we take a bite of these main menu entrees of Cafe Fleur that feature pasta and Big Plates.
Spiced Boneless Chicken a la Plancha- Their take on this boneless chicken a la Plancha will take your taste senses on a gourmet excursion. It's perfectly cooked with a tantalizing combination of spices and served with crisp potatoes and wilted spinach to create a balanced and delicious dinner.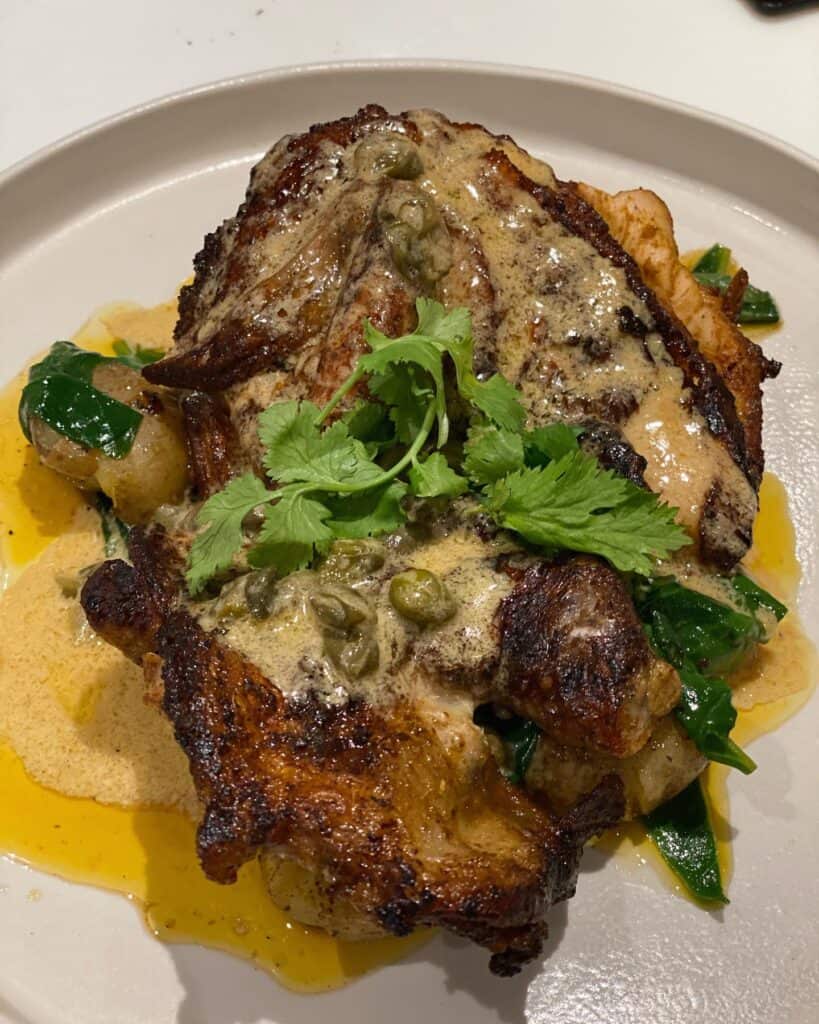 Aligue Crab Meat Coconut Pasta – This Aligue Crab Meat Coconut Pasta is a sumptuous blend of flavors. This recipe blends delicious crab meat with a creamy coconut sauce to create a sumptuous and decadent pasta experience that is absolutely tempting.
Lamb Shank Tagine – This Lamb Shank Tagine will transport you to the Mediterranean. Tender lamb shank slow-cooked to perfection in fragrant spices, served with spicy squash and substantial chickpeas. It's a tasty and soothing treat that will warm your heart.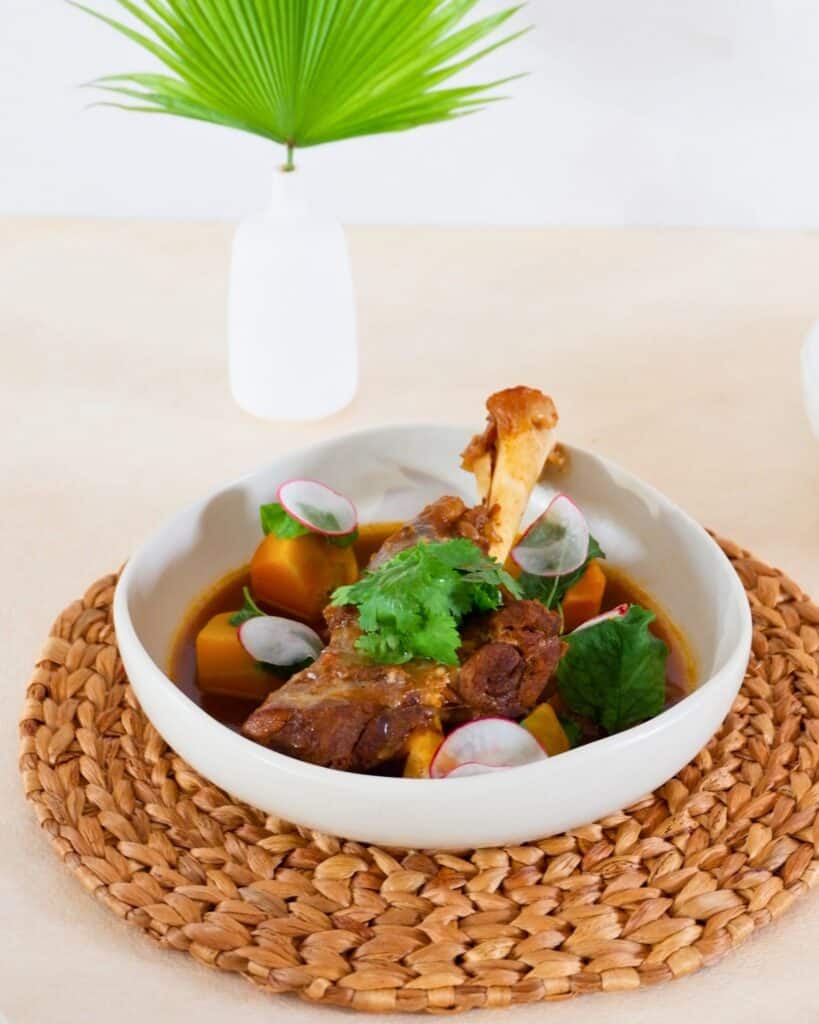 Pork Belly BBQ – Relish the savory flavor of our Pork Belly BBQ. This meal has a perfectly cooked pork belly with a delectable barbeque glaze. It's a flavor combination that's sure to satisfy your palate when served with Asian coleslaw.
Appetizers
A long list of appetizers menu that are divided into bowls, small plates, and salads to make your dining in Cafe Fleur extra memorable.
Home-cured Dill Salmon – Join me as we embark on culinary excellence with this Home-cured Dill Salmon that will take you on a gourmet adventure. Immerse yourself in the subtle flavors of dill-cured salmon. It's well combined with pickled red onions and crisp cucumber to make a light and refined appetizer.
Café Fleur's Chicken Wings –Our trademark Chicken Wings are a flavor explosion. These tender wings are dipped in a spicy tamarind sauce, which delivers a tantalizing blend of heat and tangy that will have your taste buds dancing with ecstasy.
Roasted Tomato, Basil, and Cream – Elevate your dining experience by eating your plate with this appetizer. This Roasted Tomato, Basil, and Cream dish will elevate your culinary experience. Enjoy the rich flavors of roasted tomatoes and aromatic basil that have been beautifully mixed into a creamy masterpiece. These tapenade toasts are the ideal vessel for this delectable dish.
Wild Mushroom Ravioli – Savour the earthy flavor of this Wild Mushroom Ravioli. Each tiny pasta pocket is stuffed with a variety of wild mushrooms and coated in a decadent truffle cream sauce. It's a vegetarian treat with a symphony of flavors in every bite.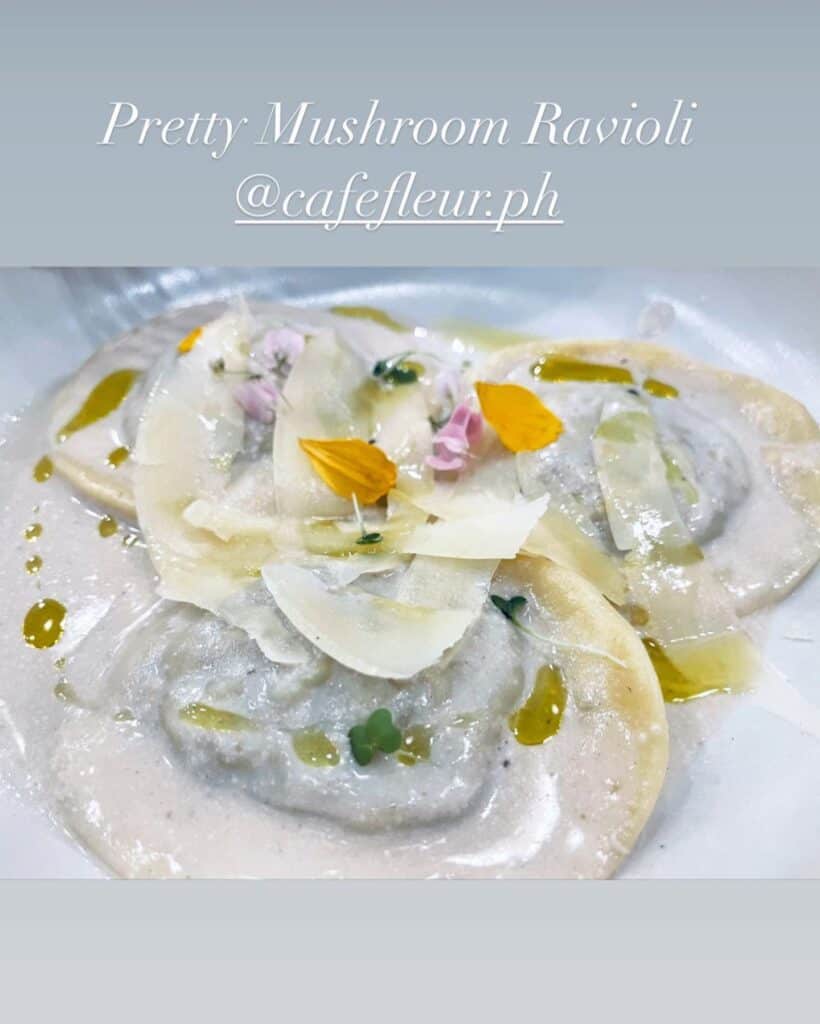 Cafe Fleur Delivery
Unfortunately, Cafe Fleur does not offer any delivery food service. However, they're really committed to serving as well as providing high-quality dining for their customers that features great interior design, a cozy atmosphere, and great quality food. I am sure you will find whatever will suit your taste in this restaurant due to their very diverse collection of meals.
Social Media Pages
Discover the world of edible art! Their social media pages are a canvas of vibrant, mouthwatering creations. Expect to be dazzled by the colors, textures, and artistry of every dish. Prepare to double-tap and share these visual delights with fellow food enthusiasts.
Facebook: https://www.facebook.com/sevenplatesmanila
Instagram: https://www.instagram.com/cafefleur.ph
Frequently Asked Questions
What type of cuisine does Cafe Fleur offer?
Cafe Fleur offers a high-quality menu collection that features their long list of mains and pasta menus with their great coffee and beverages that perfectly go along with your meal.
What is Cafe Fleur known for?
Cafe Fleur is known for their unique and very diverse collection of food that you'll definitely love. One of their famous dishes is their Pinoy Caesar and US Wagyu Striploin.
What are the operating hours of Cafe Fleur?
Cafe Fleur is operating from 10 AM until 10 PM.
Where is Cafe Fleur located in the Philippines?
You can visit Cafe Fleur any day of the week and they are located at 5893 Enriquez Street, Poblacion, Makati.
Conclusion
Cafe Fleur is a perfect destination and a culinary haven where flavors and coziness enchant together by serving you a very diverse collection of the menu. Their cozy ambiance and inviting atmosphere add another comfort for you to enjoy your food in the utmost comfort. Their staff is also attentive to detail so I am sure you can add this to your next list of cafes to spend time with your friends. I believe Cafe Fleur is more than a Cafe it is a home of culinary bliss and a perfect destination that will never disappoint.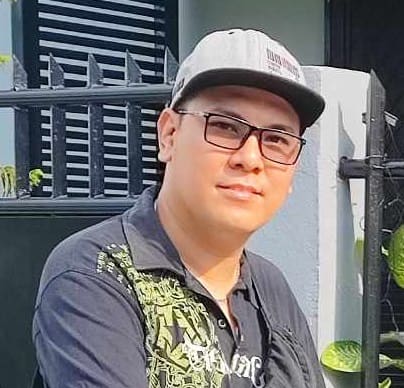 Hi! I'm Nivek Strife, the person who made MenuPH. I'm the one who added most of the popular menus you see on this website, and I really hope you enjoy them! Feel free to check them all out.
Growing up, I was surrounded by lots of tasty foods, like the classic Adobo and the sweet Leche Flan. That love for the many flavors of the Philippines is what got me excited about adding to MenuPH. When I learned how to make websites, I saw the need for a place to show off all the amazing Filipino dishes, and that's how MenuPH started.
MenuPH isn't just a website; it's like a fun journey into food. I've teamed up with famous chefs and found great places all over the Philippines to bring you a bunch of menus that show off the best of Filipino cuisine. Whether you're into the usual dishes or new twists, MenuPH is here to guide you through the rich world of Filipino flavors.
With MenuPH, my aim is to help local businesses, talk about good food choices, and make a group of friends who love food. No matter if you like fancy restaurants or street food, MenuPH has something for you. Come join me on this food adventure as we find great places, taste real flavors, and enjoy the unique food traditions that make the Philippines awesome.