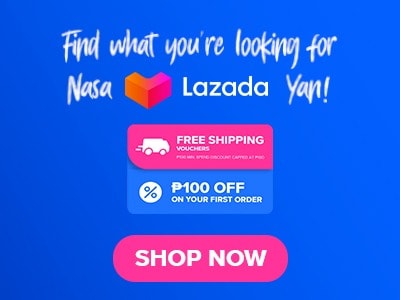 Searching for a spot to satisfy your Japanese food cravings? Your search ends here! I've discovered an ideal place and I'm excited to recommend it. This spot is not only affordable but also fantastic, making it a great choice. Hanako Japanese restaurant has an extensive menu with many delicious options. If you're in need of a place to dine, you're in the right place. In this article, we'll explore Hanako Japanese restaurant, discuss their offerings, share some information about them, and, of course, provide pricing details for each item. Let's dive in!
Menu Items
Price (PHP)

Popular

Salmon Tartare
372
Mura 'To!
1014
California Maki
281
Katsu Curry
395
Ebi Tempura 5 Pcs
389
Beef Yakiniku
384

Hanako Party Trays

Tempura Tray
1488
Mura 'To!
1014
Classic Cali
1056
Hanako's Best
1746
Classic Gyoza Tray
1128
Salmon Favorites
1428
Maki Overload
1368
Spicy Combo
1182
Beef Gyoza Tray
978
Chicken Gyoza Tray
948
Chahan Rice Tray
533
Seafood Teppanyaki Tray
2201
Salmon Teriyakidon Tray
2105
Yasai Itame Tray
936
Chicken Teriyakidon Tray
2027
Chicken Karaage Tray
1775
Fish Katsu Tray
1499
Ebi Fry Tray
1499
Beef Yakiniku Tray
2039
Creamy Mushroom Udon Tray
1623
Kani Salad Tray
1554
Salmon Tartare Tray
1794
Tuna Tartare Tray
1434

Snacks

Creamy Mushroom Udon
299

Gyoza

Classic Gyoza 4 Pcs
239
Beef Gyoza 4 Pcs
209
Chicken Gyoza 4 Pcs
203
Chicken Gyoza 10 Pcs
425
Classic Gyoza 10pcs
479
Beef Gyoza 10 Pcs
467
Gyoza Sampler 6 Pcs
239
Gyoza Sampler 18 Pcs
906

Donburi

Katsudon
371
Beef Yakiniku
384
Tofu Steak
257
Chicken Teriyaki
371
Tori Katsudon
383
Oyakodon
299
Tendon
269
Kosho Beef
257
Kosho Chicken
257
Chicken Yakitori
239
Salmon Teriyakidon
407
Pork Belly Don
275

Starters

Tuna Tartare
300
Miso Soup
101
Tofu Steak 3 Pcs
239
Salmon Tartare
372
Kani Salad
323
Agedashi Tofu
167
Yasai Itame
251

Mains

Chicken Teriyaki Ala Carte
353
Chicken Karaage
347
Ebi Tempura 5 Pcs
389
Beef Omu Rice
288
Vegetable Kakiage
257
Ebi Tempura 3 Pcs
269
Fish Tempura
215
Mixed Tempura
215
Seafood Tepanyaki
413
Crispy Fish Teriyaki
251

Maki

Salmon Cream Cheese
371
California Maki
281
Five Star Roll
383
Crispy Salmon Skin Maki
299
Spicy Tuna Crunch
383
Ultimate Dynamite Roll
383
Takai Aburi Roll
335
American Dream
263

Sushi

Torched Cheese & Salmon
396
Kani Sushi
185
Tuna Sushi
299

Katsu Feast

Tonkatsu
365
Torikatsu
371
Tori Katsu Curry
395
Fish Katsu
281
Katsu Curry
395
Ebi Fry 3 Pcs
251
Ebi Fry 5 Pcs
371
Menchi Katsu
275

Rice

Chahan
119
Gohan
89

Beverages

Coke Zero
95
Coke Regular
95
Royal
95
Sprite
95
Bottled Water
59
About Hanako
Hanako is actually a thesis project and from that concept, Hanako Japanese restaurant was born. Hanako Japanese restaurant offers affordable Japanese dishes that are welcome for everyone to try especially those located near their location in Quezon City. Hanako Japanese restaurant has a lot of affordable food items that will tickle your tastebuds for sure. Their place looks amazing as well. They have a very inviting atmosphere in their restaurant, from the interior to their service personnel. Hanako Japanese restaurant is owned by caloy sycip and jon bantigue. A lot of customers noticed this place not just because of the quality of their products but also the prices which other items are great for sharing which is sulit if you're going with your friends or family.
Hanako's Best Sellers Menu
Here are some samples of Hanako Japanese restaurant's best sellers for your reference.
Takai Aburi Roll – The Takai aburi roll version of Hanako Japanese restaurant is made with some onion leeks, and cucumber making this takai aburi roll crunchy in every bite. It also has salmon skin that makes this roll even more flavorful. One of their best roll to try plus this one taste really good. Takai aburi roll is one of Hanako Japanese restaurant's best-selling items that is quite popular with their customers, this one is also a must-try item on their menu.
Torched Cheese and Salmon – The torched cheese and salmon of Hanako Japanese restaurant is one of the best options for you especially if you love salmon dishes and cheese. This dish is made with a bit of teriyaki sauce and cream cheese that drizzles on top of the salmon. This dish has a nice balance of saltiness and sweetness. This is perfect with rice or just by itself. The salmon is cooked properly and not overcooked plus the cream cheese is generously added to this dish making it cheesy. Torched cheese and salmon are also some of their best sellers.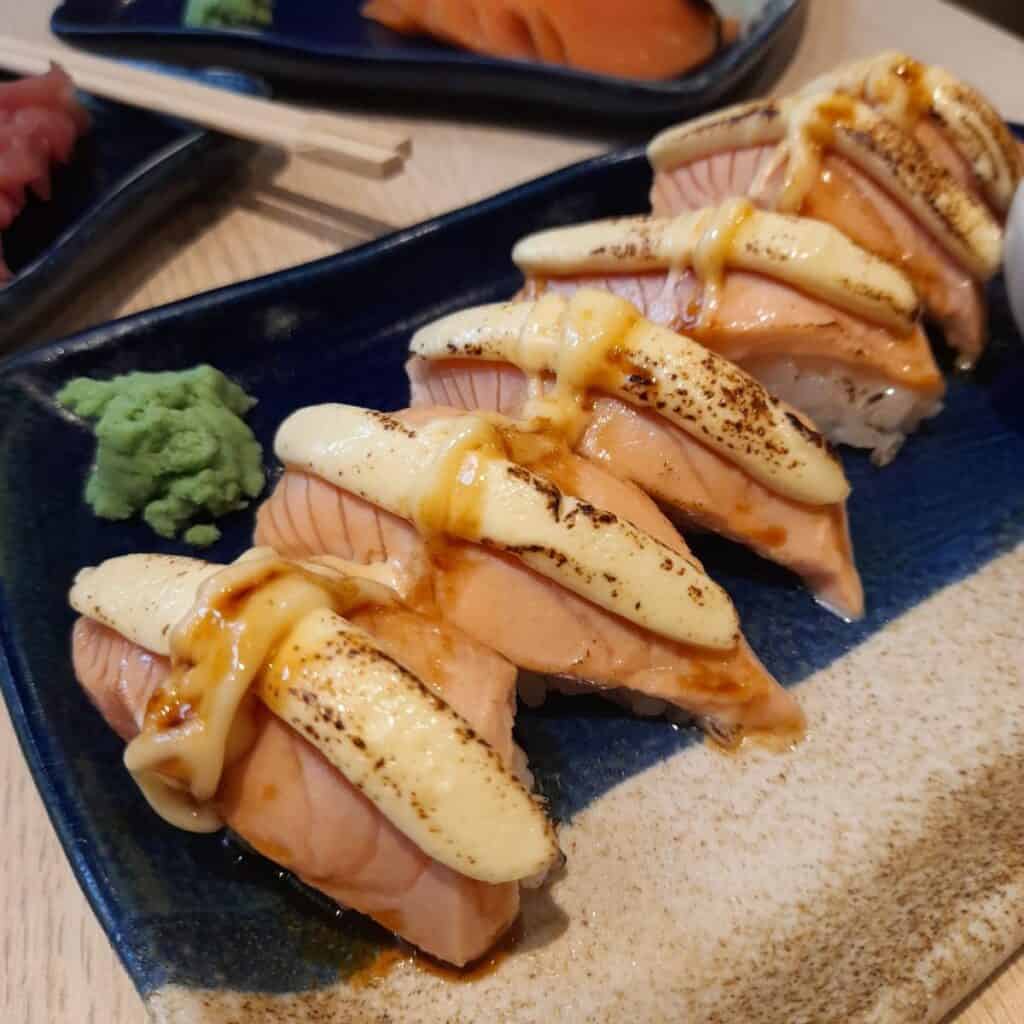 Katsudon – The katsudon version of Hanako is a hearty dish that is served on top of a bowl of rice. This dish is made with pork cutlets that they seasoned very well and dipped into a panko before deep frying until golden in color and crispy. They also serve this with some vegetables and egg for a more tasty experience. Katsudon at Hanako is relatively cheap as well compared to their competitors which is why it's really sulit that you can enjoy the authentic taste of Katsudon without having to spend too much. Also, katsudon is included in their best-selling items that's why it's worth trying.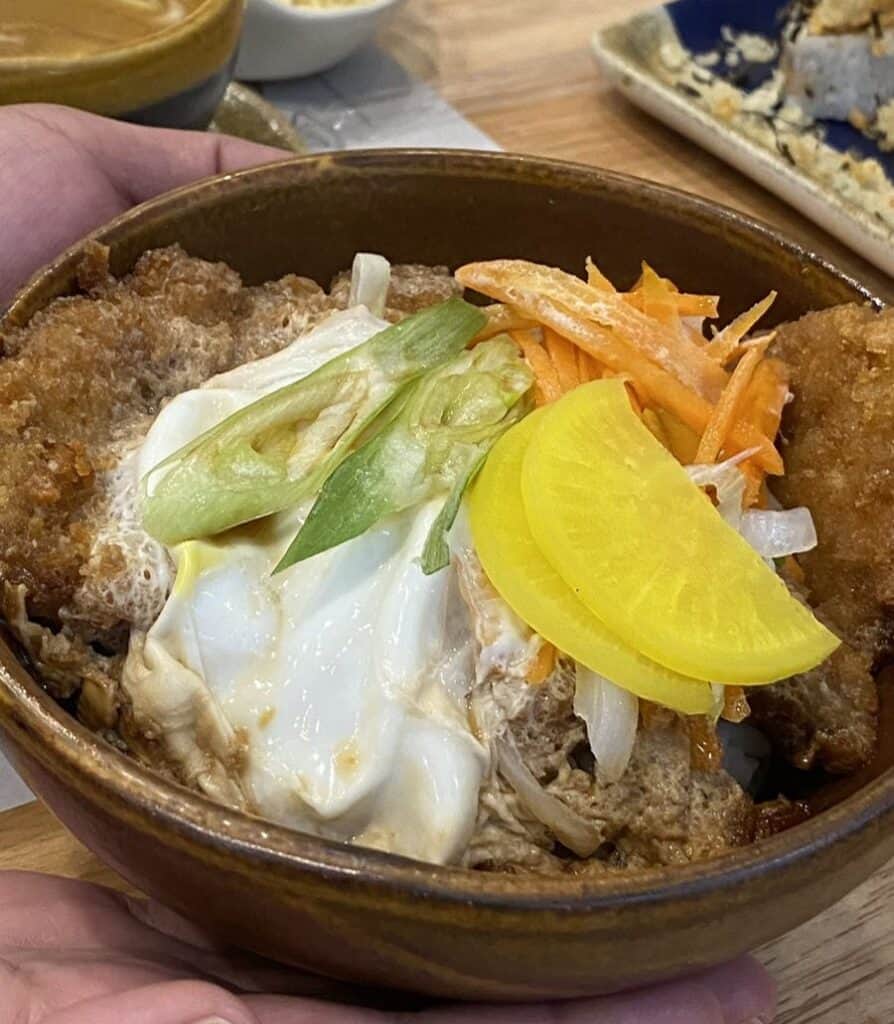 Gyudon – Gyudon version of Hanako is a beef rice bowl that tastes amazingly delicious. Gyudon is a Japanese dish that is made with onions and beef that is simmered in a semi-sweet sauce made with mirin, soy sauce, and dashi. It is then topped with a bowl of rice. Gyudon is also one of the best sellers at Hanako. If you're into beef dishes you'll definitely love this item. And to be honest this is my top favorite item on their menu.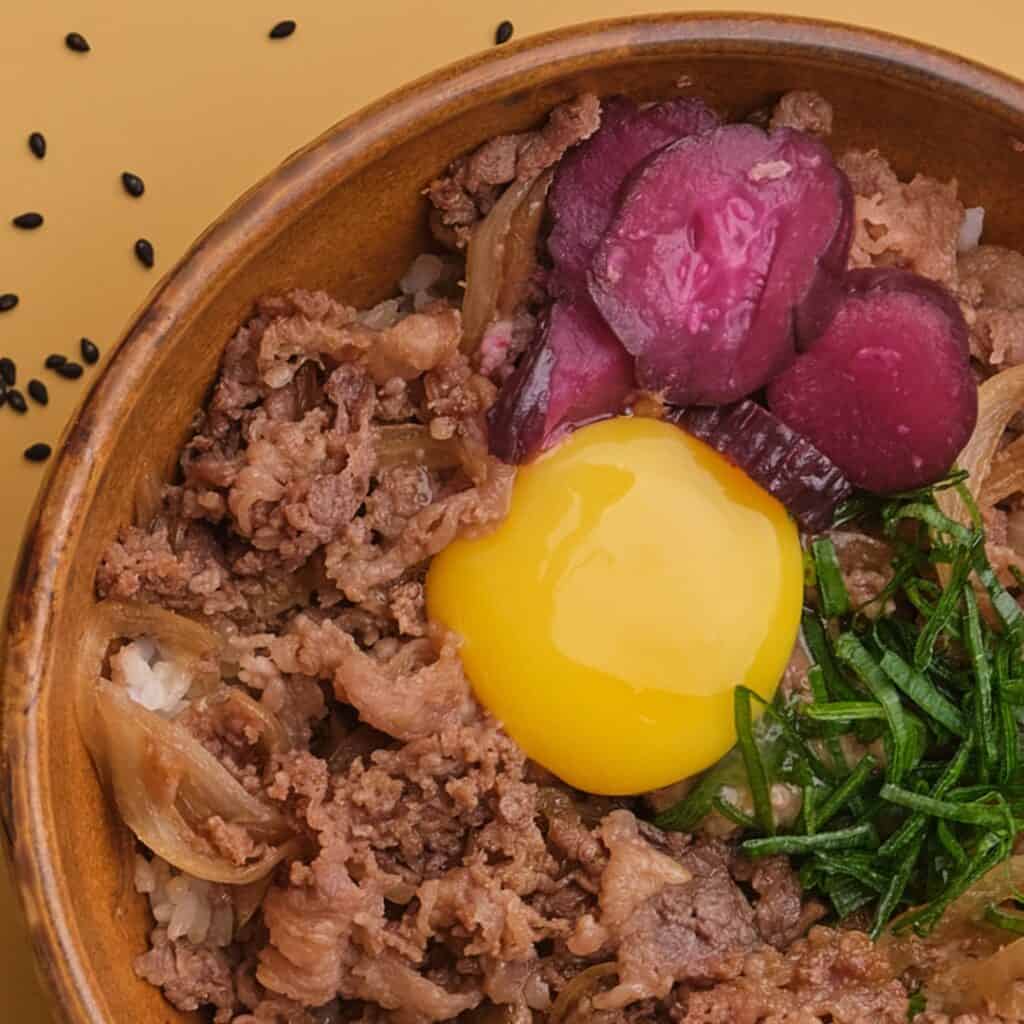 Gyoza
Hanako offers a variety of gyoza to choose from, in this menu they have a total of 8 gyoza's. The first item is their classic gyoza which is just like the staple gyoza of Japan you can order this in 4 pcs and 10 pcs. They also have beef gyoza, this one is made with savory beef inside and some vegetables, you can also order this in 4 pcs and 10 pcs as well.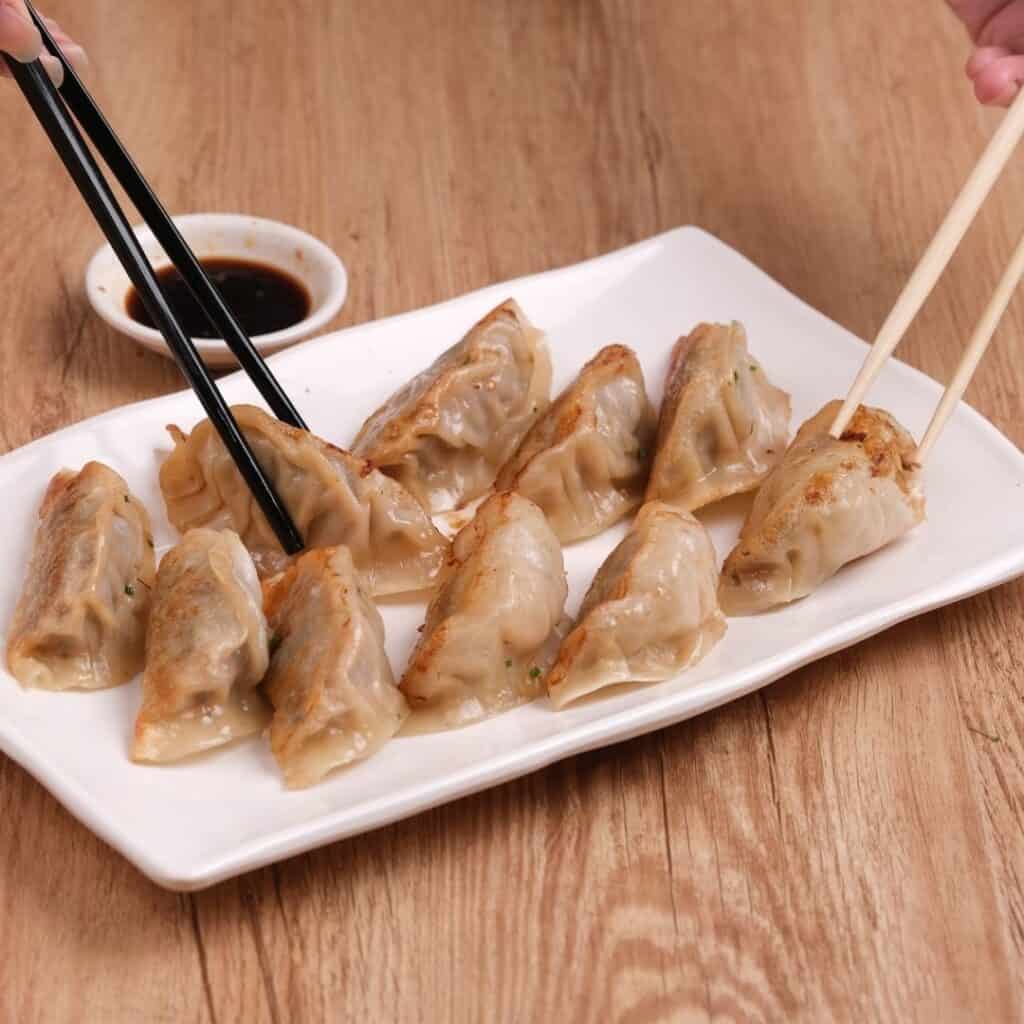 Chicken gyoza is also on this menu. They have an option of 10 pcs and 4 pcs on this item as well, this one has minced chicken inside that is mixed with some veggies and is juicy inside. Last but not least is their gyoza sampler, this one is a combination of gyoza variations listed above, you can also order this one in 6 pcs and 18 pcs.
Starters
Starter's menu of Hanako consists of 7 delicious items. The first one is their tuna tartare, if you're looking for a soup they also have miso soup. Tofu steak and salmon tartare are other options on this menu. they also have kani salad, which has crab meat. Agedashi tofu is also included on this menu, this one is light and very flavorful. Last but not least is their yasai itame which is a mixed vegetable that is cooked stir-fried style.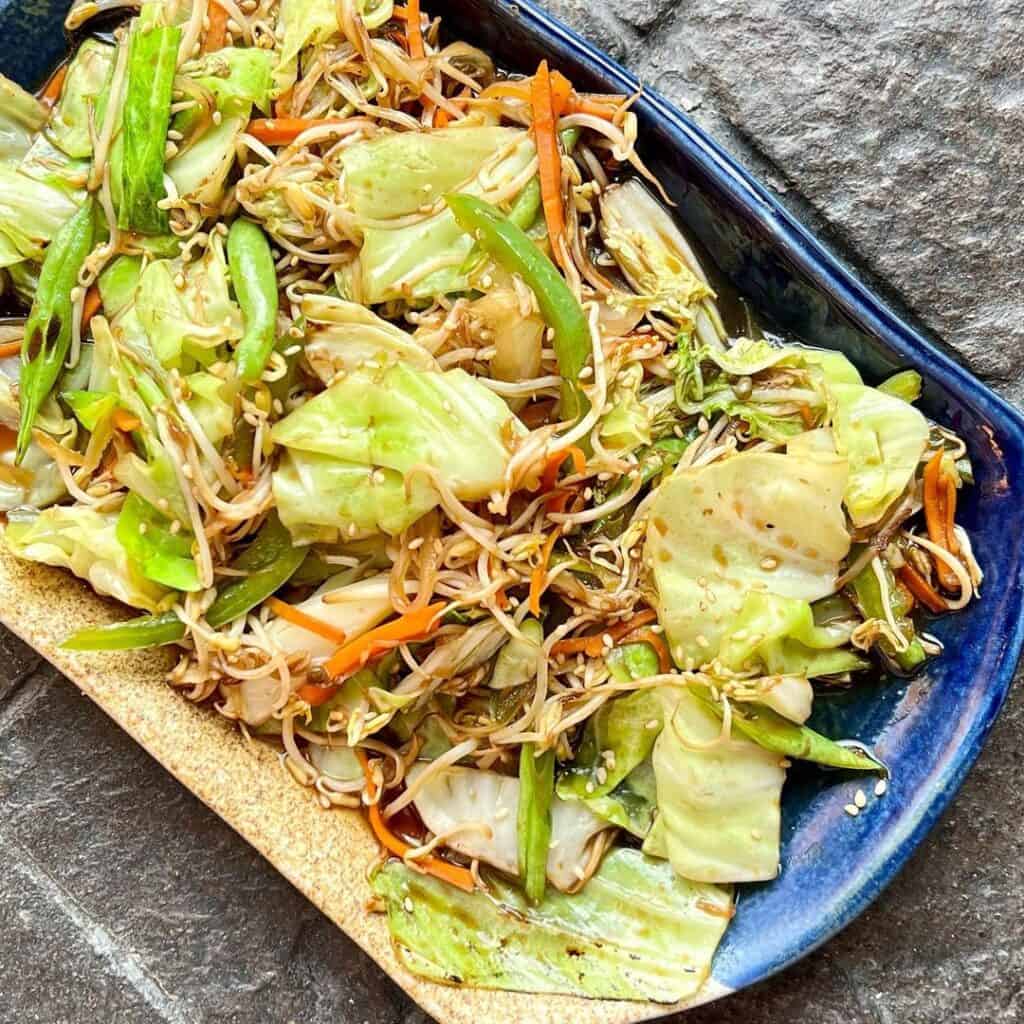 Hanako Menu Delivery
Craving for some delicious Japanese foods? No worries because you can order your favorite Hanako Japanese dishes simply by using third-party delivery services that are available in the market these days such as Foodpanda and PickAroo. You can also call their branch that offers delivery directly for a more convenient transaction.
Social Media Pages
Calling all Japanese food enthusiasts! Embark on a culinary journey to Japan and stay updated on the latest offerings from Hanako, Pasay's premier destination for authentic Japanese cuisine.
Facebook: https://www.facebook.com/HanakoPH
Instagram: https://www.instagram.com/hanako.ph
TikTok: https://www.tiktok.com/@hanako.ph
Website: https://cravehanako.ph
FAQs
Where can I find Hanako Japanese restaurant?
Hanako restaurant is located at 2/F, The Rock Lifestyle Hub, Holy Spirit Drive corner Marcelino Street Don Antonio Heights, Quezon City. They also have branches in San Juan, Parañaque, and Pasig as well.
What is the contact number of Hanako Japanese restaurant?
As of now, the phone number of Hanako is (02) 9317237.
What are the business hours of Hanako Japanese restaurant?
This restaurant is open from 11:00 a.m. until 10:00 p.m. from Friday to Sunday and from 11:00 a.m. until 9:00 p.m. on Monday to Thursday. 
How to pay at Hanako Japanese restaurant?
Hanako Japanese restaurant accepts cash for payment and major credit cards.
Hanako Japanese restaurant. Is this place halal-certified?
No. Hanako Japanese restaurant is a non-halal-certified restaurant since we can see pork dishes on their menu.
Conclusion
This Japanese restaurant is a very nice place to go if you're craving some delicious Japanese food or looking for a place to go for your daily eat-out with family or friends. Hanako Japanese restaurant menu offers close to authentic Japanese dishes with high quality. The place looks neat and has a very welcoming atmosphere. Their service crews are also friendly and very accessible and they serve fast in fairness to them. Food is generous in serving that's why it's really worth trying their place. Highly recommended place for everyone especially Japanese food lovers. Good food and a great experience.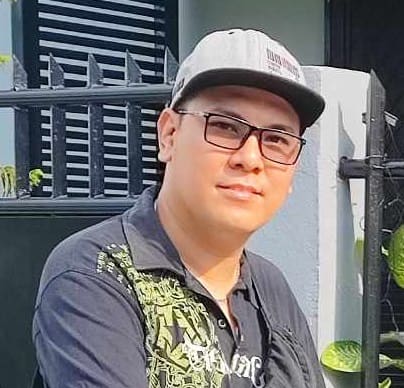 Hi! I'm Nivek Strife, the person who made MenuPH. I'm the one who added most of the popular menus you see on this website, and I really hope you enjoy them! Feel free to check them all out.
Growing up, I was surrounded by lots of tasty foods, like the classic Adobo and the sweet Leche Flan. That love for the many flavors of the Philippines is what got me excited about adding to MenuPH. When I learned how to make websites, I saw the need for a place to show off all the amazing Filipino dishes, and that's how MenuPH started.
MenuPH isn't just a website; it's like a fun journey into food. I've teamed up with famous chefs and found great places all over the Philippines to bring you a bunch of menus that show off the best of Filipino cuisine. Whether you're into the usual dishes or new twists, MenuPH is here to guide you through the rich world of Filipino flavors.
With MenuPH, my aim is to help local businesses, talk about good food choices, and make a group of friends who love food. No matter if you like fancy restaurants or street food, MenuPH has something for you. Come join me on this food adventure as we find great places, taste real flavors, and enjoy the unique food traditions that make the Philippines awesome.