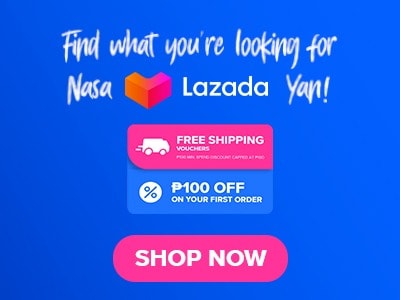 The Rambla menu features a delectable selection of classic and modern Spanish cuisine prepared with fresh and high-quality ingredients. The menu is divided into several sections, including Tapas, Charcuterie, Cheese, Seafood, Meat, Vegetables, and Desserts, each with a variety of options. To go with the food, the restaurant has a great selection of Spanish wines, craft cocktails, and spirits. Overall, Rambla's menu is a testament to Spain's rich culinary traditions, and it is certain to satisfy anyone seeking an authentic and satisfying dining experience.
Below, you'll find the updated list of Rambla menu prices.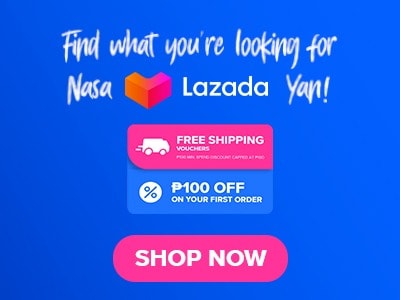 Main Items
Price (PHP)

Ensaladas Y Sopa

Ensalada de Salmon & Aguacate
795
Ensalada Rambla
495
Parrillada de Verduras
605
Sopa de Mariscos
405
Salmorejo
395

Pescados Y Carnes

Ventresca de Atun
905
Pollo de Corral
995
Solomillo a la Plancha
1895
USDA Prime Ribeye
4580
Black Angus Beef Tomahawk
8410
Cochinillo Segoviano
3995

Paellas

Negra
505
Mariscos
555
Verduras
405
Mar y Montanya
585
Setas
555
Ribeye
2005
Cochinillo
1605

Tapas Calientes

Callos con Garbanzos
605
Huevos Estrellados
595
Empanada de Foie y Pina
595
Gambas al Ajillo
435
Tortilla Patatas
470
Pulpo Asado
1005
Patatas Bravas
405
Chorizo al Vino
795
Shrimp Croquetas
325
Croquetas Jamon
330
Wagyu Bombas
405
Bikini Sandwich
565
Montadito Solomillo
1235

Tapas Frias

Spherical Olives
70
Carpaccio de Ternera
795
Jamon Iberico y Ceps, Air Baguettes
120
Salmon & Salmon Air Baguettes
785
Tartar de Salmon
785
Conos de Atun
645

Quesos Y Embutidos

La Rambla Mixto Platter
1450
Tabla de Quesos
740
Tabla de Embutidos
1050
Embutidos (50G)
525
Quesos (50G)
495
Cesta de Pan
160
Pan con Tomate
215

Postres

Tarta Chocolate
365
Churros con Chocolate
275
Torrija
330
Manchego Cheese Cake
395
Tiramisu
405
About Rambla
Rambla is a Spanish restaurant located in the trendy Poblacion neighborhood in Makati City, Philippines. Rambla's menu is inspired by the vibrant flavors and rich culinary traditions of Spain, with dishes that are made using fresh and high-quality ingredients. The ambiance at Rambla is stylish and sophisticated, with a modern and minimalist decor that features plenty of natural wood, concrete, and warm lighting. The restaurant also has an outdoor seating area that offers a cozy and romantic atmosphere, making it a popular spot for dates and special occasions.
Rambla Menu Best Seller
Salmorejo – This creamy soup is a refreshing and light starter, perfect for hot weather. The soup is made with ripe tomatoes, bread, garlic, and olive oil, and is topped with diced hard-boiled egg and jamon serrano, adding a nice saltiness and depth of flavor. The soup has a smooth and velvety texture, and is perfect for dipping bread into.
Solomillo a la Plancha – This dish features a perfectly cooked and tender beef tenderloin, seasoned with just the right amount of salt and pepper. The meat is juicy and full of flavor, making it a perfect main course for meat lovers.
Cochinillo Segoviano – This traditional Spanish dish is a delicious and succulent roasted suckling pig, with crispy skin and tender meat. The dish is served with a side of roasted potatoes, adding a nice balance to the dish. This Rambla menu is perfect for those looking to indulge in a hearty and delicious meat dish that is packed with flavor.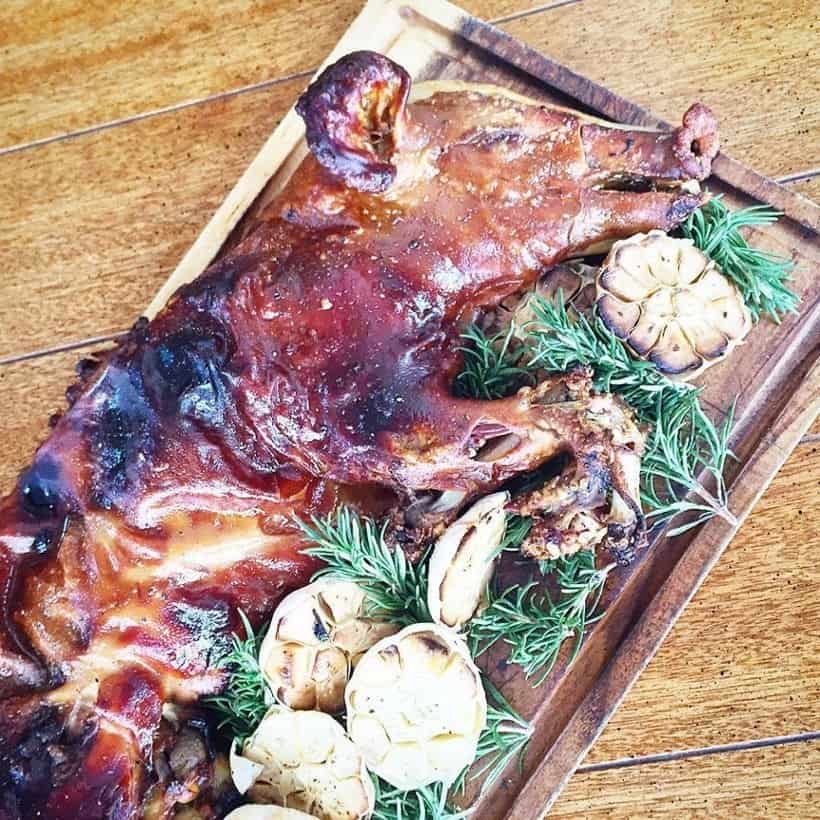 Rambla Menu Ensaladas Y Sopa
Ensalada Rambla – This salad is a beautiful blend of flavors and textures, with a mix of fresh greens, tomatoes, onions, olives, and a light vinaigrette dressing. The addition of crunchy croutons and a soft-boiled egg adds depth and richness to the dish, making it a satisfying and healthy appetizer or side dish.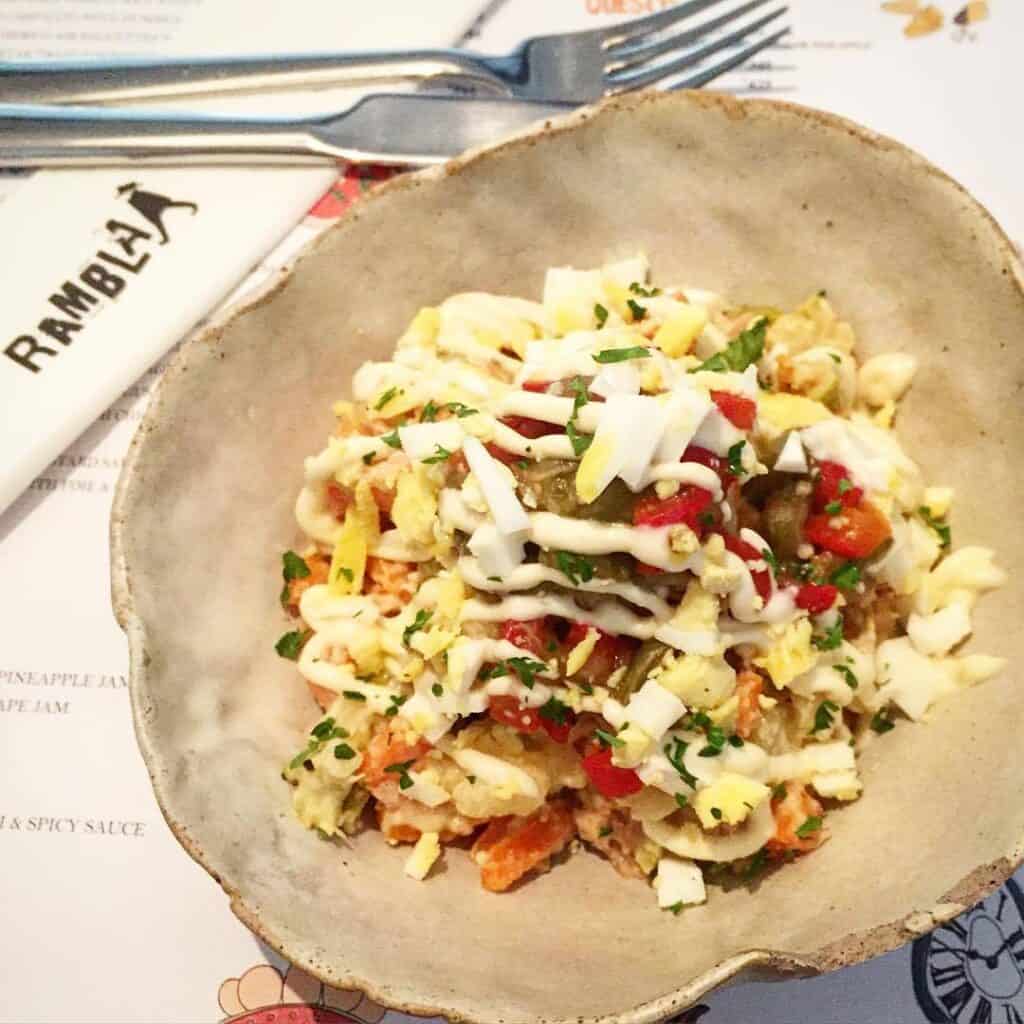 Parrillada de Verduras – The grilled vegetables in this dish are simply delectable, with the smoky and charred flavors perfectly complementing the vegetables' natural sweetness. The dish includes a variety of vegetables such as zucchini, eggplant, peppers, and onions, making it an excellent vegetarian side dish or even a main course.
Sopa de Mariscos – This seafood soup menu of Rambla is a hearty bowl of comfort, filled with tender shrimp, mussels, and squid in a flavorful tomato-based broth. The soup is topped with fresh parsley and served with grilled bread, making it a filling and satisfying meal on its own.
Pescados Y Carnes
Ventresca de Atun – This dish features the highest quality tuna belly, seared to perfection and served with a light and refreshing salad. The tuna is cooked just right, maintaining its tenderness and juiciness, while the salad adds a nice crunch and tanginess. This dish is perfect for seafood lovers who appreciate the delicate flavor of fresh tuna.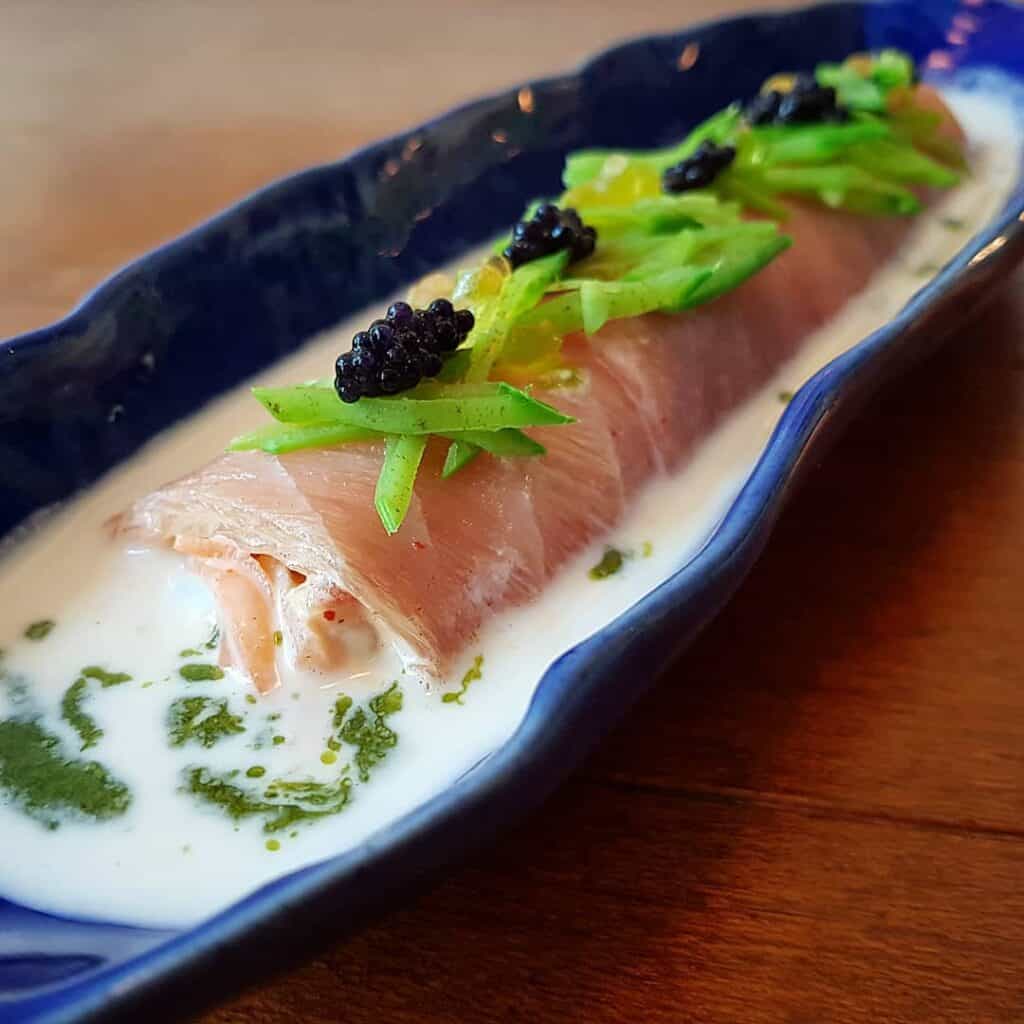 Pollo de Corral – This free-range chicken dish is a flavorful and juicy delight. The chicken is marinated in different spices then grilled to perfection until the skin is moist and crispy while the meat is tender. The dish is served with a side of roasted vegetables, which adds a nice balance to the dish.
Black Angus Beef Tomahawk – This is an impressive and substantial dish, which features a large and juicy tomahawk steak cooked to perfection, and is ideal for sharing. The beef is of the highest quality, perfectly seasoned and grilled for a crispy exterior and tender, juicy interior. This dish is a must-try for beef fans who appreciate a well-cooked steak.
Rambla Paellas Menu
Negra – Rambla's Negra paella is a unique and delicious take on the classic dish. Made with squid ink, the rice has a striking black color and a subtle briny flavor that complements the tender and flavorful seafood.
Verduras – This dish is a great addition to any meal. It is a healthy and flavorful way to incorporate more vegetables into your meal and can also be prepared in a variety of ways to suit your tastes and preferences.
Cochinillo – The dish is made by roasting a young pig over an open flame until the skin is crispy and the meat is tender and juicy. Cochinillo is a flavorful and memorable dish that is sure to leave a lasting impression.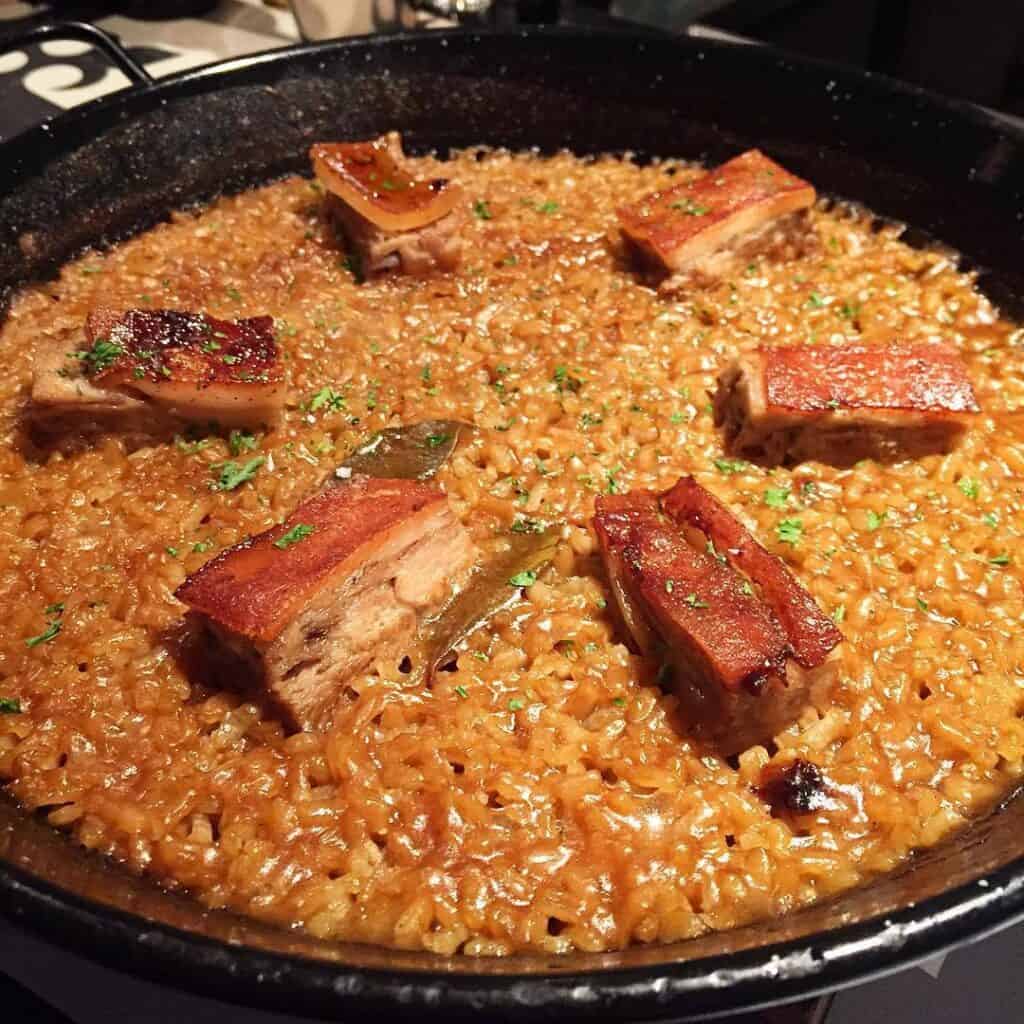 Tapas Calientes
Callos con Garbanzos – This is a classic Spanish dish made with tripe, chorizo, and chickpeas in a hearty and flavorful tomato-based sauce. The dish is well-seasoned and has a nice balance of savory and slightly spicy flavors. The tripe is tender and has a nice chewy texture, while the chickpeas add a nice nuttiness to the dish.
Huevos Estrellados – It is a simple menu of Rambla that is made with crispy fried potatoes, jamón ibérico, and a perfectly fried egg. The jamón ibérico is of high quality and has a nice saltiness that complements the potatoes well.
Gambas al Ajillo – Rambla's Gambas al Ajillo is a classic Spanish dish made with shrimp, garlic, and chili peppers. The dish is well-seasoned and has a nice balance of savory and slightly spicy flavors. The shrimp is perfectly cooked and has a nice sweetness that complements the garlic and chili well.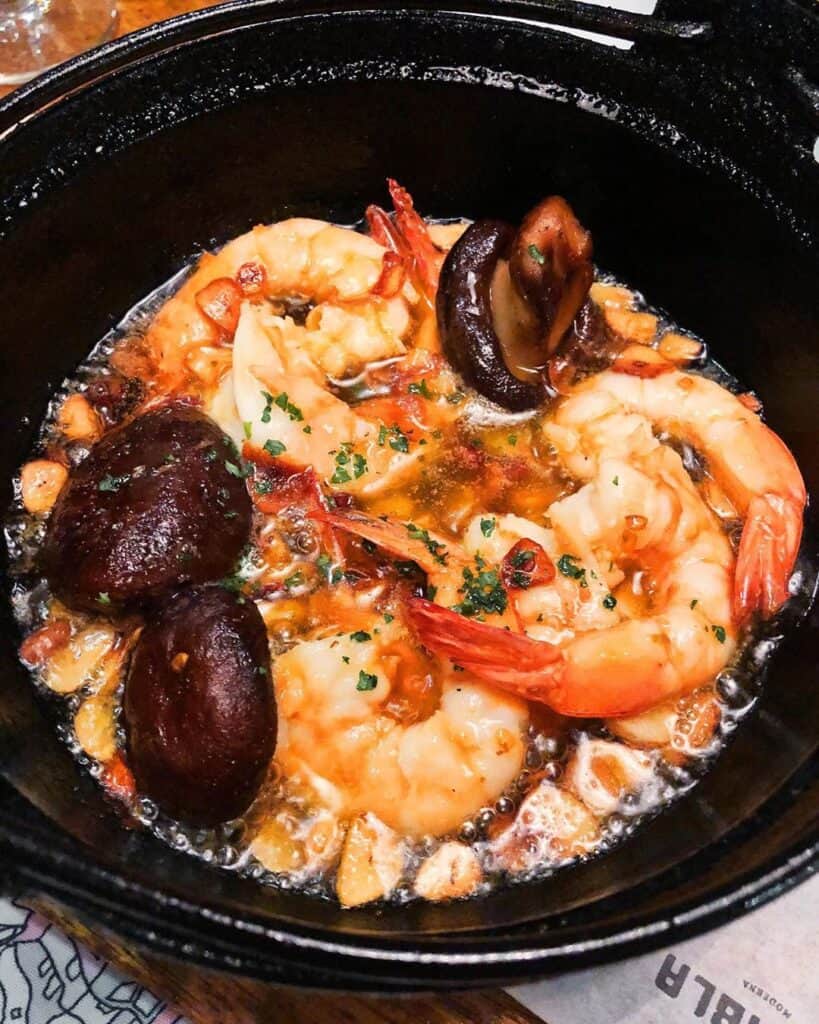 Tapas Frias
This menu provides a great selection of cold appetizers that are perfect for sharing. Each dish is beautifully presented, and the flavors are fresh and bold. The menu also features some excellent vegetarian options, like the roasted beets with feta cheese and honey, making it a great option for groups with different dietary preferences.
Quesos Y Embutidos
This menu offers a great selection of cheeses and cured meats that are perfect for a light meal or as an accompaniment to the restaurant's extensive wine list. The menu features a variety of imported and local cheeses, as well as classic Spanish charcuterie like Iberico ham and chorizo. Every dish from this menu would be an excellent choice for those seeking a casual yet elegant dining experience.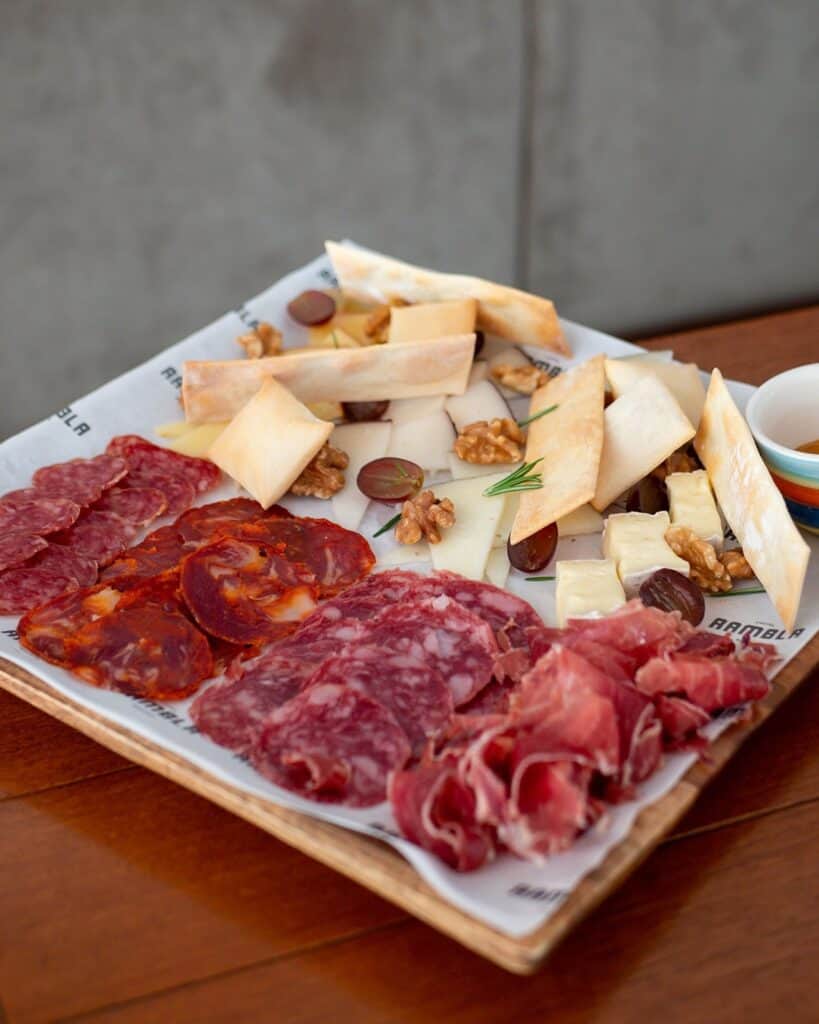 Para Dos Combos
This menu is a great option for couples or small groups looking for a sharing-style dining experience. The menu features a selection of dishes that are designed to be shared, including some of Rambla's most popular dishes like the Pulpo a la Plancha and the Solomillo a la Plancha. This menu is a great way to experience the restaurant's signature dishes in a fun and casual setting.
Rambla Menu Delivery
Rambla offers delivery through various food delivery platforms in certain locations.  Customers can order food online through Rambla's website or through delivery companies such as Grab Food and Food Panda and have it delivered to their door. Rambla's delivery service is a convenient option for those who want to enjoy the restaurant's delicious food from the comfort of their own home.
Rambla Social Media Pages
Looking for an authentic Spanish dining experience? Look no further than Rambla! Our menu is carefully crafted using only the highest quality ingredients, bringing the vibrant flavors of Spain straight to your table. Check out their food menu through their social media pages. Come make unforgettable memories at Rambla!
Facebook: https://www.facebook.com/ramblaph
Instagram: https://www.instagram.com/bistronomia.ph/
Website: https://www.bistro.com.ph/
Conclusion
Aside from their menu which is divided into different sections, Rambla also offers a wide selection of Spanish wines, as well as craft cocktails and spirits. The service at Rambla is also excellent, with the staff being attentive, knowledgeable, and friendly. The restaurant also boasts an impressive wine list, featuring a great selection of Spanish wines, as well as other wines from around the world. Overall, Rambla is a great place to enjoy delicious Spanish cuisine and drinks in a chic and contemporary setting.