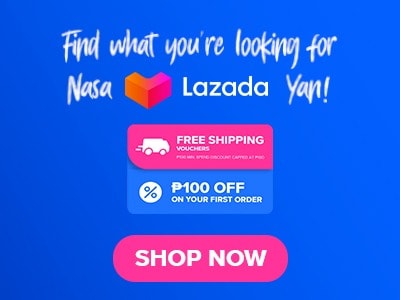 As Filipinos, we all have memories attached to our country's national dish adobo, tinola, liempo, and anything that is Filipino. Another restaurant that offers Filipino food is our topic in this article. Who wouldn't want to go to a place that offers delicious food and affordable prices, right?  This restaurant is serving Filipino popular dishes so their restaurant is a great place to go if you're looking for a place where you could enjoy Pinoy foods. Have you heard about this restaurant? If not then stay with me in this article and together we are going to explore Limbaga 77 menu, their price per dish, their best-selling food items, and something about them. Let's stop delaying things here, let's go. 
Menu Items
Price (PHP)

Starters

Stuffed bulaklak ng kalabasa
227
Sugbat kilaw
377
Beef salpicao
377
Crablets + nilasing na hipon
227
Poqui poqui rolls
227
Sizzling tofu with mushroom
227

Soups

Mussel soup
77
Munggo soup
197
Kalabasa soup
197
Halaan soup
277
Chicken binakol
477
Bulalo
477
Sinigang na salmon
477

Salads

Limbaga 77 salad
377
Pako salad
277
Green mango pomelo salad
377

Noodles

Pansit bihon
277
Filipino spaghetti
277
Bihon gambas
377
Seafood pancit buko
277
Pancit palabok
277

Beef

Pochero
577
Kare-kare
577
Bistek tagalog
477
Afobong tadyang ng baka
377
Kaldereta
377
Sinigang na baka sa pakwan
477
Pares special
377
Kaldereta de lengua
377

Pork

Limbaga 77 baked lechon paksiw
577
Baby back ribs
577
Crispy bagnet
477
Pork hamonado
477
Pork sisig
277
Grilled liempo
277
Crispy pata
677
Igado ilocos
377

Chicken

Roasted chicken
577
Four flavored wings
277
Chicken binagoongan
277
Chicken and pork adobo
277
Buffalo wings
277
Chicken morcon
377

Seafoods

Spicy seafood adobo
577
Sweet and sour lapu lapu
577
Prawns and garlic sauce
477
Grilled tuna
477
Tanigue steak
477
Binusog na pusit
477
Pampano in banana leaf
477

Vegetables

Fresh lumpia
277
Pinakbet
177
Spicy bicol express
177
Seafood chopsuey
377
Limbaga 77 stuffed laing
377
Traditional ensalada
377

Rice

Danggit rice
77
Bagoong rice
77
Garlic rice
57
Plain rice
47

Best seller tandems

Limbaga 77 stuffed laing & adobong tadyang ng baka + garlic rice
397
Spicy seafood adobo + adobong tadyang ng baka + garlic rice
397
Limbaga 77 stuffed laing + baby back ribs (1/4 rack) + garlic rice
397
Spicy seafood adobo + grilled liempo + garlic rice
397
Limbaga 77 stuffed laing + toasted vigan Longganisa + garlic rice
397
Toasted vigan Longganisa + seafood chopsuey + garlic rice
397
Grilled liempo + seafood chopsuey + garlic rice
397

Blended drinks

Mabuhay smoothie
177
Minty mango waltermelon
177
Lychee grapes shake
177

Limbaga 77 juices

Grass citrus iced tea
97
Fresh calamansi
97
Fresh dalandan
97
Fresh orange
97

Fresh fruit shakes

Ripe mango
107
Green mango
107
Watermelon
107
Buko
107
Pineapple
107

Beverages

Coke regular
77
Coke light
77
Coke zero
77
Sprite
77
Bottled water
77
About Limbaga 77
If you want to experience good Filipino foods then you should try visiting Limbaga 77. They are just located at Tomas Morato in Quezon City so finding them wouldn't be a hassle since they are already in NCR. The place of this restaurant is an old house that they converted into a classic restaurant. Sonny Fortuna is the owner of this Filipino restaurant and according to him, they are sticking with the classic recipe that we all grow with, our classic Filipino cuisine that we all inherited from our logos or Lola's.
Limbaga 77 is open every day from 11 in the morning until 3:00 in the afternoon then reopen at 6 until 10:00 in the evening. For your inquiries or reservations, you may send them a message on their social media pages (See the social media section for more information).
Limbaga 77 Menu Best Seller
Here is the list of Limbaga's 77 best-selling items that we gather based on our research.
Stuffed Bulaklak ng Kalabasa – Limbaga 77's stuffed bulaklak ng kalabasa in an appetizer that is made of squash flowers then they stuffed it with some cheese which we heard natively made and minced pork before dipping it into a batter and deep fried until crispy and golden brown on the outside. The combination of melted cheese and pork is really good. They also serve their stuffed bulaklak ng kalabasa with a dipping sauce which also highlights the taste of the fried bulaklak ng kalabasa.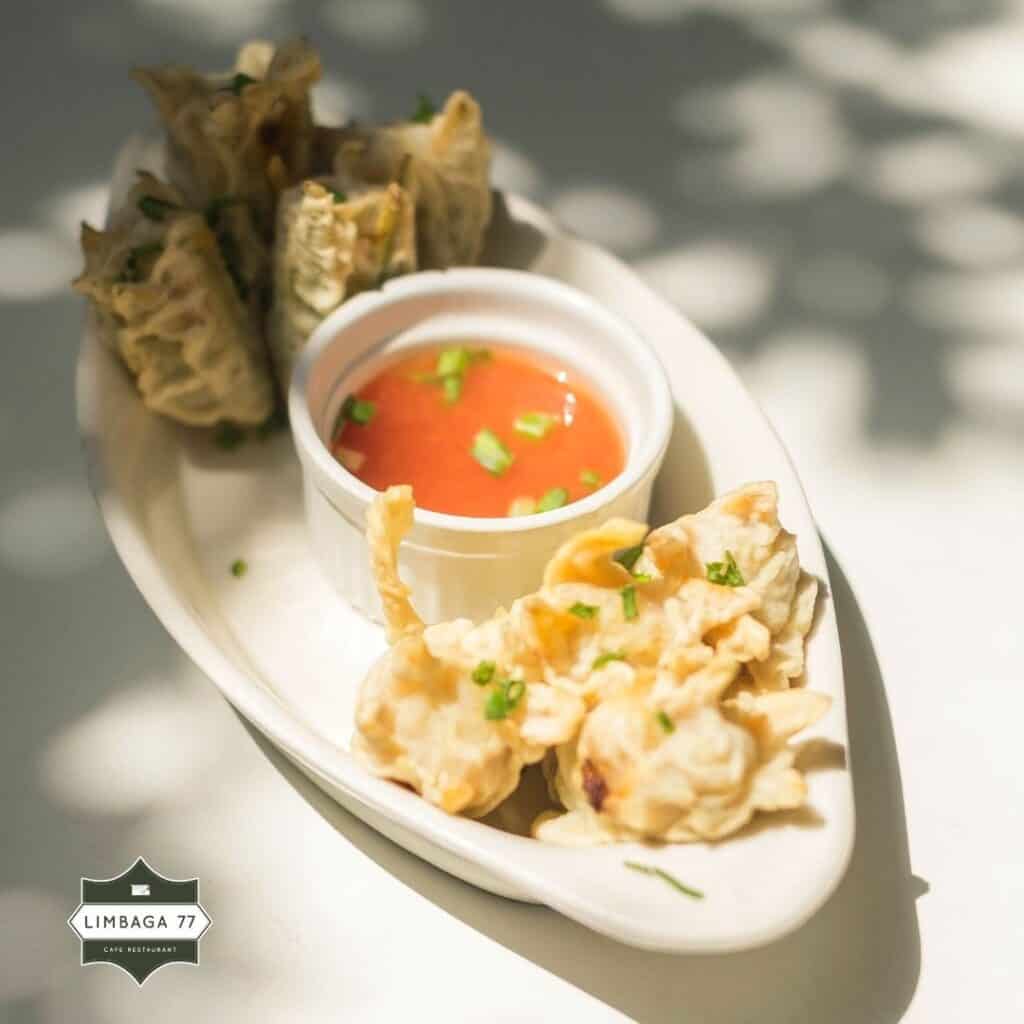 Paella – This classic dish is not very Filipino but has been around in our country for many years ago because of the Spanish influence. The Limbaga 77 version of this menu is made for sharing, one order is good for Five people.  this hearty Filipino-Spanish masterpiece is really good since it is packed with different kinds of meat like chicken meat, Spanish chorizo, hard-boiled eggs, and seafood like squid, clams, shrimp, and mussels. The paella grains at the bottom have that toasty crunch, to be honest I like scraping the toasted part because it's so tasty. 
Green Mango Pomelo Salad – Limbaga 77 not only focused on the main dishes but as well as the salad. This salad menu has a combination of citrusy flavors from the mango and pomelo fruits and a bit of saltiness and smokiness from the grilled shrimp. Some shrimp pieces are a bit over-grilled though and a little bitter but the citrusy flavor already overpowered the taste of the salad so it's fine.
Pochero – This dish is also one of the most popular dishes in our country, their pochero is made with rich tomato-based broth that provides a sweet and savory flavor on the broth plus the very tender meat (beef short ribs) which they slow-cooked, the vegetables are still crisp and that delicious saging na saba I can't forget. When it comes to a presentation they served their pochero picture ready and Instagram-able. They only use fresh ingredients to keep the good quality of their pochero.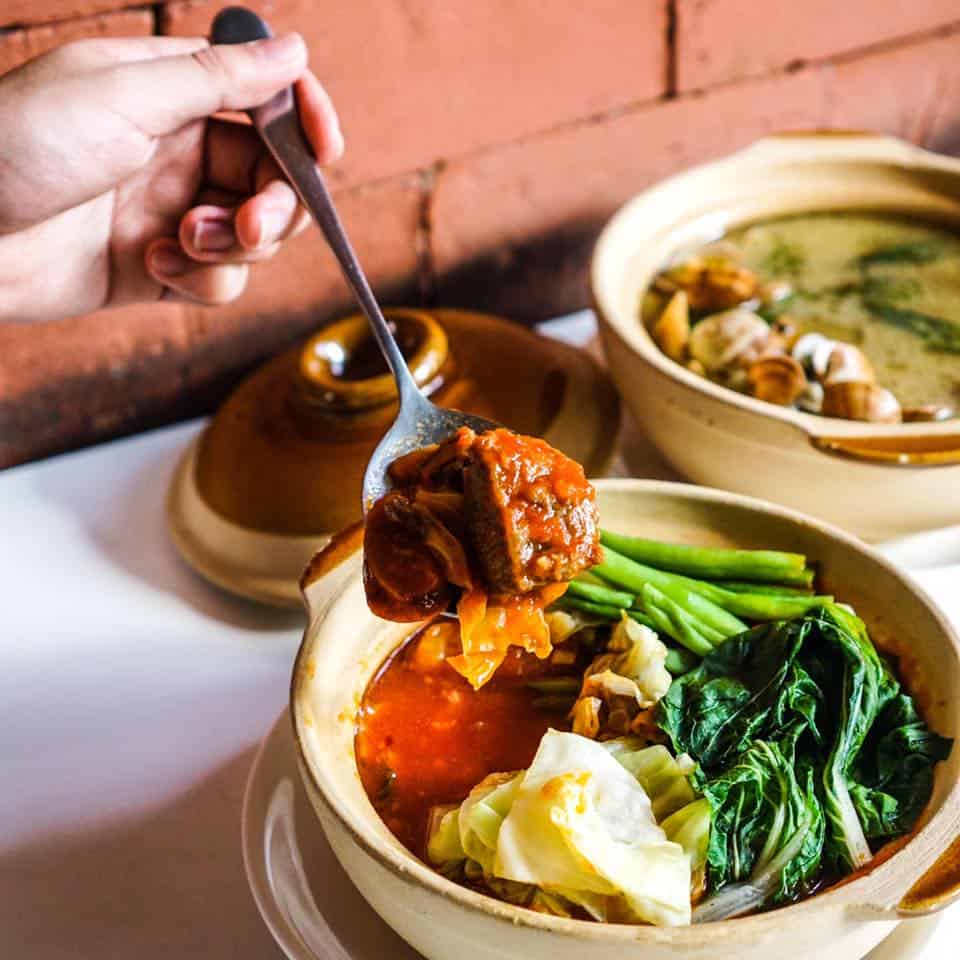 Buffalo Wings – Though this is not included in our cuisine limbaga 77 decided to offer buffalo wings to appeal to their young diners. This delicious finger food is perfect for after-school or office hangouts. They also serve this with a dipping sauce which is blue cheese, I noticed that they put some minced cucumber to the sauce maybe to add sweetness but overall this is delicious with or without the sauce.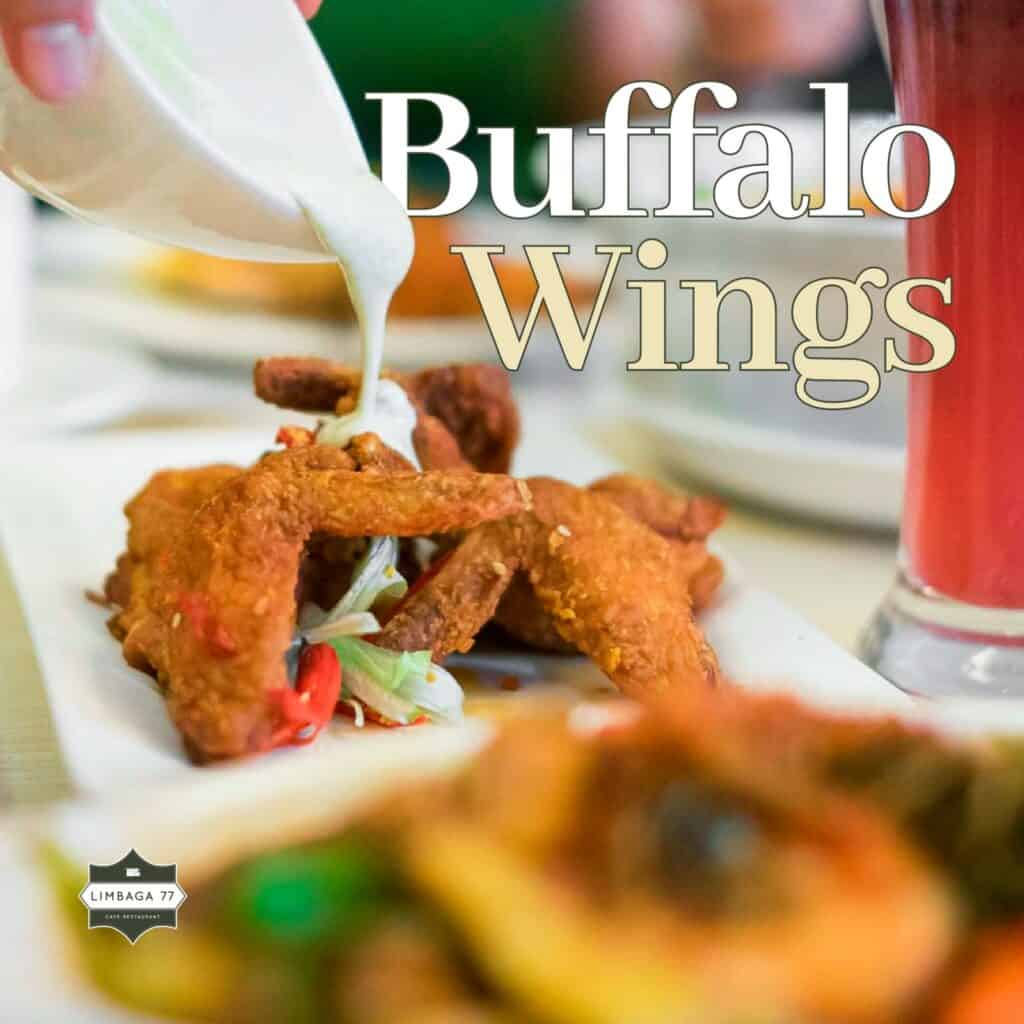 Limbaga 77 Starters Menu
Limbaga 77 has 6 delicious starters to choose from. First on the list is their stuffed bulaklak ng kalabasa which is also included on their best sellers, sugbat kilaw if you want something different, beef salpicao which is actually should be included in mains for me, crablets + nilasing na hipon that we all enjoy, poqui poqui rolls and lastly their sizzling tofu with mushroom.
Soups
They have variety of soup choices as well, from vegetables to meaty soups. First, on the list is their mussel soup if you're into mussels, mungo soup which is highly recommended because this one is delicious, kalabasa soup if you want something unusual, halaan soup which tastes like the mussels soup or am I wrong? Chicken binakol this one is great with rice, bulalo the all-time favorite soup in our country, and sinigang na salmon. All soups are good with rice.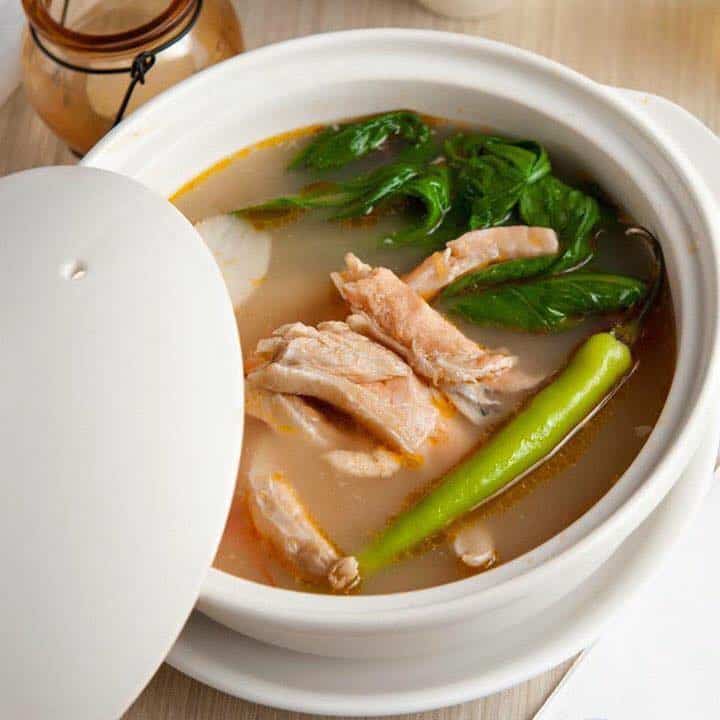 Noodles
Since Limbaga 77 is a Filipino restaurant of course we will find noodle dishes on their menu. They have two kinda all-time favorite Filipino pancit which are pansit bihon and pansit palabok. They also serve Filipino-style spaghetti, bihon gambas, and seafood pansit buko.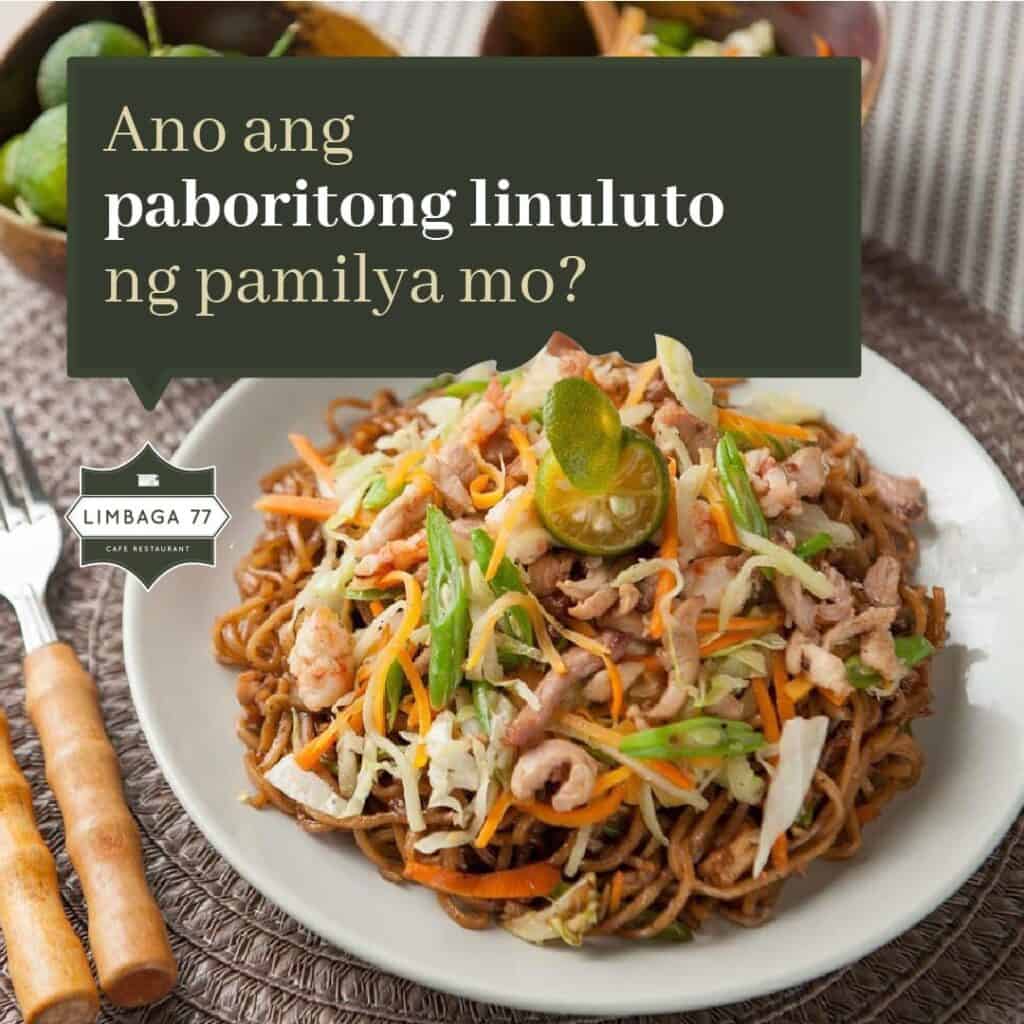 Beef
Limbaga 77 has a lot of beef dishes. From pochero to karekare up to bistek tagalog they have it. They also have adobong tadyang ng baka which is very tasty and soft, kaldereta and this unusual dish called sinigang na baka sa pakwan that is surprisingly delicious, pares special and kaldereta de lengua which is made with beef tongue.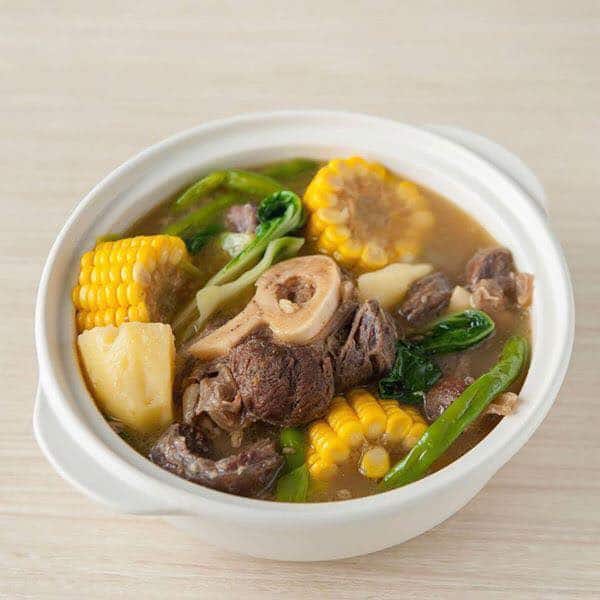 Limbaga 77 Menu Delivery
If you want to order your favorite limba 77 foods all you have to do is message their Facebook page or you can text/Viber them at 09267158134. Then you'll get to choose how you will receive your order, could be restaurant pick up or Lalamove or grab express or could be Limbaga 77 delivery. After that you have to choose your payment method it could be online banking or Gcash or for the restaurant pick up it could be cash or card. 
Social Media Pages
To demonstrate your support, we invite you to visit and follow Limbaga 77's social media accounts. By doing so, you'll receive the latest updates on their promotions and events since this is the primary platform where they interact with their customers. Check out the links below to connect with them on various social media channels.
Facebook: https://facebook.com/Limbaga77Restaurant
Instagram: https://instagram.com/limbaga77restaurant
Twitter: https://twitter.com/limbaga77
Conclusion
Perfect place to go if you're exploring Filipino cuisine, and affordable meals and the quality of their foods ate just amazing. Limbaga 77 menu has a wide variety of selections from appetizers to desserts. The restaurant itself has a great interior which gives a classic and homey feel while dining inside. I can't complain anything about their service crews, they are the best and very approachable as well. The place is clean and cozy. Their foods are appetizing in appearance and when it comes to serving size they serve huge sizes so it's also great for sharing. Highly recommended restaurant if you want to enjoy delicious Filipino dishes.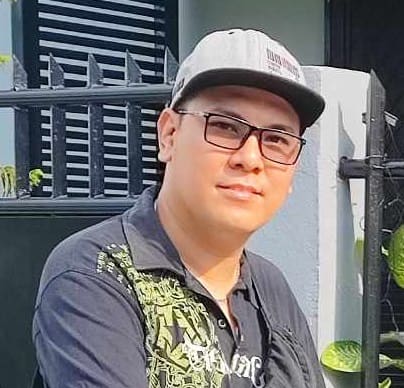 Hi! I'm Nivek Strife, the person who made MenuPH. I'm the one who added most of the popular menus you see on this website, and I really hope you enjoy them! Feel free to check them all out.
Growing up, I was surrounded by lots of tasty foods, like the classic Adobo and the sweet Leche Flan. That love for the many flavors of the Philippines is what got me excited about adding to MenuPH. When I learned how to make websites, I saw the need for a place to show off all the amazing Filipino dishes, and that's how MenuPH started.
MenuPH isn't just a website; it's like a fun journey into food. I've teamed up with famous chefs and found great places all over the Philippines to bring you a bunch of menus that show off the best of Filipino cuisine. Whether you're into the usual dishes or new twists, MenuPH is here to guide you through the rich world of Filipino flavors.
With MenuPH, my aim is to help local businesses, talk about good food choices, and make a group of friends who love food. No matter if you like fancy restaurants or street food, MenuPH has something for you. Come join me on this food adventure as we find great places, taste real flavors, and enjoy the unique food traditions that make the Philippines awesome.