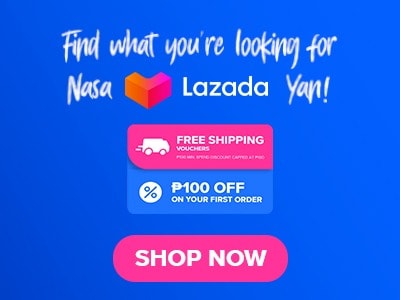 Almost everyone loves pizza, who wouldn't right? This treat became people's favorite over time and it's easy to eat as well. There's a lot of pizza parlors that are mushrooming in our country nowadays but I can only include a few good pizzas out of hundreds of establishments in our country. But have you tried S&R New York Style Pizza? I'm sure a lot of you already tried it but for those who have never tried it yet then this is the right article for you. Let's take a look at the S&R New York Style Pizza menu and other delicious items, let's find out which are their best sellers, their prices and how did they start. So, without further ado let's start! 
Below, you'll find the updated list of S&R New York Style Pizza menu prices.
Menu Items
Price (PHP)

Classic Pizza

18" Cheese Pizza
626
18" Pepperoni Pizza
692
18" Combo Pizza
692
18" Garlic & Shrimp Pizza
692

Gourmet Pizza

18" Cream Cheese Pepperoni Pizza
769
18" All meat Pizza Deli
769
18" Cheesy Burger deluxe Pizza
769
18" Tropical Hawaiian pizza
769

Two in One Pizza

18" Cheese and pepperoni pizza
747
18" Combo and cheese pizza
747
18" Combo and garlic shrimp pizza
747
18" Combo and pepperoni pizza
747
18" Garlic Shrimp and cheese pizza
747
18" Garlic Shrimp and pepperoni pizza
747

Wings

6pcs garlic Parmesan chicken wings
229
6pcs honey sriracha chicken wings
229
12pcs garlic Parmesan chicken wings
419
12pcs honey sriracha chicken wings
419

Burger and Sandwiches

Double cheesy quarter pound burger
185
Quarter pound burger
142
All beef hotdog
120
Hotdog with bacon and cheese
164
S&R spicy chicken sandwich
165
S&R regular chicken sandwich
145
Chicken baked roll with bacon
152

Drinks

Pepsi regular 2L
119
Mountain dew 2L
119
7up 2L
119
Mirinda 600ml
69
Pepsi black 600ml
69
Pepsi regular 600ml
69
7up 600ml
69
Mountain dew 600ml
69

Extras

Gravy
10
Honey mustard dressing
28
Rice
28

Starters

Chicken Caesar salad
230
Fries
84
Savory fries
156

Whats Hot!

4 cheese pepperoni pizza
769
Chicken quesadilla
219
Truffle quesadilla
219

New York salisbury steak

New York Salisbury steak
109

Southern style fried chicken

2pc chicken with rice
169
6pcs southern style fried chicken
439
10pce southern style fried chicken
659

Pasta

All meat pasta
296
Chicken pestp pasta
296
Scampi pasta
296

Cheesecake and Milktea

Newyork style cheesecake
159
Salted cream dark chocolate milk tea
119
Wintermelon salted cream boba milk tea
119
Classic brown sugar milk tea
119
About S&R New York Style Pizza
Years ago, Filipino shoppers on S&R (bulk shopping club) had to get a membership card to have access to their delicious New York style pizzas because their pizzas are huge, delicious, has a lot of toppings, and are affordable. Their pizzas are always the pasalubong for the shoppers to bring and share with their families and because of the popularity of their food, they decided to open chains so that you don't need a membership card to enjoy their food. As of now, S&R has 20 club branches in our country and other S&R New York Style Pizza branches in selected areas to spread their delicious foods without requiring anyone for a membership card.
S&R New York Style Pizza Menu Best Sellers
Based on our research, here are the best-selling food items on S&R New York Style Pizza that are delicious, affordable, and a must-try.
Southern Style Fried Chicken – S&R's Southern Style Fried Chicken has a lot of flavors in one single bite, it is also crunchy and best enjoyed with some pizza or any item that you like.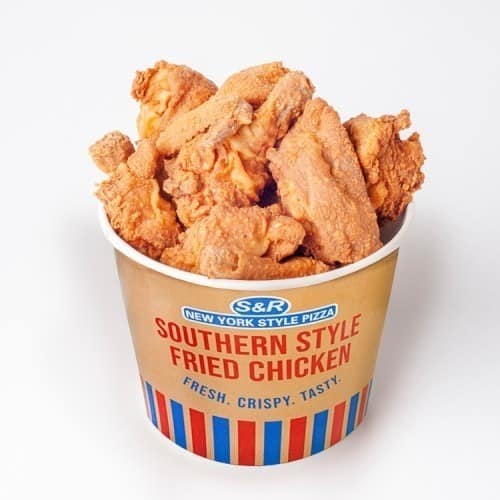 Chicken Baked Roll – S&R's chicken baked roll is also one of their best sellers. This is packed with chicken that is really tender, cheese and bacon. Their delicious chicken baked roll goes really well with their savory fries. This is one of my favs actually.
Quarter Pounder Burger – This S&R New York Style Pizza menu is a quarter-pounder burger that is made with beef patties of premium quality some fresh vegetables and a special sauce that made this burger outstanding. 
Pepperoni Pizza – their classic version of pepperoni pizza is one of their best sellers because of how meaty it is. The taste is so good and goes really well with their chicken.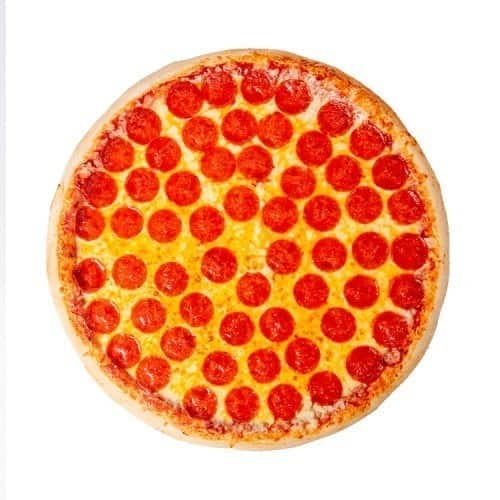 S&R New York Style Pizza Menu Classic Pizza 
S&R's classic pizza has four flavors to choose from. The first one is their 18" cheese pizza that I highly recommend for cheese lovers, next is their pepperoni pizza with imported pepperoni slices and melted cheese. Another one is their 18" combo pizza that is made with imported beef and pork pepperoni, some sausage, black olives, green bell peppers, and onions. Last but definitely not least is their 18" garlic and shrimp pizza made with peeled shrimp, garlic bits, and mozzarella cheese.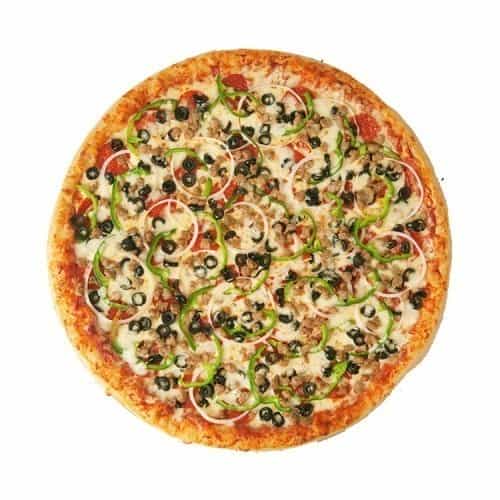 Gourmet Pizza
On their gourmet pizza, they have four options to choose from. First is their 18" cream cheese pepperoni pizza that is made with mozzarella cheese, imported pepperoni, and cream cheese. Second is their 18" all-meat pizza, this meaty pizza is made for meat lovers out there. Third is their cheesy deluxe burger pizza. This is for those who can't decide which one to order if it's a burger or pizza so they made it one problem solved. Lastly is their 18" tropical Hawaiian pizza that is made with bacon, cheese, and sliced pineapples.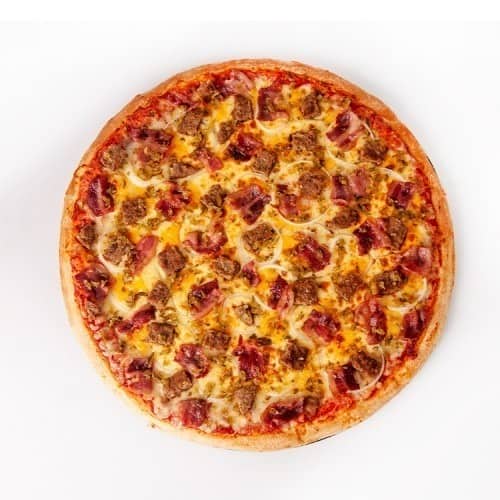 Two in One Pizza
This S&R New York Style Pizza menu consists of 2 flavors of pizza in one crust. Flavors included are cheese and pepperoni Pizza, combo and cheese pizza, combo and garlic shrimp, combo and pepperoni, garlic shrimp and cheese pizza, and garlic shrimp and pepperoni pizza.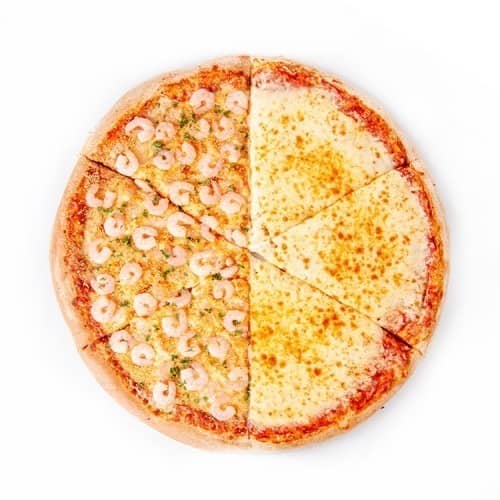 Wings
The wings menu at S&R offers a limited but delectable selection of only two flavors: garlic parmesan and honey sriracha chicken wings. Whether you're in the mood for a zesty kick or a savory bite, these options are sure to satisfy your cravings. You can choose to order your wings in quantities of 6 or 12, or opt for a larger pack if you are going to eat along with your friends or families.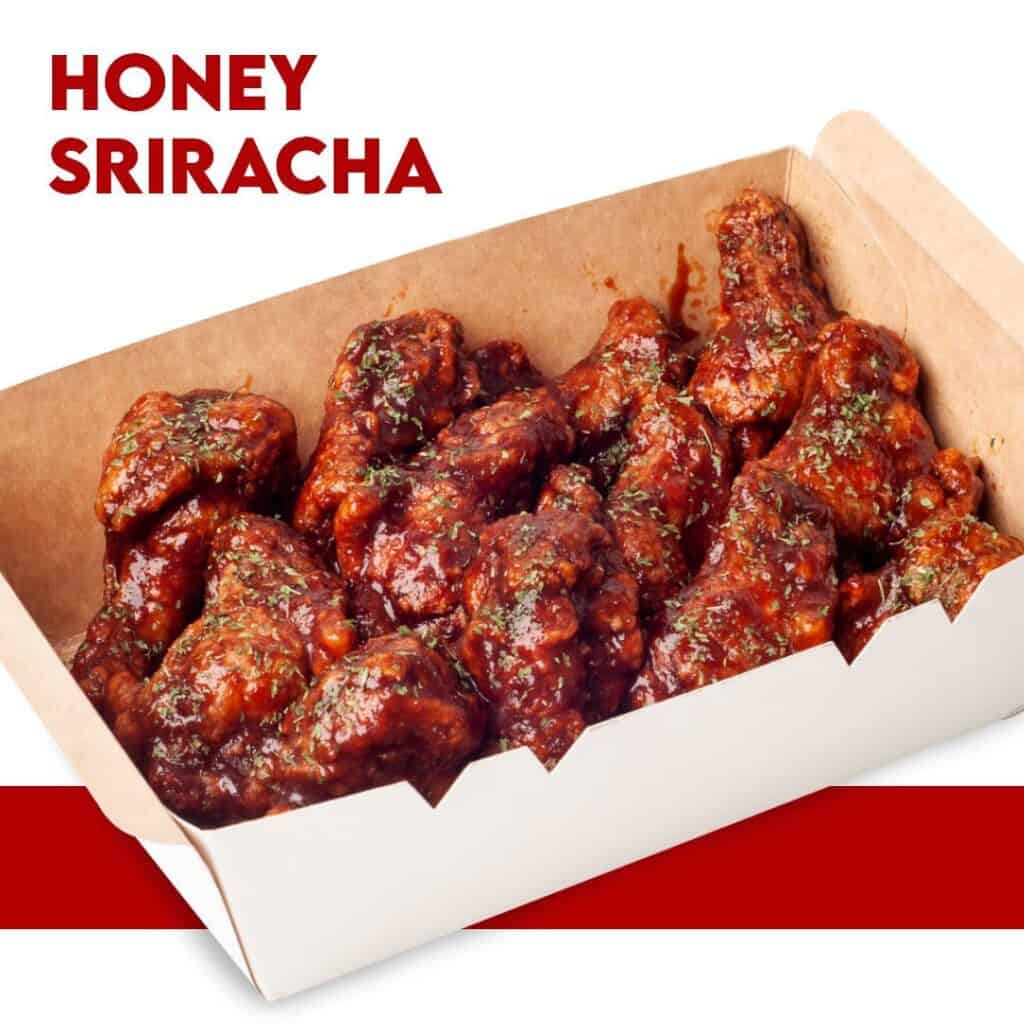 Burger and Sandwiches
There's a lot of good food in S&R aside from pizza they also have burgers and sandwiches. Double cheese quarter pounder burger and quarter pounder burger are the popular ones on their burger options. They also have beef hotdogs with mayo mustard and ketchup, hotdogs with bacon and cheese, spicy and regular chicken sandwiches, and chicken baked rolls with bacon.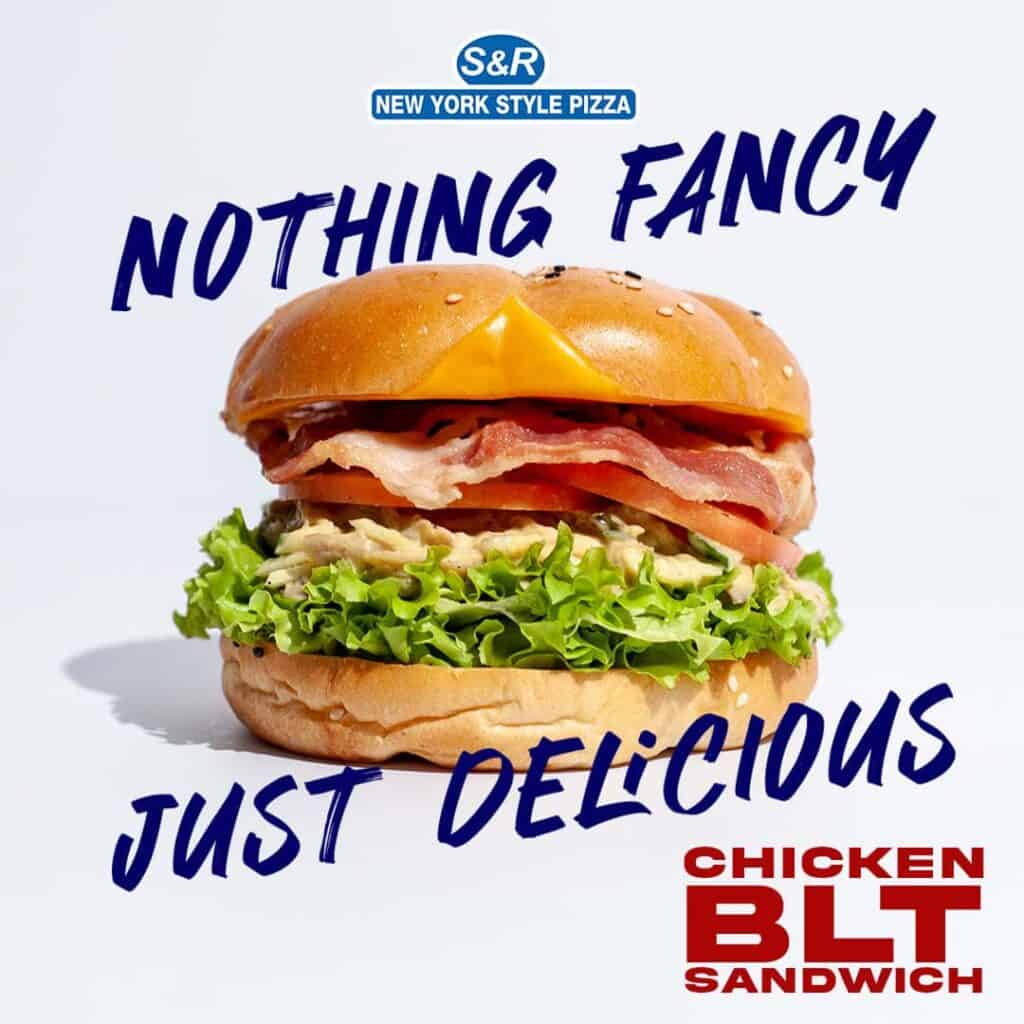 Promos
S&R have this promo that if you buy their gourmet pizza, you'll have 50% off the price if you buy another regular pizza. It is applicable on Friday, Saturday, and Sunday. They also have buy-one-take-one for only 999, you just have to buy 1 made-to-order pizza to get their regular pizza. 
S&R New York Style Pizza Menu Delivery
If it happens that you just crave your favorite S&R food items all you have to do is download the food delivery application, open it then order from it. S&R New York Style Pizza is available on Food Panda, PickARoo, and Grab Food so you had better add your favorite S&R items to your cart and check out.
Social Media Pages
S&R New York Style Pizza is a must-try for pizza lovers, and what better way to stay updated than by following their social media pages? Keep an eye out for the latest news and updates about their delicious offerings.
Facebook: https://www.facebook.com/snrpizzaofficial
Instagram: https://www.instagram.com/snrpizzaofficial/
Website: https://snrpizza.com/contact
FAQs
What should I order at S&R?
There is a lot of what to order at S&R New York Style Pizza but the popular items are the most recommended ones. Examples of their popular items are the All Meat Deli, Quarter Pounder burger, and pepperoni pizza. 
Is S&R New York Style Pizza halal-certified?
Not all food items at S&R New York Style Pizza are halal certified because some of their pizzas have pork but there are pizzas without it so it's better to ask their counter attendant first before ordering. 
Does S&R offer catering services?
The answer is yes. S&R New York Style Pizza are open for online orders, they have catering packages available. You can contact 09450928265 for your catering inquiries.
Conclusion
The food menu at S&R New York Style Pizza is really affordable and delicious as well and when it comes to the serving size it's outstanding. They also offer combo meals that are really affordable. Great value for your money. I love visiting this place because the size of the food is satisfying. The crews are okay I don't have any complaints but sometimes it will take 30 minutes for the food to be prepared but it's understandable because they have a lot of customers but in my opinion, the manager must supervise the food preparation and make it fast especially on peak hours but overall great place and affordable good food.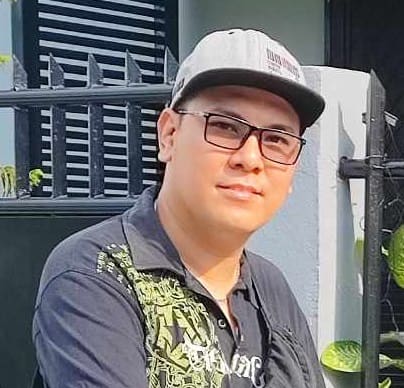 Hi! I'm Nivek Strife, the person who made MenuPH. I'm the one who added most of the popular menus you see on this website, and I really hope you enjoy them! Feel free to check them all out.
Growing up, I was surrounded by lots of tasty foods, like the classic Adobo and the sweet Leche Flan. That love for the many flavors of the Philippines is what got me excited about adding to MenuPH. When I learned how to make websites, I saw the need for a place to show off all the amazing Filipino dishes, and that's how MenuPH started.
MenuPH isn't just a website; it's like a fun journey into food. I've teamed up with famous chefs and found great places all over the Philippines to bring you a bunch of menus that show off the best of Filipino cuisine. Whether you're into the usual dishes or new twists, MenuPH is here to guide you through the rich world of Filipino flavors.
With MenuPH, my aim is to help local businesses, talk about good food choices, and make a group of friends who love food. No matter if you like fancy restaurants or street food, MenuPH has something for you. Come join me on this food adventure as we find great places, taste real flavors, and enjoy the unique food traditions that make the Philippines awesome.