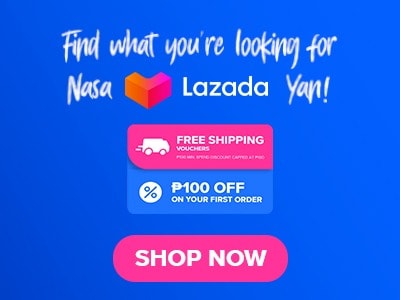 The concept of the Medley menu is inspired by Mediterranean culture. The dishes of this restaurant are known for their authentic Mediterranean taste and texture. It uses premium ingredients that are sourced directly from local suppliers and farmers. Their rice and power bowls, salad, pizzas, wraps, and sandwiches are made-to-order or prepared on-the-spot to provide fresh and delectable cuisines.
Below, you'll find the updated list of Medley menu prices.
Menu Items
Price (PHP)

Daily Bundles

The Duo
699
The Power Pair
799
The Spread
1299

Pita Sandwiches

Falafel Pita (Ve)
219
Levantine Chicken Pita
219
Beef Kofte Pita
119
Tikka Pita
239

Laffa Wraps

Falafel Laffa Wrap (Ve)
299
Levantine Chicken Laffa Wrap
299
Beef Kofte Laffa Wrap
309
Tikka Laffa Wrap
319
Brisket Barbacoa Burrito
319

Rice Bowls

Falafel Crunch Pie Bowl (Ve)
279
Beef Kofte Rice Bowl
299
Levantine Chicken Rice Bowl
289
Tikka Rice Bowl
309
Brisket Barbacoa Rice Bowl
309
Seared Tuna Sashimi
329

Power Bowls

Falafel Crunch Power Bowl
379
Beef Kofte Power Bowl
389
Levantine Chicken Power Bowl
379
Tikka Power Bowl
399
Brisket Barbacoa Power Bowl
399

Salad Bowls

Naked Falafel Salad (Ve)
319
Smoked Paprika Shrimp Salad
379
Greek Salad (v)
329
Lemon & Herb Chicken Salad
359

Pizza

The PBP (Ve)
279
The Legaspi
329
The Big Cheese (v)
319
Chicken Salsa
299
Garden Medley (v)
279

Sides

Morrocan Beef Boureka
139
Harissa Chicken Boureka
139
Feta & Olive Boureka (v)
139
Extra Sauce (25ml)
25
Hummus Tub (Ve)
219
Pack of 5 Laffa Bread
220
Pack of 5 Pita Bread
200
Falafel & Dips Regular (Ve)
209
Mediterranean Rice (Ve)
40
Laffa Bread
50
Pita Bread
40

Drinks

Ginger Mint Lemonade (16oz)
89
Ginger Mint Lemonade (22oz)
109
Bottled Water
49
About Medley
Medley Modern Mediterranean restaurant was founded by David Tweg on January 2019. His family started a kiosk at Legaspi Sunday Market offering Mediterranean dishes. It becomes a popular kiosk for its healthy, unique, and authentic cuisines. With this success, he envisions a restaurant offering the recipe of his 3rd generation's family. This restaurant officially opened its doors on January 2019 at Bonifacio High Street in Taguig.
Medley Menu Best Seller
These are the best-selling dishes of Medley that are well-loved for their authentic and flavorful taste.
Falafel Crunch Power Bowl (Ve) – A vegan power bowl that consists of crunchy falafel, tabbouleh, fried eggplant, Moroccan carrot salad, matbucha, sauerkraut, and the sauce of your choice. It comes with hummus and pita bread.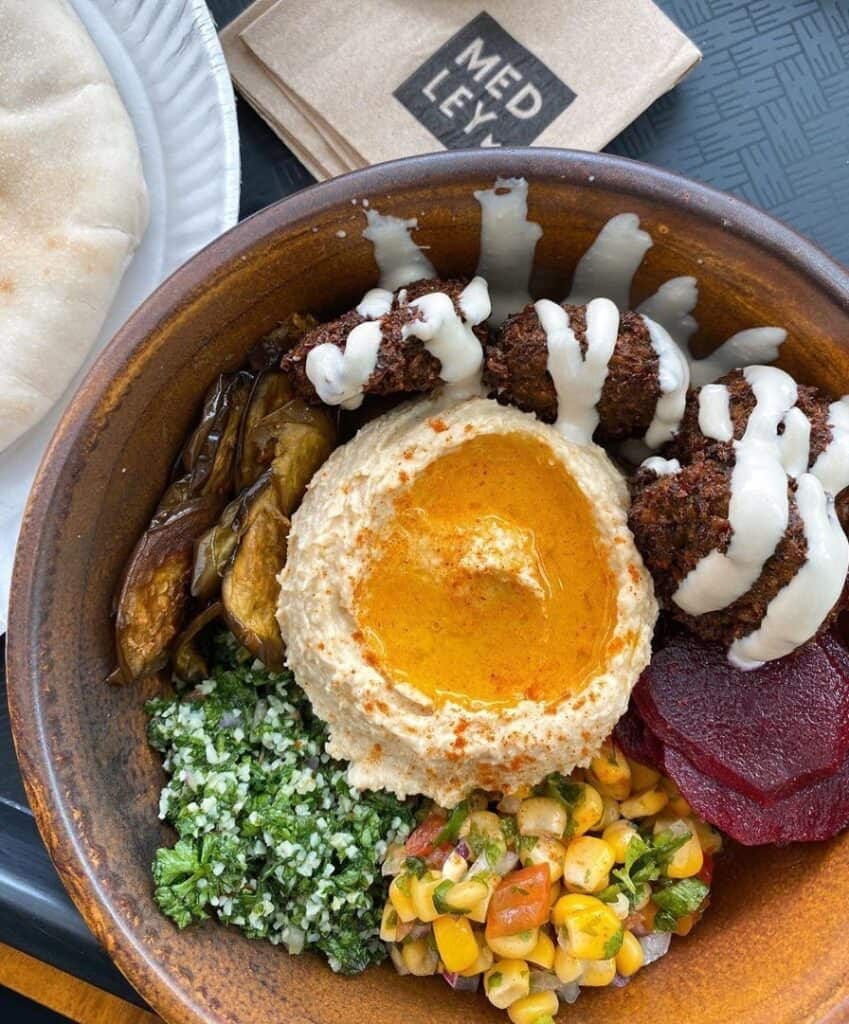 Hummus Tub (Ve) – It is a vegan side dish that is good for two to three people and is best paired with pita sandwiches. This delectable dip is made with tahini lemon, garlic, and spices.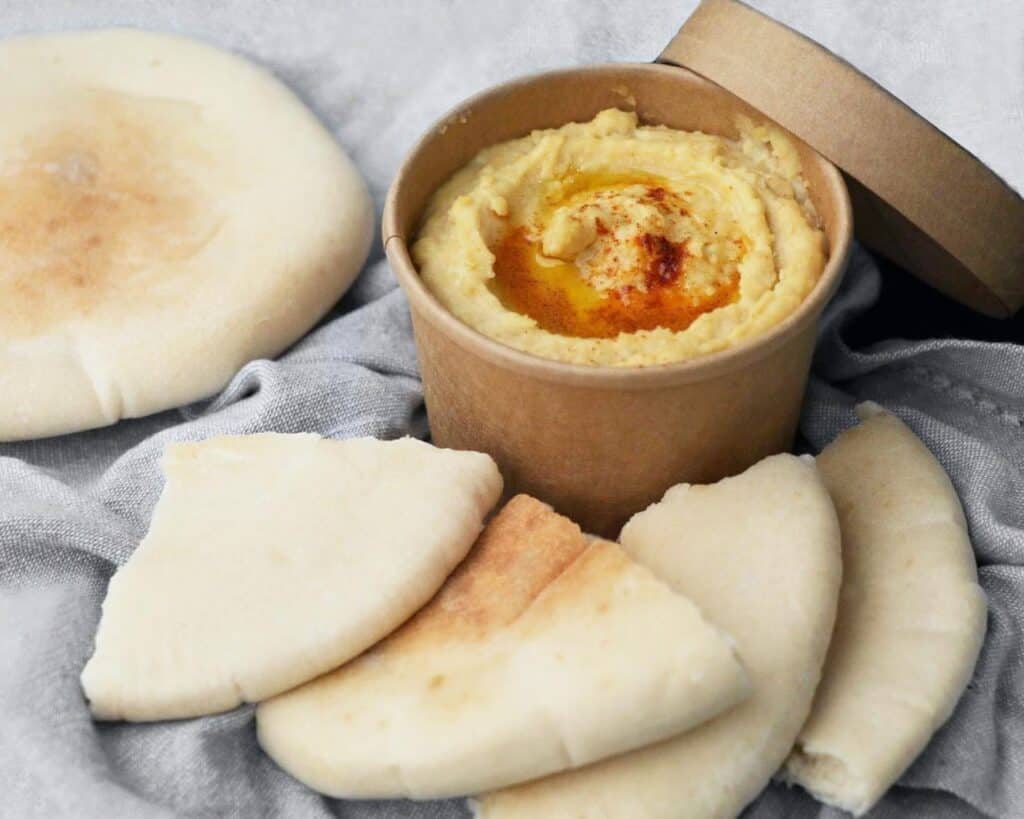 Falafel Crunch Rice Bowl (Ve) – This rice bowl includes crunchy falafel, Mediterranean rice, matbukha, fried eggplant, and Israeli salad, beet salad. The sauce options for this dish are tahini, mamba, zhug, and garlic.
Levantine Chicken Pita – This Medley menu is a 6 inches house-baked pocket pita bread filled with tender, spiced, rotisserie chicken thigh with hummus, fried eggplant, mixed greens, hummus, Israeli salad, and the sauce of your choice.
Ginger Mint Lemonade – A refreshing and delightful beverage made with ginger, mint leaves, and fresh lemons. It is a must-try drink as it has a unique taste and provides a lot of health benefits.
Pita Sandwiches
The ingredients stuffed on these pita sandwiches and the sauce served with it create a delightful flavor and texture combination.
Falafel Pita (Ve) – A pita sandwich is ideal for vegans as pita bread is stuffed with crunchy fried falafel, Israeli salad, Matbukha, mixed greens, fried eggplant, sauerkraut, and your choice of sauce.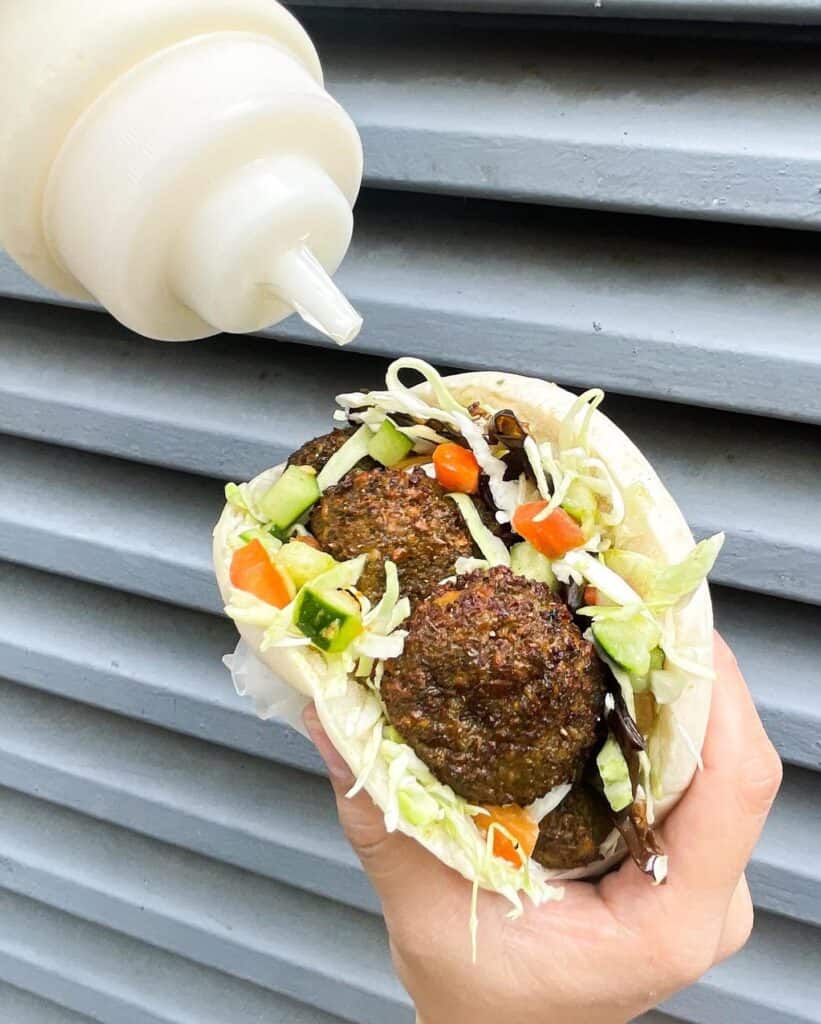 Beef Kofte Pita – Beef kofte is char-grilled until it becomes juicy and stuffed in a special pita bread. The other fillings that come with it are tabbouleh, sumac onion, mixed greens, and baba ganoush. It is served with your preferred sauce.
Tikka Pita – The house-baked pocket pita bread is filled with tikka marinated grilled chicken, Israeli salad, green mango salad, mango chutney, and sandwich greens, and comes with your choice of sauce.
Medley Rice Bowls Menu
These rice bowls consist of various ingredients that are served together in a single bowl. The colors and arrangement of the ingredients make it visually appealing and delightful.
Beef Kofte Rice Bowl – A rice bowl that consists of Mediterranean rice, juicy beef kofte, chickpea salad, tabbouleh, corn salad, sumac onion, and sauce.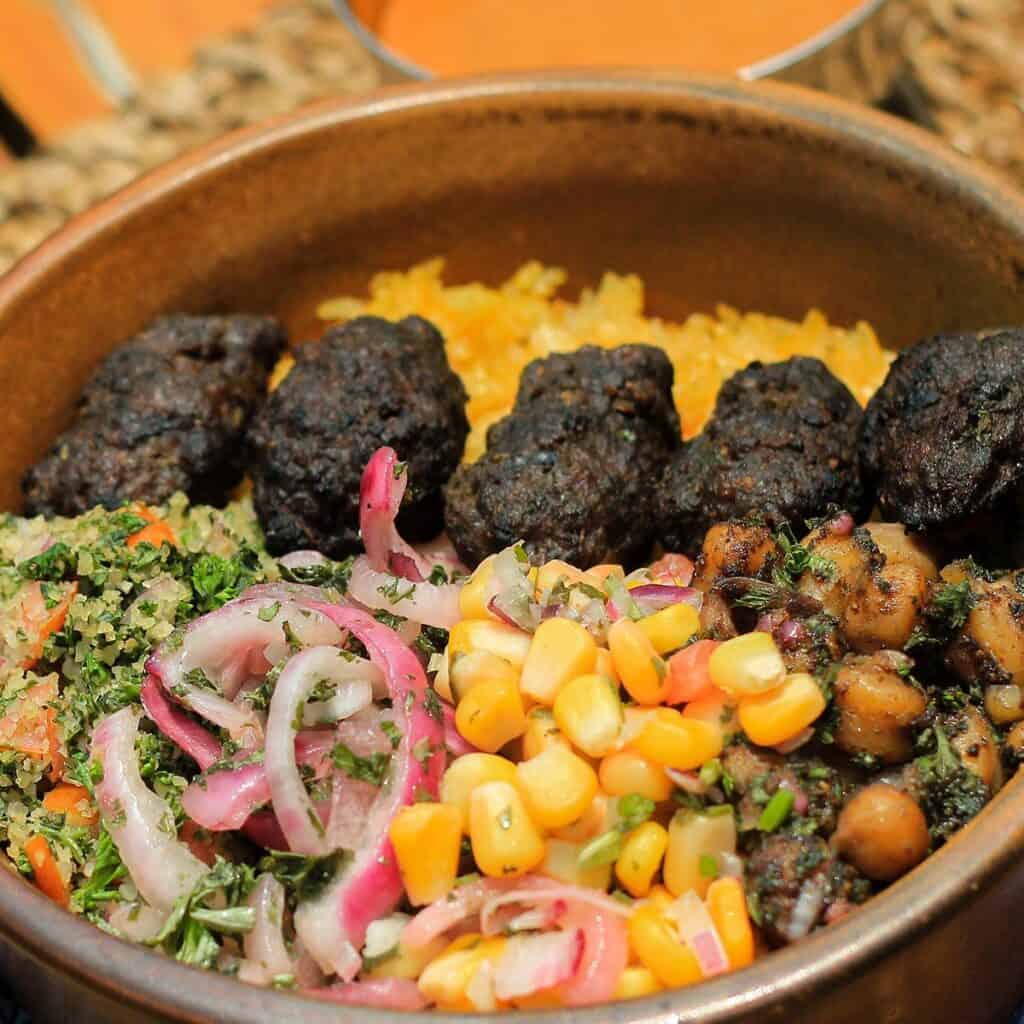 Levantine Chicken Rice Bowl – Rotisserie chicken thigh is spiced and cooked to perfection until it becomes tender and served with Mediterranean rice. The other food items that come in this rice bowl are Israeli salad, Moroccan carrot salad, grilled vegetables, matbucha, and a sauce of your choice.
Tikka Rice Bowl – Meditteranean rice is served with tikka marinated grilled chicken, Israeli salad, green mango salad, grilled pepper, mango chutney, and your preferred sauce. The recommended sauces for this dish are yogurt mint and mamba.
Brisket Barbacoa Rice Bowl – Brisket is cooked slowly until it becomes tender. It also comes with bean salad, corn salad, jalapeno slaw, a wedge of lime, and sauce. Salsa verde is the recommended vegan sauce that you can pair with it.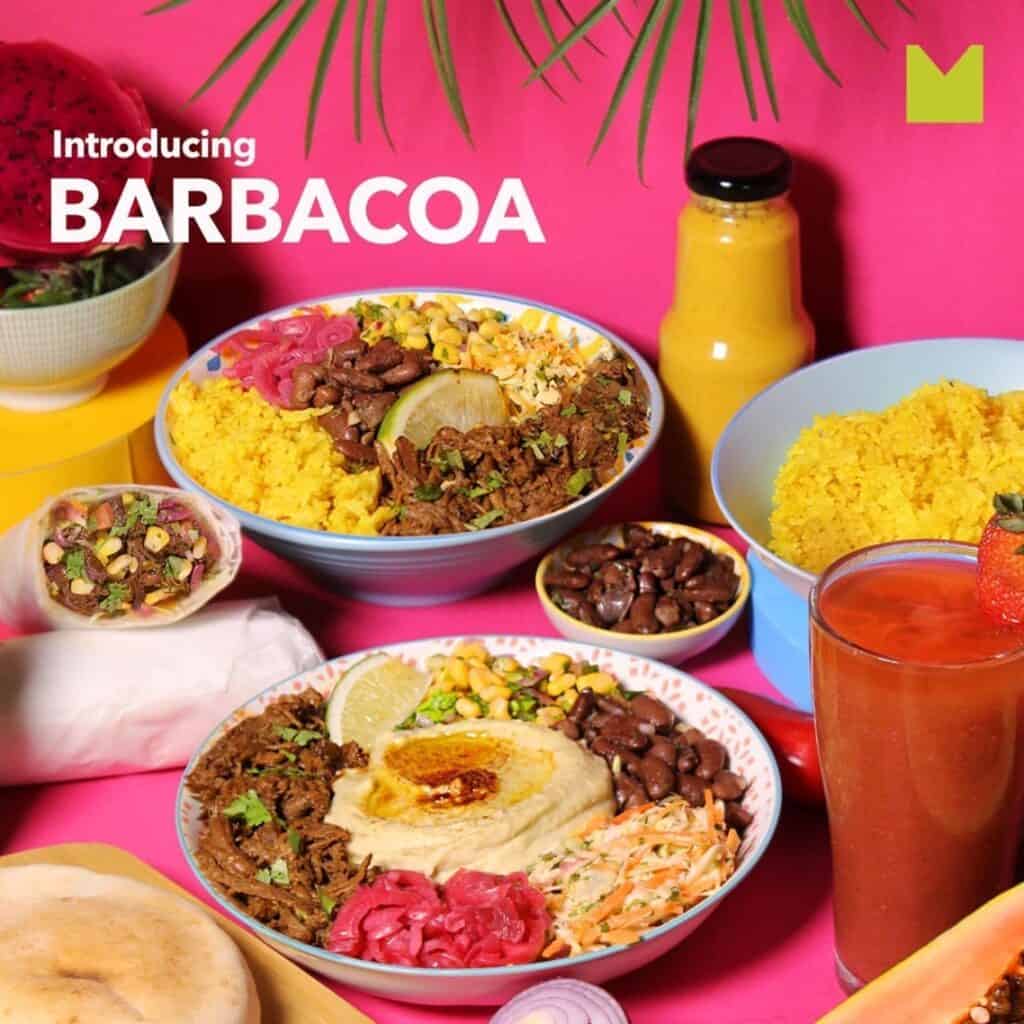 Seared Tuna Sashimi – It consists of seared tuna sashimi fillet, Meditteranean rice, corn salad, Israeli salad, hardboiled egg, marinated mixed olives, and basil sauce.
Laffa Wraps Menu
Wrap your day with this satisfying and delectable laffa wraps menu of Medley. These dishes are also convenient as they are a great on-the-go meal.
Falafel Laffa Wrap (Ve) – Crunchy falafel, Israeli salad, matbucha, mixed greens, fried eggplant, and sauerkraut are wrapped in house-baked Laffa bread. The sauce options for this dish are tahini, garlic, zhug, and mamba.
Levantine Chicken Laffa Wrap – The 12'' Laffa bread is filled with rotisserie chicken thigh, hummus, fried eggplant, Israeli salad, mixed greens, and your preferred sauce.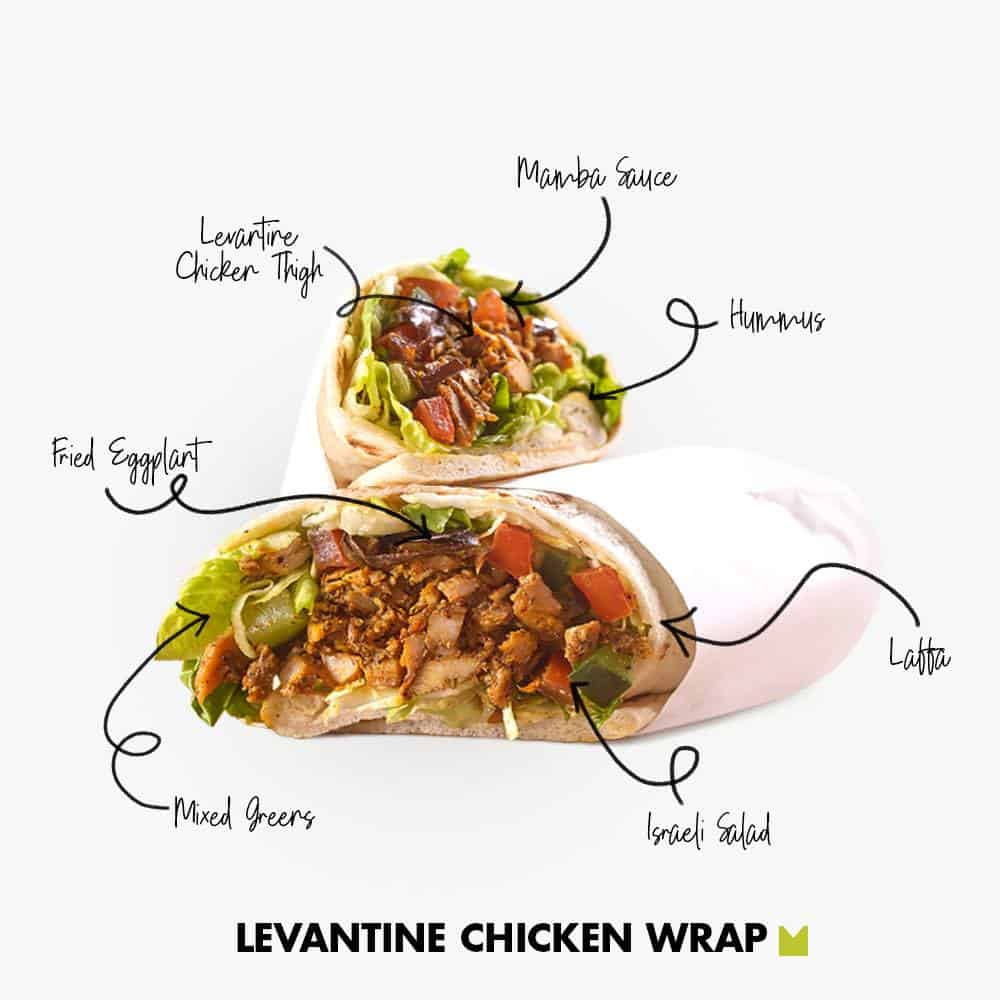 Beef Kofte Laffa Wrap – The fillings of this laffa wrap consists of grilled and juicy beef kofte, sumac onion, tabbouleh, mixed greens, baba ganoush, and sauce.
Tikka Laffa Wrap – It is a delectable dish where sandwich greens, Israeli salad, mango chutney, and green mango salad are stuffed in laffa bread.
Brisket Barbacoa Burrito – A delectable burrito made with brisket, jalapeno slaw, pickled red onion, bean salad, and corn salad wrapped in a fresh laffa wrap and topped with a sauce of your choice.
Medley Daily Bundles Menu
The daily bundles consist of a set of meals that are budget-friendly and good for sharing. These bundles are customizable as you can choose your preferred dishes. The dishes that it offers are "The Duo", "The Power Pair', and "The Spread".
The Duo is a set of meals that consist of your preferred 2 rice bowls, 1 hummus tub, and 2 pita bread. The rice bowl options for this set are beef kofte, falafel crunch, chicken Levantine, and tikka rice bowl.
The Power Pair is a set of meal good for two people. The included dishes in this meal set are 2 power bowls of your choice, 2 pita bread, 2 hummus, and 2 16oz of Ginger Lemonade. The Spread is a meal good for 4 people. It consists of 4 rice bowls of rice bowls, 1 hummus tub, 1 falafel and dips, and 2 pita bread.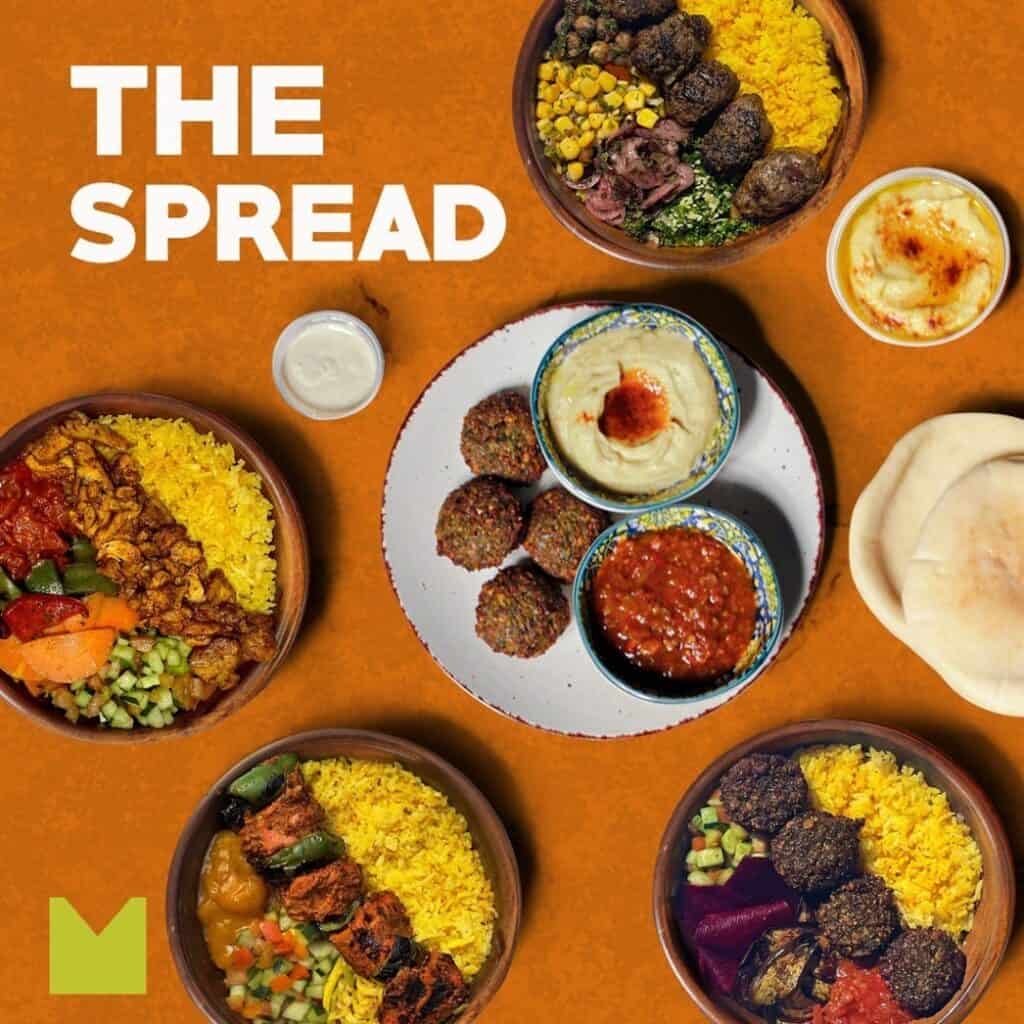 Pizza
The pizza dishes that Medley offers are flatbread pizza in a Turkish style. It offers vegan and vegetarian pizzas that are great for those who follow a healthy diet. The vegan pizza that it offers is The PBP which is made with 100% plant-based pizza dough with sauerkraut and hummus base topped with matbucha, marinated mixed olives, and basil oil. A Zhug vegan sauce is also served with it.
The vegetarian pizzas that it provides are The Big Cheese, a pasta dish made with basil pesto dish, topped with cheddar, feta, mozzarella, and parmesan cheese; and Garden Medley, made with a basil pesto base, topped with mozzarella, grilled vegetables, fried eggplant, spinach, and corn salad. Both of these pizzas are served with garlic and zhug sauces.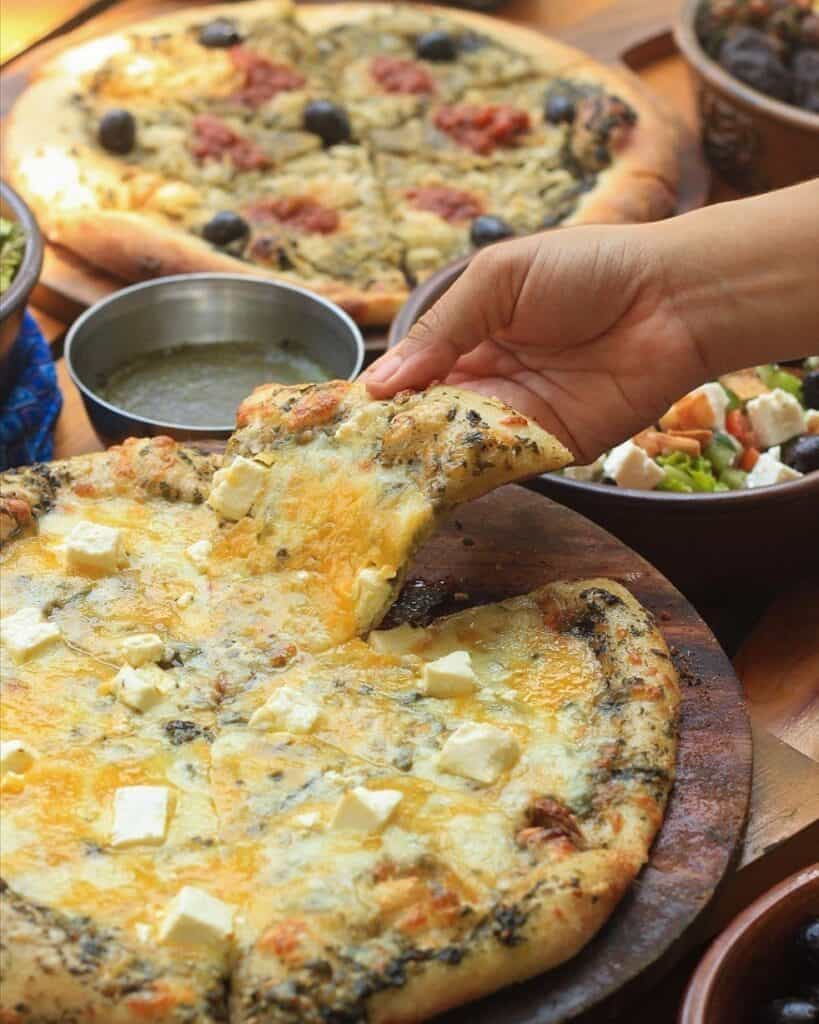 There is also The Legaspi pizza, made with a basil pesto base and topped with beef kofte, mozzarella, red bell pepper, spinach, and Morrocan carrot salad. It also offers a Chicken Salasa, made with a spicy matbucha base and topped with Levantine chicken, red bell pepper, mozzarella, sumac onion, and fried eggplant. Garlic and Zhug sauces are served on these pizzas.
Medley Menu Delivery
The scrumptious Mediterranean dishes of Medley are available on their partner delivery platforms such as FoodPanda and GrabFood. You can also visit their website at https://www.medley.ph to order.
Talk to Medley PH Staff
Looking for delicious Mediterranean dishes or vegan meals? Check out Medley's social media pages and website for exciting offers, including loyalty cards and promos! They have responsive staff that will answer your inquiries and may offer special deals making dining with them even more rewarding. Follow them on social media to stay up-to-date on the latest foods of the Medley menu, promotions, or discounts and don't forget to share them with your friends and family.
Facebook: https://www.facebook.com/MedleyModernMed
Instagram: https://www.instagram.com/medleymodernmed/
TikTok: https://www.tiktok.com/@medleymodernmed
Website: https://www.medley.ph/pages/frequently-asked-questions
Conclusion
The Medley menu is perfect for vegans, vegetarians, and meat lovers. It offers a wide range of Mediterranean dishes that are bursting with nutrients, flavor, and color. The visual presentation and finest ingredients of these cuisines excite the senses and boost the appetite. The nutrition facts of every dish are on their official website so that those who have dietary requirements can check the nutrients in each dish. The fresh and healthy dishes of this restaurant will alleviate your modern Mediterranean dining experience.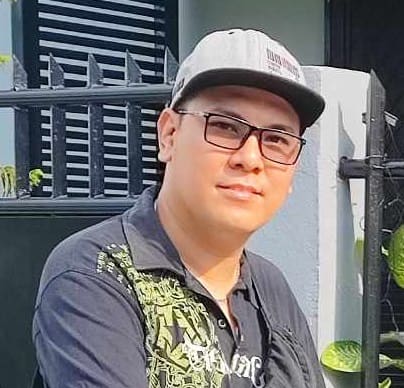 Hi! I'm Nivek Strife, the person who made MenuPH. I'm the one who added most of the popular menus you see on this website, and I really hope you enjoy them! Feel free to check them all out.
Growing up, I was surrounded by lots of tasty foods, like the classic Adobo and the sweet Leche Flan. That love for the many flavors of the Philippines is what got me excited about adding to MenuPH. When I learned how to make websites, I saw the need for a place to show off all the amazing Filipino dishes, and that's how MenuPH started.
MenuPH isn't just a website; it's like a fun journey into food. I've teamed up with famous chefs and found great places all over the Philippines to bring you a bunch of menus that show off the best of Filipino cuisine. Whether you're into the usual dishes or new twists, MenuPH is here to guide you through the rich world of Filipino flavors.
With MenuPH, my aim is to help local businesses, talk about good food choices, and make a group of friends who love food. No matter if you like fancy restaurants or street food, MenuPH has something for you. Come join me on this food adventure as we find great places, taste real flavors, and enjoy the unique food traditions that make the Philippines awesome.