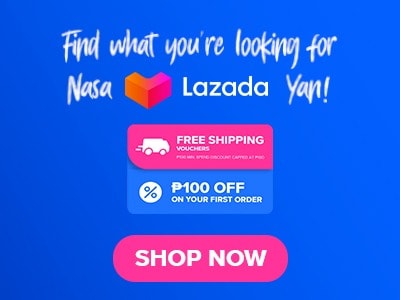 Hungry Hippo menu offers great tasting burgers and other snacks at a very reasonable and affordable price. Along the way, they have also started to offer other sandwiches and even rice meals to cater to their diners' tastes. Hungry Hippo is a must visit place if you are craving tasty snacks and a hearty meal!
Menu Items
Price (PHP)

Hamburgers

Hamburger
130
Cheeseburger
150
Burger & Egg
150
Crossover
180
Steak & Cheese
180
Double Cheese Burger
250
Junior Cheese Burger
80
Junior Crossover
110

Gourmet Sandwiches

Chunky Chicken
165
Tuna Charlie
165
Clubhouse
220
BLTC
130
Sausage Bun
100

Rice Meals

Big Breakfast 1
260
Big Breakfast 2
180
Tapa
180
Salisbury Steak
150
Sausage & Egg
140

Chicken

1 PC. Fried Chicken
125
2 PCS. Fried Chicken
185
4 PCS. Flavored Wings
170
6 PCS. Flavored Wings
220

Sides

Nachos
99
Fries
50/95
Chicken Salad
150
Tuna Salad
150
Hippo Fries
105
Onion Rings
85
Spaghetti Platter
299
Spaghetti w/ Meatballs
150

Beverages & Desserts

Chocolate Milkshake
99
Vanilla Milkshake
99
Soda in Can
75
Iced Tea
50/75
Hippo Scoops
99
Kapeng Barako
90
Bottled Water
25
About Hungry Hippo
In 1995, Hungry Hippo had a modest beginning as an unknown eatery operating out of a small area at the Shell station next to the South Luzon Expressway. A burger recipe created by Albert Castillo was influenced by his knack for good taste. His burger became popular as more and more drivers and vacationers flocked to his establishment, resulting in hour-long queues. This resulted in his family incorporating the modest business.
Hungry Hippo Menu Best Seller
Hamburger – A classic burger menu that consists of fillings like patties of ground meat which is commonly beef and placed inside a sliced bun.
Cheeseburger – This is a regular Hungry Hippo burger menu that was made special by their recipe. It consists of a beef patty and cheese placed inside a sliced bun.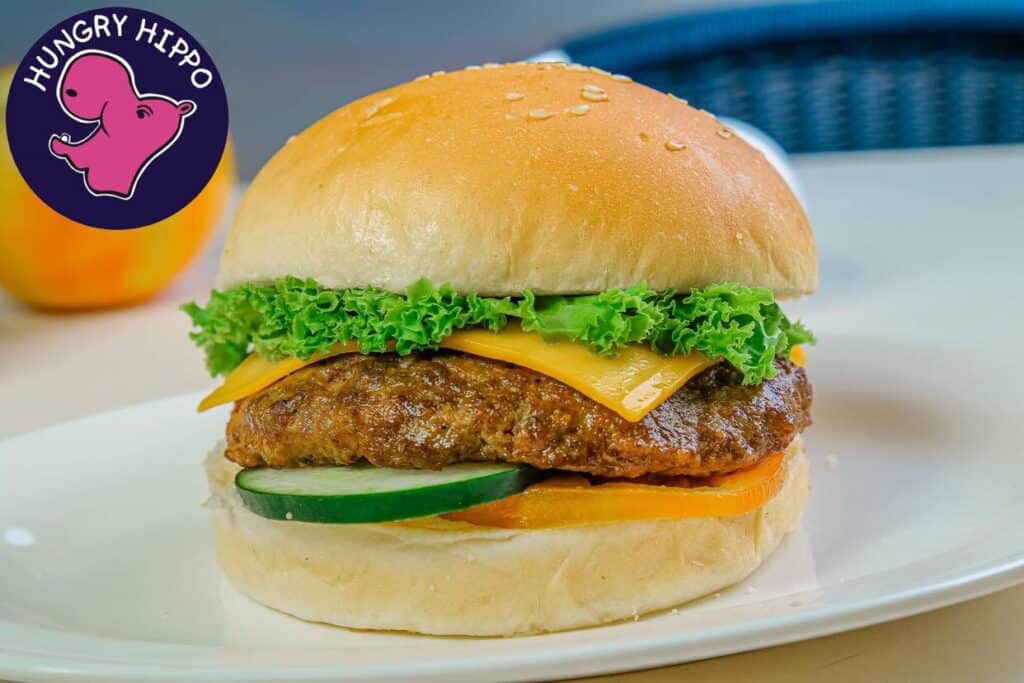 Fried Chicken – The dish consists of chunks of chicken that have been deep-fried after being sprinkled with seasoned flour or batter. While maintaining the chicken meat's juices, the breading gives the chicken's surface a crispy texture.
Fries – Also known by the name "chips" or "French fries," this side dish or snack is made from sliced, deep-fried potatoes. It is served with condiments like ketchup or mayonnaise in addition to it being salted.
Spaghetti with Meatballs – An Italian-American dish that consists of pasta that is topped with tomato sauce and meatballs.
Hungry Hippo Hamburgers Menu
Burger and Egg – Also known as "Humpty Dumpty". This follows the recipe of the classic Hungry Hippo hamburger and comes with an additional fried egg.
Crossover Burger – This Hungry Hippo menu is composed of a special beef patty, bacon, tomatoes, cheese, and veggies. A truly overloaded crossover hamburger!
Steak and Cheese – A typical steak and cheese made special by Hungry Hippo's original recipe. It is a fried steak that is overloaded with cheese on top.
Double Cheese Burger – If you thought that the Hungry Hippos cheese burger was already delicious, you must try this double cheese burger to double your cheesy burger experience!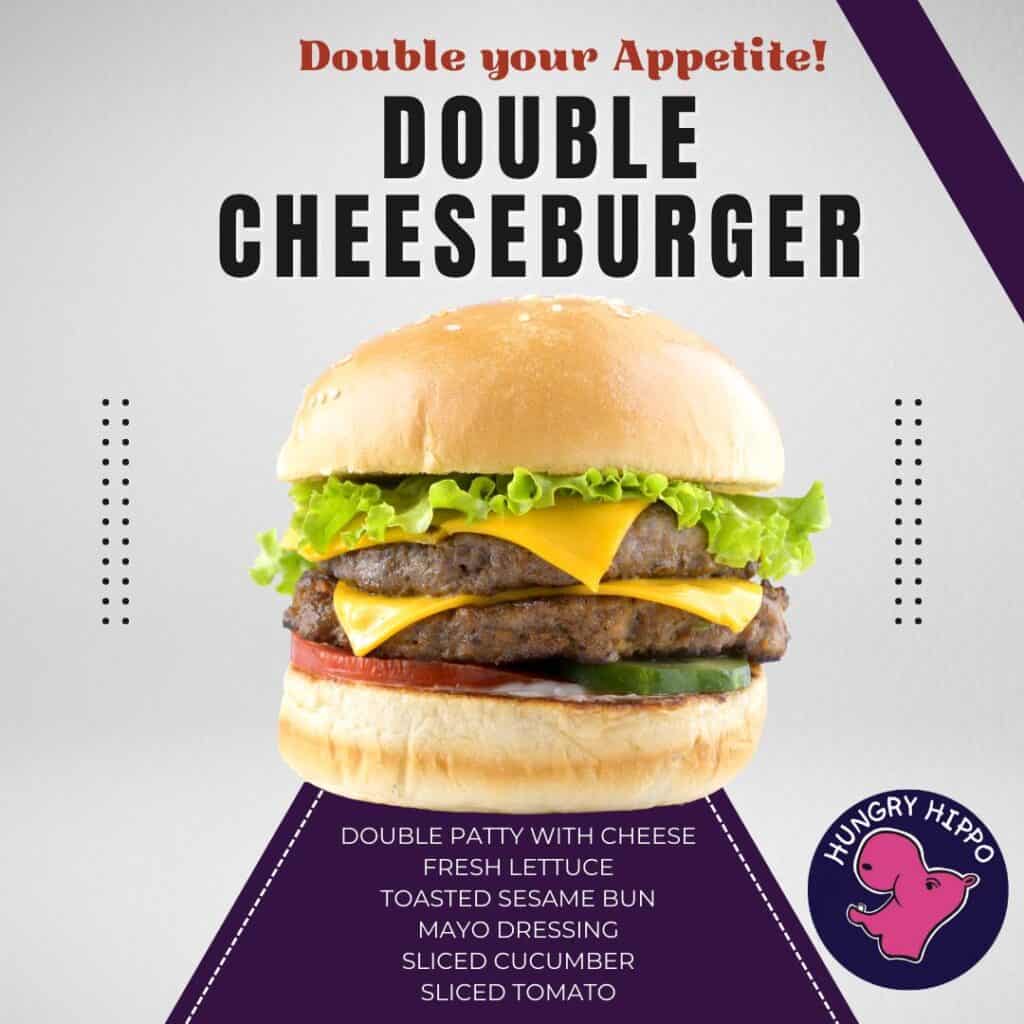 Junior Cheese Burger – Thinking that the cheeseburger's size is too much? You can enjoy this junior cheeseburger! It is a bit smaller in size, but the taste and experience are exactly the same.
Sandwiches
Chunky Chicken – A finely chopped ham salad and a traditional chunky chicken salad serve as the base ingredients for Hungry Hippo's Chunky Chicken sandwich spread.
Tuna Charlie – This sandwich takes advantage of the exquisite combination of tuna and a little, light mayonnaise. The main ingredients are sandwiched between the bread for a tasty snack! As a tuna lover myself, I love this Hungry Hippo menu.
Clubhouse – It is a toasted sandwich with fried bacon, sliced cooked chicken meat, lettuce, tomato, and mayonnaise. Cocktail sticks are also used to hold the quarters or halves of the sandwich together.
BLTC – A crowd favorite sandwich that is made up of bacon, lettuce, tomato, and mayonnaise. On a toast, it is frequently offered as a triple-decker sandwich.
Sausage Bun – Or famously known as a "hotdog sandwich," is made up of steamed or fried hotdogs that are put in between a sliced bun.
Rice Meals
Big Breakfast 1 – This menu from Hungry Hippo consists of a patty, steamed rice, and a sunny-side up egg that make up a light breakfast meal.
Big Breakfast 2 – This rice meal consists of a Hungry Hippo patty, steamed rice, a sunny-side up egg, a hotdog, and a few slices of bacon and tomatoes that will surely make you full to start your day.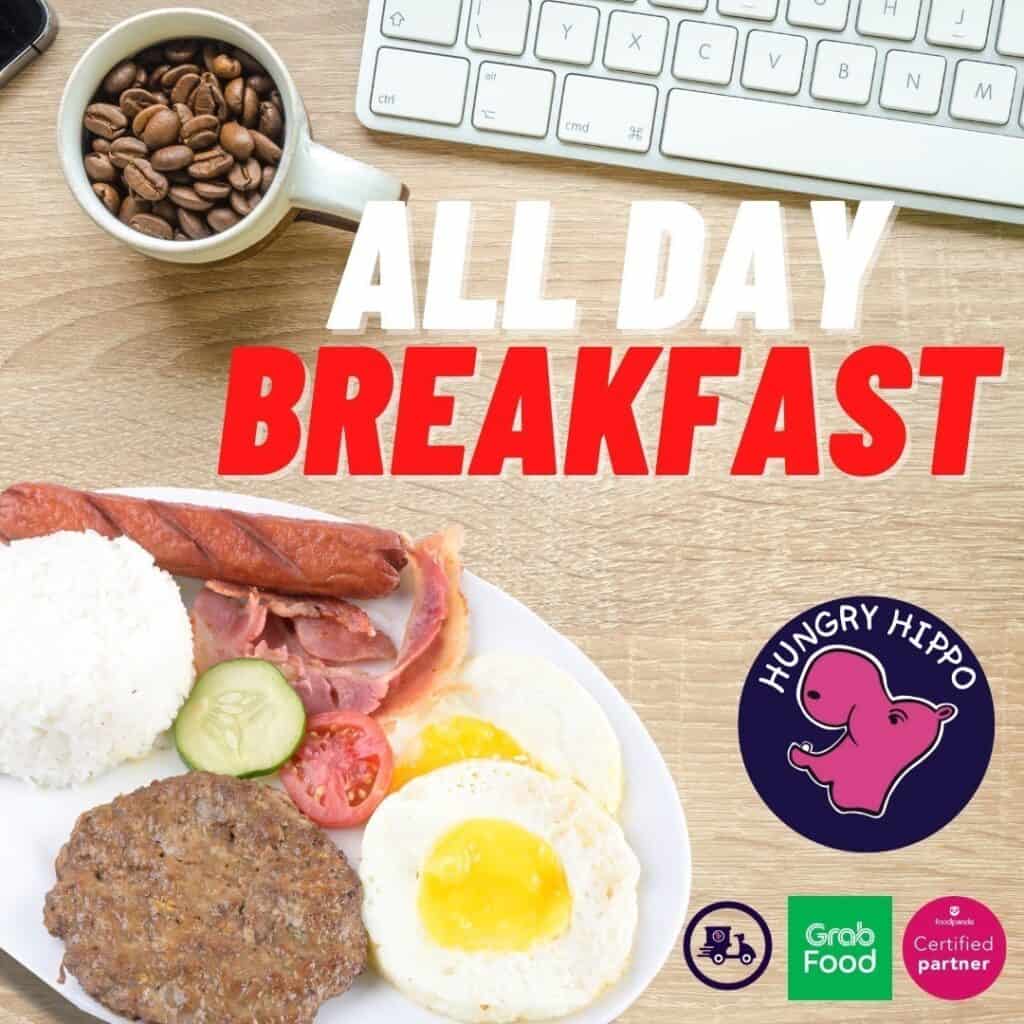 Tapa – A warm, steaming rice meal that is paired with beef tapa. This rice meal also comes with calamansi, which can be used to add a hint of tangy flavor to your tapa.
Salisbury Steak – It is a seasoned beef patty from minced or ground beef and mushroom gravy is the two main ingredients that are used in a Salisbury steak. This item comes with steamed rice to complete your meal.
Sausage and Egg – This meal consists of fried sausage, a sunny side-up egg, and steamed rice.
Hungry Hippo Menu Delivery
Want to order delicious food from the Hungry Hippo but you can't get outside since you are busy, tired, or just lazy going outside? Don't worry because you can order Hungry Hippo food even when you are at home, the office, or school. All you need to do is to go to FoodPanda, or GrabFood and then search for Hungry Hippo.
Please take note that it is limited to selected areas only. In case you are wondering which food should you order, you can refer to the following Hungry Hippo menu since these are what most people order from them.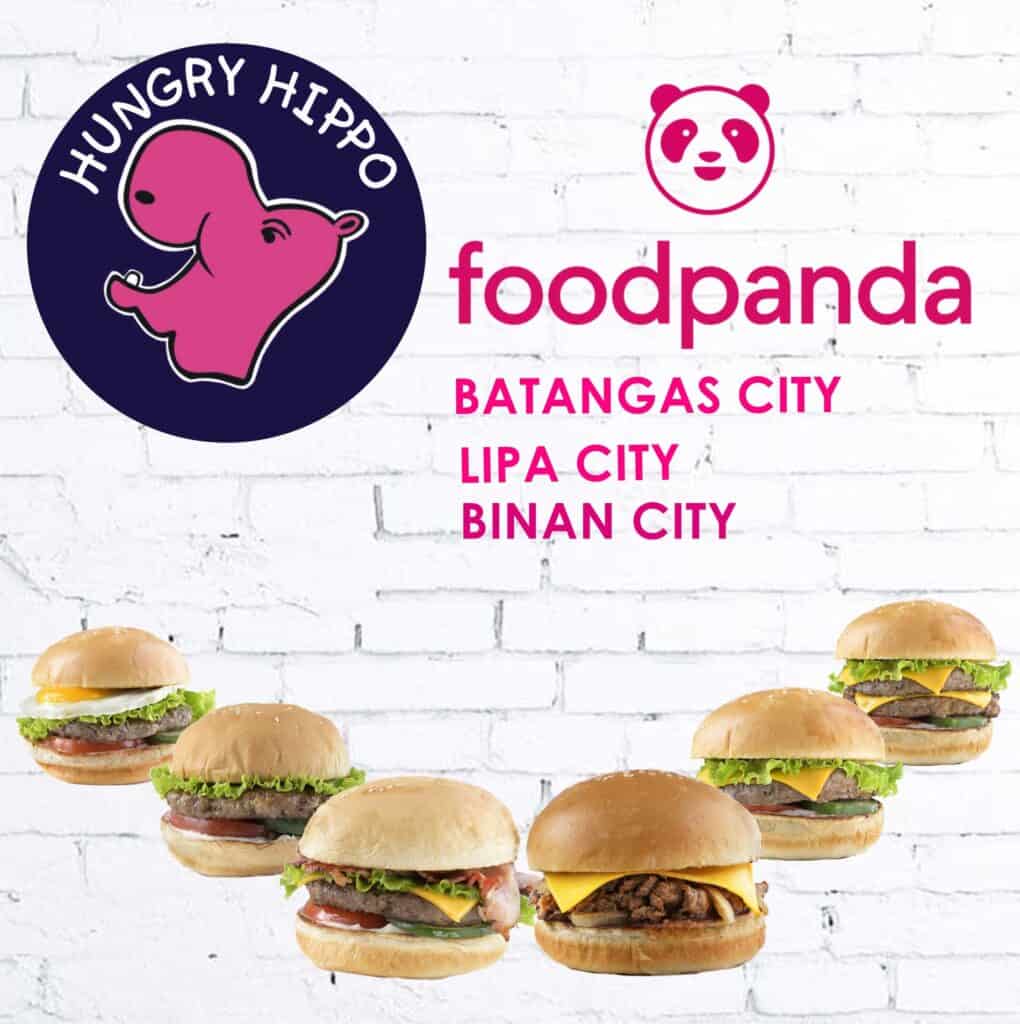 Nachos – A serving of cheese topped tortilla chips that frequently have additional salty ingredients. This is a great dish to have for a snack while watching movies or TV shows.
Chicken Salad – It is a salad that contains chicken as its primary ingredient. Mayonnaise, hard boiled eggs, celery, onions, pepper, pickles, and a variety of mustards are some of the many ingredients that are used in this dish.
Spaghetti Platter – A cheesy and meaty special menu that is sweet and tasty. Noodles that have been topped with grated cheese, hotdog bits, and a meaty spaghetti sauce make up this special dish.
Milkshake – It is made of milk, ice cream, and a variety of flavors that the customer can choose from depending on their taste and preference. The ingredients are blended or whipped together until they become foamy.
Onion Rings – The ingredients for onion rings include flour, baking powder, garlic, cayenne, salt, and pepper. To make the batter, these dry ingredients are combined with ice cold water. The onion rings are then dredged in cornstarch before being battered to help the batter stick.
Social Media Pages
Visit and follow Hungry Hippo's social media pages to always be updated about their promotions and discounts! Click the links below to be redirected to their respective social media pages.
Facebook: https://facebook.com/HungryHippoPhilippines/
Instagram: https://www.instagram.com/hungryhippophilippines/
Twitter: https://twitter.com/hungryhippo95/
Conclusion
Even though Hungry Hippo became famous because of its specialty, the hamburger, they have gradually expanded its menu over time. They now serve many varieties of snacks, and even rice meals! This place is a must visit so you can have the experience of tasting their hamburger recipe, which has been traditionally kept for over two decades.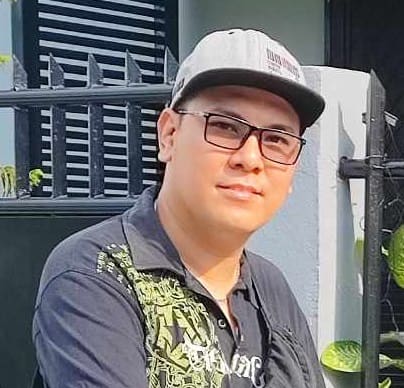 Hi! I'm Nivek Strife, the person who made MenuPH. I'm the one who added most of the popular menus you see on this website, and I really hope you enjoy them! Feel free to check them all out.
Growing up, I was surrounded by lots of tasty foods, like the classic Adobo and the sweet Leche Flan. That love for the many flavors of the Philippines is what got me excited about adding to MenuPH. When I learned how to make websites, I saw the need for a place to show off all the amazing Filipino dishes, and that's how MenuPH started.
MenuPH isn't just a website; it's like a fun journey into food. I've teamed up with famous chefs and found great places all over the Philippines to bring you a bunch of menus that show off the best of Filipino cuisine. Whether you're into the usual dishes or new twists, MenuPH is here to guide you through the rich world of Filipino flavors.
With MenuPH, my aim is to help local businesses, talk about good food choices, and make a group of friends who love food. No matter if you like fancy restaurants or street food, MenuPH has something for you. Come join me on this food adventure as we find great places, taste real flavors, and enjoy the unique food traditions that make the Philippines awesome.